Bald Point State Park is a beautiful state park in the Florida Panhandle.
The state park protects more than 4,000 acres of pristine Florida nature, and a variety of wildlife and natural habitats.
Bald Point State Park offers a mix outdoor activities and experiences, including beaches, boating, paddling, hiking, swimming, fishing, bird-watching, wildlife viewing and more. 
The park is a popular day trip destination near Tallahassee, and the surrounding area is filled with backroads and scenic drives.
Note: Bald Point State Park often has high numbers of mosquitoes, noseeums and other biting insects, which can all be a nuisance. Visitors are advised to be prepared for this and to bring good insect protection, including bug repellant.
Hours and Fees
Bald Point State Park is open 365 days a year, from 8 a.m. until sundown.
An entrance fee is required to enter the park. Admission generally costs $4 per vehicle, up to eight people, or $2 for pedestrians or bicycles.
Contact Info
Bald Point State Park can be reached at 850-349-9146
Location
Bald Point State Park is located at the base of a peninsula named Alligator Point, which extends into the waters of Ochlockonee Bay, Apalachee Bay and Alligator Harbor.
Bald Point State Park is located in a rural part of the Florida Panhandle, in a remote stretch of Florida's Gulf of Mexico coast.
The area generally lacks access to lodging, stores, restaurants or other amenities.
The address of Bald Point State Park is 146 Box Cut Road, Alligator Point FL 32346
Nature and Wildlife
Bald Point State Park protects a beautiful landscape of natural environment, and provides habitat for a diverse array of Florida animals and wildlife. The park is a popular destination for nature and wildlife lovers.
The park covers and protects more than 4,000 acres of diverse natural habitats, including uplands, coastal marsh, pine flatwoods, oak thickets and others.
The park also protects a diverse range of wildlife, including Florida black bears, bobcats, coyotes, alligators and other native Florida wildlife. More than 230 animal species and 360 species of plants can be found within the park.
Although the park protects a large expanse of Florida nature, the area has been affected by development.
Wildlife
Bald Point State Park is an important part of the Great Florida Birding and Wildlife trail.
Visitors to Bald Point State Park often see a wide range of bird species, including bald eagles, ospreys, raptors, migratory birds, wading and shorebirds, and others.
Marine Habitat and Marine Life
Bald Point State Park is located at the convergence of several waterways, including Chaires Creek, Tucker Lake, the Ochlockonee River, Ochlockonee Bay and Apalachee Bay.
Accordingly, marshes, wetlands, riparian estuary and marine environments are all important parts of the park's diverse ecology.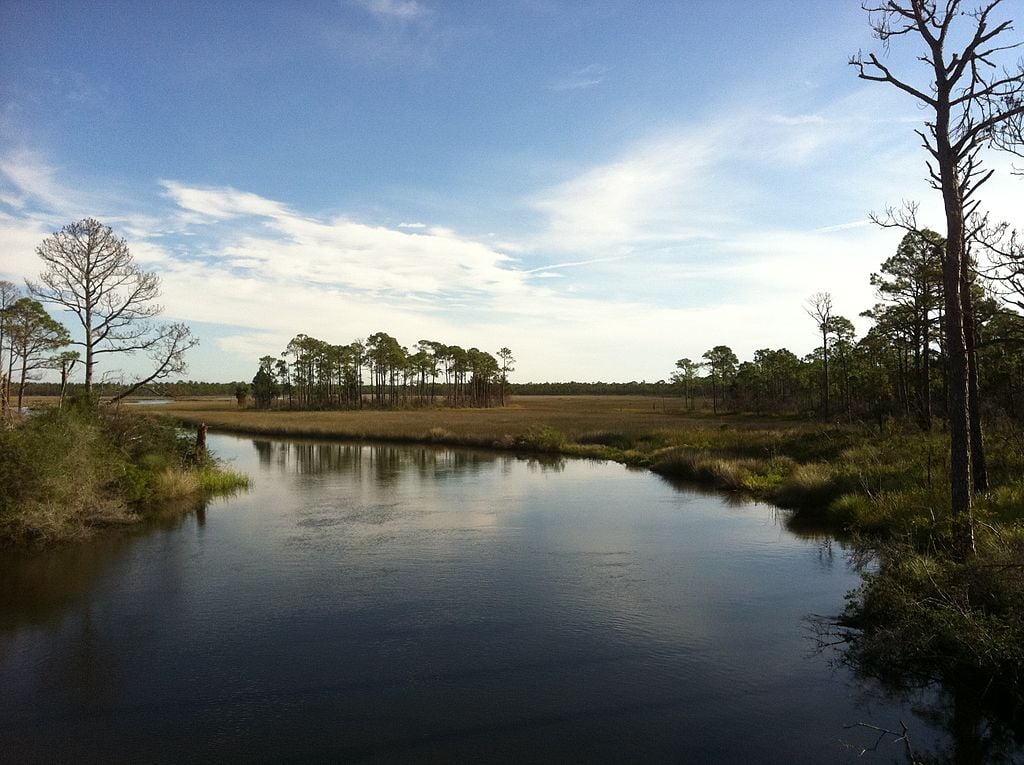 Much of the park is filled with low lying coastal marsh, lake, river, wetland, hammock, oyster reefs, tidal estuary or other marine environments.
There is a narrow strip of white sand beach which runs along the eastern shoreline and around onto the southern shores of the state park. 
Sea turtles commonly nest on the sandy beaches in Bald Point State Park from May to October each year.
Birdwatching
Bald Point State Park is known for its excellent bird watching. There are nice raised wooden boardwalks in the park for viewing nature and bird watching.
The park is an important location on the Great Florida Birding and Wildlife Trail.
Many exotic bird species are commonly seen, including bald eagles, raptors, birds of prey, migratory species, waterfowl and many others.
There are other protected conservation lands in the region, including Apalachicola National Forest, Tate's Hell State Forest St. Marks National Wildlife Refuge and other protected areas.
Fall and winter are usually considered to be the best times to visit the park for wildlife and bird watching. 
Monarch Butterflies
Monarch butterflies are commonly seen in the park as they travel south in their annual fall migration.
Activities
Bald Point State Park offers many activities which mostly revolve around outdoors and nature recreation. Popular activities in Bald Point State Park include:
Sandy beaches
Swimming (No lifeguards)
Picnicking
Boating and Paddling (Kayak and canoe launch)
Hiking, 18 miles of multi-use trails
Bicycling
Birdwatching
Nature viewing
Primitive camping (One paddle-in only)
Fishing and oyster harvesting
Geo-seeking and geocaching
Paddling and Boating
Bald Point State Park offers many opportunities for kayaking, canoeing, fishing and water activities.
There are watercraft launch points for canoes and kayaks inside the park, including a kayak/canoe Launch on Tucker Lake. Many people like to paddle Chaires Creek.
The area is affected by wind and tides, so paddlers should pay attention to tide and weather conditions while planning and exploring.
Hiking
Bald Point State Park has several nature trails which cover a range of ecosystems and habitats, including pine flatwoods, coastal marshes, hardwood hammocks and others.
These trails are good for hikers of all levels and offer beautiful views of the park's diverse natural landscapes.
Bald Point State Park has 5 trail heads and approximately 20 miles of hiking trails. There are trail maps and information kiosks located at trail heads.
Fishing
Fishing is a very popular activity in Bald Point State Park, and has played an important role in the history and settlement of the region.
The park has many opportunities for fishing, including a fishing pier and a watercraft launch for visitors who fish via boat, fishing kayak, canoe or watercraft. 
There are a variety of marine environments to explore in Bald Point State Park, including Brackish tidal and estuary marine ecosystems, among others.
A wide variety of fish species are commonly caught in Bald Point State Park, including:
Mackerel
Flounder
Sea trout
Redfish
Mullet
Sheepshead
Amenities
Bald Point State Park is located in a remote part of Florida. There are not any restaurant or food options inside the park or nearby. The nearest town is Panacea which has restaurants and amenities.
Amenities inside Bald Point State Park include:
Covered picnic pavilions
Primitive Camping (Paddle-in only)
Restrooms
Swimming beaches (No lifeguards)
Outdoor shower/rinse stations
ADA accessible facilities, including mats for beach access
Fishing pier and dock
Kayak and canoe launch
Outdoor showers are located at Sunrise Beach and at the Maritime Hammock beach access points.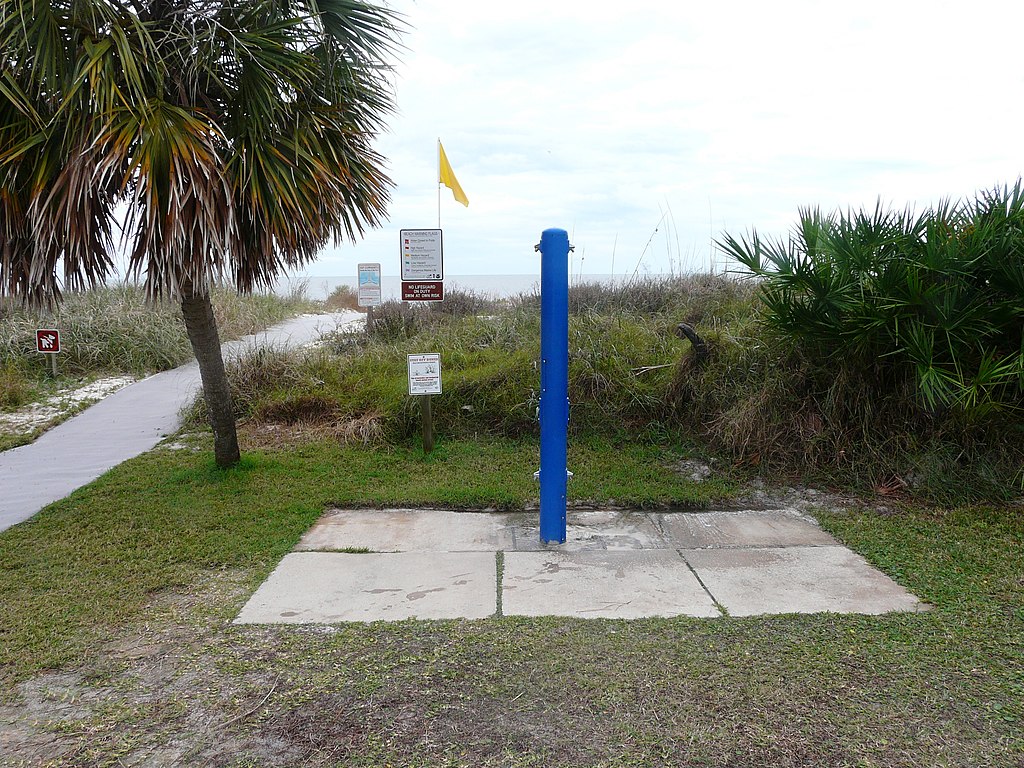 Visitors should be prepared and bring supplies they will need while visiting.
Camping
There is one primitive campsite inside Bald Point State Park, near Chaires Creek. The campsite is only accessible via paddle watercraft, and is not accessible via land.
There is another state park with camping nearby at Ochlockonee River State Park. There is also a private campground nearby at the Holiday Campground RV Park.
Beaches
There are three beach access points in Bald Point State Park which are good for swimming and sunbathing.
Sunrise Beach
North End Beach
Maritime Hammock Beach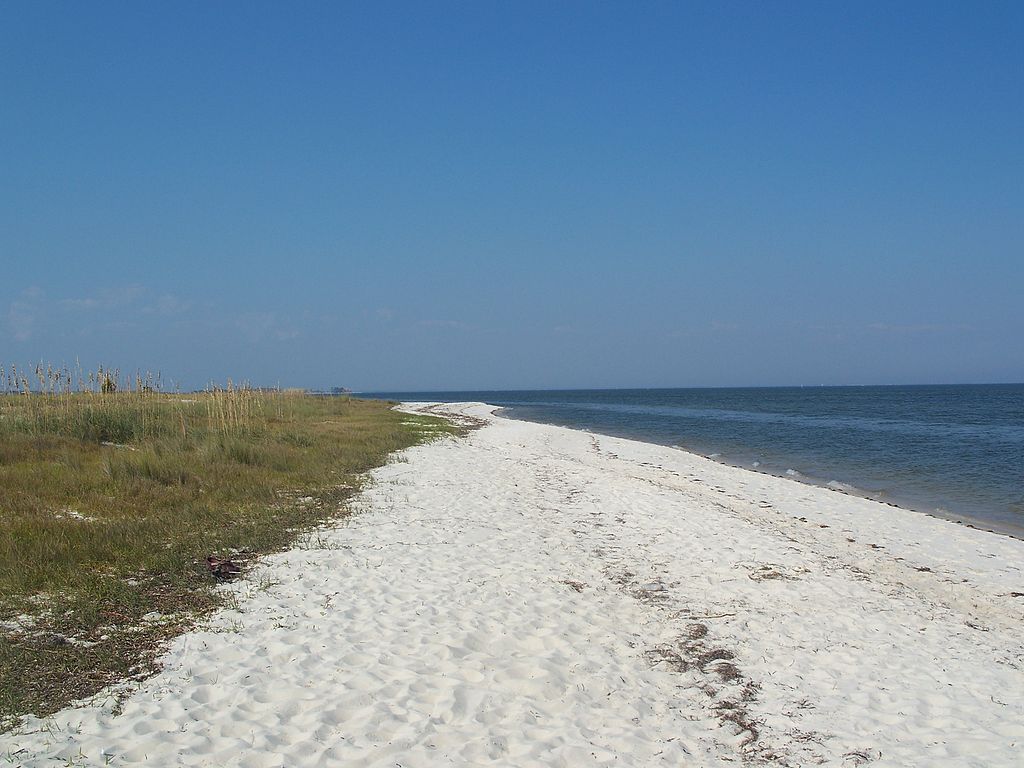 The beaches are rather narrow but the sand is white and soft. These beaches are rather modest, but they are some of the most quiet, natural and undeveloped beaches in Florida.
The beaches are usually not crowded, even during holidays when most other beaches in Florida are packed.
The water in this area can be clear but usually has a dark tint due to natural tannins in the water. Water clarity is often reduced after periods of heavy rain.
The water is usually calm due to the protected location and nearby sandbars, which prevent large waves.
The beach areas have covered picnic pavilions, grills and restroom facilities.
Outdoor beach showers are located at the Sunrise Beach access and Maritime Hammock beach access points.
Sunrise Beach and North End Beach have mobi-mat accessible mats. Beach wheelchairs are available through the state park office. 850-349-9146
History
Like all of Florida, Bald Point State Park and its surrounding region has a long and rich history.
Archeological evidence shows that Native Americans lived in the region for thousands of years before Spanish explorers "discovered" the area in the 1500s.
Native Americans lived and hunted in the forests and fished in the rich waters around the state park, and region. They especially harvested clams and oysters, which provided building materials for their ceremonial shell mounds and other structures.
The park has many archeological sites, including shell middens and ceremonial mounds. The park was also the discovery site of Northwood pottery, some of the oldest pottery found in North America.
The lands were later used for a variety of purposes, including turpentine and logging operations, hunting, fishing, military training and exercises, and more.
Forestry and turpentine industry dominated the region throughout the 1800s and 1900s. Many trees in the state park still have signs of "Cat face" scarring from when they were used for turpentine production.
Throughout history the regional waterways around Bald Point have been important fishing grounds for mullet fish and crabs, especially blue crabs.
Fishermen began camping and fishing in the area in the mid 1800s, through the late 1900s. 
Some development has occurred inside the park, including a canal which was built to connect Tucker Lake with Chaires Creek in the mid-1900s. 
The canal permanently altered the waterflow of the lake, which previously only received water from Chaires Creek during extreme high-tide conditions.
Rules and Information
Alcohol is prohibited in Bald Point State Park.
Dog Rules
Dogs are partially allowed in Bald Point State Park. Dogs are allowed on the park's trails but are not allowed on the beach, or other restricted areas.
Where allowed, dogs must be kept on a hand-held leash no longer than six feet and must be well-behaved at all times.
Final Thoughts
Bald Point State Park is a beautiful and peaceful destination for those seeking outdoor recreation and nature observation opportunities.
Additional Resources
Florida State Parks Information Guide
Cover Photo by Ebyabe, CC BY-SA 3.0, via Wikimedia Commons
Beach photo Ebyabe, CC BY-SA 3.0, via Wikimedia Commons
Beach Shower by The Bushranger, CC BY-SA 4.0, via Wikimedia Commons
Marsh photo Firecraze, CC BY-SA 3.0, via Wikimedia Commons