Bok Tower and Gardens is one of the best things to do in central Florida. Most visitors absolutely love it, you should definitely consider visiting.
Bok Tower and Gardens is a botanical garden, nature preserve and the site of a beautiful, world-famous bell tower, called a carillon.
A carillon is a series of musical bells which are played together as a single musical instrument.
But, more than anything, Bok Tower is a beautiful, peaceful place to enjoy nature.
It's also a symbolic monument to the potential of humanity, to live with each other and nature in a peaceful, harmonious balance.
The gardens are the creation and legacy of its founder, Edward Bok and his wife, Mary Louise Curtis Bok. Both have fascinating life stories, which are covered further below.
Video Overview
COVID-19 Notes
Masks are required in several areas, including the restaurant, gift shop, museum and other concentrated areas.
Physical distancing is required everywhere.
Certain parts of the park are closed due to COVID-19.
The shuttle is currently closed due to COVID-19. information is subject to change.
The Pinewood Estate tour is unavailable due to COVID-19.
Many visitors and volunteers at Bok Tower Gardens are elderly, immunocompromised or otherwise vulnerable. All visitors are asked to please be respectful and be careful not to endanger visitors with vulnerable health.
Tips for Visiting
The Singing Tower is not open for tours, or to the general public.
There's a delicious, affordable and healthy cafe on-site, the Blue Palmetto Cafe.
Some visitors have limited cell reception at the top of the hill.
There's good, open wifi inside the park.
Think about which parts of the garden you will visit and make a plan.
Try to stay in shade during the hottest part of the day.
Weekends and holidays are crowded. Weekdays are usually not.
During the holidays the gardens are decorated with beautiful light displays.
Be sure that kids and pets are well-behaved and know proper manners.
Help take care of the gardens! Be respectful of the historic places and be sure to clean up after yourself. Trashy people leave trash on the ground. Don't be one of those people! And always respect other visitors, nature, plants and animals. Use the walking paths!
If you want to visit the Pinewood Estate, be sure to ask about it as you are purchasing tickets at the entrance. You can't buy tickets at the mansion itself.
Things to Bring
A good reusable water bottle. It'll save you a ton of money. Disposable plastic kills oceans and wildlife! I suggest this bottle brand because they have an amazingly good and easy lifetime warranty.
Wear good, comfortable walking shoes!
Good sun protection, including a good hat to block the sun. I recommend one like this.
A good camera. Learn a few simple tips to take better photos.
If you have a bunch of stuff, consider bringing a good wagon to haul gear.
Outside food, drink and coolers are allowed. Many visitors bring a picnic lunch.
Admission Costs and Information
Tickets can be purchased at the main entrance gate or online. Credit cards are accepted.
There is ample parking space and parking is free!
Adults: $15
Children (5-12): $5
Children under 5 are free.
Dogs: $5
Outside food, drinks and coolers and chairs are welcome for picnicking.
Other Details
Tours of the Pinewood Estate are not included in general admission.
Daily admission tickets include access to the 3.5 mile Pine Ridge Preserve hiking trail.
The Pine Ridge Nature Trail at Bok Tower Gardens is a longleaf pine/turkey oak habitat. The 3/4-mile walking trail takes you through this unique habitat that once covered millions of acres of the Southeastern United States. The longleaf pine forest is now in danger of disappearing. Fortunately, we have been able to preserve a portion of this habitat for visitors to experience and learn from. The trail begins near Window by the Pond and ends at the Visitor Center and parking lot area.
Most special events and programs, except for brunch in the gardens, include general admission.
When the Pinewood Estate is open (it is currently closed), be sure to buy your tickets in advance either online or at the gate, because they are not available at the mansion itself.
Discounts and Free Admission
Some garden memberships and institutions offer reciprocal admission.
Active duty military are admitted free every day of the year. There is also a discount for members of their party.
Retired military are admitted free on certain holidays.
Group rates are available for groups of 20 or more. Pre-registration is required.
Check the offical website or call for current details.
Always check the official website for the most uptodate details.
Memberships
Annual passes and memberships are available at Bok Tower Gardens.
Memberships grant admission and discounts at the Blue Palmetto Cafe and gift shop, among other things.
Memberships also grant reciprocal admission at other partner organizations.
Some higher-end membership tiers allow access to the Singing Tower, and other benefits.
Many visitors find that membership passes pay for themselves very quickly thanks to admission savings and discounts.
Check the official webpage for details: https://boktowergardens.org/membership
Official FAQ from Bok Tower Gardens
The gardens are generally open 365 days a year.
The normal operating hours are from 8 a.m. until 6 p.m. for the gardens.
The restaurant, museum and other facilities close at 5 p.m.
The last gate entry is granted at 5 p.m.
Visit the official website for more information and up-to-date details.:
Visitors are always strongly advised to call and verify details with Bok Gardens directly before visiting or making plans.
When is the best time to visit?
Every season and time of day offers different benefits, and downsides.
Cool winter months are comfortable and springtime offers blooming flowers, butterflies and more. Summer mornings and evenings are pleasant but midday sun can make the grounds unbearably hot.
The gardens become very busy on and around holiday weekends.
Even on hot summer days it's usually nice and comfortable in the shade.
Mornings are good for observing wildlife, since they are most active during this time.
Mornings offer the lowest temperatures of the day and may offer lower numbers of crowds.
The grass and gardens look lush and beautiful because the sun is low in the sky. Photography conditions are best before the sun is high overhead.
Crowds generally begin to build around mid-morning, as people arrive from Tampa, Orlando and other large cities.
Crowds tend to be lower in the late afternoon. This is also the hottest part of the day.
Direct, harsh overhead light makes photography less impressive, so try to photograph in shaded areas when the sun is directly overhead.
Some areas of the grassy lawn and gardens tend to look more washed out after harsh exposure to sun.
Dehydration, sunburn and heat exhaustion can be problems. Plan ahead!
How much time does it take to tour Bok Gardens?
Most people find that it takes more than four hours to view and experience the gardens at a leisurely pace. If possible, a full day is a good allowance for a thorough visit.
Many people visit frequently throughout the year and never become bored. The gardens are in continuous change thanks to plant and growing seasons, lighting conditions, program changes and more.
Short visits are still worthwhile.
The Bok Towers website offers sample itineraries, including visits which last for less than an hour.
Are dogs allowed in Bok Tower Gardens?
Well behaved dogs are allowed at the Bok gardens.
This program may be subject to sudden change. Be sure to check the garden website directly before making plans or visiting.
Owners must ensure that their dog is safely under control at all times, and that all droppings are collected and properly disposed of. They are not allowed in certain areas. Check the official garden website for details.
Visit the official website for more details.
Cafe and Gift Shop
There is an on-site cafe and restaurant called the Blue Palmetto Cafe.
It's very popular and offers fresh, delicious and healthy food. It also serves beer and wine.
Prices are fair and affordable. Some options are more affordable than others.
The cafe even offers online orders!
You can plan when you'd like to take your lunch and it will be available for pickup. This is a fantastic feature and can save time and avoid the hassle of crowded lines.
Visitors are welcome to bring outside food and drinks, including coolers, to enjoy a picnic.
Water and drinks quickly become expensive in the hot Florida sun. And, plastic destroys our oceans and our environment.
Please, consider bringing your own reusable water bottle to avoid disposable plastic.
Accessibility
Most areas of the garden are very accessible. Some areas may not be appropriate for people with mobility challenges.
There are a limited number of mobility scooters and wheelchairs available for rent, at an hourly rate.
Guests are encouraged to bring their own mobility devices if possible. Anyone with special needs should do proper research and consider calling the facility before visiting.
There is usually a shuttle to help move people through the gardens. But, it is currently closed due to COVID-19.
Garden paths and public areas are generally either paved, or well maintained natural surfaces.
Many elederly visitors enjoy visiting the gardens, and many volunteers are senior citizens.
The garden paths are quite spread out and may become exhausting for some people.
Even fit visitors are often exhausted if they try to cover all of the garden's grounds in a single visit.
Bok Tower Gardens
There are more than 8 acres of gardens inside the grounds, including more than 100 bird species and endangered plants and animals.
The gardens are generally divided into sections:
The River of Stone
Pollinator Garden
Kitchen Garden & Outdoor Kitchen
Endangered Plant Garden
Carnivorous Plants
Window by The Pond
Wild Garden
Exedra & Sunset Overlook
Reflection Pool
Peace Lantern
There is also a separate conservation area to preserve endangered native Florida habitats.
Hammock Hollow Children's Garden
Children love the Bok Tower and Gardens, and it's a great place to visit with children.
There is a fantastic children's garden called Hammock Hollow. It has many different exhibits to keep kids engaged and having fun.
There are nice shade trees in many parts of Hammock Hollow.
There is a rock water fountain exhibit where kids can splash in the fountain.
There are cool tunnels for kids to crawl through and different stations for kids to draw, paint, climb and play.
Special events
Many events are held on the Garden grounds throughout the year.
Performances
Moonlight carillon performances
Holiday light celebrations
Festivals
Workshops
Yoga, mindfulness and wellness events
Astronomy
Christmas celebrations
Bird watching events
And more
One of the most popular events at Bok Tower Gardens is a semi-annual symphony concert.
The concert features music from both the carillon and a symphony orchestra.
Bok Gardens would be a great romantic date idea. It is also a popular place for marriage proposals.
Private Events, Weddings and More
Bok Tower Gardens is among Florida's best wedding venues, and is one of the best places to get married in Florida.
It can also be rented for other occasions like memorial services, family celebrations and reunions.
Edward Bok
Edward Bok was the subject of some controversy during his lifetime, and after. His legacy is mixed; many of his views and causes are impossible to support when viewed through a modern lens.
Bok was a Pulitzer Prize winning author, pacifist and magazine publisher. He was the editor of The Ladies Home Journal for more than 30 years.
He was born in the Netherlands in 1863.
As a child he loved being in nature, especially lush and dense forests.
He also loved spending time in his grandfather's' traditional dutch village and listening to songs played from the town belltower.
Bok's family came to America when he was nine years old. They were very poor, and they began their life in America with almost nothing. But, Bok loved America and quickly rose into the upper ranks of society.
He got a job as an advertiser, and began working in the magazine publishing business.
He was successful, and eventually became the editor of the Ladies Home Journal, which was a leading national publication.
He would later marry Mary Louise Curtis, the only daughter of the magazine's rich and powerful owners.
Edward Bok married Mary Louise Curtis in 1896. He was approximately 33, and she was 19.
View the biography of Mary Louise Curtis
Mary Louise's mother was Louisa Knapp Curtis, the founder and editor of the Ladies Home Journal.
The Home Journal was a wildly popular and influential magazine in its time, and was a strong platform to speak to women in America.
Read more about the Ladies Home Journal
The marriage thrust Bok into American aristocracy.
His wife Mary Louise had worked as a staff writer for the magazine since she was 13 years old. When she was a child, she wrote for the magazine under her mother's name.
Bok served as the magazine's editor for 30 years. During that time he used it as a platform to broadcast his views and commentary on American culture.
Among other things, Bok encouraged the country to improve its appearance, and tried to steer housing and fashion towards his own vision of beauty.
He felt strongly that people should leave the world a better place, and more beautiful, than they found it.
"No man has the right to leave the world no better than he found it. He must add something to it either he must make its people better and happier or he must make the face of the world fairer to look at."
-Edward Bok
He is said to have lived by this quote, which he learned from his beloved grandmother.
Edward Bok leaves a great legacy in some respects, and a terrible one in others.
On one hand, he did leave a beautiful gift to the world. He tried to promote peace and respect for nature, which are worthwhile causes.
On the other hand, some of Bok's views and messages are evil and backwards when viewed from a modern lens.
While editor, Bok used the Ladies Home Journal to attack the women's rights movement, feminists, and to encourage women to remain obedient to men.
Bok was fiercely against women's equality and women's right to vote. These were mainstream views at the time.
Bok didn't think that women were capable of voting, or controlling their own lives.
He thought that equality, freedom and liberation would overwhelm women, and lead to depression and other bad outcomes. He believed that women were better off under the control of men.
He used his influence as an editor of the Women's Home Journal to spread his anti-woman views. This led to outrage and boycotts. When women boycotted his magazine, Bok threatened them with lawsuits. Source
Edward Bok amassed a great fortune and left several lasting marks on American society.
After retiring, Bok spent time in his winter residence in Florida and dedicated his life to philanthropy and the arts. He tried to encourage world peace, and created the American Peace Award.
Bok died on Jan. 9, 1930, at age 66. He is buried inside Bok Gardens, inside the brass front door of the carillon tower.
After the death of her husband, Mary Louise Curtis Bok continued to fund art and contributed to philanthropy.
She supported numerous artists through her patronage and supported the arts in many ways. She later remarried to a professional violinist.
The Story of Bok Tower and Gardens
Bok Tower and Gardens was the brainchild of Edward Bok and his wife, Mary Louise Bok.
The Boks were wealthy publishers, and were members of America's wealthy elite in the late 1800s and early 1900s.
Like many wealthy Americans in the late 1800s, Edward Bok and his wife Mary Louise Bok lived in the north, but traveled to Florida to avoid harsh winters.
They spent their winters in the wealthy Mountain Lake Estates neighborhood, along with many other wealthy aristocrats. The neighborhood remains a wealthy, prestigious enclave, even today.
The Mountain Lake Estates and Bok Tower are located high atop Iron Mountain.
Bok loved the place. He especially loved hiking to the peak of Iron Mountain. He decided to create a garden on the site, which would celebrate nature's beauty, and peace.
He wanted to create a masterpiece, and leave it to the American people as a gift. He hoped it would be a sort of Taj Mahal for America.
His goal was to create a quiet, peaceful place to "elevate your mind and spirit". He achieved his goal with wild success.
The gardens feel sacred and deeply spiritual.
Upon entering the Garden's winding scenic drive, there is a sense of natural peace and serenity. It becomes even more beautiful at the top of the hill, and inside the numerous gardens.
Today Bok Tower is protected as a National Historic Landmark site. It's owned and operated by a non-profit 501c3 organization.
The facility and organization are supported by visitor ticket sales, special events and donations.
Besides preserving and operating the gardens and tower, the organization also helps preserve Florida's natural environment, endangered plants and wildlife, and more.
Famous Artists
Several notable artists and designers contributed to Bok Tower and Gardens.
Tower Architect: Milton Medary
The tower was designed by the famous architect Milton Medary.
The stonework was created by a master sculptor, Lee Lawrie. Lawrie was self-taught and is responsible for other iconic sculptures, including the sculpture of "Atlas" outside of Rockefeller Center in New York City.
Metalwork: Samuel Yellen
The impressive metalwork was created by Samuel Yellen, including the brass door and other metalwork around the tower.
Yellen's other works are showcased inside the Washington National Cathedral and other national landmarks.
Tile and Mosaic: J.H. Dulles Allen
The tower's beautiful tile work was created by J. H. Dulles Allen. Upon close inspection, the colorful tiles show themes of natural beauty, balance and harmony.
Landscape Architecture: Frederick Law Olmsted Jr.
The gardens were designed by Frederick Law Olmsted Jr. At the time he was one of the most respected landscape architects of his time.
Olmsted is also known for his contributions to the National Park system and many national landmarks in Washington DC, including the Jefferson Memorial and White House grounds, among others.
While designing Bok Gardens, Olmsted drew inspiration from Florida's natural environment. He incorporated native species, including lush ferns, pine and other Florida ecosystems.
He emphasized intimate resting places within the gardens, and took advantage of the elevation to showcase beautiful lookout points.
Early History of Bok Tower and Garden
The towers were dedicated as a gift to America on February 1, 1929.
The dedication ceremony was attended by the nation's most wealthy and powerful elite. Attendees wore top hats, furs and formal attire.
Other local Florida residents attended, as well. Florida locals wore their "Sunday best" and sat on orange crates to watch the ceremony.
Some attendees are still alive today. They say they remember feeling surprised and amused by the silly clothes worn by the upper class.
The sitting president, Calvin Coolidge, unveiled the garden and presided over the dedication.
Visitors arrived at the garden by Model T motorcars, which were relatively new at the time.
Traffic is said to have backed up for miles in every direction, as cars idled among orange and citrus groves.
The Roaring Twenties were drawing to a close, and the country felt wealthy and prosperous after a decade of peace, prosperity and financial speculation.
Of course, nobody knew that the 1929 stock market crash and the Great Depression were just around the corner.
The Bok Gardens Singing Tower
The Bok Garden Singing Tower is one of its most unique and recognizable features of Bok Garden.
It's 205 feet tall and took approximately two years to build.
Because it sits at the highest peak of Iron Mountain, which is already one of the highest elevations in Florida, Bok Tower is one of the highest points in all of Florida.
The architect, Milton Medary, designed the tower in a neo-gothic and art deco style, which was popular at the time.
Instead of dark imagery and gargoyles which was common during this period, the tower displays a peaceful, light and positive theme.
The scenes celebrate nature, and humans as a part of nature, living in peaceful harmony. Much of the art pays respect to Florida's native animals, especially birds.
The tower is surrounded by intricate stone carvings, mosaics and wrought iron, which all deserve careful appreciation.
The tower, and all of its ornate decor, was built entirely in-place.
The stone was carefully carved from solid stone slabs. The work was done by the hands of skilled Italian stone masons.
The tower built from stone, especially Marble from Georgia and Coquina from St. Augustine, Florida.
When you stand next to the tower, it feels like you're next to a medieval castle, but in Florida. It feels amazingly solid, timeless and has a deep presence.
At night, the tower is illuminated from inside and the beautiful sculptures glow with a warm yellow.
The stone sculptures take on a dramatically different feel as they cast a shadow and light fills their negative space. It is a beautiful sight.
There is a reflecting pool around the tower which many refer to as a moat.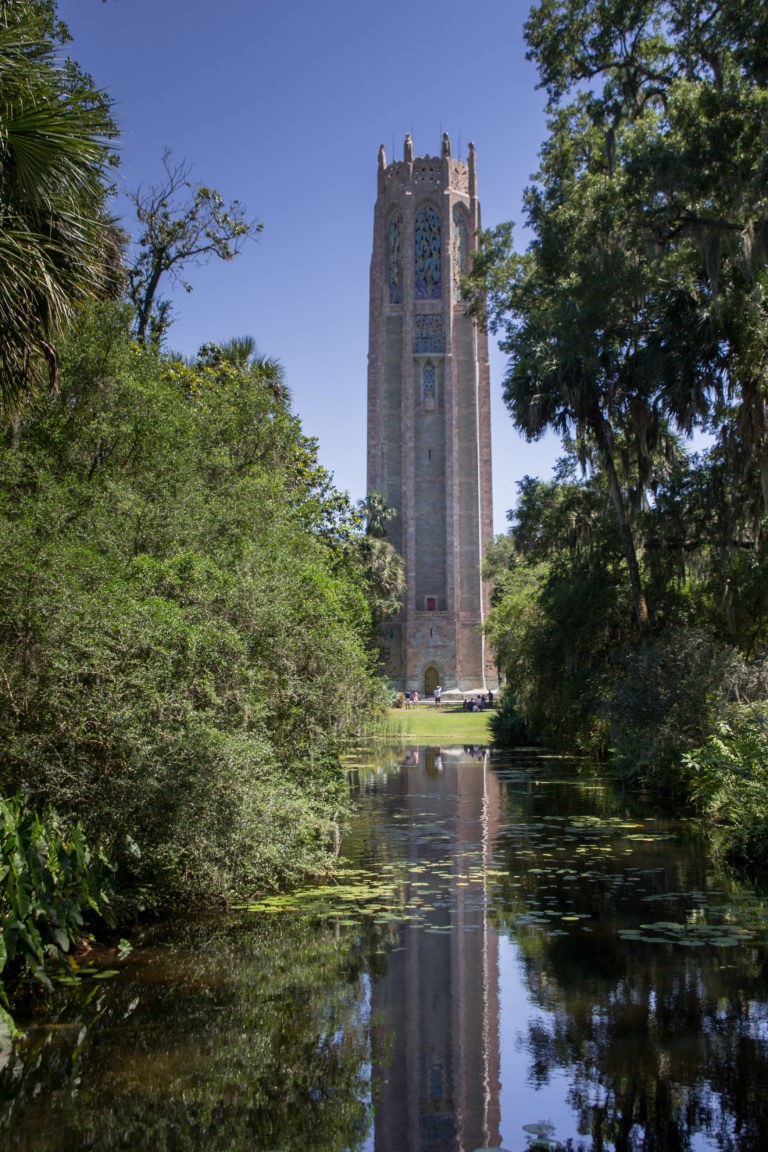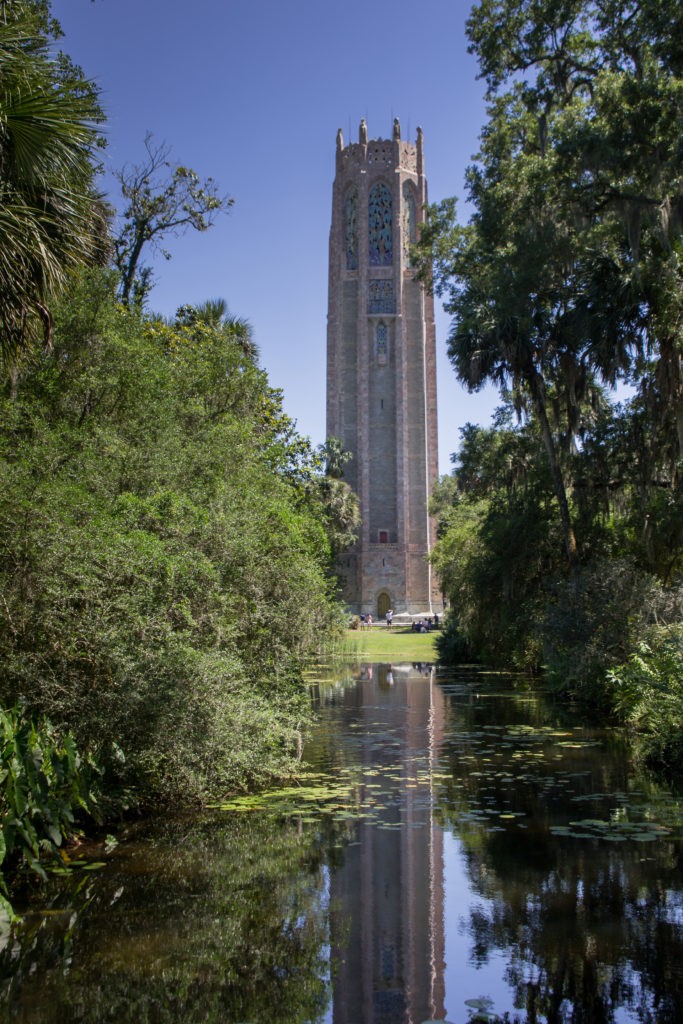 On one side there is a sundial and a Zodiac calendar. There is also a time table for accurately converting the sun dial into local time.
Bok Tower's door is intricate and beautiful. It is one of the most photographed elements of the tower because it is so striking. It feels like a true castle in Florida.
Many visitors assume the door is made of gold, but it's actually made of brass.
The door weighs more than 1,000 pounds and features a series of 30 artistic panels which depict the Garden of Eden, Adam, Eve, and the Bible's Book of Genesis.
Edward Bok is buried just outside of the brass door of the Singing Tower.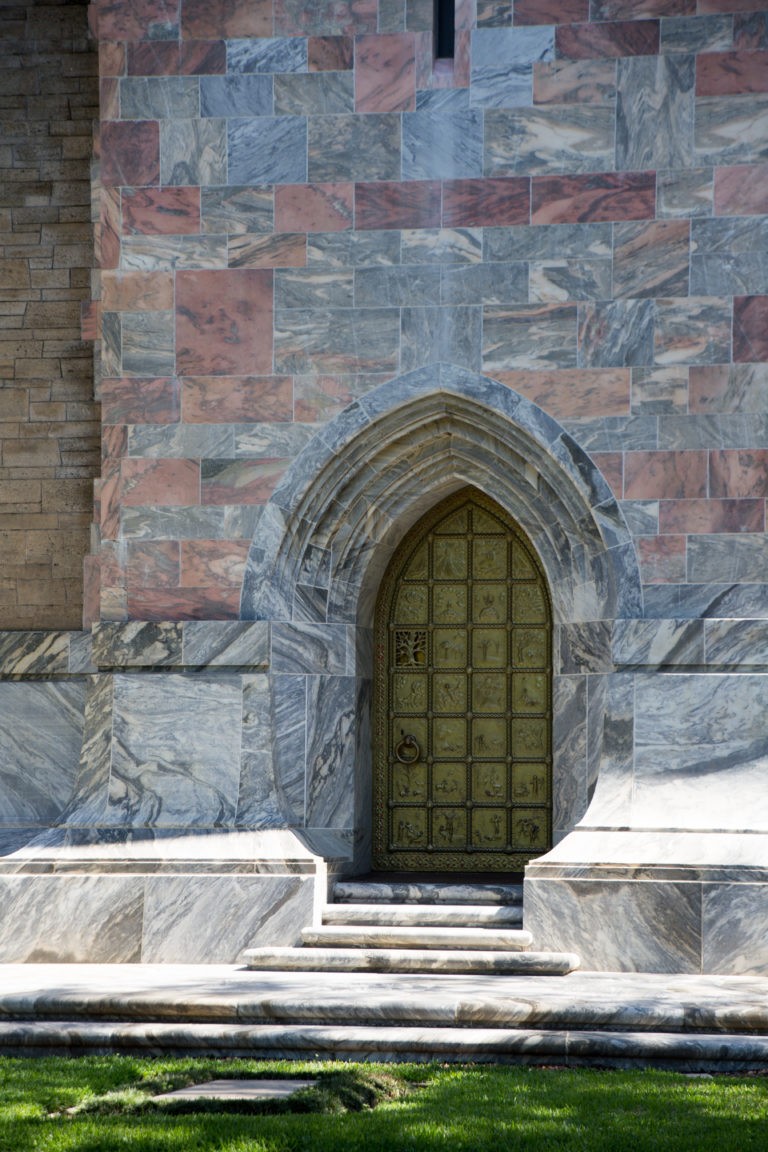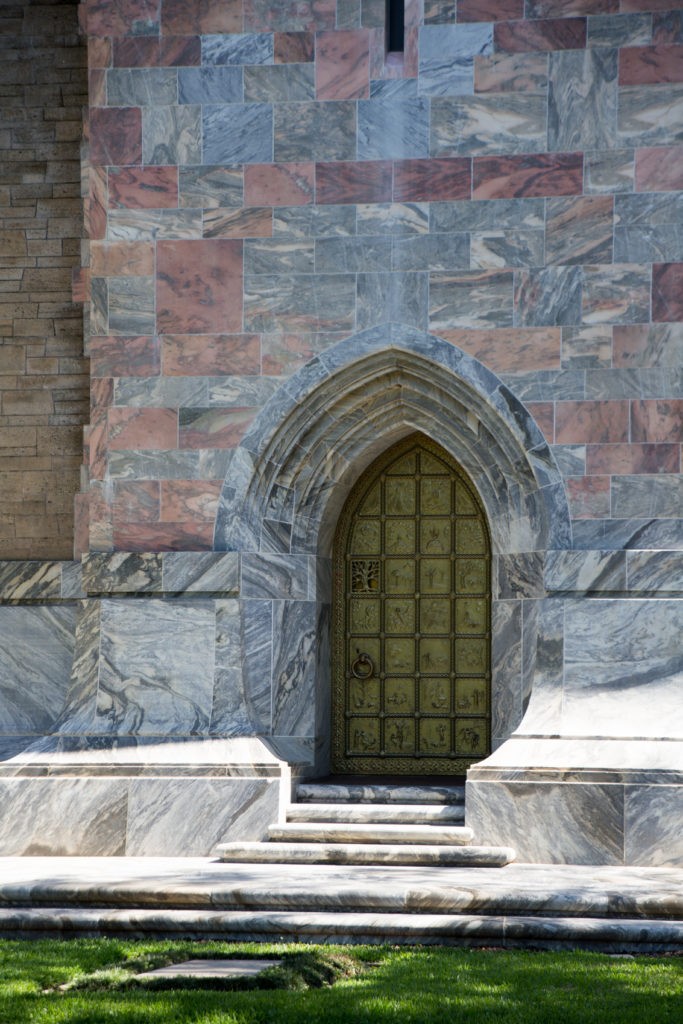 What is a carillon?
A carillon is a collection of bells which are played together as a single musical instrument.
The bells are controlled by mechanical wires, which all connect to a single keyboard. It's similar to a piano. Carillon musicians are known as carillonneurs.
Video Tour of Bells and Carrilon
The keyboard gives the carillonneur precise control over the bells. They can be struck with a light, delicate touch, or a heavy, thundering tone.
While the carillon is being played the entire tower vibrates with energy.
The Bok Tower carillon consists of 60 bells. They sit inside a bell chamber which is 35 feet wide and 40 feet tall.
Interestingly, unlike traditional bell towers, the bells in Bok Tower do not move. Instead, a striker inside the bell, called a clapper, moves when a key is struck on the keyboard.
Carillon Concerts
Bok Tower's carillon bells play every day, 365 days a year.
They play full carillon concerts daily at 1 PM, and again at 3 PM. The concerts last for approximately 30 minutes.
Clock music also plays for several minutes at 30 minute intervals throughout the day.
The sound of music carries for a long distance, and can be heard well throughout the entire garden. Many people prefer to experience the concert beside the tower.
There is a viewing area near the tower which shows a live video feed of the musician, or carillonneur.
There have only been four carillonneurs in the garden's entire history. Many of the players come from impressive backgrounds, and all are expert, professional, world-class musical experts.
There are very few carillon towers in the world, and experts agree that the Bok tower is one of the most impressive.
Inside Bok Tower
Like the rest of the gardens, Bok Tower is beautiful inside and out.
Inside, it features several different levels, which are arranged vertically.
Founder's Room, Edward Bok's Private Study
Chao Research Center
Mechanical Equipment
Maintenance Workshop
Anton Brees Carillon Library
Carillonneur Studio
Carillon Bells and Playing Cabinet
Roof, Lightning Rod and Statues
There is a wrought-iron staircase, with 211 steps, which climb the tower.
At the base is a sitting room, which served as Bok's private study.
The private study has an enormous fireplace, an intricate mosaic tile floor and a high vaulted, arched stone ceiling. It feels like a cathedral, or a medieval castle.
In higher levels there is also a workshop, an archive to house historical documents, a practice room, and more.
The historical archives contain the largest collection of carillon music and literature in the world.
Is there an elevator in Bok Tower?
The floors are also connected by an antique Otis elevator, which was one of the world's earliest. It is electric, and is still functional today. There is also a separate Otis elevator in the Pinewood Estate.
Can you go inside Bok Tower?
Sadly, the Bok Singing Tower itself is not open for tours by the general public.
The reason is because the tower is not designed to handle crowds.
The elevator is an antique, and the stairwell cannot handle large crowds. There is only one point of entrance or exit, so it would not be safe for crowds to enter.
Tours and access may be available for members and patrons of the garden, if a sufficient membership level is achieved.
Iron Mountain
Bok Tower and Gardens is located in Polk County in central Florida. It sits atop an unusually large hill named Iron Mountain.
Iron Mountain is 295 tall, which makes it one of the highest points in Florida. By elevation, it is the 13th highest point in Florida. Source
Iron Mountain is part of a fascinating geological formation known as the Lake Wales Ridge. It's a remnant of an ancient beach and sand dunes, from when most of Florida was covered by ocean.
The Lake Wales Ridge is a high sandy ridge. It runs down the center of the state from north to south, and divides the peninsula in half from east to west.
The Lake Wales Ridge also contains Sugarloaf Mountain, which is the highest point in Florida.
At one time, when sea levels were higher, it was the only part of Florida which was not submerged under water. At that time, high points along the Lake Wales Ridge peeked out of the ocean and formed a series of small islands.
Because of this past, there are unique and rare plant and wildlife species in the Lake Wales Ridge.
Beautiful Views
Florida is very flat, and sits mostly at sea level. So, the elevated views are a lovely change from the typical scenery. Iron Mountain's high altitude makes it a uniquely beautiful and peaceful place.
The high vantage point gives beautiful views of nearby orange groves, rolling hills and colorful sunsets.
The high elevation also helps take advantage of fresh winds and breezes. This would have been especially important in the days before air conditioning.
Although it feels more comfortable on top of Iron Mountain, the elevation is not high enough to offer lower temperatures due to altitude.
Nature, Birds and Wildlife in the Gardens
Bok Tower Gardens are part of the Great Florida Bird Trail.
There are many native species of Florida's animals, including endangered species.
The Gopher Tortoise is one of the most famous residents of the garden.
The space is an important sanctuary as the tortoise's natural scrub habitat, which has been mostly lost and destroyed due to industrial agriculture and housing developments.
Trees
Throughout the gardens, massive Live Oak trees provide welcome shade. Most are draped with gorgeous Spanish moss.
During the heat of the day, try to stay under shade as much as possible.
You will notice a significant temperature change as soon as you enter or exit the direct sunlight.
Conservation
The Bok Garden grounds help preserve thousands of acres of native Florida habitat, especially the important and endangered Florida Scrub habitat, which has been almost entirely destroyed.
There are citrus orchards, as well as other natural areas like the nearby Tiger Creek Preserve.
The Tiger Creek Preserve is open to the public and is located several miles south of the Bok Tower Gardens.
Bok Tower Gardens is part of a select group of botanical facilities which preserve and protect endangered plant species.
Some plant species are endemic to the region and cannot be found anywhere else on Earth.
Many native Florida species evolved in the area surrounding Bok Tower because of its unique geological past and difficult living conditions, which encouraged evolution and adaptation.
Video Tour of Pinewood Estate, Gardens and the El Retiro Mansion
The Pinewood Estate is a luxurious mansion on the Bok Tower and Gardens property. It's also known as El Retiro, which means "The Retreat" in Spanish.
It is a good example of mediterranean style architecture, which was popular in Florida during the Florida Land Boom and the roaring twenties. It is included in the National Register of Historic Places.
The Pinewood Estate was built in 1932 for a member of the American aristocracy, Edward Buck. Many visitors are confused because the owner was named Buck, not Bok.
Buck was from Bethlehem, Pennsylvania and was a vice-president of Bethlehem Steel. Like many wealthy elite, Buck wintered in Florida to avoid frigid northern winters.
The Pinewood Estate was not originally part of the Bok Tower Garden; it was purchased in 1970.
The mansion contains 20 rooms. By today's standards it can feel stuffy, cramped and dark.
But, it was extremely luxurious when it was built. Indoor plumbing, electricity and window screens were all luxurious elements at the time, enjoyed by only the wealthiest elite.
Most elements of the Pinewood Estate are original, and have been carefully preserved.
There are usually self-guided tours for an additional cost. Volunteers are on-site to offer commentary and to ensure that the house is protected.
It's important to note that general admission for Bok Tower does not include the Pinewood Estate; it is a separate cost.
Tickets to tour the Pinewood Estate are reasonably priced and are about $6 per person as of this writing.
Please be advised that tickets for the Pinewood Estate must be purchased at the front ticket gate or online prior to visiting. They cannot be purchased at the mansion itself.
The tours mostly focus on the historical elements of the house and explain what life was like back then.
Compared to the lively and fresh outdoors, the house tour may feel stale. Much of the tour commentary focuses on design and decoration elements of the house.
Some people love touring the inside of the Pinewood Estate, and some are underwhelmed.
It is beautiful to experience the historic mansion. You might consider whether historical houses are your cup of tea before buying tickets.
In my opinion it might not be enjoyable for young children, unless they could appreciate the historical context of an old house.
That said, everybody should consider visiting the gardens surrounding the Pinewood Estate.
Like the rest of the gardens, the grounds are beautiful. They are well-worth visiting. The exterior of the Pinewood Estate are also beautiful, and are well worth the effort to see.
To me, it's telling that the early owners considered the exterior gardens to be more important than the interior.
I thought that one of the most fascinating aspects of the tour was to consider what life was like in that house before air conditioning.
Although, it was rarely used as a primary residence during Florida's hot summers — it was generally a winter escape, when Florida's climate and weather are ideal.
The house also features an antique electric elevator, which is interesting.
Where is Bok Tower?
Bok Tower is located in central Florida, in the small town of Lake Wales.
It's in the middle of the state, almost perfectly balanced between the east and west coasts.
Bok Tower and Gardens is 66.2 miles east of Tampa.
Bok Tower and Gardens is 56.1 miles southwest of Orlando.
Are there any beaches near Bok Tower?
Many visitors wonder if there are any beaches near Bok Tower, so they can plan a convenient vacation. Sadly, the answer is no.
Bok Tower is located in Lake Wales, a small town in Central Florida. It is not on the coast, so there are no beaches nearby.
The nearest beach is Madeira Beach, located on the Gulf of Mexico. The drive from Bok Tower to Madeira Beach is more than two hours away.