Where is Boyd Hill Preserve?
The Boyd Hill Nature Preserve is located south of Saint Petersburg. It borders the shores of Lake Maggiore. There are two entrances to the park.
The North entrance includes a historical Pioneer Settlement Area and will be the site of the Tomalin Campground, which will provide urban camping inside the Boyd Hill Nature Preserve. 
The South entrance features an extensive nature education center, hiking trails and the Birds of Prey program. 
When is Boyd Hill Open?
| | | |
| --- | --- | --- |
| Hours of Operation | Fall – Winter | Spring – Summer |
|   | Nov. 1 to Feb. 29 | Mar. 1 – Oct. 31 |
| Monday | Closed | Closed |
| Tuesday | 9:00 am – 6:00 pm | 9:00 am – 7:00 pm |
| Wednesday | 9:00 am – 6:00 pm | 9:00 am – 7:00 pm |
| Thursday | 9:00 am – 6:00 pm | 9:00 am – 7:00 pm |
| Friday | 9:00 am – 6:00 pm | 9:00 am – 7:00 pm |
| Saturday | 7:00 am to 6:00 pm | 7:00 am – 7:00 pm |
| Sunday | 9:00 am – 6:00 pm | 9:00 am – 7:00 pm |
Boyd Hill Preserve is closed on Mondays, Thanksgiving, Christmas and New Year's Day. 

Source
Covid-19 Response
To protect visitors and staff from Covid-19, safety precautions are in effect. Social distancing should be practiced.
You must have a mask to enter the facility.
Additional restrictions may be in place. Please call the facility for additional details.
What is the Boyd Hill Nature Preserve?
The Boyd Hill Nature Preserve is a park, rehabilitated natural habitat and nature preserve. It's located south of downtown Saint Petersburg, and sits on the shore of Lake Maggiore. 
There are two sections to the park; north and south. The differences are explained below.
The preserve has recently been expanded. It previously measured 245 acres of land area, but was recently expanded and now includes 300 acres.
The Park sits beside Lake Maggiore; a brackish, salty natural lake which covers 380 acres. The health of Lake Maggiore has suffered as a result of man-made pollution and destructive modifications.
Boyd Hill is priceless and unique. It's a vital natural habitat for native wildlife, and a natural treasure for residents within Pinellas County, which is among the most densely populated counties in Florida.
Within its borders, most of Florida's major terrestrial ecosystems are represented, except for a marine or beach environment.
A public campground is scheduled to open in November, 2020, although Covid-19 may cause delays.
Check out this news coverage for more information on the opening of Boyd Hill's Tomalin Campground.
The preserve is managed by the City of St. Petersburg with active partnership and assistance from the non-profit organization Friends of Boyd Hill Nature Preserve.
This preserve is definitely worth visiting! It is beloved by locals who know about it, and it provides a fantastic adventure for wildlife lovers and nature newbies.
Boyd Hill Map
A PDF map of the Boyd Hill Facility and Trail Map can be accessed at the link below. This is provided by the City of St. Petersburg. 
http://www.stpeteparksrec.org/pdfs/parks/BoydHillNaturePreserve_TrailMap.pdf
What to bring?
Good closed-toed shoes
Water in a good reusable water bottle
Picnic lunch and supplies
Sunscreen
Bug spray
Binnoculars
A good camera and zoom lens!
When to go
The Boyd Hill Nature Preserve is open year-round. Most Florida locals prefer to enjoy the outdoors during the cooler months of fall, winter and spring.
Florida summers are very hot, but the preserve stays cooler than you might expect, especially in the shaded areas around Lake Maggiore.
Generous shade, the strong breeze off of the lake, and the water's evaporative cooling effect all help it stay comfortable even on warm days. It also benefits from a lack of the "heat island" effect, which occurs around large expanses of asphalt and paved surfaces.
If you seek peace and quiet, consider visiting during the week while school is in session. If you prefer a lively family atmosphere, weekends and school vacations are usually busier with families.
Depending on when you visit, the park's opening hours may change. It stays open one hour later into the evening in the spring and summer.
Wildlife is generally most active early in the morning and later in the evening, around sunrise and sunset. Mosquitoes are also most active at dawn and dusk.
There is often more wildlife activity during the spring.
Migrating butterflies fill the pollinator's garden
Migrating birds fill the trees and waterways
Alligators bellow and be are active during mating season, which lasts from April to June
The preserve is generally more green and lush during the latter part of the summer rainy season. But, it may also be more muddy, and there may be more insects. You may also be caught by a summer storm, so consider bringing bug spray, an umbrella, and remain aware of the weather.
How much does it cost?
Adults: $3
Children aged 3-16: $1.50
Children under 3: Free
Who should go?
Really, anybody who loves nature will be impressed by a visit to Boyd Hill. It's a refreshing natural retreat within minutes of downtown St. Petersburg.
Most of the trails are ADA accessible
Dogs and pets are not allowed
Bicycles are permitted, but not on the wooden boardwalks.
Things to do
Hiking Trails
Biking trails
Bird Watching. Part of the Great Birding Trail
Wildlife and Nature Photography
Camping
Tram Tour
Playground and covered picnic pavilion outside the preserve trail gates.
Kayak and canoe rentals
Rent shelters
They have wildlife and nature checklists so you can make sure you notice and experience as much as possible.
Tram tour:
If you or someone in your party prefers a tram instead of walking, there are daily tram tours. They depart at 1:00 pm.
There are two tours on Saturday. They depart at 10:00 am & 1:00 pm.
The preserve is closed on Mondays.
Tram Tour Fee:
$5 for adults
$3.50 for children ages 3 through 16.
Under 3 years FREE.
Payment reserves your spot on the daily tram tours. Spots must be reserved in-person. Payment cannot be taken over the phone.
Groups of 4 or more can request a special tram tour subject to staff and volunteer availability.
Advance notice of 1-2 days is preferred.
South Entrance: Hiking Trails
At the southern entrance there are more than 8 miles of trail, which wind through different ecosystem tracts. Trails are well marked, and there are guideposts along the way. More trails are being built to connect the north and south sections.
There are usually cold water stations placed along the trails, but when I last visited they were not present due to Covid-19 health precautions.
North Entrance: Pioneer Settlement Area
At the north end of the preserve, a historical pioneer settlement exhibit shows what life was like earlier in Florida's pioneer settlement period. 
There are 11 historical buildings on the property. Some are replicas and some original, which were moved from downtown St. Petersburg. There's a functioning replica of a historical blacksmith shop and sawmill, among others. The buildings feature interpretive and educational information.
The north section of the preserve is currently being expanded.
The City of St. Petersburg is building a new welcome center, Hammock Hall. It will have two rooms available for event rental. It will also feature a campground, primitive campsites for tent camping and cabins, which will be open to the public for the first time.
Boyd Hill Preserve: Tomalin Campsite
When fully open, the northern section of Boyd Hill Preserve will have campsites and cabins.
The camp site will be opened in phases. 12 sites will be opened in phase one, and an additional 12 will be opened in phase two.
Camping Cabins
When fully open, there will be six camping cabins available for rent.
The cabins have been renovated and will feature electric fans, LED lighting, new floors and furniture. Previously these cabins were only open to organized group camping. This new campsite expansion will be the first time camping opportunities are available for the public.
It's hoped that the expanded access will help kindle a love and appreciation for Boyd Hill, and help provide access to natural experiences.
Boyd Hill Nature Preserve History
Like much of Florida's history, the backstory of Boyd Hill Nature Preserve is fascinating, and also deeply disturbing.
The site was created and named after its first superintendent, Boyd Hill, who created and managed the park in the mid 1950s.
At that time the park was not a nature preserve dedicated to the protection of Florida's pristine nature and wildlife. Instead, it was a roadside spectacle described as a "mini theme park", which exploited abused animals.
To compete with the neighboring Sunken Gardens attraction to the north, invasive plants were introduced to make the site feel more exotic. Those invasive species are still being removed today.
If you want to read more about the history of the Boyd Hill Nature Preserve, check out these well-written articles from The Catalyst and the Friends of Boyd Hill. Be warned that elements of the story are disturbing.
These stories are a dark reminder of how cruel and callous humans can be to animals, nature and wildlife. While researching this story, it occurred to me that many many adults living today were the same clueless kids who taunted, injured and killed the poor caged animals.
Along with early Boyd Hill's misguided "zoo" horror show, other destructive actions were taken at nature's expense.
Damage to Lake Maggiore
In its natural state, Lake Maggiore — previously named Salt Lake — was a saltwater tidal lake, connected to Tampa Bay via Salt Creek.
The water level inside the lake would fluctuate, and would sometimes drain completely during extreme low tides, which created a muddy, smelly bog.
In 1940 St. Petersburg developers wanted to modify the lake to ensure a more consistent water level. They also wanted to stock freshwater sport fish inside the lake. So, a dam was built to block Salt Creek. Freshwater fish were introduced, and the native saltwater fish were killed off. Like so many ambitious environmental modifications, the project was a disaster.
The dam blocked the natural water cycle of the lake. A toxic stew of invasive species, stagnant water and pollution from surrounding neighborhoods made the lake into a deadzone, and sediment began filling the lake.
Over time work has been done to help improve the health of the lake. Massive projects were undertaken to remove sediment, invasive plant species, and help reduce groundwater pollution.
Still, Lake Maggiore is not healthy. Today its health is designated as "Impared". Other measurements of the lake's health are barely in the "fair" category, and straddle the border with the worst, red-line "poor" designation. Sources: USF Water Atlas and the Native Fish Lab
Protected Preserve
In 2014 and 2015 dedicated defenders of the preserve successfully fought an ill-advised development plan. Shortly after, the City of St. Petersburg gave enhanced protection to the site with full "Preserve" status to ensure the site will be protected in the future. You can read more about the fight to protect Boyd Hill here and here.
Wildlife
Boyd Hill is home to many of Florida's natural wildlife species. Be on the lookout for native and migrating birds, reptiles, mammals, and more.
Check out iNaturalist to see what other nature lovers have found in the area. If you look at a map of the area, Boyd Hill is a visible hotspot for wildlife spotters and activity.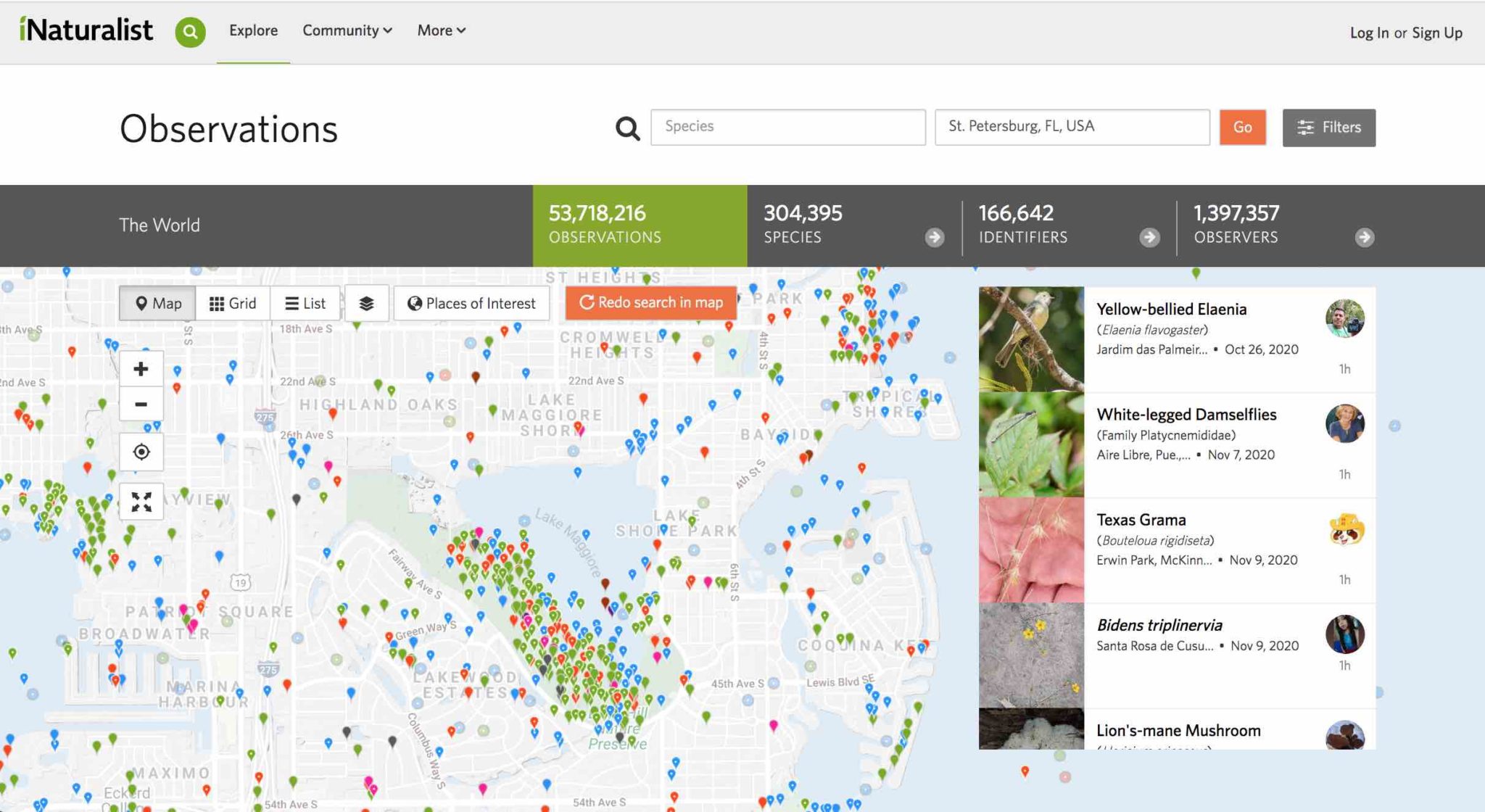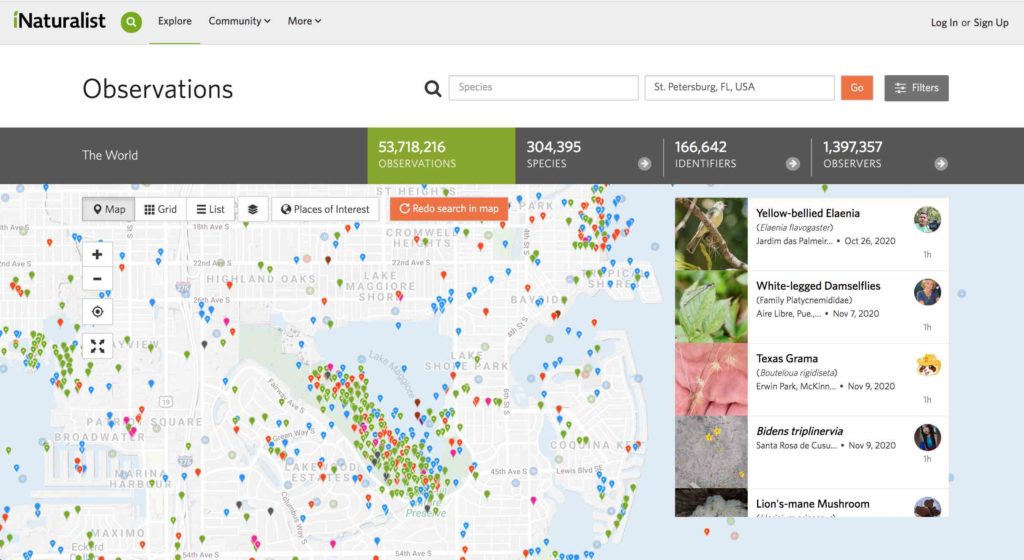 Alligators, from large adults to tiny hatchlings and babies, can often be seen on the banks of Lake Maggiore.
In the courtship and mating season, which lasts from approximately April to June/July, increased activity and bellowing is commonly observed.
Otters
Otters are one of my favorite wild animals to see in the preserve! They can often be seen in the marsh and swamp areas around the raised boardwalks. Look for bubbles rising from the water and disturbances in the water. If you're lucky you may see them hunting for fish, or playing rambunctiously. Polarized sunglasses and camera lenses can help see through any glare on the water surface.
Birds of Prey
In the Birds of Prey aviary exhibit you can see a variety of species. All of these birds have been injured, or otherwise deemed unfit for survival in the wild. When they're taken in by the Boyd Hill Preserve they receive a loving home for life, and excellent care. The staff at Boyd Hill give fascinating talks; try to catch one if you can.
Natural Ecosystems
Lake Maggiore
The lake comprises a large portion of Boyd Hill's perimeter border. It spans 380 acres and consists of brackish water, which is a mixture of fresh and saltwater. Before Salt Creek was dammed large saltwater fish were reportedly found inside the lake. Now, thanks to the dam and resulting environmental damage, only small, hardy fish live in the lake. The lake is a vital part of the natural ecosystem. Among other things, it attracts many waterfowl and migrating bird species.
Naturally, Lake Maggiore was a salt water tidal lake, connected to Tampa Bay through Salt Creek. It used to be called Salt Lake. In its natural state the water level fluctuated dramatically with tides, and sometimes went dry during extreme low tides. In the 1940s a dam was installed on Salt Creek in hopes that a higher water level would help increase the number of fish. It ended up causing environmental damage because of several reasons, and decimating the fish population.
It also damaged the lake in other ways:
Invasive grasses and excessive sedimentation
Groundwater pollution and urban runoff contamination
Excessive nutrients caused imbalances and low oxygen levels
Due to the natural damage, only small fish can survive in the lake
Marsh
Marshland is low-lying land which floods from high tide, rain water and other flooding events. It stays wet and saturated during most conditions. Marshland is important because, among other things, it helps control and regulate groundwater. Marshland accumulates and absorbs flood waters during periods of heavy rain. It also acts as a natural filter for groundwater runoff to trap pollutants and nutrients, before they can infiltrate and harm bodies of water. Marshes also help protect natural grass areas, which stabilize soil and prevent erosion. The tall grassy areas provide shelter and habitats for numerous types and species of wildlife.
Swamp
Swamp land remains wet and submerged for most of the year. Many people imagine swamps as areas of stagnant green water, but healthy swamp land actually transfers and filters groundwater continually. Even if there are lily pads or other plants covering the surface, there are natural currents and groundwater movements throughout the swampland ecosystem. Like marshes, swamps help regulate and filter groundwater runoff and flooding events. This protects surrounding areas, especially the neighborhoods surrounding Boyd Hill Preserve. Visitors can comfortably explore the swamps of Boyd Hill Preserve via several well-maintained, raised walkways, while enjoying shade from tall Red Maple and Bald Cypress trees. The swamp environment of Boyd Hill is noticeably cooler than other areas in the park because they are low-lying, and thanks to several other factors. The shade, evaporative cooling and dense, lush vegetation which all help cool the area.
Pine Flatwoods
The Pine Flatwoods are fascinating to wander through. If you look closely, you'll notice dark and charred bark on many of the pine trees. Florida's pine ecosystems, especially the native LongLeaf Pine, are dependent on natural, annual fire events. All of the plants and animals have adapted to survive and thrive thanks to fire, and many depend on fire for survival. The fires help clear out dense underbrush and maintain a natural, healthy balance for all of its inhabitants.
Sand Scrub
Florida's Sand Scrub ecosystem is characterized by dry, sandy soil. It's the remnant of what was once a beach environment.
Sand scrub soil has poor moisture retention, and is generally nutrient-poor. It has low amounts of clay or organic matter. In a healthy sand scrub ecosystem the sandy soil is tilled and cultivated by resident wildlife, including insects and burrowing animals like pocket gophers and gopher tortoises.
Fire is an important part of the Sand Scrub ecosystem. In the past it would have been caused by lightning strikes; today it's administered in controlled, prescribed burns. Fire is vital for this ecosystem because it clears away underbrush and helps rejuvenate soil and activate natural processes for many plants, trees, animals and wildlife. It also activates some seeds and natural processes which rely on fire to germinate.
The lack of tree shade may seem inhospitable to humans on a hot, sunny day, but it's a crucial aspect of the scrub landscape. The lack of tree cover is essential for native wildlife. Eagles, hawks, owls and other birds of prey use the exposed, scrub area to hunt. Gopher tortoise feeds off of ground-level vegetation, which only grows with ample sunlight.
In scrub environments you're likely to find these animals, among others:
Scrub Jays
Gopher Tortoise
Indigo Snake
Scrub Lizard
Sand Skink
Sources: Florida State Parks, University of Florida
Hammock
A Hammock ecosystem is a forested area which sits higher than swamps or marshland. It harbors many native Florida trees like Live Oak and Sabal, among others. Beneath the tree cover there is a collection of underbrush plants and understory. Because of the abundant trees and plant life, Hammock environments have a shady canopy and earthy, nutrient-rich soil.
Dangers
The Boyd Hill Preserve is a natural wilderness area. There are wild animals, some of which are dangerous. Follow good safety precautions and remain aware of your surroundings at all times. Children should be kept under immediate adult supervision and within arms reach at all times.
Be especially vigilant in areas where dangerous animals may be present, like any body of water, or any area of vegetation where snakes or other dangerous animals may live. Use good judgement, follow signs and instructions from staff members and take every precaution to ensure your own safety.
Boyd Hill Membership Options
Friends of Boyd Hill Organization
The Friends of Boyd Hill is a non-profit organization. They partner with the City of St. Petersburg to supply volunteers and support for the preserve. They work together to care for the injured birds in the Birds of Prey program, and share costs for food, shelter, veterinary care, and other means of support.
They also help maintain and improve the grounds, provide scholarships for youth campers, and host special events, among many other things.
Events
RaptorFest
The popular RaporFest event is held in February. Visit RaptorFest.org for more details.
Halloween
During Halloween Boyd Hill hosts a haunted house and haunted trail. It's called the Boyd Hill Field of Screams.
The event requires tickets. Tickets are $10 during the pre-sale, and $15 on the day of the event.
The event was cancelled in 2020 due to Covid-19 precautions, but hopefully it'll be back next year.
Natural Speaker Series
The Friends of Boyd Hill and the City of St. Petersburg jointly host a regular expert speaker series. Naturalists, scientists and experts deliver talks on fascinating natural history topics. The speaker series is free and open to the public; all are welcome.
The series is held from September to April on the second Tuesday of each month at 7 PM. More information can be found on the Friends of Boyd Hill site.
Boyd Hill Nature Preserve Jobs
From its earliest days, people have clamored to work and volunteer in Boyd Hill Preserve because it's such a lovely, peaceful natural environment.
Check the St. Petersburg Parks and Rec Jobs and Volunteer Page for other information. , or the St. Petersburg jobs page.