Update: 6/15/2021: The Thai temple and grounds are open daily from 9 am until 6 pm.
The Sunday Thai brunch market is held every Sunday from 8 am until 1 pm.
The market is currently drive-through service only. After collecting food via car, visitors can park and eat their food at the onsite picnic tables.
Overview
Wat Mongkolratanaram is a Thai temple in Tampa, Florida.
It's also casually known as the Tampa Thai Temple. It's located approximately 5 miles east of downtown Tampa.
The temple is beautiful and peaceful. It sits on the banks of the Palm River, under massive old shade trees.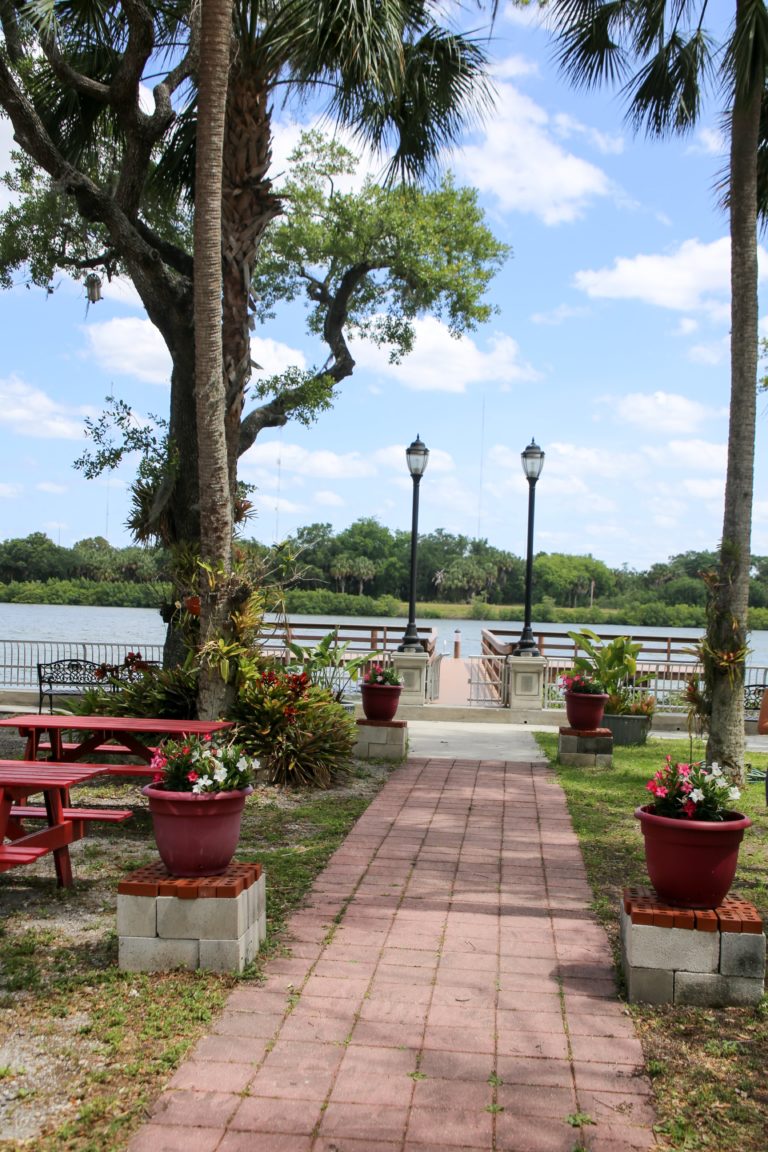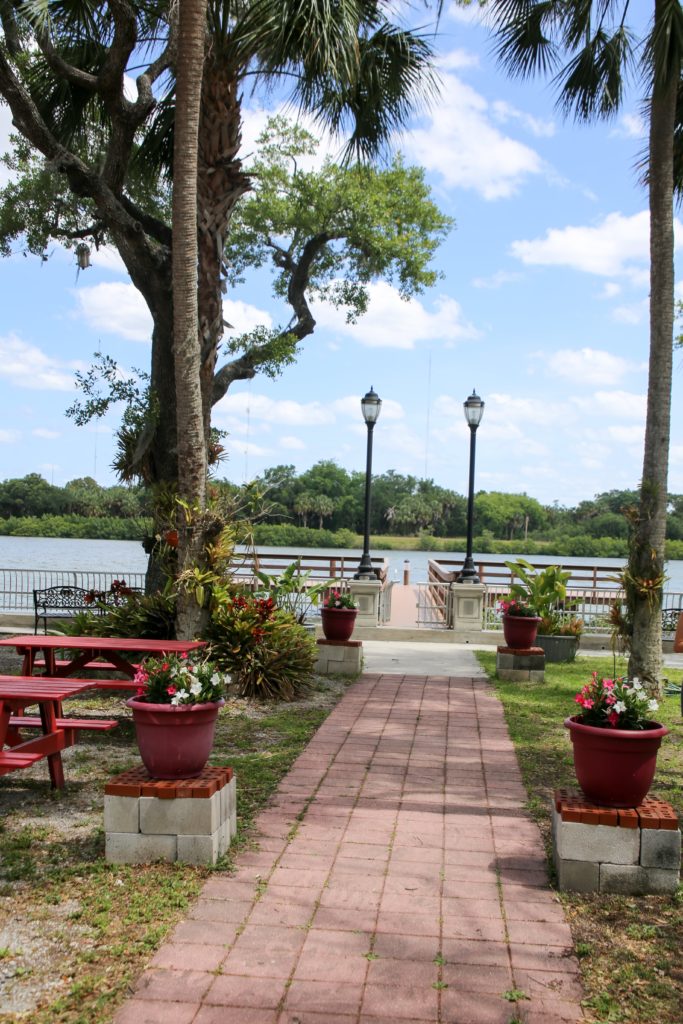 The trees are draped with Spanish moss, and are decorated with ornamental flowers, including beautiful Orchids.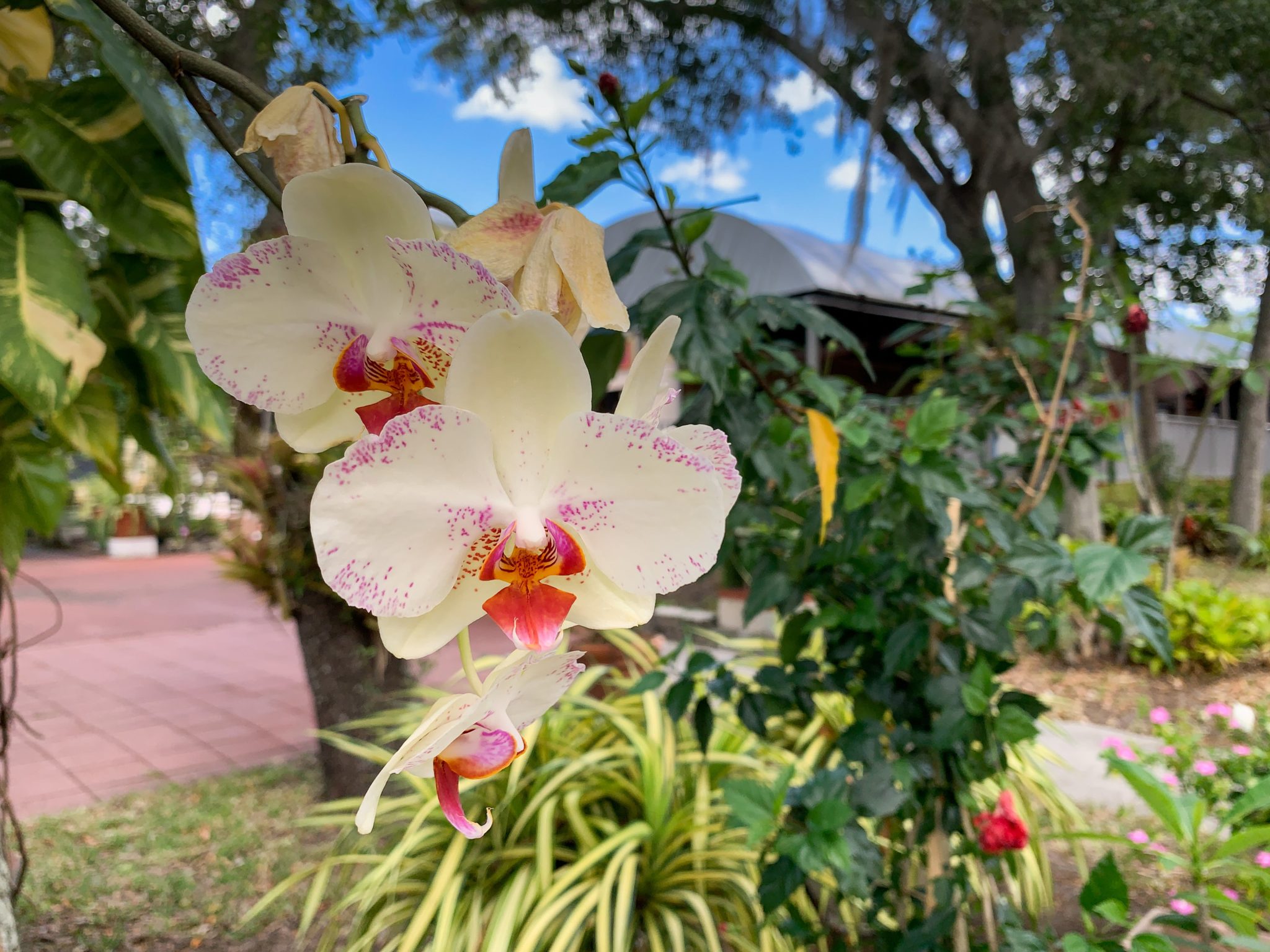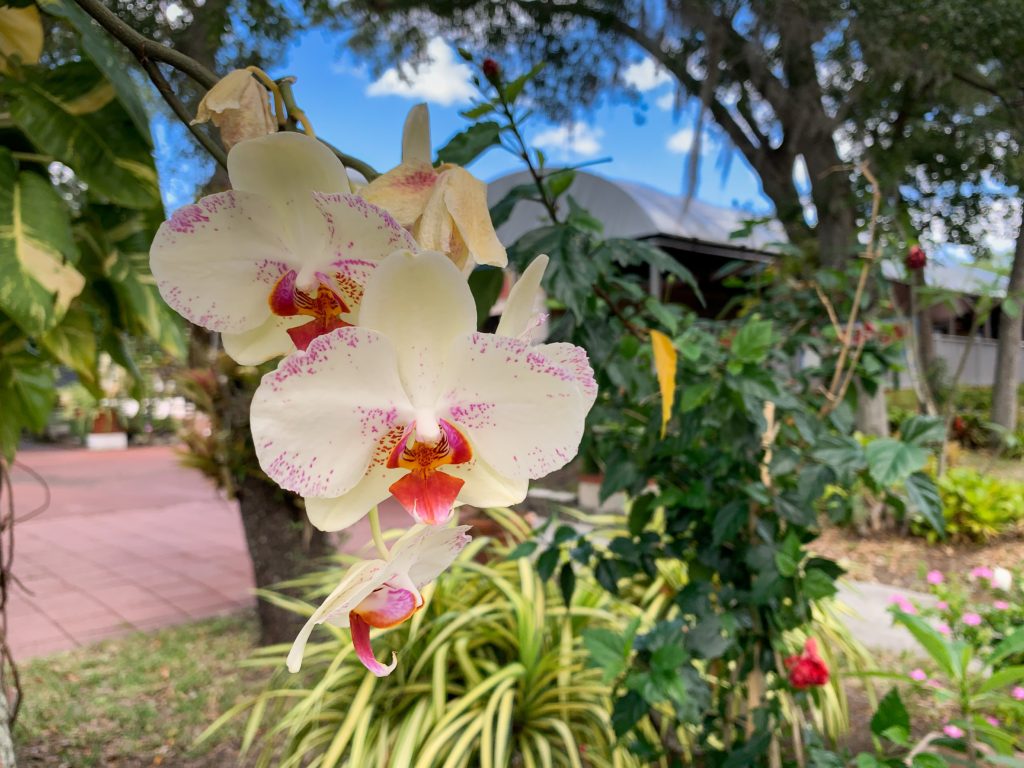 On Sundays the area is filled with visitors. On non-market days the site is quiet, peaceful and relaxed. It is home to resident Buddhist monks, who live on the property and fill their days with chanting, meditation and spiritual practice.
The Thai Temple is a great place to visit near Tampa.
It's fun, interesting, and has great food. It's also a great, easy introduction to Thailand's welcoming, peaceful Buddhist culture.
Video Tour
This video tour gives a great overview of the experience. Please note that this was created before COVID-19. The drive-through experience is much different than this.
Covid-19 Precautions
According to the temple's website:
"Hand cleaning, temperature checking, social distancing, and face masks must be observed at all times."
Please check the Thai Temple's official website for the latest information and updates.
https://wattampainenglish.com/
Address: 5306 Palm River Rd., Tampa, FL, 33619.
Phone: 813-621-1669
Temple History
The temple has been a Tampa Bay fixture for more than 39 years. It was commissioned in 1981, and began with a much smaller operation.
The popular Sunday market started in the late 1980s, and also had small beginnings. It originally had only two tables.
Over the years the market, and the Wat, have grown considerably. The Wat community has made many impressive improvements over time.
The Wat Mongkolratanaram is a center of pride, and serves an important role in the Thai community of Tampa. It also offers summer school for children, Thai cultural education, community support during difficult times, and more.
The Temple is supported by donations and revenue from the Sunday markets. If you visit the Sunday market, you can feel good that your visit will help support a lovely community.
Sunday Thai Market
The temple and grounds are open every day. But, most visitors come on Sundays for the open-air Thai Brunch Market.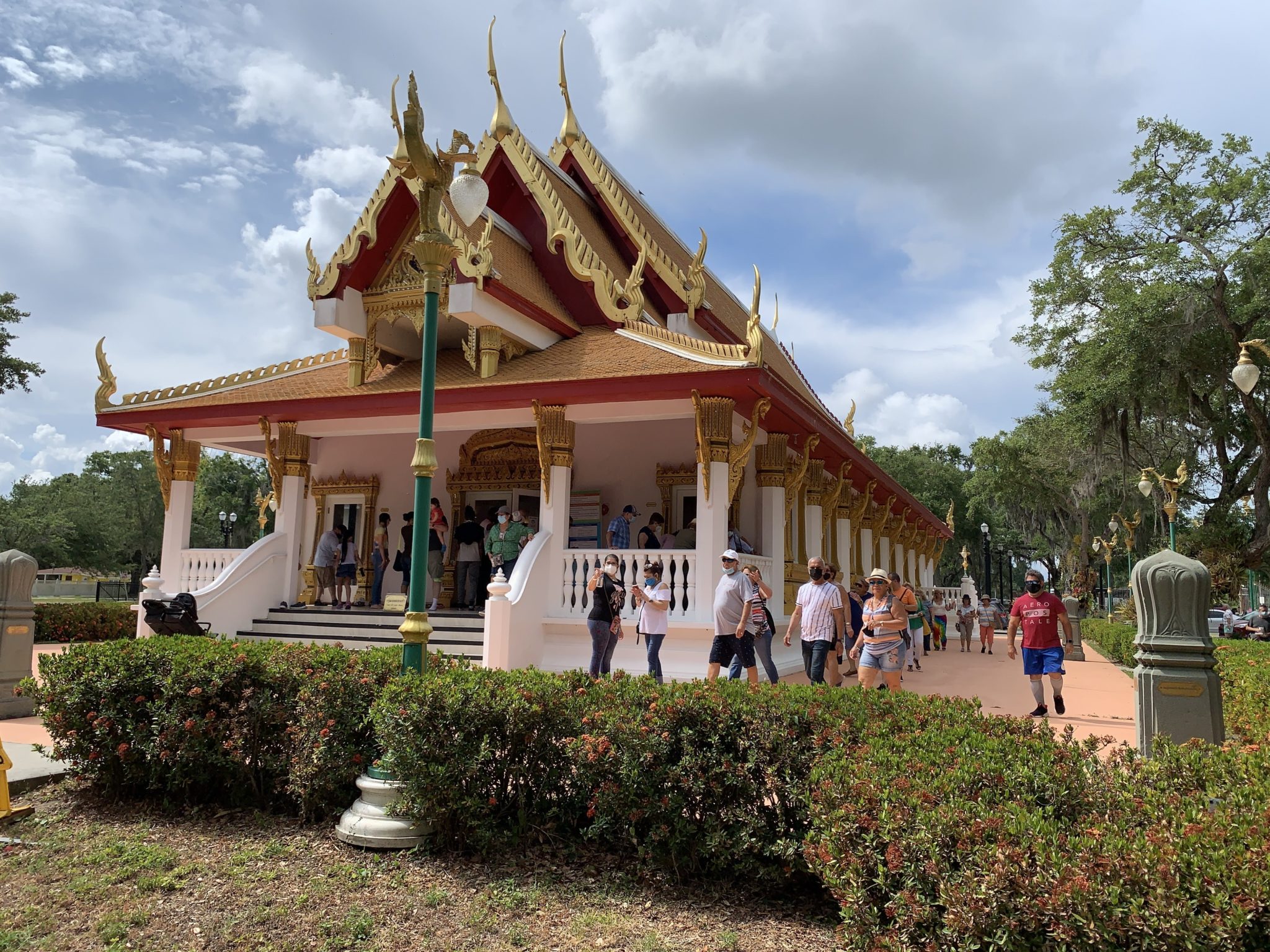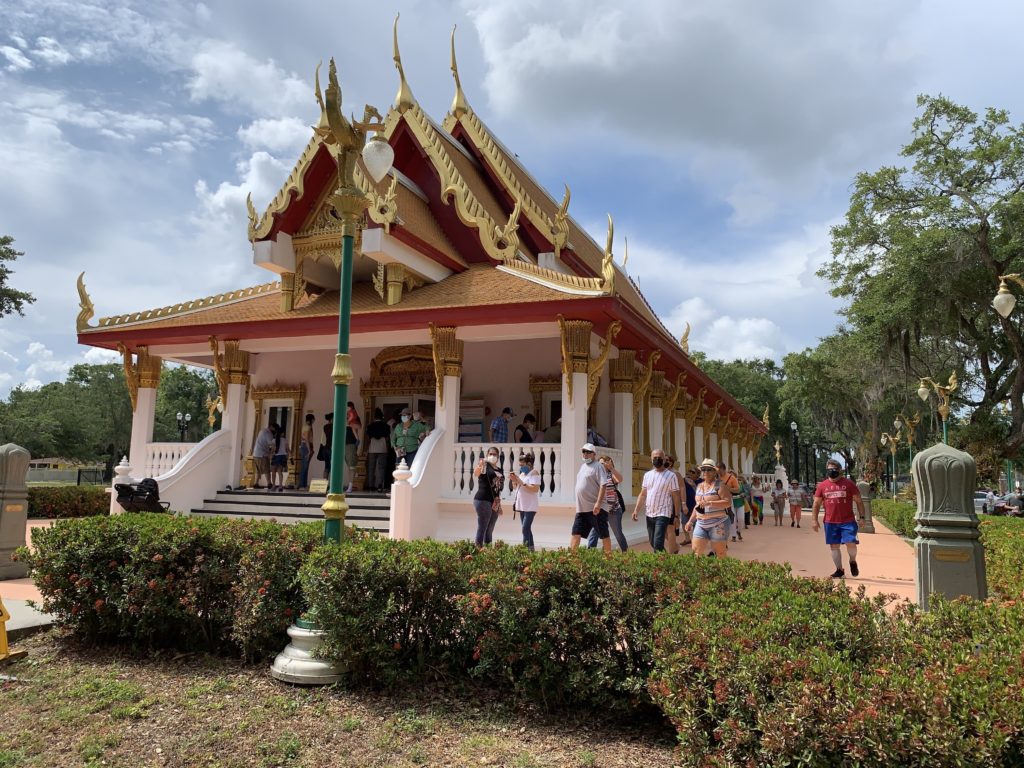 The market is open from 8 am until 1 pm. It offers a variety of delicious Thai food.
Before Covid-19, the food was served from individual stalls, or stations, much like what you'd find in Thailand. Each stall generally served one type of food. A line of stalls wrapped around the large temple hall. Everything was covered under a nice, shaded boardwalk.
Open-air markets like this are very common in Thailand, and are an important part of Thai life.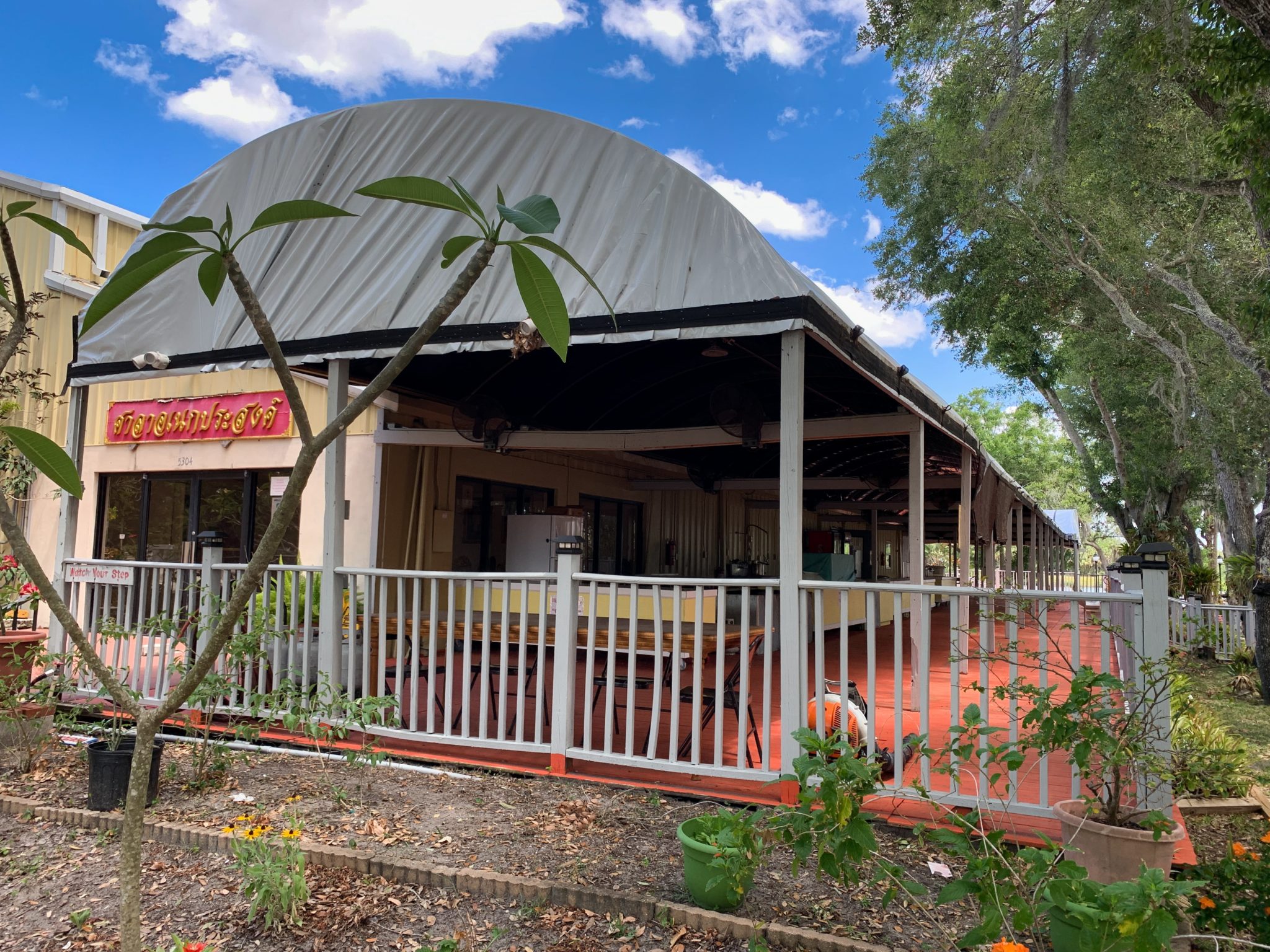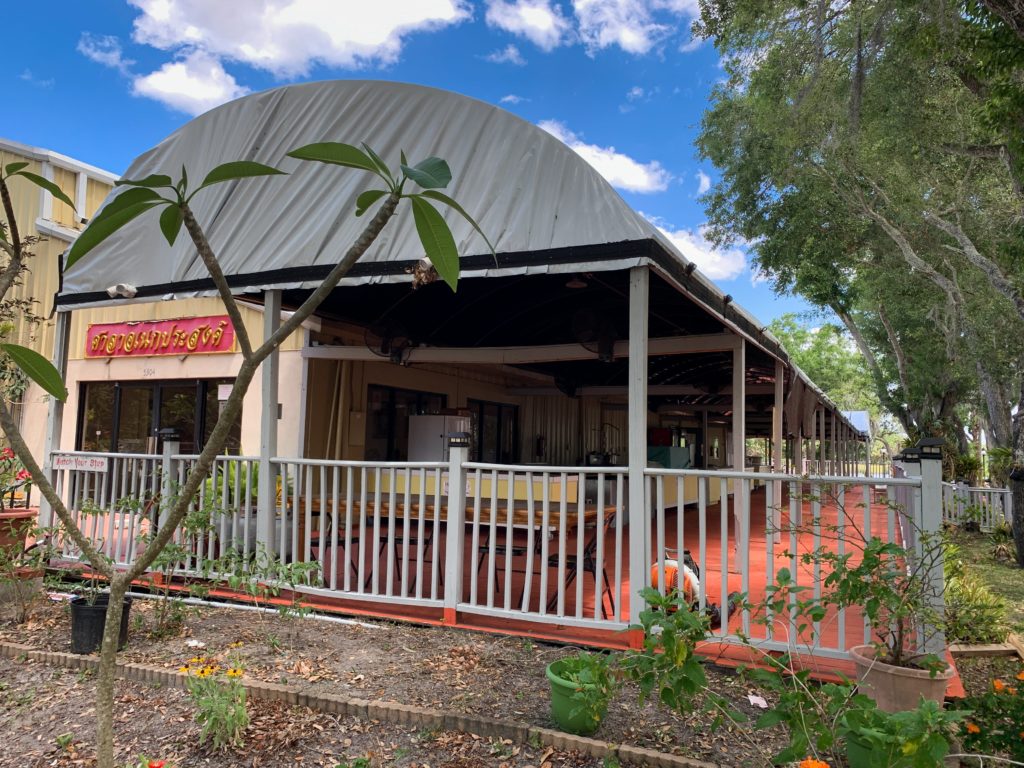 Drive-Through Sunday Market and Covid-19 Precautions
Due to COVID-19, the in-person Sunday market has made changes. It is now drive-through, car-service only, until further notice. Please check the official website for the latest information.
The drive-through process is very easy:
Enter via car through the main gate entrance.
Drive straight ahead on the main driveway. A volunteer will greet you.
You'll follow a path behind the temple, then alongside the food market.
There are clear traffic cones and signs, and volunteers will help you.
The ordering process is very simple and easy. Volunteers will:
Give you a paper form to write your order
Collect your cash payment
Bring your food to your car
After you collect your food, you can either drive to eat somewhere else, or park and eat on the temple grounds.
Early in the pandemic the temple was takeaway only. Food could not be consumed on-site. As of this writing, the shaded picnic table area is now open.
Popular Brunch Spot
The Thai Temple is a wildly popular Sunday brunch spot.
In normal, non-covid times, it can overflow with crowds. The parking lot can fill up quickly, and entering and exiting can become a challenge.
The market can run out of food, especially for the most popular dishes. Many visitors love the fried bananas, so those often sell out quickly.
Experienced temple visitors know that there's a sweet spot to plan your visit. It requires a delicate balance.
You want to arrive late enough in the day so you're in the mood for Thai food. But, early enough that it's still cool outside. And, early enough that there will still be food left.
During our last visit, we arrived at 10:30 am. Even though it was already a hot day in June, we felt very comfortable under the shade trees. We relaxed with friends and had a great time.
When we last visited recently (June, 2021) the picnic area was lively with families, but it not uncomfortably crowded.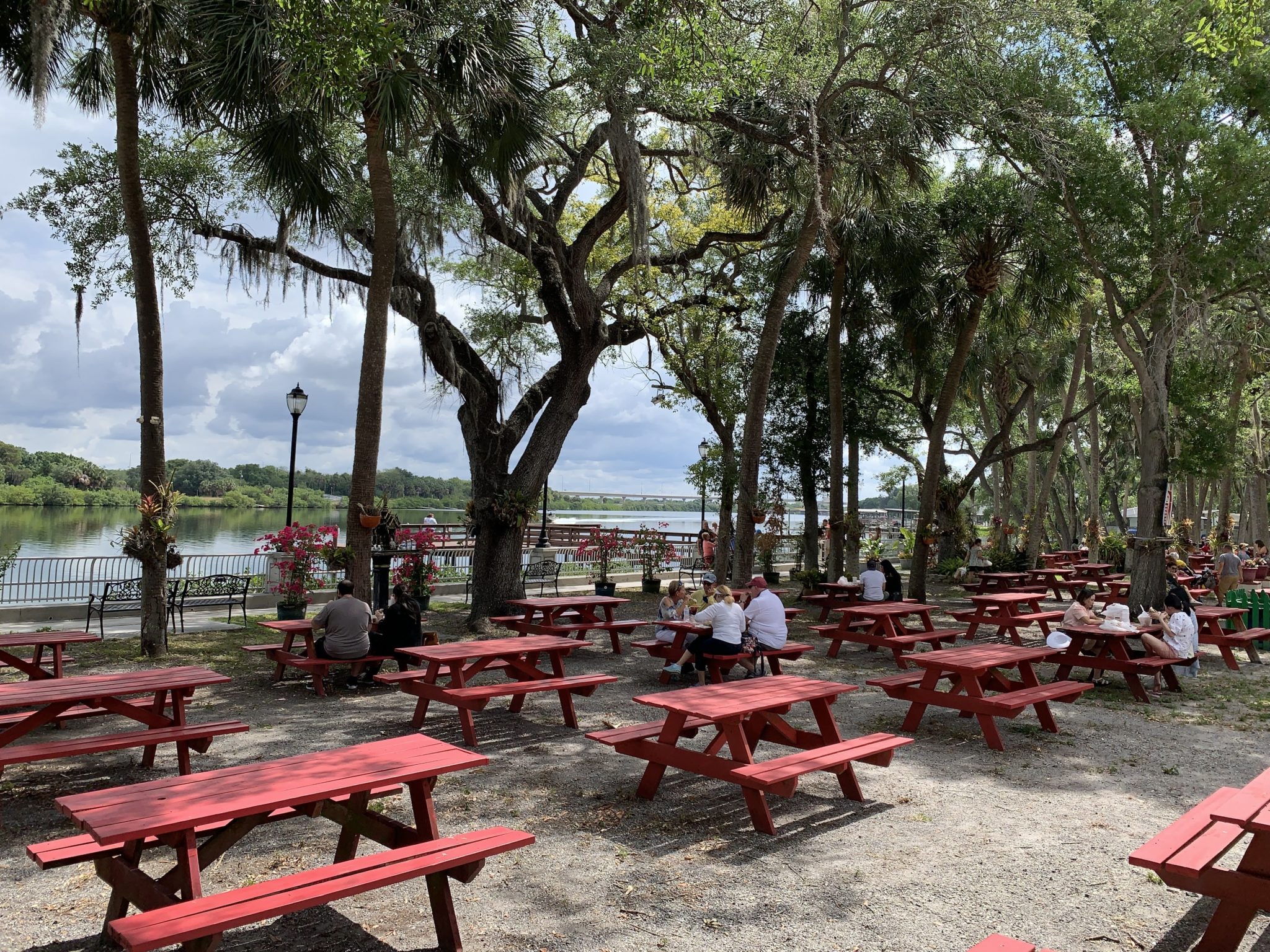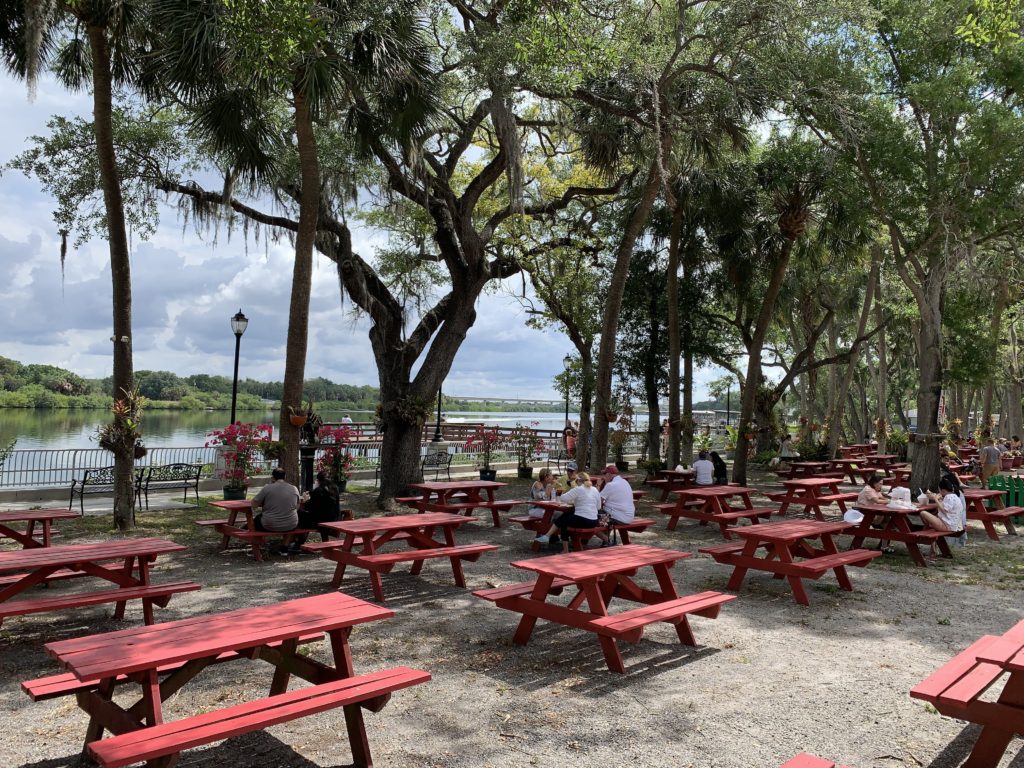 Thai Food Menu Options
The Thai market has a large menu selection.
All of the food is prepared and cooked onsite. The entire event is staffed by a mix of Thai and American volunteers.
Most people love the food. Some people say that it's not their favorite Thai food they've ever eaten. Consistency does seem to vary.
But, almost everyone agrees that it's a very fun experience, and it supports a good cause. Everyone always seems to be in a great mood. There is contagious sense of peaceful happiness.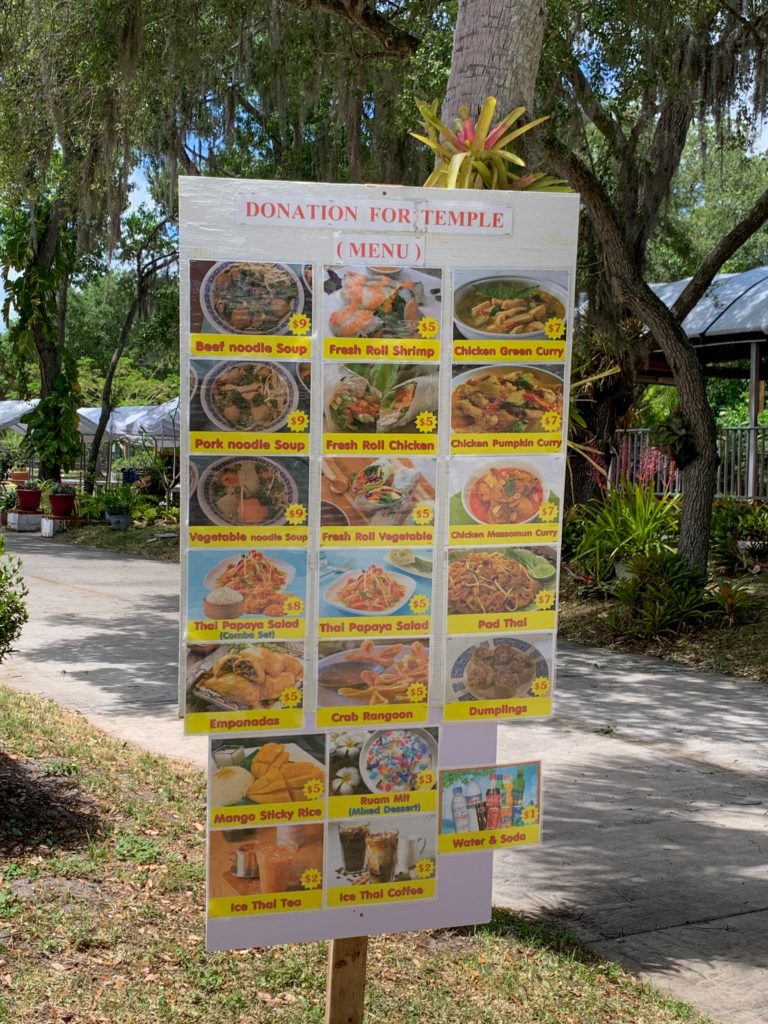 The menu above shows the drive-through menu options.
They offer soups, spring rolls, Pad Thai and more. There are enough offerings that there is something to please everyone.
They also have fried bananas, Thai tea and coffee, which are all very popular.
All dishes are served a la carte. The menu, food availability and prices vary.
All of the food is fairly priced and low-cost. The most expensive meal on the menu is only $9.
Notice: The portions are huge. Be sure to keep that in mind while ordering. The first time we visited we ordered a separate dish for everyone, and ended up with way too much food.
Most people like to order a mix of foods to share, and sample different things.
All of the market prices feel fair and low-cost.
Even if the prices were more expensive, I would still feel good about visiting. All of the market money goes back to support the temple's community, and the resident monks.
I feel good about this because the temple and monks are very important parts of Thai culture, and for Thai people who live in Tampa.
Please note that due to Buddhist custom, alcohol is not served, or allowed on the property.
Picnic Area
One of the best parts of the Thai temple experience is the beautiful picnic area.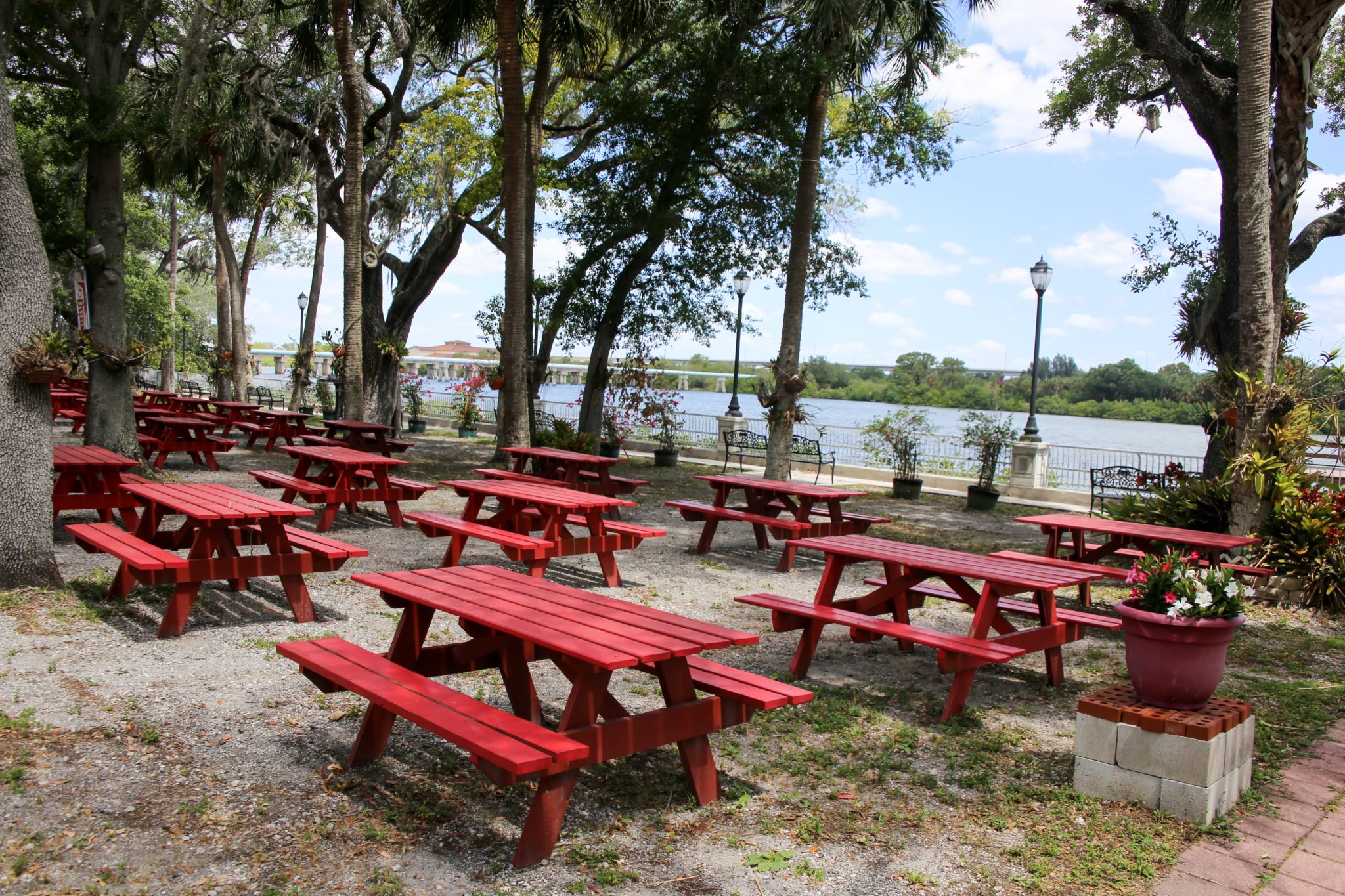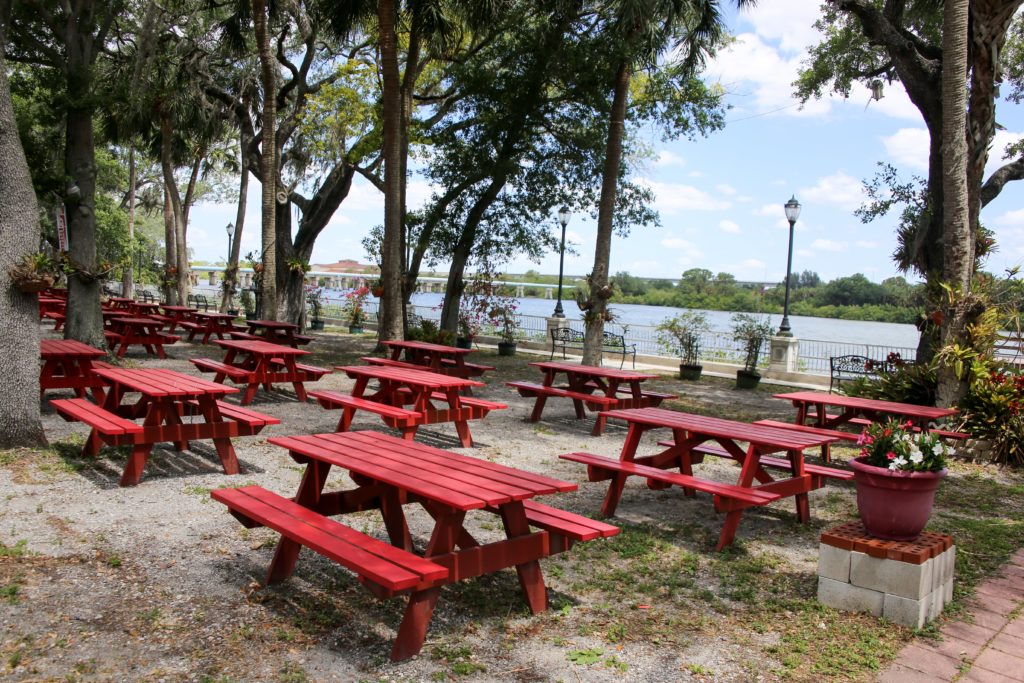 Like the rest of the grounds, it sits under beautiful old shade trees, and right on the peaceful Palm River. There's a dock on the river where many people like to feed fish.
The whole site is beautiful, green and peaceful. It's a great spot to meet up with friends and relax in the shade.
With its beautiful old trees and tropical flowers, the temple grounds are a great place for taking photos.
If you look closely, you might even see alligators in the river.
Restrooms
During Sunday markets there are public restrooms in the largest main building, where the market is held. Availability may vary at other times.
The restrooms facilities are large, clean and well-maintained.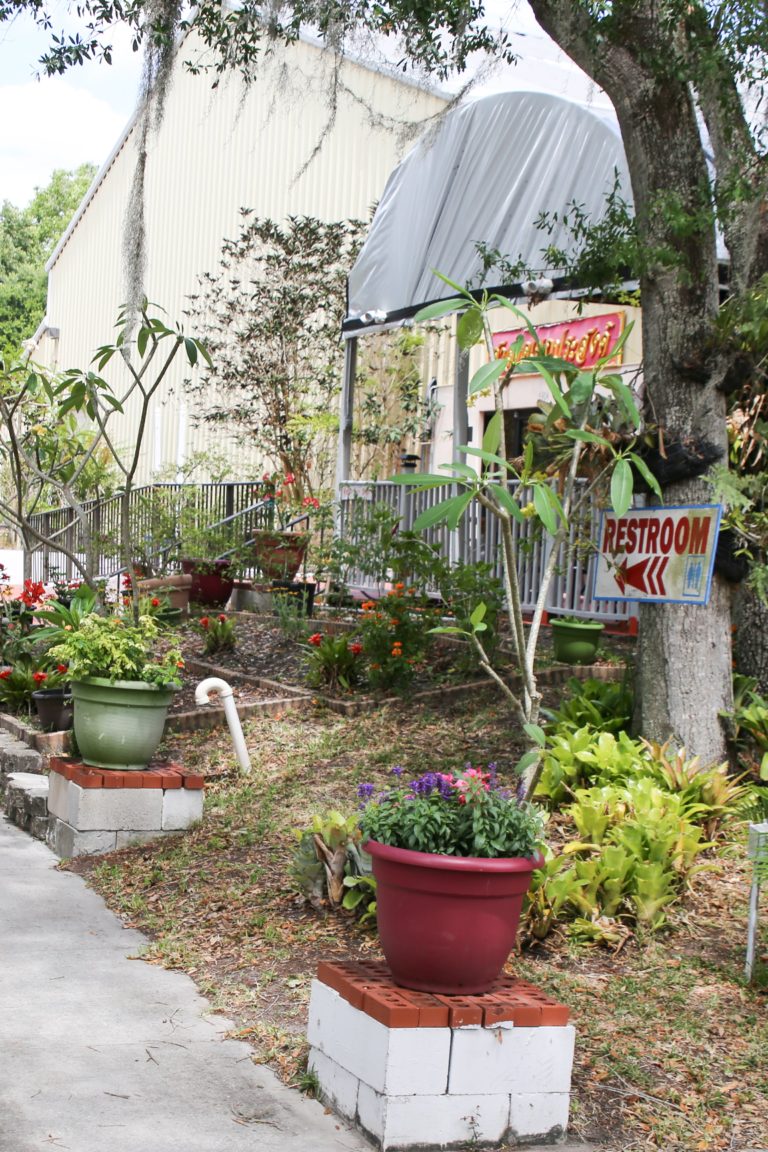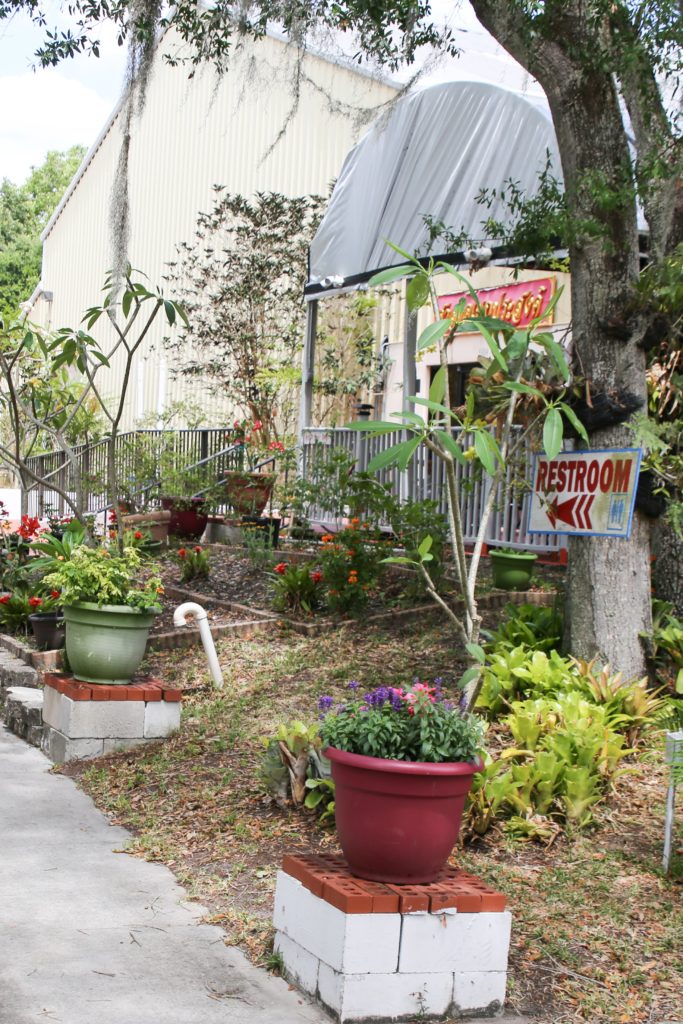 Farmer's Market
The food and temple aren't the only draws to the Sunday market.
The market also sells flowers, fruit trees, vegetables, bromeliads, exotic medicinal plants, and more. Everything is offered at very fair prices, especially the orchids.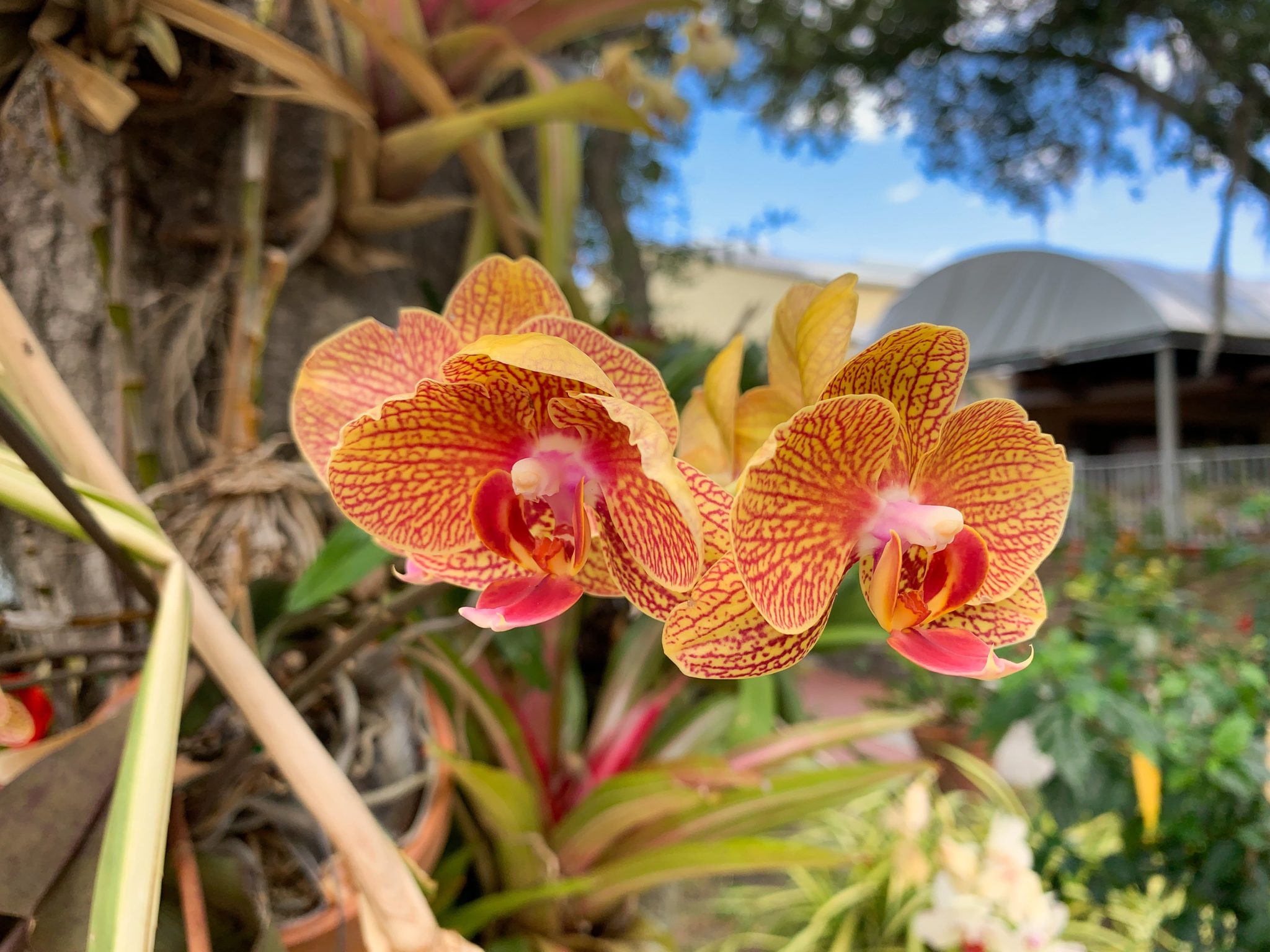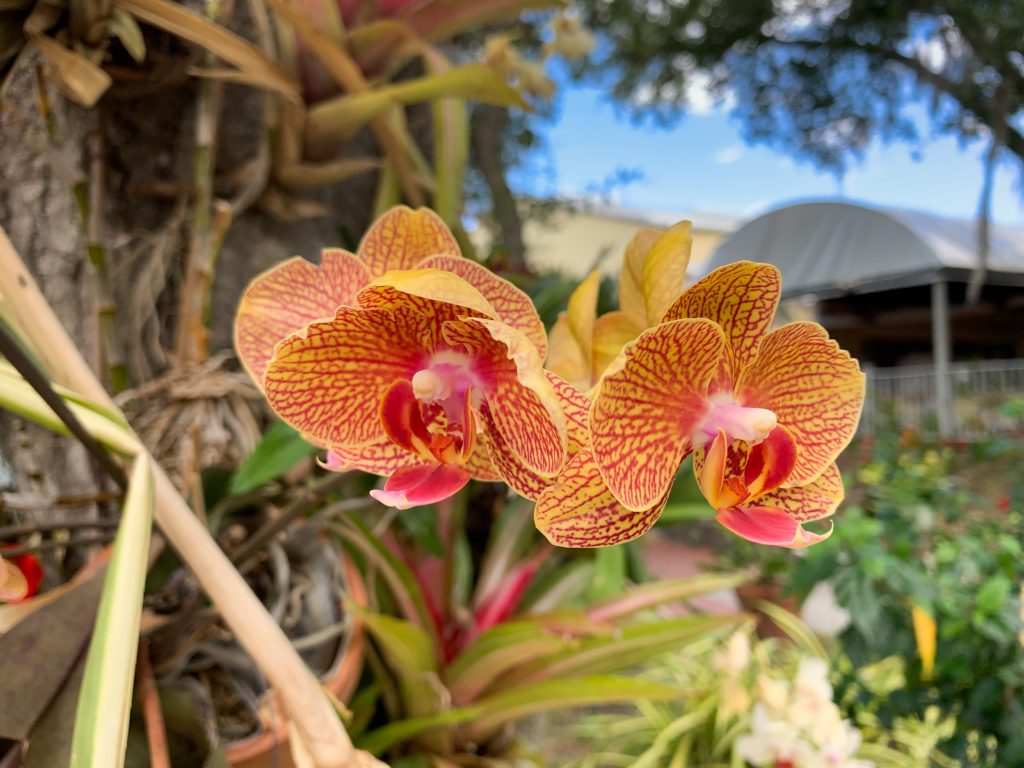 The orchids are the star of the show. They're displayed in a beautiful array of cosmic colors.
Some farmer market offerings may be reduced during Covid-19 and the drive-through setup.
Thai Culture and Architecture
When you visit the Thai temple, you'll feel like you've stepped into southeast Asia.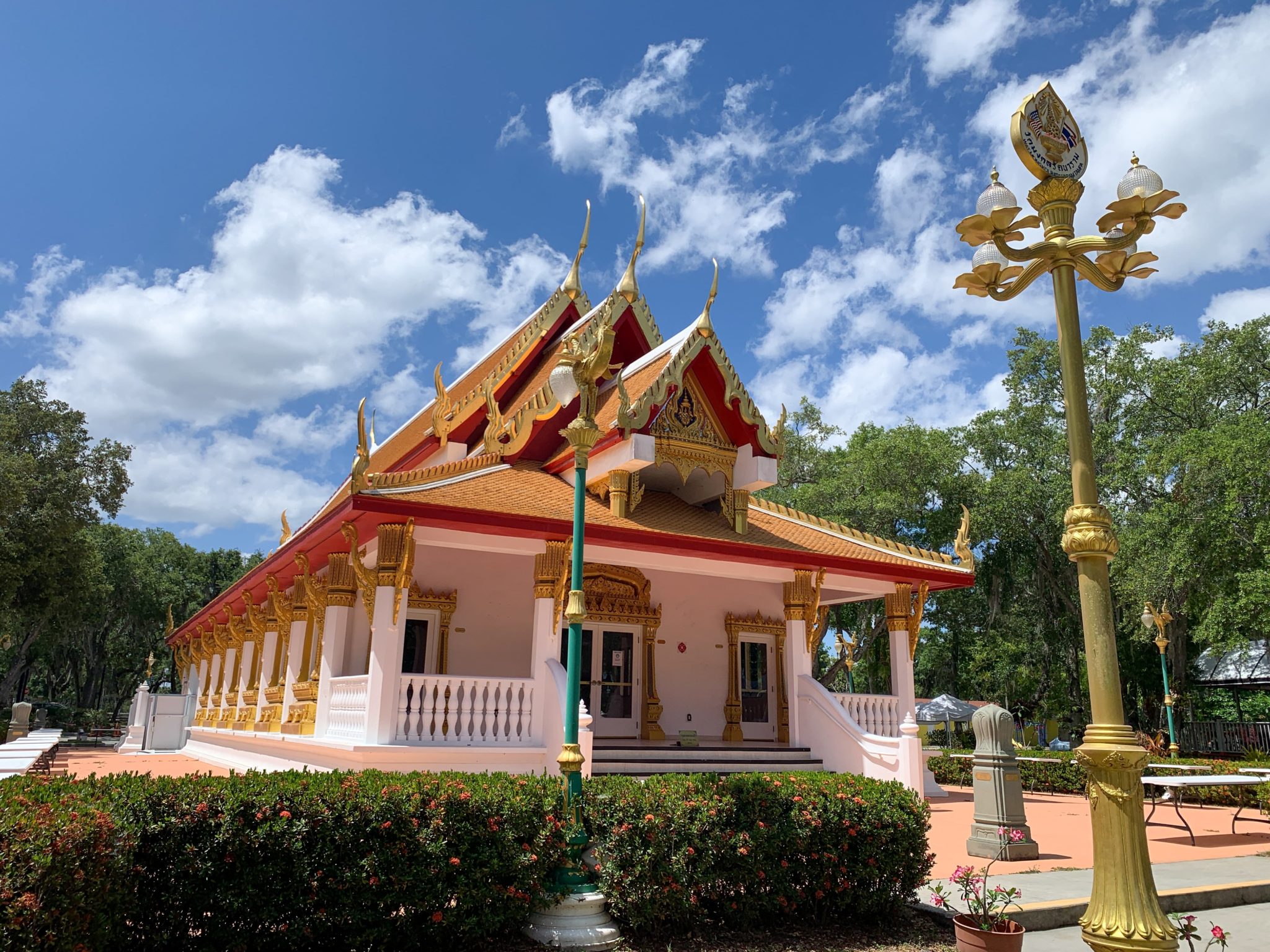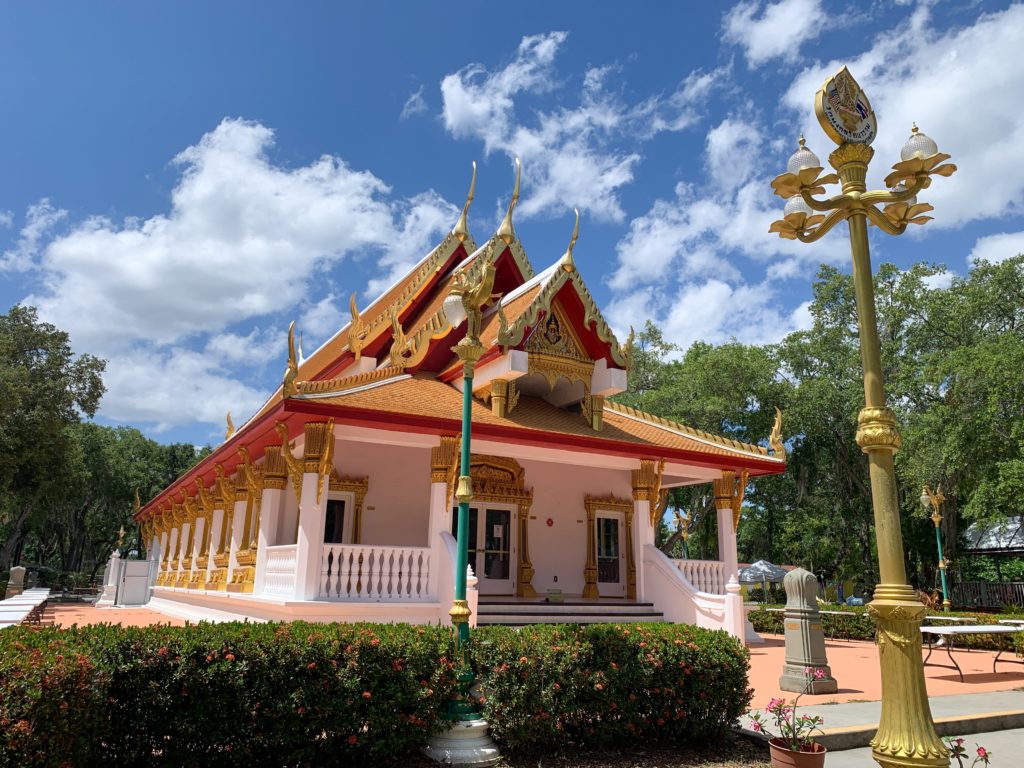 The temple itself is beautiful and has fascinating Thai architecture.
The temple roof has several gold-colored peaks. It also has impressive white columns. The whole temple feels magical.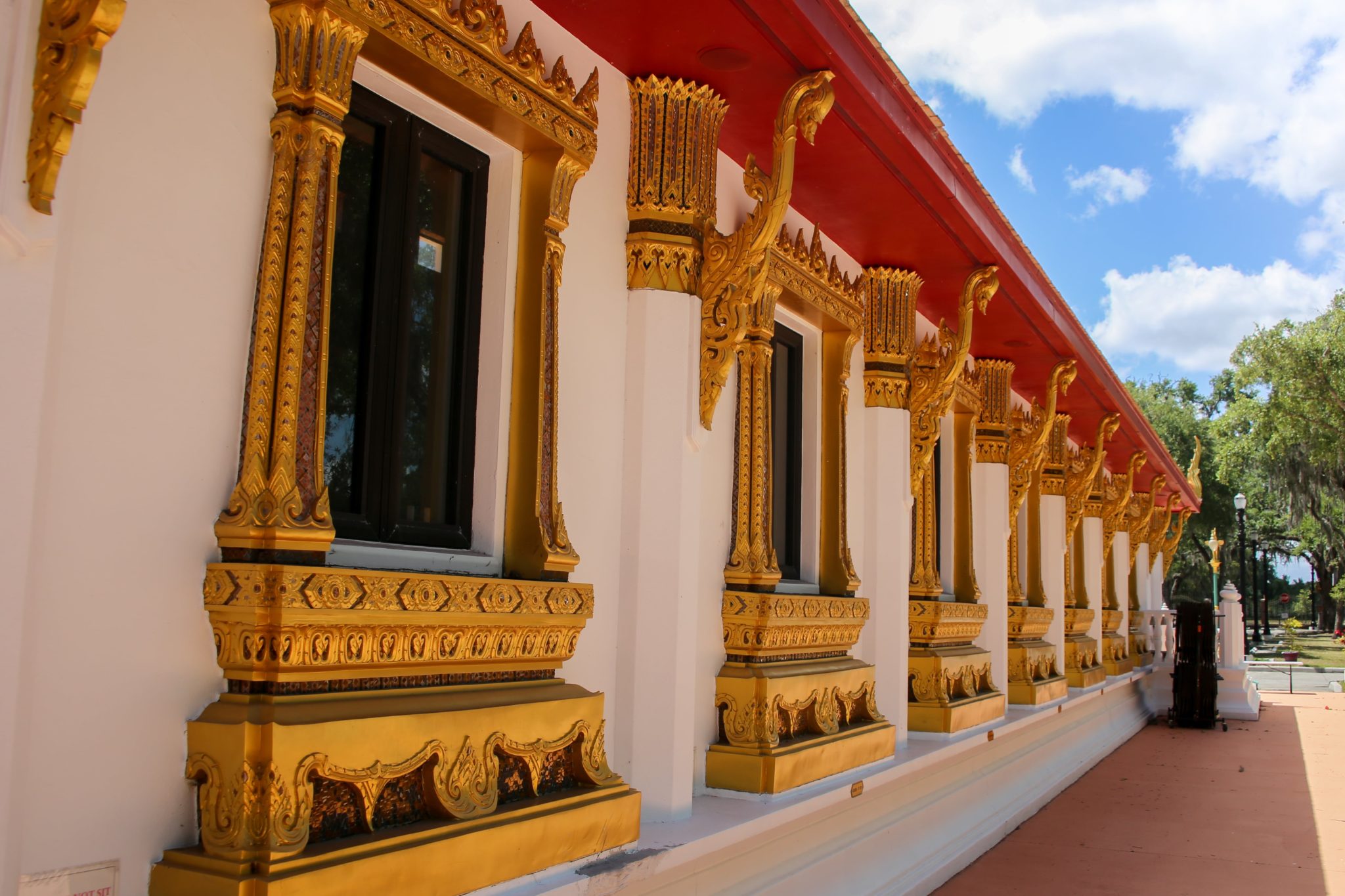 If you're interested in the Thai and Buddhist architecture and symbolism, check this page for interesting details.
For example, on the temple grounds there is a 25 foot-long snake statue, also called a Naga.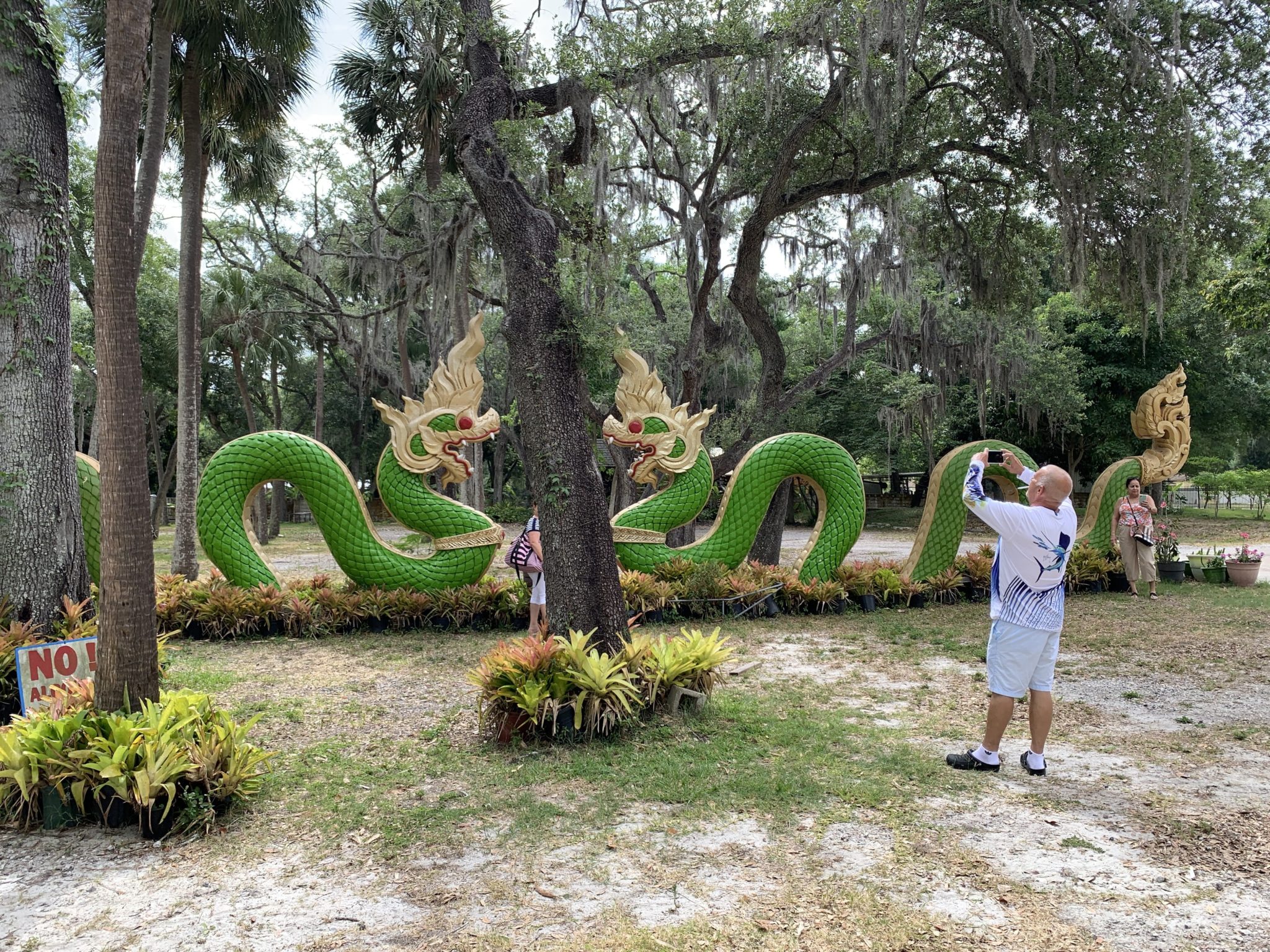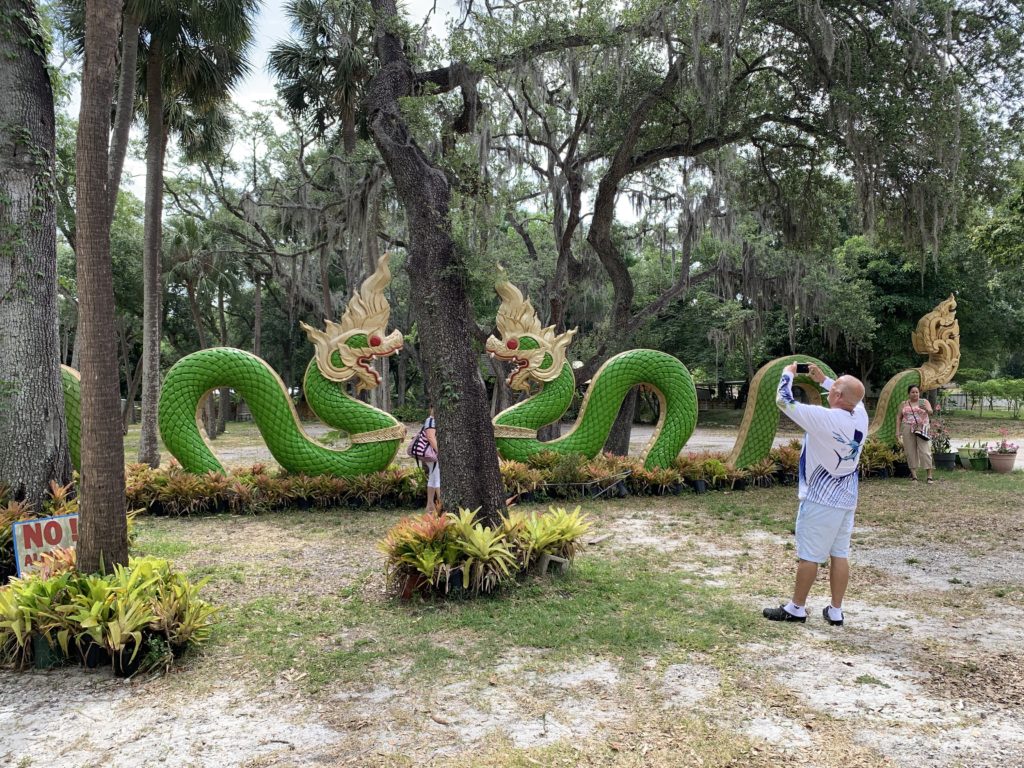 It's very photogenic and great for selfies. It also has a fascinating story and symbolism:
"The Naga is a large mythological snake, often depicted with multiple heads. Naga snakes are often found protecting Buddhist temples, their bodies extending over the balustrades of the stairs that lead to the temple.

The most famous Naga is Mucalinda. After having reached enlightenment the Buddha was meditating under a Bodhi tree when a violent storm with torrential rain broke out. Mucalinda appeared and sheltered the Buddha with its hoods from the rain."
Thai Buddhist Culture
The temple is open to the public. If you want to learn about Thai culture or Buddhism, visiting the temple is a great learning experience.
If you want to learn more about Buddhism, you can usually find a volunteer inside the temple. Everyone is extremely friendly, and they're happy to answer questions.
There are free informational booklets inside the temple which cover the basics of Buddhism and meditation. There is also a guest book, which you're welcome to sign.
The official Wat website has interesting information about Thai culture and events.
Visiting Respectfully
Wat Mongkolratanaram is a real, working temple. It's an important part of many people's lives.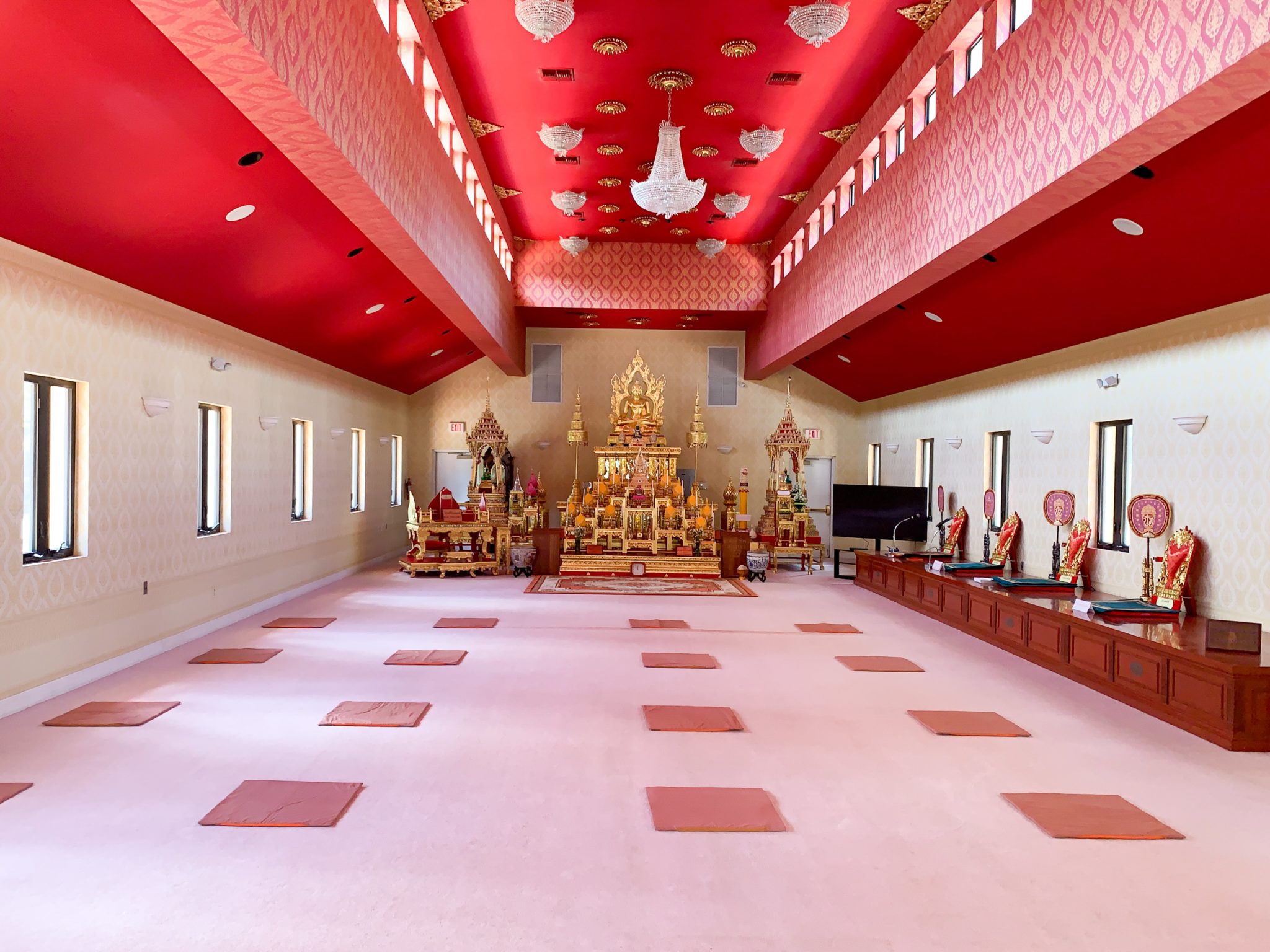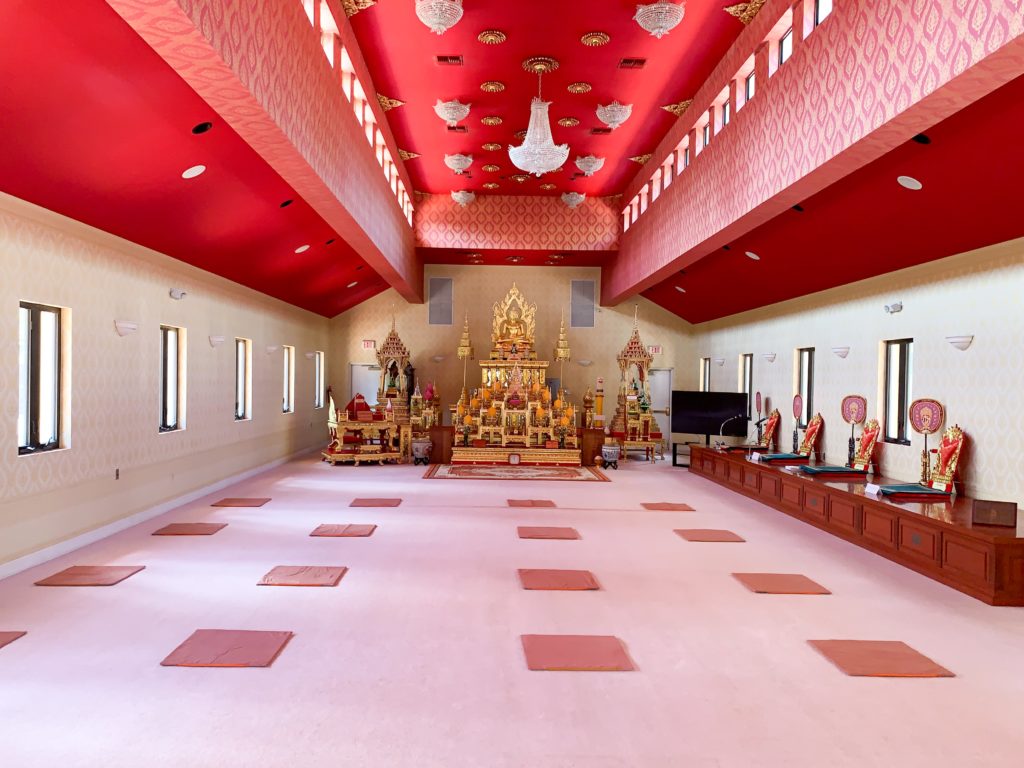 Please be mindful and respectful of the Buddhists and monks who live and work there. It's important to follow some cultural etiquette rules.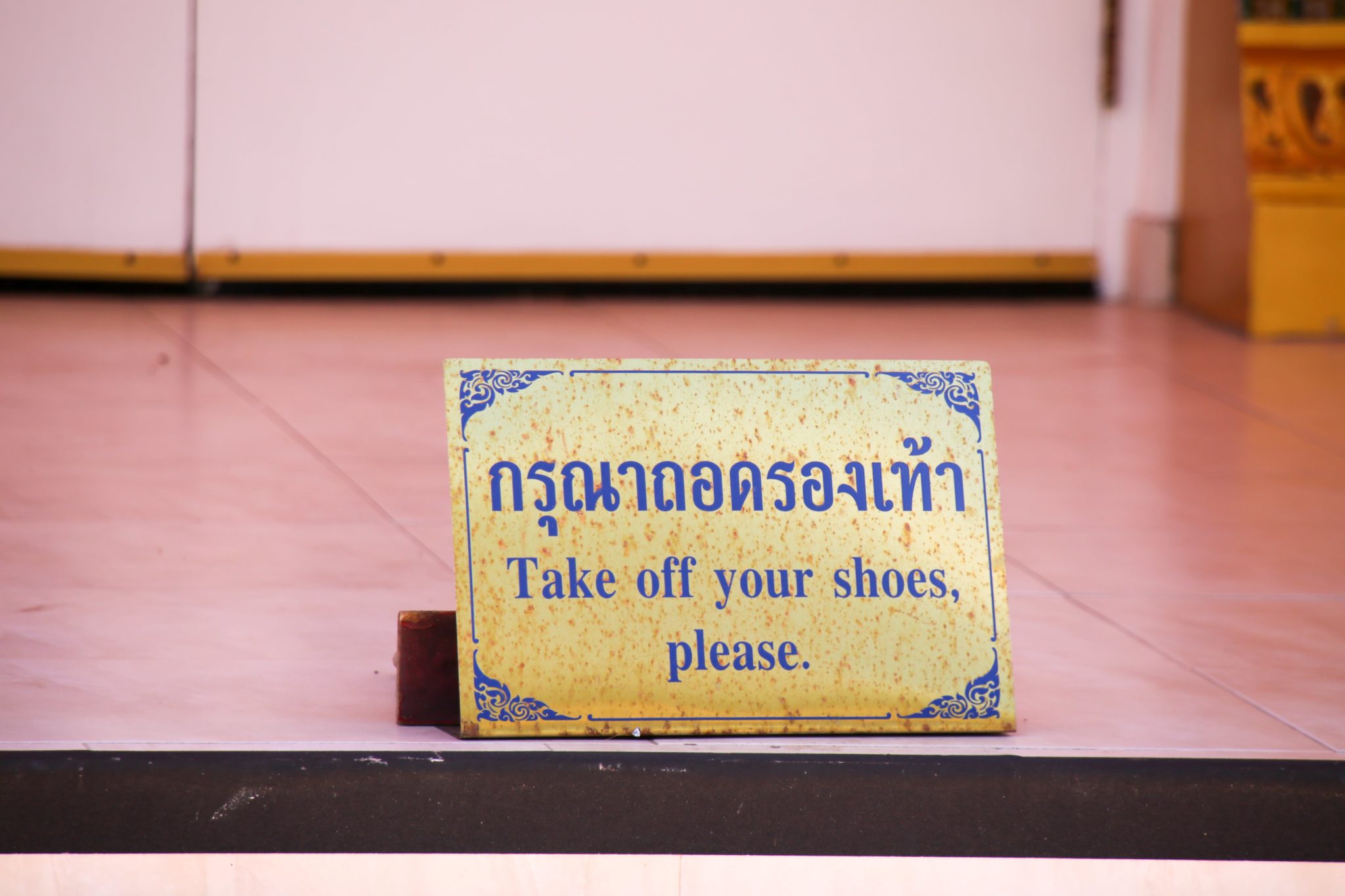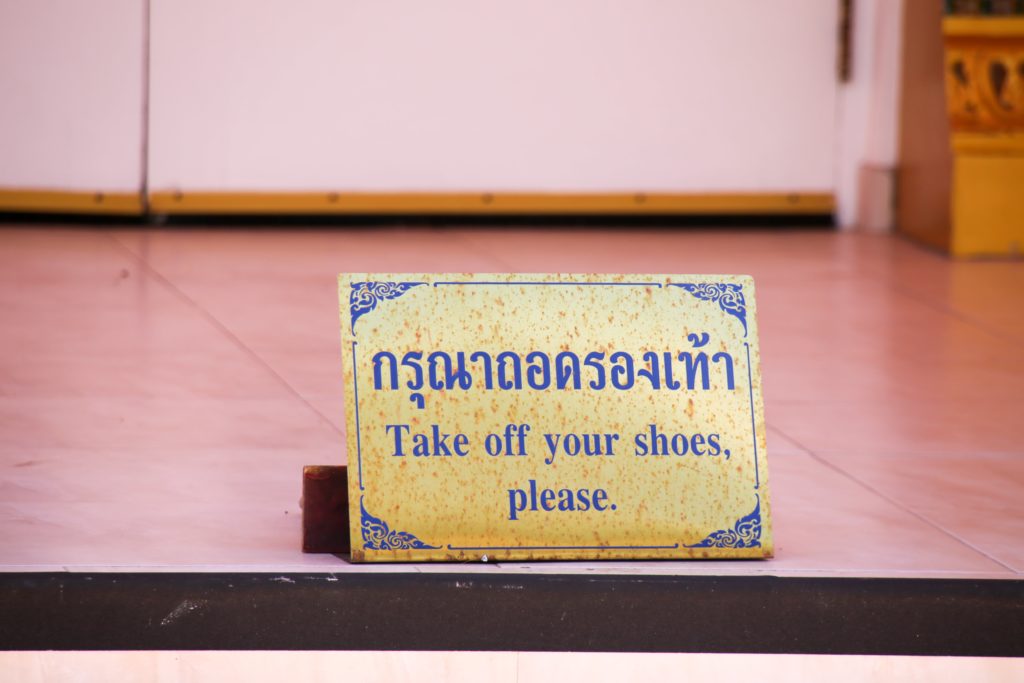 There are signs to help you, and everyone is very friendly. Here are some general things to know before visiting:
Remove your shoes and leave them outside before entering.
Don't point your feet towards the Buddha, monks or anyone else. Feet are considered unclean and it's disrespectful. This includes while sitting down.
Wear modest, appropriate clothing. Short-shorts, low cut tops, or anything that shows too much skin should be avoided.
Don't be loud while inside the temple.
Respect your surroundings. Remember that it's a place of worship.
Monks are forbidden to touch women. If you're a woman and wish to give something to a monk, please place the item on a surface so the monk can pick it up.
Please turn off your cell phone!
Generally be respectful.
Don't let these rules discourage or intimidate you.
Visiting the temple is fun, and it's a great chance to learn about Thai culture. As long as you're respectful and aware, entering the temple is encouraged.
Monk Schedule
The monks follow a daily schedule, and are busy during certain times:
8:00 am-9:00 am: Chanting and meditation
11:00 am-12:00 pm: Lunch
8:00 pm-9:00 pm: Chanting and meditation
Buddhist Religious Services
Several religious services are held on Sundays.
If you choose to attend, please be sure to remove your shoes before entering the temple, and follow all etiquette rules!
If you're not sure about something, it's always best to ask. Everyone is very friendly.
https://wattampainenglish.com/wat-tampa/religious-service.html
From 11:30 am – 12:45 pm there is a question/answer session in the Temple.
"Most Sundays a representative will be in the main Temple between 11:30am and 12:45pm to answer questions on the Temple and Temple activities, including basic Buddhism, the history of Wat Tampa, and Thai culture."
From 1-2 pm there is a traditional Buddhist service, held in the main hall.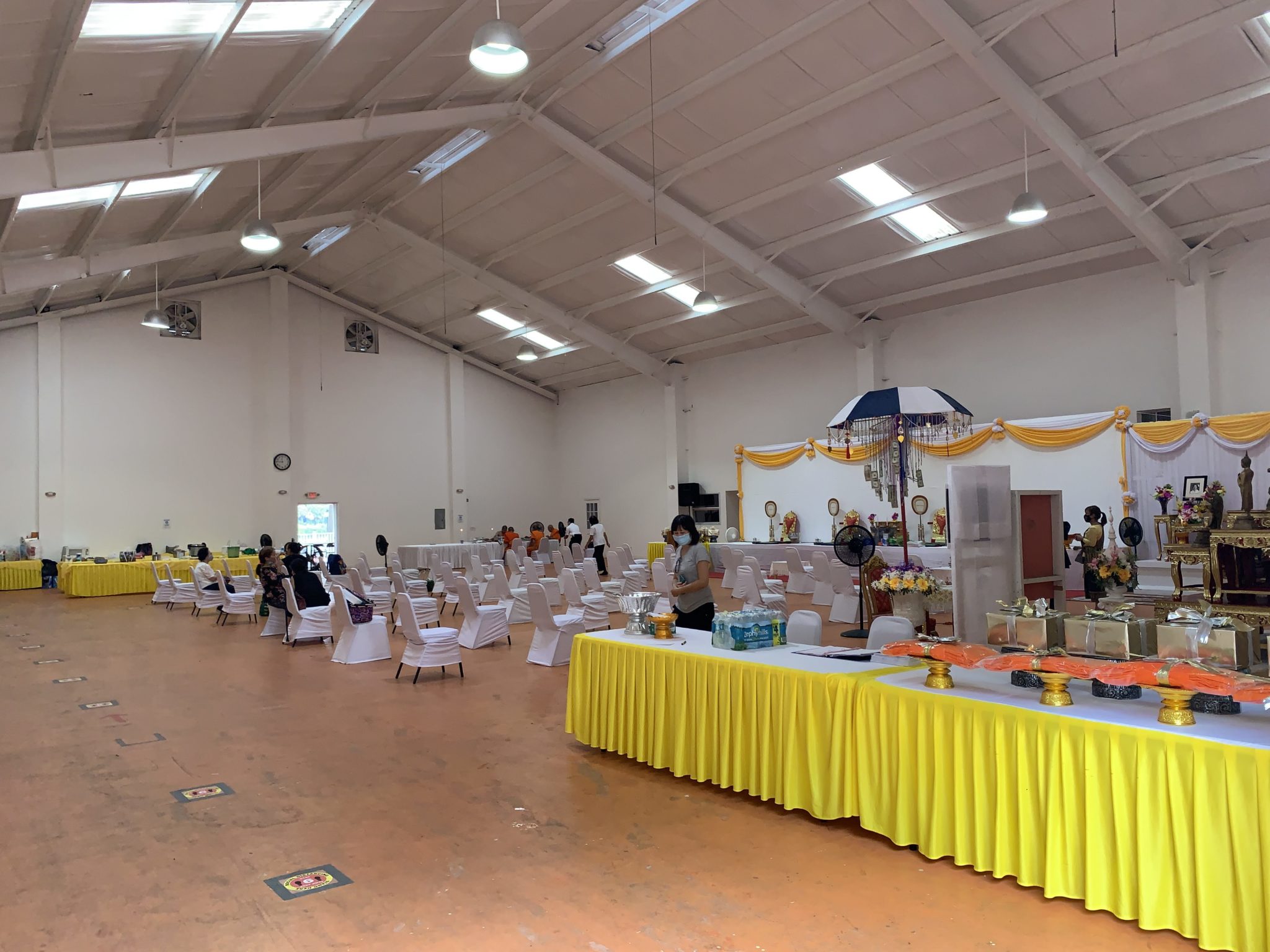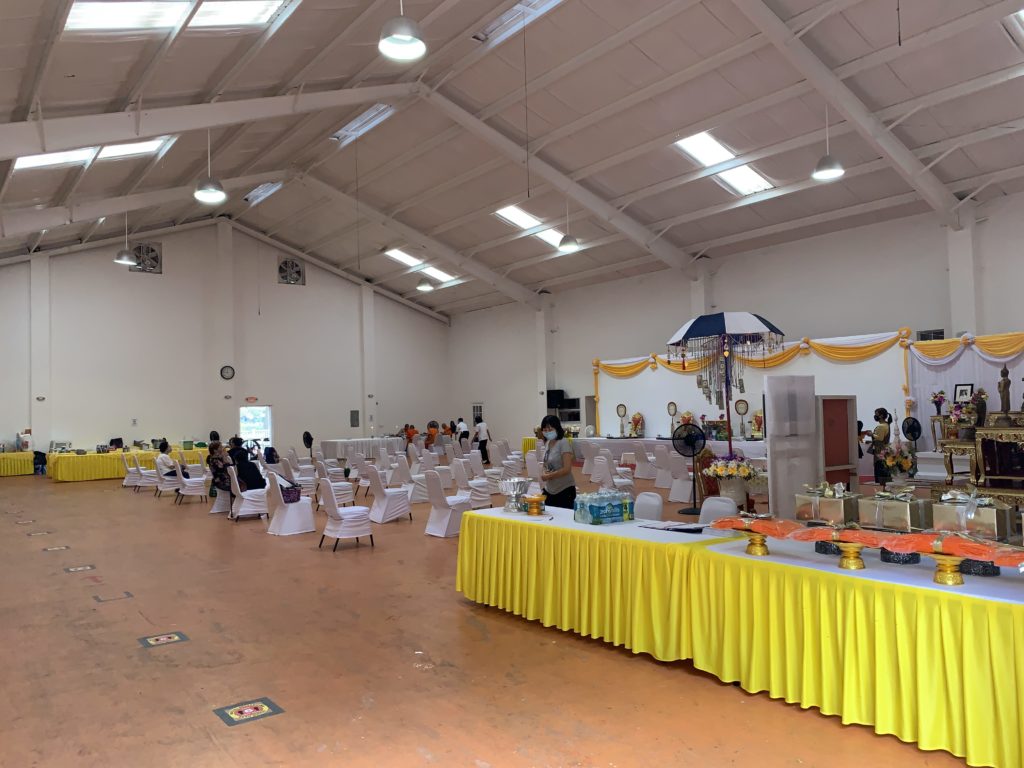 This is how the official website describes it:
"Regular Buddhist services are held every Sunday at 1:00 PM. The services are conducted in Pali, but you are invited to attend.

Chairs are provided for those who have difficulty sitting on the floor. The service usually lasts about one hour and includes chanting and meditation (1:30 pm-2:00 pm).

An English-language chanting guide is available for your use during the services."
Final Thoughts
Tampa's Thai Temple is a very special place.
It offers a fascinating peek into Thai culture, without having to fly around the world.
Although there are other Thai temples in Florida, the Tampa Thai Temple is a unique and fun experience.
The Sunday market is a very fun experience. It's definitely worth visiting if you're nearby, and it's one of the best things to do in Tampa!
Be warned, though. If you visit, you may become intrigued and want to visit the real Thailand soon after.