Note: There are several videos included below in this guide.
Blue Heron Bridge is consistently ranked one of the best snorkeling and shore diving spots in Florida.
Locals say it was unknown — a true hidden gem — until it was featured on the cover of Southern Diver Magazine in 1998. Its popularity exploded overnight.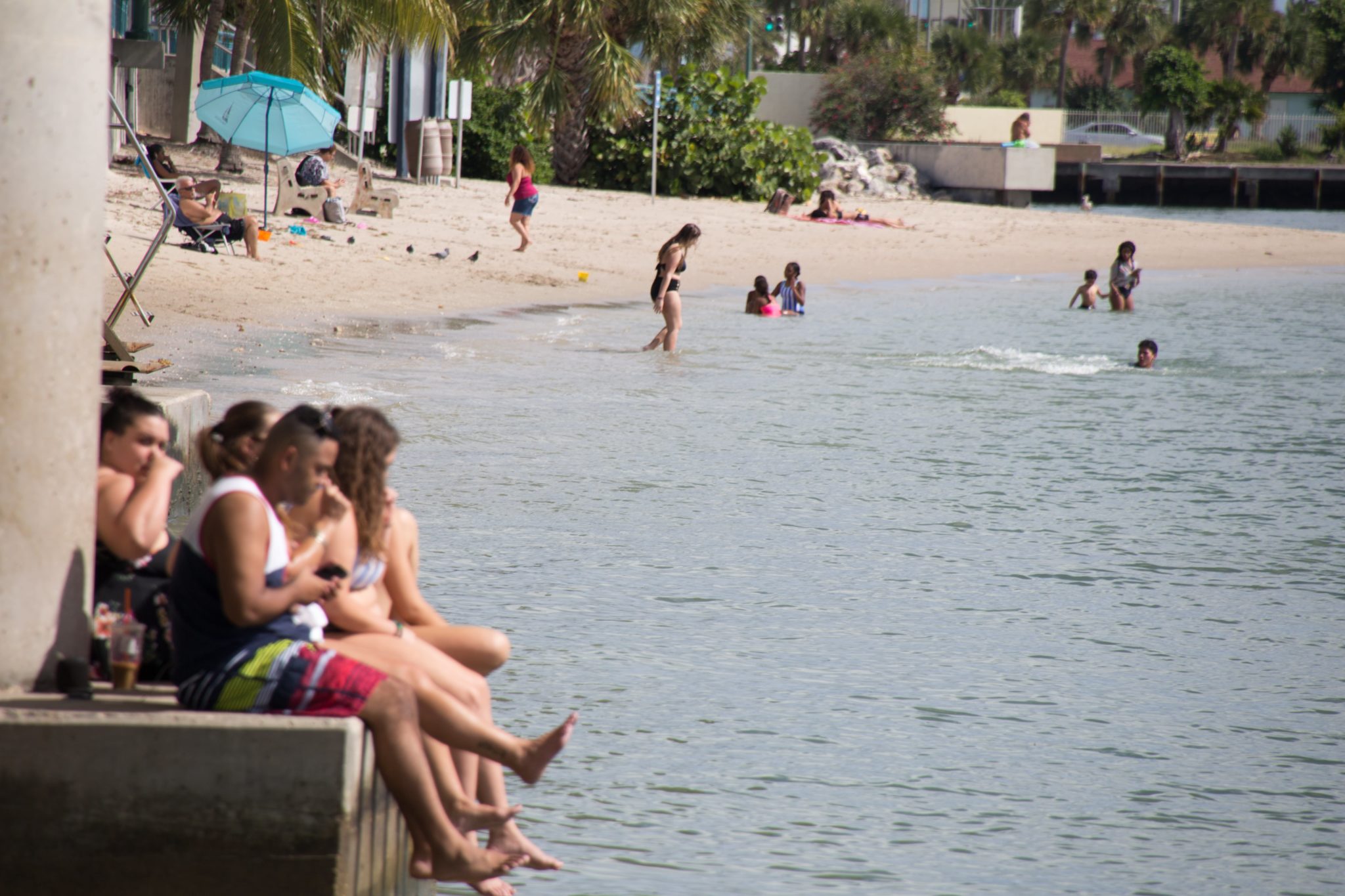 Now, it's featured in scuba diving magazines and "top dive spot" articles frequently. It was once even featured at the top of "The Planet's Best Dive Site" list by one diving magazine.
Like all tourism in Florida, this popularity is both a blessing and a curse. The increased attention is great for tourism revenue, which politicians love.
But, tourist traffic has its costs. It strains an amazing, fragile ecosystem, which is a problem all across Florida. At this dive site there has been a big problem with poachers, who steal the rare marine life.
So, is Blue Heron Bridge the "Best dive spot in Florida?", or "The Planet"?
Well. I don't know about that. "Best" is a very subjective word. Here's my opinion.
I wouldn't count Blue Heron Bridge in my top list of places I've been for diving, snorkeling, or swimming. But, Phil Foster Park is a great spot, and it's definitely special.
If you're nearby, I'd recommend a visit. With realistic expectations, I think that almost anyone would have a great time.
You should not expect to see the "Best Snorkeling on the Planet". Don't hold your breath for huge, magnificent walls of colorful coral. Or, a mind-blowingly cool experience.
If you're a patient scuba diver and enjoy identifying exotic marine life, you'll probably appreciate this spot more than anyone.
In that situation? Yes, this may actually be one of the best dive sites in the world. For most normal people, or anyone who won't be scuba diving? Probably not.
If you do visit, I beg you: please be self-aware. Be careful, and help leave the fragile ecosystem better than you found it.
Location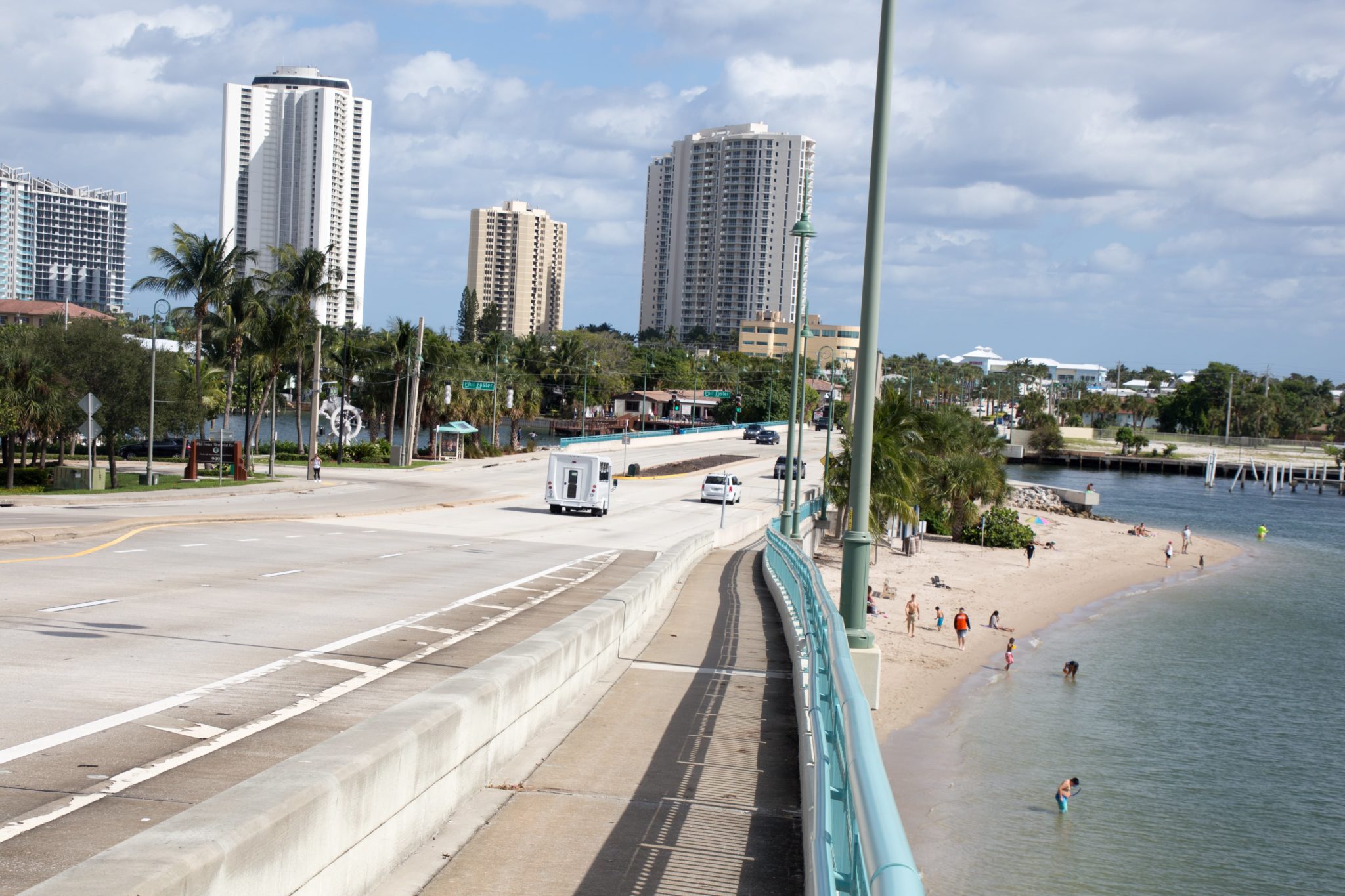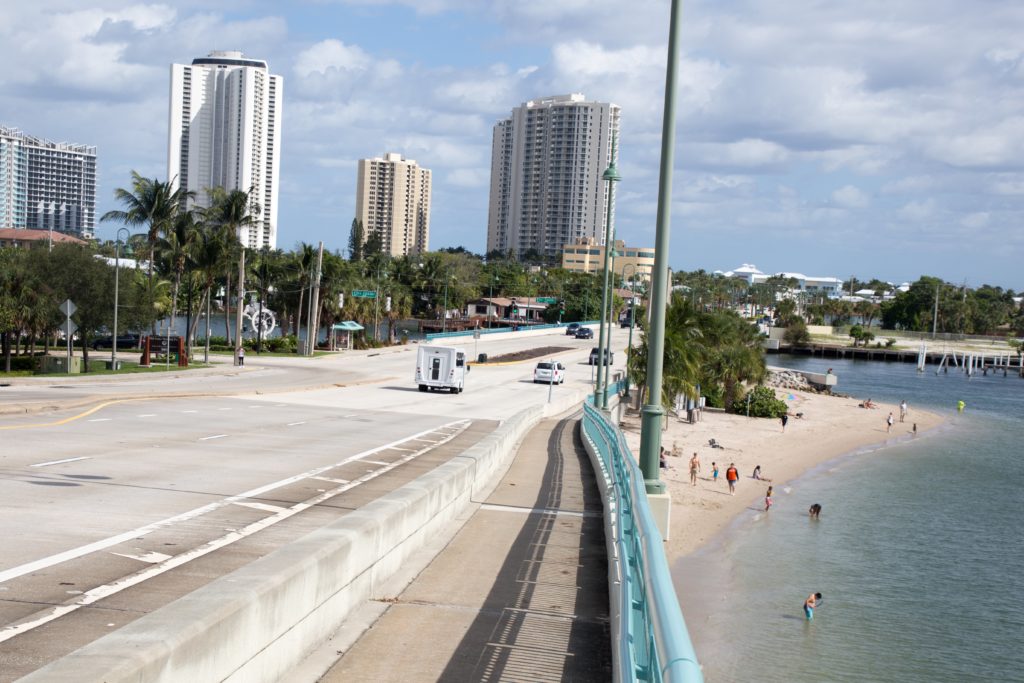 The Blue Heron Bridge is located on an island in the Lake Worth Lagoon, in the Intracoastal Waterway.
It sits between Riviera Beach and Singer Island. The Blue Heron Bridge connects the two.
The small island is also occupied by Phil Foster Park, which is a very popular park managed by Palm Beach County.
Phil Foster Park
900 E. Blue Heron Boulevard
Riviera Beach, Florida 33404
Blue Heron Bridge is located about .5 mile from Peanut Island Park, which is another popular county park. Both islands are visible from each other across the water.
The Blue Heron Bridge dive site is a protected marine ecosystem, which covers approximately 33 acres. This protection is thanks to a dedicated group of local divers and conservationists, who want to protect the unique and fragile site.
Phil Foster Park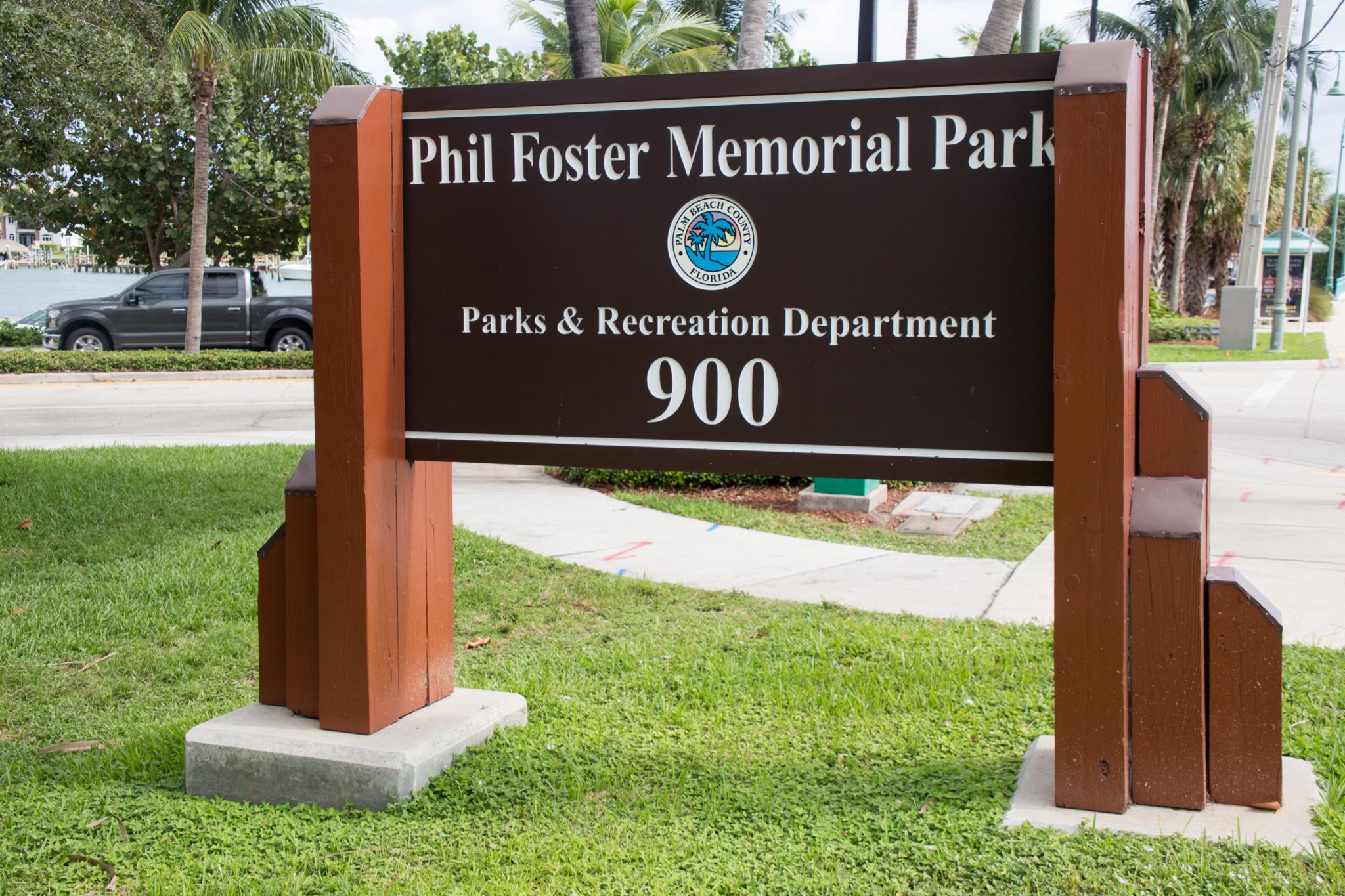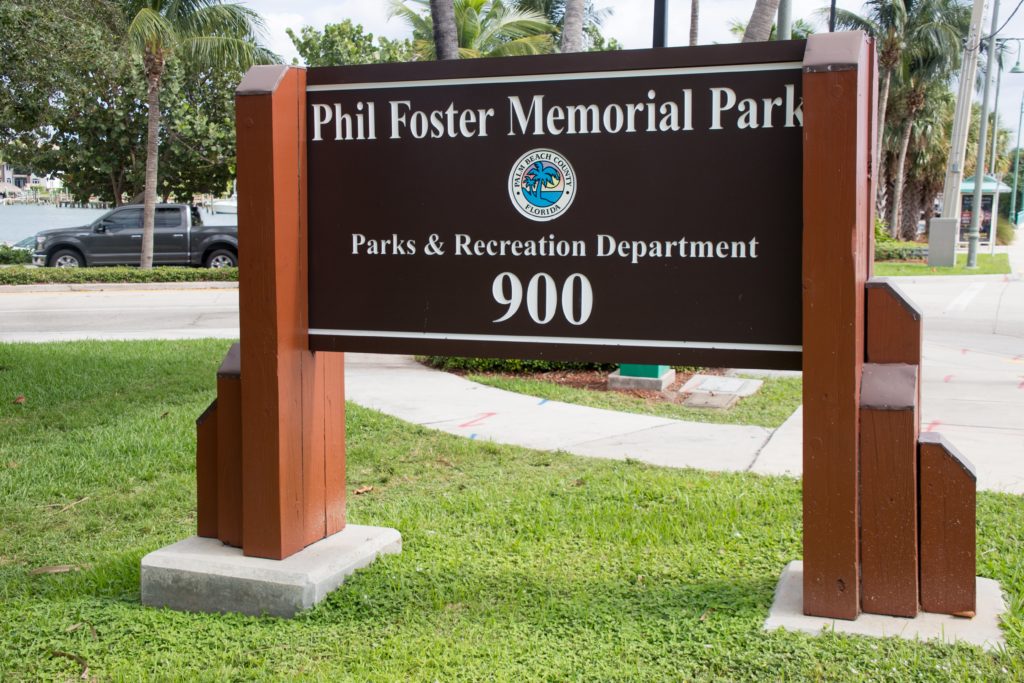 Phil Foster Park covers approximately 14.65 acres.
In general, the park has nice facilities, and is well maintained. The condition and cleanliness vary depending on the day, and the behavior of other visitors.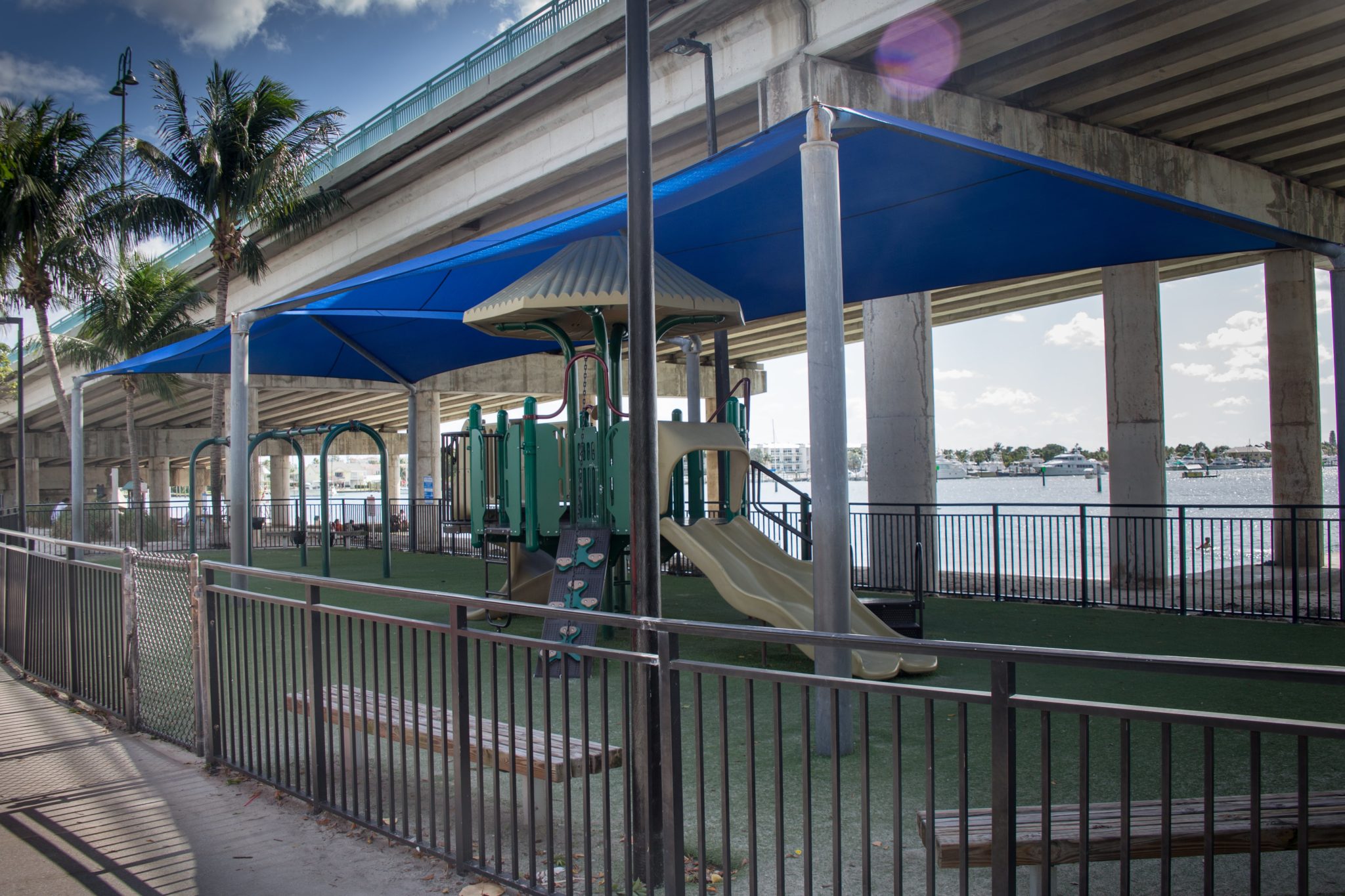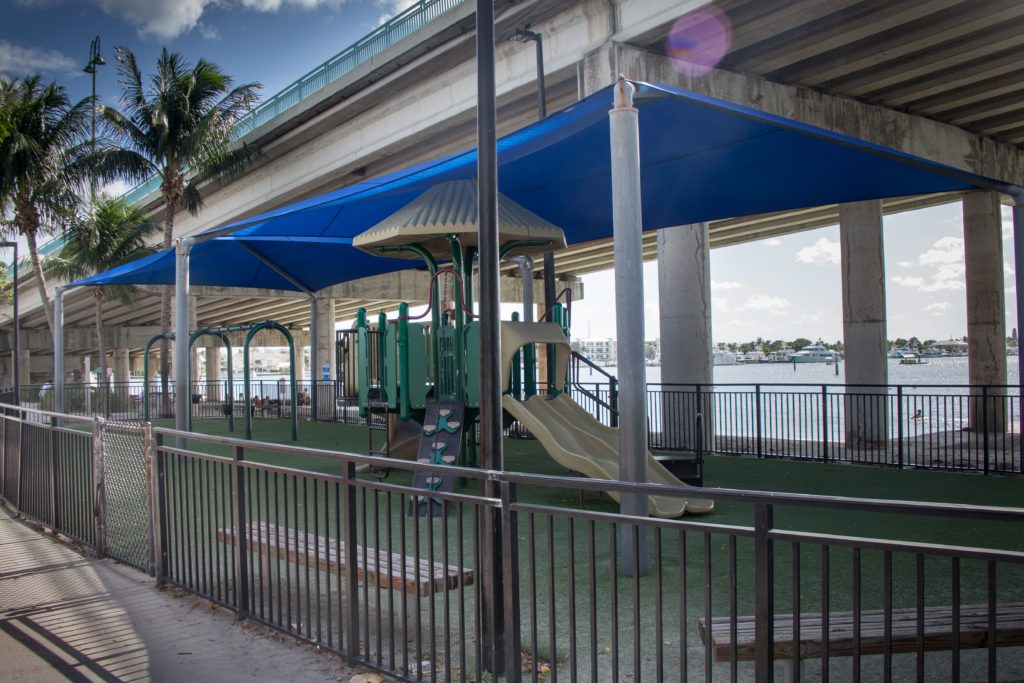 The park has:
Sandy swimming beach
Lifeguards
Boat ramp
Fishing Pier
Boat Slips and Docks
Free parking, subject to rules
Outdoor rinse-off showers
Picnic tables
Grilling facilities
And more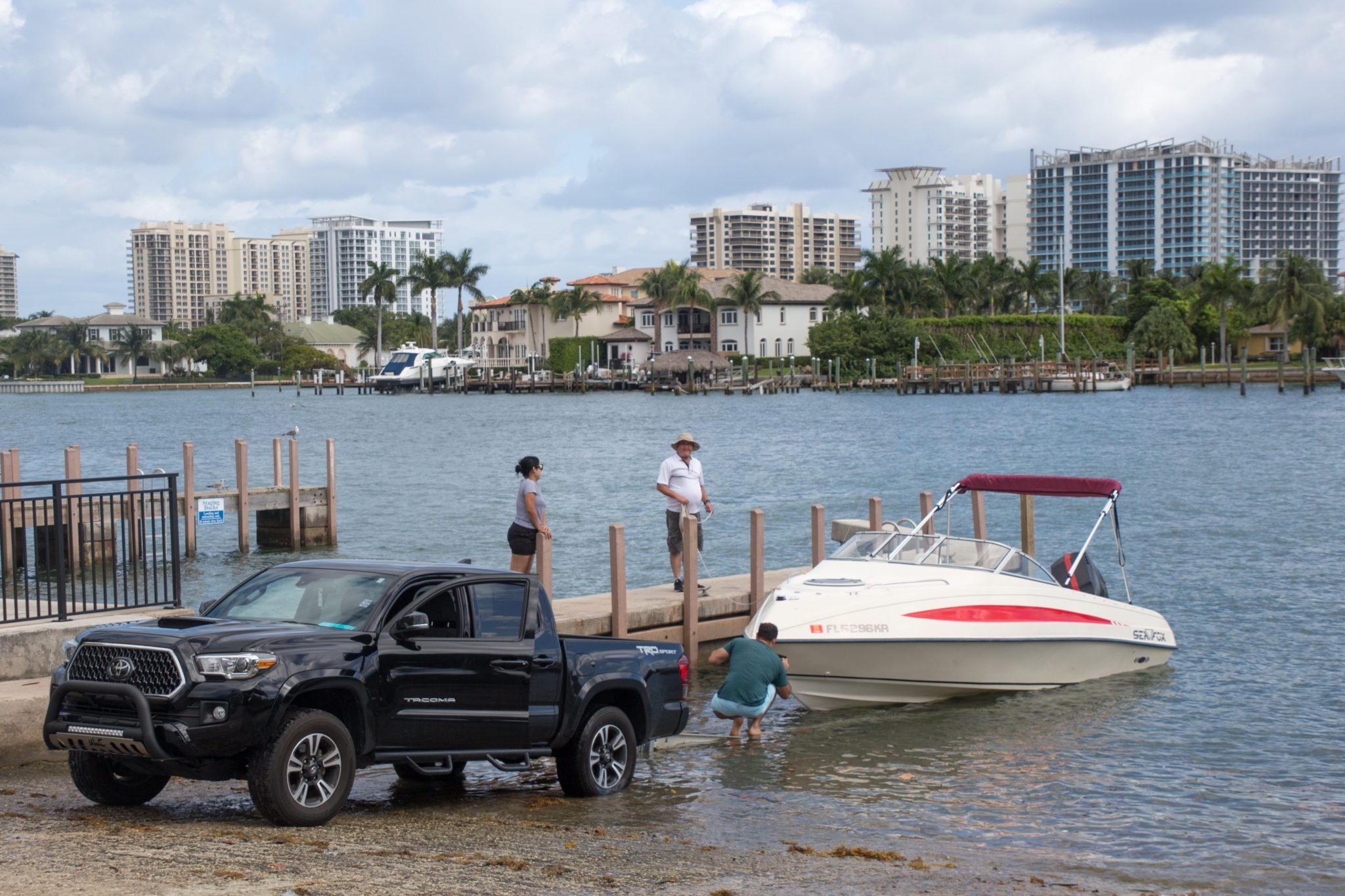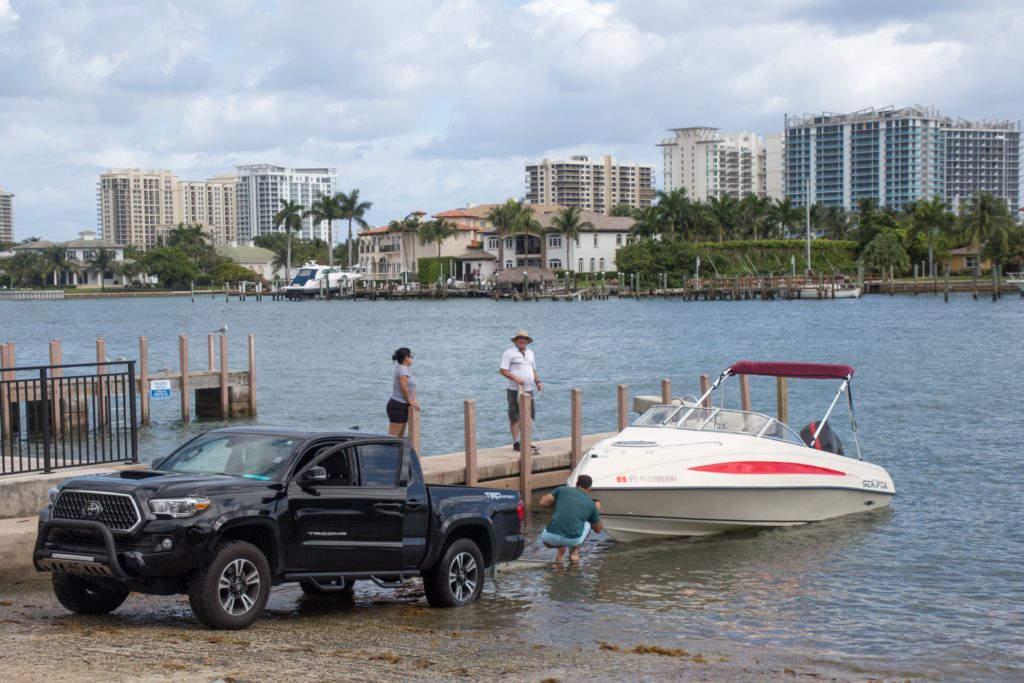 There are several bathroom locations at Phil Foster Park.
One is near the boat ramp
One is near the fishing pier
One is at the north end of Phil Foster Park. This site has outdoor showers and a gear rinse-off station
Phil Foster Park, and the Blue Heron Bridge, both become very crowded on weekends and holiday weekends.
The park staff works hard to keep the place clean, but sadly, many people are destructive.
The park is often a hangout spot for shady characters. Vehicle break-ins may occur, along with other safety concerns.
The best advice is to remain aware of your belongings and don't leave valuables exposed in your car.
There are a lot of rules at Phil Foster Park, so be sure to pay attention and follow all regulations.
The park, beach and playground are open from sunrise to sunset.
The boat ramps are open 24 hours a day, but have restrictions on accessing them after the park is closed.
The boat ramp has a 24 hour parking limit.
The fishing pier is open from sunrise until 10 pm.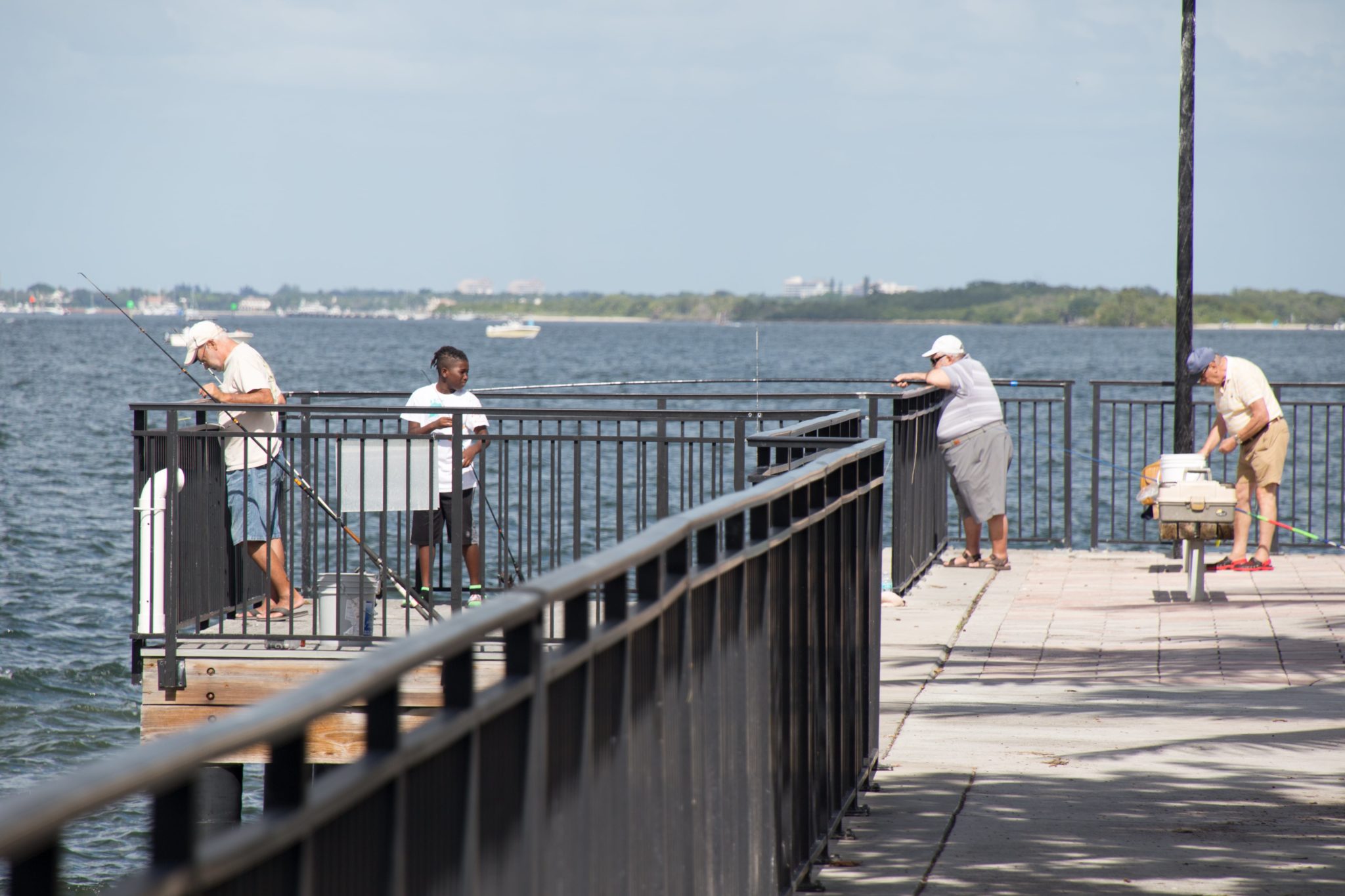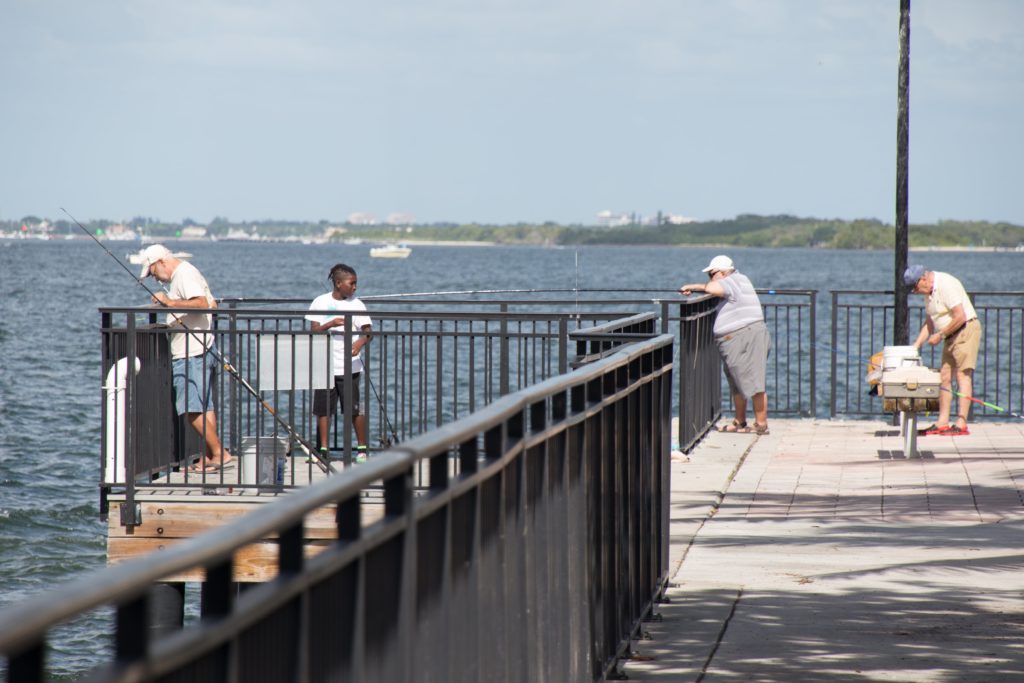 Source: https://discover.pbcgov.org/parks/Locations/Phil-Foster.aspx
Parking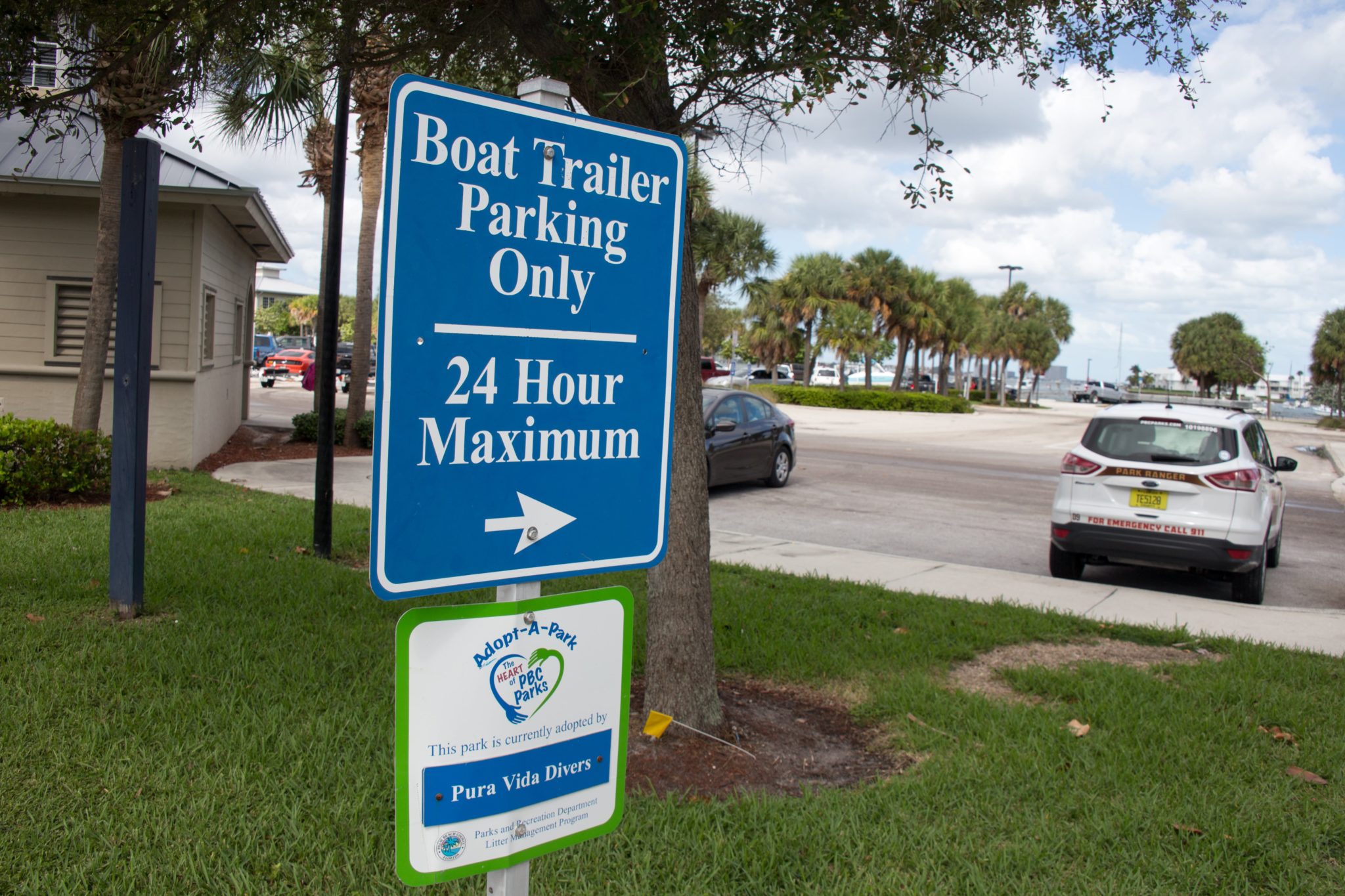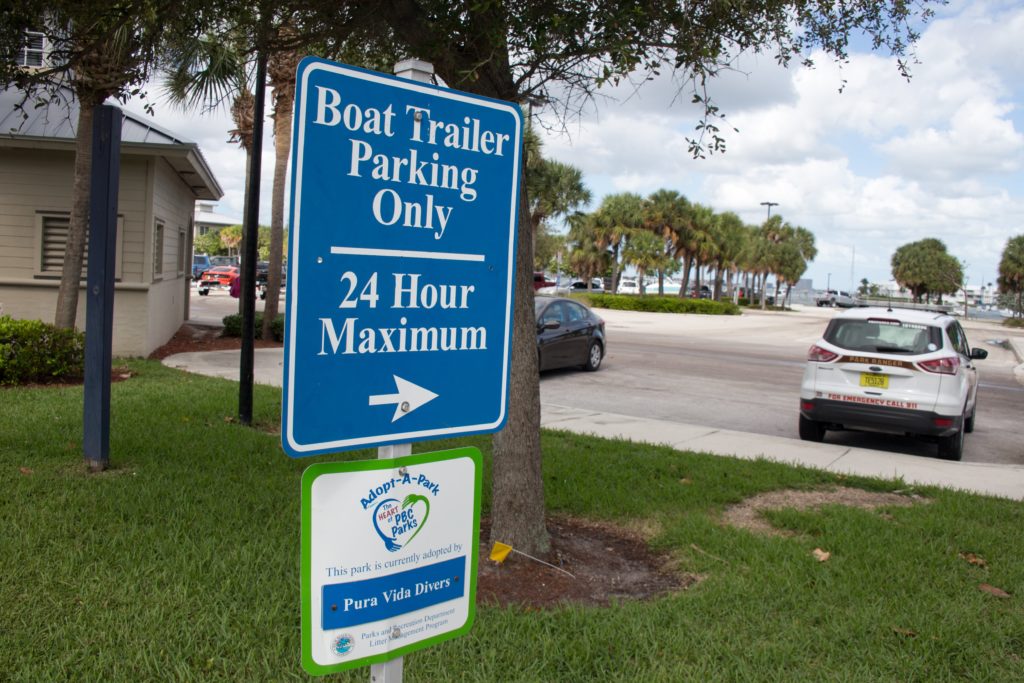 There is free parking at Phil Foster Park, but be sure to pay attention and follow parking regulations. The parking lot is very busy and it's monitored for parking compliance.
There are more than 120 boat trailer parking spots and more than 200 regular parking spots.
Even with several hundred spaces, parking spots are difficult to find on weekends, holidays and during nice weather.
Blue Heron Bridge Map
The Palm Beach County has a general map of the snorkel trail at the beach. More detailed diving and snorkeling information is available, often for free, via local dive shops.
The Palm Beach County website has a basic Scuba and Snorkel Trail Map, and information.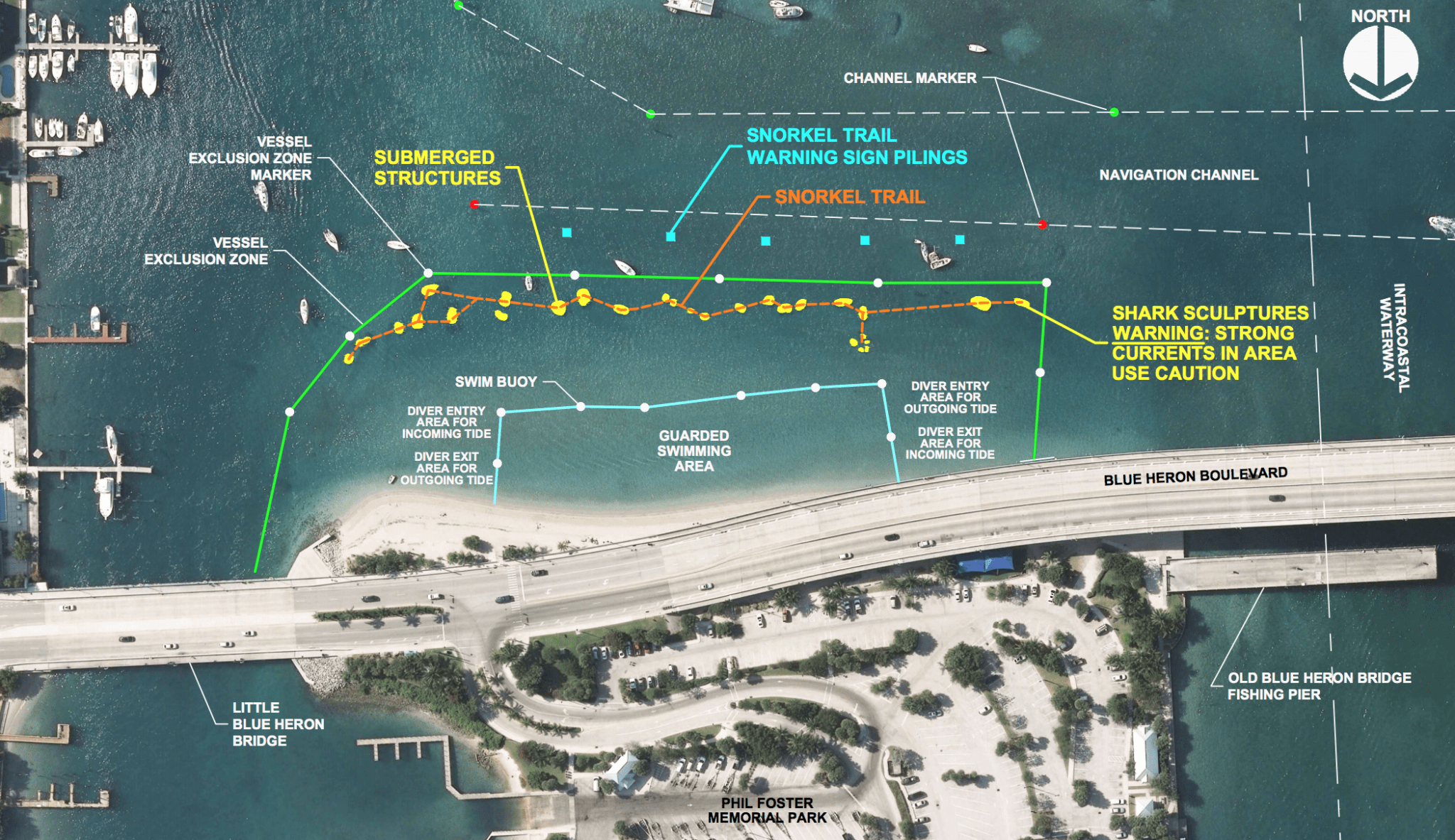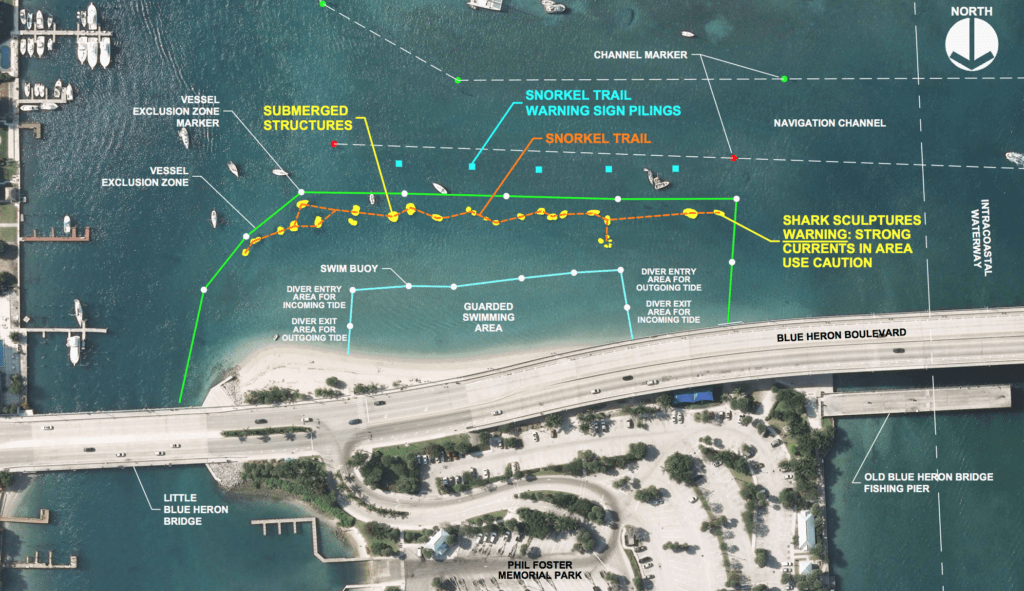 Snorkel Trail
The Phil Foster Snorkel Trail is a nice place to swim and snorkel.
The trail is about 200 feet away from the shoreline, and runs parallel to the beach for 800 feet.
The trail is all artificial, and was built to replicate the ecosystem of a barrier reef. There are several small sunken boats, artificial reef structures, and several rock piles.
These features are not particularly fascinating for humans. They don't look anything like a real coral reef, so be prepared. But, there is some coal growing on the structures. And, they're great habitats for exotic marine life.
Sea horses, tropical fish and other marine life are usually found near the snorkel trail, which are always fun to see.
The snorkel trail's reef modules are marked so snorkelers and divers can navigate and remain oriented. They're all close to each other, and are laid out in a line. It's pretty easy to see the next one as you follow the trail.
There are also a few underwater shark sculptures in the trail. These are very popular for underwater selfies.
The water is about 10 feet deep throughout the snorkel trail, which is slightly deeper than the deep end of a normal swimming pool.
The sea floor is mostly sand and fine silt. The bottom is easy to stir up and disturb. It makes the water murky and disturbs marine life who live under the silt, so be careful with your fins!
Depending on the water conditions and visibility, many of the underwater features can be visible from the surface.
What to Expect
If you're thinking about snorkeling or diving at Blue Heron Bridge, you should have the proper expectations.
For snorkeling, you should expect reasonably clear water and a series of fun man-made attractions.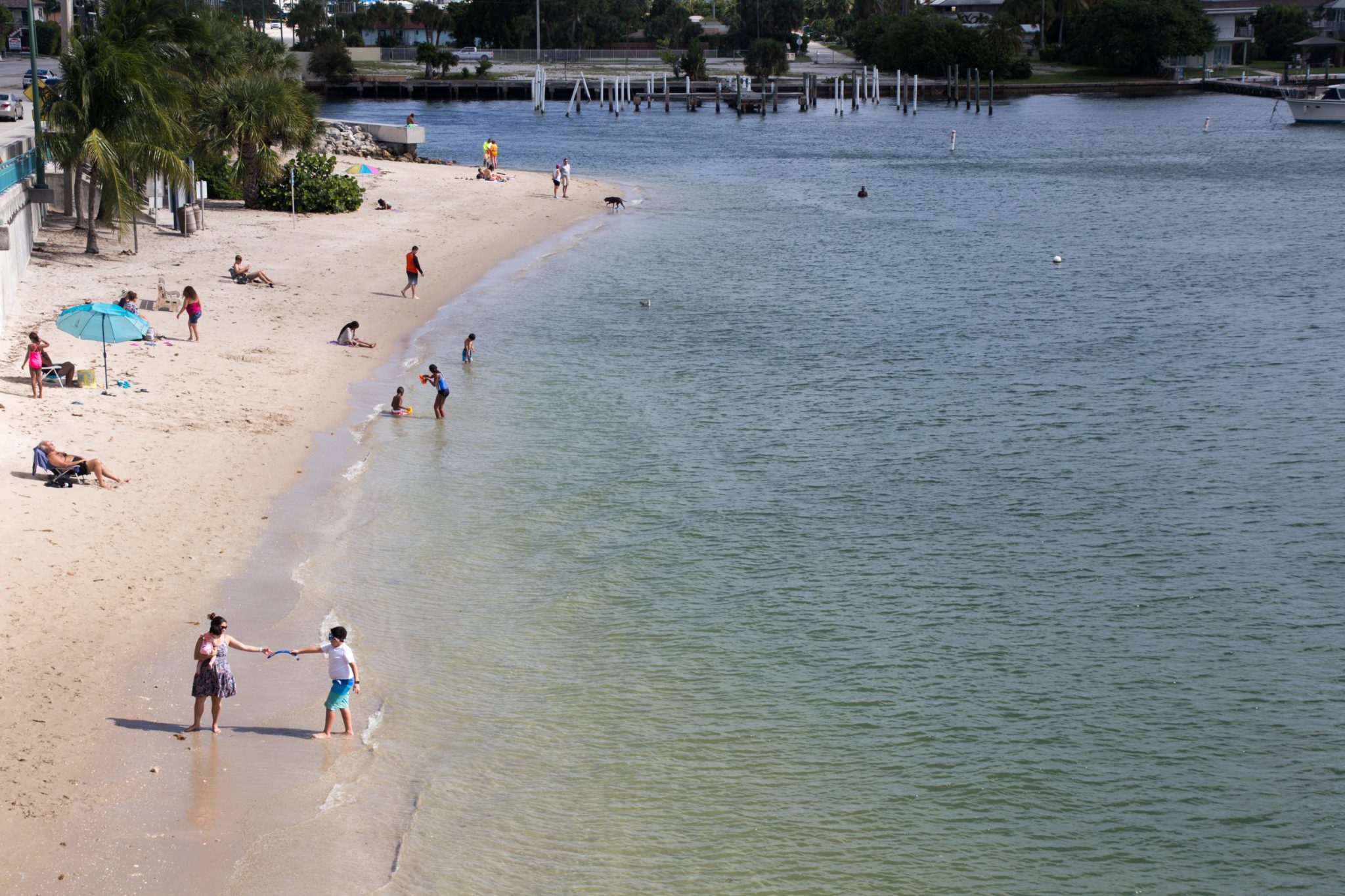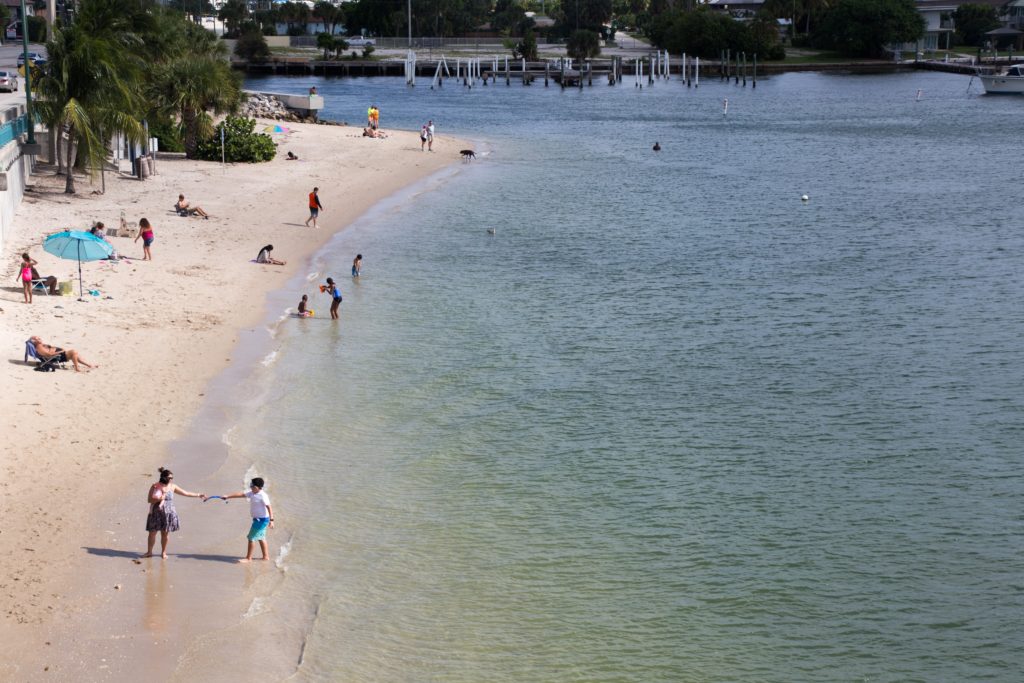 You may see some cool fish, and you'll probably have fun. The snorkel trail is great for beginners. It's very approachable, and is a nice introduction to snorkeling.
Advanced snorkelers may find the snorkel trail to be underwhelming. Freedivers should not consider this to be a viable freediving location, but it may be fun to snorkel anyway.
Depending on your skill and risk tolerance, some freedivers may be able to explore the bridge pilings for a more interesting experience.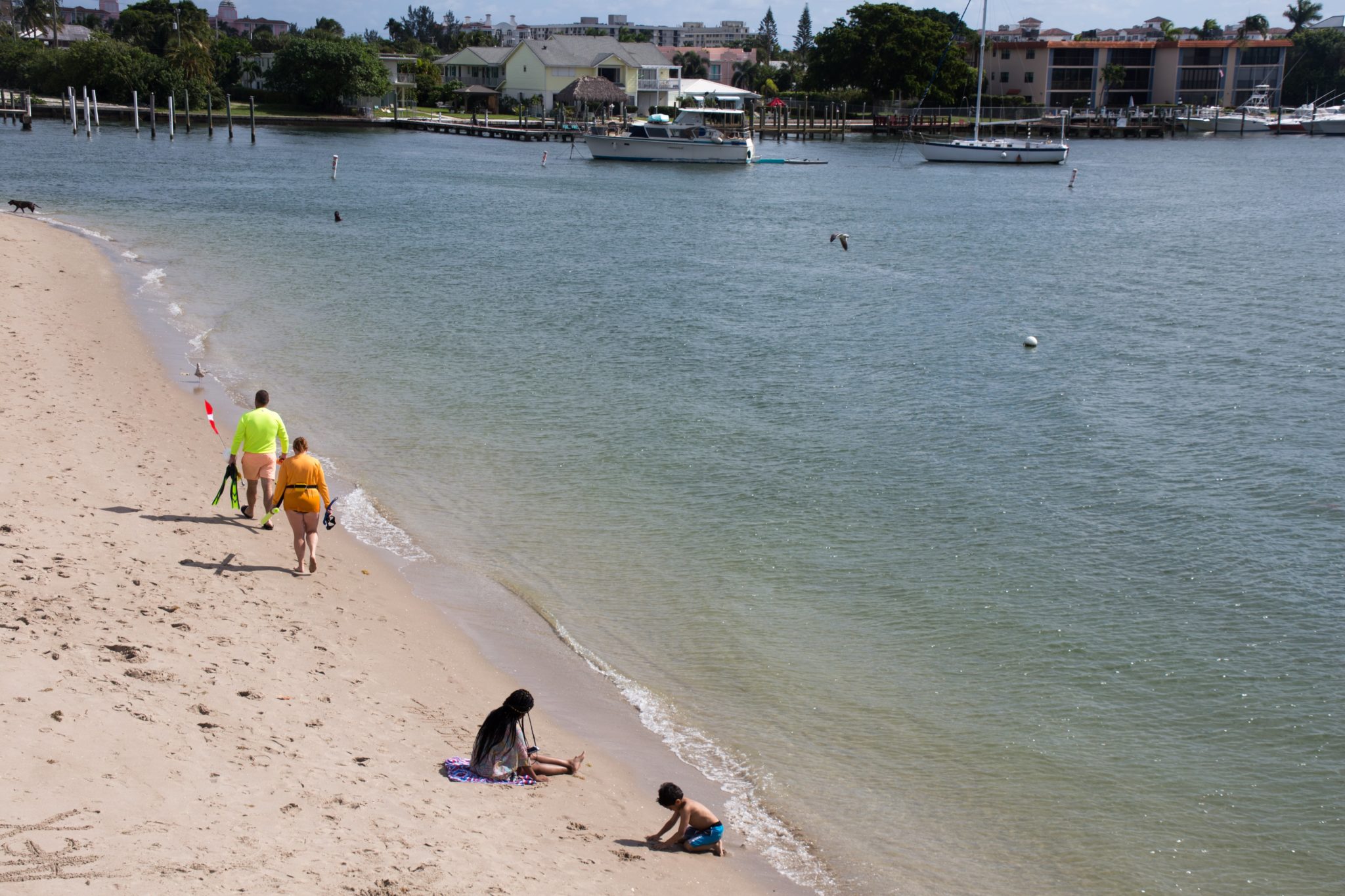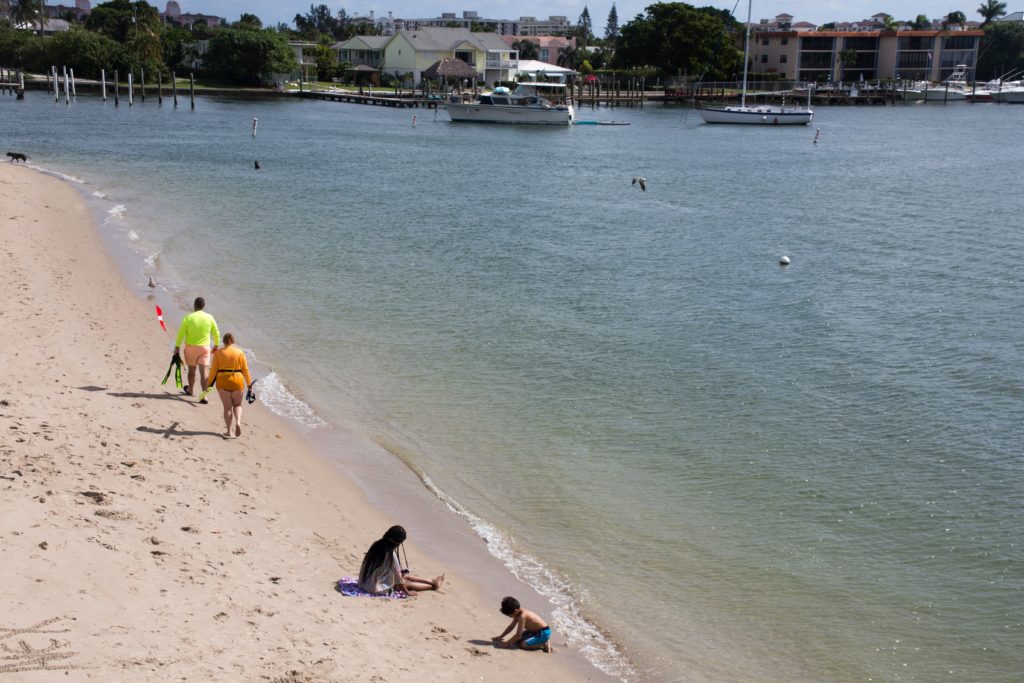 That said, the bridge pilings can be more dangerous because they are closer to boat traffic. You should not exceed your own safety, skill or knowledge limitations!
In addition to diving, fishing and snorkeling, there are other things to do, as well. Many people enjoy SUP paddle boarding and kayaking.
Fish and Marine Life
Many forms of exotic marine life live around the Blue Heron Bridge.
It's common to see dozens of exciting species on a single dive. Some locals swear that they see something new on every dive, and never get bored with it.
Sadly, the area is a target for poachers and fish collectors. Local divers and conservationists have fought to have the area designated as a protected area to prevent poaching.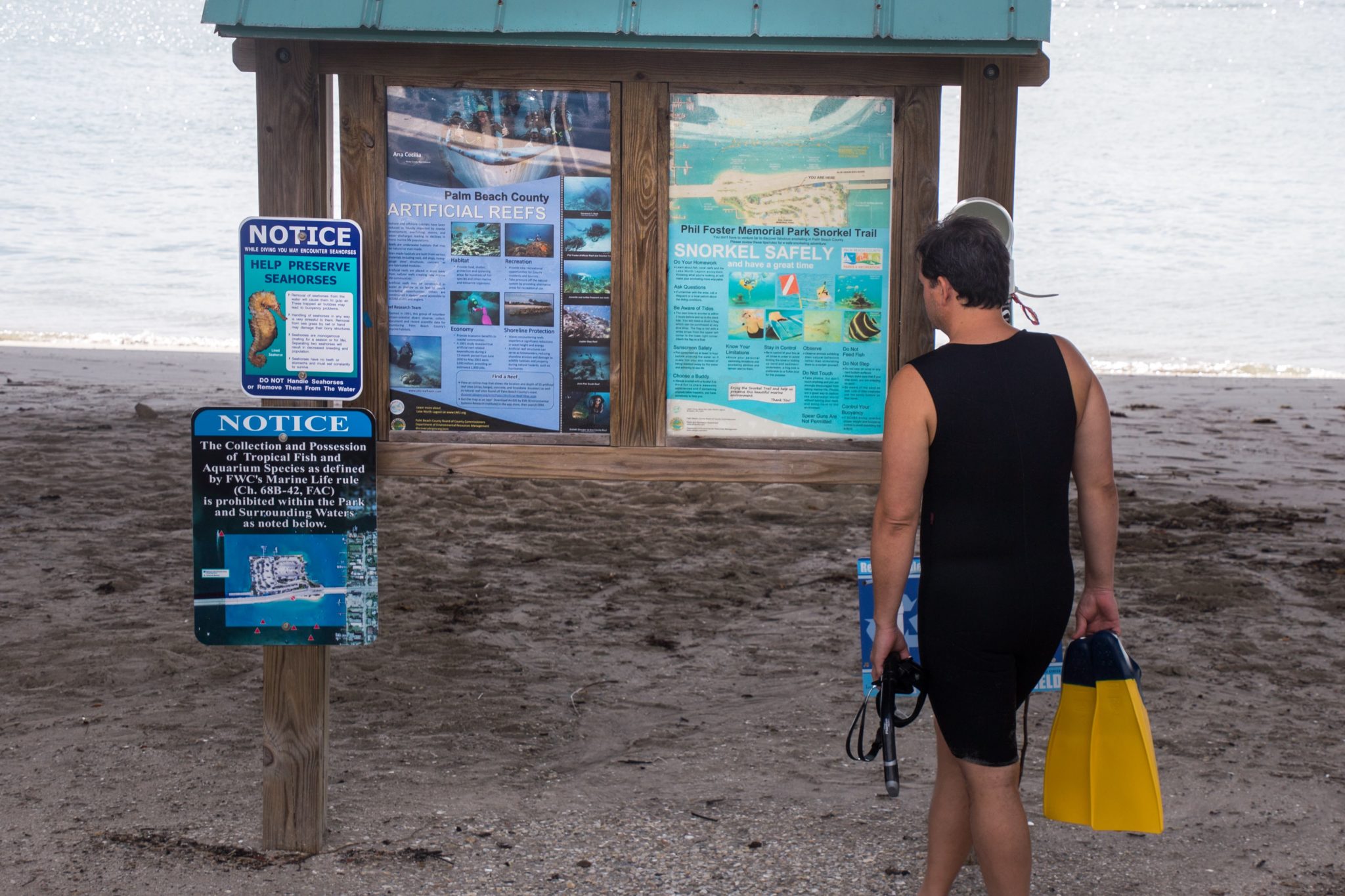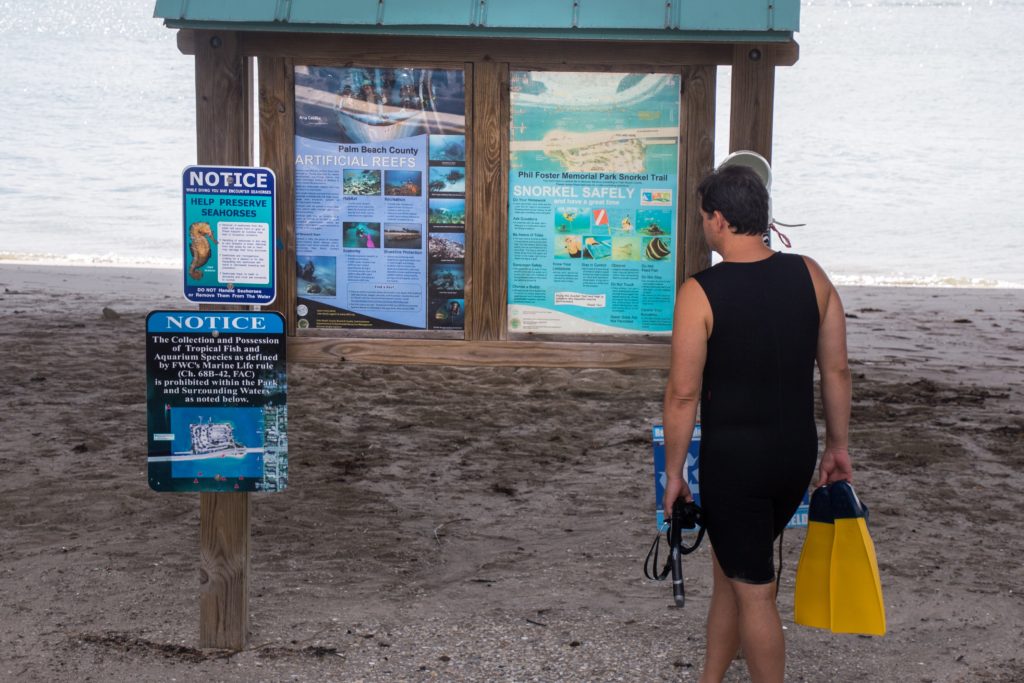 "Underwater enthusiasts have spotted more than 400 species of fish in these waters since 1993, according to the Key Largo-based Reef Environmental Education Foundation. Many of the species, such as the polka-dotted batfish, hairy blennies and longsnout seahorses, are rare." Source
Fish and marine life gather in this site because it's a very biodiverse estuary, and because there is so much good protective cover.
The area also attracts biodiversity thanks to the nearby Gulf Stream. It blasts warm and nutrient-rich water into the region, which attracts marine life of all kinds into the region.
There are several Facebook pages dedicated to diving and snorkeling Blue Heron Bridge. It can be a good source of ideas while planning your dive or snorkel trip.
The Blue Heron Bridge is especially popular for underwater photography –especially macro– because of the wide variety of marine life.
Seahorses
Octopus
Batfish
Nudibranchs
Star fish
Manatee
Pipefish
Manta rays and Spotted eagle rays
Sharks, including Nurse sharks, bull sharks and other species
Sea turtles
Seahorses
Frogfish
Marine life is especially common around underwater features. There is one area known as the "Red Wall" which can attract significant varieties of interesting marine life. Be careful while approaching the Red Wall though, because it is dangerously close to boat traffic.
SCUBA diving
The Phil Foster Snorkel Trail is great for learning to scuba dive. Many instructors use the Blue Heron Bridge for entry-level scuba dive training.
Shore dives like Blue Heron Bridge offer many benefits:
Can be lower-cost than boat diving
Less intimidating
No swells or waves
Lower chance of encountering sharks
Good to try gear before going offshore
No problems with seasickness
Easier to plan and organize
Higher chance of observing marine life
Interesting marine life which is not found offshore
The bottom at Blue Heron Bridge is mostly sand and silt. This is often referred to as "muck diving".
Diving in this sort of environment is unique. The allure is not about shipwrecks, amazing coral formations or dramatic scenery. Instead, it's about tiny details, and hidden treasures.
This site rewards patient, observant people who recognize beauty in details, and who get excited about exotic organisms.
The best part comes from observing hidden, tiny and exotic, marine life, which hide in nooks and crannies.
Many experienced locals recommend bringing a dive light, even during daylight dives, to help see further into holes, rocks, nooks and crannies where critters may be hiding.
Muck diving sites like Blue Heron Bridge reward scuba divers more than snorkelers. Scuba divers can stay below water for hours to spot a shy critter. Snorkelers must return to the surface, and the commotion scares away marine life.
The Blue Heron Bridge is a very shallow dive site. At its deepest point, it's only about 20 feet deep. This allows divers to spend much more time underwater than usual.
Some divers are able to dive for two hours on a single dive, which is unusually long.
Dives at Blue Heron Bridge are often more stationary than usual. You won't have to swim very far, and you may sit in one place while doing underwater photography. This can cause divers to become cold, so be sure to plan accordingly.
Especially in cold weather, some guides recommend dive hoods and heavier suits than you might expect for south Florida.
If you're planning a dive, it's always best to call a local dive shop and get some local knowledge early in the process.
Dive Map and Planning
General overview maps are posted on the beach near the playground. More detailed maps are available in local dive shops.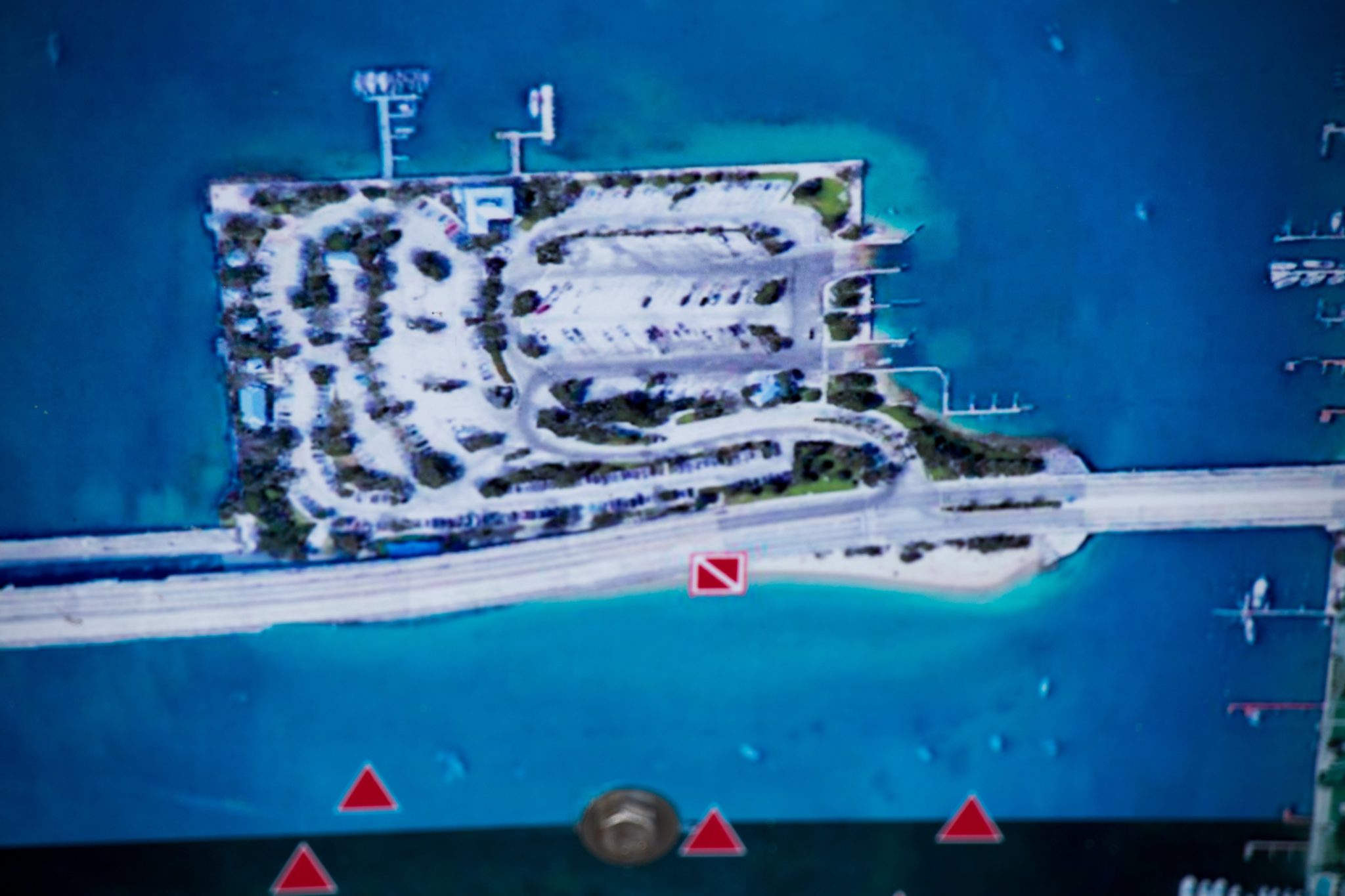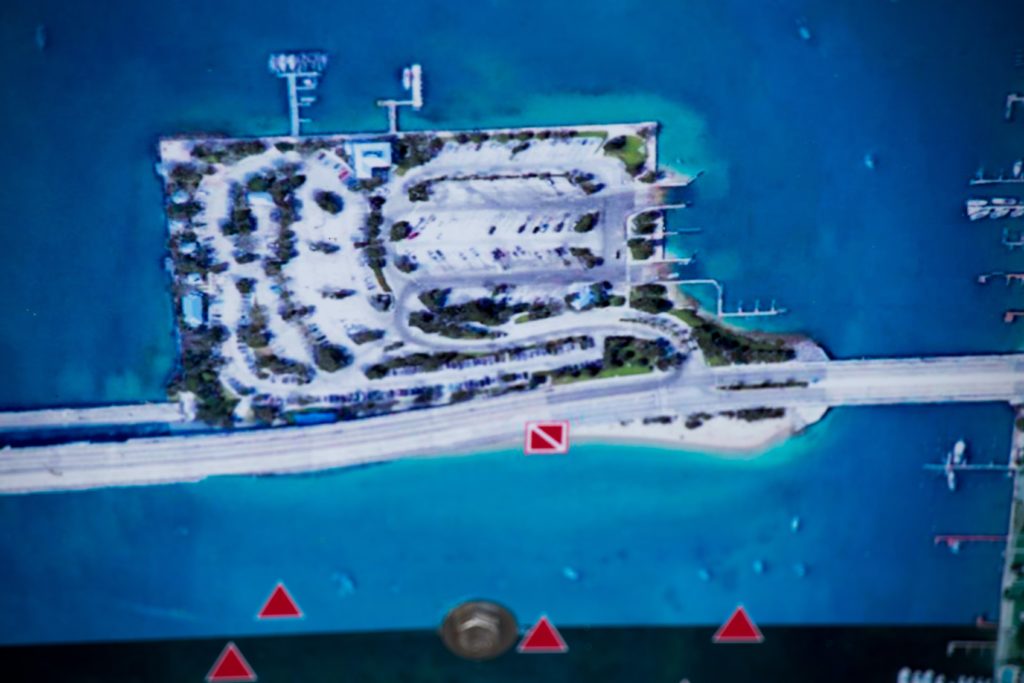 If you seem like someone who respects marine life, local dive shops may also share details about where to find rare marine life, and tips on how to spot camouflaged critters.
Note: When discussing the dive site and making dive plans, you should know that there are actually two Blue Heron bridges.
There is the main, large bridge which runs from Phil Foster Park to the mainland, and then another — "Little Blue Heron Bridge" — which connects Phil Foster Park to Singer Island.
Dive Shops
There are many dive shops in the area. Two seem to be highly recommended and specialize in Blue Heron Bridge dives. The two are located on either side of the Blue Heron Bridge.
Nearby Dive Sites
Although Blue Heron Bridge is a really great dive spot, some people may find it underwhelming.
This dive site appeals to a few different types of diver:
Those who are new to diving
Divers who prefer not to dive by boat
Muck divers with an interest in marine biology
Divers who are interested in underwater photography
For more adventurous diving, it's best to travel offshore for boat diving.
Several dive boats operate out of the Riviera Beach Marina, which is just across from the Blue Heron Bridge.
There are not many other good shore diving spots near Blue Heron Bridge. One of the next best options is Lauderdale By the Sea, which is more than an hour away.
Rules and Regulations
Divers and snorkelers should know and follow all regulations before visiting!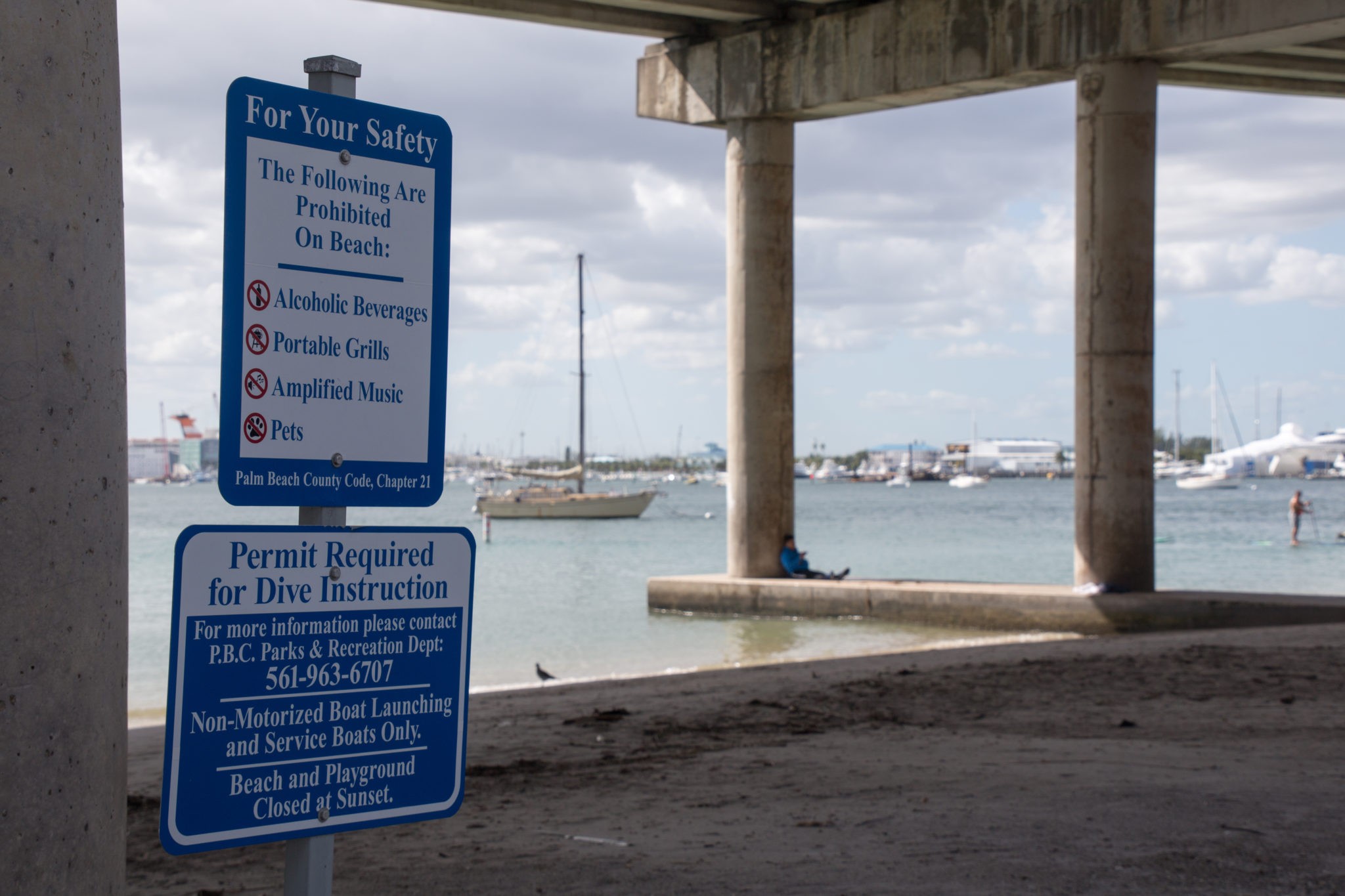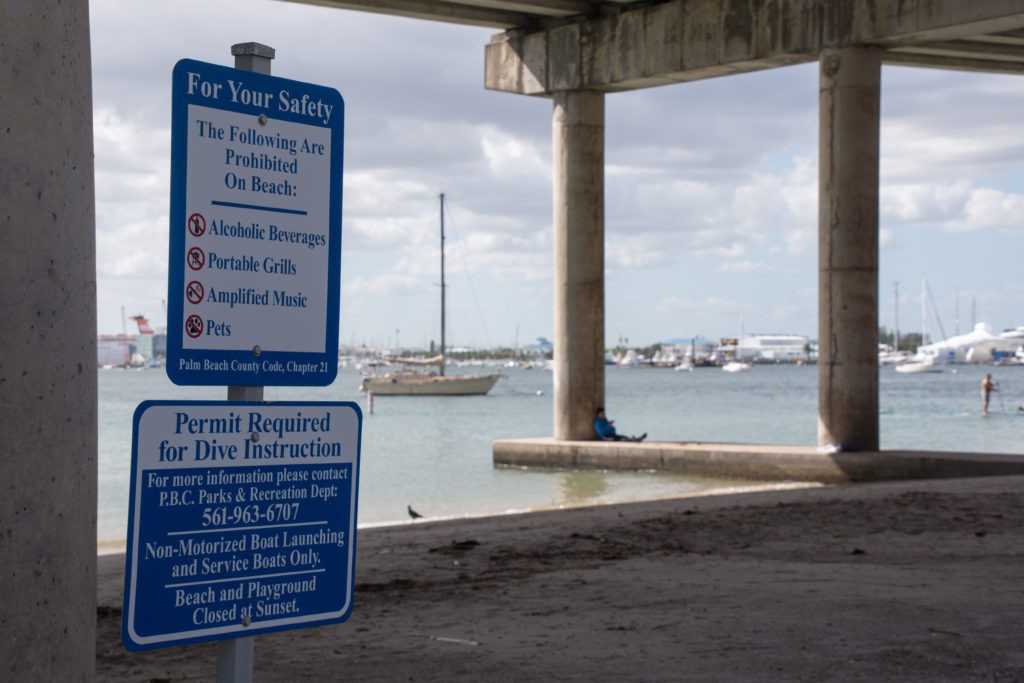 There are informational signs posted at the park, but they may not cover every scenario. Here are a few basic things to know:
Be aware of boat channels and traffic
Don't touch or bother marine life!
The Blue Heron Bridge site is protected. Harassment and removal of marine life is prohibited, and local residents and divers are committed to protecting the site.
Fishing is only allowed in designated areas. Spearfishing and lobstering are not allowed.
Divers and snorkelers must have a proper dive flag, and must stay with it!
Night diving is allowed but it requires a permit. If you want to perform a night dive you should contact one of the local dive shops and make arrangements with them. Their community night dives are free, and you can dive under their permit.
There are parking regulations. Overnight boat trailer and boat ramp parking also requires a permit.
The park has a set of rules, including opening hours.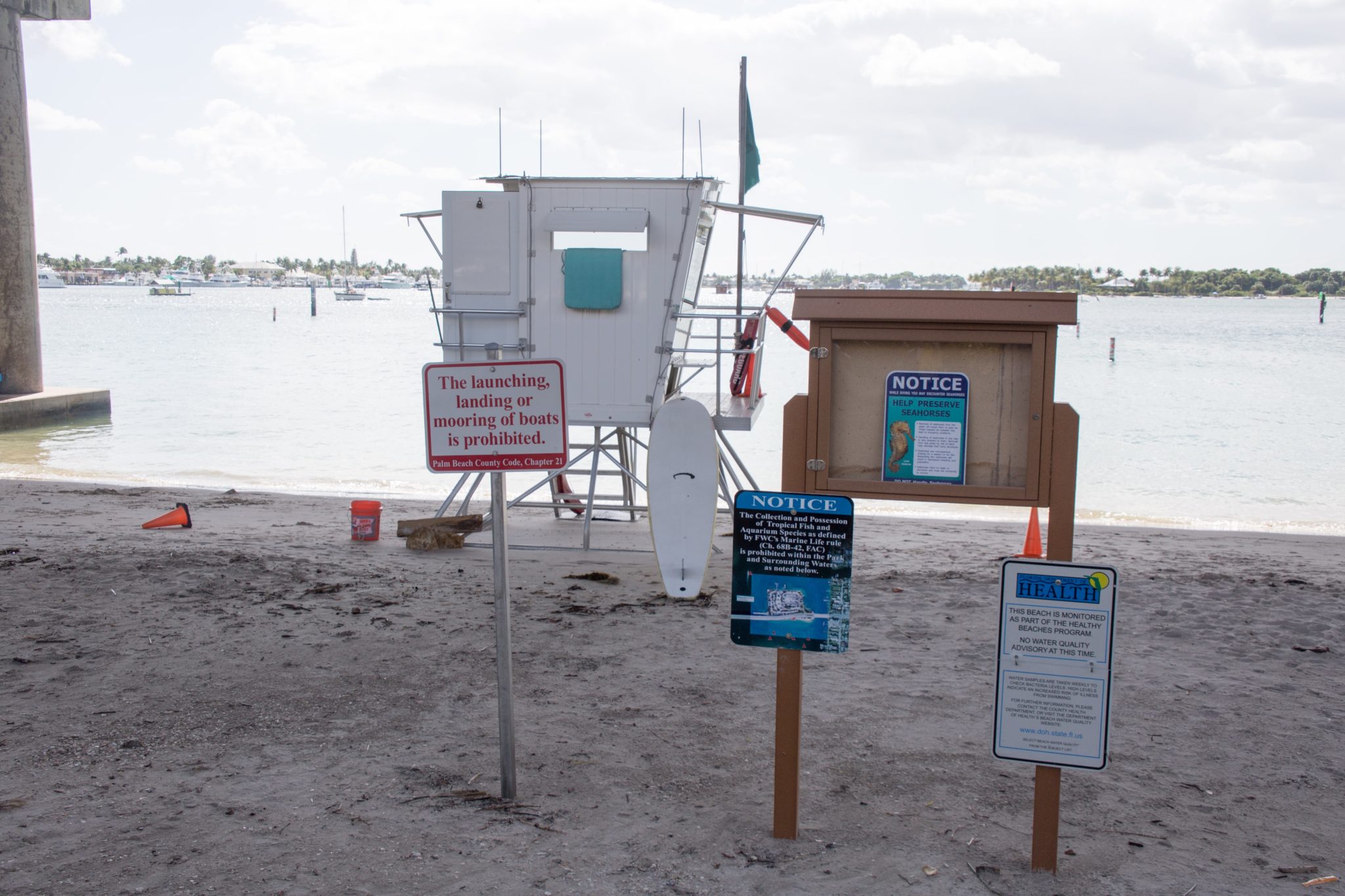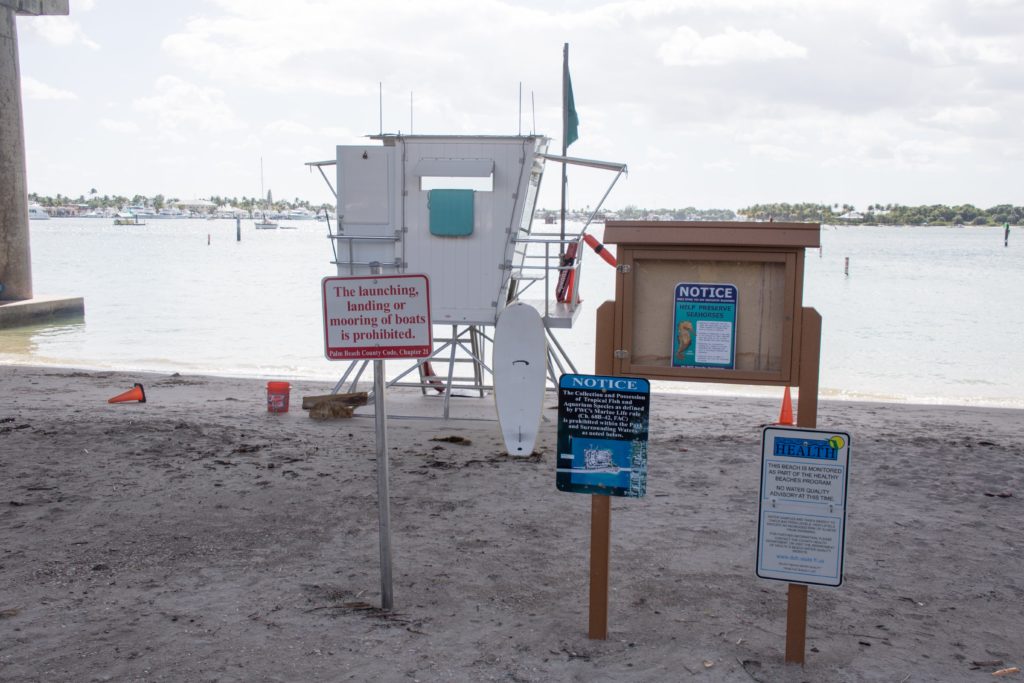 Water Conditions
The Lake Worth Lagoon is strongly affected by tidal action.
When the tide rises, water rushes into the Lake Worth Lagoon from the Atlantic Ocean. Then, when the tide falls, it all rushes back out into the ocean.
This effect is strong, and is even visible to the naked eye. When standing at the height of the Blue Heron Bridge, you can see color differences between Atlantic ocean water, and murky ICW water.
These tides cause strong currents, which may cause swimmers to lose control, or even be swept into dangerous boat traffic.
The tides also greatly affect water clarity inside the lagoon, and the visibility at Blue Heron Bridge.
The best conditions occur at high slack tide. That's when the tide is at its highest point, and is not flowing in or out.
Most guides recommend snorkeling and diving during a specific tidal timeframe. The window starts about 30-60 minutes before high tide, and ends about 30-60 minutes after. This is true for nearby Peanut Island, as well.
During this window the Lake Worth Lagoon will be filled with clear water from the Atlantic, and tidal currents will be at their lowest.
In optimal conditions visibility at Blue Heron Bridge can be excellent– up to 100 feet. When conditions are bad, visibility can be less than 5-10 feet.
Poor visibility in the Atlantic can affect the visibility in the Inlet due to turbidity and suspended sediment. Calm ocean conditions in the Atlantic Ocean can result in higher visibility inside the Lagoon.
A daily water condition and tide report is available via the Palm Beach County website.
Safety
If you swim, snorkel or scuba dive at the Blue Heron Bridge, you must know the rules, and be incredibly careful.
Be aware of your limitations, and those of anyone else in your group. Always err on the side of safety and be conservative with your choices.
This list is not comprehensive. Be sure to take all necessary precautions, and ensure your own safety. If you're not sure about anything, ask a qualified professional like a lifeguard.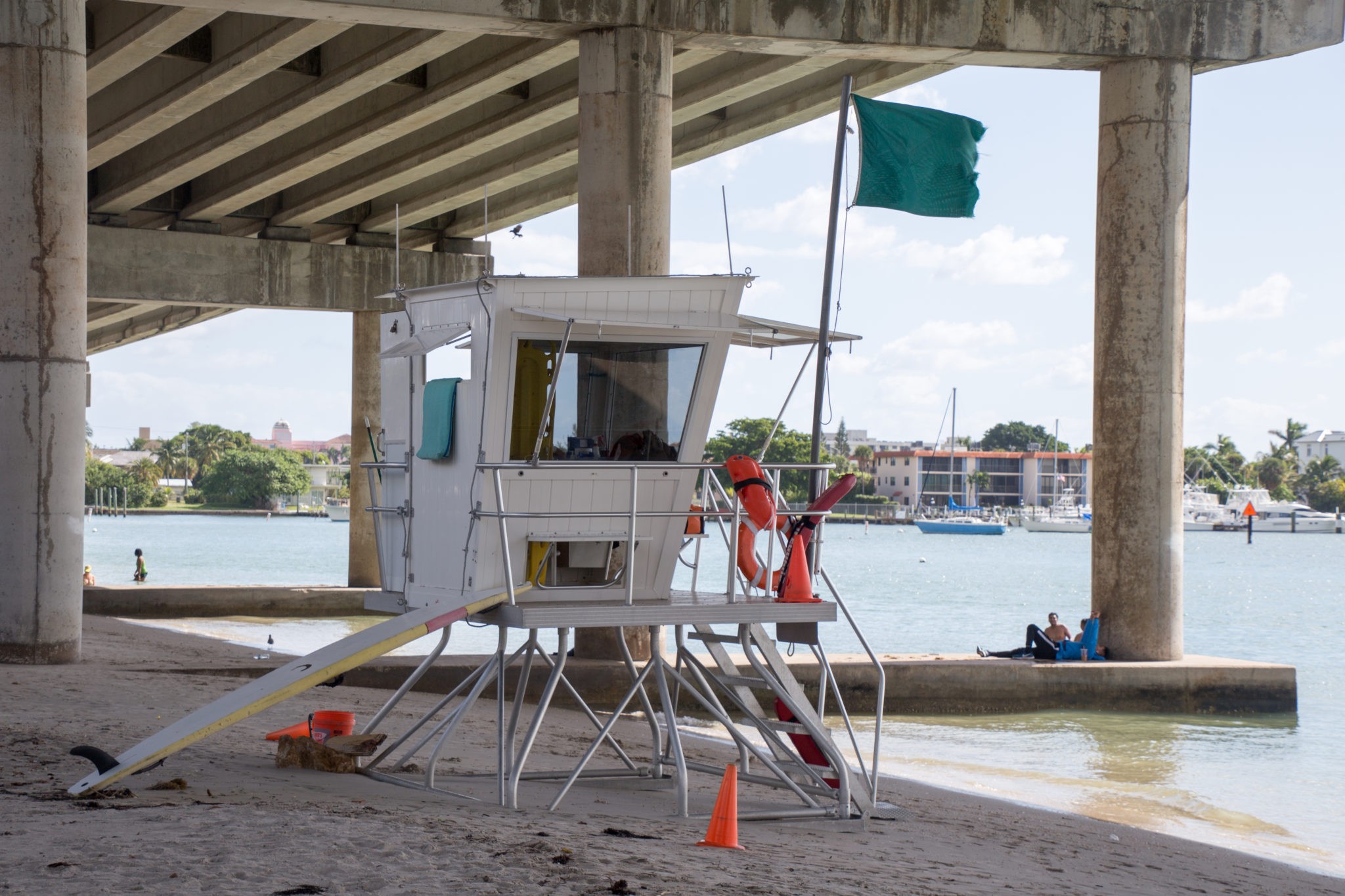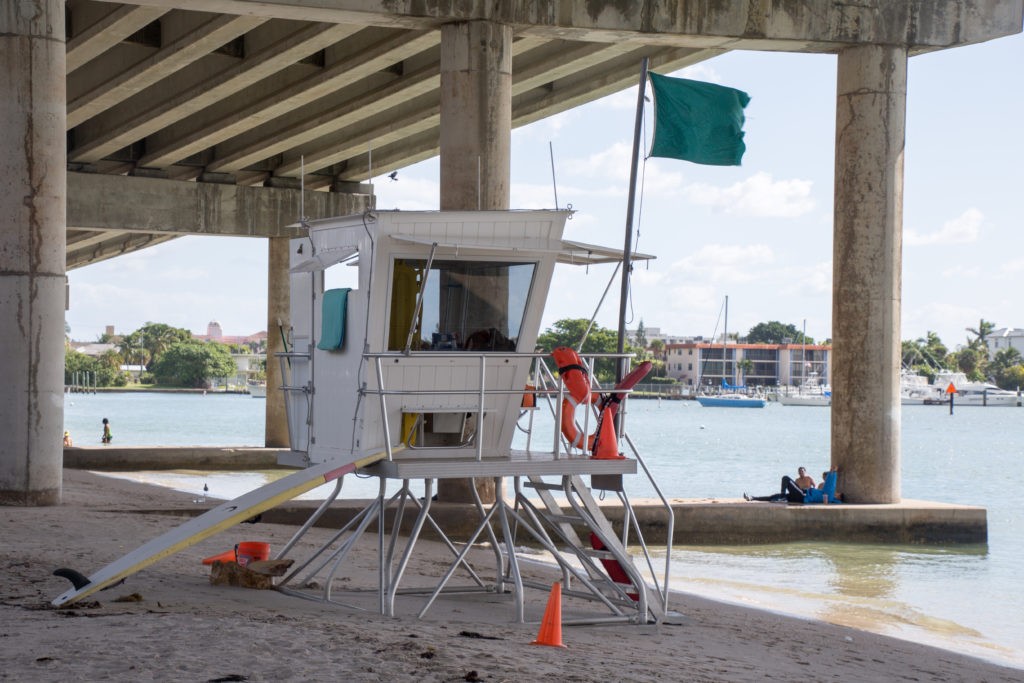 There are swim buoys and markers which designate the swim area, and guarded swimming area.
Divers and snorkelers must carry proper dive flags and stay near them. Divers are not allowed to be submerged inside the guarded swimming area, or breathe from scuba regulators. This is because it would make it impossible for lifeguards to identify struggling swimmers, vs. those who are submerging safely.
Walls, artificial reefs, rocks, bridge pilings and other structures often accumulate dangerous barnacles and other forms of sharp growth.
These cause cuts, scrapes and extremely dangerous infections. Avoid touching anything while you are swimming, snorkeling or scuba diving.
Everyone should carefully assess their own ability level. If you need it, consider wearing a USCG approved lifejacket.
There is a lot of boat traffic in this area. Many of the boaters are uninformed, reckless, and dangerous. Boating accidents can cause serious injury or death. Be sure to avoid the boat channel, and avoid areas with boat traffic!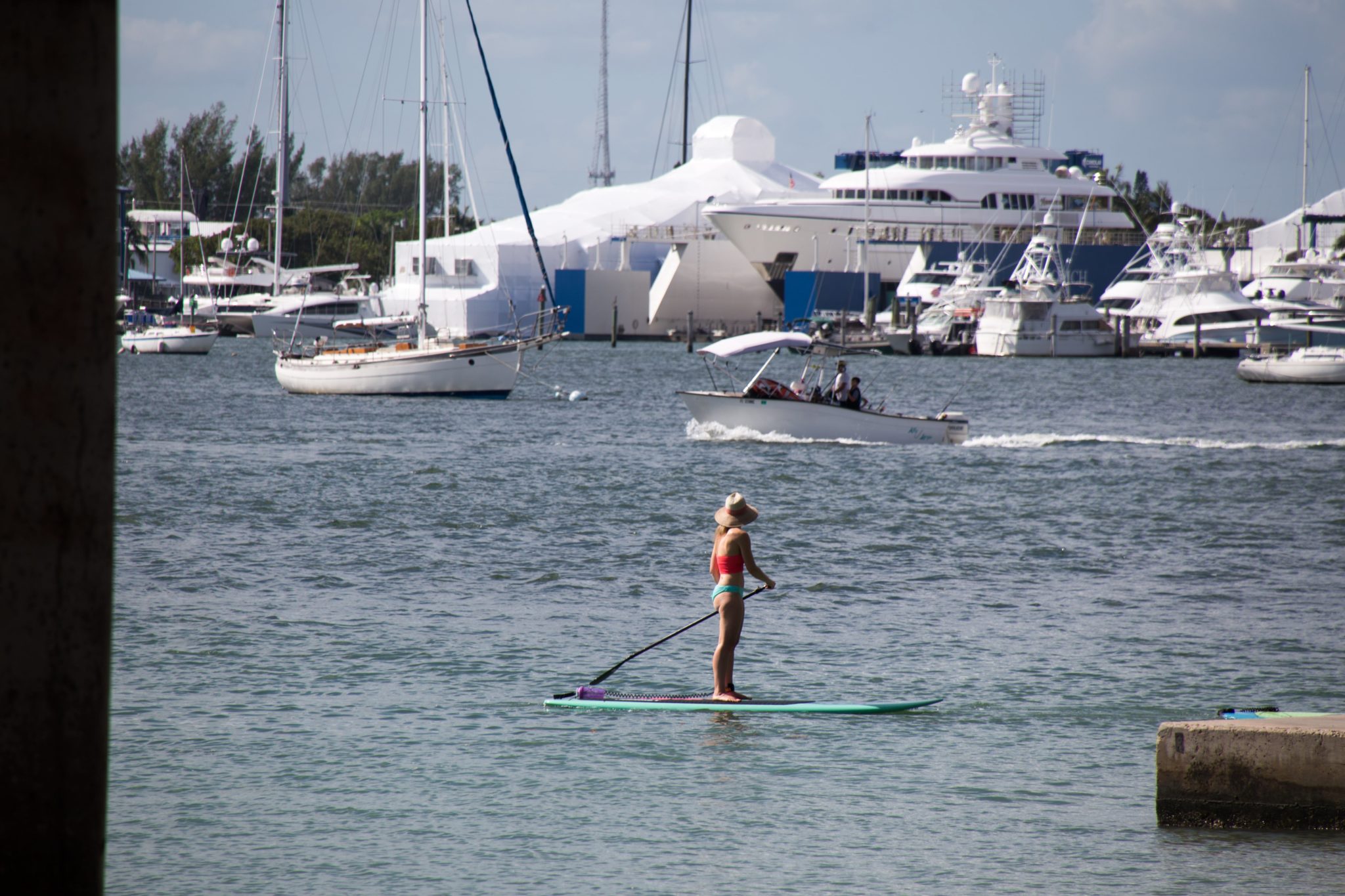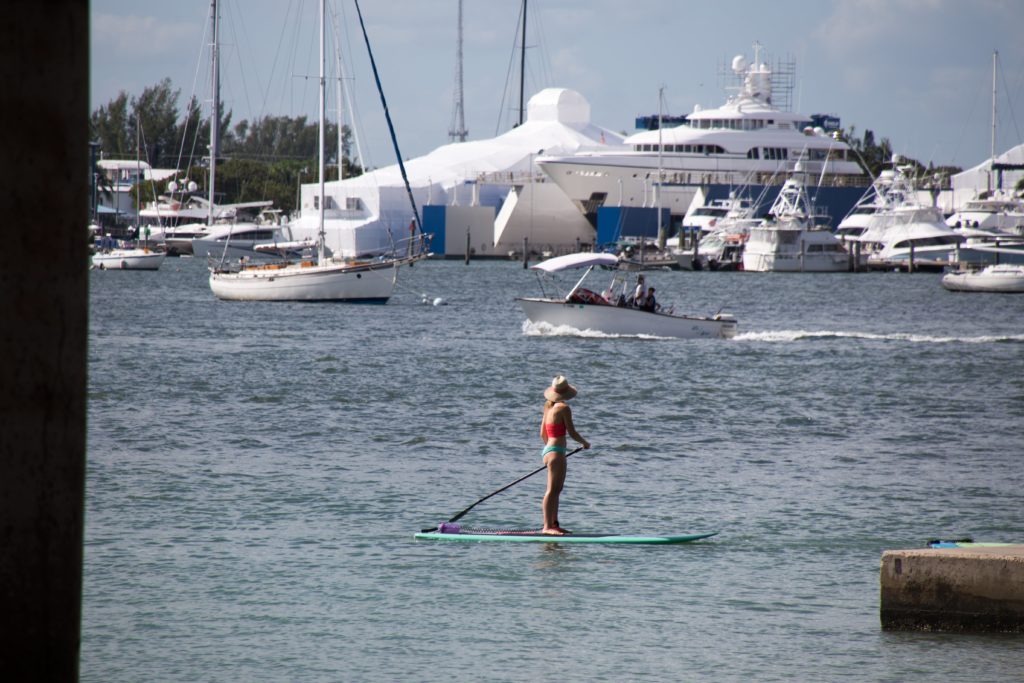 Even if you're in a non-boat traffic zone, you must remain aware of your surroundings, in case boaters do not follow marine traffic rules.
Many small boats and jet skis launch from the Phil Foster Park boat ramp. Some travel under the Little Blue Heron Bridge on the East side near Singer Island, instead of traveling the long-way around the island. This creates a dangerous sitaution for scuba divers.
There are many fishermen on the fishing piers in Phil Foster Park. Scuba divers and snorkelers should be polite to the fishermen and be careful for lines and fish hooks if you go near them.
Try not to touch anything in the water. There are many forms of dangers around the Blue Heron Bridge snorkeling and scuba site, including:
Jellyfish
Fireworm
Rockfish
Scorpionfish
Sea urchins
Sea lice
And more
Best Time to Visit
The best month to visit depends on your own preferences.
Water and air temperatures are warmest in the late spring, summer and early fall
Summer rain storms and hurricanes may decrease visibility
Winter air temperatures can be uncomfortably chilly for swimming and snorkeling
Summer air temperatures are often extremely hot and humid
You're more likely to see manatees in the coldest winter months
The water temperature is generally warm enough for swimming year-round.
In winter months the water temperature can fall to the mid sixties. In the summer the water temperature can become very warm, and is often in the high 80's.
In addition to air temperature, the water temperature fluctuates based on the tide; i.e. whether the Lake Worth Lagoon is filled with water from the outside Atlantic Ocean, or the intracoastal waterway.
During winter months it's often wise to wear a wetsuit for warmth and jellyfish protection.
Even in Florida, winter days are much shorter than summer days. So, remember that if you are trying to plan your dive or snorkel trip around the tides!
History of Phil Foster Park and Blue Heron Bridge
The park was named after Phil Foster. He was an early citizen in Riviera Beach who helped establish the area as a tourist destination in the early 1900s. The park was opened and dedicated to his memory in 1953.
There is an interesting statue of a sailor in Phil Foster Park called "The Ancient Mariner".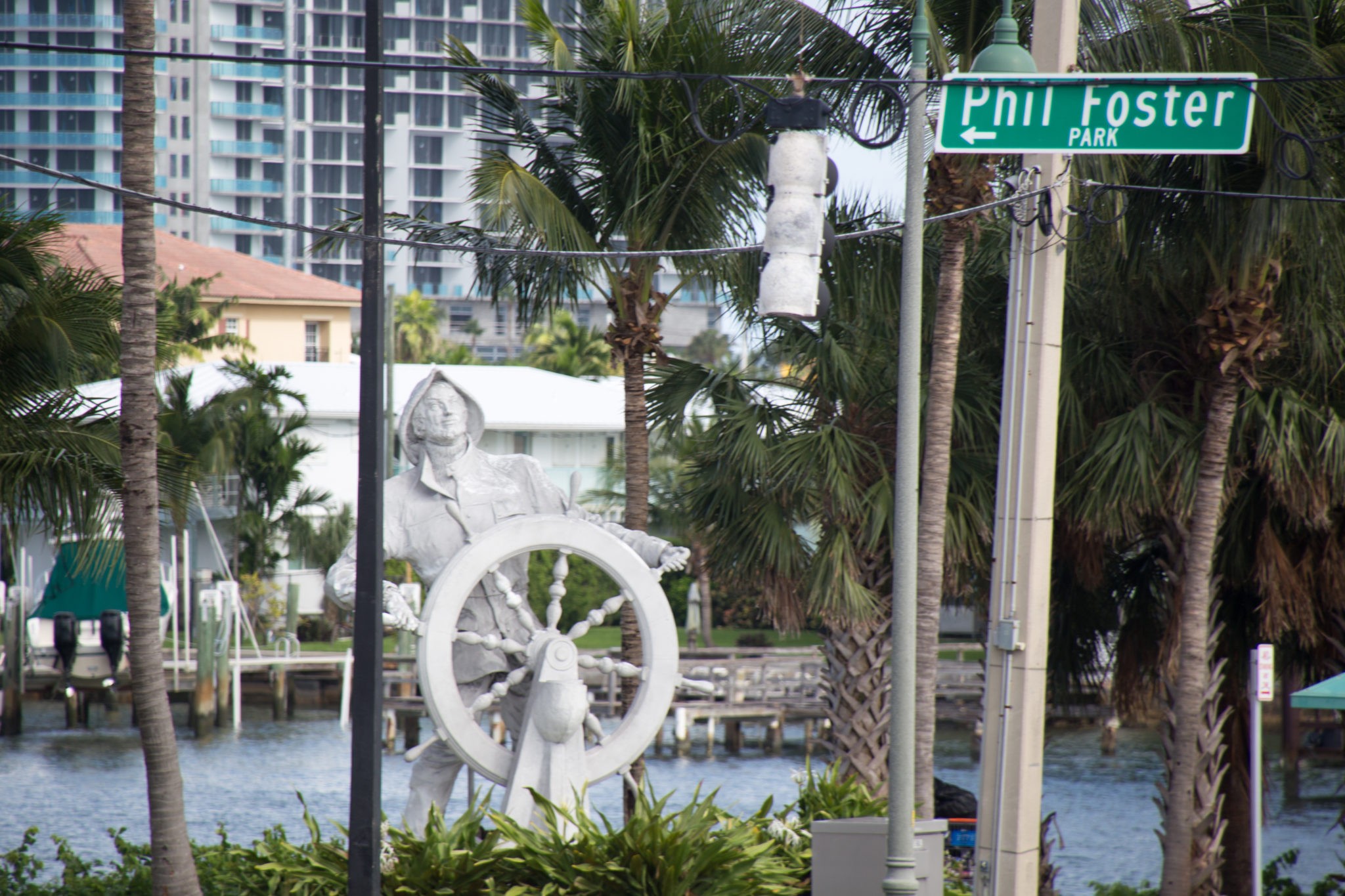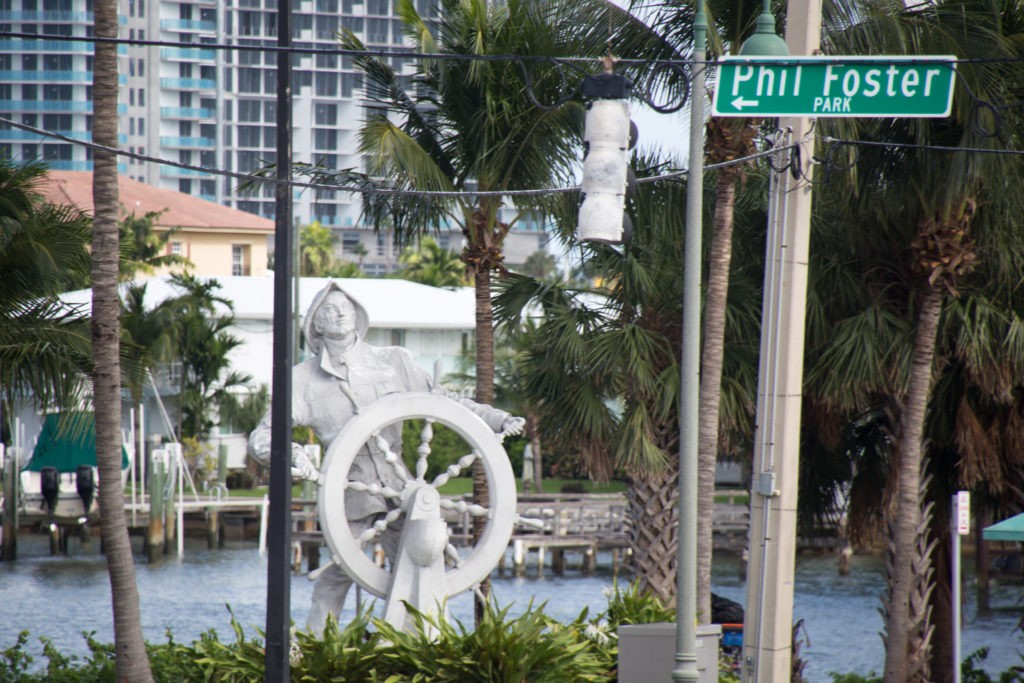 Interestingly, that is not related to Phil Foster, as one might assume. The statue was a corporate decoration at a nearby bank called Mariner's Bank, and was moved to the park when the bank closed.
The fishing pier in Phil Foster Park is a remnant of the old bridge, before the larger current bridge was built in 1974.