Peanut Island is a small island in Florida's Lake Worth Lagoon. It's located in a beautiful area, between Riviera Beach, Singer Island and Palm Beach.
Read about other things to do in Palm Beach County
Peanut Island is a county park, and is open to the public. Admission is free, although there is a cost to ride a public ferry if you don't have your own boat. It's possible to kayak or SUP paddle board to the island, just be very careful of boat traffic!
The island is very easy to visit, even though it requires a short ferry ride.
Peanut Island is easily one of the best beaches in Florida, and is my favorite beach I've found in Florida. I'm not alone. Many people visit every weekend, and say they never get bored with it.
Peanut Island has something for everyone. It's quiet and peaceful during the week, and a lively boat/beach party spot on weekends and holidays.
Kids love playing in clear, calm water. Adults love snorkeling and the tropical, exotic schools of fish.
It's common to see tropical fish, stingrays, starfish, and other sea life. In the winter, you might even see manatees!
Peanut Island is small— a bit less than 80 acres— but it feels much larger once you get there. Even when it's crowded, you can almost always find a great beach spot.
Peanut Island doesn't have any houses or condos. This might sound like a weird thing to mention, but it's an unusual feature for Florida beaches. I think it gives the entire experience a totally different feel than most other beaches in Florida.
Peanut Island feels like an exotic location, even though you're only a 10 minute boat ride away from the mainland. When you're there, it honestly feels like you're in another country.
The lush greenery, tall coconut and palm trees feel like a Caribbean paradise. The clear water and sandy beaches feel like a beach in the Bahamas.
Actually, that's not really surprising. Peanut Island is only 60 miles away from the Islands of the Bahamas, so the water has a very similar feel.
Peanut Island has some of the clearest water in Florida. It is beautiful and extremely clear water almost all the time, but it's best at high tide.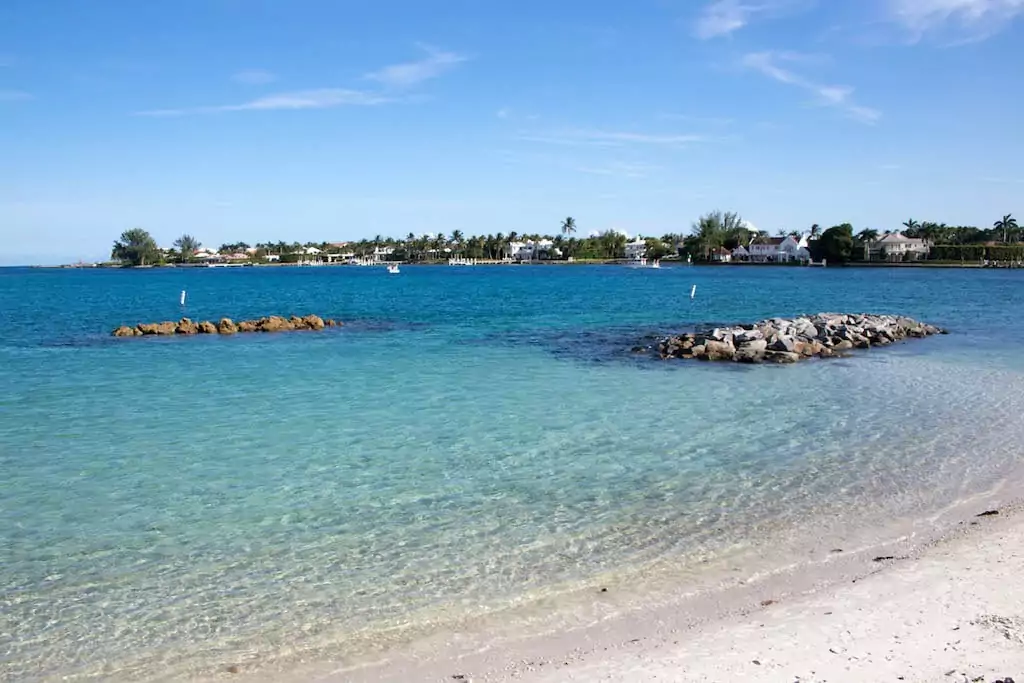 At high tide, beautiful, clear ocean water floods into the Palm Beach Inlet. The water clarity becomes much better, and it's the best time to swim or snorkel.
Peanut Island Park
One of the best parts about Peanut Island is that it's so easy and comfortable to visit.
Some people dislike beaches because they feel sunburned, salty and sticky all day. At Peanut Island, there are lots of shade sources and there are nice, free showers to rinse yourself off after swimming.
Overall, Peanut Island Park is exceptionally nice, with excellent facilities. Everything is well-managed and well maintained. It has almost every beach activity you could think of.
Three clean, full-service, enclosed bathroom buildings
Outdoor rinse-off showers are scattered around the island
Covered picnic cabanas
Charcoal grills
Seasonal lifeguards
Free day-use boat docks
Overnight camping in designated areas
Snorkeling lagoon
Artificial snorkeling reefs
Mangrove boardwalk
Walking trail
Historical buildings (Closed)
Campground
Peanut Island has a fantastic campground!
We haven't camped there yet, but we explored it while there on a day trip. Photos of the campground and facilities are included below.
Peanut Island is at the top of my Florida camping bucket list. It's a hidden gem in Florida, and isn't talked about very much, from what I can tell.
Peanut Island is one of those places that locals love, and tourists never find out about. I cannot wait for the chance to go camp there. I think it might be some of the best beach camping in Florida.
The Peanut Island Shuttle Boat offers tent rentals and other camping supplies. Prices are listed on their camping page, which also includes the "camper" ferry ticket prices.
More camping information can be found on the Palm Beach County website.
Bathroom Buildings
There are good, clean, full-service restrooms in three spots around Peanut Island. There are also many open-air rinse-off showers available for free to all island visitors.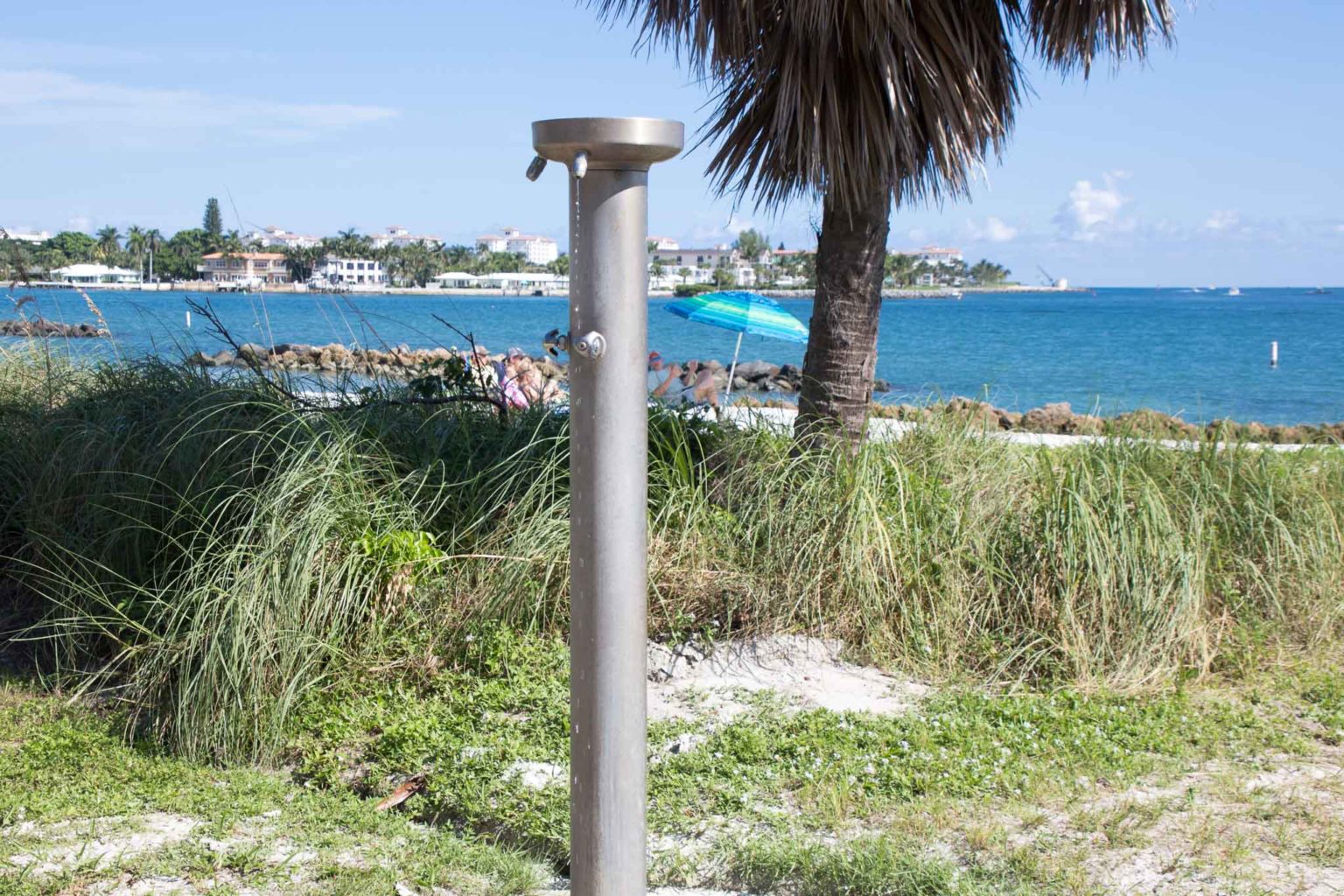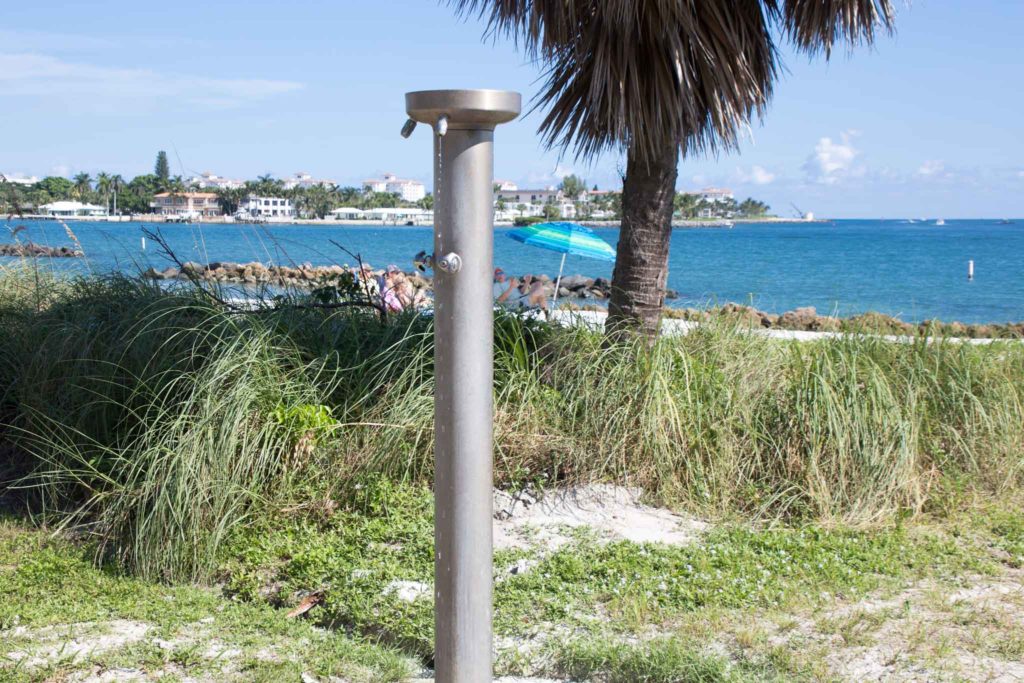 Restroom Locations:
East-side picnic area
Snorkeling Lagoon
West side tidal basin
There are hot-water showers near the east-side picnic area, but they're reserved for campers. The bathhouse building is locked with an access code.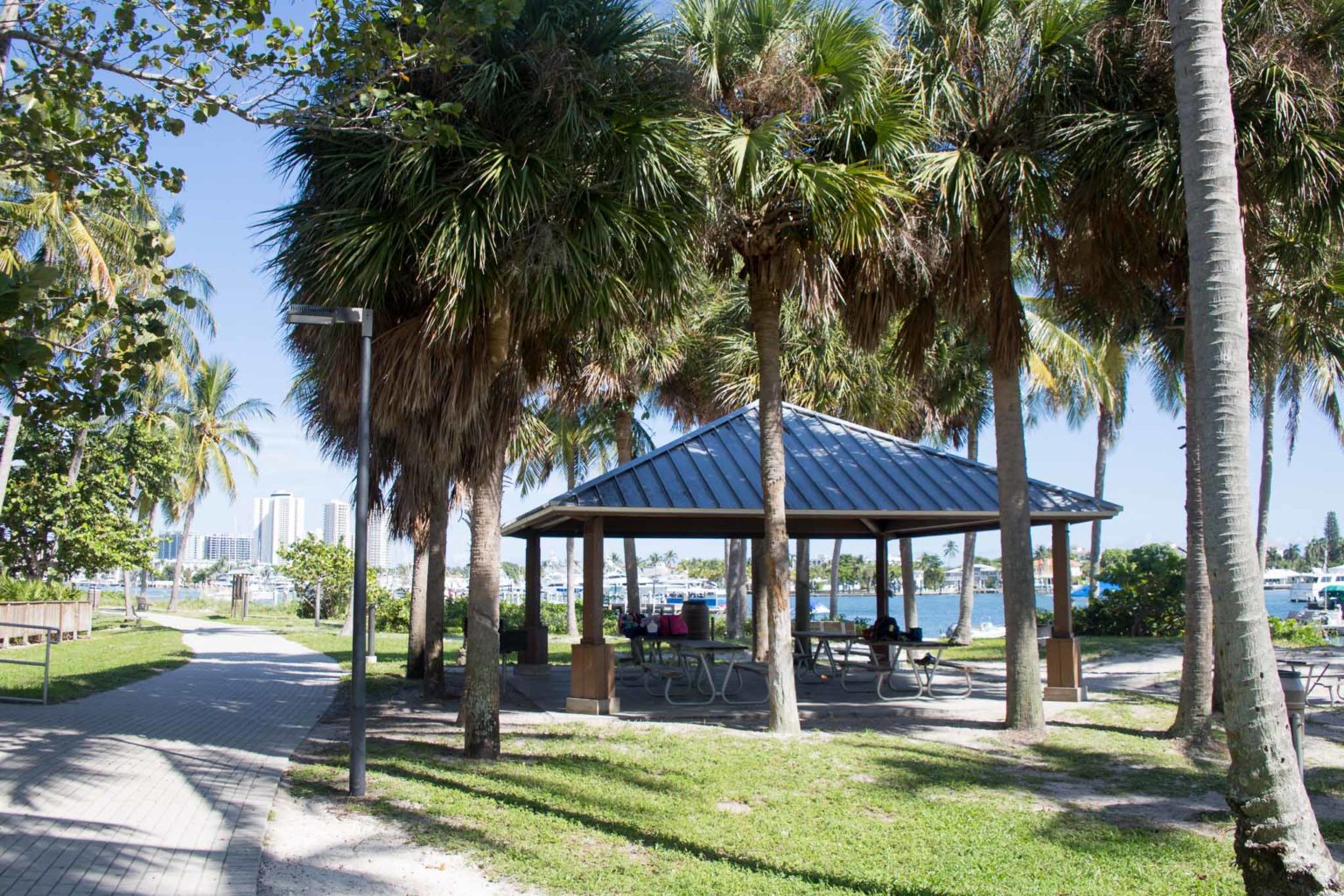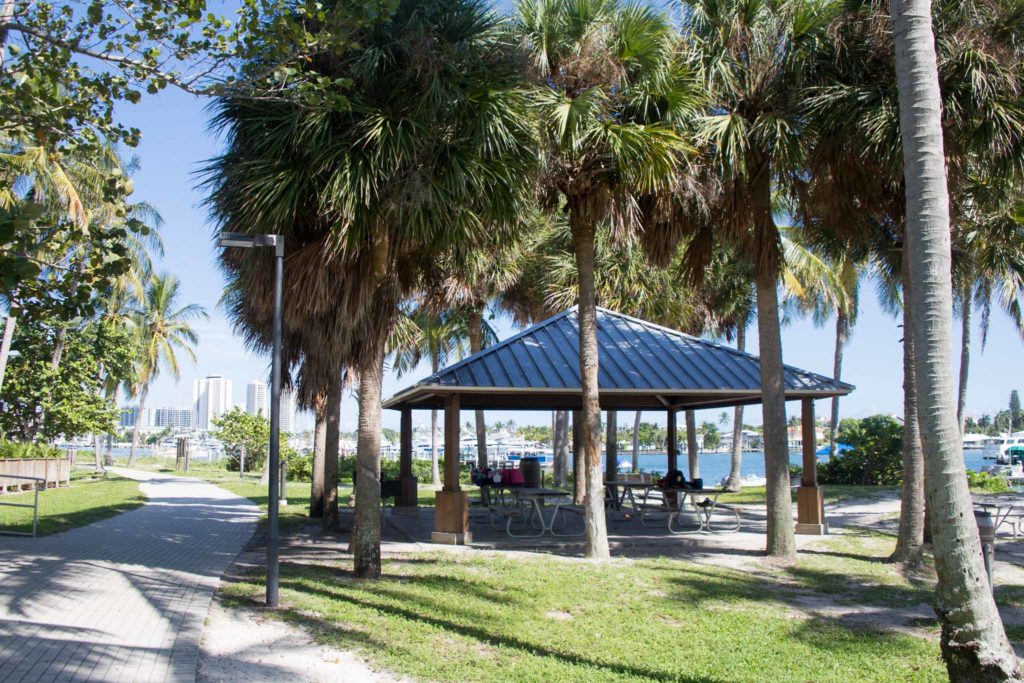 Covered Picnic Areas
There are several, large, covered cabanas sprinkled around the island.
These are great in case it starts raining, or if you want to get out of the sun. Each cabana had a large number of picnic tables, and some have charcoal grills under shade.
Observation Deck
On the south-west corner of the island there's a shaded observation deck. It gives great views of the Lake Worth Lagoon and surrounding area.
Why everyone loves Peanut Island
First, it's an island, so the only way to go is by boat, which fun all by itself. Many people like to rent paddle boards at the Phil Foster Snorkel Trail and paddle over.
Others like to rent kayaks at the Riviera Beach Marina and paddle over themselves.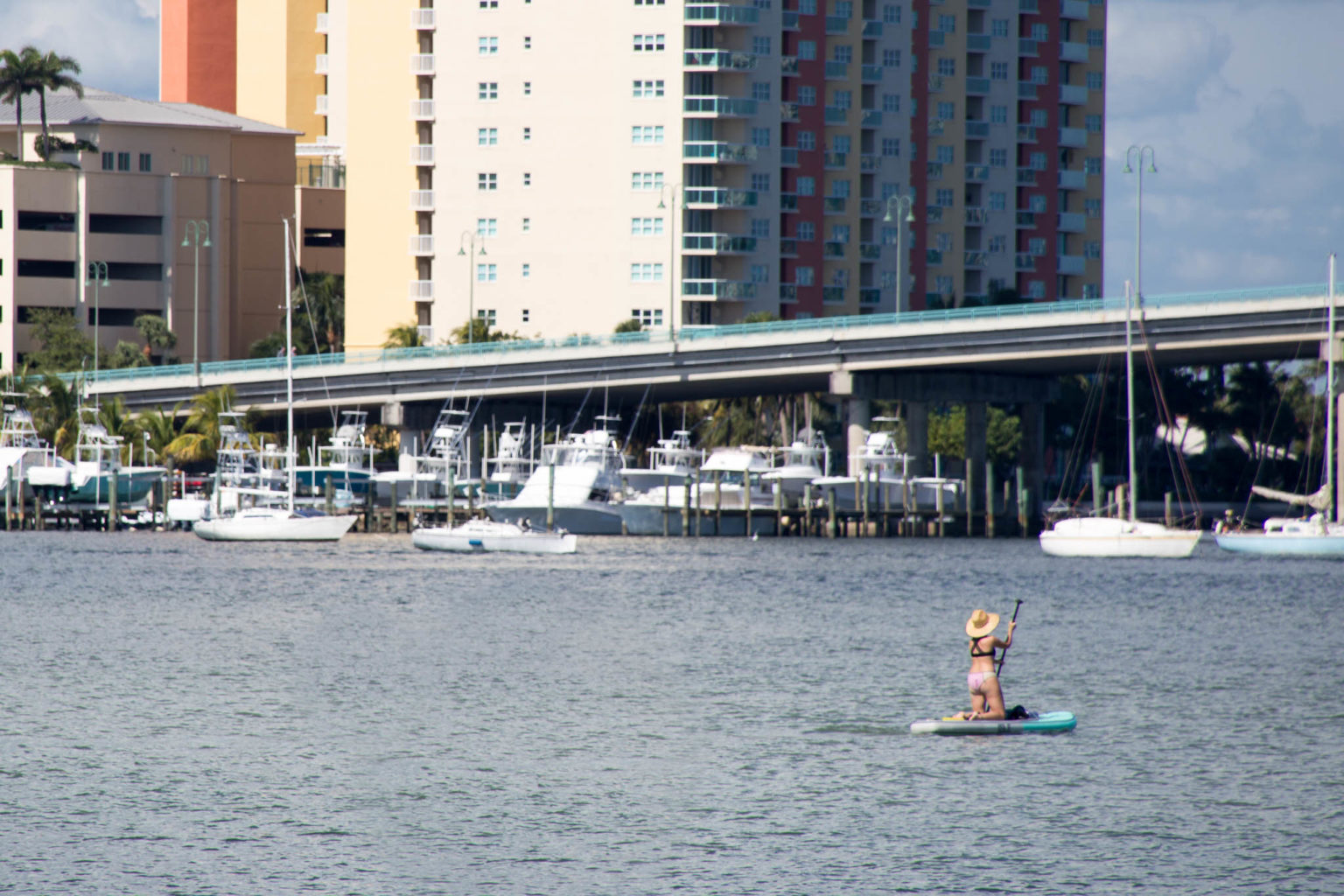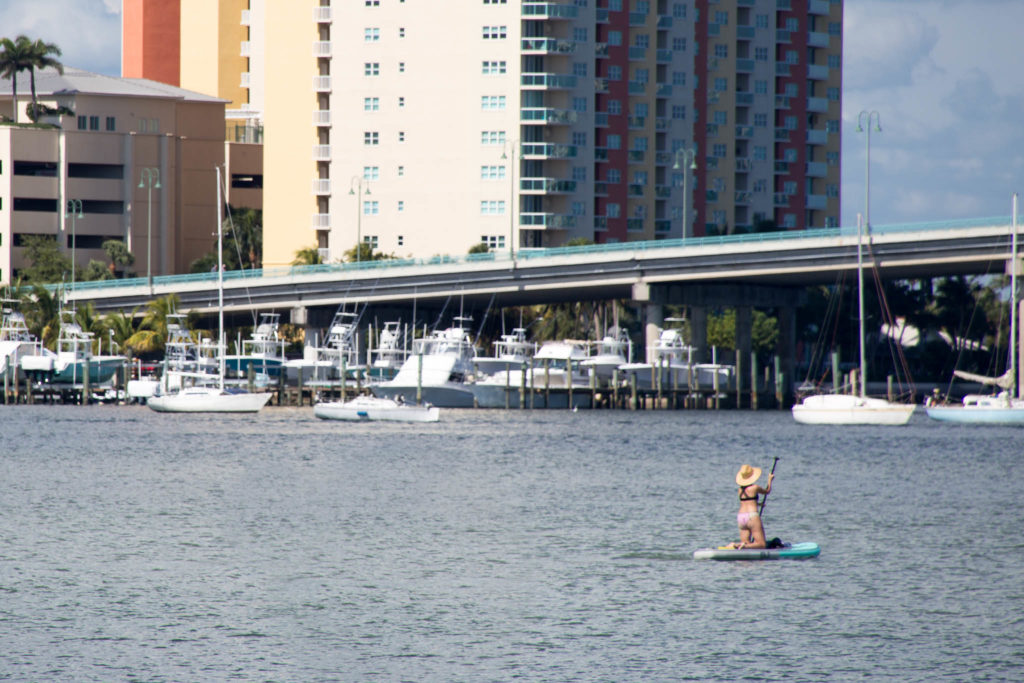 Are dogs allowed on Peanut Island?
Yes! Dogs are allowed on Peanut Island, as long as they're on a leash which is 6 feet long, or shorter. Additional dog rules can be found on the Palm Beach County website.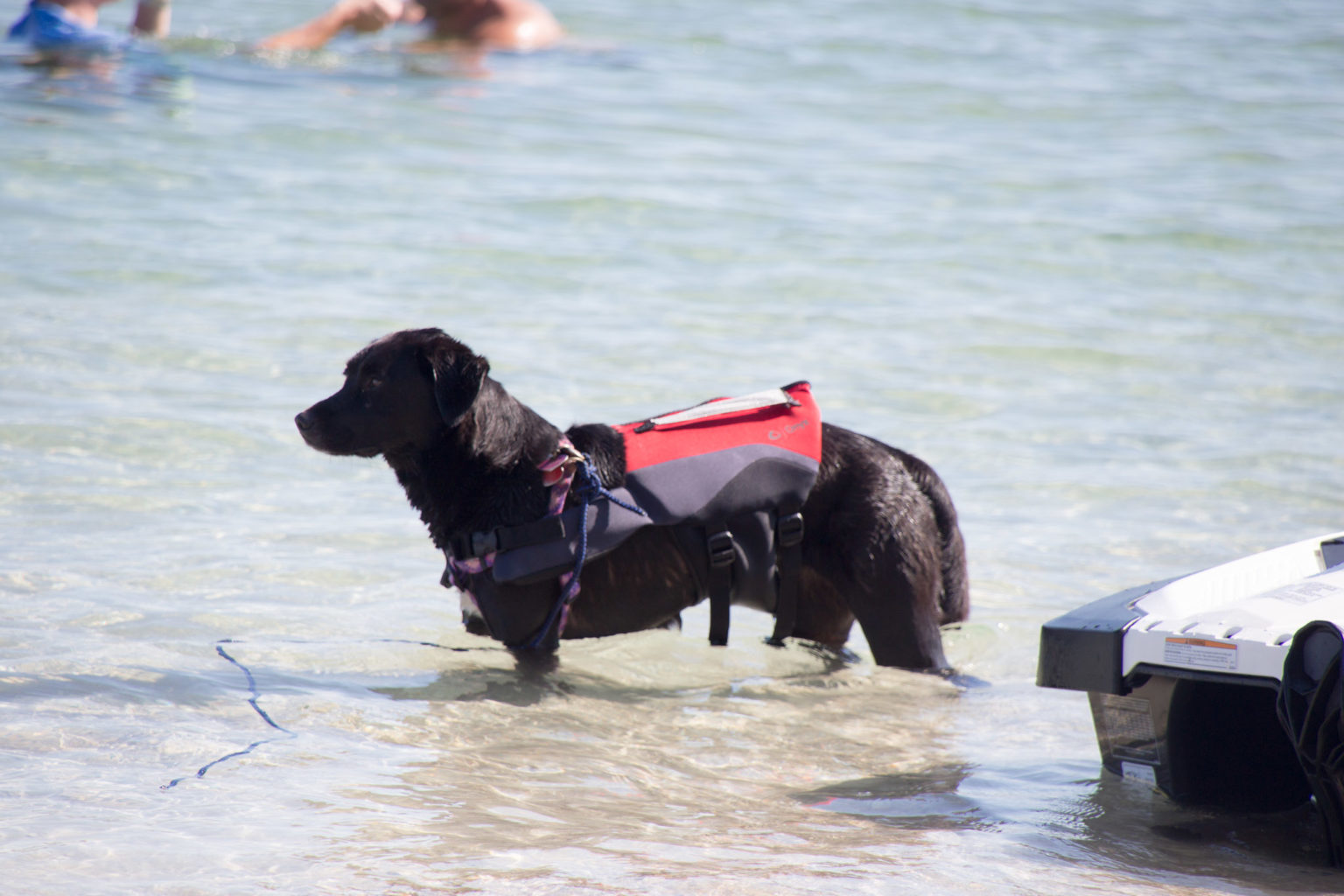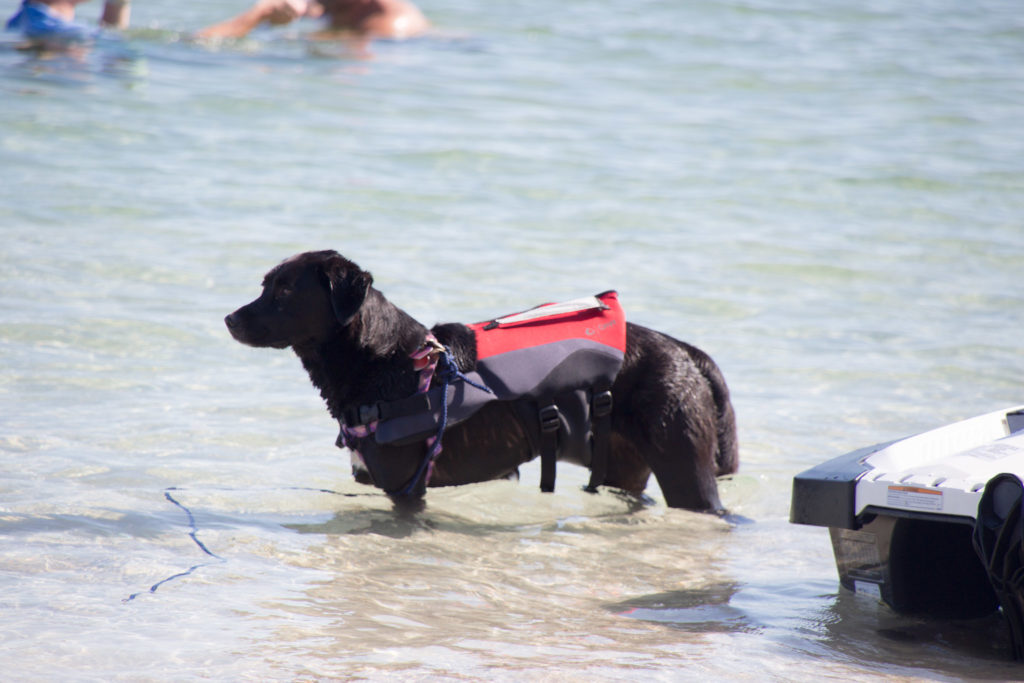 To many people, this is the single best thing about Peanut Island. Amazingly, dogs are also allowed on the ferry to Peanut Island.
Costs of Visiting Peanut Island
Peanut Island can be a nice, affordable break from the expensive surrounding areas of Palm Beach, Singer Island, Juno Beach and others.
The county park is 100% free, except for the ferry ride if you don't have your own boat or kayak to reach the island. In fact, there are no stores, restaurants, or chances to spend money, even if you wanted to!
It's a perfect little spot to pack a cooler with grilling gear and enjoy a great, affordable beach day. Or, pack a tent and a cooler for some excellent beach camping.
Well, there are a few chances to spend money. There is sometimes a pizza boat that'll deliver you pizza on the island. You can also rent snorkel equipment and buy basic supplies from the ferry, if you want to.
Best times to visit Peanut Island
The best time to visit Peanut Island will depend on what you want from your visit.
The island is usually less crowded on weekdays. It can become very crowded on weekends and holidays, especially the sandbar on the the north end of the island.
Spring break is also a very busy time to visit Peanut Island. Spring break in Florida varies by school district, but usually lasts from late February until mid April.
If you want to have a quiet, peaceful island all to yourself it's best to visit in the morning or early afternoon during the week.
No matter when you go, you'll have a great time. The island is small, but feels surprisingly large. It's big enough that you can almost always find a relaxing spot to enjoy.
I think the best time to visit Peanut Island is early in the day.
You can claim the best spot on the beach, and enjoy the morning before the sun becomes more intense. That's also the best time to walk around the island, which can be daunting during the afternoon heat.
While the sun is low in the sky it's also a great time to take advantage of the Golden Hour, to get the best photos possible.
If you get there REALLY early, or wake up early after camping overnight, you can catch a beautiful sunrise.
If you want to avoid crowds, try to visit on a weekday. Spring and fall can offer pleasant weather when it will be warm enough to swim, but the heat will not be overwhelming.
Hotel and lodging prices are often low during shoulder seasons, too, and it may be less crowded.
Tide Information
The tides have a strong effect on Peanut Island snorkeling conditions and water clarity. The water in the Lake Worth Inlet is always blue and clear, but it's best at high tide.
During high tide, the inlet fills with water from the Atlantic Ocean, and becomes truly crystal-clear. During low tide it's still very nice, but the water is murkier and visibility is worse.
Tides are very easy to predict. Visitors can use the official NOAA West Palm Beach weather station for up-to-date Peanut Island tide information.
Some people also love low tide, but for other reasons. At low tide the sandbar at the north end of the island might be exposed, which is a fun place for boats to party and for people to play frisbee with their dogs.
Low tide also reveal fun treasures like tide pools and seashells.
How do you get on Peanut Island?
Peanut Island is a true island, so it's only reachable via boat or watercraft. Most people come either with their own boat, or the Peanut Island ferry. Visitors can also get on Peanut Island by kayaking, and even SUP paddleboarding.
If you don't have your own boat, I highly recommend the ferry/shuttle boat! The entire process is simple, fun and easy, and we love the great views from the boat.
Peanut Island Ferry
The Peanut Island ferry is located inside the Riviera Beach Marina Village.
The ferry runs to and from Peanut Island every 25 minutes, from 10am-5pm.
The last boat goes to Peanut Island at 3pm.
The last boat returns from Peanut Island at 5pm.
The trip takes about 10 minutes.
There are special prices for bringing kayaks on board the ferry, and for overnight camping.
Dogs ride aboard the ferry for free!
The ferry also sells basic supplies like ice, sunscreen, snacks and cold drinks.
This information was correct as of this article's publication, and when we last checked it. Please be sure to check the ferry website for the latest updates.
200 E 13th St, Riviera Beach, Florida 33404
Shuttle Boat Contact: (561) 777-0438
The ferry boats are nice, large and open pontoon boats. The process was super easy and was not a hassle at all.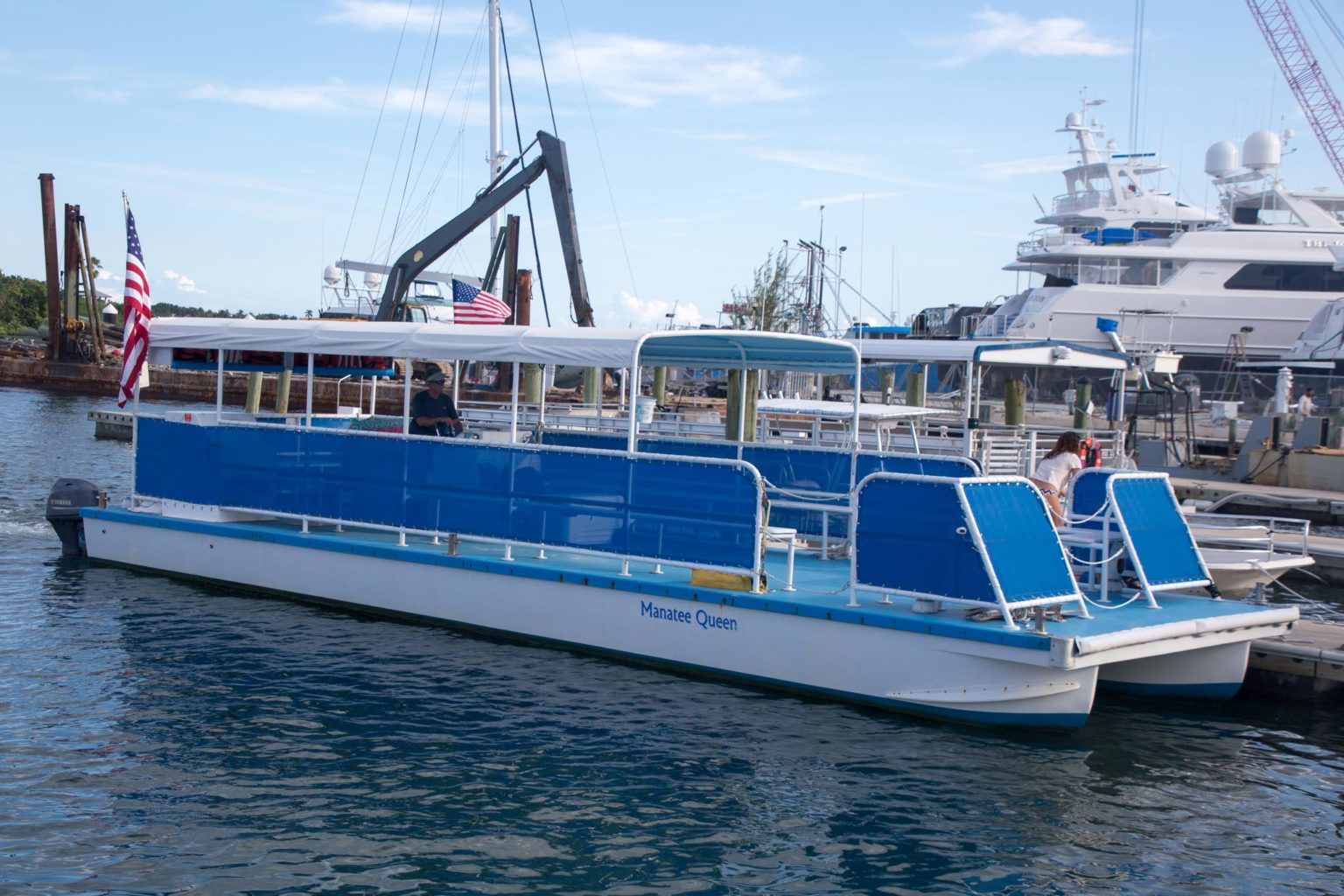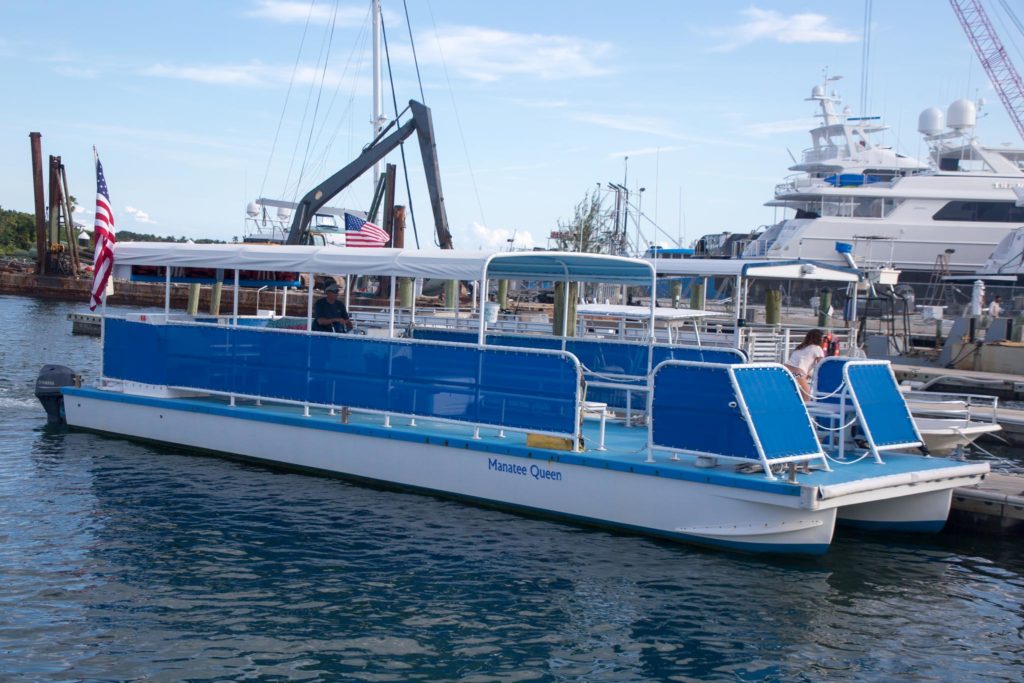 The trip lasts about 10 minutes, and is very nice. It gives you the chance to see a bit of the surrounding area from a different perspective.
There are great views of waterfront mansions, luxury motor yachts and beautiful sailboats. The clear, blue water is fun to watch, and you might get lucky and see dolphins, too!
The ferries run less frequently during the slow season, so you might have to wait a few extra minutes for the boat to fill up.
If you're waiting on the island you can call the ferry's phone number and they'll come pick you up. Or, just wait and it'll be around soon. There are benches and lots of shady spots on the island, so it's not a bad place to wait.
The parking area for Peanut Island is free, well labeled and super easy to find. The parking lot is a very short walk from the ferry dock, and you'll walk past cool sea-life murals. Plus, you're right next door to the famous Manatee Lagoon manatee viewing center!
Ferry reservations are not required, you just show up at the dock. They accept cash and credit cards.
After buying your ticket you'll be helped aboard by a crew member.
If you have kids, or rolling beach gear, don't worry about boarding. The ferry sits up higher than the dock, about calf-high. But, the boat crew helps families lift strollers and beach wagons.
Just to be safe, if you have wheelchair needs or other mobility questions I'd be sure to call and ask before you go.
Peanut Island Ferry Prices
The Peanut Island Ferry has recently raised their prices. These prices are updated as of this writing on 3/7/2023, but be sure to check the official website for the most updated information.
| Peanut Island Ferry Service | Price |
| --- | --- |
| Adult Ferry (Round Trip) | $18 |
| Child Ferry (Age 8 and Under) | $9 |
| Camping Ferry (Round Trip: Info) | $25 |
| Bring Your Own Kayak on Ferry | $18 |
| Cost for bringing a beach cart | $5 |
Prices for Peanut Island Ferry
There are extra services for camping on Peanut Island, including:
Snacks
Snorkel gear rental
Tent rental
Hobie cat sailboat rentals
And other services
Check the Peanut Island Shuttle Boat website for more information.
Peanut Island Parking
The ferry to Peanut Island is located in the Riviera Beach Marina Village.
At the time of this writing there is free, easy parking onsite in an overflow lot. Just look for the giant signs that say "Peanut Island Parking".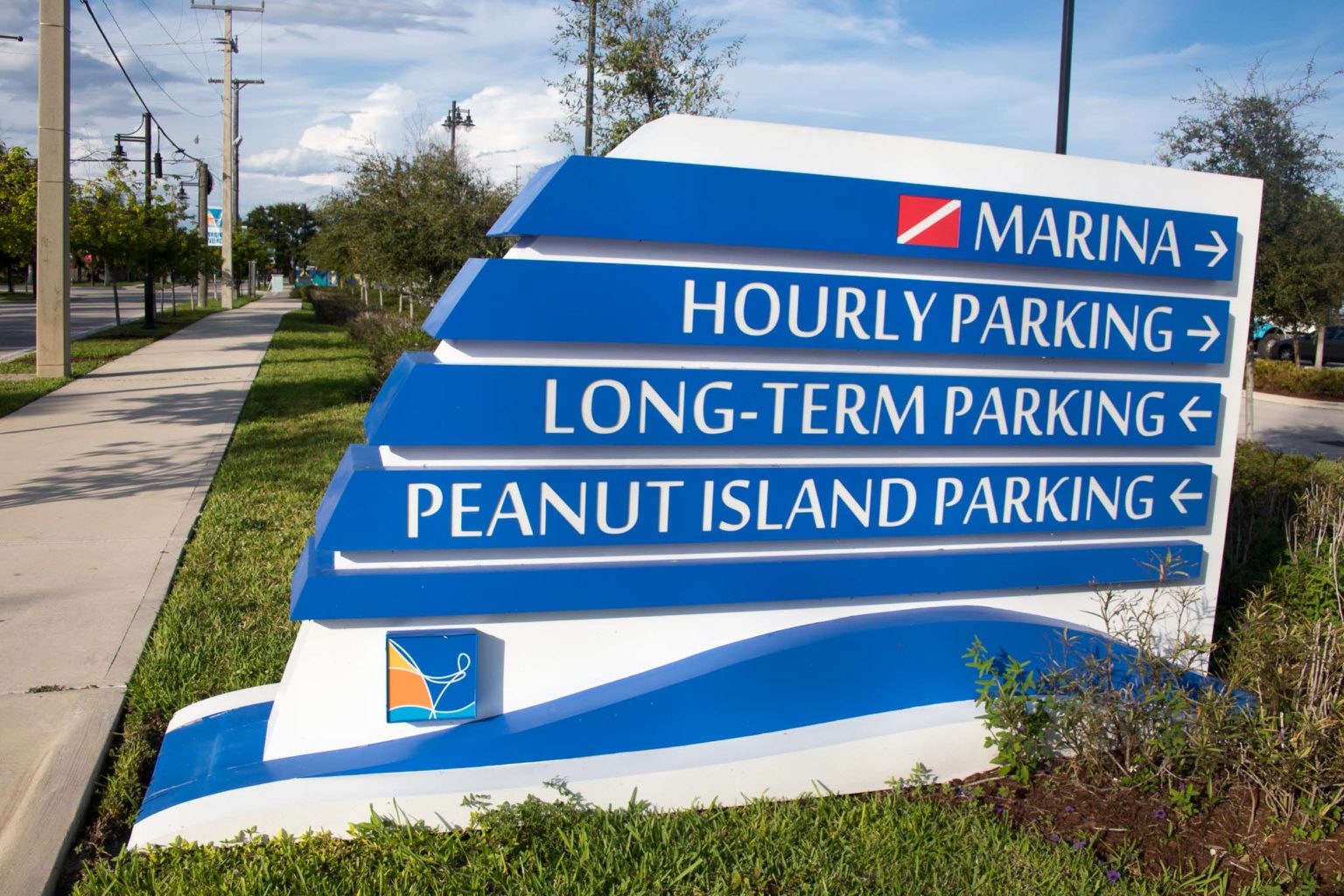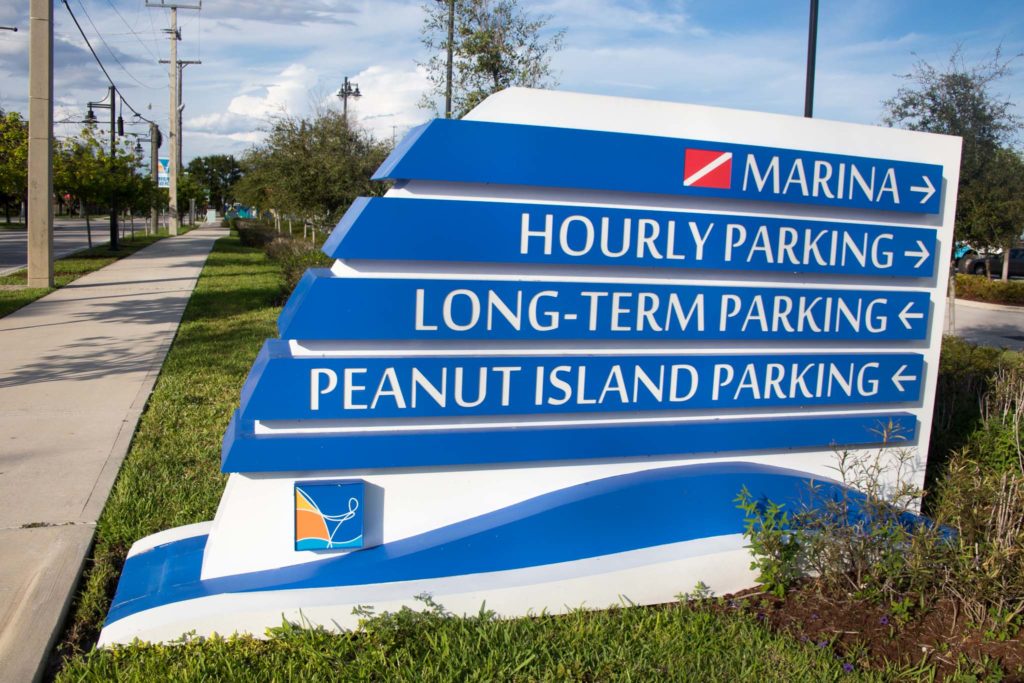 One great thing about Peanut Island is that you don't have to fight for expensive parking!
There's free public parking for Peanut Island in the Riviera Beach marina, where you catch the ferry.
Everything is labeled very clearly, just make sure you follow the signs and park in the right lot. You can always ask if you need help, or want to double-check.
If you visit the island with your own boat you have a few options for boat parking. You can try your luck and hope to get a free day-use dock slip, or anchor out.
If you anchor out, there's a 10 minute loading/unloading dock so you can offload gear and passengers before anchoring.
Things to Do on Peanut Island
Peanut Island is relatively small, but there are lots of things to do, especially for its size.
Swimming
Snorkeling (Beach and Lagoon)
Beachcombing
Fishing
Wildlife Watching
Grilling, picnics and cookouts
Swim and Snorkel
Note: As with all natural bodies of water, swimming and snorkeling and other outdoor activities can be dangerous! Be sure to use caution for you and everyone in your group.
Be especially careful and aware of riptides and other dangers associated with swimming. Always err on the side of caution and keep children and pets nearby at all times.
Boats can pose a great danger to swimmers on Peanut Island. Stay safe, and stay inside the swimming areas!
Swimming and snorkeling are two of the best and most popular activities on Peanut Island. The water is clean, clear, and can feel like water from the Bahamas.
The best swimming and snorkeling on Peanut Island is on the southeast part of the island.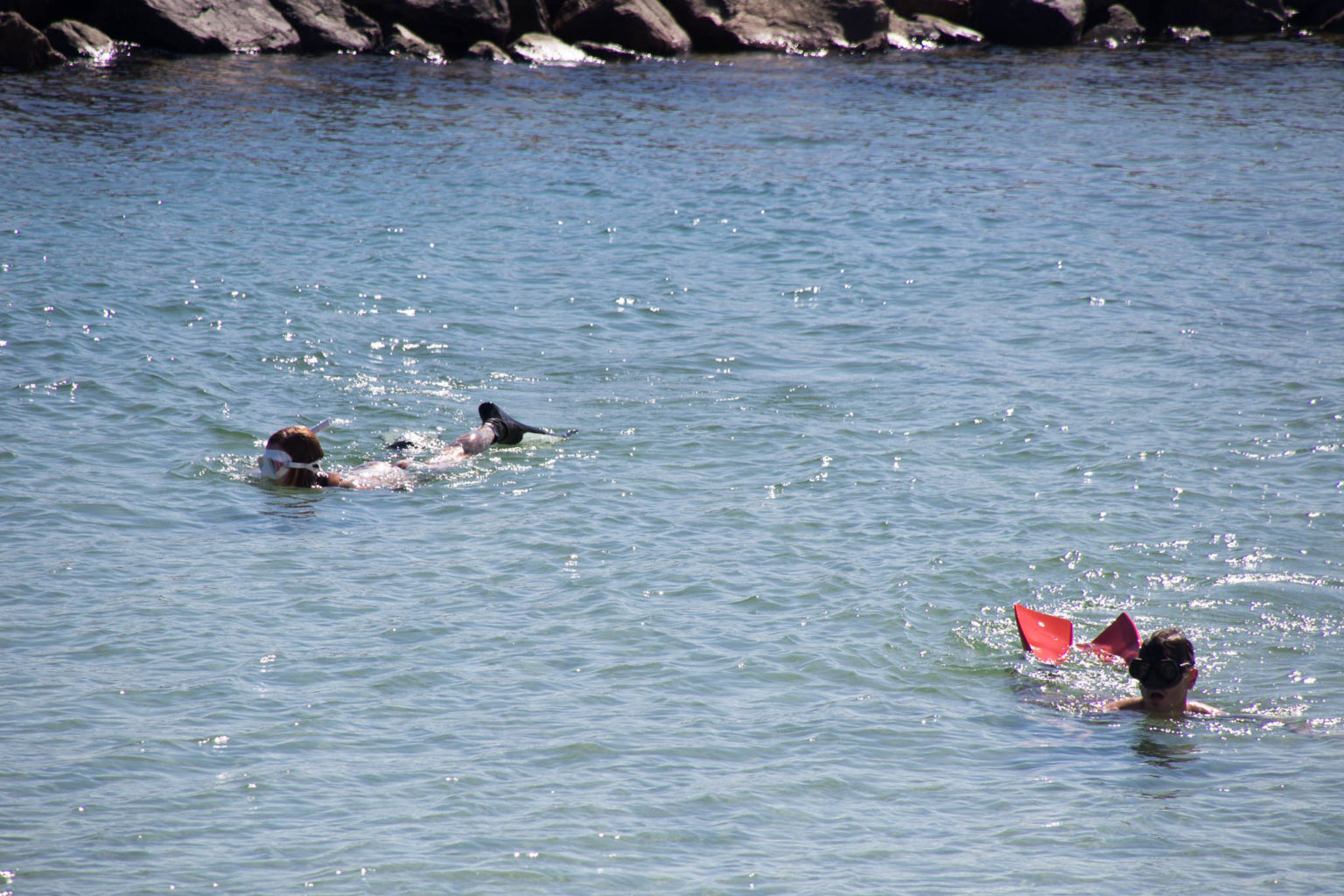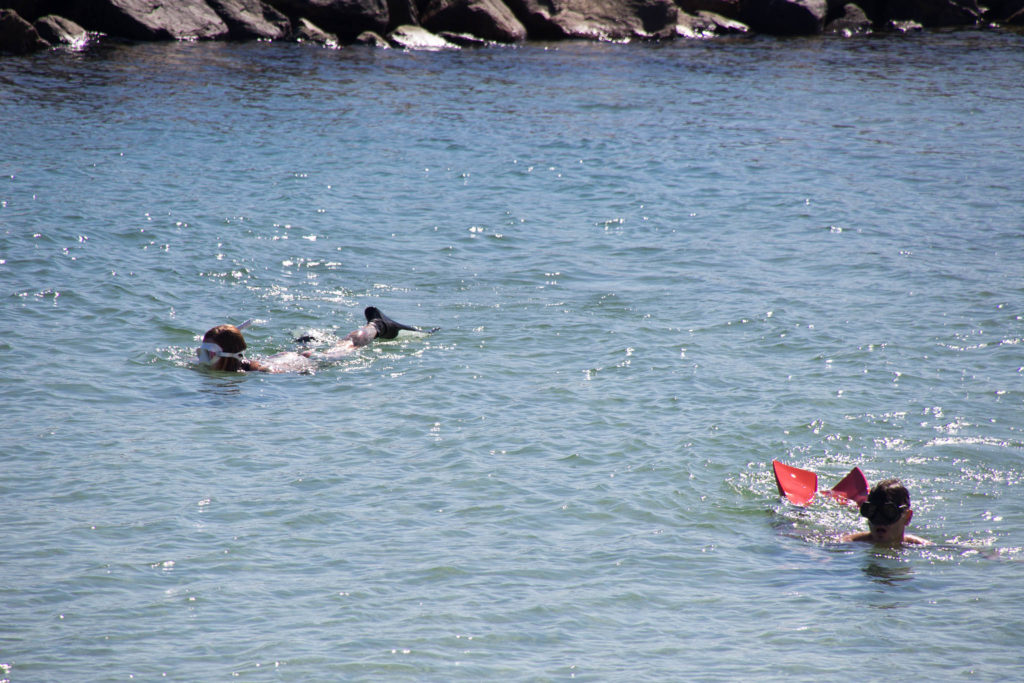 The beaches on this side of the island are the largest on the island.
Plus, the water is the clearest, especially at high tide. Lifeguards guard this part of the island during the summer season and on winter weekends.
Peanut Island has man-made reefs. They're home to schools of colorful, tropical fish, and there is some coral and natural marine growth.
The water is crystal clear, clean and shallow. The beaches are sandy and usually have gentle sloping entries, except in areas where beach erosion causes steep drop-offs.
The water depth generally ranges from about 2-15 feet deep, depending on distance from shore.
Be sure to stay inside the swimming area, remain aware of your surroundings, and keep a close lookout for boat danger!
While snorkeling you're likely to find lots of cool and exotic sea-life. There are informative signs that help you identify what you see:
Lobsters
Starfish
Shrimp
Stonefish
Crabs
Manatee
Parrotfish
Stingray
Snook
barracuda
French Grunts
Pufferfish
Dolphin
Walk around the Island
A nice, paved trail runs for 1.25 miles around the perimeter of Peanut Island.
How long does it take to walk around Peanut Island?
It takes most people about 40-60 minutes to walk around. Only the perimeter is accessible because the island's center is still an active dredging soil deposit area.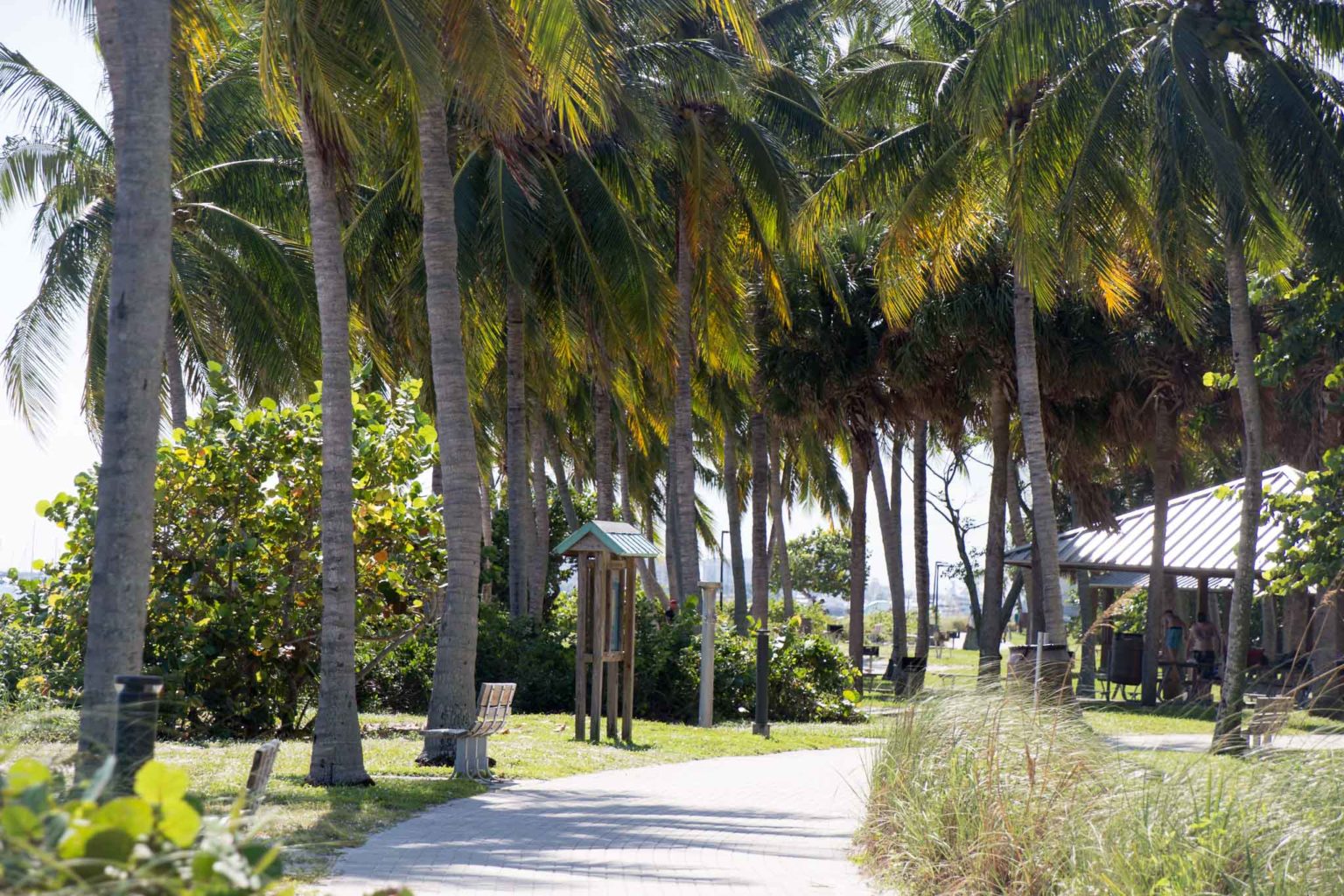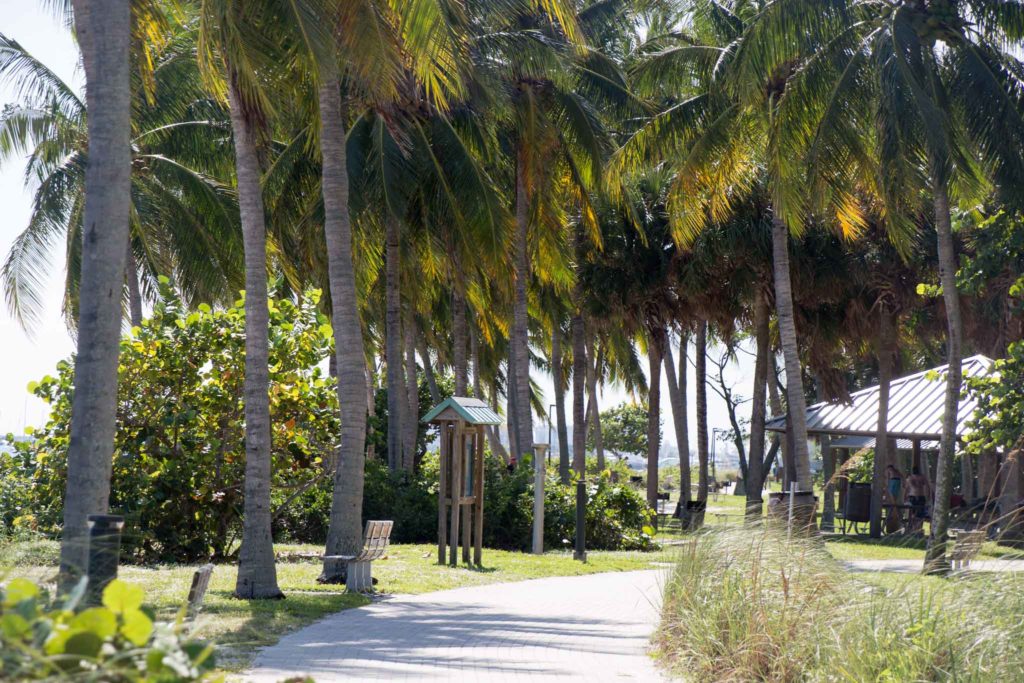 Have a picnic
There are many picnic tables and free charcoal grills available for us on a first-come, first-served basis. Some are under large, covered picnic areas, others are open and in full sun.
Visitors should bring their own food, water and supplies. There are no stores, restaurants or vendors on the island! The Peanut Island Ferry does offer some "delivery" options for basic materials, listed on their "Camping" page.
Peanut Island Sandbar
A shallow sandbar at the north end of Peanut Island is a popular weekend hangout and party spot. The sandbar is not technically part of Peanut Island, and so alcohol is allowed, and flows freely.
Especially on weekends, the area can get rowdy with hundreds of boats, loud music and more. Police boats patrol the area, but it still gets wild.
Sample Itinerary:
Arrive early, or wake up at your campsite
Explore and walk around the island. Capture photos in best light
Eat breakfast
Swim, snorkel and enjoy the beach
Cook lunch on a grill
Eat lunch
Read and take a nap in a hammock
Swim, snorkel and enjoy the beach
Catch the ferry back
If you're camping, continue exploring and take sunset photos!
Fishing on Peanut Island
There is a fishing pier on Peanut Island, which makes it a popular fishing destination.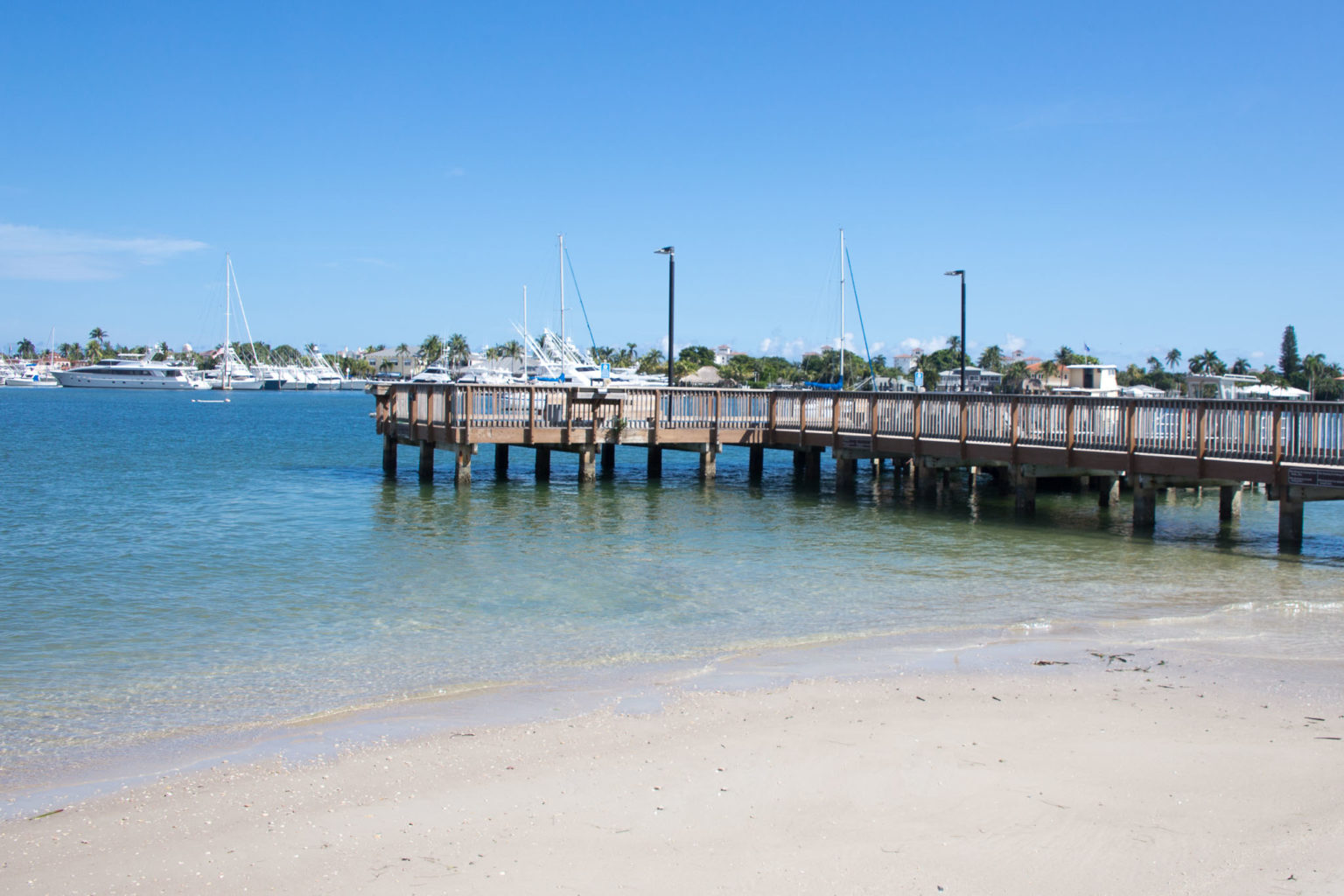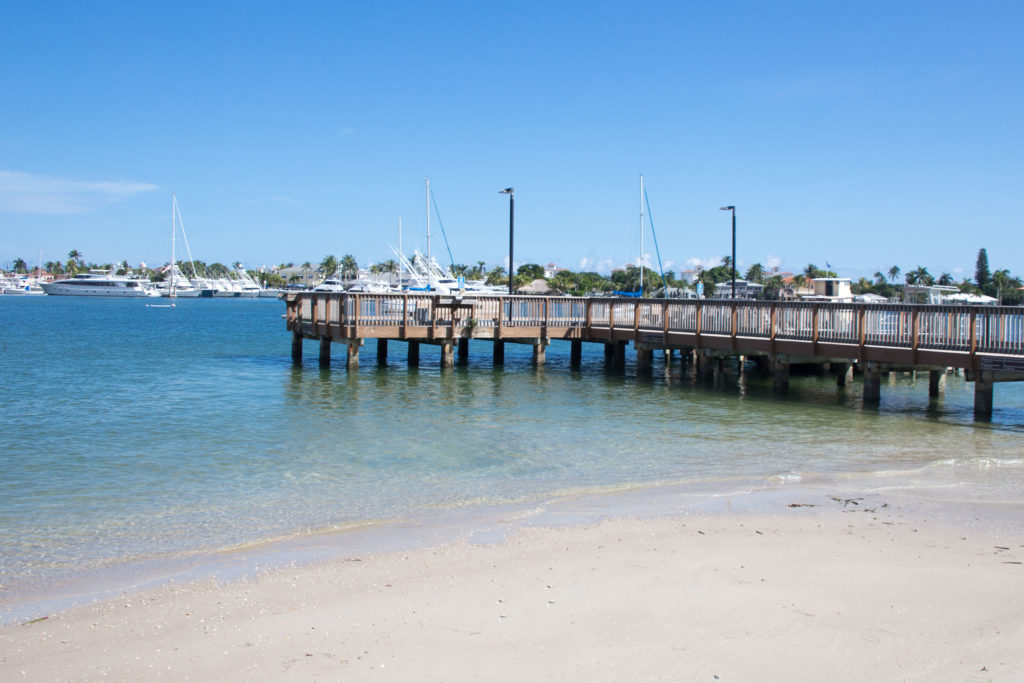 Fishing licenses are not required for Florida residents who fish from the shore. Source
Fish you might find:
Snapper
Bonefish
Croaker
Jack
Pompano
Boating
Peanut Island is a magnet for boaters in Palm Beach. Every weekend, a flotilla of boats arrives and anchors offshore of Peanut Island.
Alcohol isn't allowed on the island, so boaters like to hang out offshore, especially on the Peanut Island sandbar. It can be great for lively people watching!
Peanut Island Docks
There are two sets of docks on the island: one on the east side, and one on the west.
East Dock
The East dock has 14 slips for day-use. They're open to the public, and are all first-come, first-served. After sunset they're reserved for campers staying on the island.
The floating dock at the end is reserved for 10 minute load/unloading only, and must remain open for the ferry boat and emergency services.
The west dock
There's another day-use, first-come, first-served dock on the west side.
It isn't possible to camp on your boat at the docks. They're day-use only during the day. After sunset they're reserved for campers staying on the island. If you want to stay on your boat you can always anchor out, or use one of the neighboring marinas.
Kayaking and Paddle Boarding
Peanut Island—and the Lake Worth Inlet in general—are great and popular kayaking and paddle boarding spots. Kayak and paddle board rentals are available at the Riviera Beach Marina.
If you bring your own, there is a kayak drop-off area in the Riviera Beach marina, and free parking in the overflow lot.
Kayaking to Peanut Island is easy because it's very close. You could also launch from Phil Foster Park and paddle over, which is a very popular route. Just be careful for boat traffic!
Partying
Peanut Island has had a wild, rowdy past.
There are lots of stories, especially from the 1970's and 1980's, about it's hard-core party scene. But, those days are long gone.
The island is much more tame now that it's managed, and alcohol is only allowed on the sandbar and in permitted campsites, while camping.
It can still get exciting during holidays, when the island fills up and is the most crowded. The north beaches, where boats anchor and raft-up, are more crazy.
The south and East shore beaches tend to be more family-oriented and the most beautiful.
Peanut Island Floatopia
In years past, the Peanut Island sandbar has been home to a national float-party craze called Floatopia.
The event began in California, and quickly spread around the country. The event was famous for becoming unruly, even by Peanut Island party standards. Local officials and residents have asked for the unofficial event to not be held at Peanut Island in the future.
The best beaches
The best family beaches are on on the southeast side of the island. There, the water is the clearest, and the sandy beaches are the biggest and nicest. Depending on the wind, it's probably the most sheltered and calmest for swimming, too.
The north and west sides of the island are not as beautiful. They have smaller beaches and the water is not as clear.
The west side of the island also faces the Port of Palm Beach, which has a more industrial feel. For luxurious, sandy beaches and Bahama-blue water, stick to the east and southeast sides.
The southeast part of the island–near the Palm Beach Inlet–is the best spot for snorkeling. The water is crystal clear, and loaded with schools of exotic fish in a respectable reef system. It's common to see starfish, barracuda and stingrays. If you're lucky you might even see manatees or nurse sharks.
It's easy to find this section- just turn left (south) when you exit the island ferry dock.
Start walking along the easy concrete paved pathway. You'll pass some covered picnic areas, rows of beautiful, towering palm and coconut trees. The Peanut Island campground will be on your right.
The pathway runs parallel to a long section of beach, which covers the entire side of the island. As you walk, watch for sweet little spots where you might want to stop and set up your beach blanket and umbrella.
If you keep going you'll come to the lagoon section, and a last bit of sand which connects the beach to the lagoon. This is my favorite part of the island. It's quieter, the beaches are wider, the water is clearer, and the sea life is most impressive.
You may find natural shade opportunities, especially around trees and unused lifeguard towers. Ants also like to hang out around trees and other structures, so check your spot for ants before settling down or pitching your beach umbrella!
Snorkeling Lagoon
Besides the crystal-clear, excellent snorkeling off the beach, you can also snorkel and swim in a cool, unusual feature: an island lagoon!
Swimming and snorkeling in the lagoon is a unique experience. Not everyone loves it as much as beach snorkeling. But, many visitors describe it as their favorite part of the island.
The lagoon feels a bit like swimming in a pond or lake. It's an enclosed area and slightly murky, so the visibility is not as good as it is off the beach. It's not my favorite snorkeling on Peanut Island, but it's still a very cool feature.
There are nice docks and ladders to enter the lagoon. Lifeguards patrol the area during the summer season, and on weekends during the winter.
The lagoon can have some major attractions at the right time of year. In winter, manatees may enter the lagoon as they search for shelter in warm, protected areas of water.
There are also two cool bridges, and a 230-foot mangrove boardwalk!
These all give an eagle-eye view over the lagoon water and mangrove habitat. It's a great place to observe the mangrove ecosystem and the wildlife it supports. You're very likely to see a variety of fish, and maybe even a manatee in the winter.
Palm Beach Maritime Museum and JFK Bunker
Peanut Island visitors used to love the island's historic sites.
The Palm beach Maritime Museum and JFK bunker were very popular, and often described as must-see attractions while on Peanut Island.
Sadly, both the Peanut Island JFK Bunker are closed, along with the old Peanut Island Coast Guard Station.
They've been closed since October, 2017 because the Museum's lease expired amid disputes over site usage.
It's unclear when, or if, they'll open again.
Note: Even though the Maritime Museum and Kennedy Bunker are closed, the rest of Peanut Island Park is open to the public, and is open to public visitors.
Pizza Delivery Boat
Peanut Island Pizza Boat Delivery
Romana's Pizza– AKA the Peanut Island Pizza Boat–uses a boat to deliver pizza from April 1 – October 1.
It may not always be available, so it's best to contact them for more details.
Romana's Pizza: (561) 506-0900.
We haven't tried this yet, so if you do, please let us know how it goes!
Staying Safe on Peanut Island
There are several things you must know to stay safe!
There can be very strong currents! Pay attention to your own physical limits and always swim or snorkel with a buddy.
Make sure you stay inside safe swimming areas, and always be on the lookout for boat traffic! There are many tragic stories of people being run over or injured by boats while swimming and snorkeling.
Always stay within an arm's reach of children, and always watch them closely.
Anybody who cannot swim should wear a USCG approved life jacket!
Consider wearing good water shoes while you're exploring around. Many people are injured with cuts and scrapes from rocks.
Be careful of pests:
Snakes
Jellyfish
Sea urchins
Stingrays
Mosquitoes and biting flies
No-see-ums
Sea Lice
Sun Safety
The sun in Florida is intense, especially in the summer. Peanut Island can become very hot during the heat of the day.
Try to plan your day around the sun. Walk around the island early in the morning or later in the evening, when the sun isn't directly overhead. Bring a hammock and relax in the palm and coconut trees when it's too hot to explore!
Be sure to bring a good sun shade and effective, reef-safe sunscreen!
Always think about your own physical abilities and level of experience, and that of your group. Always use the buddy system and always swim in front of a lifeguard!
Be very careful of boat traffic, especially while kayaking, snorkeling and swimming!
The Palm Beach Inlet is a busy, and possibly dangerous, waterway. There's busy boat traffic almost every day of the year. Many boaters don't know, or follow safe boating practices.
When you're in a kayak, or even a paddle board, you're very low to the water. You may not be visible to someone driving a big boat, especially if they're not paying attention, or are going too fast.
Use the buddy system for kayaking, swimming and paddle boarding, or any water activity.
Make sure to bring something that makes you very visible.
Be sure to have a "safety-first" mentality, no matter what you're doing.
If you'll be swimming or snorkeling, be sure to bring water shoes. There are many areas in the water with sharp rocks. Plus, the sidewalks get hot in the Florida sun.
There are often jellyfish, so lots of people wear rash guards to help guard against stings.
Rash guards and sun shirts are great protection from the sun, too, and can save a ton of money on sunscreen. Plus, they're better for the environment and will pollute the water or kill coral!
Even on a weekday, during the low season, the water was busy with traffic. We saw everything from fancy super-yachts, to barely-floating tiki shacks, to sunken sailboats.
Jelly fish are often present, so lots of people wear rash guards to help guard against stings. Rash guards and sun shirts are great protection from the sun, too.
Park Rules to Know
Peanut Island Park is closed after sunset, except for registered overnight campers.
Boat slips are first-come, first-serve during the day. After sunset they're reserved for campers staying inside the park.
Bicycles, skateboards, etc. are not allowed
Alcohol is not allowed on the island.
Things to Bring
If you'll need something for your trip, be sure to bring it with you! For the most part, there are no food or drink options on the island, and you can't easily run to the store if you forget something.
Make sure to bring everything you need, and start thinking about it early. Before any camping trip or picnic I always do a dry-run at home so I'm sure I don't forget anything silly.
Use a checklist for little things, like bbq lighters, etc. so you don't forget. Here's a list of basic things to get started.
Food and drinks
Charcoal
Lighter
Cooler
Ice
Serving Utensils
Condiments
Beach Gear
There are not any stores on Peanut Island, so be sure to bring everything you need. Here are some ideas of things to bring along:
Umbrella, or shade
Beach chairs
Hammock
Beach blanket
Beach buggy or wagon with sand-safe wheels
Reef-safe sunscreen
Snorkel gear
Lots of water in reusable water bottles (Not disposable plastic!)
Shade for when you want to get out of the sun
Polarized sunglasses
Waterproof camera polarized camera filter
Polarizer filter for smartphone
Smartphone waterproof camera bag
Rash guard
History of Peanut Island
Why is it called Peanut Island?
Many people assume it's because of the island's shape, or maybe small size. But, neither are true. The island got its name because it was originally going to be used as a port, to service ships carrying peanut-oil.
The project began in the early 1900's. At that time, lots of infrastructure was being built in Florida, including the creation of the Intercoastal Waterway (ICW), the Lake Worth Inlet, and the Lake Worth Lagoon.
The peanut oil port plan was cancelled in 1946, but the island was used to dump soil, dug from the bottom of Lake Worth Lagoon.
At first Peanut Island was only 10 acres large, but over time it's grown to cover 80 acres. Today the center of the island is still used as a dumping ground for soil dredged from the Lake Worth Lagoon and Inlet.
For most of its life Peanut island has been a popular local party spot.
Like many beautiful natural areas in Florida, there's a sad history of drunken party-people trashing the place. Pollution and litter became a major problem. Because there were no bathrooms or facilities, people used the island as their bathroom.
In 2005 Palm Beach County opened Peanut Island Park, and has managed it since.
Top Visitor Complaints
Can be crowded on weekends and holidays
Wanting a better waterproof camera
Cuts and scrapes on rocks
Hot feet on sidewalks
Ferry is relatively expensive for such a short ride
Snorkeling lagoon is not always clear
Jelly fish stings
Strong tide currents
Wish would have gone earlier
Having to leave!
Final Thoughts
Peanut Island is truly a hidden gem. In my opinion, it's one of the best beaches in Florida, and is way underrated.
If you end up visiting, please let me know what you think!