Last updated on January 22nd, 2021.
Update as of 1/22/2021: Blue Hole Spring was closed due to Covid-19, but is now open again, as of this update.

Please practice responsible social distancing and check the official Ichetucknee Springs State Park website for the most up-to-date information before making plans or visiting the park.
Blue Hole: Ichetucknee Spring's Hidden Treasure
The Blue Hole in Florida is spectacular.
I love Ichetucknee Springs, especially the Blue Hole Spring.
I'm grateful to have visited many times, and can never wait for the next trip. Here are some video resources to help show what it's like.
It's hard to capture the beauty of this place with words, or even photos. If you're reading this, I urge you to please just go see for yourself because you'll fall in love. After you fall in love, I hope that you'll appreciate this treasure, and want to help protect it.
"In the end we will conserve only what we love"

-Baba Dioum
When you first approach Blue Hole you'll find a large, placid swimming hole ringed by lush, dense green.
The swimming hole is a large natural pool, broad and shallow. The bottom is carpeted with waving eelgrass, and countless fish laze around the shaggy strands of green.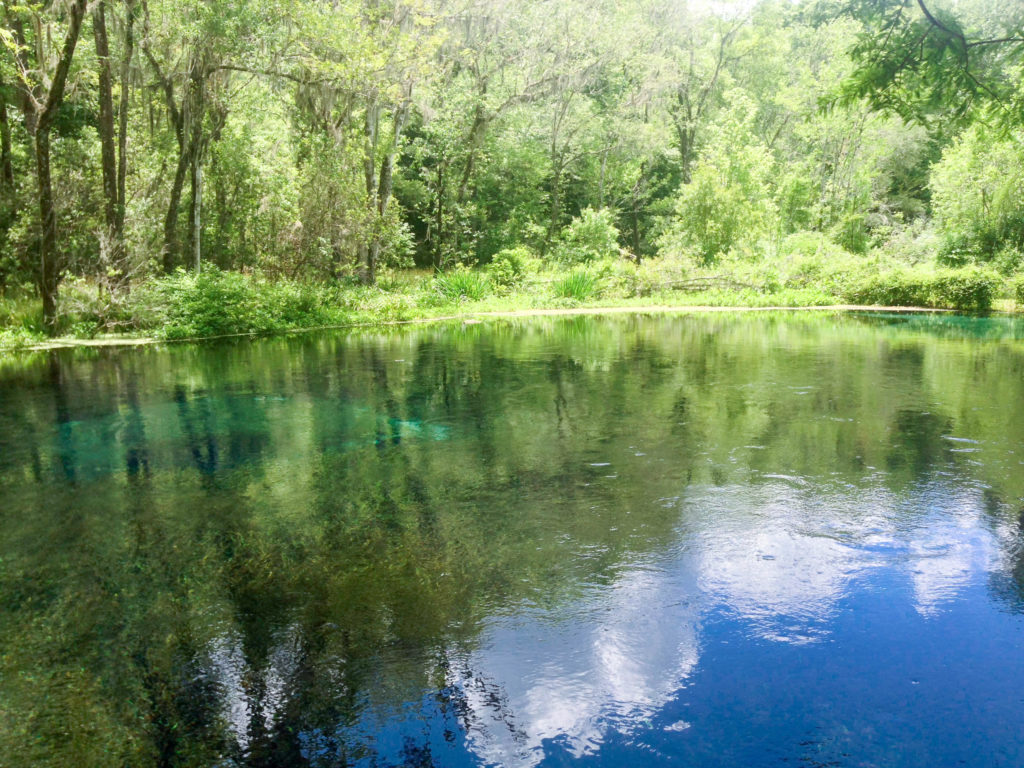 The water is flat and completely still. The glassy reflection bounces back a shimmering sky and trees. There's a hint of movement in the center of the pond. It's only a subtle roil- easy to miss if you don't know it's there.
The spring is deceptive from above. The mirrored surface and green grass hide the treasure beneath.
I've seen many people come to Blue Hole for the first time. If you're like most people you'll act just about the same. You'll go to the water's edge and dip a hand or foot off the steps. You'll look back to your group and smile.
The water is cold. It'll take some grit to wade in.
You'll enter the water gently. You'll inch yourself down the stairs and wince at the cold, careful not to break the water's glassy surface.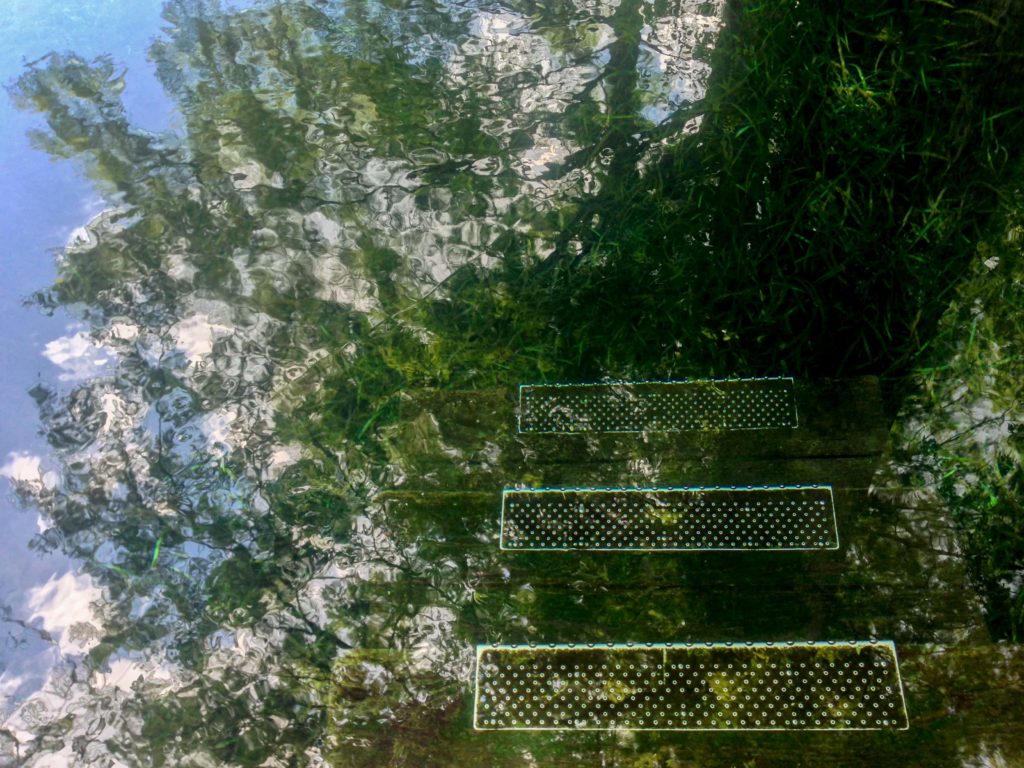 The cold water will be pins and needles on your hot skin, but it'll feel good. You'll feel alive.
You'll adjust your diving mask and peek your face into the cold water for the first time. A giant smile will stretch across your face. You'll lift your head and yell to your group, "Y'all gotta see this!"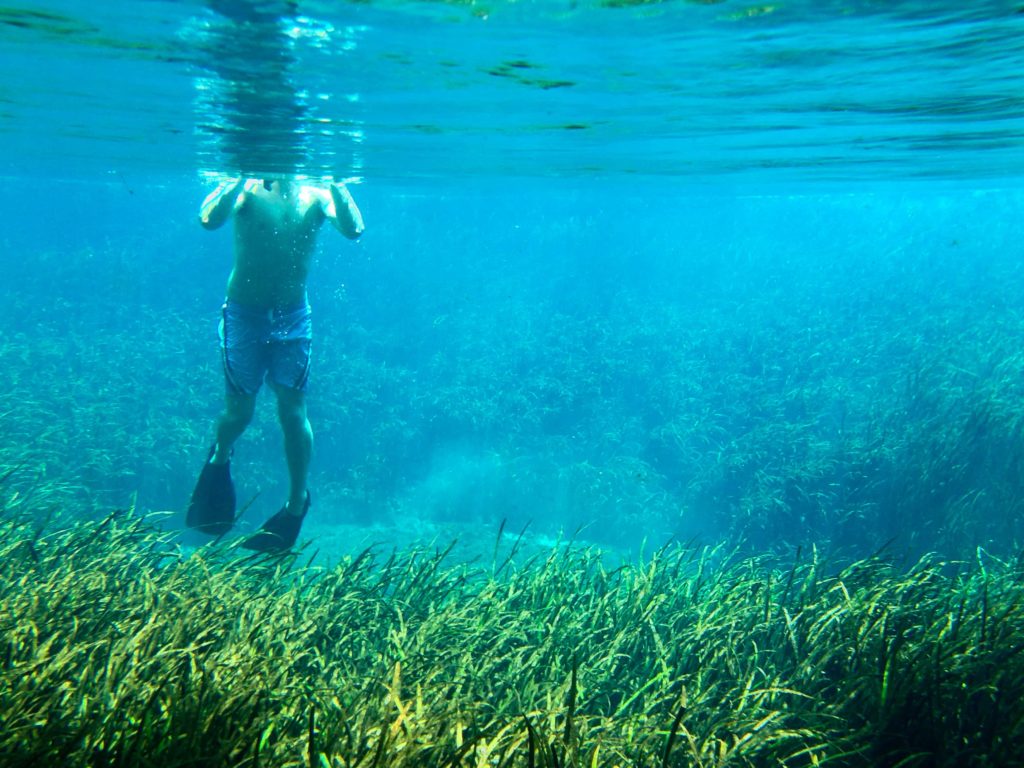 The water in Blue Hole is so clear it's invisible, except for a stark, craggy hole in the middle of the pool. This is the Blue Hole.
It's a vertical shaft that plunges 40 feet straight down through the limestone rock. It only stops when it hits the sandy floor of a large cavern. The vent is mesmerizing when snorkeling from the surface.
As you drift over the deep shaft the water transforms through a spectrum of blue. Beginning as a light turquoise, it flickers through every shade and hue, until it finally settles as a deep, cobalt blue. The colors are so beautiful that I smile just thinking about them.
Like the famous cenotes of Mexico, Blue Hole can put on a spectacular light show. The sun's rays shine like spotlights through the water. Bright yellow rays of light pierce through the deep blues.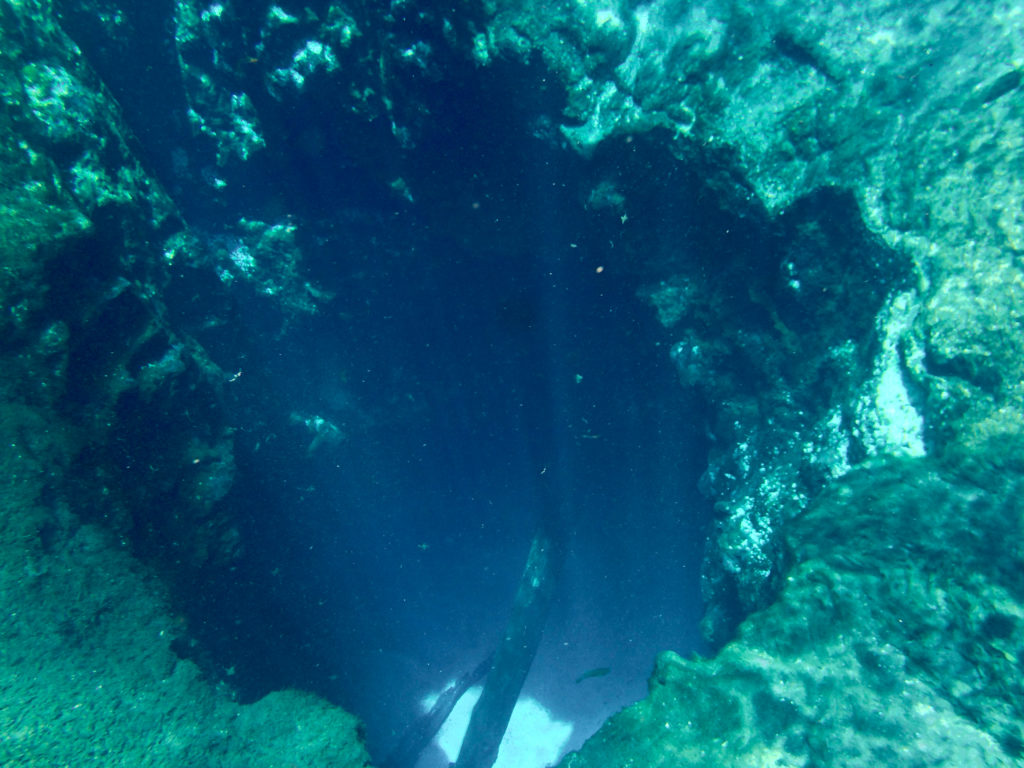 The effect can be seen while snorkeling at the surface, but it's especially intense when viewed from deep within the cavern. Especially at midday, when the sun's directly overhead, rays of light penetrate the water- the effect is indescribable.
Reaching the cavern isn't easy, or necessarily safe to try.
It should only be attempted by strong and confident swimmers who are properly trained. To do it, you'll have to fight against a strong river of water. The crystal-clear, clean river of water gushes from a network of underground tunnels. Every minute of every day it blasts millions of gallons of water out through this spring vent.
If you can fight against the current and make it down the shaft it'll open into a large cavern.
Sunken, waterlogged logs sit on the floor. You'll notice coarse grains of sand being blasted by the strong current.
If you're not a trained and certified cave diver don't enter the cave. Don't try to freedive the cave. There's allegedly a sign at the entrance with this warning as well.
Rising from from the vent is amazing as well.
Diving is a struggle, but the way back out is like getting body surfing in a river. Be careful not to hit your head or body on the rocks while you shoot to the surface.
If the surface above is undisturbed the water column is invisible, and everything above can be seen in high definition. The limestone shaft frames a blue sky with a beautiful vignette.
The Blue Hole one of the least-visited parts of Ichetucknee Springs State Park– the vast majority of visitors to Ichetucknee Springs come for the tubing experience. Blue Hole is a bit off the beaten path because it requires a quarter mile walk to get there.
Blue Hole has Many Names
The Blue Hole Spring is also called by many different names, especially by cave divers. Scuba divers often refer to the Blue Hole Spring as "Jug Hole", "Jug Spring, or just "The Jug". The "Jug" reference comes from an old description of the spring vent's shape.
Like many other exotic and magical places around the world, Ichetucknee Springs exists thanks to Karst Limestone. All of these places are formed by the same Karst Limestone processes, and all of these are historical relics from when the oceans were much higher than they are today.
Blue Hole, Belize
Cenotes in Mexico
Dean's Blue Hole in The Bahamas
Towering limestone formations in Thailand
Thunderball Grotto
Kenting National Park Taiwan
The Blue Hole Spring is definitely my favorite part of Ichetucknee Springs. I've been many times, but only freedive because I'm not cave-diving certified.
Like the rest of Ichetucknee Springs, much of the information online is inaccurate and obsolete, including basic information like diving seasonality.

Please don't rely solely on this, or other online information, and do your own due diligence. I recommend calling the state park directly to verify any piece of information that's vital to your trip.

Interestingly, some divers commented online that there were issues with misinformation even while physically present in the park, These divers recommend calling the park headquarters to verify any uncertainty, or discrepancy with park policies.
The Blue Hole is accessed via the north entrance of the park and it can't be accessed via the south entrance.
Park Facilities in the North Entrance
Facilities include:
Paved parking lot: approx. 140 cars
A small playground
Picnic tables and charcoal grills
Well maintained bathrooms with flush toilets; reportedly ADA compliant
Accessible water lift at Ichetucknee Head Spring (Not Blue Hole)
The pool above the Blue Hole vent is broad and shallow. The dimensions are approximately 85 ft. by 125 feet.
At its deepest point the spring pool is about 7 feet deep, and mostly covered with underwater grass.
Note: In the past ecologists identified Scuba diving as the most destructive activity within Ichetucknee Springs State Park because divers inadvertently trample aquatic vegetation.
"…some individuals, heedless of the potential for damage, retreat to the edge of the pool where the remaining Sagittaria grows. Others tramp and swim about actively, uprooting and tearing large amounts of plants (some do this whether they are waiting to dive the Jug or not)… Of course, individual responsibility or lack of it is an important impact factor on both quiet and busy days." -1987 impact study
This is tragic because in my experience, divers are among the most conscientious and respectful nature lovers I've met. This determination was made many years ago at a time when many people had less respect for nature. It may have also been a function of overcrowded diving conditions. Today there are policies to limit the number of divers who use Blue Spring, which has helped to reduce the impact.
If you go, please sure that everyone in your group knows to:
Avoid making contact with the spring bottom
Minimize contact with fragile aquatic plants and grasses
Avoid stirring up sediment
Dive safe
Freediving in Ichetucknee Springs Blue Hole
Scuba Diving Access:
Blue Hole can only be accessed through the North entrance of Ichetucknee Springs State Park.
It's accessed by walking down a half mile sand and gravel trail. It's recommended that divers bring a wagon or cart to transport diving gear. A cart may sometimes be available for transporting equipment. If it is available it will be locked with a combination lock and chain, so you'd need to ask a park ranger for the combination.
Scuba Rules:
Scuba diving is not allowed during the summer. It's only available between October and March.
Must be cave certified
Diving is only permitted in Blue Hole and not the Ichetucknee River or the Head Spring
Divers must register with park rangers and pay a small fee.
Dives must be finished one hour prior to sundown.
According to Dive Outpost, Blue hole diving is only avail. October 1st through March 31st. It's possible that this information is obsolete, and that diving may be allowed year-round at this time. There is conflicting information online so further clarification will be added later.
https://lakecitydivecenter.com/local-springs
https://cavediving.com/where/jughole/
http://www.blueworldtv.com/webisodes/watch/ichetucknee-spring-cave-dive
http://www.seadogdiver.com/northflsprings.html