We just got back from camping at Ichetucknee Springs Campground, and had such a great time!
We were very happily surprised by our experience.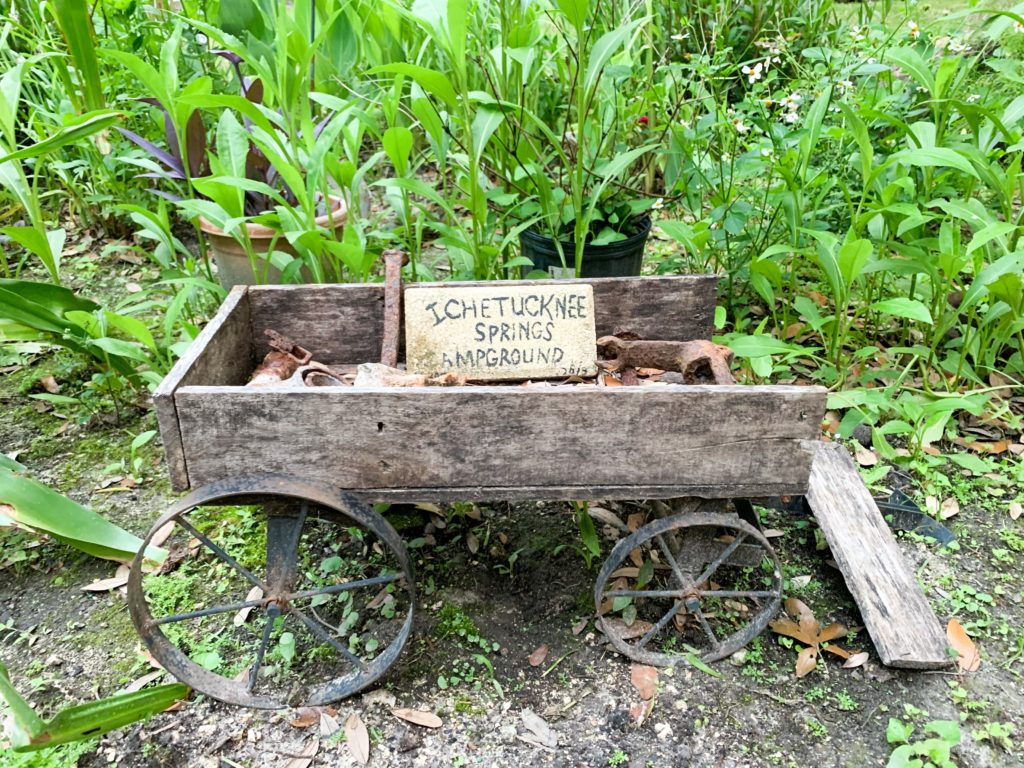 We usually try to avoid private campgrounds because we prefer state parks, national forests, free camping and boondocking whenever possible. But, this campground was different.
It's one of the best we've ever been to, private or public, and it's one of my new favorites.
Video tour of Ichetucknee Springs Campground
This video gives a good overview of the Ichetucknee Springs Campground.
It's very representative of what you might expect while visiting.
Covid-19 Precautions
When we visited there were large crowds due to group camping trips. Nobody wore a mask.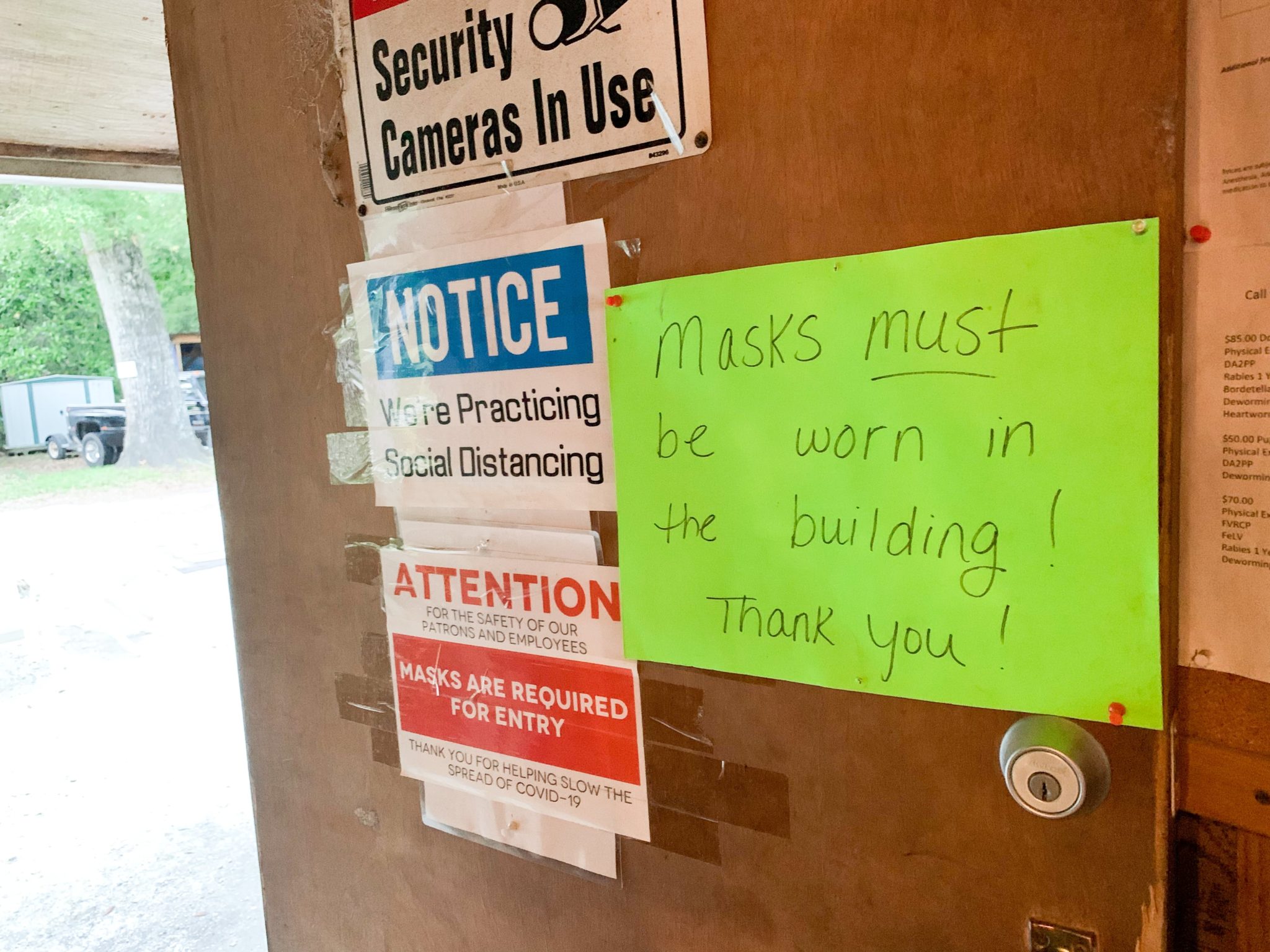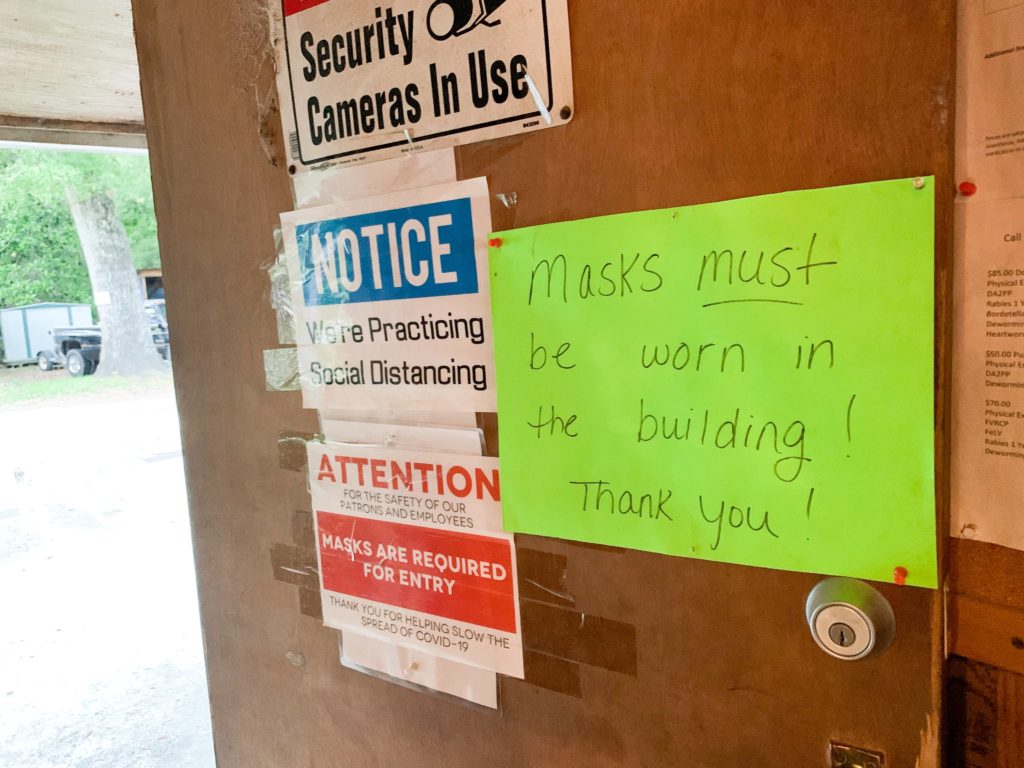 This was true in Ichetucknee Springs State Park, as well.
If social distancing is important to you, I'd recommend that you strongly reconsider your choice to travel in Florida right now.
Location
The address is 245 SW Breckenridge Ln., Fort White, FL 32038
The location is very convenient for visiting the Ichetucknee Springs State Park.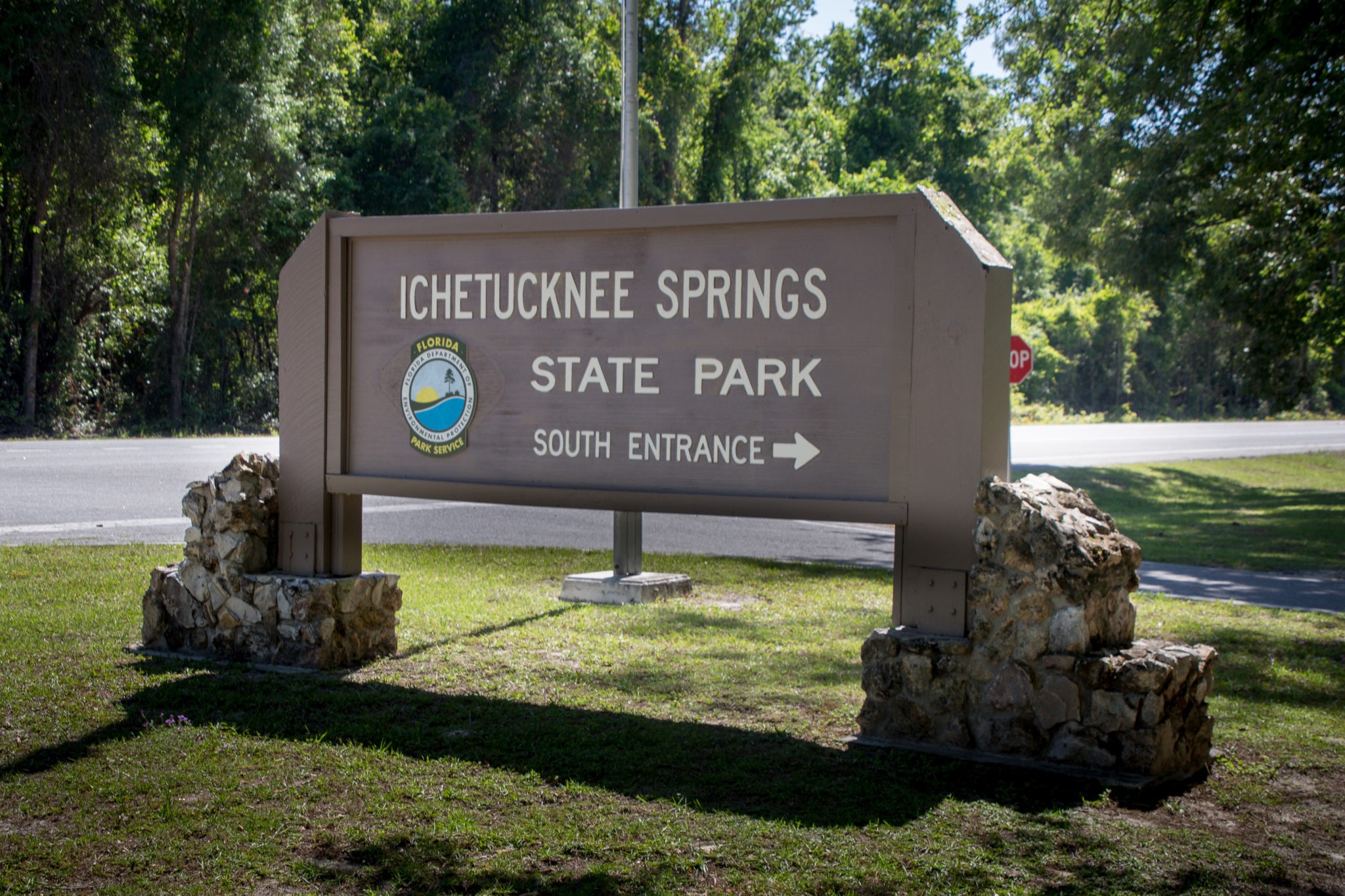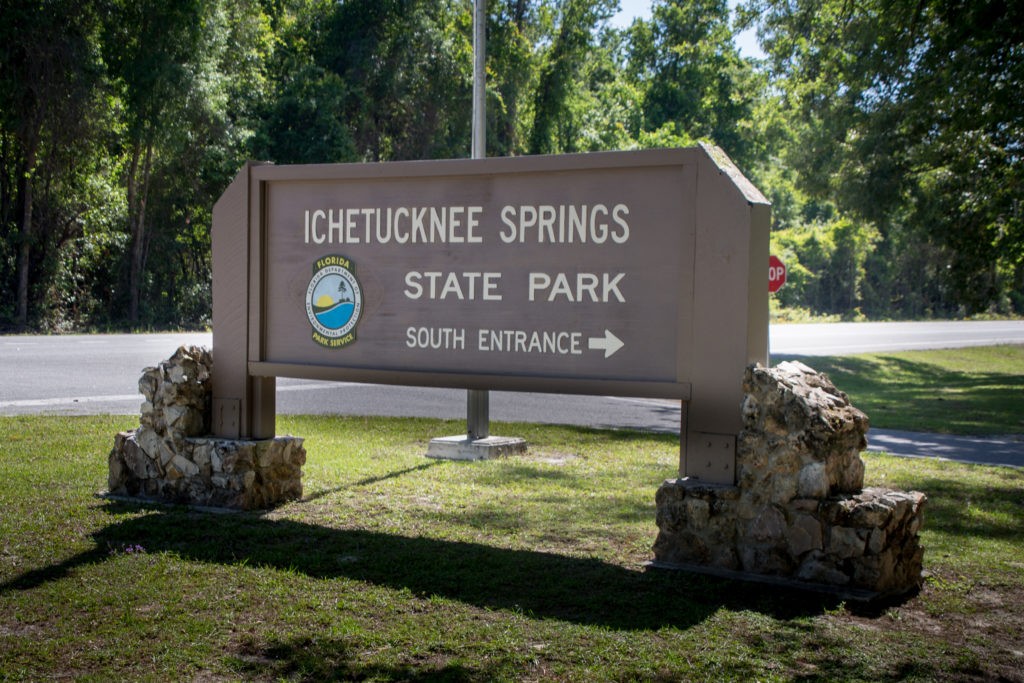 The campground is .5 miles to the north entrance of Ichetucknee Springs State Park, and 4 miles from the south entrance.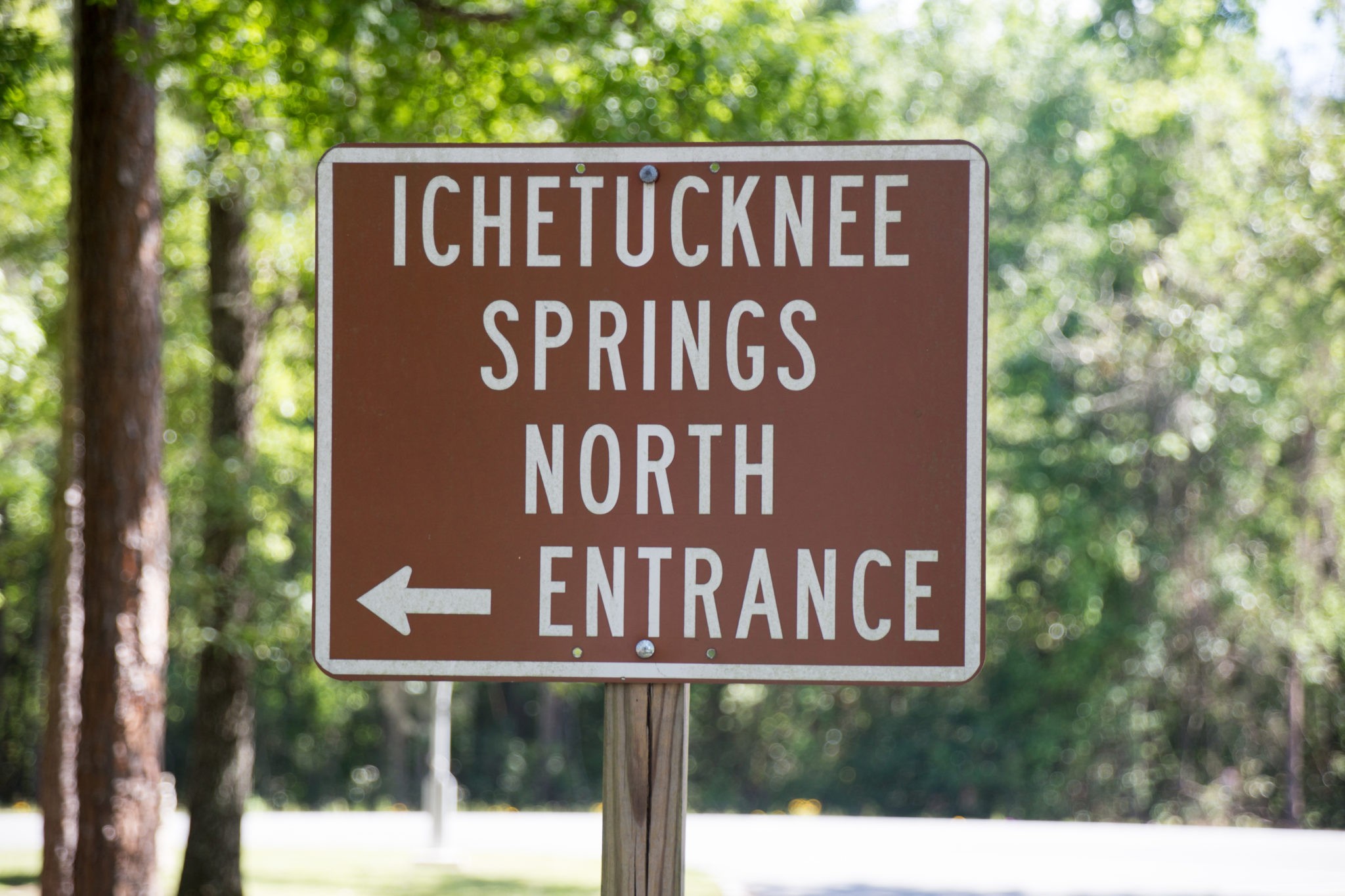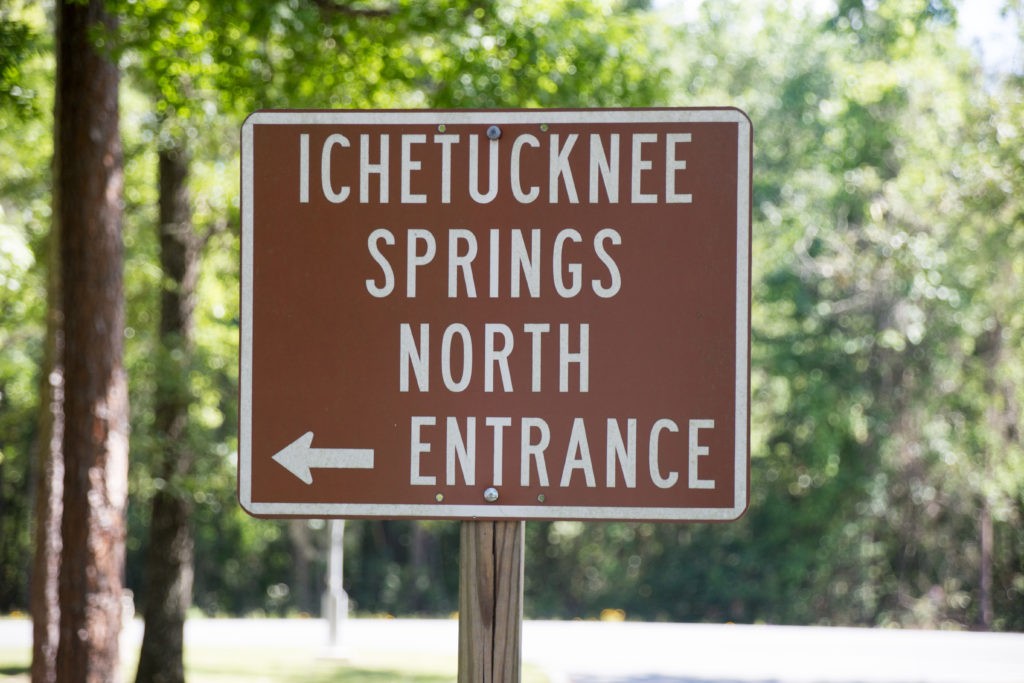 The north entrance is where you go to swim in Blue Hole Spring and the Ichetucknee Head Spring.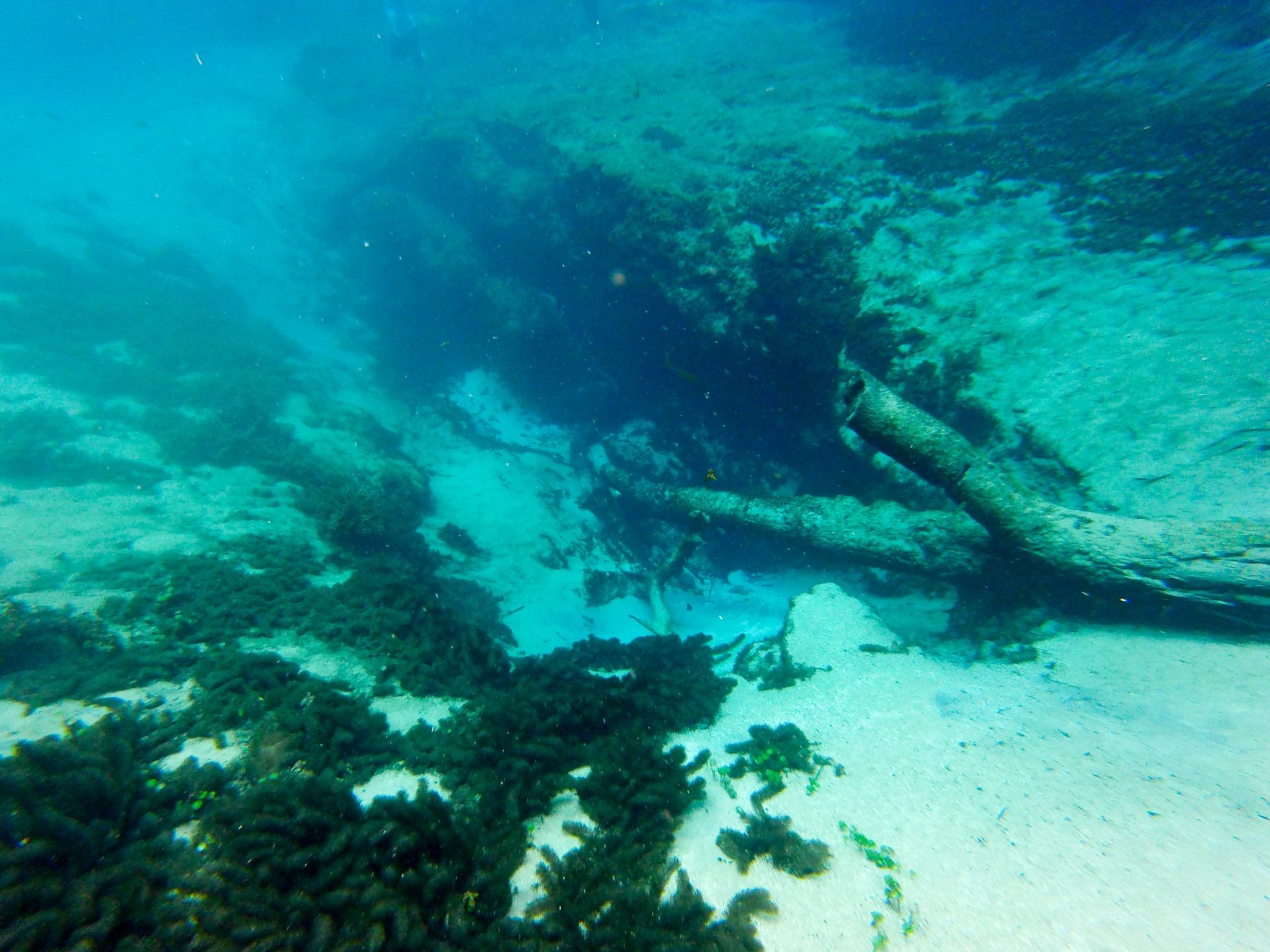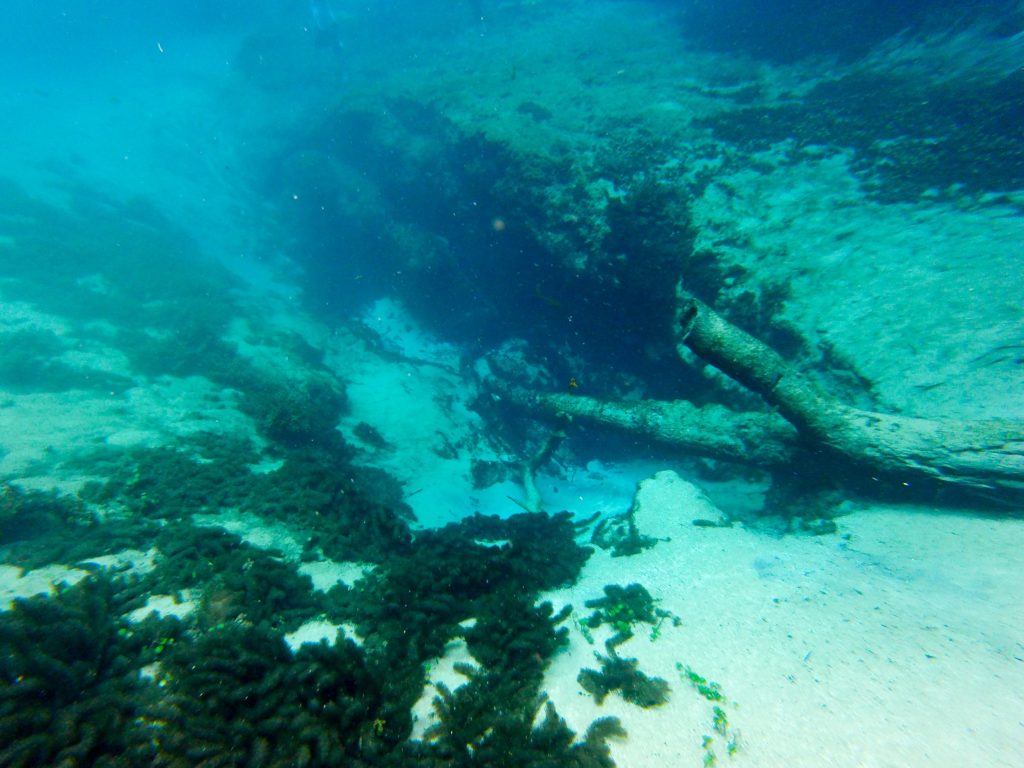 The south entrance is where you go for tubing, canoe and kayak rentals, and most other activities inside the park.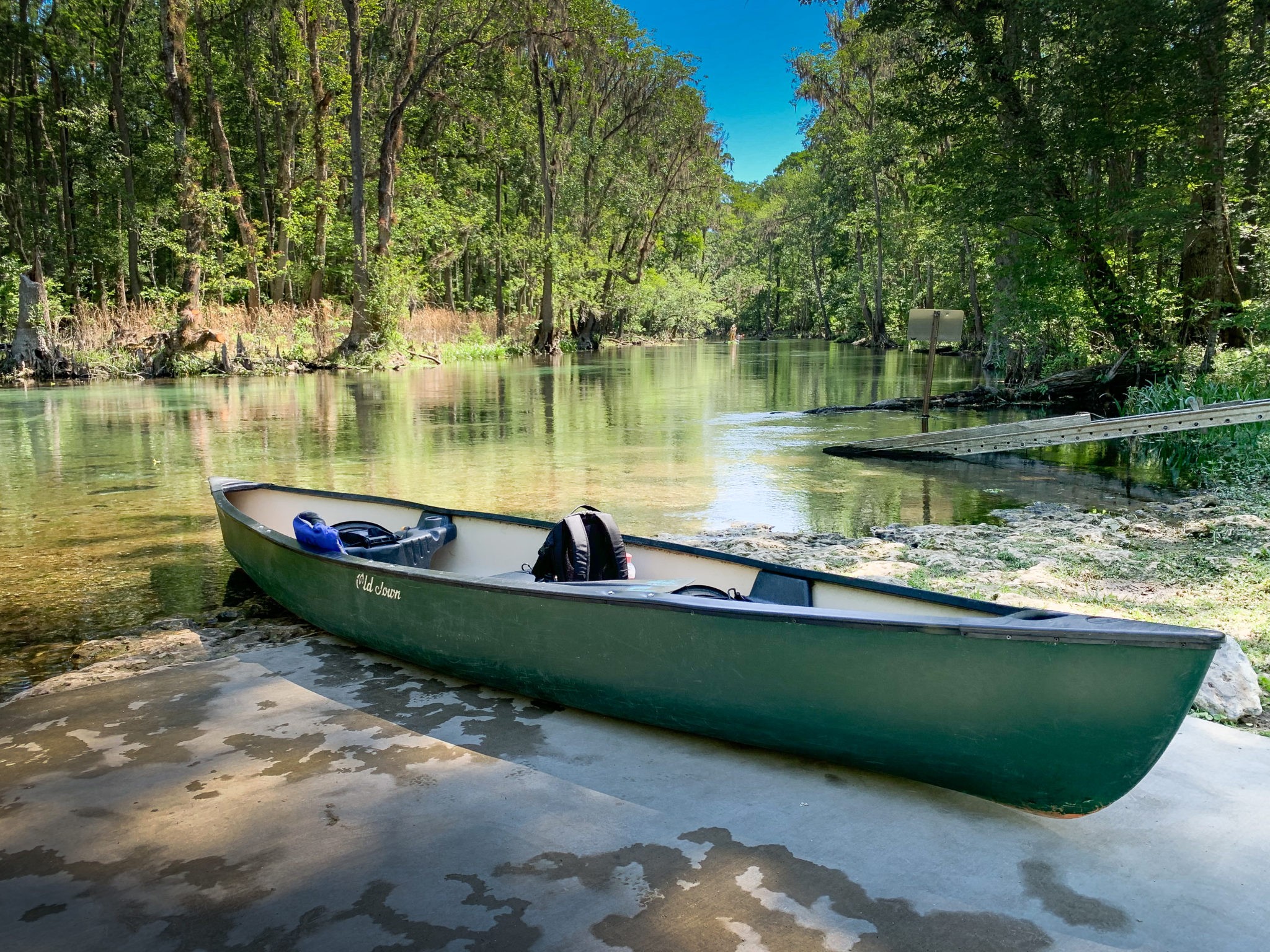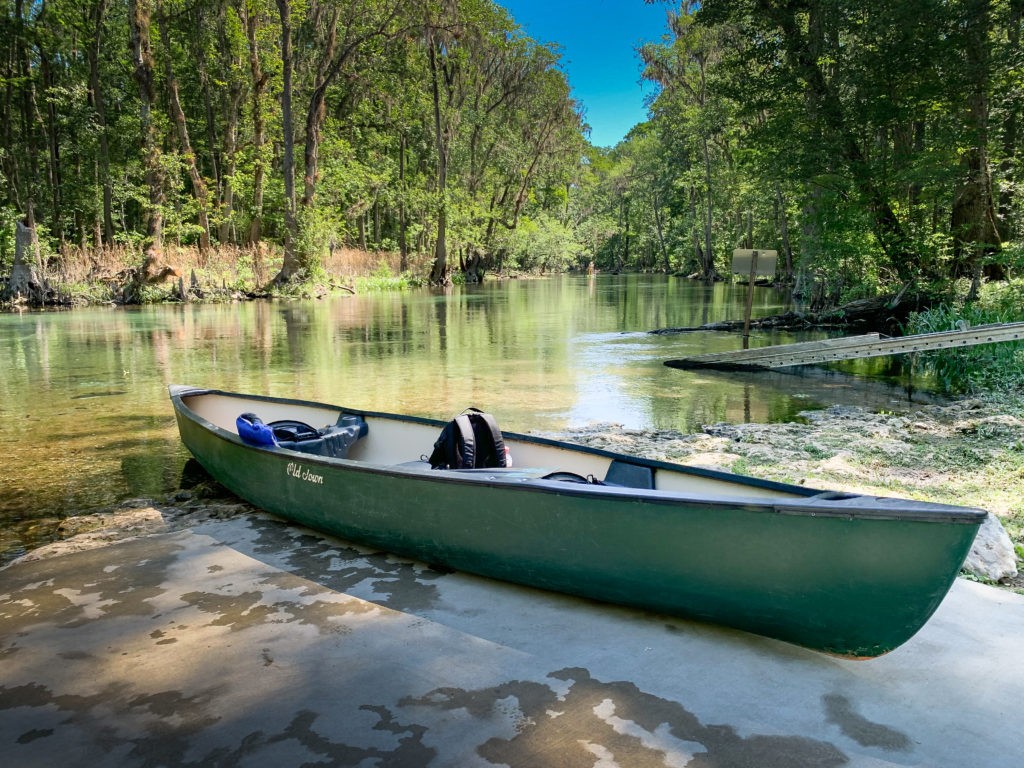 In general, the entire region is pretty rural and remote. There aren't any grocery stores or Walmarts nearby.
There are some small shops and restaurants in Fort White, and a Subway, 6 miles away.
There's a Winn Dixie in High Springs, 17 miles away.
There is a Publix is in Alachua, 21 miles away.
The nearest Walmart is in Lake City, 19 miles away.
There are a few small towns within reasonable driving distance:
Fort White (6 miles)
High Springs (15 miles)
Branford (14 miles)
Lake City (21 miles)
Alachua (22 miles)
Gainesville (50 miles)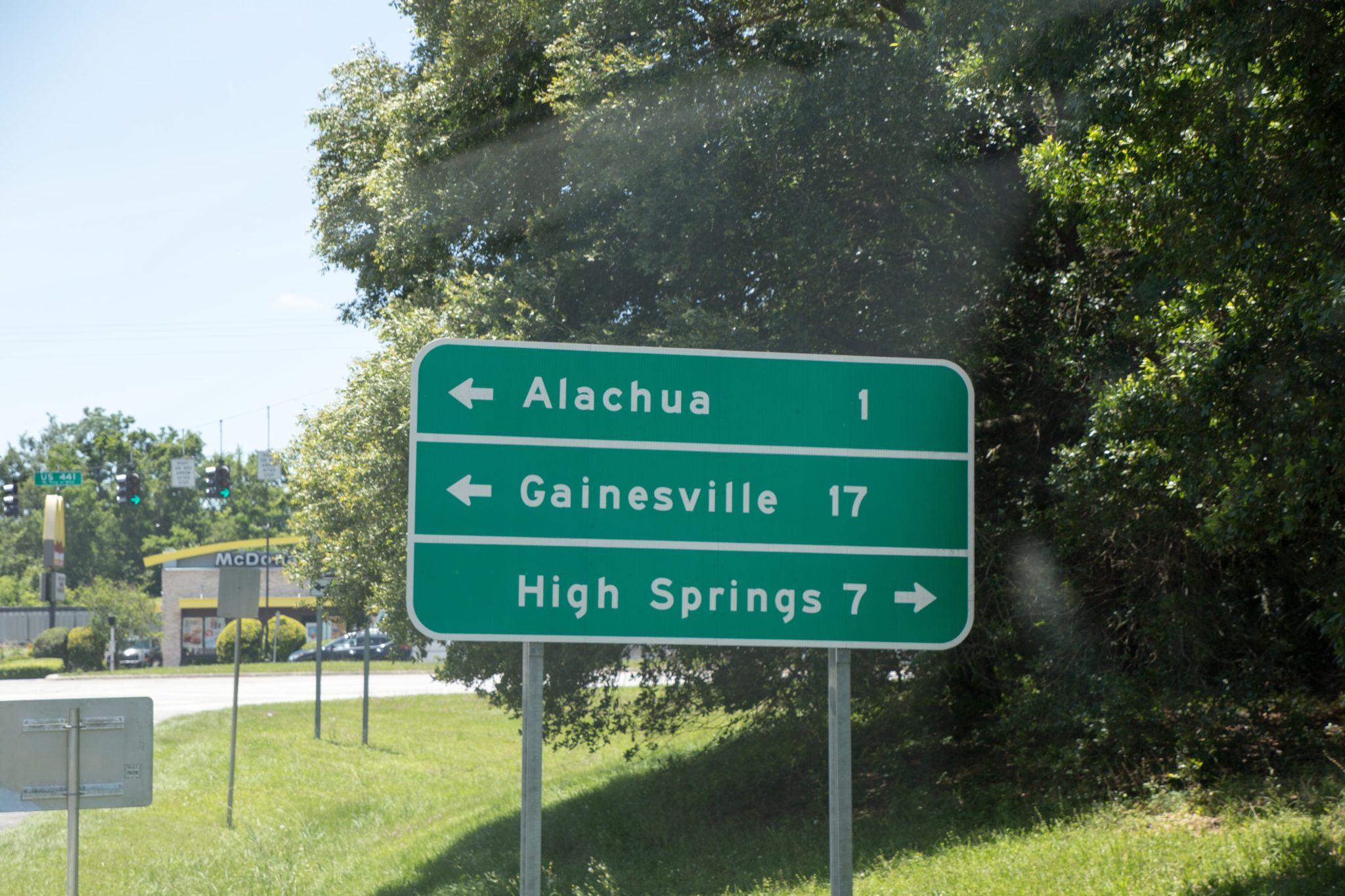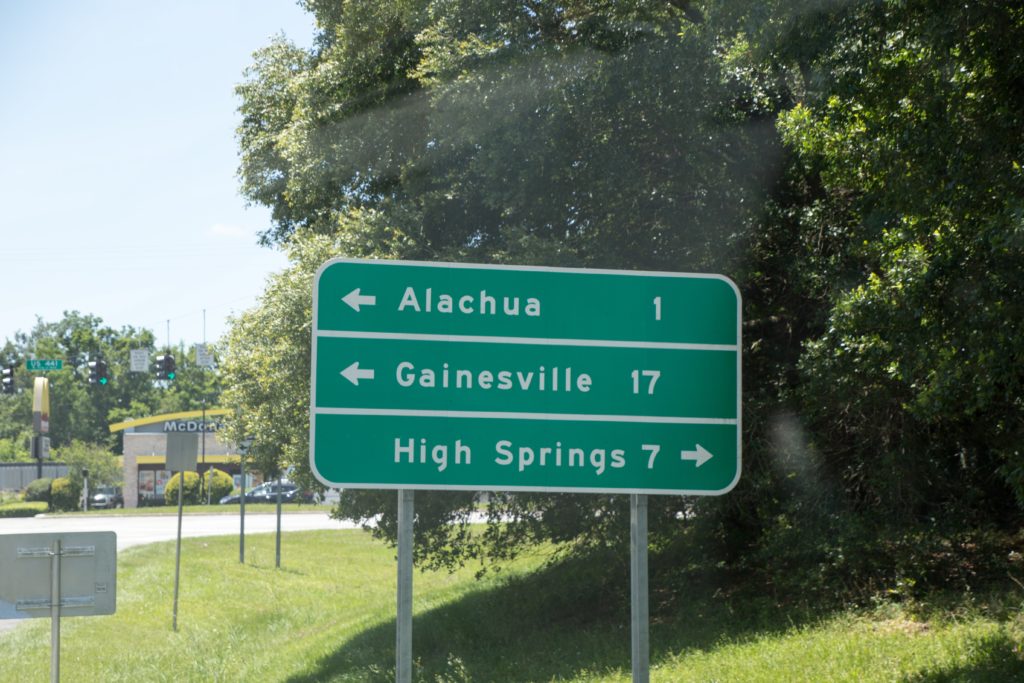 I suggest that you plan on bringing everything you need. Spend time to do good camp meal-planning, and try to be as self-sufficient as possible.
On-site Food Truck
There is an on-site food truck. It wasn't open when we were there, but the website says it's "Coming Soon".
It advertises lemonade and "Tacos in a Bag". It will also have:
Hot dogs
Pizza
Popcorn
Snowcones
Ice cream
Soda, tea and drinks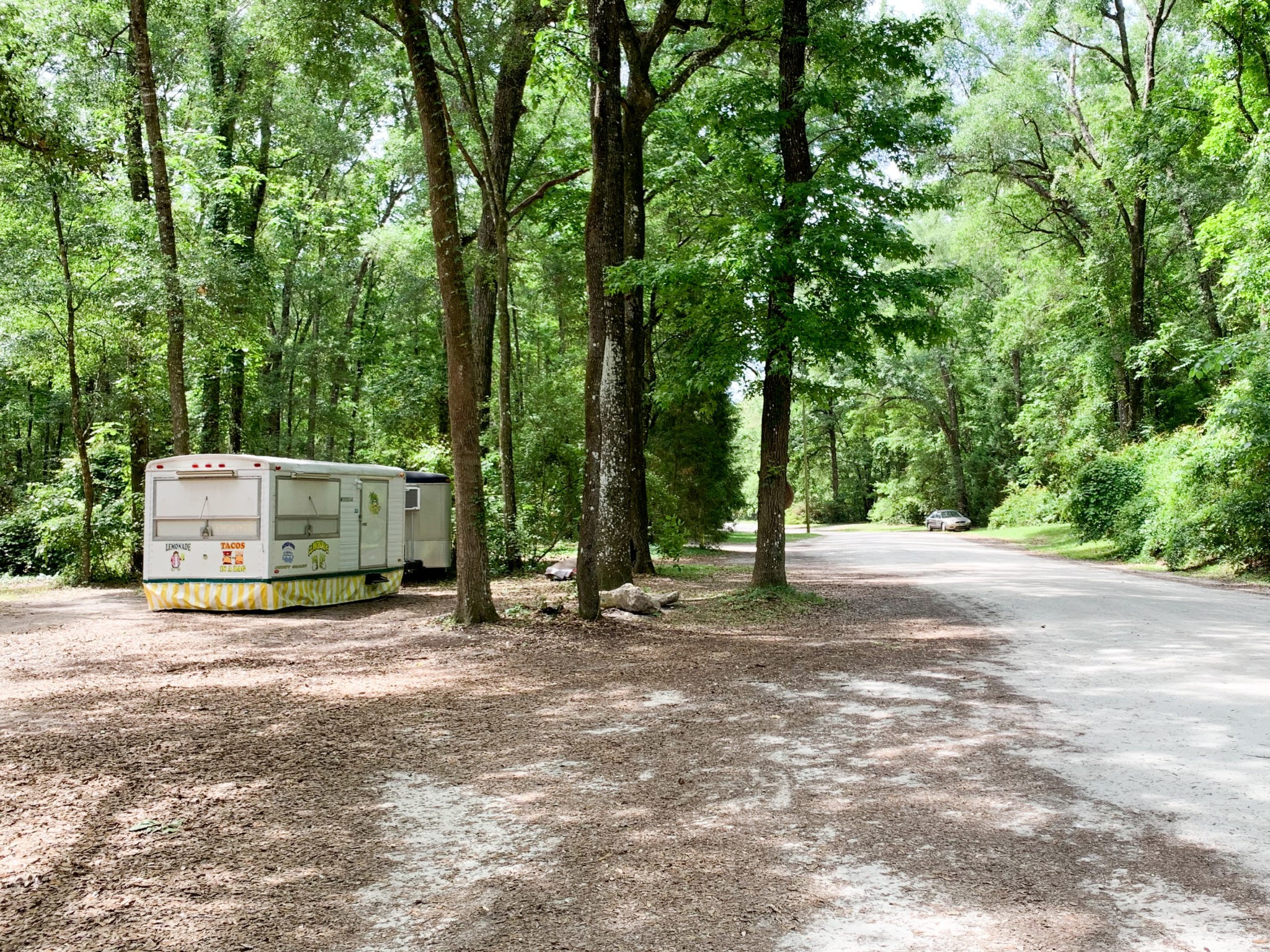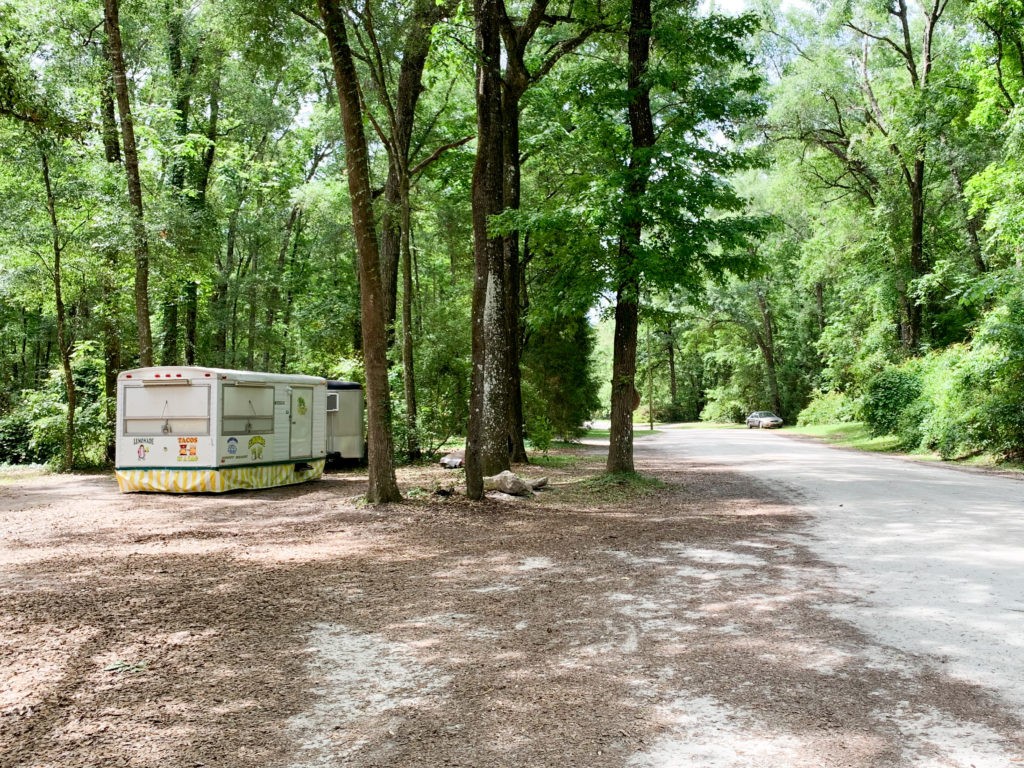 Dangerous Roads and Highway
Be careful on the highways!
Local traffic and cars drive very fast on small, two-lane roads. Especially at dawn and dusk, there are many deer in the area. Sadly, we saw several that had been killed by cars on the highway.
This is just a guess, but I wouldn't surprised if this area has a lot of drunk driving, too.
Campground Overview
Ichetucknee Springs Campground is a privately owned campground in Fort White, Florida.
The campground doesn't feel like a private park; the campsites are big and private. There's lots of room to spread out, and for many tents. In general, it feels very natural, quiet and peaceful. It's also fairly priced, affordable, and very convenient.
The landscaping around the office and park is excellent, and feels very clean and well-cared for.
The entire property is beautiful. I especially love the lovely giant, old oak trees draped with Spanish moss.
Except for a few small minor details, it feels almost like a top-notch state park, and almost like boondocking in nature.
Ichetucknee Springs Campground actually has some benefits over a state park in Florida. For one thing, it was actually available! We got a campsite on a weekend, in the busy season, just days in advance. You'd have to get very lucky to find that in a state park.
More Information
The campsites are all a bit unique and different.
Some sites are large and some are smaller. Some are secluded, and some feel exposed to the camp road. But, in general, I'd say that most are generally large, private, and spaced far apart from each other.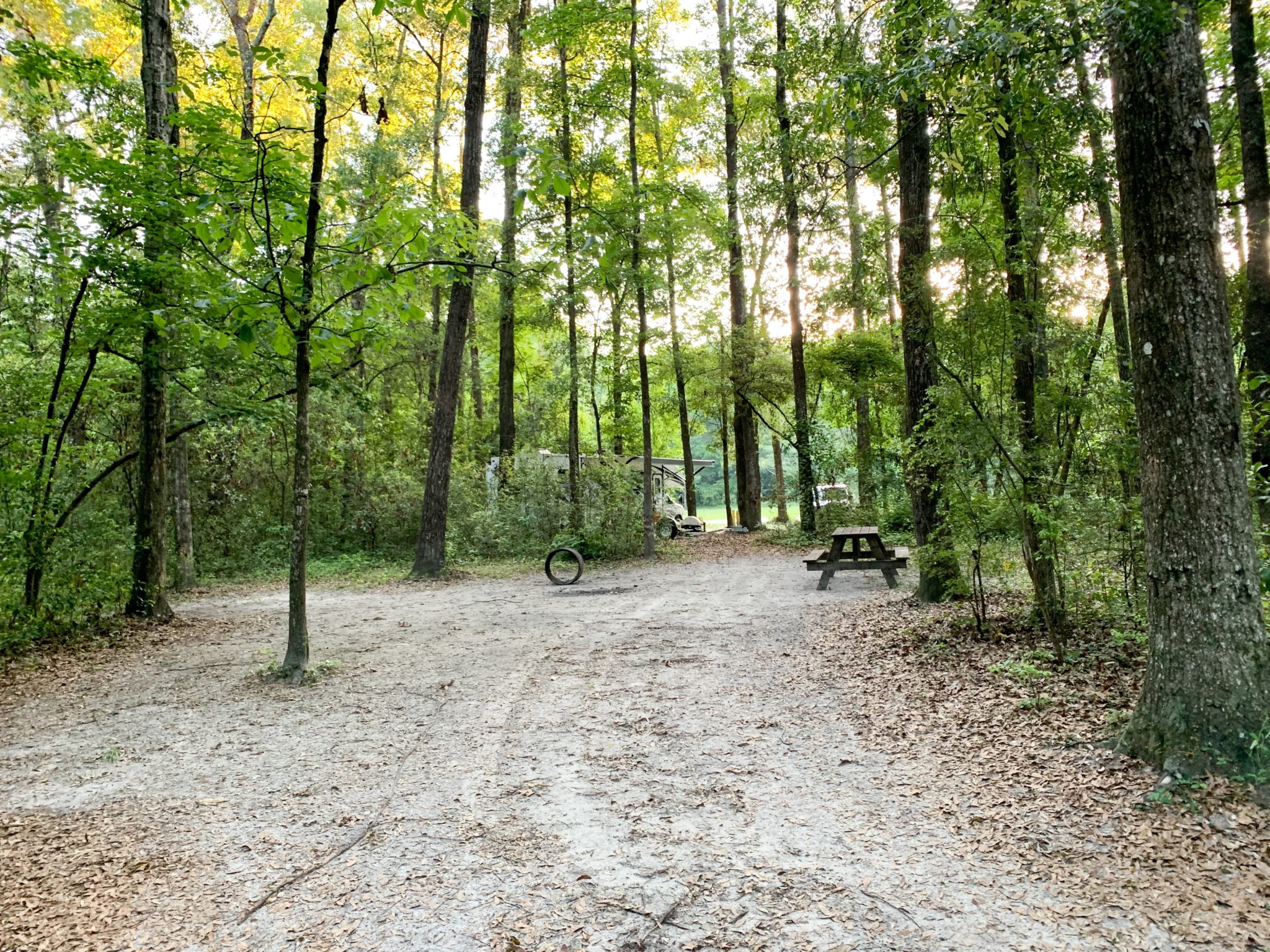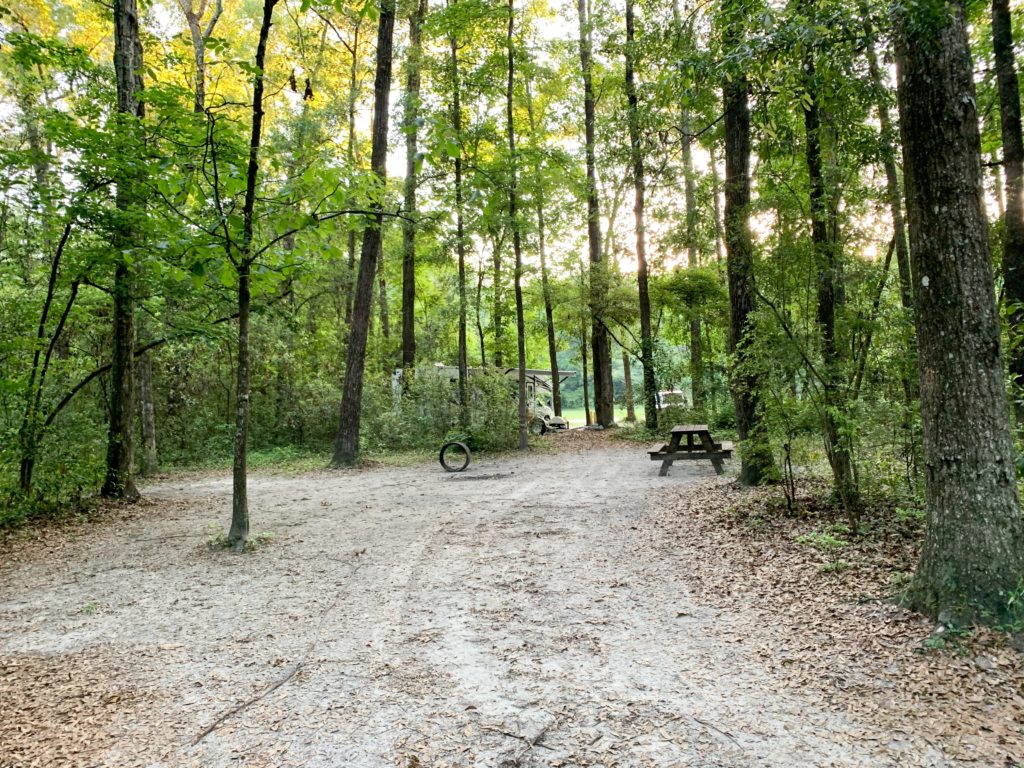 You can drive your vehicle directly into the primitive tent camping sites. Most of the sites were large and open, although we did see one or two with narrower, tree-lined paths to access.
Some had groves of trees inside the sites, which might make it difficult to park, or maneuver RVs or trailers. But, the trees are nice for the additional shade, especially if camping in Florida's summer heat.
Campground Roads
The signage is not the clearest, or easiest to read. But, it's not rocket science, you'll figure it out quickly.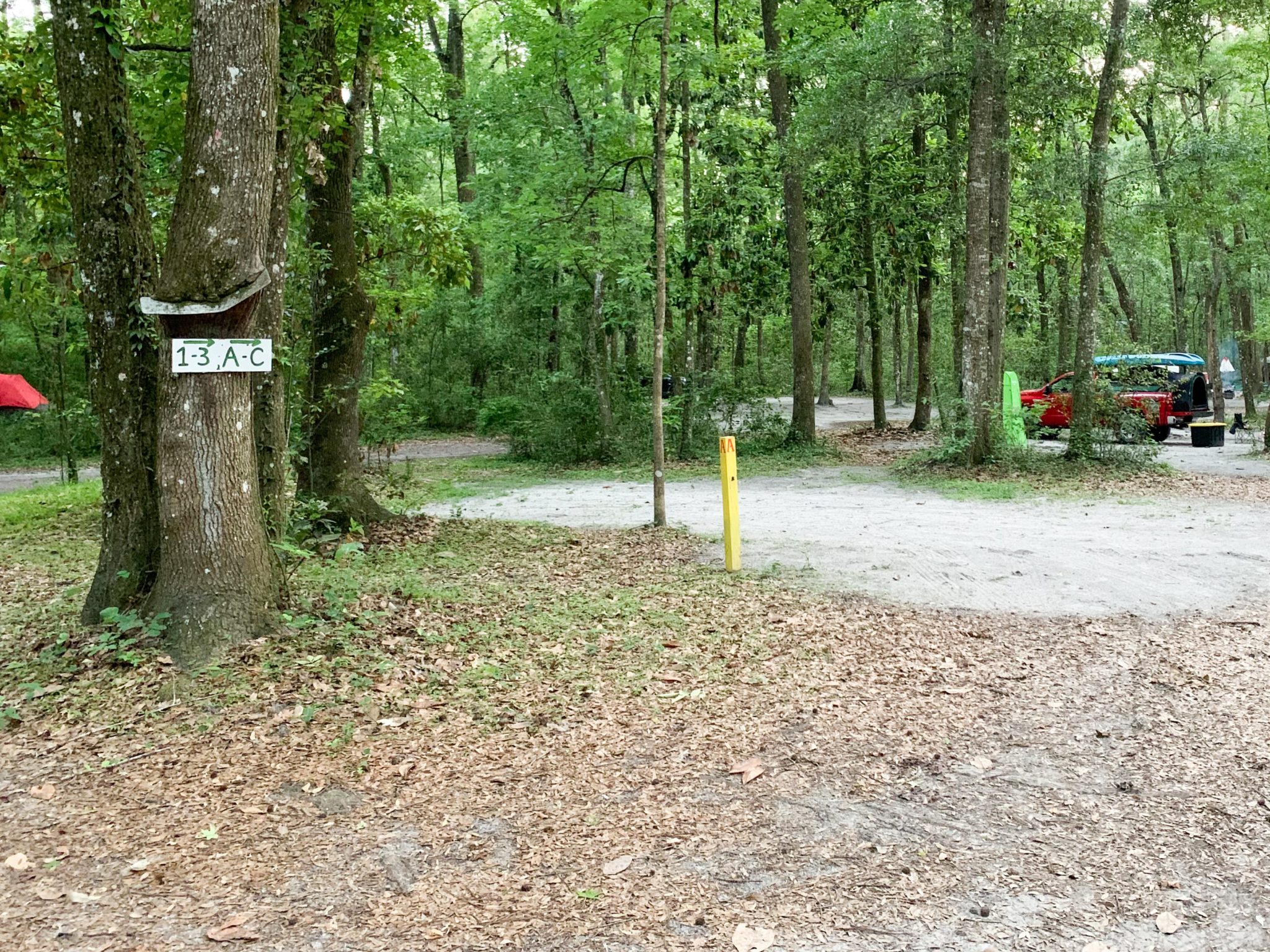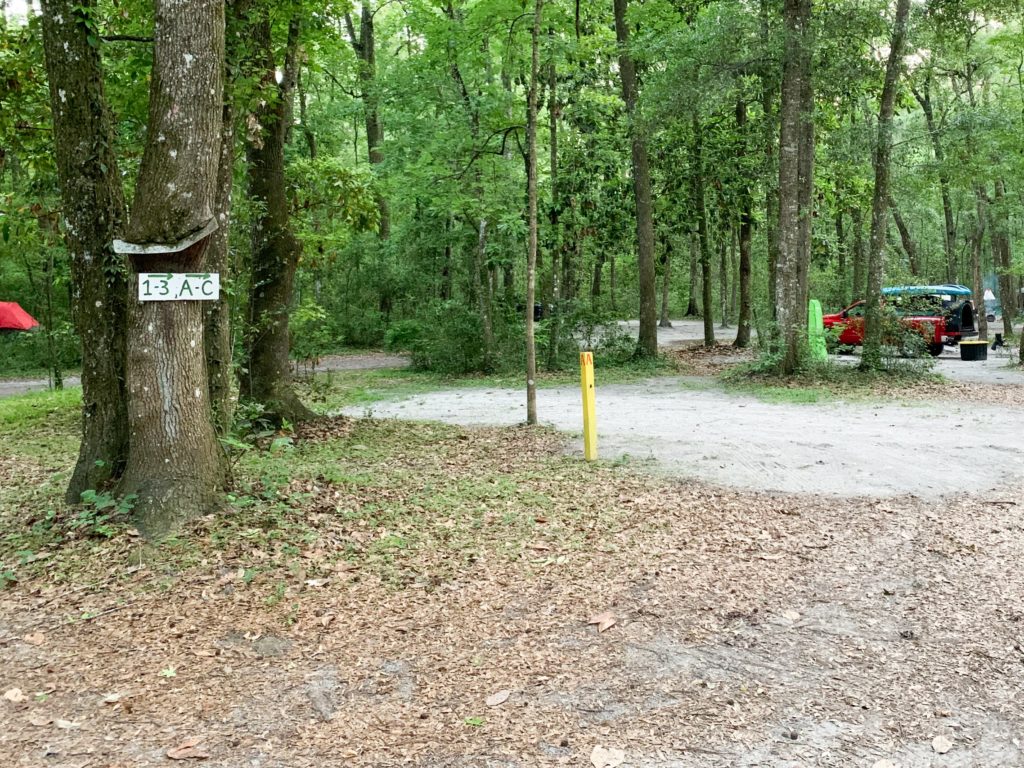 There is a sign in the primitive tent camping section which says "No RVs beyond this point", I guess because maneuvering or turn-arounds would be difficult among the trees and narrow path.
The campground roads and paths are fine, loose sand.
They don't pose any risk of getting stuck, but if you're not careful you might track sand into your tent or RV. Your feet also become muddy if you try to walk anywhere with wet flip flops.
I can't speak to the ease of maneuvering large campers, trailers or big rigs — if this is relevant for you, I would definitely ask about it while making your reservation.
All of the tree limbs seemed to be very well trimmed so vertical clearance wouldn't be an issue.
A disclaimer on the website advises that they are not responsible for damage caused by fallen limbs.
In my opinion, I don't think this would be a great concern to me because they seem to do a great job of keeping limbs cleared.
Campsite Information
Ichetucknee Springs Campground has approximately 40 campsites.
The sites fall into three categories:
Primitive Tent Camping
No water
No electric
Car accessible
Tent Sites with Electric
20 amp electric
Tent air conditioners are not allowed, except with advance permission
RV Sites with Water and Electric
30 amp electric (50 amp adapters are allowed, with restrictions)
Water hookups
There are no in-site sewer hookups, but there is a dump station.
Generators are not allowed to be run, except with permission.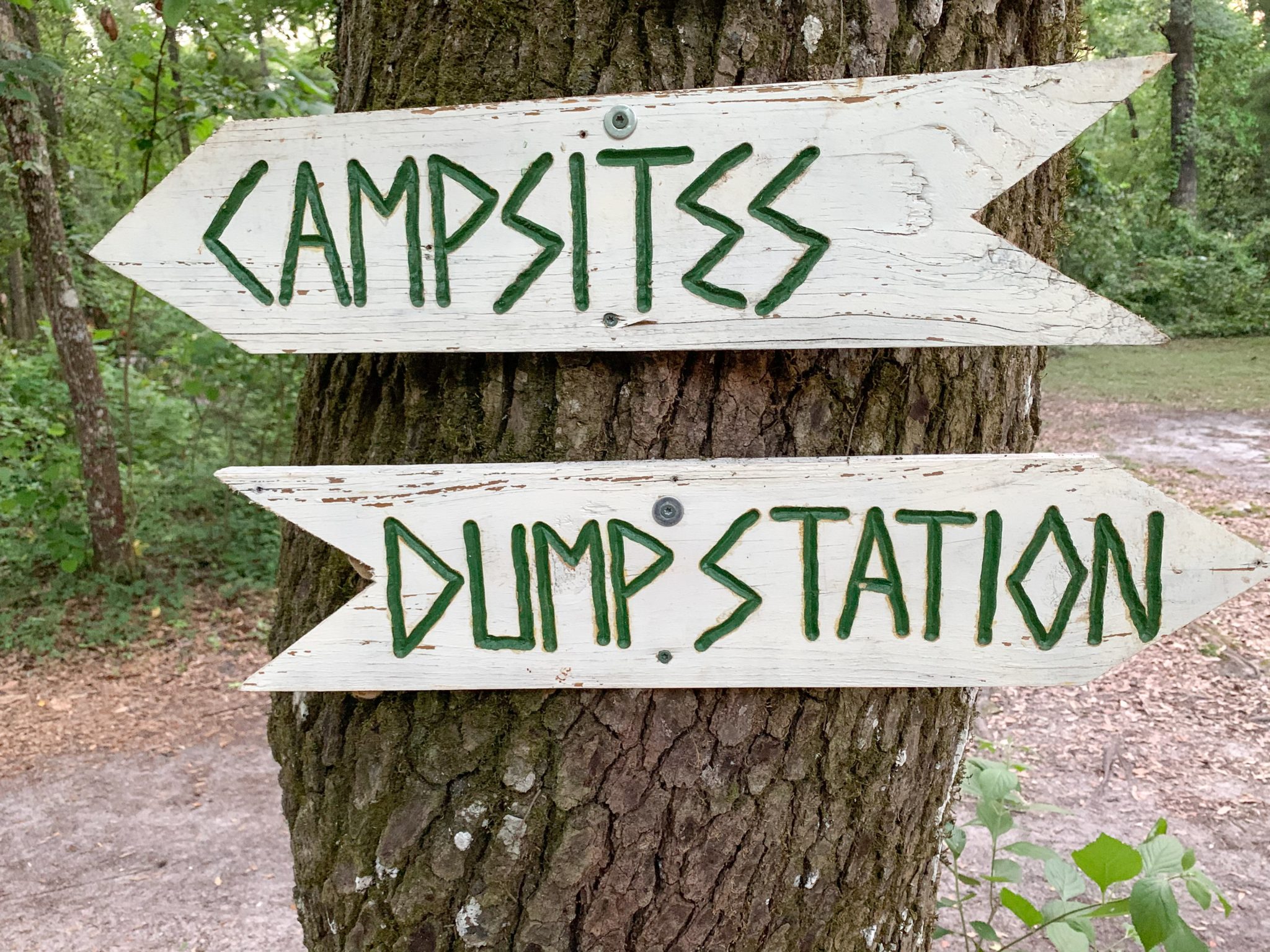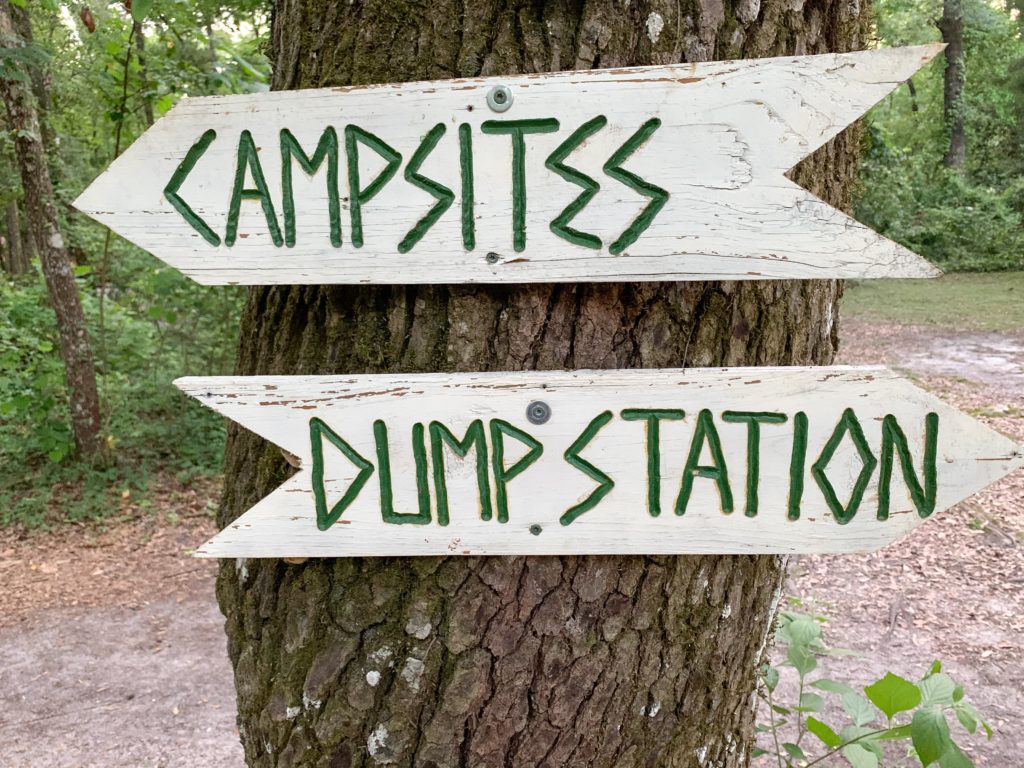 Each site includes picnic tables and a movable fire ring.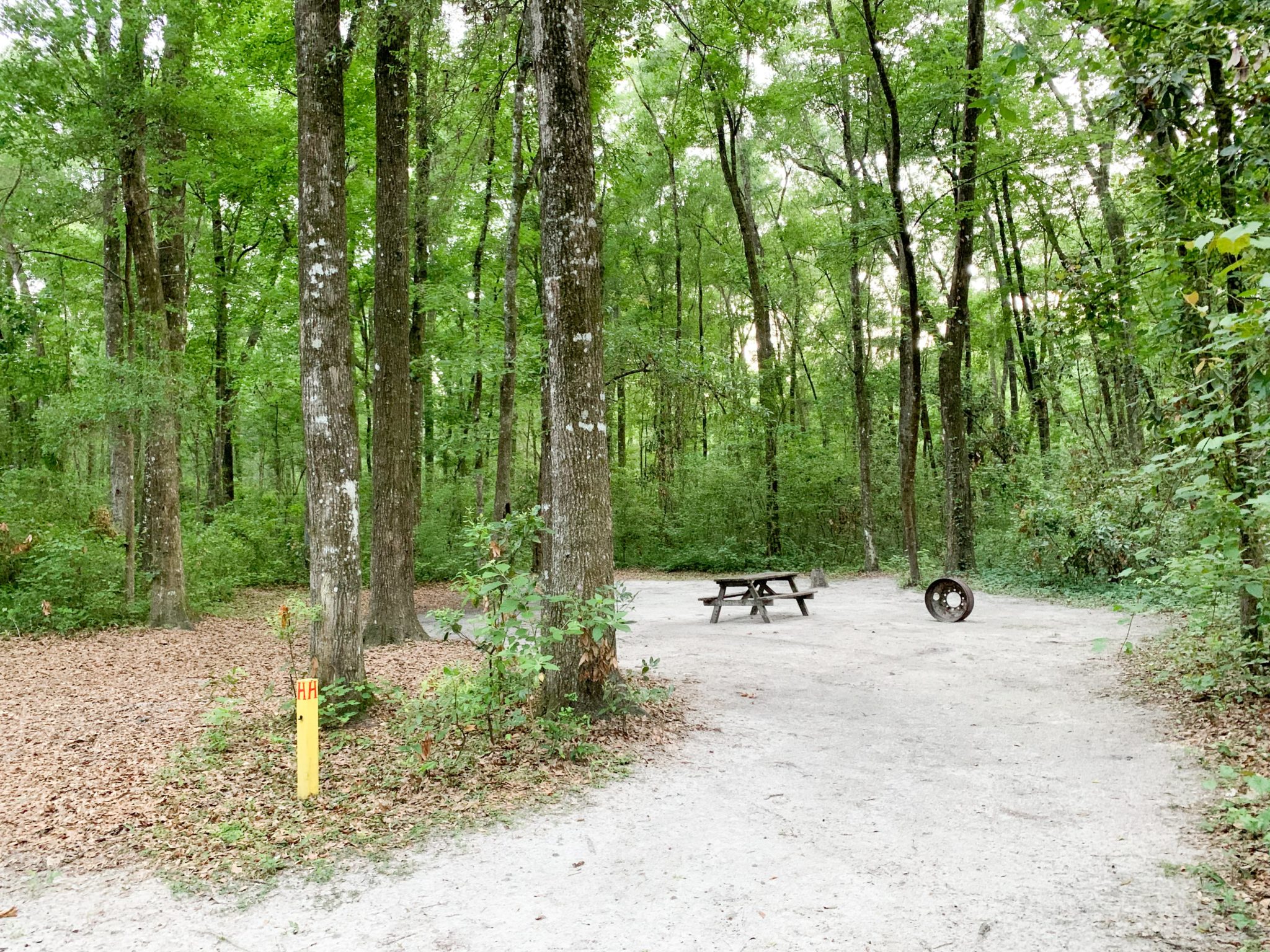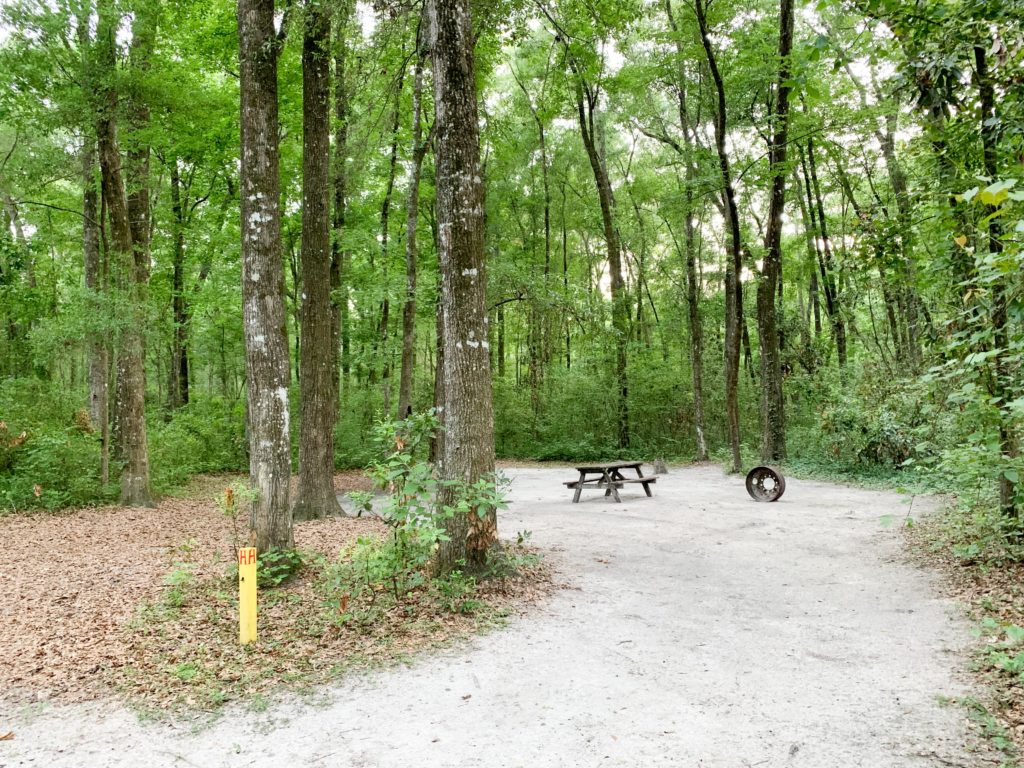 Interestingly, the fire rings are portable, so you are able to move them around to suit your own needs inside your campsite. When you arrive it'll be laying vertically so you can roll it wherever you want.
There are large dumpsters for trash deposit near the entrance.
There is a dump station for RVs and trailers. Dump station is behind the main office and clubhouse. It's free for campers and is $10 for non-campers.
Campground Booking and Reservations
The booking experience at Ichetucknee Springs Campground is a bit unusual by modern standards.
Reservations are only possible by phone, there is no online reservation or booking system.
The phone is answered from 9 am to 6 pm. It took a few tries for our call to be answered, but our voice mail was returned promptly.
When we made our booking the hosts were very friendly, helpful and welcoming of questions.
It's important to note that campsite numbers are not assigned during booking. We were given a site number when we arrived.
Requests for specific sites are allowed, and I'm sure they'd accommodate you if possible. But, they aren't guaranteed. If you have any special considerations, like rig size, mobility issues, or other special needs, be sure to ask.
Some people might see room for improvement in the booking and reservation system. But, it seems to work just fine. And, many people might prefer it the way it is!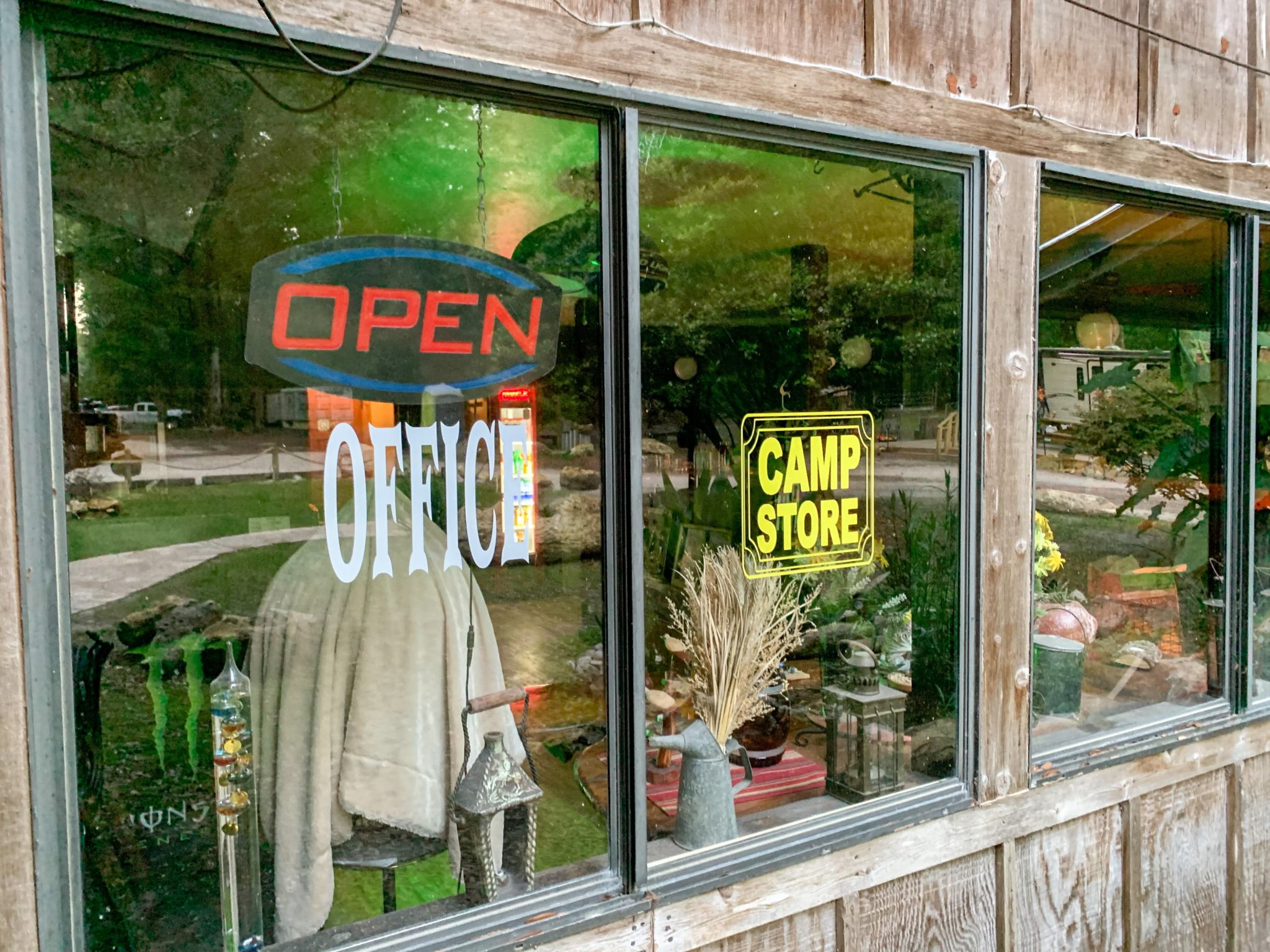 If there was online booking, or an availability calendar, I don't think we would have been able to get a spot on short notice during the busy season. So, there are pro's and con's.
I'm sure the owners have good reasons for doing it the way they do.
Campground Prices
Primitive tent camping $20
Tent with electric: $35
RV camping $40
The pricing is for 2 adults. Additional people are extra $5.60 plus tax. Children under 6 are free.
There are special rates in effect for certain popular and holiday weekends:
Thanksgiving
Christmas
New Years
Memorial Day
Labor Day
4th of July
It's important to note that Ichetucknee Springs Campground does not accept credit or debit cards.
According to their website, they only accept the following payment methods. Check the official website for up-to-date details.
Cash
Paypal
Venmo
Cash app
Zelle
Apple pay
Google pay
Bring cash!
In general, when visiting Florida's state parks, I always suggest bringing cash, especially small $1 bills.
State park entrances are sometimes not staffed, and visitors need to pay the "Iron Ranger" metal box, on the honor system.
I also highly suggest getting a Florida state park pass!
Campground Amenities
There are two communal dish washing stations.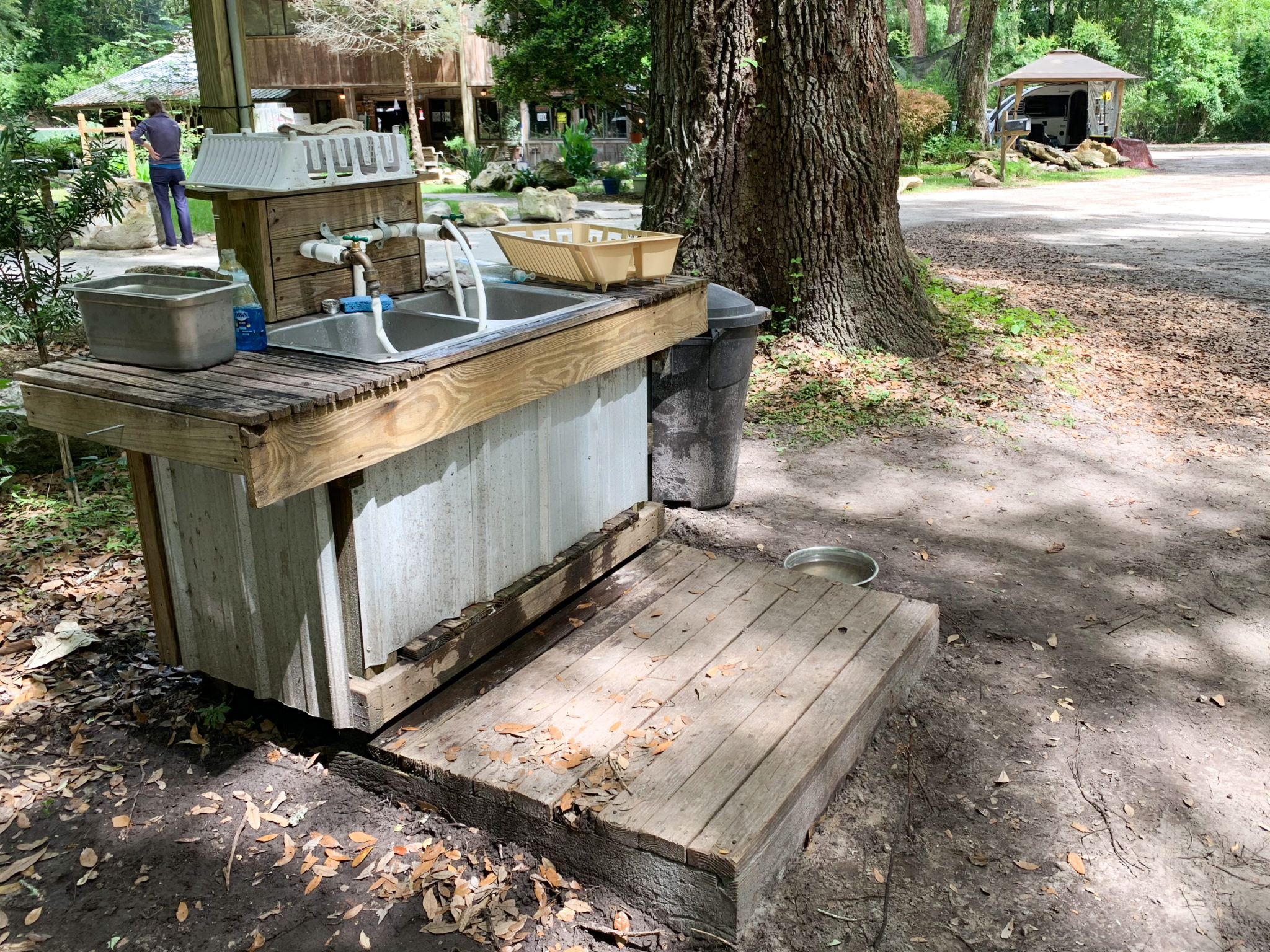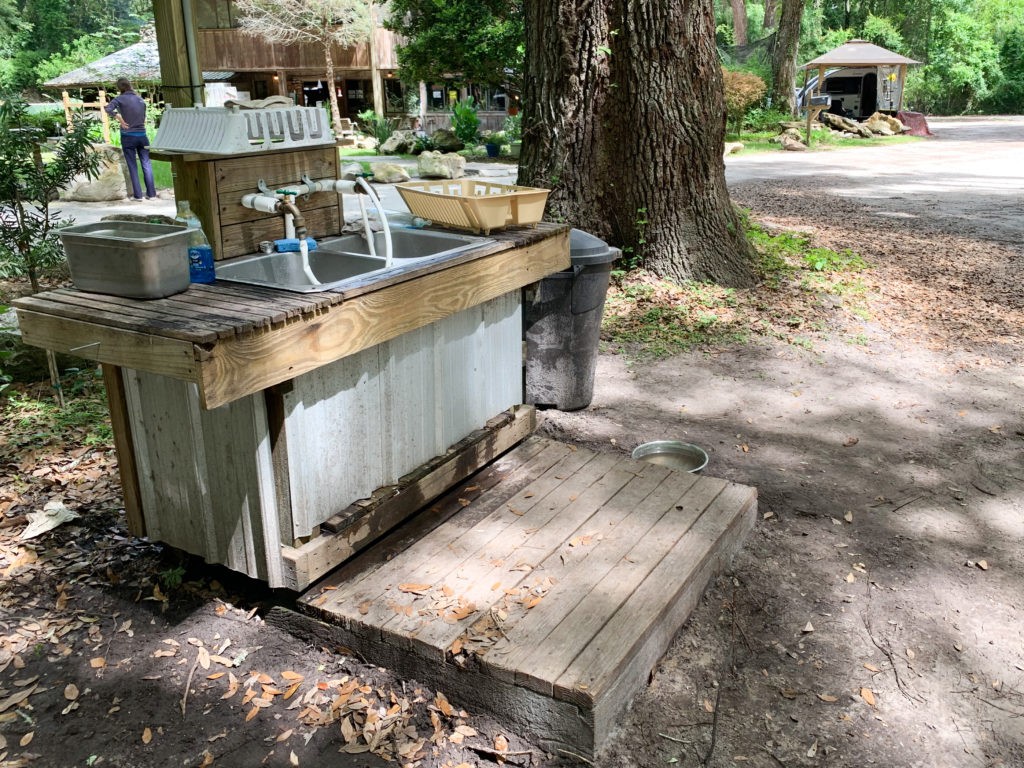 One was near the clubhouse and looked like a good setup. It had a dish rack and seemed to get more care and attention.
The other dish washing station is in the middle of the primitive campground. It was OK, but there was room for improvement. We actually preferred to use the faucet next to it in an empty campsite.
The dishwashing station didn't feel super clean because the surface is porous wood.
The sink's drain emptied down onto the ground directly in front of the sink. So, your shoes got soaked if you didn't stand in just the right spot.
The faucet was also too close to the sink basin, so it was difficult to use.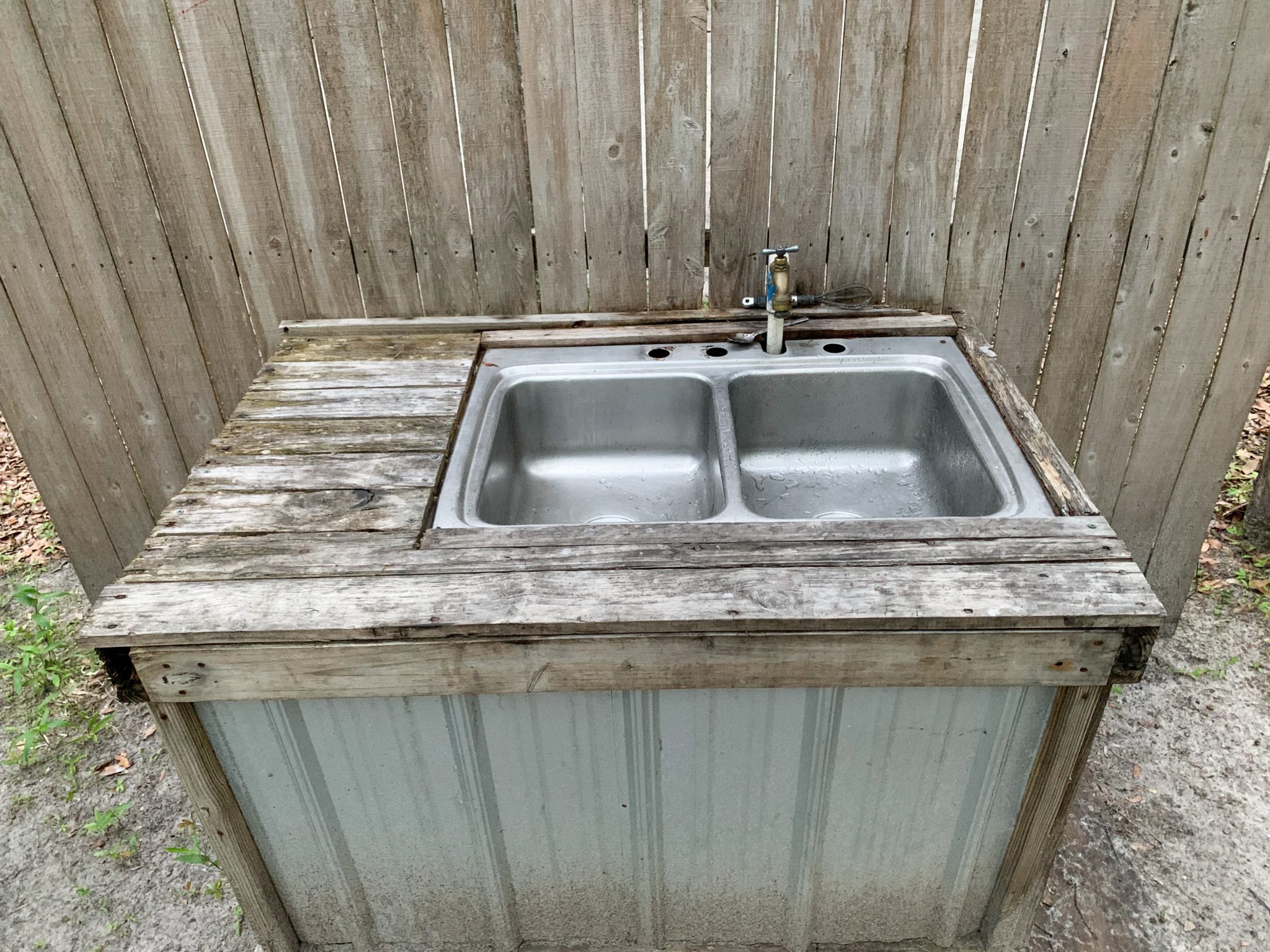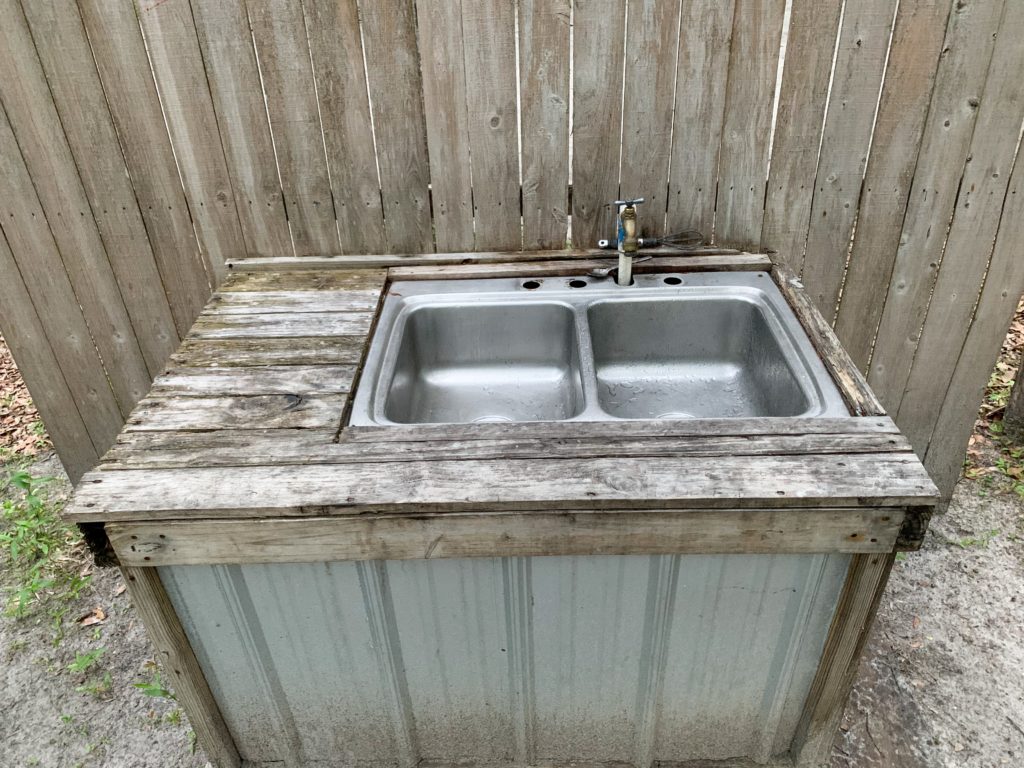 If you're not neurotic about dish washing it'll probably be fine. We are moderately neurotic and we made it work. We saw teenagers use it to do their family's camp cooking dishes; they obviously didn't give any of these things a second thought.
Animals and Wildlife
The campground has resident, free-roaming animals, including dogs, free-roaming cats and other wildlife.
There are: Numerous cats, dogs, pigs, donkeys, a cow, and more.
Inside the office there are song birds and 7 Guinea hens which will patrol the grounds to eat bugs.
Outside, on the property, we saw owls, hawks and a variety of birds
Wildlife in the surrounding area and Ichetucknee Springs State Park:
Fish
Birds
Manatees
Alligators
Otters
Deer
Turtles
Butterflies
Ice and Firewood
The campground has firewood and ice for sale, as well as other basic supplies. The staff will deliver campfire wood and ice directly to your campsite. The prices felt exceptionally fair and reasonable.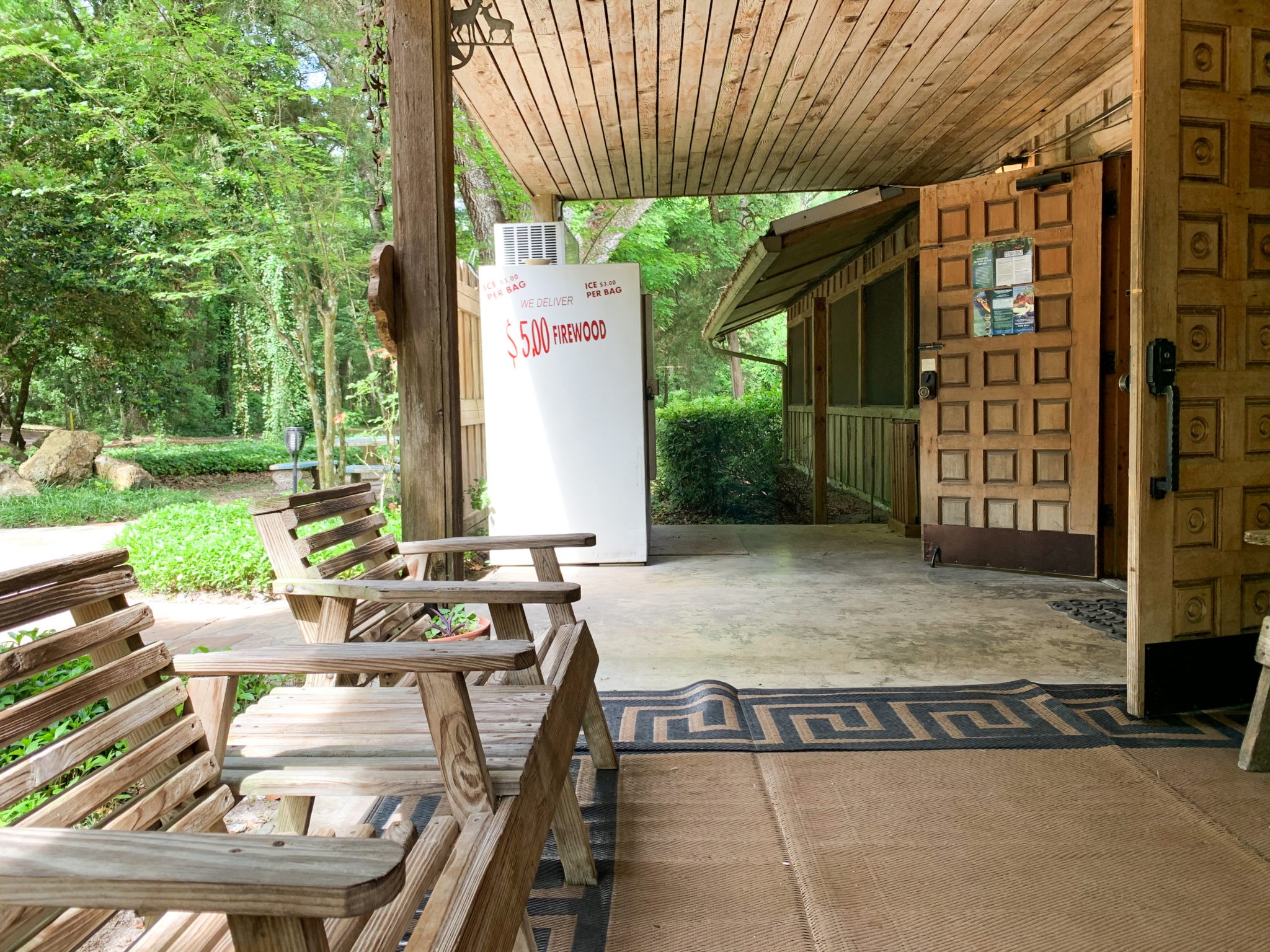 Firewood was $5 for a generous bundle.
10 pounds of ice were $3.
Both are delivered to your campsite, which is great.
There is a strictly-enforced 6 PM delivery cut off, so don't wait until the last minute!
There is a camp store with various items, including basic condiments for grilling, and the sort of items many people forget to bring while camping.
Lighter fluid
Smores kits
Soap
Shampoo
Basic cooking supplies.
The camp store is open:
Monday – Thursday, from 10 am – 5 pm
Friday from 10 am – 6 pm
Saturday and Sunday, 8 am – 5 pm
Tube, Canoe and Kayak Rentals
You can rent tubes at the campground, or at Ichetucknee Springs State Park. Many people prefer to spend their money with local vendors.
Locals rely on the springs as an important economic driver, and have a great incentive to protect the springs, because it's their home.
The concessionaire for Ichetucknee Springs State Park is a large corporation, and isn't locally owned. It has been the subject of controversy and some locals accuse the corporation of trying to limit access to the river and drive them out of business.
They tie the tubes on your car for you, and you leave them at the state park when you're done.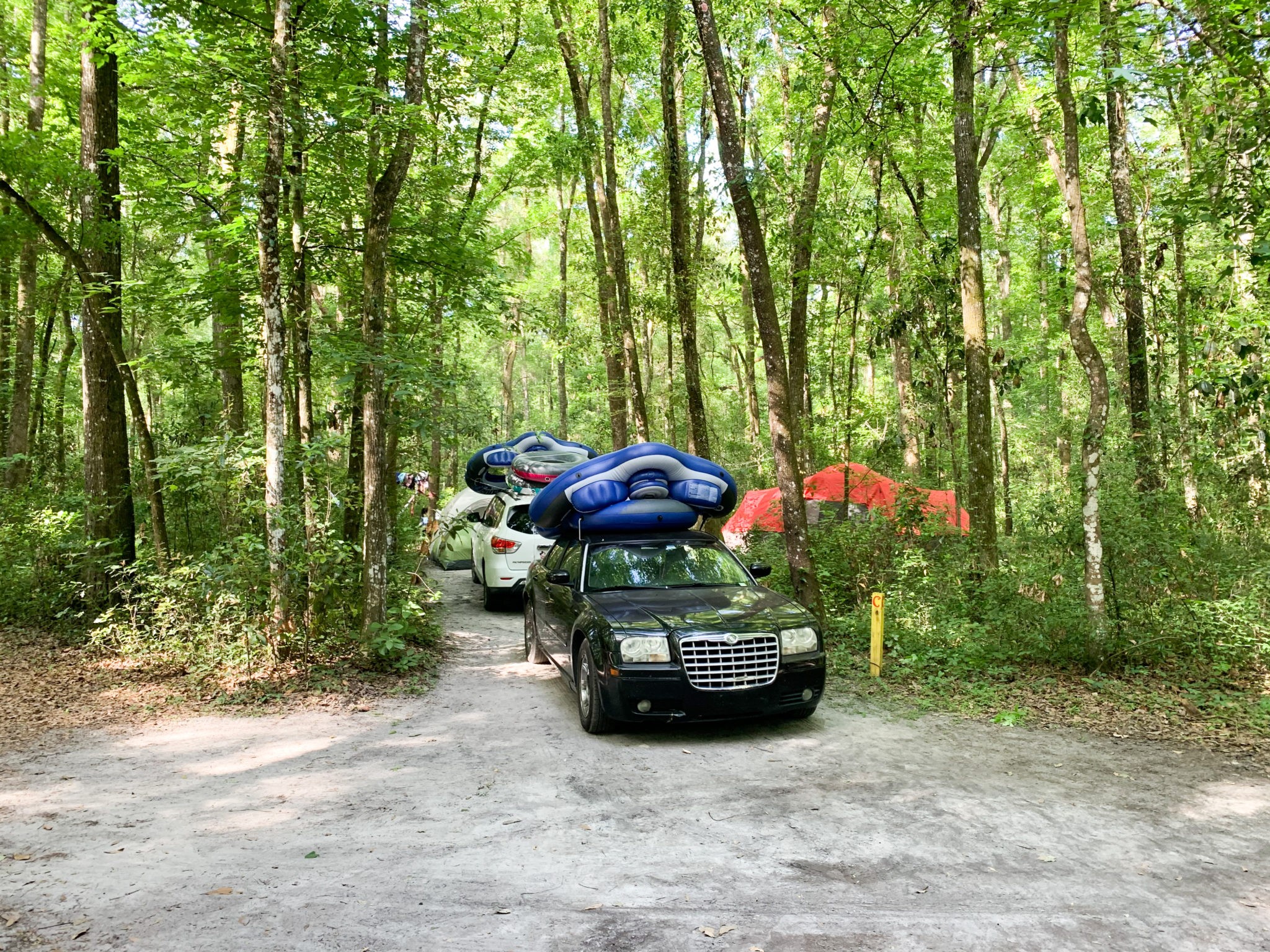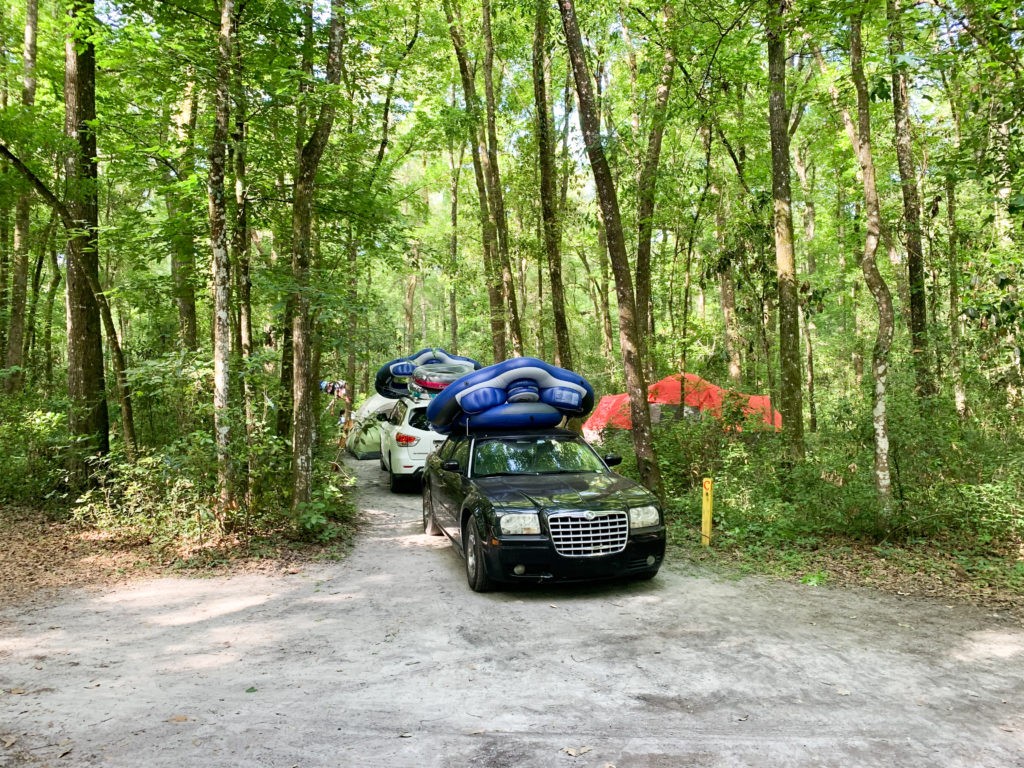 They also had canoes and kayaks, although I'm not sure if they currently rent those out.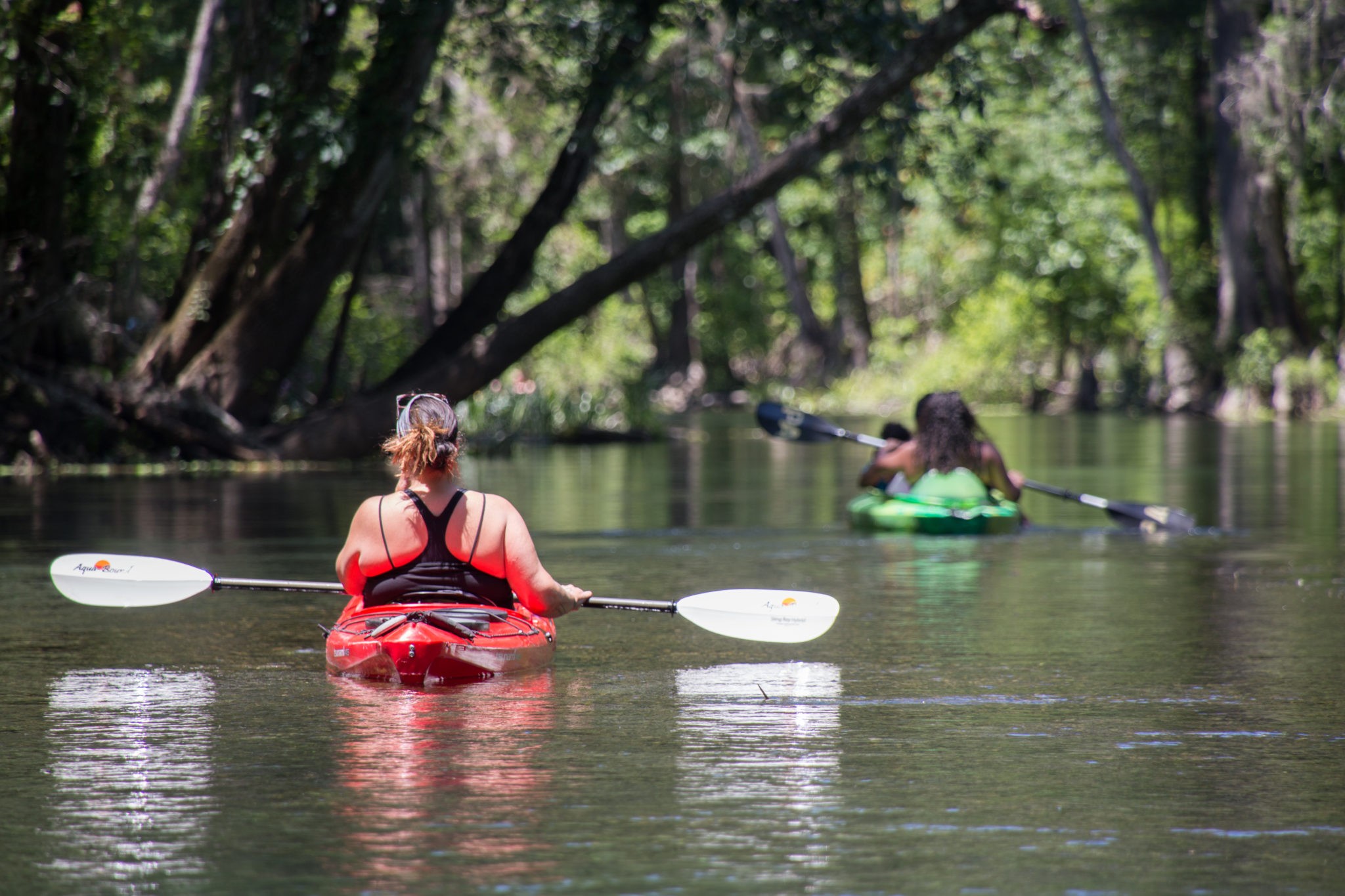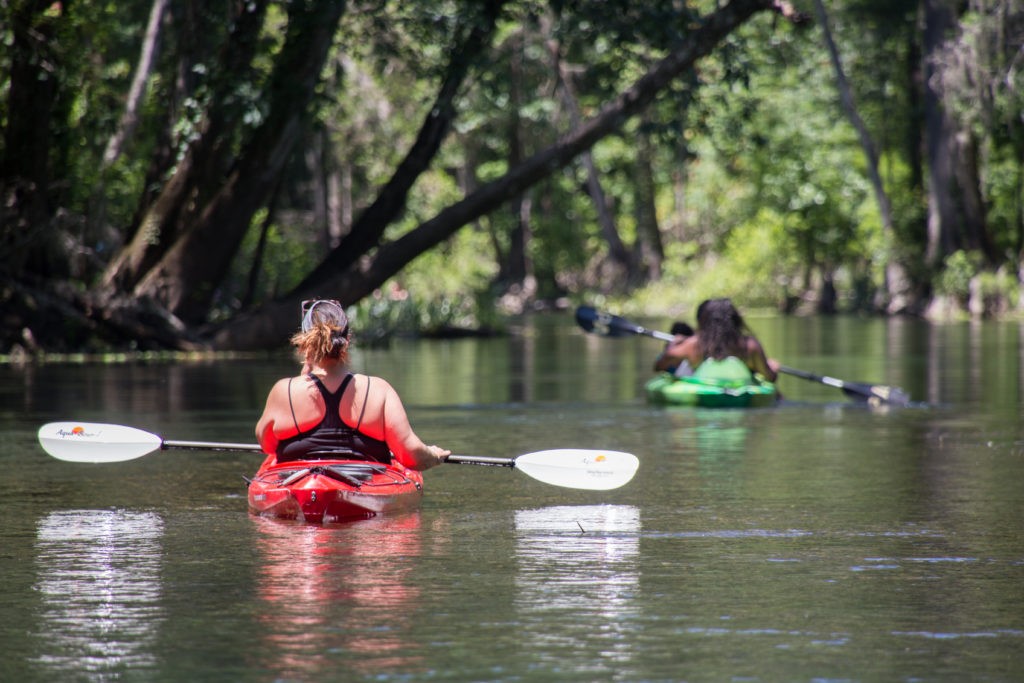 Office and Clubhouse
The club house and offices are in a beautiful, old weathered, wooden saloon building.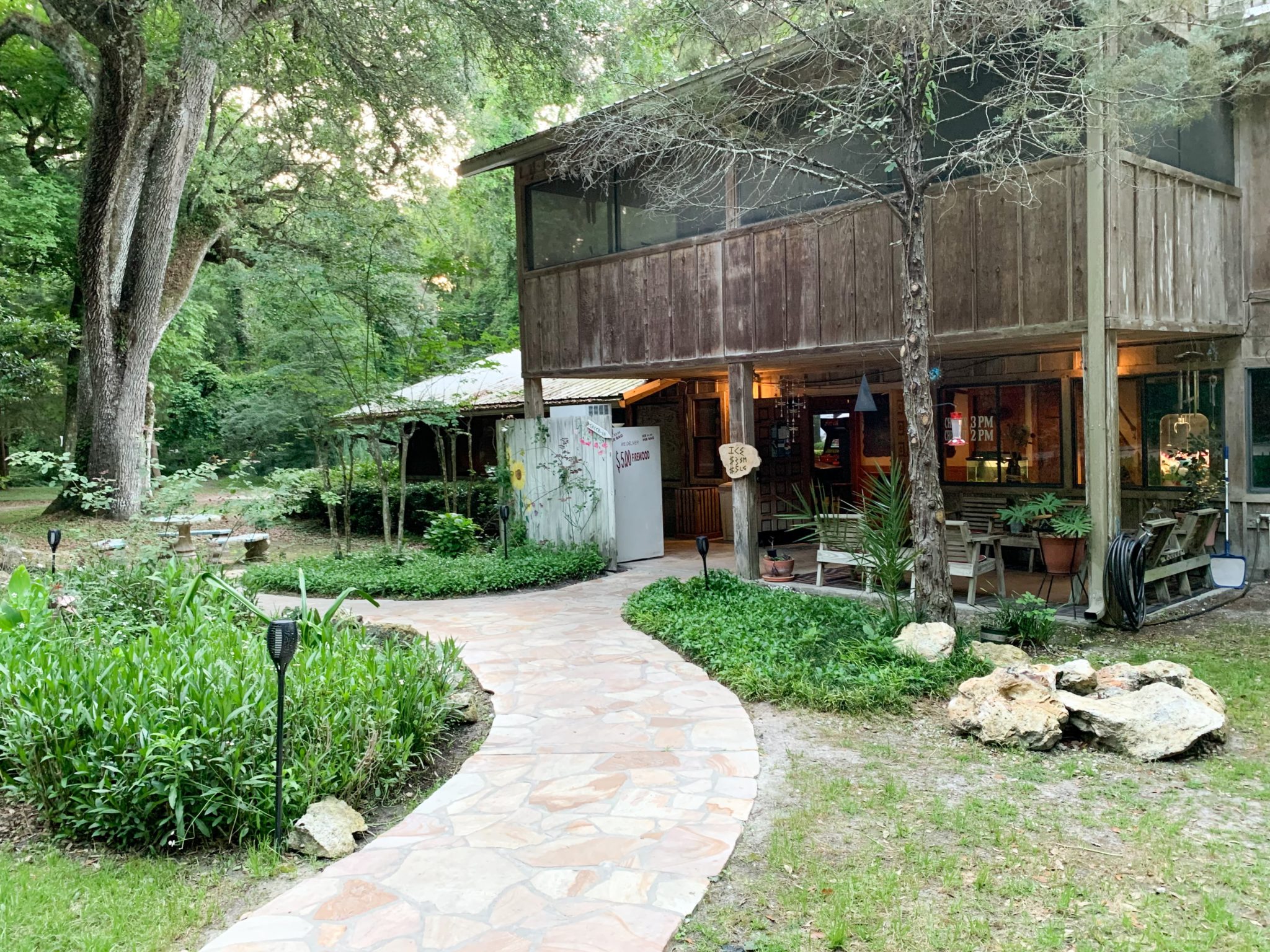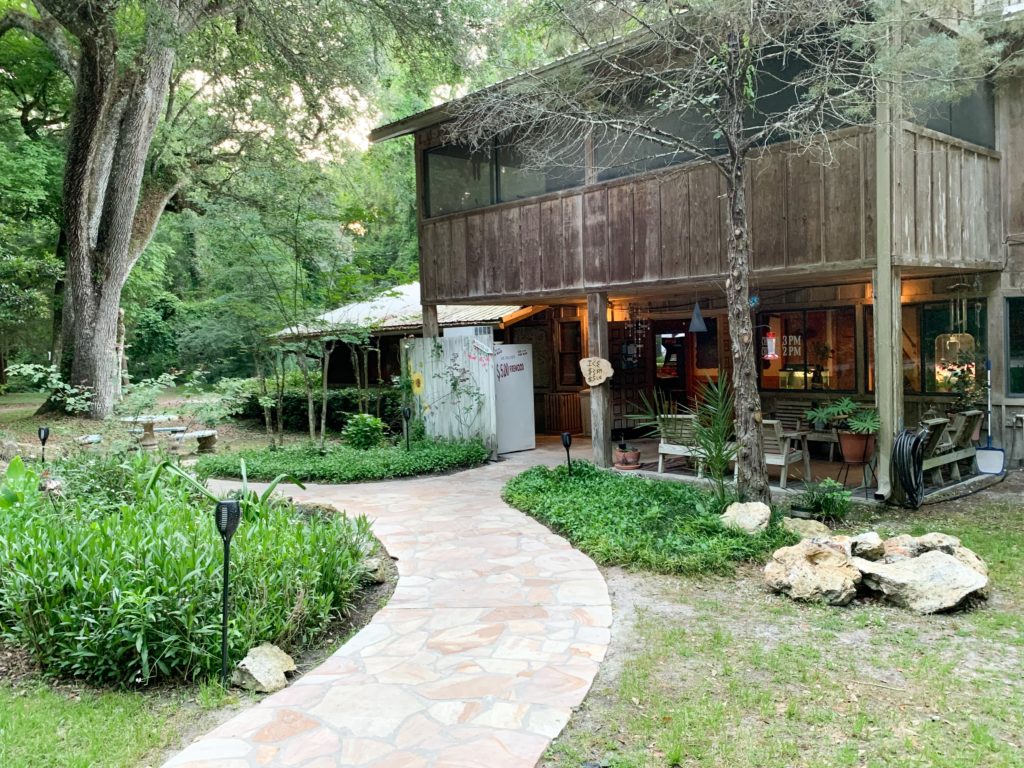 It's surrounded by beautiful, giant old live oaks and well-tended, beautiful gardens.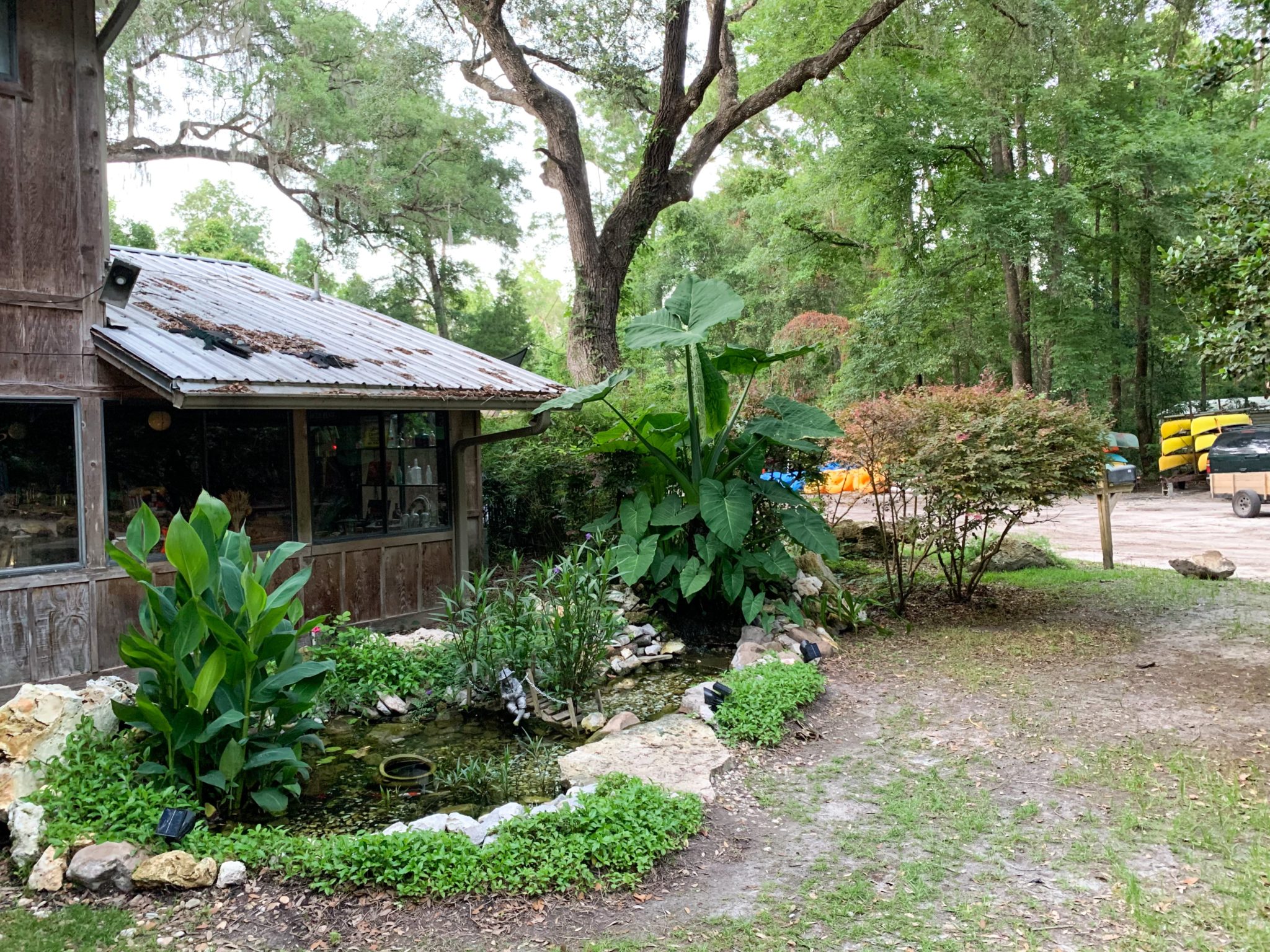 The building itself has a ton of character. Apparently this used to be a saloon and tavern called The Jug.
The check-in office still has a vintage saloon bar, and wooden beer taps.
I felt like this bar must have an interesting history behind it. When I searched, I saw one comment that it may be the famous bar from "Give Me Two Steps" by Lynyrd Skynyrd.
There's a recreation room/arcade with:
Electronic video games
Air hockey
A juke box
TV
Pool tables
Wifi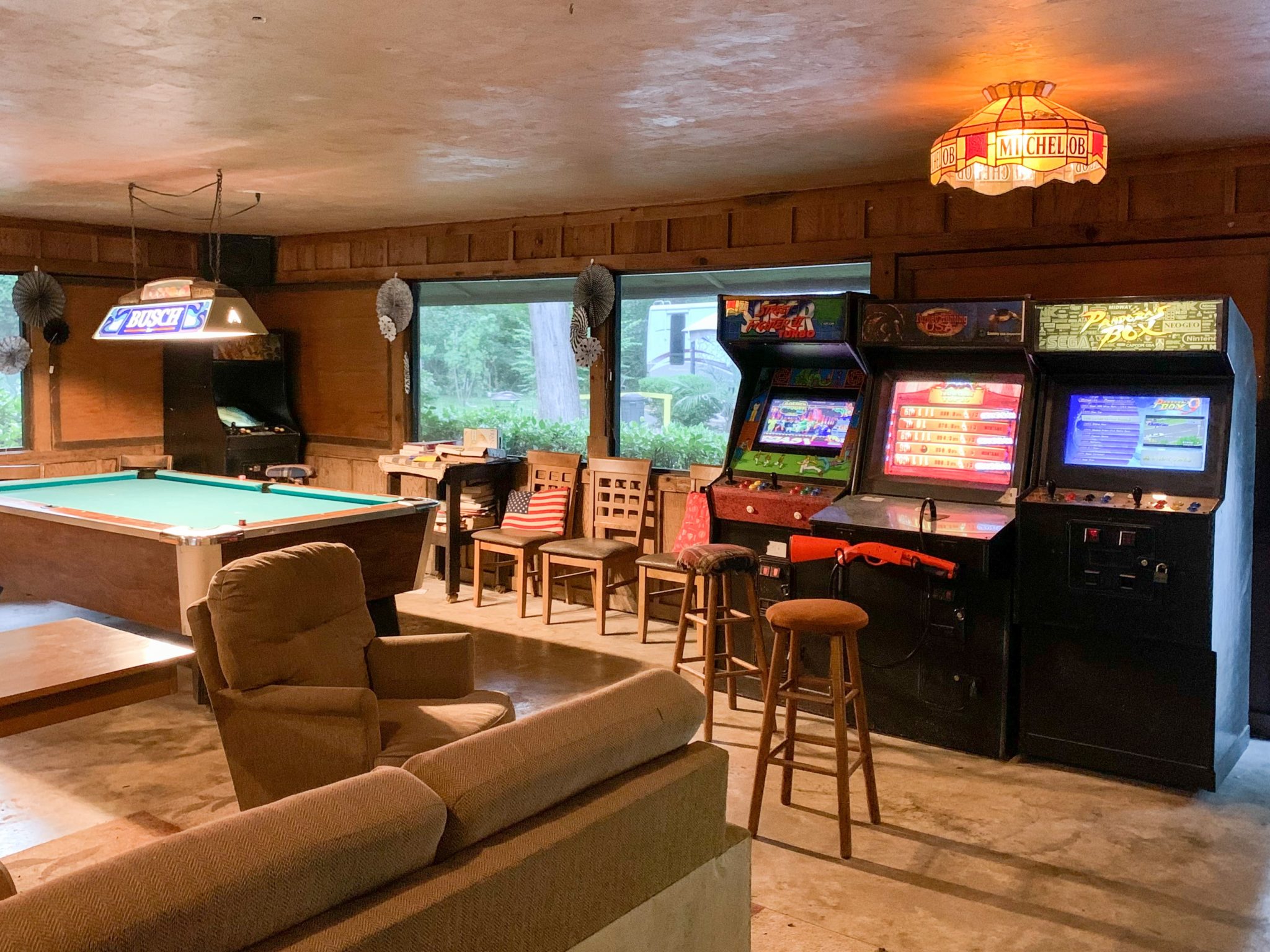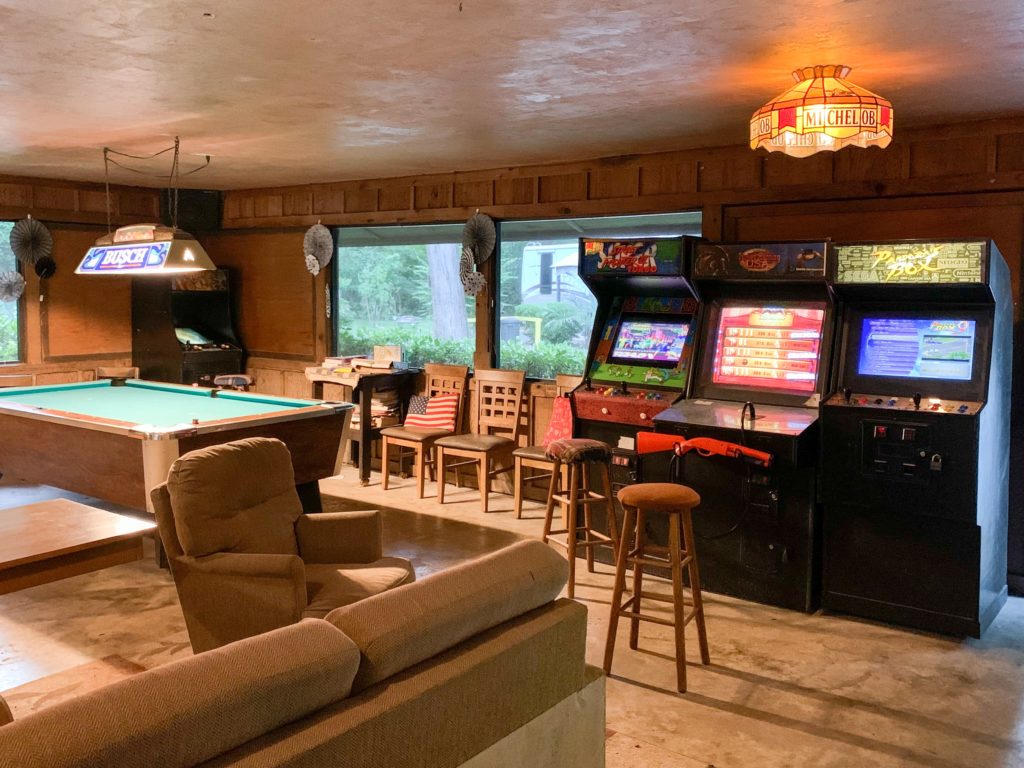 There's also a massive old stone fireplace which would be perfect on a cold winter night.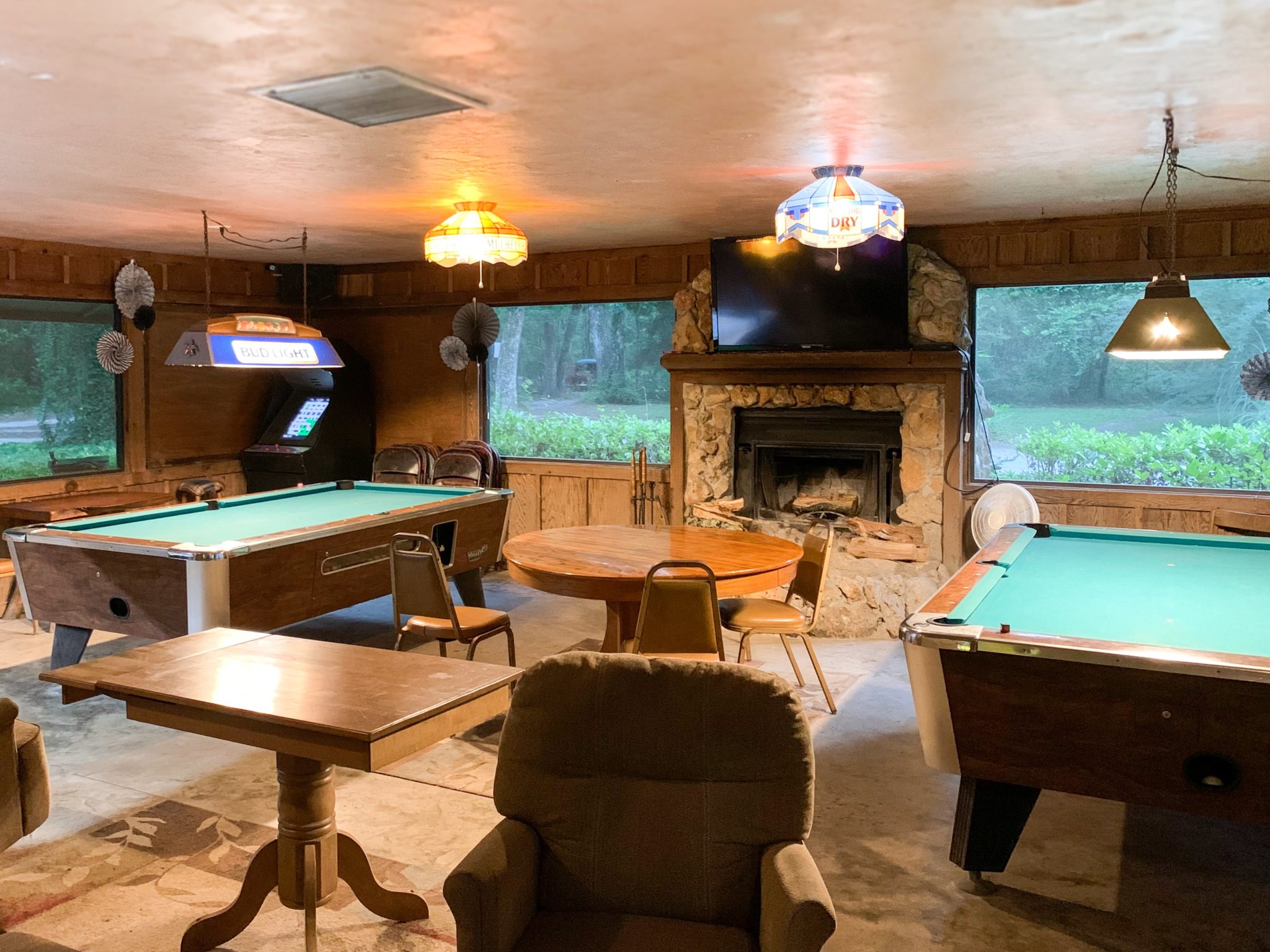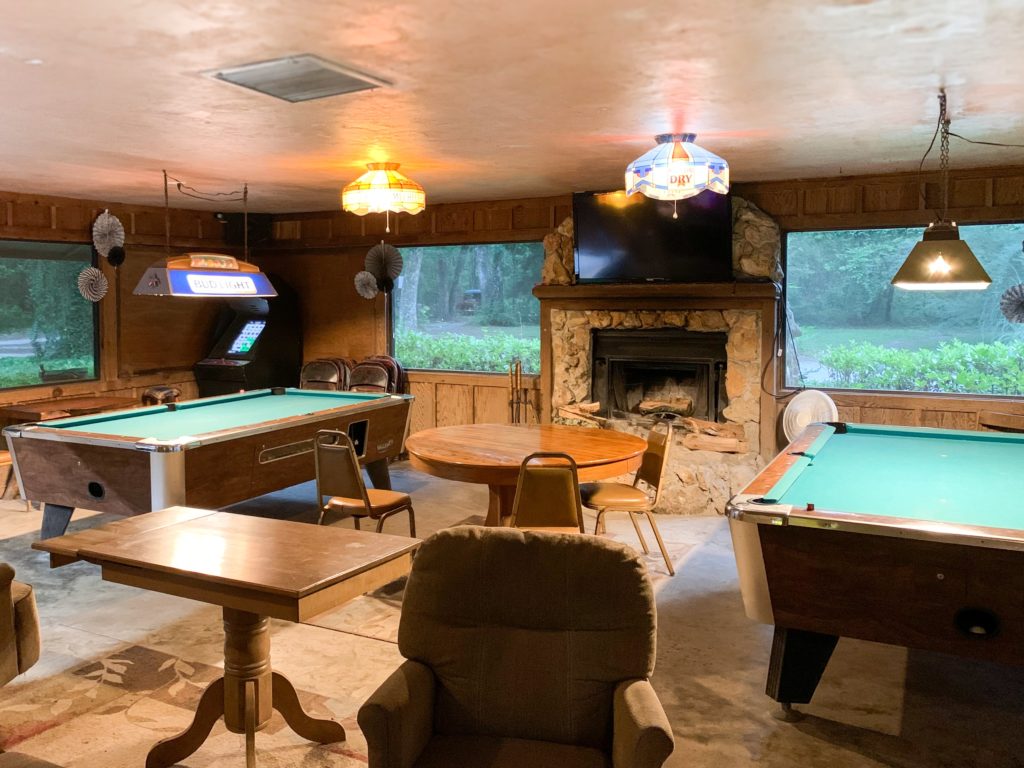 Clubhouse hours
Monday-Thursday 10 a.m. – 11 p.m.
Friday-Sunday 8 a.m. – 11 p.m.
Best Time to Visit
I think that the best time to visit is during the shoulder seasons of Spring and Fall. It'll be less crowded, and it'll be easier to enjoy the peace and quiet of nature.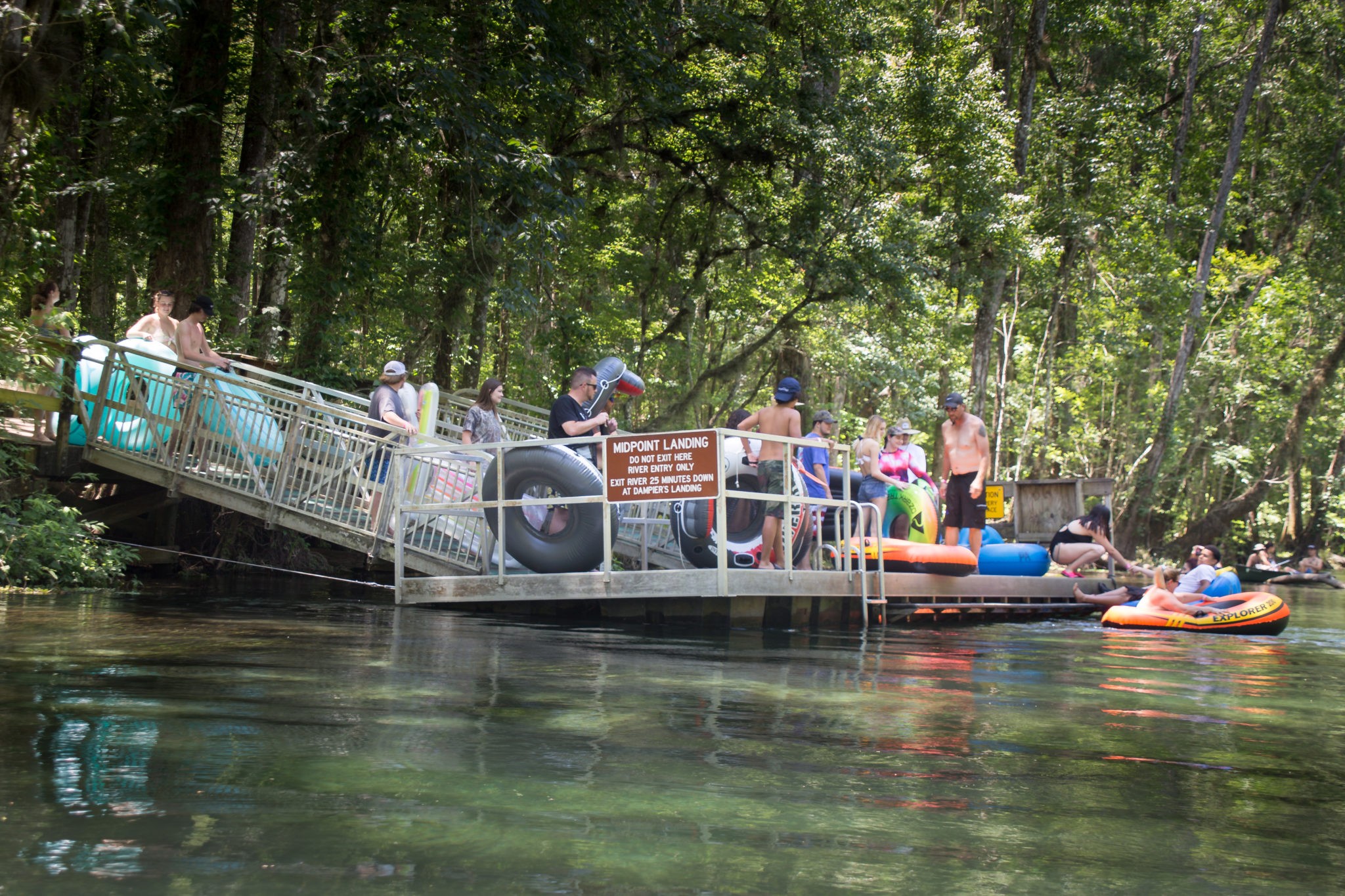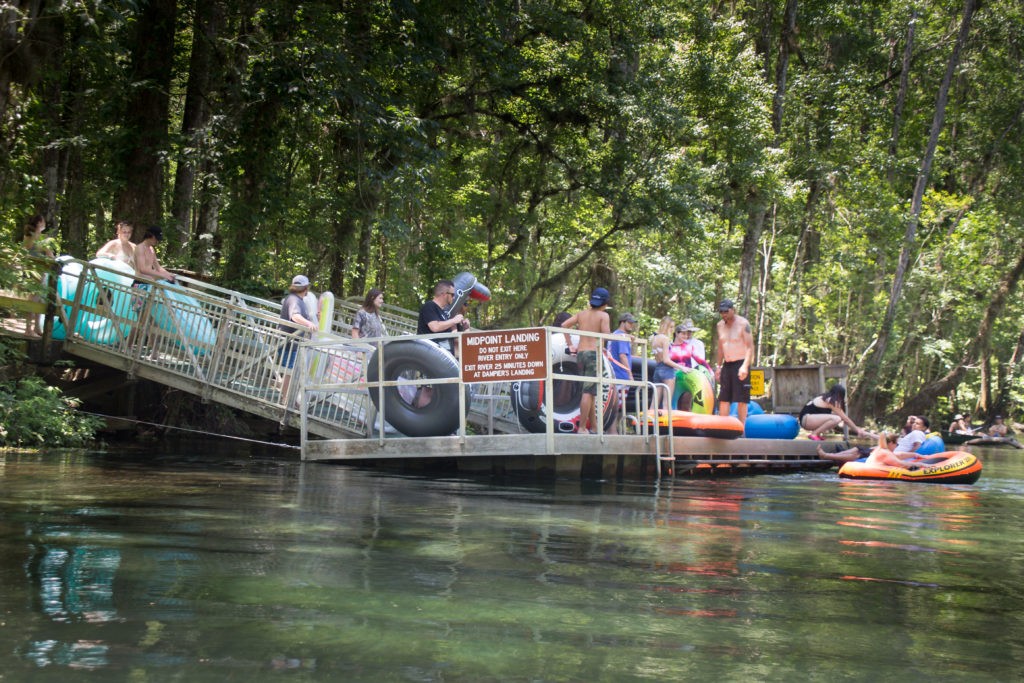 In the summer, hot and humid weather can make camping uncomfortable.
In the winter, the weather may be too cold to swim comfortably, if that matters to you. If you don't care about swimming, then winter camping might be fantastic.
Our most recent visit was in late May. We were very happily surprised by the weather! It was absolutely perfect for camping.
Low temperatures were in the lower 50s and high temperatures were in the lower 80s.
It was very comfortable weather for both cool, comfortable sleeping, and swimming in the springs during the hot afternoons.
We were also happily surprised by a total lack of mosquitoes or bugs!
That said, the rainy season in this part of Florida can be intense. Rain and humidity usually begin in June, and heavy downpours with strong winds are a daily occurrence.
Holidays and Events
Ichetucknee Springs Campground gets very crowded on weekends and holidays.
Ichetucknee Springs State Park gets extremely crowded at times. It's especially packed between Memorial Day and Labor Day, when visitors are allowed to tube from the north river entrance.
The campground felt very quiet and peaceful, even while filled with crowds and groups. In the off-season, or during the week, I imagine it would feel very private, sleepy and quiet.
Family Campground and Groups
One thing to note is that, especially on weekends and holidays, this seems to be a very family and group oriented campground.
We often thought to ourselves that the campground felt like being transported back in time. Groups of well-behaved, polite children walk around together and played games.
All of the kids we saw seemed very well behaved. They said please and thank-you, and seemed to have unusually high awareness of how to conduct themselves properly. They said hello and interacted with us, as unfamiliar adults, with excellent manners and confidence.
Again, the kids we saw were all very polite, quiet and respectful. But, if it matters to you, you should be prepared to see lots of kids, at least on weekends or holidays.
Some of the campsites were surprisingly crowded with large groups. We laughed at the site because a few sites seemed to have 10 different tents piled into them, and very large families.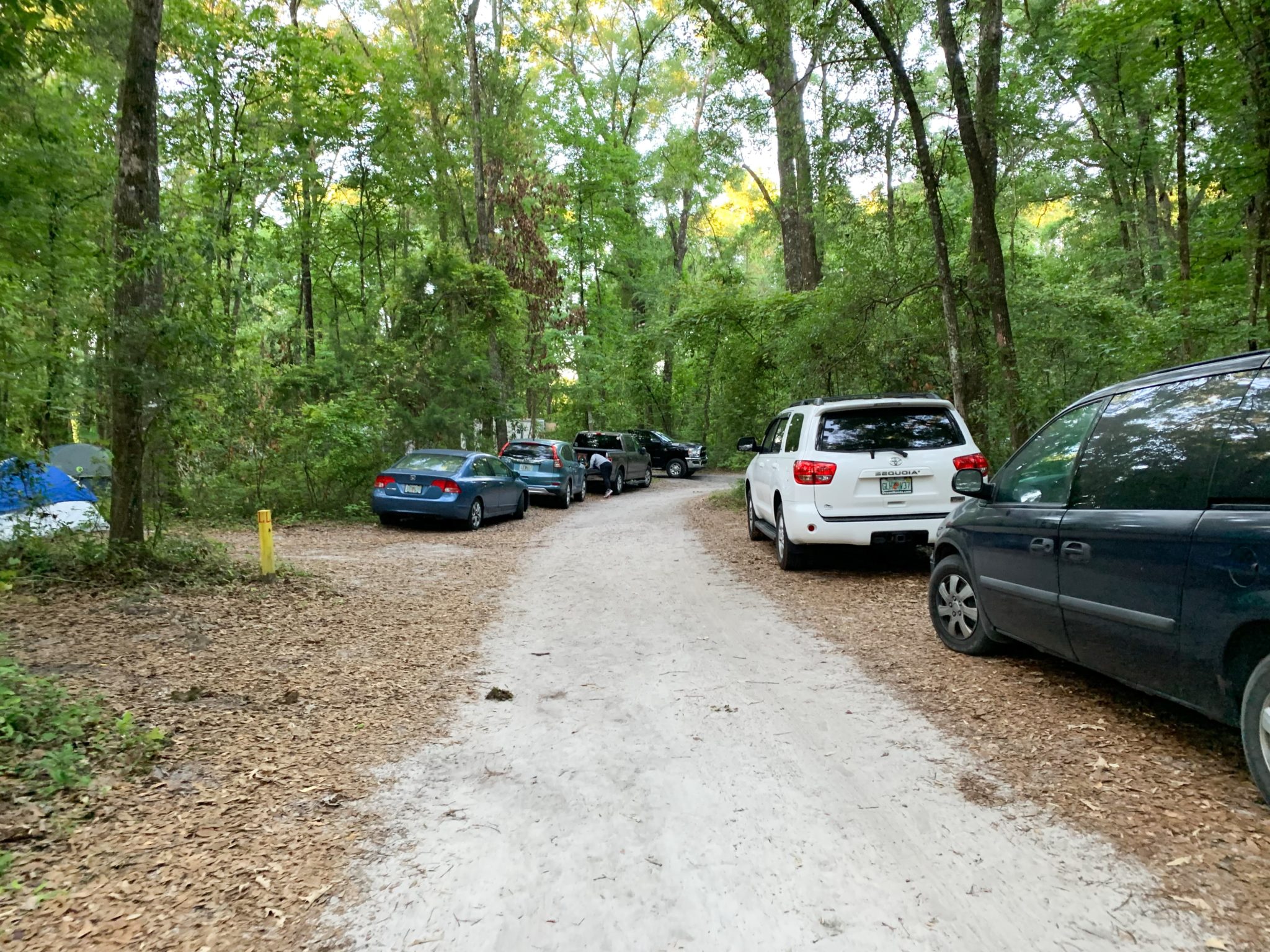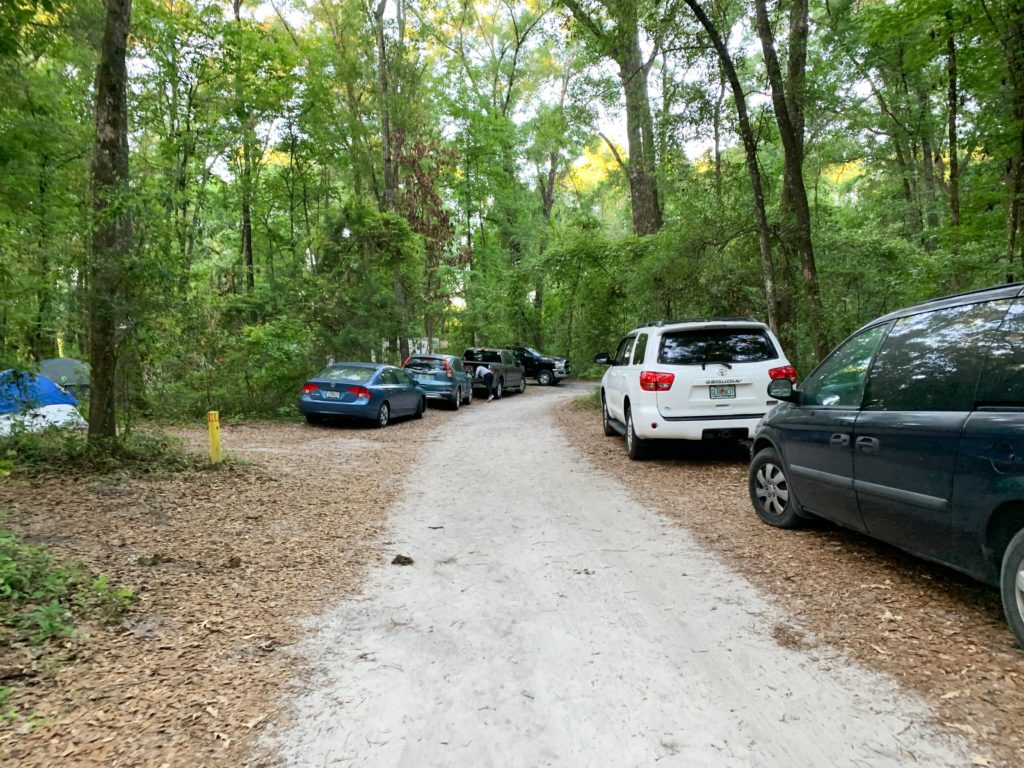 When we visited over a weekend, we camped next to a boy scout troop. On Friday night, car after car rolled into their spot, after dark. It felt like a military invasion. We wondered if they'd be loud, but they were impressively quiet and respectful.
Some other campsites played loud music, which was mildly annoying at times. But, overall it wasn't terrible, and it actually stopped pretty early.
When checking in we were given the owner's cell phone number and told to feel free to report any after-hours noise problems. I think he would do a great job of handling any issues.
Things to Do
The main attraction, and most popular thing to do in Fort White, is to visit the natural springs.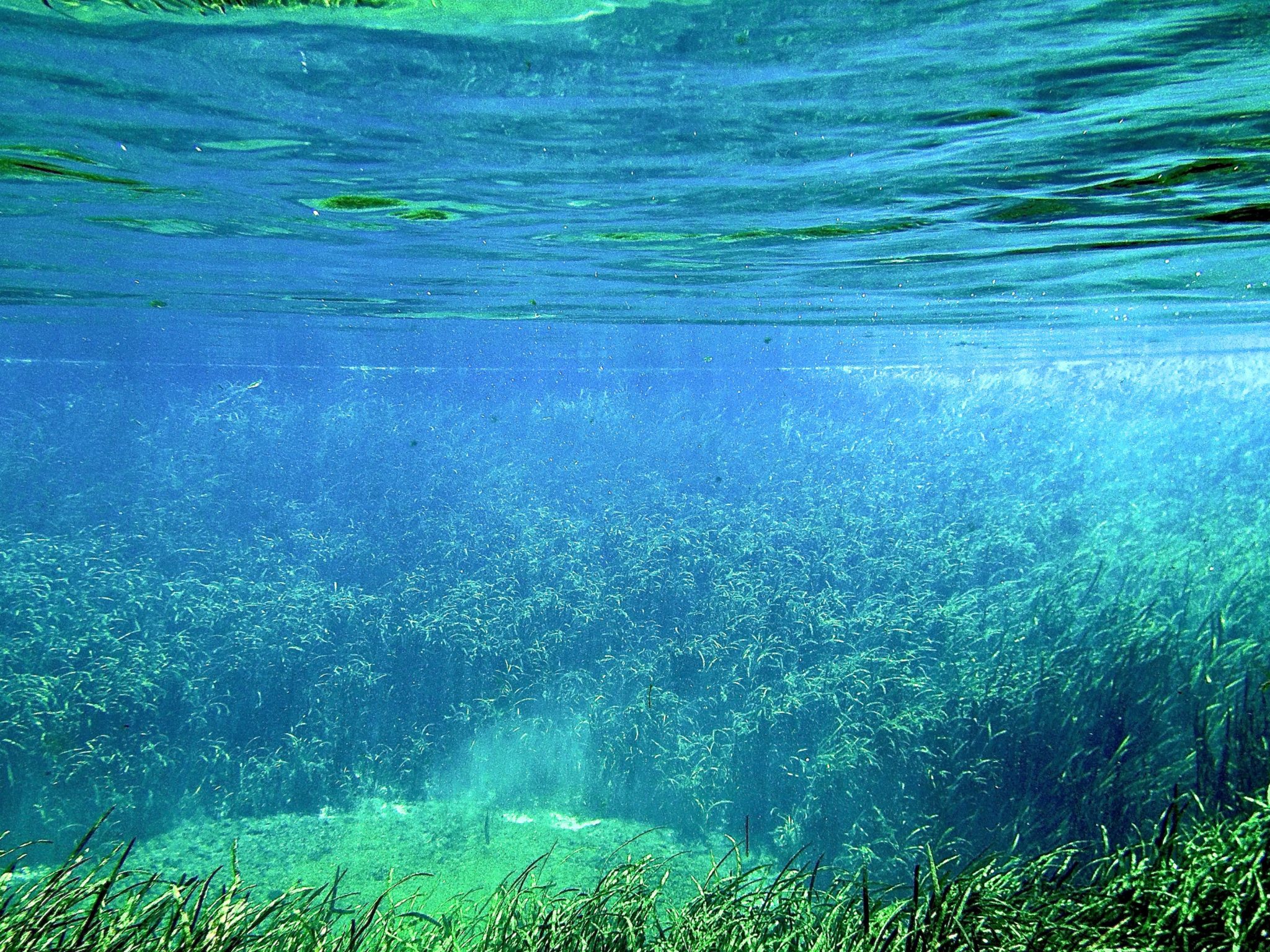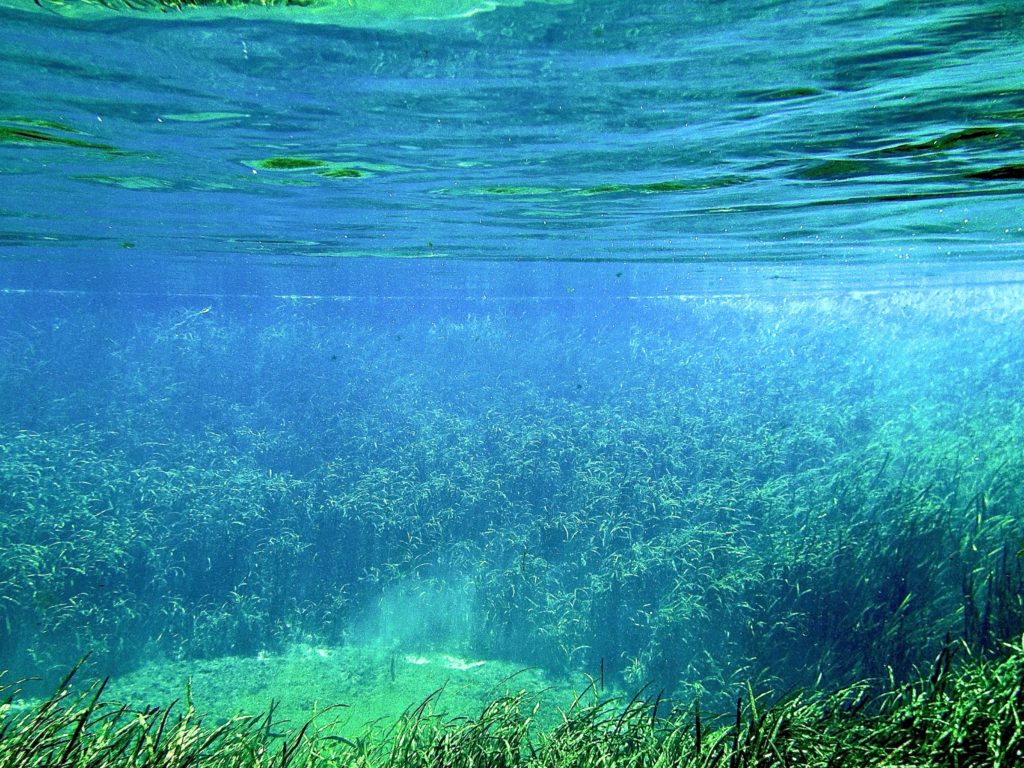 There are several springs nearby, so this is a great place for exploring the area.
Ginnie Springs
Poe Springs
Gilchrist Blue Springs State Park
O'leno State Park
Troy Springs State Park
Devil's Den
Events and Holidays
There is a large bonfire held monthly. There are also regular outdoor movie screenings on a large projector screen.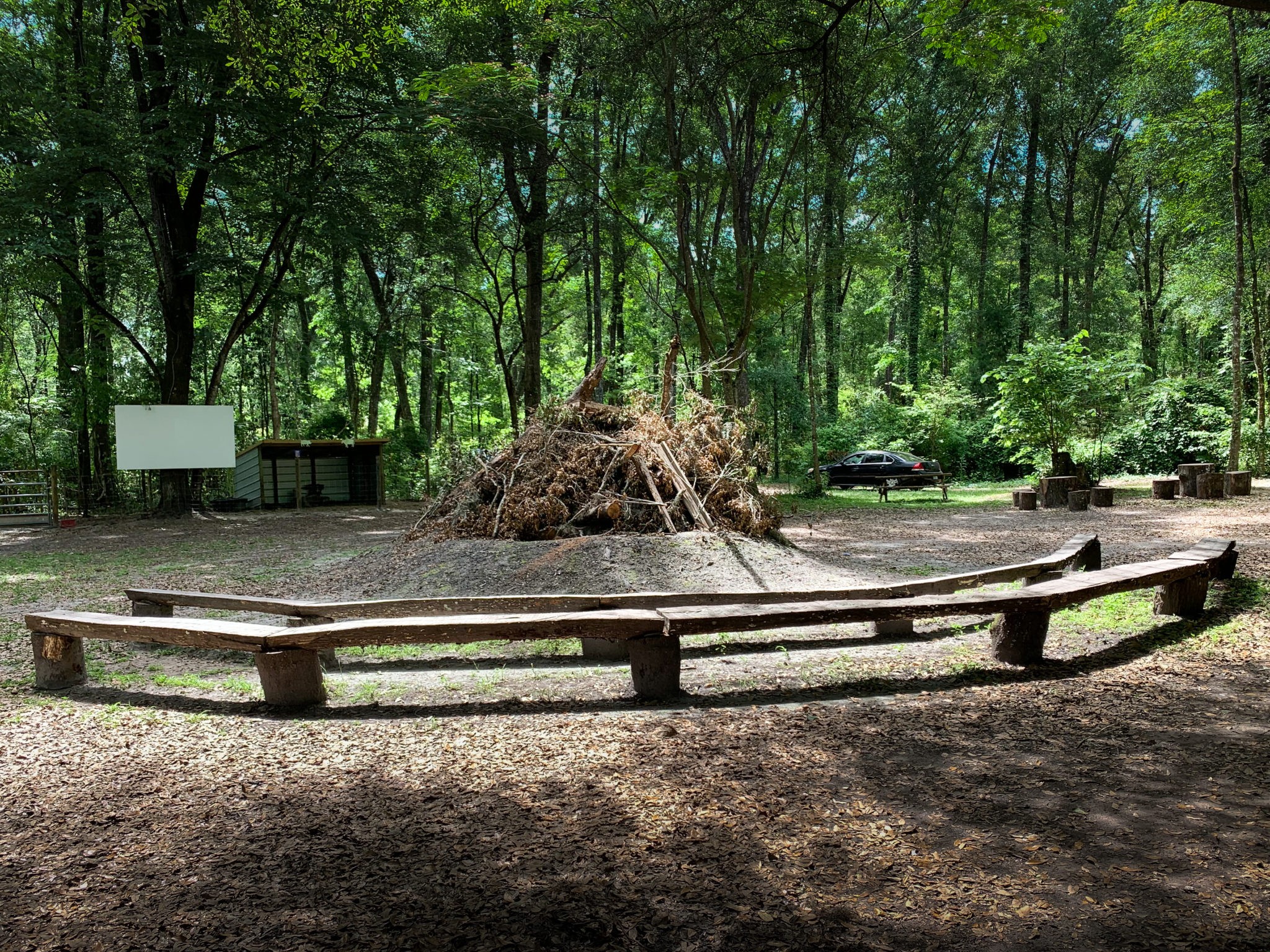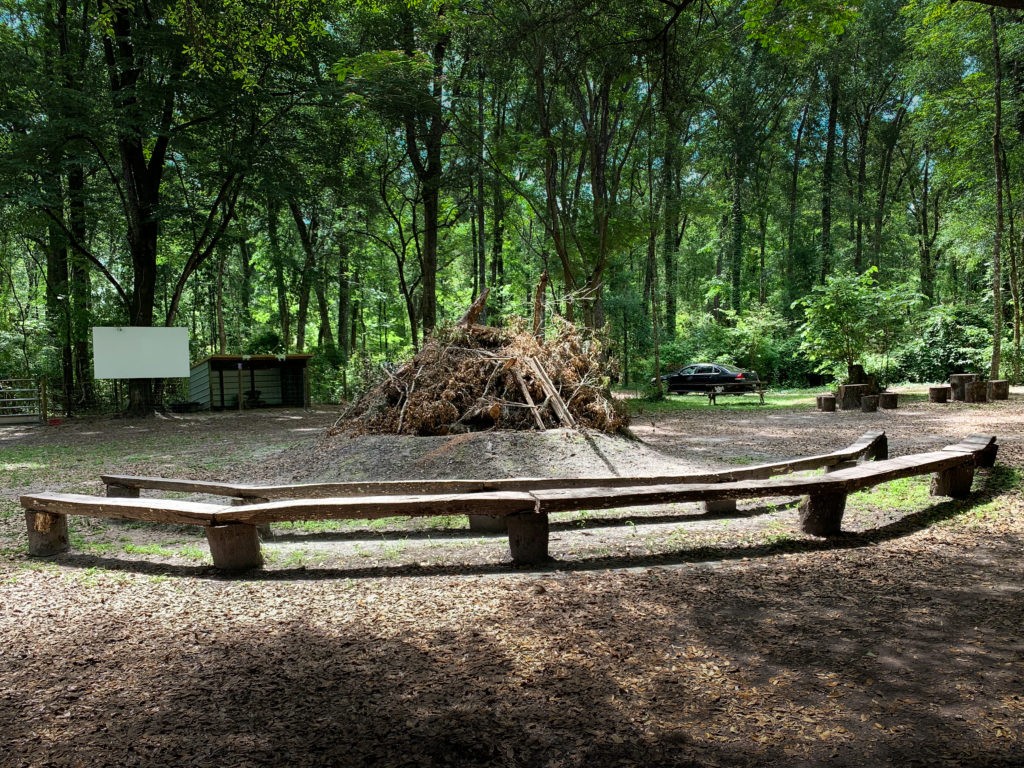 There is a nice basketball court, an open field for activities, a volleyball net, cornhole, soccer, and more.
On holidays they have fireworks, including the 4th of July and New Years Eve.
Ichetucknee Springs Campground also serves as a wedding venue and for other gatherings, including family reunions and group camping.
Pet Policies
Pets are allowed in the Ichetucknee Springs Campground. There are some policies to know:
They can't be left unattended
They are not allowed to bark excessively.
There are other restrictions as well.
Be sure that you know the rules and plan ahead!
Ichetucknee Springs State Park Pet Policy
Since most people who come to the Ichetucknee Springs Campground will visit Ichetucknee Springs State Park, it's worth mentioning this, as well.
Dogs are allowed inside Ichetucknee Springs State Park. But, there are restrictions. Dogs are only in designated areas, cannot be left unattended, and are not allowed on or near the river or water.
There are additional rules, as well. Again, if you'll bring a pet, be sure to know the rules and plan ahead.
Pros and Cons of Ichetucknee Springs Campground
Pros
The location is fantastic and very convenient to Ichetucknee Springs State Park
The campground is beautiful
The availability was great — we were able to get a spot on short notice
The hosts/owners seem to be doing a great job
The "feel" is excellent
The facilities were clean and well maintained
Very family friendly
Cons
The campground needs more flush toilets and showers
Online booking systems would be nice, although this may carry its own downside!
Before booking, it felt like it would have been good to have more info. But, everything worked out great!
It would be nice if they accepted credit cards
Don't know which campsite you'll get
Large crowds and group campers
Common Complaints
There is one common complaint, which I think is valid.
The bathrooms are not adequate for the amount of campers, especially on weekends or during busy times.
There is only one bathroom with flushing toilets, located in the clubhouse. There is often a line to use it during crowded times.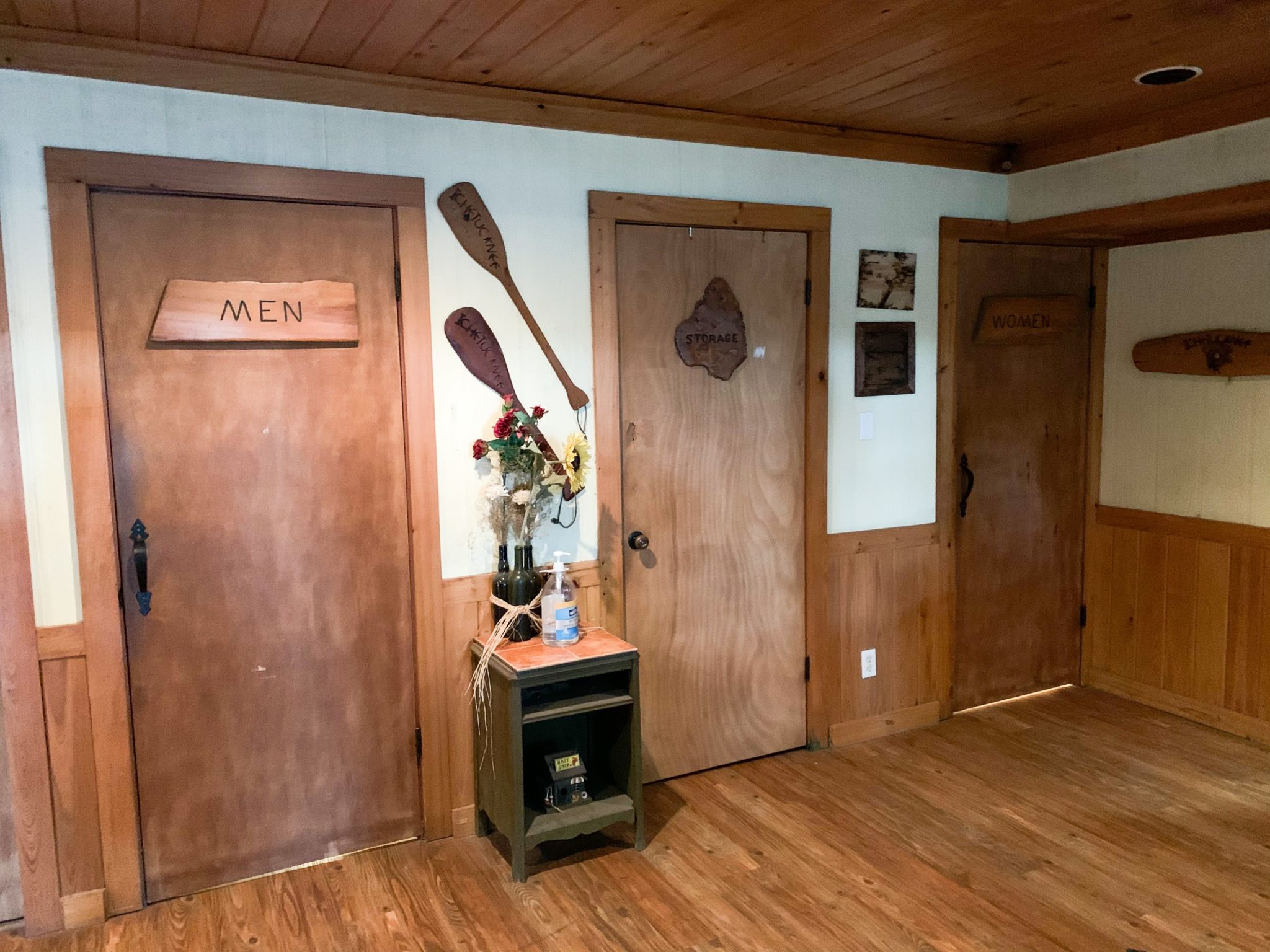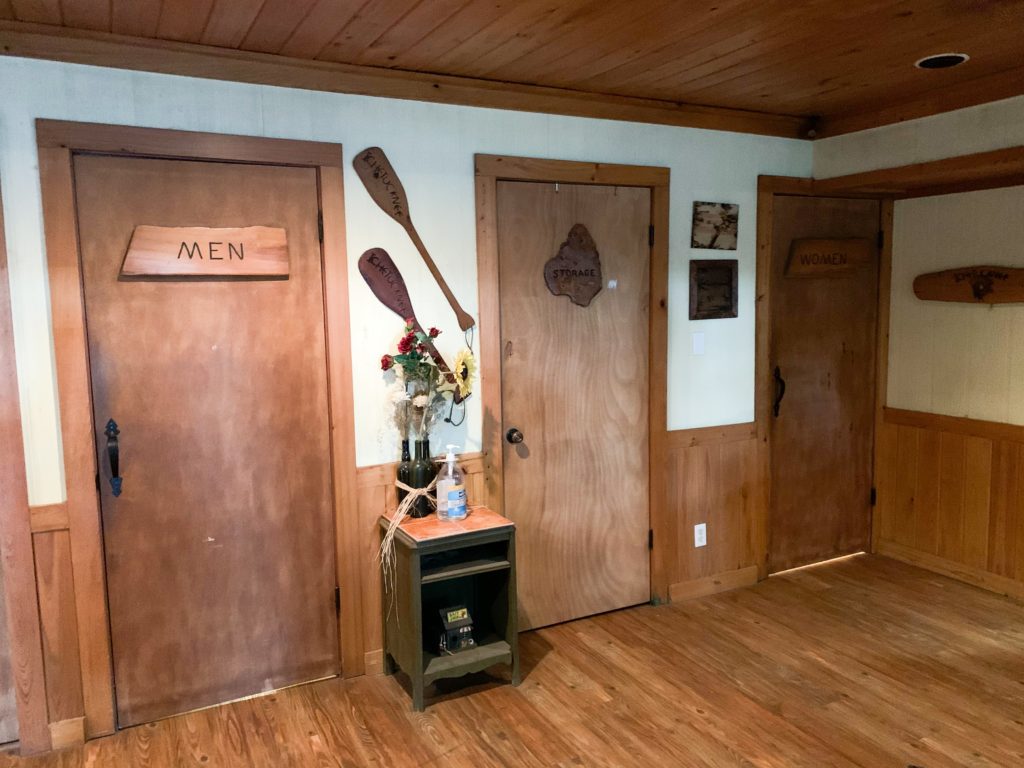 You know what they smelled like? Bleach. There was always soap in the dispensers, and paper towels.There are porta potties in the campground, but many people prefer not to use them, for obvious reasons.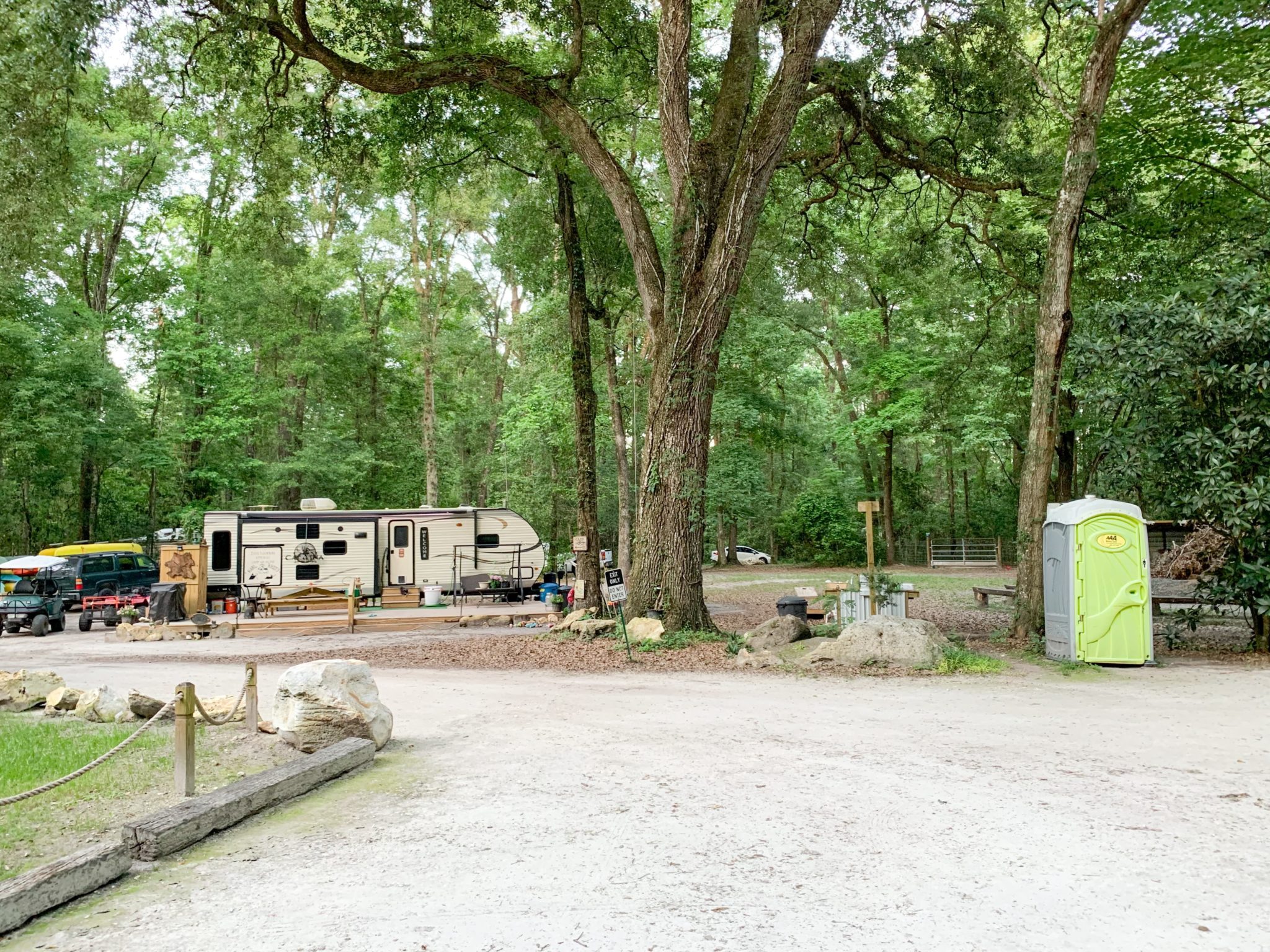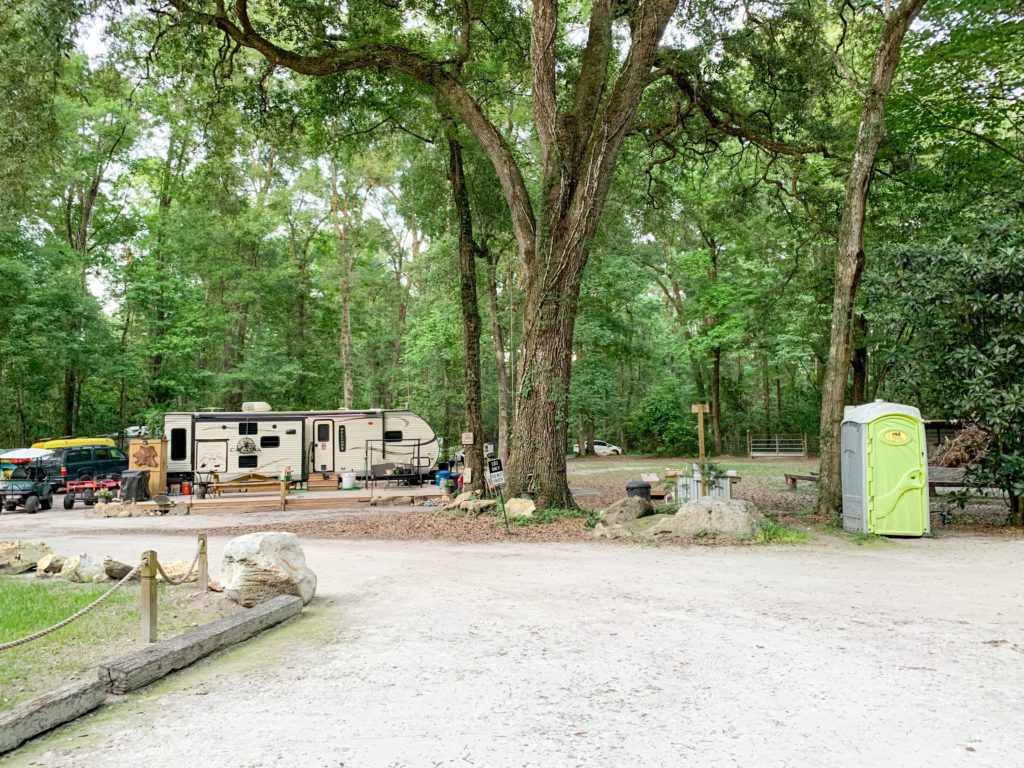 There was one set of showers, with two stalls. They are located behind the clubhouse.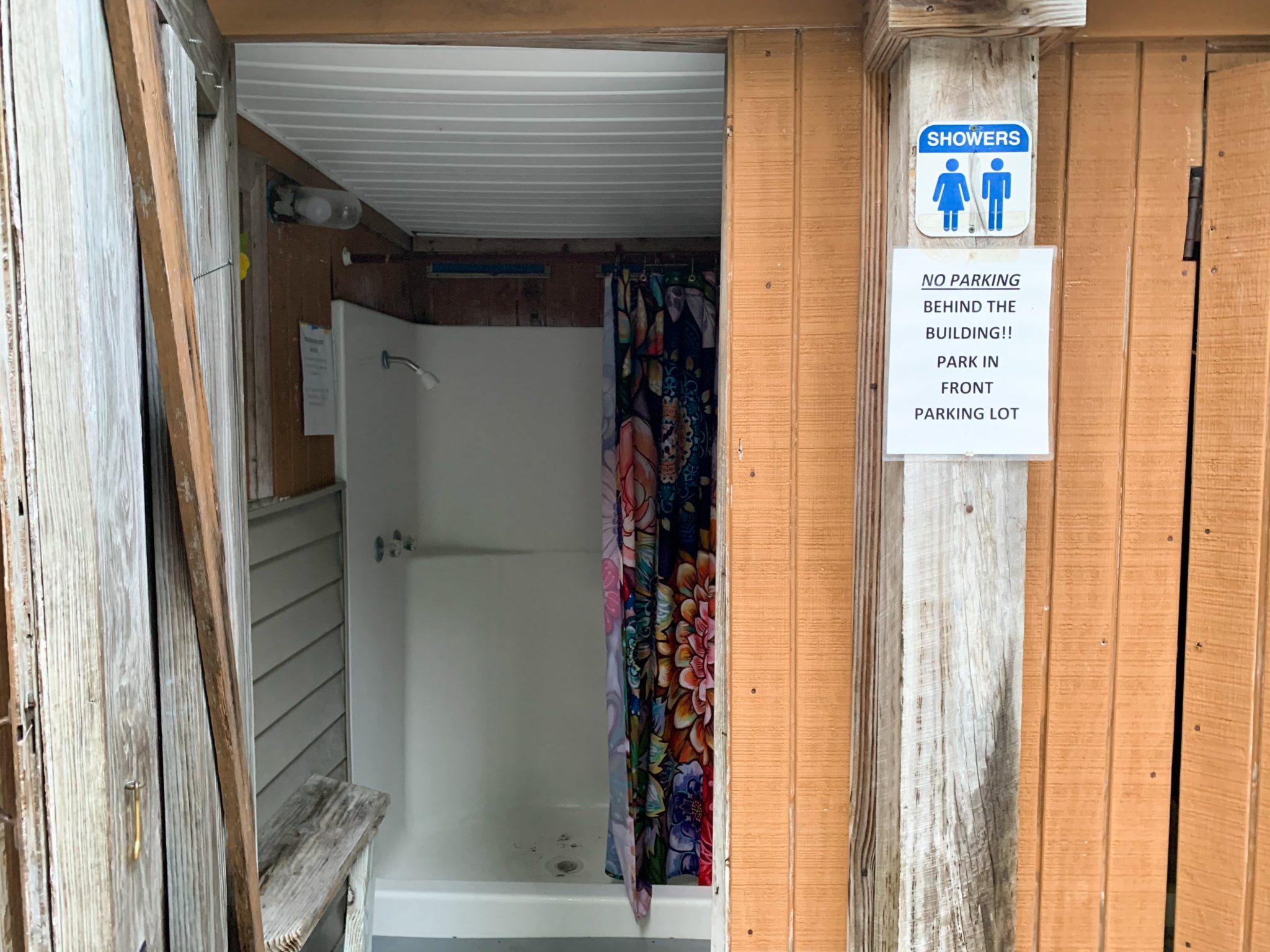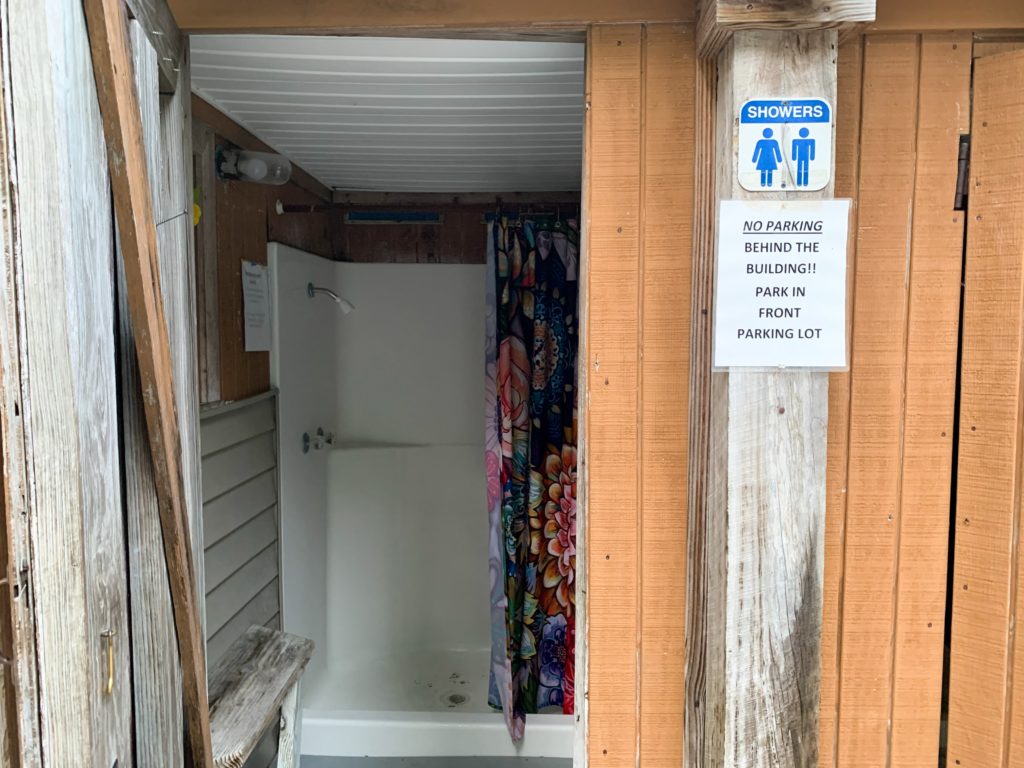 A sign advised that it could take 5 minutes for hot water to flow. The sign also required users to spray the shower after use.
My only thoughts on this are that 5 minutes is a long time to waste water while waiting for it to heat up!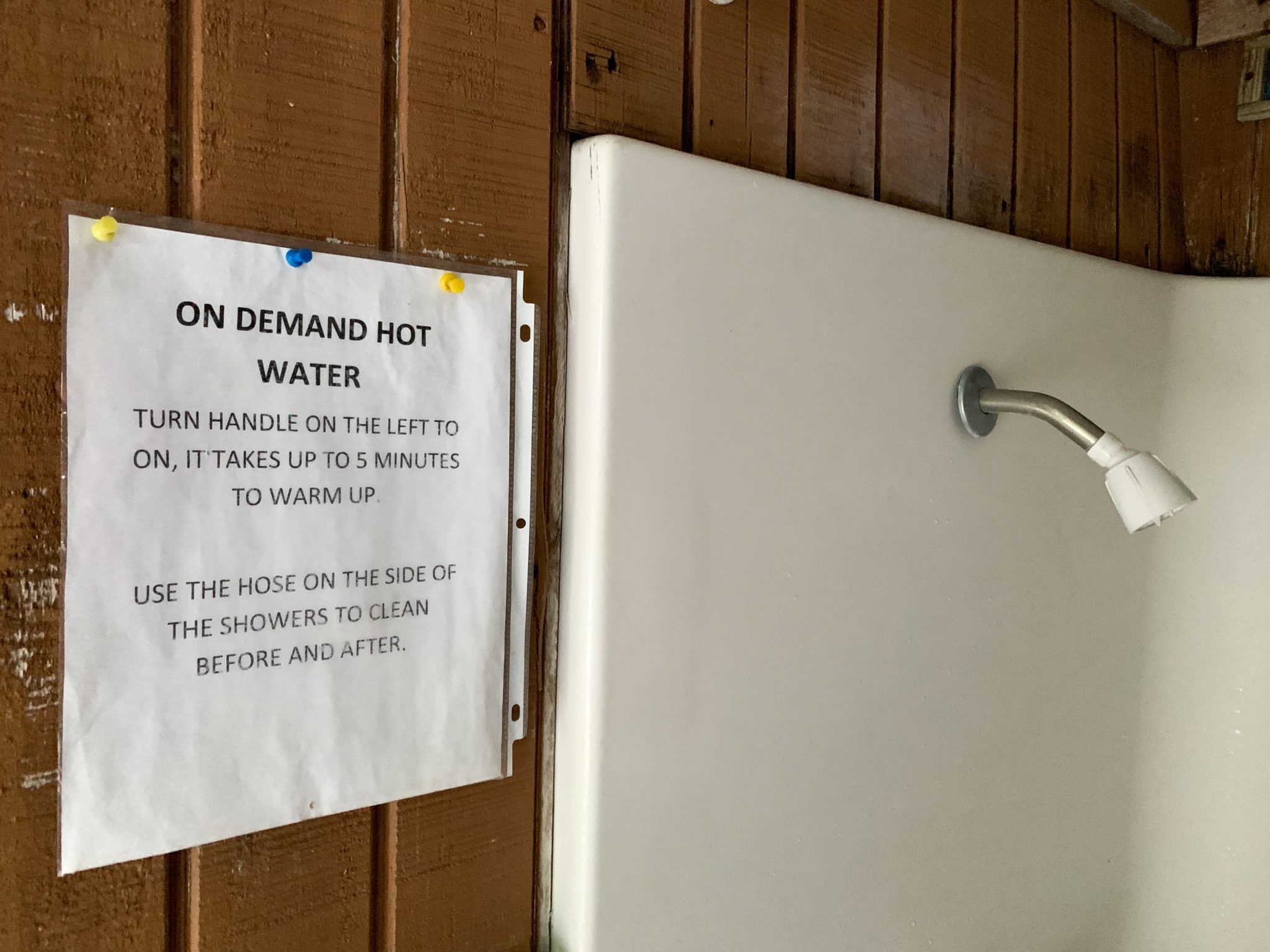 Final Thoughts
Overall, we loved camping at the Ichetucknee Springs Campground. We can't wait to go back!
We didn't have a chance to speak with the campground owners. If we did, I would have liked to have told them what a great job they've done.
Based on wide travels, we've seen an amazing variety of campgrounds. This is one of the best. The location is fantastic, and the owners have done a great job. An amazing amount of hard work has clearly gone into the place.
I feel certain that the next time we visit– and we will– it'll be even better. We can't wait to return!
The word "Tiwahe" is featured prominently on the front sign — it's the first thing you see when you pull up to the clubhouse.
"Tiwahe (ti-wah-hay) means family. It symbolizes how we are connected to all living things and one's personal responsibility is to protect family, community, and mother nature."
The owners have done a remarkably good job of living up to that ideal.