Ichetucknee Blue Hole Spring is my favorite spring in Florida.
I can never wait for the next trip. It's hard to capture the beauty of this place with words, or even photos.
Ichetucknee Springs State Park gets extremely crowded during the summer. If you'll visit, I highly suggest arriving as early as possible!
Some activities will be limited due to high crowds, and the park can be closed if it reaches capacity.
The last time we visited we stayed in the Ichetucknee Springs Campground and had a great trip. We were able to arrive very early, and enjoy the springs while they were empty, before the crowds arrived.
Millions of people visit Ichetucknee Springs State Park every year. But, most people come for tubing down the Ichetucknee River.
The northern section of the park, and Blue Hole, are slightly off the beaten path. Fewer people visit Blue Hole Spring.
Blue Hole Spring isn't suitable for children or weak swimmers. Really, only strong swimmers should swim in Blue Hole because it's too deep to stand. There is is a very strong water current which most people cannot swim against.
Most people admire the spring from above.
Still, if you're reading this, I urge you to please just go see for yourself because you'll fall in love.
After you fall in love, I hope you'll appreciate our springs, and our nature in Florida. I hope you'll want to help protect it.
Ichetucknee Springs State Park
Blue Hole Spring is in the north section of Ichetucknee Springs State Park.
There are two sections to the state park; north and south. The two sections are not connected from inside the park. They're only connected via the highway outside the park.
Sadly, the official park websites are confusing to use, in my opinion. Be sure to check details and do research before you go.
Read more about the layout and details of Ichetucknee Springs State Park.
I first visited Ichetucknee Springs State Park many years ago. I've been back many times since, but I didn't do any research before my first visit.
I arrived late in the day in the winter. It was deserted, so I just wandered around the hiking trails. I didn't find Blue Hole Spring until the next day, when I visited the northern section of the park.
There are two main springs in the northern section of the park:
Ichetucknee Head Spring
Blue Hole Spring
Spring Access
Blue Hole is accessed via an unpaved path and wooden boardwalk. It's about .25-.5 miles from the parking lot.
There are many roots in the path so be careful not to trip or stub your toe.
The boardwalk ends at a wooden dock platform. It has some water monitoring equipment, benches and stairs that lead into the water.
Be careful on the boardwalk because there can be uneven wood, splinters and possibly rusty nails.
Please don't jump from it, or make waves while swimming in the spring. There is a "No Jumping" sign on the dock.
Jumping is a bad idea because the water is dangerously shallow and because it hurts the spring. Waves cause shoreline erosion and damage fragile plants and grasses. It also stirs up sediment, which damages water quality and the spring's overall health.
Swimming, snorkeling and tubing in spring runs can cause water to be cloudy, or turbid, which prevents sunlight from reaching underwater grasses.

Water quality also has declined as the residential and commercial use of fertilizers and wastewater from treatment plants and septic tanks has increased in the state's springsheds.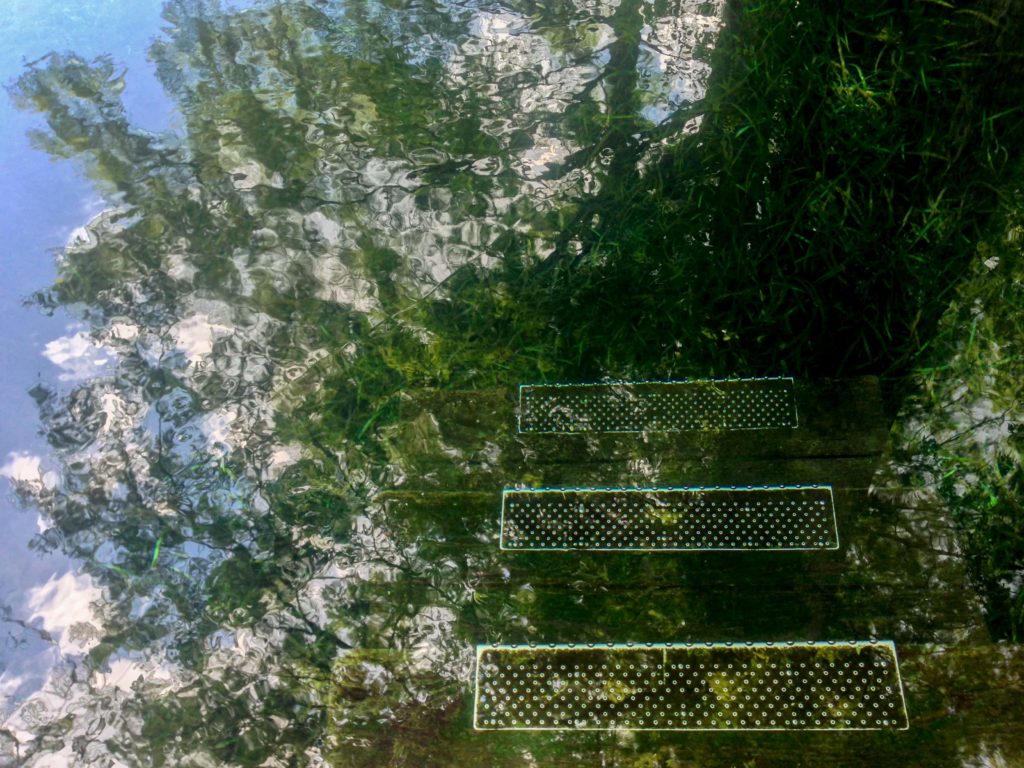 Spring Description
Ichetucknee Blue Hole Spring is a first magnitude spring.
The pool above the spring vent is broad, calm and shallow. This is called a spring basin.
It is fairly large. The dimensions are approximately 85 ft. by 125 feet.
The water surface is often mirror-calm. There is only a slight disturbance in the center, called a spring boil. A spring boil is caused by a strong flow of water.
Every day, tens of millions of gallons of water gush from the spring vent. The water comes from the Florida Aquifer, Florida's only source of drinking water. It flows through an ancient network of karst limestone tunnels.
At its deepest point the spring pool is about 7 feet deep. It's generally too deep to stand.
Only strong swimmers should swim in the spring.
Visitors should not try to stand in the spring. Don't let your feet or fins touch the bottom.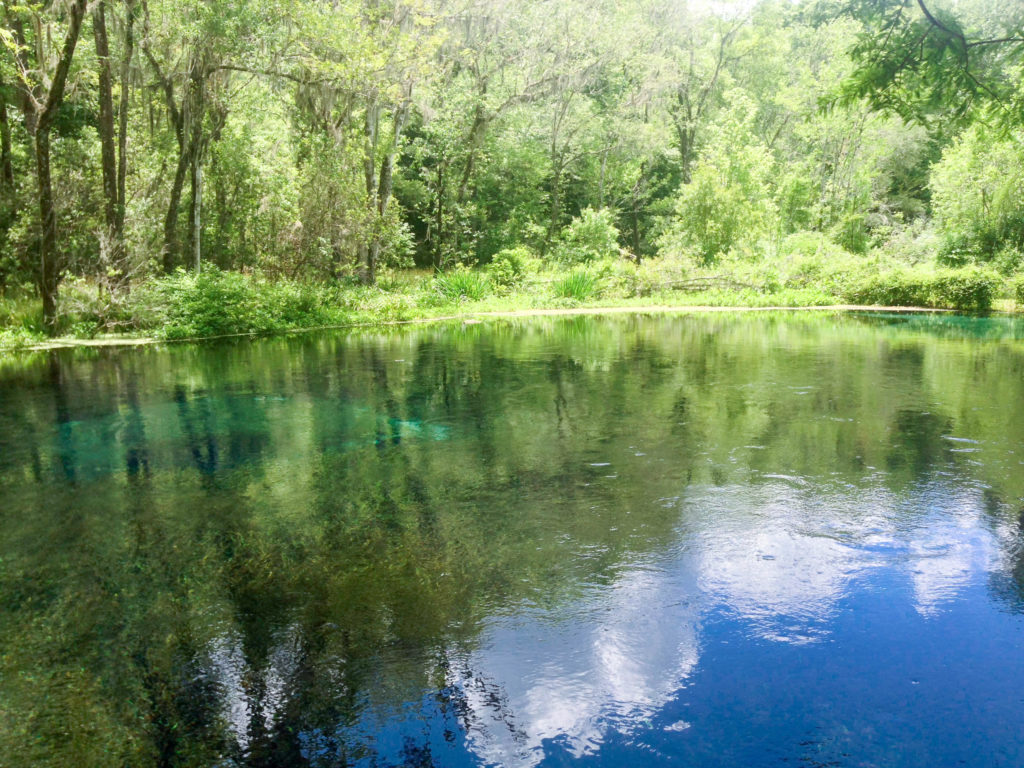 Spring Run
Spring water flows from Blue Hole Spring into the Ichetucknee River.
The river cannot be accessed from Blue Hole because it is separated by a fence in the water. The fence is covered in dense vegetation. I stay away from it because it creeps me out.
Spring Bottom
Blue Hole Spring's bottom is covered with underwater grasses.
The grass is fragile and important for the spring's health.
Human footsteps kill the grass and cause erosion, which hurts the spring and water visibility. Try not to touch it, or the bottom. The same is true while tubing the Ichetucknee River.
Avoid damaging nature:
Don't touch the spring bottom, or river bottom
Be careful and respect nature, aquatic plants and grasses
Avoid making waves or stirring up sediment
Don't disturb spring banks or riverbanks
Don't climb on trees or jump from them
Snakes, fish and other wildlife hide in the grass. 
Alligators
There can be alligators in Ichetucknee Springs State Park. It's possible that they may be present in Blue Hole Spring.
Many people believe that alligators avoid springs because the water is cold. This is a myth. Alligators are often found in springs and are not deterred by chilly water. Alligators can live in almost any body of water in Florida.
There are alligator warning signs in Ichetucknee Springs State Park. There is another alligator warning sign before the path leading to Ichetucknee Head Spring and Blue Hole Spring. Many alligators live in the area. They are visibly present in the Suwannee River, Santa Fe River and the Ichetucknee River, which are all connected.
Alligators generally avoid interaction with humans. If they become conditioned to human presence they pose a greater threat to humans and pets.
Always practice good alligator safety.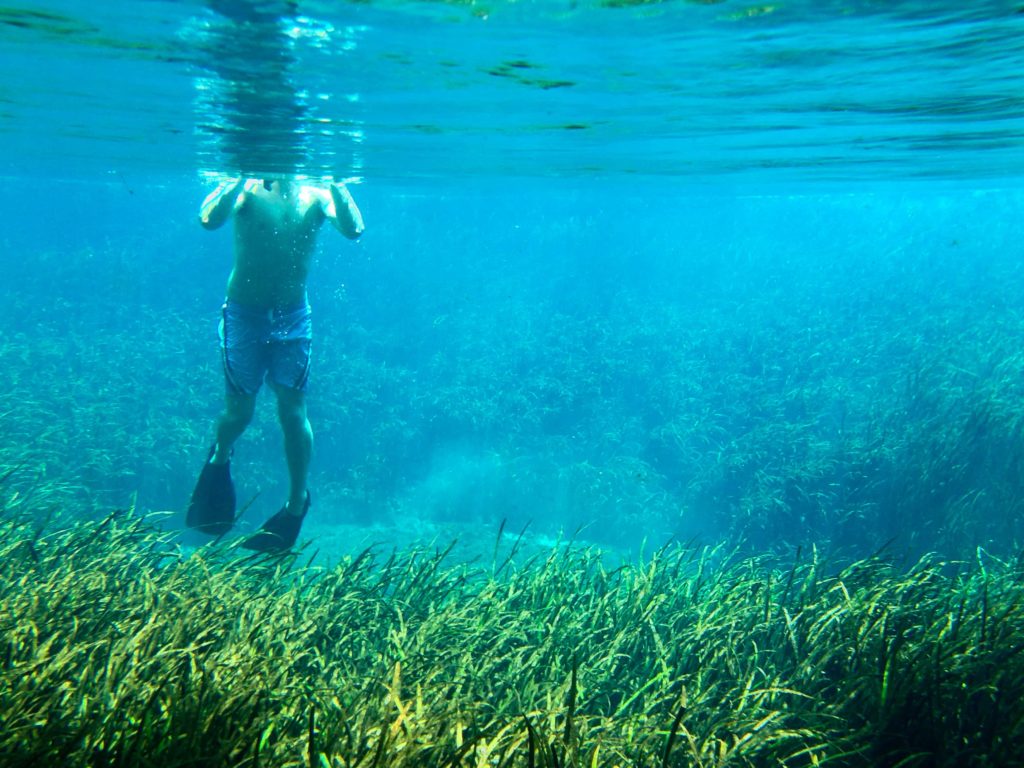 Cold Water
Like all springs in Florida, the water in Blue Hole Springs is pretty cold. Because spring water stays underground for much of its time, it remains a constant 72 degrees year-round.
Many people prefer to use a wetsuit in Florida's springs.
They used to be expensive, but prices have fallen considerably in recent years. They can be surprisingly inexpensive.
They can help make your spring trips better because you're much more comfortable and you can swim for much longer.
Over many visits, I've seen lots of people come to Blue Hole for the first time. Everybody does the same thing.
You'll go to the water's edge and dip a hand or foot off the steps. You'll look back to your group and laugh because water is cold.
On a hot day it feels great, but it's chilly. The cold water will be pins and needles on your hot skin, but it'll feel good.
You'll adjust your diving mask and peek your face into the cold water. A giant smile will stretch across your face. You'll lift your head and yell to your group, "Oh man, y'all gotta see this!"
The water in Blue Hole is so clear it's invisible, except for a dark, craggy hole in the middle of the pool. That's the the Blue Hole.
It's a vertical shaft that drops 40 feet, straight down through the limestone rock.
It only stops when it hits the floor of a large cave. Beyond the cave there's a long series of tunnels. Properly trained and certified cave divers can swim through a complex cave system.
But, most people won't be able to reach the cave.
It's not easy because the spring flow is very strong. Only the strongest of swimmers are able to swim against it.
As you swim or snorkel over the deep shaft the water changes. It transforms through a spectrum of blue.
It begins as a light turquoise, then flickers through every shade of blue.
It finally settles as a beautiful, deep, cobalt. The colors are so beautiful that I smile just thinking about them.
Blue Hole reminds me a lot of cenotes in Mexico. On a good, sunny day it can have a beautiful light effect. When the sun is high in the sky– around midday– sunlight shines like a spotlight.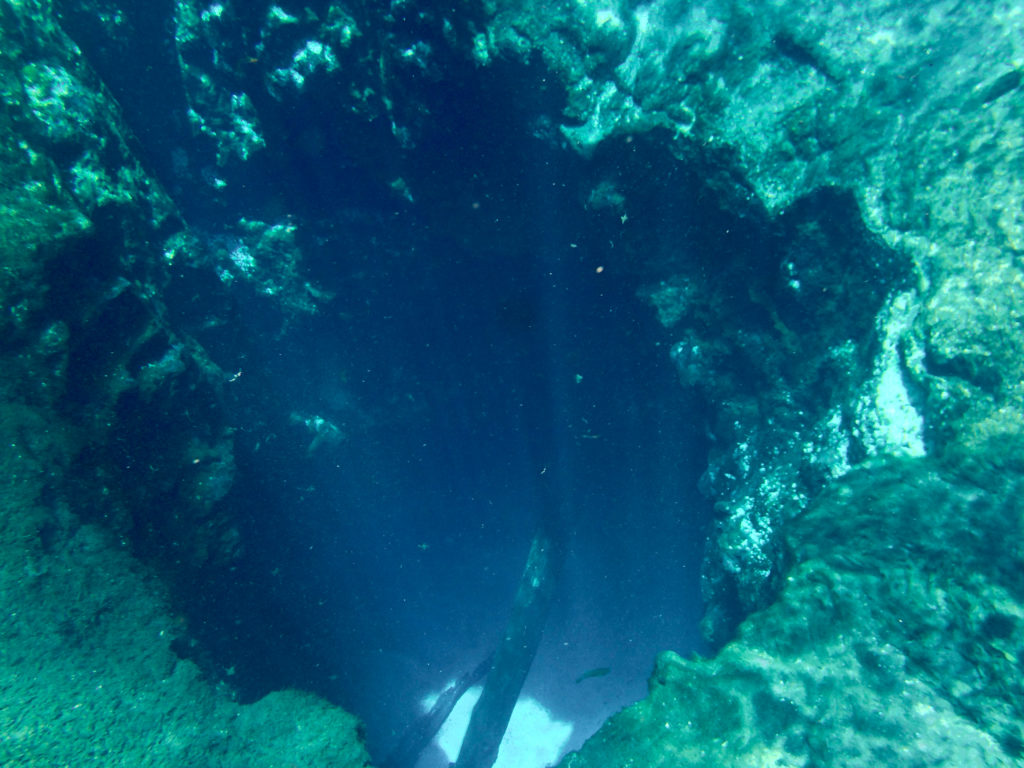 A giant laser beam cuts through the water. Bright yellow rays of dancing light pierce through the deep blues. It feels like something out of a dream.
The effect can be seen while snorkeling at the surface. It's especially intense when viewed from deep within the cave.
To do it, you have to fight against a strong river of water. Millions of gallons of water flow from the vent every minute.
Freediving
Swimming in confined spaces is dangerous for a variety of reasons. Many people have died in Florida springs.
One of the scariest things to me is the idea of hitting my head while exiting the cavern. The water flow is strong and fast, it's easy to lose control while ascending. Be careful and don't take risks!
You shouldn't try to enter the cavern unless you're properly trained, appropriately certified, and are certain you can do it safely.
If you can fight against the current and make it down the shaft opens into a large cavern.
Sunken, waterlogged logs sit on the floor. If you can remain calm and aware you'll notice coarse grains of sand being blasted by the strong current.
Rising from from the vent is amazing. The descent is difficult as you fight against the current. But, on the way out it's like surfing a river of water.
It's fun to look up through the crystal clear water and see trees, blue sky and fish as you blast upward. It's like viewing the world through a high-definition filter.
Jug Hole Spring
The Blue Hole Spring is also called by many different names, especially by cave divers and old-timer Florida locals.
Scuba divers often refer to the Blue Hole Spring as
"Jug Hole"
"Jug Spring
"The Jug"
The "Jug" reference comes from an old description of the spring vent's shape.
Apparently there was also an old-time saloon called "The Jug", which is now the beautiful Ichetucknee Springs Campground.
Park Facilities: North Entrance
Facilities include:
Paved parking lot: approx. 140 cars
A small playground
Picnic tables and charcoal grills
Well maintained bathrooms with flush toilets. These are reportedly ADA compliant
ADA accessible water lift at Ichetucknee Head Spring
Cave Diving
Note: This is provided for convenience only. I am a diver but only freedive in springs because I'm not cave-diving certified.
Blue Hole can only be accessed through the North entrance of Ichetucknee Springs State Park. It's accessed by walking down a half mile sand and gravel trail.
Divers should consider bringing a wagon or cart to transport diving gear. A cart may be available for transporting equipment. If it's available it will be locked with a combination lock and chain, so you'd need to ask a park ranger for the combination.
Scuba Rules:
Scuba diving is permitted year-round*
Divers must be cave certified.
Diving is only permitted in Blue Hole.
Diving is not allowed in the Ichetucknee River or Ichetucknee Head Spring
Divers must register with park rangers and pay a small fee.
Dives must be finished one hour prior to sundown.
Sources: Florida State Parks and Official Concessionaire
*There is conflicting information online about this. According to the concessionaire website, as of 4/23/2021, diving is allowed year-round. It may have been restricted seasonally in the past to minimize environmental impact.
I suggest that you do your own thorough research and due diligence for planning. I recommend calling the state park to verify any piece of information that's important for your trip.
In the past, some divers have reportedly had issues with inaccurate policy enforcement even while physically present in the park,