Cape Coral is a medium-sized town in Southwest Florida.
Cape Coral is not a party town; it is known as a laid-back, quiet community.
There is not a lot of action in the small city, or the tiny downtown area. Because of this, Cape Coral mostly appeals to retirees, boaters, and people who love the water.
Cape Coral has approximately 194,016 residents, making it the 9th largest city in Florida by population.
Cape Coral is part of the Cape Coral-Fort Myers MSA (Metropolitan Statistical Area).
Location
Cape Coral is located on the Gulf of Mexico and bordered on the south and east by the Caloosahatchee River. Cape Coral is located in Lee County.
Cape Coral is located just north of the city of Fort Myers. Other cities in the region include Captiva, Sanibel Island, Lehigh Acres, and others.
Geography and Environment
The city of Cape Coral covers approximately 114 square miles of land area.
The city sits on a peninsula, and is surrounded by water. The city is located just north of the Caloosahatchee River and just east of Matlacha Pass.
The open waters of the Gulf of Mexico are just a short distance away.
The city of Cape Coral has more than 400 miles of man-made canals. The canals in Cape Coral were created largely for marketing purposes.
The idea was to build a "Venice of America" and to promote the city as a good destination for boaters and water lovers.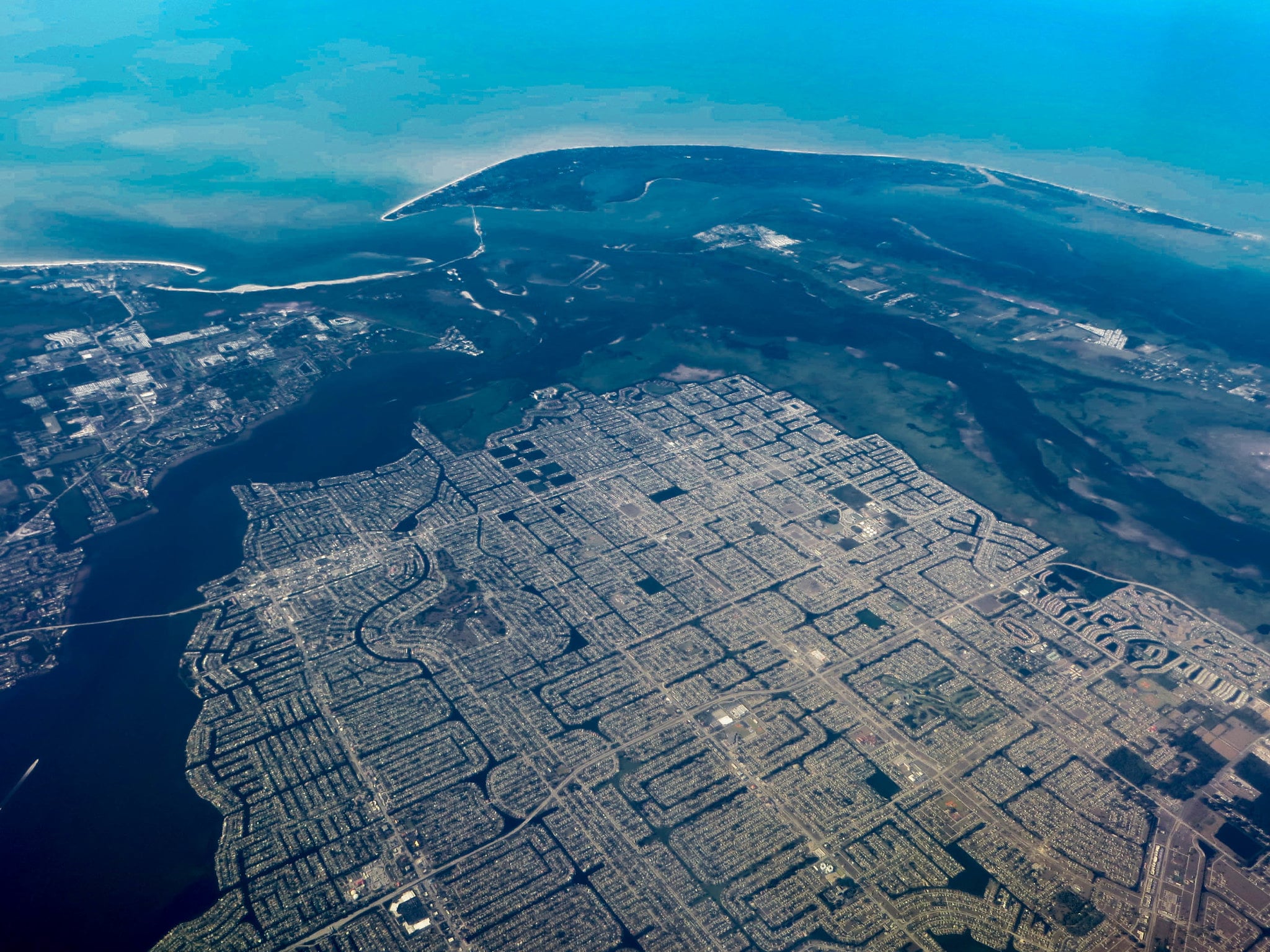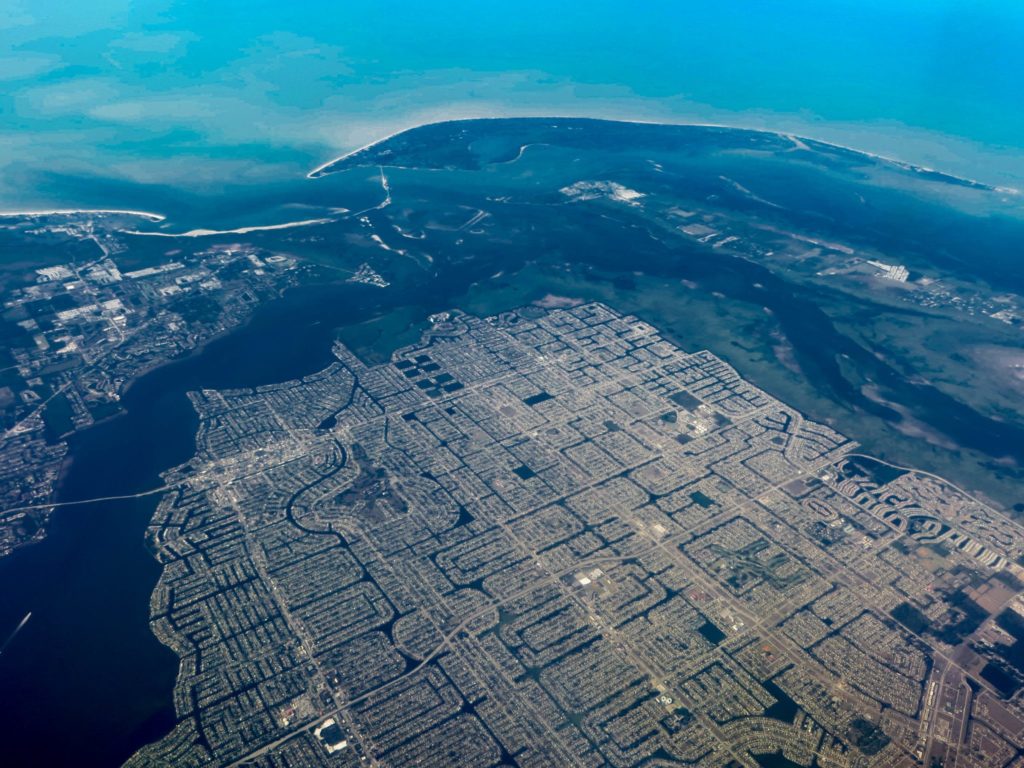 The tactic was also used to create a greater supply of "waterfront homes", which could be sold for a premium over non-waterfront real estate.
Sadly, the canal construction was extremely destructive to the local environment, in a variety of ways.
The canals destroyed endless swaths of mangroves, which were vital to help protect against erosion, storm surge and hurricanes.
Among other impacts, the canals also threatened to drain the Florida Aquifer, the region's only fresh water drinking supply.
Today the hundreds of miles of canals and seawalls are expensive to maintain. They require frequent dredging operations and expensive seawall maintenance.
Dangerous Algae Outbreaks
Cape Coral has struggled with harmful algae outbreaks in the Caloosahatchee River, including both red tide and blue-green algae.
Toxic algae outbreaks in Cape Coral are especially problematic because so many residents live on waterfront canals.
For more information on the Florida's toxic algae and pollution, follow the Calusa Water Keepers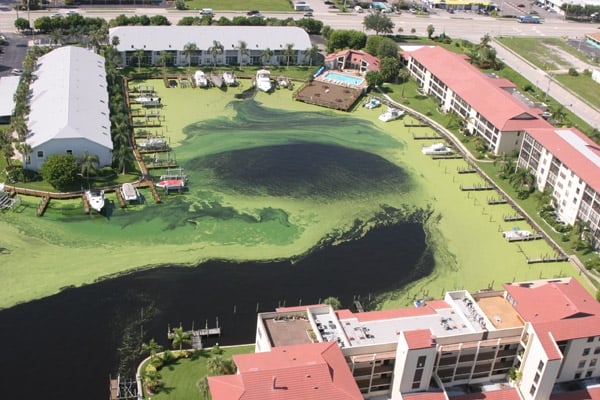 The algae, caused by excessive water pollution, is a serious problem. The algae is hugely disruptive to local life, and is devastating to the local economy.
Exposure to algae outbreaks, including both red tide and blue-green algae, can cause serious health problems.
History
Cape Coral has a long and fascinating history.
Florida's native Americans lived in the region for many thousands of years, including the Calusa and Seminole tribes.
Tragically, Florida's native American tribes were forcibly removed from their homeland after the Seminole Wars, and were deported to reservations.
The region was later inhabited by Spanish colonists, when Florida was controlled by Spain.
The region was sparsely settled by American settlers throughout the 1800s, after the United States acquired Florida from Spain in 1821.
For most of its history the Cape Coral area was lightly populated, and was mostly used for agriculture.
In 1957, the Cape Coral area became a target for aggressive real estate development.
Two developers, Leonard and Jack Rosen from Baltimore, Maryland bought 1,724 acres of land for their company, Gulf American Land Corporation.
They assigned the amusingly misleading name, "Cape Coral", and began transforming the barren land into something they could sell to northerners.
The developers had more than 400 miles of canals dug, and began to market the new community as a "Waterfront Wonderland", and the "Venice of America".
Residential lots were milked for maximum revenue generation. The lots were often sold with aggressive sales tactics, shady installment loans, and other practices which would be outlawed in later years.
Things to do in Cape Coral
The best things to do in Cape Coral generally revolve around the water and what's left of the natural environment. Fishing, boating and kayaking are all at the top of the list.
For more things to do, it's best to look at larger neighboring towns, including Ft. Myers, Sanibel, Captiva and other nearby cities in southwest Florida.
There are several historical landmarks and attractions near Cape Coral and nearby Fort Myers.
Some of the best include beautiful estates from America's wealthiest families who spent their winters in Florida, or even retired to Florida.
Two of the best examples include the Thomas Edison and Henry Ford winter estates.
The estates are fascinating to visit. They are also great wedding venues, and have beautiful tropical gardens which are great for photography.
Shelling
The beaches of Southwest Florida are some of the best beaches for shelling in Florida.
For a variety of reasons, including the island's geographic positioning and orientation, nearby Sanibel Island is an especially good beach for seashell hunting.
Sanibel Island is also home to Florida's shell museum, which is the only museum in the world that's dedicated to shells and mollusks.
The Bailey-Matthews National Shell Museum has countless rare and interesting seashells on display.
It is well worth a visit, and is one of the best things to do near Cape Coral; it is located approximately 20 minutes away.
There are many other popular things to do near Cape Coral, as well. Other popular attractions include:
Boat trips and dinner cruises
Visiting nearby Pine Island and Pine Island Sound
Touring the eclectic town of Matlacha
Kayaking through mangrove tunnels and kayak routes
Exploring the Caloosahatchee River and Matlacha Pass Aquatic Preserve
Bird watching
Fishing
Sailing tours
Cape Coral is home to a large fleet of fishing charters, with a variety of options for boats and fishing experiences. Visitors can also catch a boat tour to see dolphins and manatees in their natural environment.
Visitors with small children often visit the Sun Splash Family Waterpark, which is the largest waterpark in southwest Florida. This park offers more than 14 acres of pools and water slides.
Nature lovers and kayakers should consider visiting the Four Mile Cove Eco Preserve. The preserve offers a variety of outdoors experiences, including hiking trails and paddling trails which allow kayaking in mangrove tunnels.
Residents also enjoy kayaking through Sirenia Vista Park. Sirenia Visa Park is a great place to see manatees because it is a popular warm-water refuge in cold winter months.
Other popular wildlife sightings include burrowing owls, which are the official bird of Cape Coral, and many other bird species.
Throughout the year, residents can enjoy the unique cardboard boat regatta, catch a show at the Cultural Park Theater, or tour the Wicked Dolphin Rum Distillery.
Beaches in Cape Coral
Cape Coral has two modest public beaches on the banks of the Caloosahatchee River, but does not have nice beaches as most people expect from southwest Florida.
The city of Cape Coral notes that both public beaches are "Non-swimming" beaches, and should only be used for sunbathing. The city notes that any swimming at Cape Coral's beaches is to be done at swimmer's own risk.
One beach is located at the Yacht Club Community Park in the southeast corner of Cape Coral. The beach features a modest sandy beach on the Caloosahatchee River, picnic tables, BBQ grills and other facilities. There is also a public boat ramp and free parking for vehicles.
Cape Coral's second public beach is located at Four Freedoms Park. The beach is also modest, and offers a small playground, BBQ grills and picnic tables.
There are several beautiful beaches in the area, including Fort Myers, Sanibel Island and Captiva Island.
Events
Cape Coral holds numerous events throughout the year. Some of the most popular events in Cape Coral include:
4th of July: Red, White and Boom festival at the Cape Coral Bridge
Oktoberfest: Hosted by the German-American social club. Oktoberfest can attract more than 30,000 attendees
Christmas/Holiday boat parades
​​Why Is Cape Coral So Cheap?
Cape Coral tends to have lower real estate prices than other regions in Florida.
There are several reasons, including a lack of high-paying jobs in the region, vulnerability to hurricanes, and a general lack of economic opportunity in the area.
Cape Coral real estate values tend to follow a boom/bust cycle. Although it often looks "cheap", buyers should beware. This article gives a great overview of the area's promises, weaknesses, and why people keep falling for the same old traps.
"Gulf American unloaded tens of thousands of low-lying Cape Coral lots on dreamseekers all over the world before the authorities cracked down on its frauds and deceptions. It passed off inaccessible mush as prime real estate, sold the same swampy lots to multiple buyers, and used listening devices to spy on its customers. Its hucksters spun a soggy floodplain between the Caloosahatchee River and the Gulf of Mexico as America's middle-class boomtown of the future, and suckers bought it." -"The Boomtown that Shouldn't Exist"
Does Cape Coral Get Hit By Hurricanes?
Cape Coral is extremely vulnerable to hurricanes, as is all of Southwest Florida.
The region is often hit by hurricanes, and frequently suffers damage and disruption from both tropical storms and hurricanes.
Downtown Cape Coral
Cape Coral has a very small downtown area, especially relative to its residential population.
This is partly due to the original development of Cape Coral in the 1950s, which prioritized the sale of residential lots over other considerations.
The developers neglected community features commercial centers, or any downtown development.
Still, there is a small downtown area in Cape Coral. It is ound in the southwest corner of the city, near the Cape Coral Bridge.
The small downtown area features many of the restaurants in Cape Coral.
It is also the site of the Cape Coral Farmers' Market and several annual events and celebrations, including the Cape Coral Arts and Music Festival, Cape Coral Bike Night, Coconut Fest and Mango Fest, among others.
Benefits of Cape Coral
Cape Coral has been recognized as one of the best places to retire in Florida, and a top retirement destination for the United States as a whole.
Cape Coral is also one of the most affordable places to live in the state. In the past has been named the third most affordable city to live in Florida.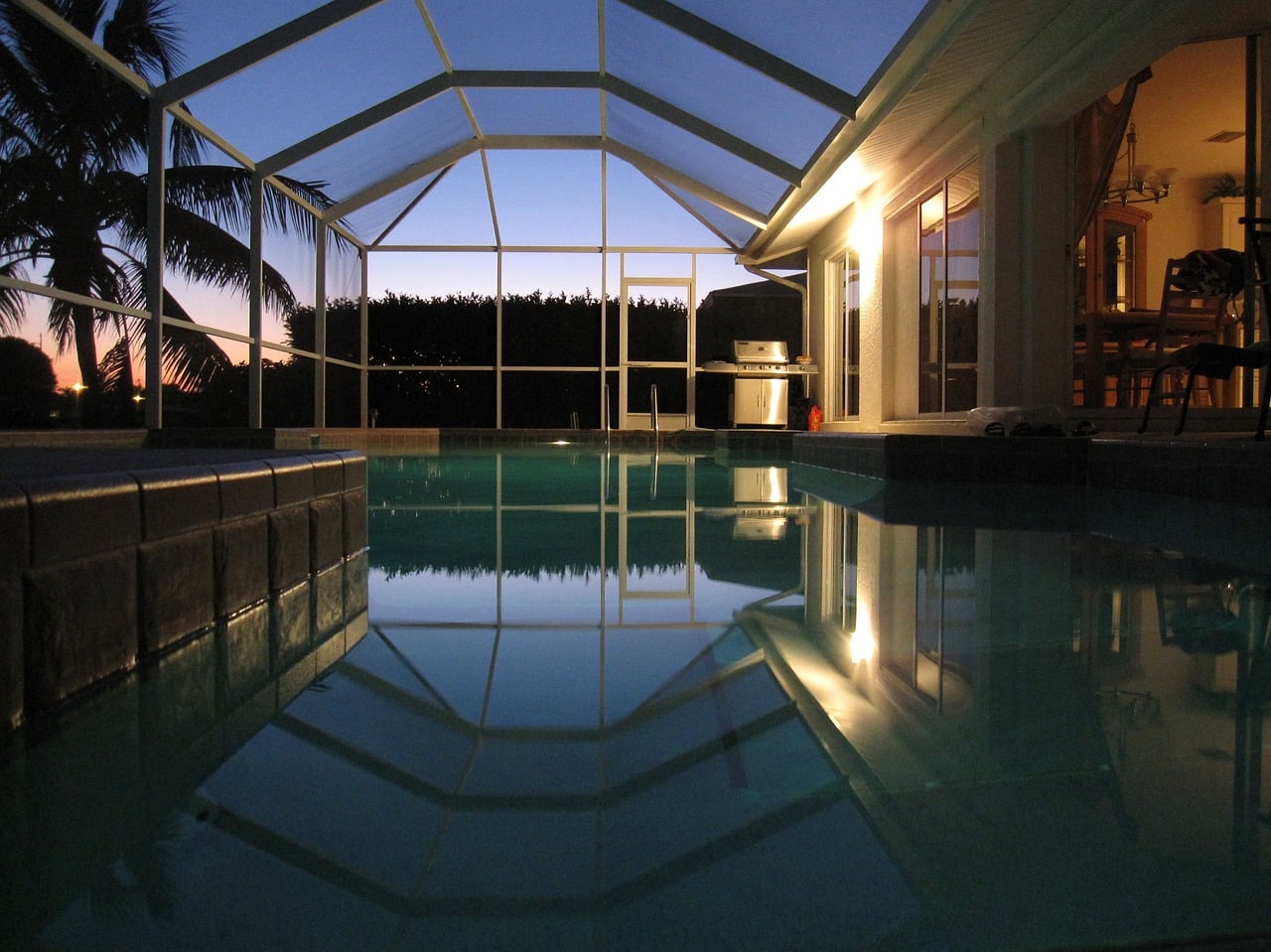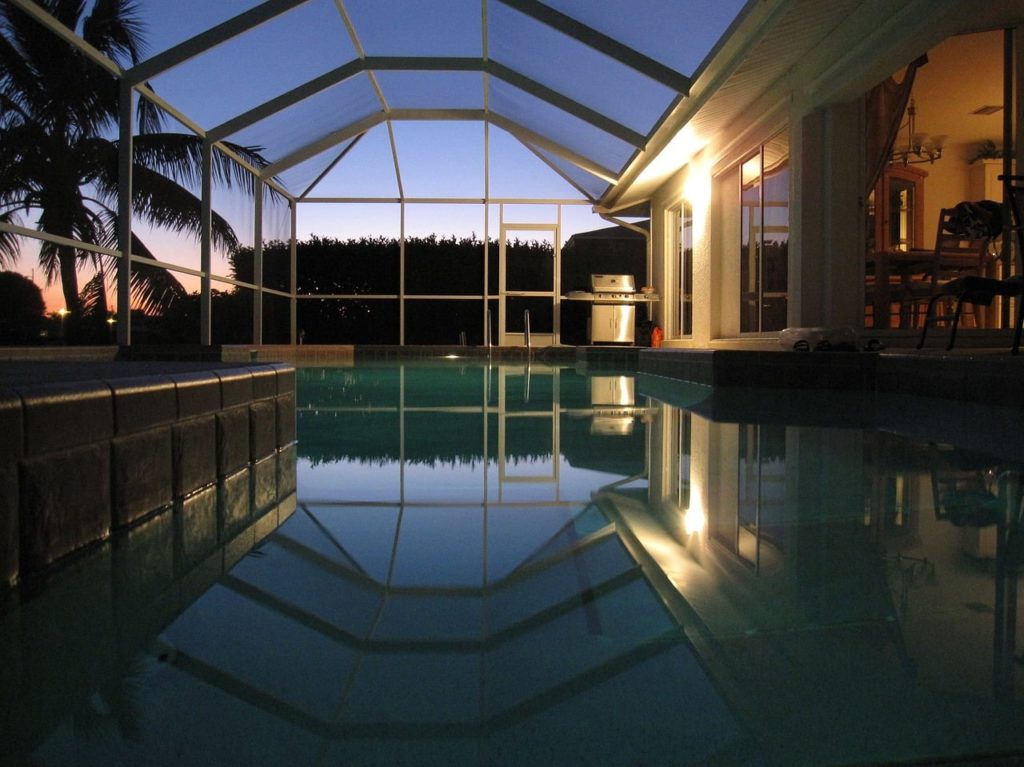 However, the affordability comes with a cost. The low cost of living and relatively low home prices are partly due to the lack of high-paying jobs opportunities, and relatively weak local economy.
It should be noted that Cape Coral tends to experience wild boom and bust cycles. During booms, real estate values soar due to speculation and high demand.
High prices often offset the supposed "affordable" cost of living, and can be expensive mistakes. The prices have a history of falling, and reversing supposed gains.
Today, Cape Coral is much less affordable than it has been in the past.
The cost of living in Florida has risen dramatically in recent years; the cost of living in Cape Coral has also become considerably more expensive.
Safety and Crime
Cape Coral is a relatively safe place, as measured by its crime statistics. Safety is relative, though, and there are incidents of crime, theft and even violent incidents.
Past trends have shown that crime tends to increase during periods of rapid growth, when many new residents come to the area.
In general though, Cape Coral is a safe place to live, from a crime standpoint.
Residents say that they generally feel safe in Cape Coral, especially compared to other higher-crimes areas throughout Florida.
Downsides of Cape Coral and Fort Myers
Cape Coral is not a utopia, and has definite downsides.
Some of the biggest downsides to life in Cape Coral stem from the city's earliest roots, and lack of well-thought-out planning on the part of early developers.
Cape Coral, like many other communities throughout Florida, was built primarily as a product to sell to gullible out-of-towners, rather than a well-planned community to live in.
Basic infrastructure was overlooked, and is still inadequate, even today. Even the most basic tenets of living are often missing, including sewer infrastructure, well-planned roadways, space for commercial sites, and other common-sense features.
Schools in Cape Coral do not have the best reputation. This city also has clogged roadways and limited public transportation, partially due to the endless maze of canals.
Cape Coral has many options for boating, fishing, and enjoying nature. Unfortunately, it has its own fair share of bugs, including roaches, no-see-ums, spiders, scorpions, and snakes.
Cape Coral Real Estate
Cape Coral has a wide variety of real estate options, partly because real estate is the primary industry of the region, without many other serious economic drivers.
Real estate options run the gamut. Real estate prices range from affordable to wildly expensive, and from small beach bungalows to high-rise condos and penthouses.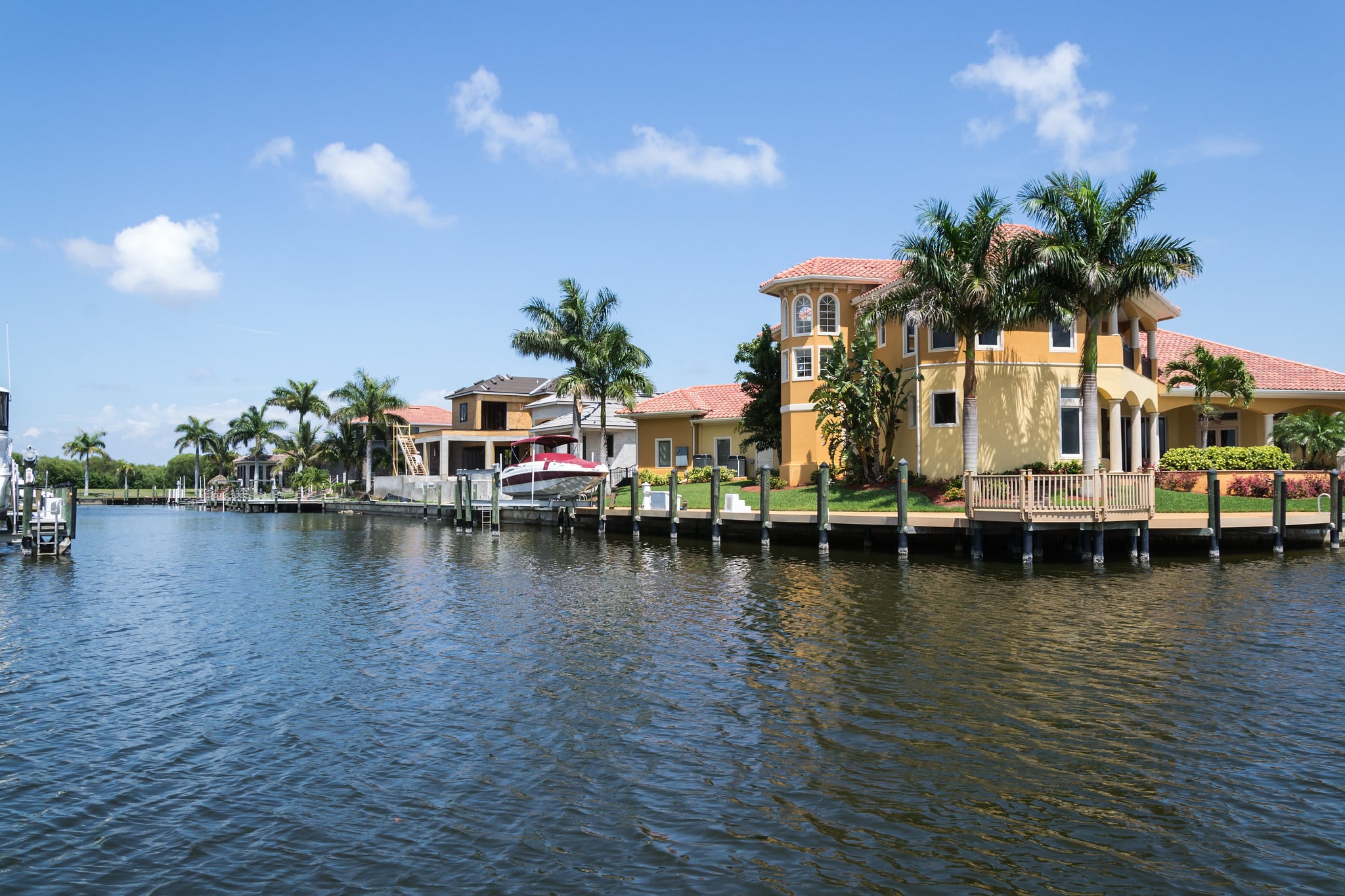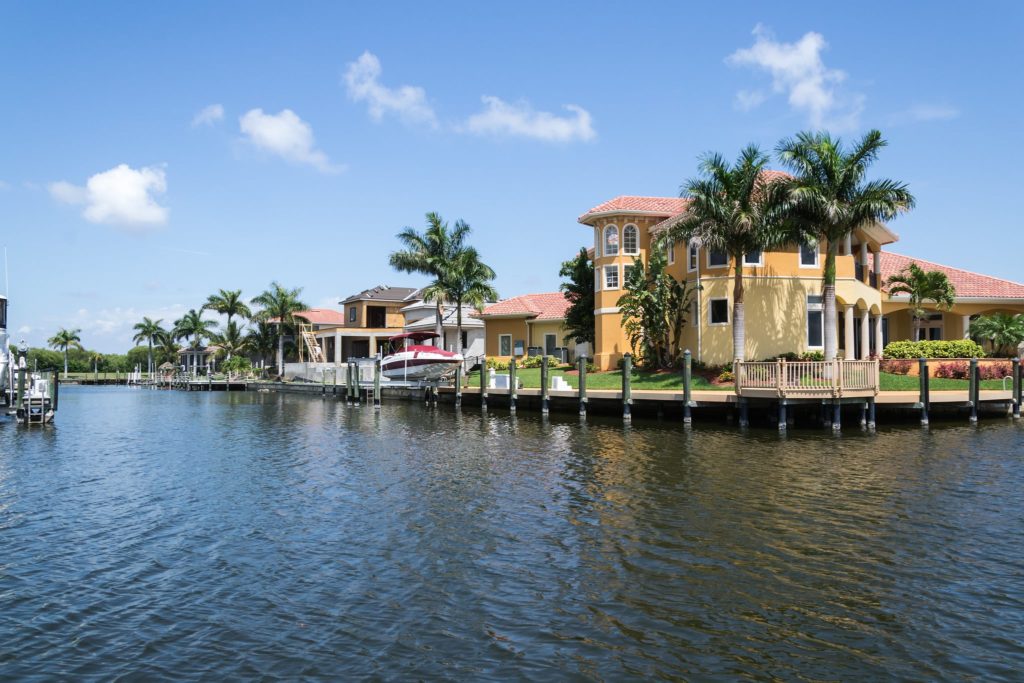 There are many real estate agents in the area with varying specialities, including retirement relocations, first time homebuyers and luxury real estate listings.
Some real estate agents in Cape Coral specialize in narrow niches, like golf course communities, waterfront homes and other specialized offerings.
When choosing a real estate agent, prospective buyers and sellers would be well advised to vet the real estate agent carefully, and perform good due-diligence.
Like all real estate in Florida, Cape Coral tends to follow a boom/bust real estate market pattern.
There are also many risks of buying real estate in Cape Coral, including the city's severe vulnerability to hurricanes, flooding and other natural disasters.
Weather and Climate in Cape Coral
Along with the rest of Florida, Cape Coral's weather and climate is a major draw for many residents.
Partly thanks to the moderating effects of the water, temperatures in Cape Coral remain relatively mild year-round. Summers are hot and muggy, and winters tend to be warm, dry and mild.
Despite the nice weather, this city is seriously vulnerable to severe weather, especially hurricanes. The region has been devastated by hurricanes in the past, and is frequently affected by tropical storms and hurricanes.
Photography Credits
Aerial photo by David Wilson, CC2.0
Canal photo by Domenico Convertini, CC2.0