Disappearing Island is a large, popular sandbar in Florida's Ponce Inlet, near New Smyrna Beach.
Why is it called Disappearing Island?
Disappearing Island got its name because it "disappears" at high tide, and is only visible during low tides. During high tide, the Disappearing Island sandbar is submerged underwater.
The water level and depth varies according to the tide levels, which are determined by the lunar cycle and other factors.
Tide Information
Tide action changes daily and seasonally.
The best tide information for Disappearing Island can be found via NOAA, and the Ponce Inlet measuring station, where Disappearing Island is located.
NOAA Ponce Inlet Tide Information
Many people think the best time to visit Disappearing Island is at low slack tide.
Slack tide is a period where the tide is between "in" and "out" stages, and remains stable for several hours.
Visitors should plan on visiting Disappearing Island when the tide is low, and plan to depart before the island disappears.
Visitors should also plan ahead to ensure they can free their boat, if they choose to beach their boat.
Important: There are no amenities on Disappearing Island!

There are no restrooms, trash cans, or any other type of infrastructure because the sandbar island is submerged under water daily.

Visitors should be prepared to "pack in and pack out" all of their trash and anything they bring into the island.
Disappearing island is one of the most popular sandbars in Florida. People love Disappearing Island because it's a beautiful spot, and is very fun to visit.
When the sandbar is exposed, Disappearing Island is large, and is very popular. On busy days the island can attract very large crowds.
On almost any given day, many boats can be seen anchored off of the sandbar, or even beached on the sand.
On the busiest days, especially summer weekends and holidays, very large crowds of people and boats visit Disappearing Island.
The vibe on the island is usually festive and low-key. People come to enjoy the beautiful spot, sunbathe, grill out, play beach games and enjoy themselves.
Because it sits at the mouth of the Ponce Inlet, the island is surrounded by clear, blue water.
The water is especially beautiful during incoming tides, when water from the Atlantic Ocean fills the inlet.
The water is truly amazing, and feels like a place you'd find in the Bahamas or Caribbean.
The sand is also beautiful, clean and white. There are also beautiful views of the Ponce Inlet Lighthouse, which is visible just across the water.
There is some vegetation on the island, but it is on the opposite end from where boaters gather.
Note: The vegetation is an important habitat for sea birds, including some threatened species. Visitors should ensure that they (and/or their pets) do not disturb the birds!
Location
Disappearing Island is located near New Smyrna beach, in the Ponce Inlet. It sits just inland of the Ponce Inlet Jetties.
The island sits in the intersection of the Halifax River, Ponce Inlet and Indian River North.
Here are the approximate GPS coordinates for Disappearing Island
Depending on the water depth, vessel draft and tide conditions, It is sometimes possible to circumnavigate around Disappearing Island via a channel on the western side of the island.
Boat Ramps Near Disappearing Island
There are a number of boat ramps near Disappearing Island.
Visitors should verify that ramps are open, and evaluate whether there will be adequate parking for their needs.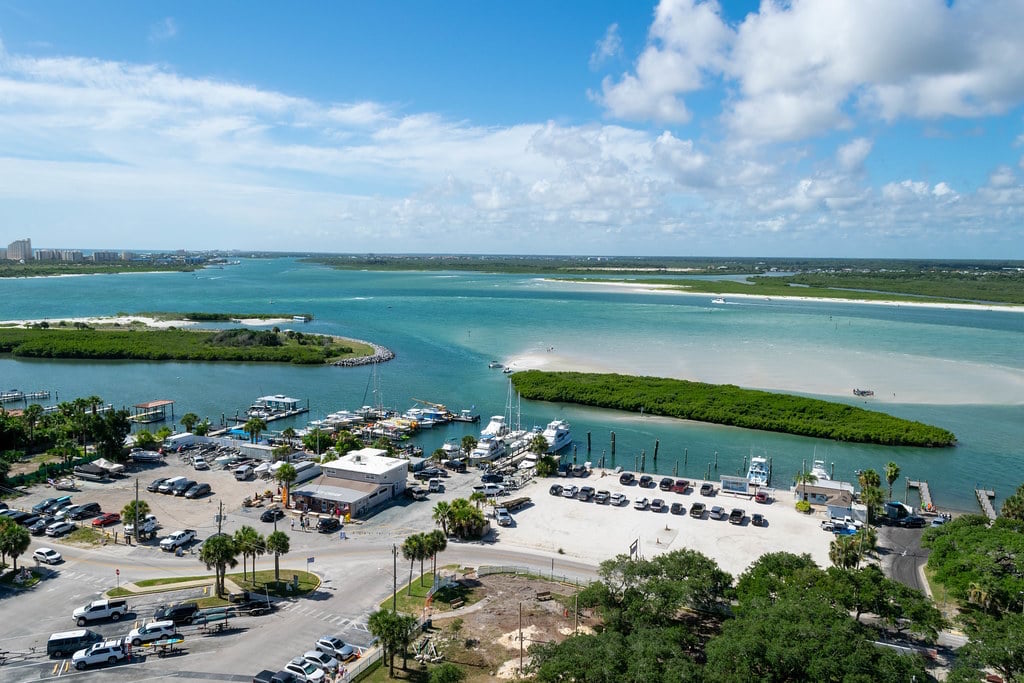 Depending on your vessel and float plan, some ramps may be more or less suitable for your situation. In general, almost boat ramp that leads to the Halifax river can be used to access Disappearing Island.
Many boaters access Disappearing Island from the boat ramps beneath the Dunlawton Bridge, also known as the Port Orange Causeway.
The Port Orange Causeway Park has a series of 7 boat ramps, ample parking and public restrooms on-site.
Wildlife
Disappearing Island is an important nesting ground for many birds, including threatened species.
Visitors should be careful not to disturb or approach bird nesting sites, and must be especially careful to keep dogs under control.
Dogs should not be allowed to approach or disturb wildlife or bird nesting sites!
Access to Disappearing Island
Disappearing Island is only accessible by boat or watercraft.
Many people bring their own boat, jet ski or other watercraft. Boats of all types can be found on the sandbar, from john boats and pontoon boats to luxurious yachts.
There are boat, jet ski and kayak rentals near Disappearing Island, for residents or visitors who do not have access to their own boat or watercraft.
When visiting Disappearing Island most visitors beach their boat on the sand, or anchor just offshore. Many boaters use a bow and stern anchor arrangement to keep their boats oriented correctly to the island.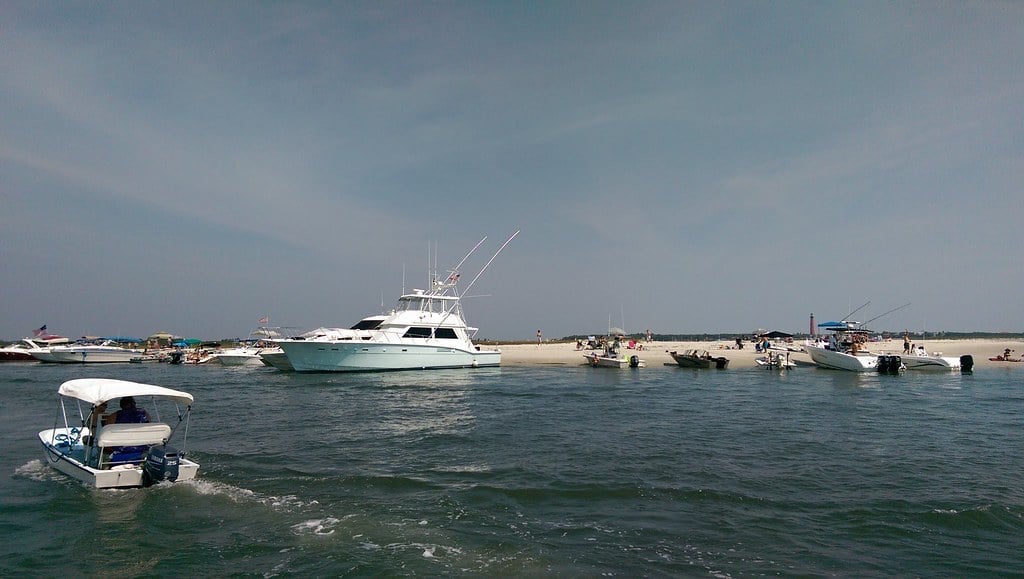 The water depth varies around Disappearing Island. Boats with deeper drafts should be careful when operating in shallow water, and may consider anchoring further from shore and going to the island with a dinghy or tender.
Boaters should be aware of wind and wave action, and use appropriate anchoring techniques. Be sure that your boat is properly secured, and will not be damaged by the hull or propeller impacting the bottom in case of large wakes.
Visitors who beach their boats should also be sure that they have a good plan for freeing their boat when it's time to leave!
First-time visitors to Disappearing Island may consider asking for local knowledge and tips, especially before possibly beaching their boat.
Running aground, whether intentionally or not, can cause serious problems, and even damage, if not done properly.
Boaters should be mindful of no-wake zones, and keep a good lookout for other boat traffic in busy areas, as well as swimmers, kayakers and manatees.
Can you get to Disappearing Island without a boat?
It's impossible to access Disappearing Island without a boat or some sort of watercraft, because it's an island, and is surrounded by water.
Because of a variety of hazards, it is not safe to swim to Disappearing Island. Visitors should not try or consider it as an option.
Depending on your level of experience and fitness, it may be possible to access Disappearing Island with a kayak, paddle board, or other types of watercraft.
For people without a boat of their own, there are several options for renting boats, kayaks and jet skis near New Smyrna Beach.
Can You Swim To Disappearing Island?
You cannot swim to Disappearing Island! Nobody should try because it is extremely dangerous.
There are several hazards to be aware of, especially boat traffic.
There is a lot of boat traffic near Disappearing Island, and in the Ponce Inlet. Many boaters operate recklessly, or are inexperienced.
Swimmers can be extremely difficult, or impossible for boaters to see. Swimmers may be hit, seriously injured or even killed from boat impacts.
The distance to Disappearing Island is farther than it appears, and is more difficult than you would think.
Additionally, the tides in Ponce Inlet can be very strong, and may be impossible to swim against.
Again, do not try to swim to Disappearing Island!
Things to do on Disappearing Island
Once you've arrived on Disappearing Island, you can do almost any activity you'd do at the beach.
Many visitors like to bring beach gear, including beach games, umbrellas and sun shades, and more.
Some people even bring grills and coolers, to cook out on the island, or grill from their boats.
Many swim in the waters near the shoreline of the island. But, swimmers should be extremely cautious of boat traffic and strong currents.
It's also a great place to sunbathe without having to worry about shadows, since there are no trees, condo buildings, or other things to block the sun.
Many visitors also like to explore the surrounding area, which is filled with beautiful spots.
TaTa Island
There are a number of other sandbars and islands in the Ponce Inlet, including "TaTa Island".
Tata Island is located just north of Disappearing Island.  "Tata" is much smaller than Disappearing Island, and is less widely visited.
Compared to Disappearing Island, "TaTa Island" is significantly more secluded, and can be more protected from wind and waves, depending on wind and tide conditions.
Are dogs allowed on Disappearing Island?
Dogs are allowed on Disappearing Island because it is an unmanaged beach. It does not have restrictions like many government-run beaches.
Dog owners should act responsibly. Owners should keep their dogs under control, pick up their waste, and ensure that they do not harm local wildlife, like nesting seabirds.
There is also a dedicated dog beach nearby, at the Ponce Inlet Dog Beach.
Can you Camp on Disappearing Island?
You cannot camp on Disappearing Island because the island is completely submerged under water at high tide.
It is possible to anchor and "camp" on boats near Disappearing Island, though. Be sure to anchor legally, and in a safe location.
Downsides of Disappearing Island
The biggest downside to Disappearing Island is that it can get too crowded for some people's taste.
Especially on busy weekends and holidays, the island can attract large crowds of people. Some visitors may behave in a way that is disturbing for other visitors.
Disappearing Island is an unmanaged beach, so there are not any government staff to pick up trash. This makes Disappearing Island vulnerable to destruction by visitors.
Visitors should plan to "Pack in, and Pack out" any trash or materials that they bring. Please also help pick up any other trash or debris that you see while visiting.
Disappearing Island is submerged underwater at high tide. All trash, debris and pollution will be carried away by the tide when the island is submerged, and that trash will wind up in our oceans.
Marine trash and pollution are serious problems, and have intensely negative impacts on our oceans and marine life.
Restaurants near Disappearing Island
After visiting Disappearing Island many boaters visit nearby restaurants which offer waterfront dining and boat docks.
These restaurants with docks tend to be on the expensive side, but many have fresh seafood and full bars.
The waterfront restaurants are mostly on the East side of the river. You can't miss them as you head back to the Dunlawtun boat ramps.
Final Thoughts
If you have the chance to visit Disappearing Island, give it a try! It's a great spot, and is truly a hidden gem in Florida. It's popular for a reason!
Cover image: Photo by Daniel Piraino via CC