Egmont Key is a beautiful, uninhabited island in Florida.
The island is located at the mouth of Tampa Bay and covers approximately 250 acres.
Egmont Key is physically located in Hillsborough County, and so is often considered to be one of the best beaches in Tampa.
Things to Know Before Visiting Egmont Key
Emont Key does not have any visitor facilities of any kind! Visitors should bring everything that they may need.
There is no drinking water on the island!
There are not any restrooms on Egmont Key!
Private boats are welcome to visit Egmont Key. There are no docks, so private boats should be prepared to anchor safely.
Pets are not allowed on Egmont Key because it is a wildlife refuge, along with nearby Passage Key
The south end of Egmont Key is closed and restricted because it is a shorebird refuge. It is an important nesting ground for many bird species.
Fishing is allowed at Egmont Key, but only in designated areas and with appropriate fishing permits.
There are picnic tables and a shaded area at the north end of the island. Alcoholic beverages are prohibited on Egmont Key.
Kites, drones, glass, pets and alcohol are all prohibited on Egmont Key because it is a state park and protected wildlife preserve.
Egmont Key State Park
Egmont Key is open 365 days a year from 8am until sunset.
Egmont Key is free to enter as a state park, and there are no admission fees for the state park itself.
There are fees to access the island via ferry if you do not arrive via private boat transportation.
Egmont Key Ferry
Egmont Key can only be reached by boat. Most people access Egmont Key via Hubbard's Marina Ferry. The ferry departs from the Bay Pier in Fort De Soto County Park.
Visitors can also access Egmont Key via a limited number of private ferry tour services which depart from other islands, including Anna Maria Island. These private boat options tend to be expensive and have limited availability.
Some ferry operators depart from other islands around the beach communities north of Fort De Soto.
There are also interesting private tour options available which may be more affordable and cost effective for families and large groups. Private tour options usually vary depending on the time frame; packages are available for as few as three or four hours. Some range up to 6 hours.
Accessing Egmont Key Via Private Boat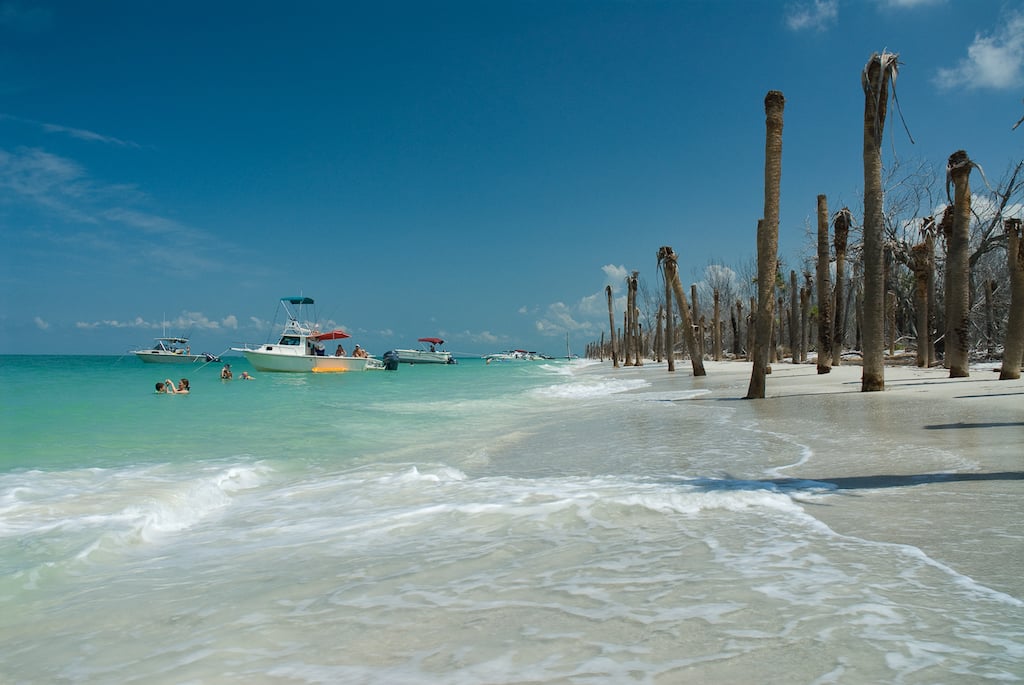 Egmont Key is open to access via private boats.
There are no docks or marina facilities on Egmont Key so privately owned boats must be prepared and equipped to safely anchor off the beach to access Egmont Key.
Cost to Visit Egmont Key
There is no admission fee to enter Egmont Key, but there are other miscellaneous costs associated with a visit.
The only way to visit Egmont Key for free is to arrive via private boat.
If you use the public ferry from Fort De Soto there is a ferry cost which is charged per-person.
There is a $5 parking fee at Fort De Soto Park, which is the departure point of the Hubbard's Marina Ferry.
There are toll roads on the way to Fort De Soto County Park. The cost varies depending on the driving route, but the tolls will be approximately $3. Visitors are advised to bring cash and quarters, if possible. The tolls can also be paid via Sunpass.
National Wildlife Refuge
The island of Egmont Key is an important and sensitive ecosystem. It is protected as a National Wildlife Refuge and is home to many protected species, including the world's highest concentration of Gopher Tortoises.
Visitors are often happy to see wild Gopher Tortoises, Florida Box Turtles, Loggerhead Sea Turtles and countless varieties of rare birds, including migratory birds and native sea birds.
Some items are prohibited on the island to avoid disturbing wildlife. Some portions of the island are closed to public access to protect a shorebird refuge, rookeries and nesting areas. Generally the entire southern section of Egmont Key is closed and protected as a shorebird refuge.
Egmont Key has been designated as a National Wildlife Refuge since 1974 and is managed by the J. N. "Ding" Darling National Wildlife Service in Sanibel Island.
Beaches on Egmont Key
The beaches of Egmont Key are absolutely beautiful!
This is not surprising because Egmont Key sits among some of the best beaches in Florida. Egmont Key is just southwest of beautiful Fort De Soto, and just 2.6 miles north of Anna Maria Island.
The beaches on Egmont Key have bright, clean white sand. Some areas are filled with exotic shells because of the direct access to the Gulf of Mexico and a unique pattern of waves and currents, which deposit shells on the beaches.
Because of the wide variety of shells Egmont Key is very popular among shell hunters. Egmont Key is often cited as one of the best beaches for shelling in Florida.
Visitors should remember to practice good outdoors ethics while visiting Egmont Key. Take only photos, and leave only footprints.
The water surrounding Egmont Key is usually very clear and has a bright turquoise color. The clarity can be reduced during windy conditions and as waves kick up sand, but it is crystal clear when the wind and waves are calm.
The water deepens into beautiful shades of deep cobalt blue as the water deepens towards the open Gulf of Mexico.
The beaches are generally uncrowded on Egmont Key, but there is a confined amount of beach space, so it can feel more crowded when there are many people on the island.
As with all beaches in Florida, weekends, holidays and peak tourist times are the busiest times for Egmont Key.
The interior of Egmont Key is also fun, beautiful and is worth exploring! Six miles of pathways meander through tropical trees and lush forest, giving the entire island an exotic feel.
Many of the paths are natural surfaces of sand and dirt, but some are brick paths which are remnants of the community from Fort Dade.
Visitors should be aware of their surroundings because there are rattle snakes on Egmont Key.
History of Egmont Key
Egmont Key has a fascinating history. Over the years it has been used as:
A military outpost and small city
An important lighthouse to protects ships and navigation
A Native-American concentration camp
A quarantine center for soldiers returning from Cuba during the Spanish American War.
Egmont Key was used as a hunting and fishing ground for native Americans. Early Spanish explorers reportedly found native American canoes on the island. Historians believe that Egmont Key was only used sporadically and probably never had permanent inhabitants because of the lack of fresh water on the island.
Egmont Key was later re-discovered by Spanish explorers in 1757. They originally named it "Isla de San Blas y Barreda". They also called the island by different names over the years, including "Castor" and "Cayo de Cruz".
Egmont Key was later renamed again by the British while they briefly controlled Florida from 1763 to 1783. The British named Egmont Key after the British Earl of Egmont, who was the British Lord of the Admiralty at the time.
If you are interested in more details of the history of Egmont Key, this excellent scholarly article contains a comprehensive history of the island.
Egmont Key is included in the National Register of Historic Places, mostly because of the Egmont Key Lighthouse.
Fort Dade Military History
Fort Dade was built in 1898 to defend Tampa Bay during the Spanish-American War.
Residents of Tampa Bay were hysterically afraid of a possible invasion by the Spanish. The guns and fortifications of Fort Dade were built to put their minds at ease and alleviate worries about an invasion.
Historians say that the fort probably had very little actual strategic military value and was mostly the product of local political lobbying.
Fort Dade was never directly involved in a battle, but it did play a supporting role in several wars, including the Second and Third Seminole Wars, the Spanish American War, the U.S. Civil War and World War 1.
In the early 1900s Fort Dade had approximately 300 military residents was a relatively thriving miniature city. It had many amenities that a small city would have, including a jail, hospital, recreational facilities, a school, bowling alley, tennis courts and a movie theatre.
Many ruins of the old Fort Dade infrastructure are still present on the island today.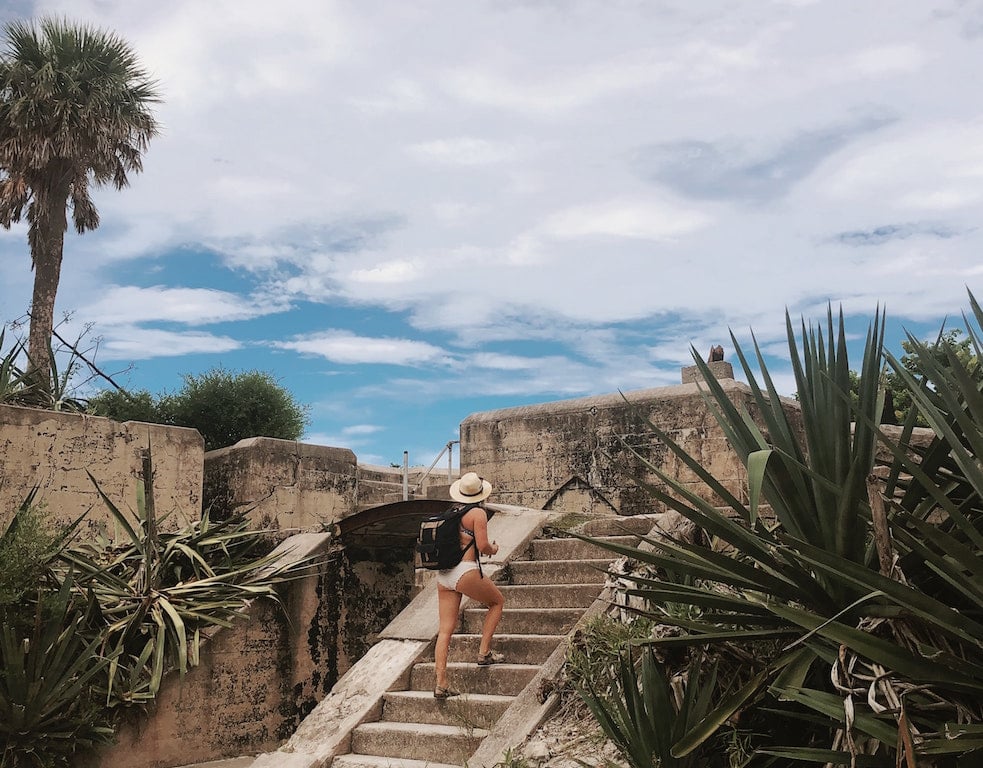 Fort Dade was decommissioned and deactivated in 1923 and the island was taken over by the Tampa Bay Pilots Association, who used Egmont Key as a staging area as they steered ships into and out of Tampa Bay.
Gun Batteries Burchstead and Page
Fort Dade had heavy, rapid-fire guns to help defend the mouth of Tampa Bay. There were several batteries; two of the batteries were called "Batteries Burchstead and Page"
Two guns from the battery have been relocated and are now on display at Fort De Soto. The guns are large, 6-inch Armstrong rapid fire guns.
The guns were built in England because there was no American equivalent of the gun technology at the time. The heavy guns could shoot projectiles for a maximum range of 5.6 miles.
The Batteries Page and Burchstead used to be located 300 feet inland from the waterline. Today the remnants of the gun batteries have been reclaimed by the sea, and are more than 300 feet offshore due to beach erosion.
Future of Egmont Key
Egmont Key is being eroded into the sea, especially on the west beach.
Today the island of Egmont Key covers approximately 250 acres; in the 1850s it covered more than 580 acres.
Another nearby island to the south, Passage Key, used to cover more than 60 acres. Today the Passage Key sandbar is anywhere from 0 to 10 acres large, and is sometimes only visible at low tide.
The island of Egmont Key is very low-lying; the highest parts of the island are only about 10 feet above sea level. Storm surge during hurricanes can flood Egmont Key beneath tides as high as 15 feet.
Historians say that Egmont Key is generally stable compared to other nearby islands which have been more heavily influenced by shifting sands and erosion.
Egmont Key Lighthouse
Egmont Key is home to an important lighthouse which marks the entrance to Tampa Bay and helps ships navigate. The Egmont Key Lighthouse is still operational today and serves as a navigational aid.
The Egmont Key Lighthouse was Florida's first lighthouse on the west coast. There have been two lighthouses on Egmont Key.
The first Egmont Key lighthouse was built in 1847. At the time it was the first and only lighthouse on Florida's Gulf of Mexico coast. The original lighthouse was damaged by storms and was decommissioned in 1858.
The second and current version of the Egmont Key lighthouse became operational in 1858. This lighthouse was built with three-foot thick brick walls and was built to a height of 87 feet, including a lamp housing.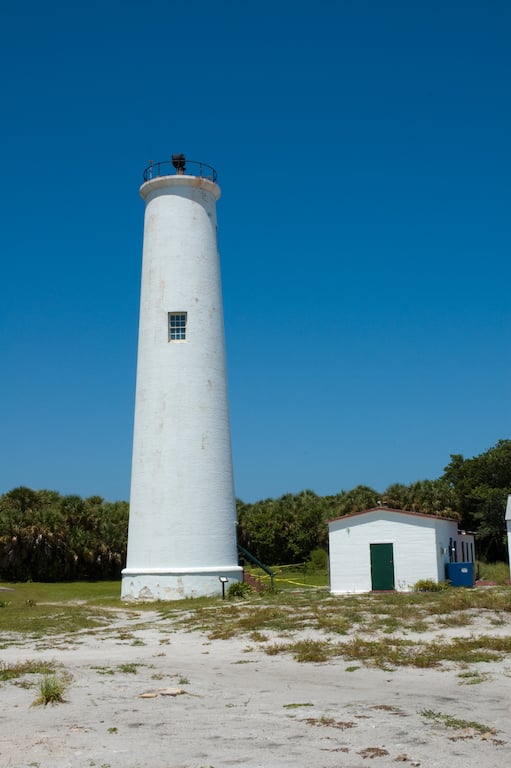 The historic lighthouse lamp has been removed and has been replaced with a modern beacon light system. Without the lamp house the Egmont Key Lighthouse stands at 76 feet tall and has a white light that flashes every 15 seconds.
Seminole Tribe History
Egmont Key has a tragic past which traces back to the horrendous native American "Trail of Tears".
During the Seminole Wars the island of Egmont Key was used as a prison island and concentration camp for imprisoned native Americans.
Native Seminole Indians were held at gunpoint, and were imprisoned by armed soldiers. They were then forcibly deported from their homelands and then forced to move to Oklahoma and Arkansas.
Many deceased members of the Seminole Tribe are buried in a cemetery on Egmont Key.
USS Narcissus
The USS Narcissus is a historical shipwreck near Egmont Key.
The Narcissus was an 82 foot harbor tug boat. It was built in New York and was used as a blockade ship during the American Civil War.
The Narcissus ran aground and sank near Egmont Key on January 4, 1866 after the ships' boiler exploded. The shipwreck killed all 29 crew members aboard.
The USS Narcissus was involved in the Battle of Mobile Bay during the American Civil War. It was en route to New York from Pensacola, Florida.
The USS Narcissus was designated as an Underwater Archeological Preserve on January 20, 2015. It serves as a memorial for the sailors who were lost on January 4, 1866.
The Narcissus is designated as an official military grave and is owned by the U.S. Navy. More information about USS Narcissus
Snorkeling
Egmont Key is one of the best places to snorkel near Tampa or Saint Petersburg.
Most beaches near Tampa are bad for snorkeling. They don't have anything interesting to see underwater because the sandy beaches lack rock or coral features to attract fish.
Egmont Key is unique because it has a series of structures just off the shore which serve as artificial coral reefs.
The partially submerged structures were originally gun batteries which were part of Fort Dade.
As the island of Egmont Key has eroded the battery structures have been submerged by the Gulf of Mexico. Now they're partially underwater, and serve as artificial coral reefs that attract fish and are good snorkeling spots.
Depending on weather conditions the captains of Egmont Key ferry boats may offer snorkeling tours through among the batteries, or other spots around Egmont Key.
Snorkel tours are usually an extra charge on top of the island ferry cost. Guests can usually bring their own snorkel gear, or rental gear may be available through the ferry boat operators for a fee.
Snorkelers should be exceptionally careful if they choose to snorkel at Egmont Key because there are many hazards. Depending on local weather conditions it may not be safe to snorkel at Egmont Key.
Underwater structures, especially decomposing buildings, carry extreme danger in many forms. Snorkelers can be cut, scraped and/or seriously injured. There may also be strong currents, waves and/or dangerous marine life, including jelly fish and other hazards.
Injuries can be severe or life-threatening, especially if injuries become infected.
Visitors should pay attention to local conditions and never attempt to snorkel in unsafe conditions, especially during high winds or heavy surf. Visitors should be aware of their own physical limitations, experience and training, and should never exceed their own limitations.