Passage Key is an uninhabited island at the mouth of Tampa Bay.
The island is protected as a national wildlife refuge, and is closed to public access.
Note: All of Passage Key closed to protect nesting wildlife. Trespassing on Passage Key is illegal. Visitors should remain well away from the beaches to avoid illegal trespassing. 
The island of Passage Key is always changing. Sections of the island grow or shrink as they are impacted by tides, erosion, hurricanes and storms. At times in recent history Passage Key has been completely submerged under water.
Today's Passage Key covers anywhere from zero to ten acres. The size fluctuates frequently. It is much smaller today than it was in the past.
Historically Passage Key was much larger, and once covered more than 60 acres. The island was filled with vegetation, including large trees and mangroves. There was also a small freshwater lake on the island.
Over time the island has been eroded by wind, waves and storms. Today the island has been reduced to a large sandbar which sits just above sea level.
Strong currents, tides and winds have shaped the island, along with nearby Egmont Key and all other barrier islands in the area.
What is Passage Key known for?
Passage Key is known for many things, but especially for being a popular destination for clothing-optional communities, including nudists and naturalists.
Being nude is always optional, and many visitors remain clothed. People who do not wish to see nudity can visit nearby Egmont Key, instead, or Fort De Soto, which all have the same beautiful water conditions.
Passage Key is also known as a popular boating destination.
Passage Key is one of the most popular sandbars near Tampa and nearby Anna Maria Island.
Although the island itself is restricted and is illegal to access, many boaters still gather to anchor offshore to enjoy the white sand and turquoise water, which is at least as clear as the water in Key West.
Boat tours in Anna Maria Island often visit Passage key on their tours.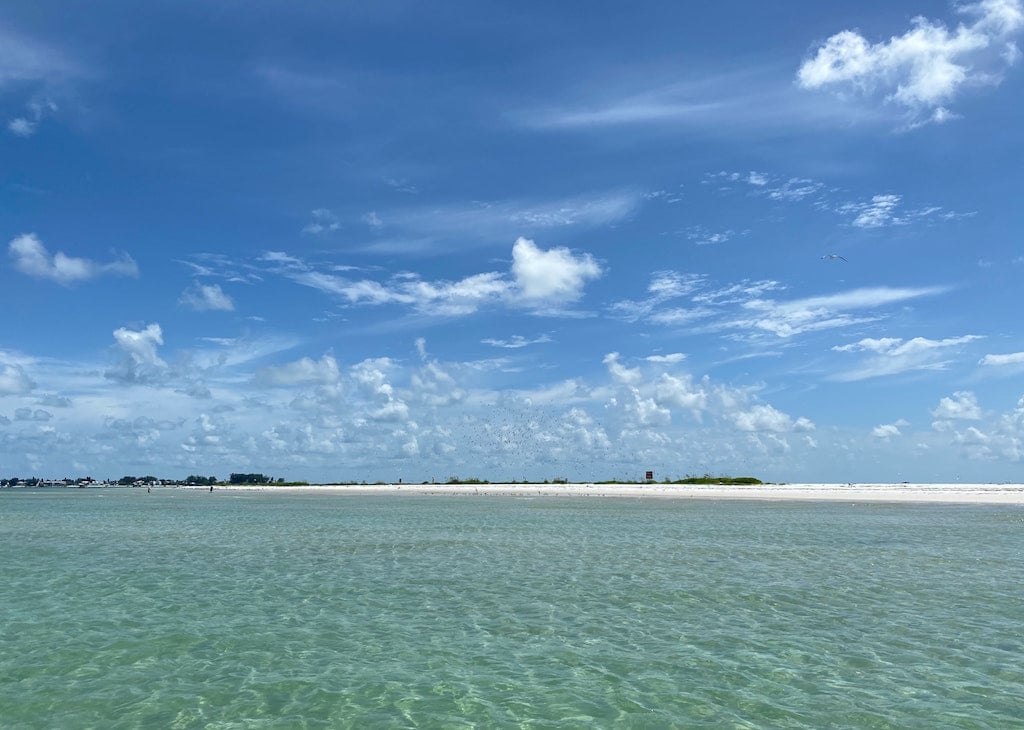 Passage Key is also known as a great place to observe birds and wildlife. It is very well known among bird watching communities.
Passage Key Nude Beach
The sandbars around Passage Key are a popular place for boaters to gather. Passage Key is especially popular because it is one of the few quasi-legal nude beaches in Florida.
Passage Key has been a popular nude beach since at least the 1940s, when the state was filled with young men who came to Florida to train and prepare for World War II.
Passage Key is well known for its clothing-optional status. It has been given several nicknames, including "Sausage Key" because older men tend to be the most enthusiastic about being nude on Passage Key.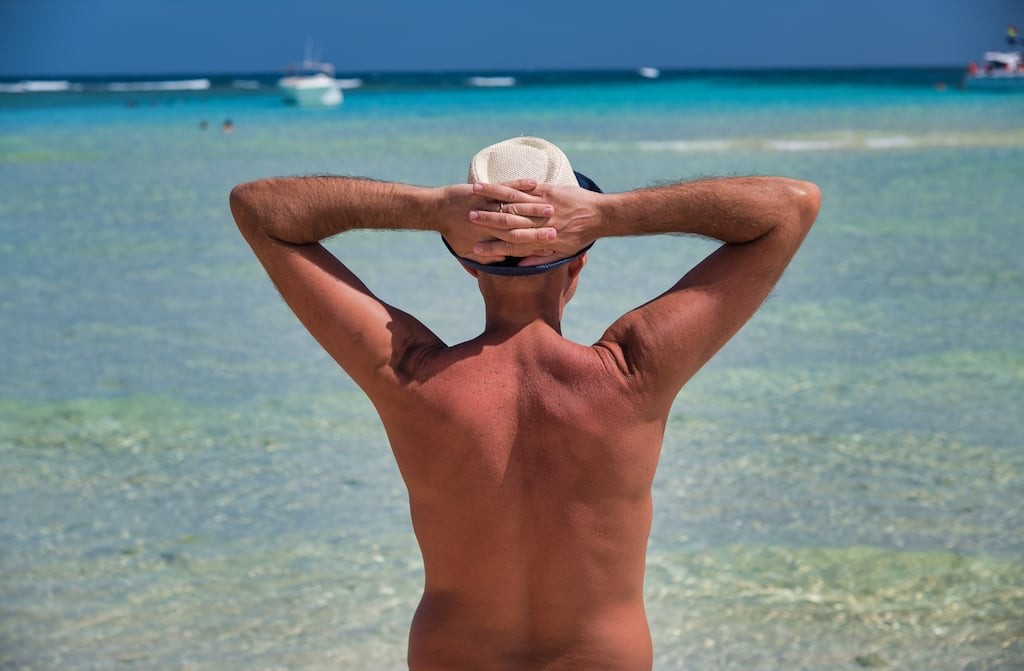 The legality of being nude at Passage Key is not clear. The State of Florida has laws against public nudity, as do many local jurisdictions.
The Federal Government does not have laws against nudity itself, which is why many areas of Federal Jurisdiction are used as informal nude beaches, including other popular nude beaches in Florida.
Passage Key is regularly patrolled by several law enforcement agencies. Although nudity is generally overlooked by law enforcement, crimes like lewd behavior, are illegal and may result in citation or even arrest.
Passage Key Beaches
The beaches on Passage Key are closed to the public.
The beach is closed to protect wildlife. Visitors should respect the beach closure, and ensure that they do not trespass on the islands.
Can you kayak to Passage Key?
It is possible to kayak to Passage Key, especially from Egmont Key and also from Anna Maria Island.
Kayaking to Passage Key can be dangerous. The trip should only be attempted by experienced and properly equipped paddlers who are sure they can make the trip safely, while taking all prudent safety precautions.
The waters around Passage Key can be dangerous for several reasons. The area at the mouth of Tampa Bay can have extremely strong tides, and many sections of the paddle are exposed to the open ocean.
The surrounding area also has a high level of boat traffic, including commercial ships which are entering and leaving Tampa bay.
Besides kayaking, Passage Key is also a popular destination for sailing. People often visit the island in various types of sailboats, but must be careful not to run aground in the shallow water surrounding Passage Key.
Some commercial sailing tours in Anna Maria Island also visit Passage Key.
Passage Key Boat Charters And Boat Rentals
Passage Key is conveniently located at the mouth of Tampa Bay. Its location makes it an easy destination for boaters from Tampa, Saint Petersburg, and communities south of Tampa like Anna Maria Island, among others.
Passage Key is a popular destination for boat charters and boat rentals on Anna Maria Island, and in other places around Tampa Bay.
Best time to visit Passage Key
The best time to visit Passage Key depends on what you want to do on Passage Key.
The best time to swim is during calm weather during the summer. The waters around Passage Key are too cold to swim comfortably during the winter months.
Warm days in the spring and fall can also be warm enough to swim.
The best time for bird watching near Passage Key is often best during the late fall, winter and early spring, when migratory bird species are in the area for the winter.
Passage Key Drone Video
Drone use is prohibited in national wildlife refuges, including Passage Key.
"Launching, landing or disturbing wildlife by aircraft (drones) on national wildlife refuges is prohibited. Drone operators should not rely solely on applications such as AirMap, DJI Go or B4UFly to determine if a location is legal for drone use. Such applications do not always capture accurate locations of public lands where drones are prohibited. Contact the refuge manager if you have questions. The use of drones on or from refuge-administered lands for the purpose of taking commercial photography requires a permit in accordance with 43 CFR 5.1-12"
–U.S. Fish and Wildlife Service
Drones are intensely disruptive to wildlife, especially birds.
Drones are dangerous to the survival of birds because they force birds to leave their nests, and young hatchlings. Without protection eggs and chicks are left vulnerable to predators.
Nevertheless, there are many drone videos of Passage Key. Many videos show the beautiful white sand and blue waters surrounding Passage Key.
Drone operators should be sure that they do not disturb any wildlife, or violate any laws regarding the use of drones in National Wildlife Refuges.
Things to do on Passage Key
Note: Visitors are prohibited from stepping foot on Passage Key beyond the water line. Access is prohibited, and illegal.
Stil, many boaters like to anchor offshore of Passage Key. Dozens or even hundreds of boats can surround the island in warm weather, especially on weekends and holidays.
Many people like to raft up with other boats and relax in their boats, swim in the clear shallow water, or play water games.
Passage Key is also a good place for bird watching and to observe marine life. Many people also enjoy looking for sand dollars, starfish and seashells in the clear, shallow water.
Passage Key History
Passage Key has been a well-known spot for many centuries, especially among sailors who explored Tampa bay.
Passage Key, called by various names over the years. It is referenced in many log books going back to 1513, when Ponce De Leon became the first European navigator to explore the region.
The island was used by Native Americans for many thousands of years before Ponce De Leon "Discovered" the land. Native Americans are known to have used islands near Tampa for hunting and fishing outposts.
The current name, Passage Key, was first used around 1703 in its Spanish version, Cayo de Pasaje.
Passage Key was one of the first national wildlife refuges in Florida, and in the United States.
The wildlife refuge was established by President Theodore (Teddy) Roosevelt on October 10, 1905 to protect seabirds.
In the early 1900s Florida's birds were being hunted to the point of extinction, for use in fashion, especially women's hats.
Many bird species were nearly eradicated as hunters killed birds for their feathers.
Passage Key was further protected again in 1970 after being designated as a "National Wilderness" by congress.
Use as a Bombing Range
In the years around World War II Passage Key was used as a target practice and bombing range.
Planes flew out of MacDill Air Force Base and used the island for bombing practice.
Federal agencies have found bombs and munitions on Passage Key, which were unstable and had to be detonated in-place.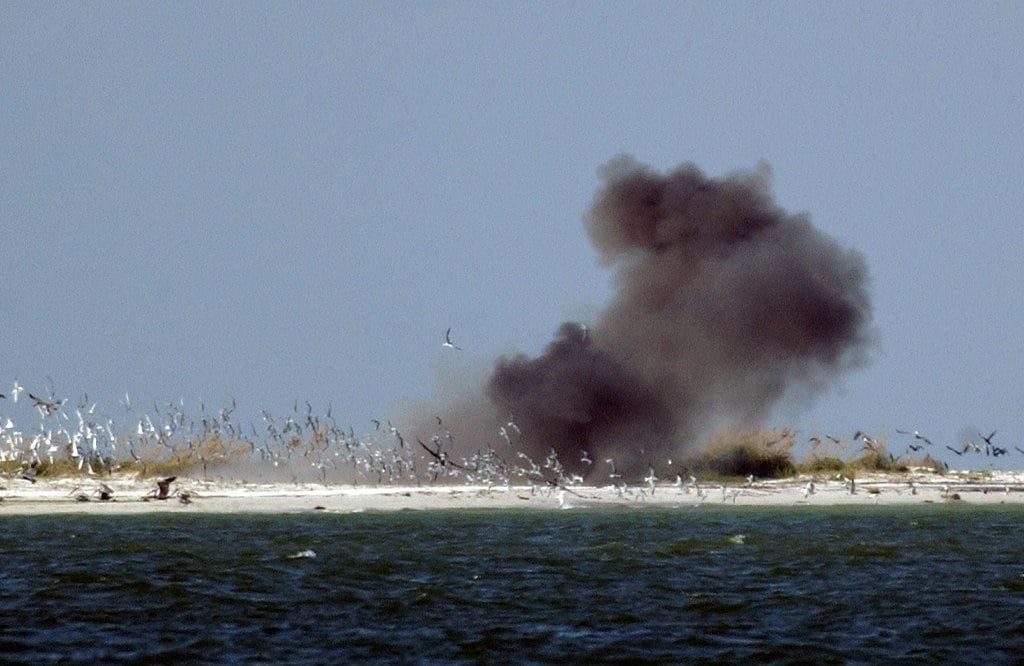 Why Is Passage Key Closed?
Passage Key is closed to public access because it is a National Wildlife Refuge. Passage Key is a critical habitat for wildlife, including a wide variety of threatened and endangered bird species.
Who Owns Passage Key?
Passage Key is owned by the U.S. Federal Government, and is managed as part of the U.S. Department of Interior National Wildlife Refuge System.
Passage Key Bird Sanctuary
Passage Key is a critical wildlife habitat for many colonial and seabird species, including threatened and endangered species.
Common birds include: Terns, gulls, pelicans, cormorants, dowitchers, black skimmers, and others.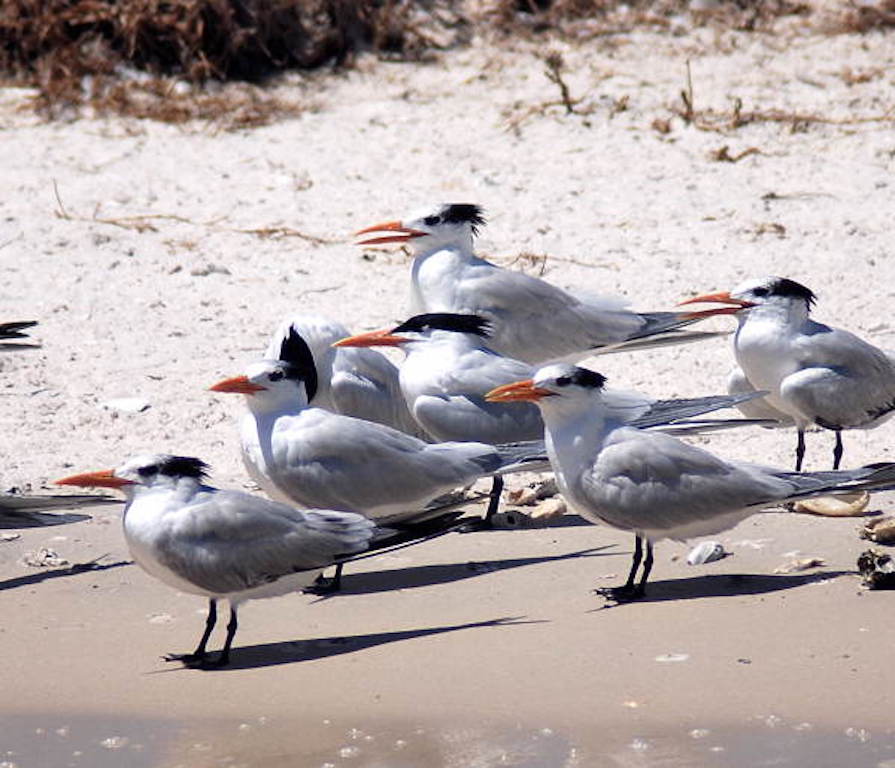 Endangered species like the Roseate spoonbill, snowy plover and masked booby are also sometimes present.
Passage Key was once home to the largest colonies of sandwich and royal terns in the state of Florida.
Passage Key to Anna Maria
Passage Key is located approximately one mile north of Bean Point Beach on the northern tip of Anna Maria Island.
Visiting Passage Key is a popular thing to do near Anna Maria Island for visitors, and locals, as well. Many people visit Passage Key from Anna Maria Island on boat tours.
Passage Key is located approximately 1.8 miles south of Egmont Key. and approximately 4 miles from the southern beaches of Fort De Soto.
Passage Key Inlet
The Passage Key Inlet is a body of water in between Passage Key and Bean Point, the northern tip of Anna Maria Island.
Passage Key Inlet can have extremely strong tides and currents. Swimmers, boaters and kayakers should exercise extreme caution in Passage Key Inlet and surrounding areas.
Wildlife, Dolphins
There is a wide variety of wildlife on and near Passage Key.
Dolphins and manatees are often seen in the clear waters around Passage Key, as well as fish, sharks, stingrays, and many other forms of marine life.
Passage Key's location at the mouth of Tampa Bay makes it attractive for large marine life. There are also other features, including deep-water channels and other natural formations which attract fish.
Sharks near Passage Key
There are sharks near Passage Key, and throughout the Gulf of Mexico and Tampa Bay.
A variety of shark species are found in the area, ranging from small bonnethead sharks to large species like bull sharks and even great whites.
The presence of sharks in Florida is a good thing. Sharks are essential to marine ecosystems, and to the health of our oceans.
Sharks almost never pose a threat to humans, and shark attacks are exceedingly rare. Most shark bites are accidental, and are not fatal.
Weather (Marine Forecast)
Visitors should always check the weather and marine forecast before heading to Passage Key.
Dangerous weather, including severe thunderstorms, can arise quickly in Tampa Bay, with very little warning.
Severe weather often includes strong winds, large waves, dramatic temperature drops, lightning, and other hazards. Severe weather can be deadly for boaters trapped on the water.
Threats to Passage Key
Like all of Florida's fragile marine ecosystem, Passage Key is threatened by a variety of forces.
The most imminent threats to Passage Key are erosion and rising sea levels, which are both reducing the island's size. Egmont Key is also eroding quickly.
Other threats to Passage Key include humans who trespass and interfere with the island's bird population, especially when people bring dogs.
Pollution also threatens the health of Passage Key, especially nutrient pollution, which contributes to red tide and threatens all of Florida's coastal marine ecosystems.
Red Tide
Like all other beaches in Florida's Gulf of Mexico coastline, Passage Key is dramatically affected by red tide during outbreaks present in the Gulf of Mexico.
Red tide causes respiratory symptoms for people and animals exposed to the airborne toxins, and is dangerous in a variety of other ways. Red tide should be avoided when present.
Are Dogs Allowed on Passage Key?
Dogs are not allowed on Passage Key, and should never be allowed near the island or sandbar. Even if dogs do not come into direct physical contact wildlife, they are still dangerous to wildlife. Birds recognize dogs as natural predators, which forces them to change their natural behaviors. Among other things, the sight of dogs may force birds to abandon their nests, abandon young chicks, prevent nesting behaviors, or otherwise change their natural behavior.