John Pennekamp Coral Reef State Park is one of the most popular state parks in Florida.
Most visitors come to John Pennekamp while driving from Miami to Key West, or while road tripping on the Overseas Highway.
Warning: Read Before Visiting John Pennekamp State Park
Many folks come to John Pennekamp with unrealistic expectations about the beaches, snorkeling and water clarity.
They see pictures of Christ of the Deep, clear water and colorful coral reef, and expect to experience those things during a short stop at the park while driving from Miami to Key West. That's not possible!
Many guides describe Pennekamp state park as a Caribbean paradise, without giving accurate details. Part of the park (offshore) is stunningly beautiful, with Caribbean-clear water, colorful coral and beautiful snorkeling.
But, that's just not true for the shore-based part of the park, or the beaches! It's a recipe for disappointment, unless visitors know what to actually expect.
You probably cannot see clear water, or snorkel at the reef with a short visit. Most visitors should allocate a significant amount of time at the state park if they want to see coral, or swim in clear water.
In my opinion a full day or more would be a good place to start for any sort of water-based activity.
Many of the offshore boat tours require several hours to complete. Advanced planning and reservations are often necessary.
A short land-only visit to the park might still be "worth it". But, a short stop would surely not do the park justice, or give a true idea of what the park really offers.
You probably cannot snorkel in clear water, or see coral, with a short visit!
Things To Do
What is there to do at John Pennekamp park? The state park offers guests a variety of activities to enjoy including:
Beaches
Snorkeling and scuba diving
Glass-bottom boat tours
Kayak, canoe, and paddleboard rentals
Hiking and nature trails
Picnicking
Camping
And more
Day Trips from Miami
The state park is also one of the most popular places to visit near Miami.
Driving to Key West takes half a day or more, but it's easy for visitors to drive from Miami to Key Largo to experience the Florida Keys. Or, at least the northern tip of the Keys.
John Pennekamp State Park has a lot to offer:
Beautiful clear, turquoise water (Offshore!)
Access to a beautiful, protected coral reef ecosystem (Offshore!)
Some of Florida's best snorkeling (Offshore!)
Diverse and abundant marine life, birds and wildlife
Mangrove habitats and marine ecosystems
Shore and near-shore based activities
Boat tours
Watercraft rentals
A nice campground
One of the few state parks with campgrounds in the Florida Keys
John Pennekamp Coral Reef State Park is huge. The state park covers an area of more than 70 square nautical miles.
But, most of the park is located underwater and offshore. Only a small section of the state park is on land!
The main purpose of the park is to provide access to the coral reef, and the park's many other water attractions like snorkeling, scuba diving, boating, kayaking and more.
Most visitors are interested in water activities at John Pennekamp, but there are also some land-based activities and attractions.
Details, Hours and Fees
John Pennekamp Coral Reef State Park is open 365 days a year from 8am until sunset.
Note: Park admission fees are based on the number of people in a car, rather than a flat-fee pricing like most state parks in Florida. There is an additional surcharge from Monroe County.
For most people the following fees apply:
$8 per vehicle, plus $.50 per person, up to 8 people
Single-occupant vehicle: $4.50
The state park page lists pricing details for other situations.
Location
John Pennekamp Coral Reef State Park is located on Key Largo, the northernmost island in the Florida Keys island chain.
The park is located near Mile Marker 102.5 on the Overseas Highway. The park is approximately one hour's drive south from Miami, depending on traffic.
Map of John Pennekamp Coral Reef State Park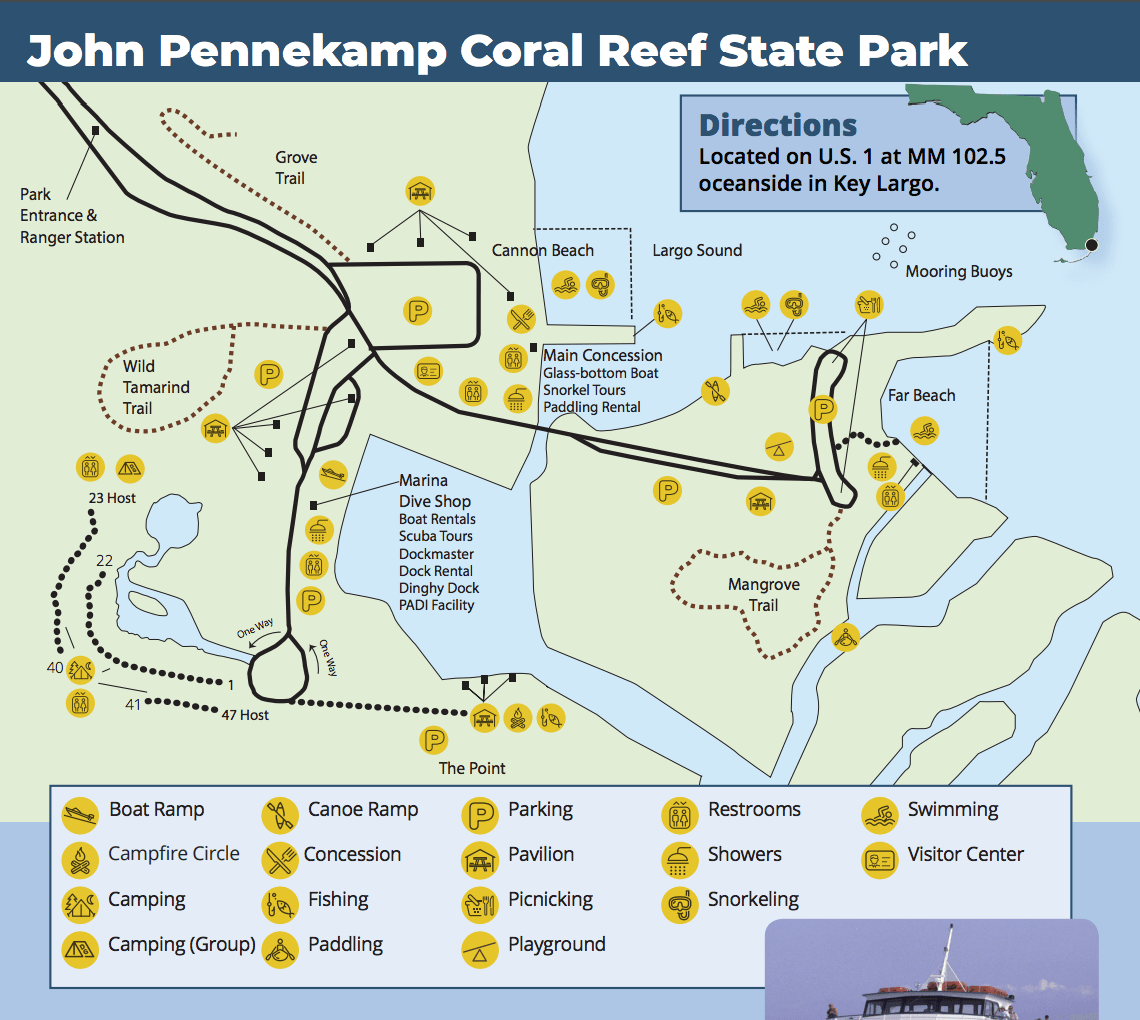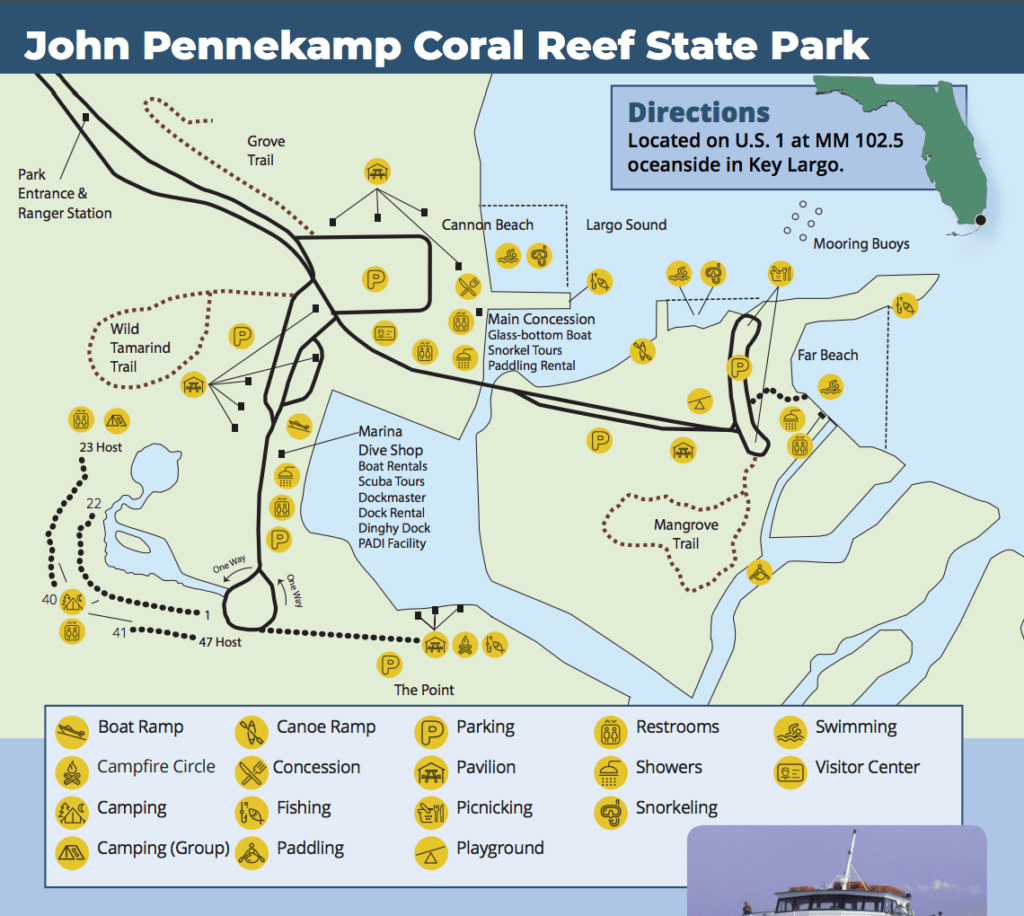 It's helpful to imagine John Pennekamp State Park in several distinct "areas":
The day-use area
The campground area
The "Land" section
The "Water" section
The land-based of the park is located on the southwest shoreline of Largo Sound.
But, the entire park is much larger. The perimeter of John Pennekamp Coral Reef State Park is approximately 21 miles long, and extends more than three miles into the Atlantic Ocean.
In total the park covers more than 72 nautical square miles of protected marine ecosystem.
Even more of the marine ecosystem is protected by the neighboring Florida Keys National Marine Sanctuary.
There are also several other sections of the park which are only accessible by boat.
Beaches
There are two main beaches inside John Pennekamp Coral Reef State Park:
These beaches are beautiful in their own way, but they're different from other beaches in Florida.
Notice: If you come expecting a beach from the Bahamas, prepare to be disappointed!
Beaches in the Keys do not have long, wide-open, soft sand beaches like most people expect.
The beaches in John Pennekamp State Park (like most beaches in the Florida Keys) are small, scraggly, and "man-made".
They are much smaller and narrower than most people expect, and are only about 60 feet wide at their widest points. They're surrounded by mangrove forests.
The water is often murky, and the water near the shore is not clear like many people expect. Clear water is only found offshore!
The sand is hard-packed and rocky
Seaweed can accumulate on the shores
John Pennekamp's beaches open up to Largo Sound, an enclosed waterway. They do not directly face the Atlantic Ocean.
A parking lot is directly behind the beach and can often be crowded and noisy
Visitors planning to spend the day may want to bring their own shade.
There are a few trees and a few covered pavilions, but there is very little shade on these beaches.
Cannon Beach
Cannon Beach is the main beach in John Pennekamp Coral Reef State Park. It's located next to the state park concession center and marina.
There are outdoor rinse-off showers and restrooms near the beach.
Cannon Beach has a designated, roped-off swimming and snorkeling area. The beach has many rocks; visitors are advised to bring water shoes.
When water conditions are pleasant snorkelers can explore 17th-century shipwreck artifacts underwater. A buoy is labeled "Spanish shipwreck, 1715".
The "shipwreck" now serves as a mini artificial "reef", although that term can be misleading because there is no living coral, as many people might assume.
A historical marker inside the state park explains the historical significance of the site, and the story behind Cannon Beach:
"In the 1930s fishermen discovered a shipwreck several miles northeast of where you're standing. The cannons were recovered and examined for clues about the identity of the ship. Take a look at the top of the cannons on the beach. You can still see the raised outlines of a design that was originally a rose, a crown, and a cross. The salvage crew traced these symbols to the English warship, HMS Winchester, which sank in 1695 after grounding near Carysfort Reef.

Silent for over 300 years, these cannons represent an era when European naval powers and pirates traveled these waters looking for opportunities. The Florida Reef Tract is the final resting place of many ships like the Winchester."

-A sign inside John Pennekamp Coral Reef State Park
Far Beach
Far Beach is the second beach in John Pennekamp State Park.
Cannon Beach is located east of the marina and concession area. It's located next to the playground and picnic areas, and has its own building with restrooms and showers.
Far Beach also has two roped-off swimming areas:
One swimming area is located north of the parking lot
Another swimming area is located to the east.
The two swimming areas are separated by a small spit of land, covered in mangroves.
The eastern, main section of beach is protected by a rocky lagoon which ensures calm, protected swimming conditions.
Snorkeling is permitted, but there is not much to see under the water. An occasional fish may be spotted, but there is no artificial "reef" habitat like on Cannon Beach.
Snorkeling at John Pennekamp
Snorkeling is one of the most popular activities in John Pennekamp State Park.
Snorkel tours are offered daily from 9 am until approximately 3pm. Tours are approximately 2.5 hours long.
Snorkeling tours include:
A 30-minute boat ride to the reef
Approximately 90 minutes of snorkeling
A 30-minute boat ride to return to the state park
While on the water snorkelers may see a variety of marine life, including:
Tropical fish
Crustaceans
Sea turtles
Sharks
Rays
Sea urchins
Starfish
And more
How much does it cost to snorkel at John Pennekamp
Snorkel tours in John Pennekamp State Park cost $38.95 for Adults and $35 for Children.
Additional snorkel and dive equipment like masks and wetsuits may be rented.
Can you snorkel off the beach at John Pennekamp?
Visitors can snorkel off of the beaches in John Pennekamp State Park. But, the water clarity is generally not impressive.
Snorkeling off the beach at John Pennekamp may be disappointing for people who have unrealistically high expectations.
On good days the water in Largo Sound can be relatively clear with decent visibility, and a heavy green tint. On bad days the water can be cloudy, murky and poor visibility.
Snorkeling conditions are best offshore where the water is clear and the coral reef is visible.
The only "thing to see" while snorkeling off of the beach in John Pennekamp is a series of underwater objects, including:
Underwater cannons from a 1715 Spanish shipwreck
Other remnants from a shipwreck, including a large ship's anchor
A limited selection of marine life can be seen while snorkeling from the beach in John Pennekamp, including fish, crabs, and other marine life that live in seagrass beds.
It is not possible for visitors to see any living coral while snorkeling from the beach in John Pennekamp. Visitors must go offshore on a boat to access the coral reefs.
Can I snorkel on my own at John Pennekamp, without a tour?
Visitors are allowed to snorkel on their own without a tour guide in the state park.
Snorkelers can snorkel on their own in the Cannon Beach snorkeling site, the Far Beach swimming area, or on the offshore coral reefs if they are sufficiently prepared, experienced, and can reach the site with their own watercraft.
Boaters should be sure to use appropriate safety precautions and follow all applicable rules and regulations.
SCUBA Diving
John Pennekamp Coral Reef State Park offers a full dive shop with diving tours, equipment rentals, and scuba certification courses. 
Divers have the option of 9 am or 1:30 pm tours for $90 (plus equipment rentals) to visit two reef sites.
A range of SCUBA classes are also available from beginner to advanced divers.
Swimming
Many people ask about the water depth at John Pennekamp State Park.
The water at Cannon Beach and Far Beach only gets to about 10-15 feet deep at their deepest points. It's possible to walk and wade gently into the water because of the sloping shoreline.
Water depth at the reef depends on the location, but typically ranges between 10 – 30 feet.
The water depth at the Christ of the Abyss statue is approximately 25 feet deep.
The top of the statue is approximately 10-15 feet beneath the water's surface, making it somewhat visible from above water when sea conditions allow.
Kayaking and Paddling
John Pennekamp State Park is one of the best places to kayak in the Florida Keys.
There are several miles of mangrove trails that visitors can explore, along with protected waters in Largo Sound.
Kayaks, canoes, and paddle boards are available for rent through the park's concessionaire, or visitors can bring their own.
Rental prices range from $20 – $50 at the time of this writing, depending on which watercraft is chosen and the rental duration.
Sharks
There are sharks in John Pennekamp Coral Reef State Park. The most common shark seen is the docile nurse shark, which poses no threat to humans.
Other shark species are common around the waters of the Florida Keys and can occasionally be spotted around the reefs. Shark species in the Florida Keys include:
Blacktip
Bull sharks
Lemon sharks
Hammerhead sharks
And others
While shark encounters with humans are still rare, there have been a few shark interactions reported at John Pennekamp.
In 2018, a park visitor was bit on the leg while snorkeling the reef.
Other areas of the Florida Keys as well as Florida oceans in general, have had incidents of shark bites over the years.
Visitors should exercise caution when entering a marine environment and obey all instructions and warnings from tour guides.
Note: Sharks are vitally important to healthy marine ecosystems. Their presence is a good thing. The absence of sharks indicates an unhealthy marine environment, and is a worrying sign.
Jesus Christ of the Abyss Statue
The underwater "Jesus Christ of the Abyss" statue is a famous landmark at John Pennekamp Coral Reef State Park.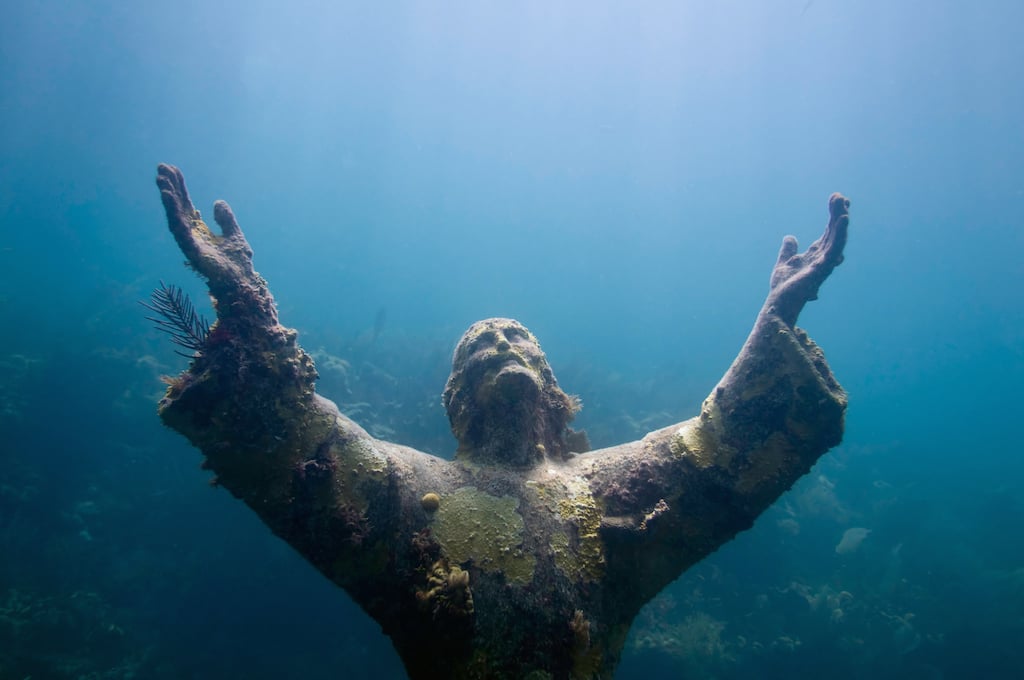 The "Underwater Jesus" statue is located approximately seven miles offshore from John Pennekamp State Park docks.
The statue sits in an area known as "Key Largo Dry Rocks", in the Dry Rocks Sanctuary Preservation area.
Divers and snorkelers enjoy taking photos and selfies with the picturesque statue.
The Christ statue is 8.5 feet tall and weighs 4000 pounds.
The top of the statue is approximately 10 feet below the water's surface, so it's possible to see from the surface when conditions are good.
The statue was sunk in 1965 and dedicated as a memorial to people who have lost their lives at sea, and to underwater explorers.
The Christ of the Abyss statue was made in Italy by an artist named Guido Galletti.
The statue was one of three identical bronze statues made from his mold. Another "Christ of the Abyss" statue is located in San Fruttuoso, Genoa, Italy.
Another is located in the Caribbean island of St. George's, Granada.
Glass Bottom Boat Tours
One of the most popular things to do in John Pennekamp State Park is to take a glass bottom boat tour.
The see-through boat tours allow visitors to see the coral reef without snorkeling, diving or even getting in the water.
The "Spirit of Pennekamp" vessel takes passengers out for 2½ hours to see several sites on the park's coral reef.
Glass bottom boat tours cost $32 for Adults and $19 for Children.
Museum and Visitor Center
The visitor center at John Pennekamp Coral Reef State Park has an impressive 30,000-gallon saltwater aquarium, as well as other smaller aquariums.
Shore-based activities
Shore-based activities include:
Nature trails
Picnic areas
A campground
An aquarium and interpretive exhibits
Nature and Wildlife
John Pennekamp Coral Reef State Park is a great place to see Florida wildlife and marine life.
On land, visitors can see shorebirds, migratory birds, iguanas, butterflies, and many other species.
Underwater, the park has a massive living coral reef system, although it can only be seen in teh park's offshore section.
The reef is home to more than 600 species of fish, as well as sharks, rays, turtles, and many other forms of marine life.
The park's protected seagrass beds are vital for the park's marine ecosystem, and provide a haven for juvenile fish and marine life.
The mangrove ecosystem helps protect the park from wind, waves, storms, erosion and other threats. Mangroves are also an important home for juvenile fish, birds, and many other species.
Occasionally manatees and crocodiles can also be seen swimming among mangroves.
About the Coral Reef
Some of the most beautiful coral reefs in Florida are found inside John Pennekamp State Park.
The coral reefs around John Pennekamp are extremely sensitive, and vulnerable to damage. The reefs grow very slowly, over many thousands of years.
Coral reefs are an accumulation of countless tiny marine animals called polyps. They, and other marine animals, create limestone skeletons as they grow.
The hard skeletons remain in-place after the organism's death, eventually stacking up to build elaborate coral reef structures.
The reefs are also filled with soft corals, sea fans, sea plumes, and other beautiful marine organisms.
Reef conservationists have been working diligently to help restore and protect the coral reef as well as propagate new coral colonies.
Sadly the fragile reefs in Florida, and around the world, are dying quickly. They are stil beautiful today, but they are a fraction of what they once were, and are visibly unhealthy.
Reefs around the world are dying because of marine pollution, damage caused by swimmers, boaters, rising ocean temperatures, and other factors.
Coral reefs are essential habitats for many of Florida's native marine species, including fish, lobsters, turtles, shrimp, sponges, mollusks, crustaceans, echinoderms, and many more.
Amenities
The state park offers the following amenities and activities:
Modest nature trails for hiking
Wooden mangrove trail boardwalks
Kayak, paddleboard, and canoe rentals
Snorkeling and scuba tours
Glass bottom boat tours
Power boat rentals
Picnic tables and grills
On-site food truck (Blue Heron Cafe)
Restrooms and outdoor showers
Fishing areas
Campgrounds
ADA accessible boats, beaches, campgrounds, and restrooms
Boat ramps with boat trailer parking
A marina with full-service slips, moorings and dinghy dock
A visitor center with a 30,000-gallon saltwater aquarium, nature exhibits, auditorium, and theater
And more
Showers and Changing Rooms
Showers are important because many people visit John Pennekamp on a day trip, or as part of a road trip to Key West. It's not fun to ride home with salty skin after swimming in the ocean.
Cold-water outdoor rinse-off showers are available in the day-use section of the park, for non-campers.
Outdoors showers are located near Cannon Beach, Far Beach and near the marina. There are also indoor changing rooms inside a restroom/bath house.
Non-campers may be able to pay for access to the campground's hot showers. Tickets can be purchased at the ranger station.
Food
There is food on-site in John Pennekamp State Park, provided by an on-site food truck, the Blue Heron Cafe.
Menus are not published publicly for some reason, but at least one older version can be found on their Facebook page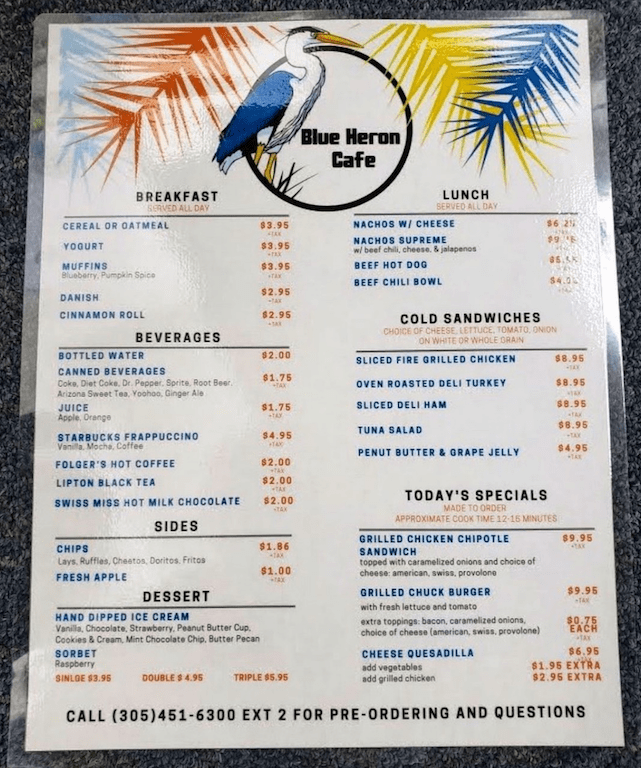 The Blue Heron Cafe menu includes typical food truck food, including burgers, hotdogs, sandwiches, french fries, ice cream and other snacks.
There are several tables for eating on-site. Packaged snacks and drinks are also available for purchase inside the concession center.
The Blue Heron Cafe is located near the marina.
There are other restaurants on Key Largo, and state park admission does generally allow re-entries if you leave and come back during the same day, subject to their rules.
A sign does say that readmission may be denied if the park reaches capacity or if the park is overcrowded.
Nature Trails
John Pennekamp Coral Reef State Park has several trails to explore, including mangrove tunnel kayaking trails, and walking trails through tropical hammock forest.
On land, visitors can explore and hike through three unique walking trails:
The Wild Tamarind Trail: .3 miles through a tropical hardwood hammock.
The Grove Trail: .6 miles through a mangrove swamp, tropical hardwood hammock, and historic fruit grove. Many species of butterflies can be seen along this trail.
The Mangrove Trail: .3 miles of boardwalk which follows the mangrove swamp and paddling trails. This path leads to an observation tower for a birds-eye view of the park.
By water, boaters and paddlers can explore over 50 miles of waterways depending on their experience level and the distance they're willing to travel.
Most visitors choose to explore a beautiful 2.5-mile paddling trail through shaded mangrove tunnels.
Campground Details
The campsites at John Pennekamp Coral Reef State Park are paved concrete slabs or small gravel.
All of the sites include wooden picnic tables and charcoal BBQ grills.
There are two bath houses with hot showers for campers. Both have hot water and showers. There are also paid laundry facilities on-site in the larger main bath house.
Camping
Many visitors want to camp at John Pennekamp Coral Reef State Park. The campground's biggest attraction is the location, which is great and very convenient.
The campsites themselves are pretty good compared to many other campsites in the Keys, but otherwise they aren't the best sites in the world.
The campsites are densely packed and generally don't offer great privacy, or particularly good views. There can also be intense no see ums and mosquitoes, depending on the season.
The park has 42 campsites available. Most sites can accommodate tent or RV campers up to 40 feet. Several sites are "RV only" and accommodate slightly larger rigs.
Each campsite has electrical, water, and sewer hookups, plus a grill and picnic table.
The park has a single RV dump station.
Restrooms and shower facilities are available within walking distance and are ADA accessible.
The campground has one large bath and shower house, along with one smaller bath house building near the group camping area. The larger bath house pas pay-laundry machines.
Reservations
Reservations are required and can be made through the Florida State Parks Reservation System.
Demand for the campground is very high, and the number of campsites is very low.
Campsites fill up fast. They're often sold out within minutes of being released for reservation, 11 months in advance.
It's possible to get lucky and find last-minute cancellations. But, in my experience these are often only available on short notice, and they're reserved quickly.
These last minute campsite cancellations are often for a single night at a time, making them impractical to rely on for vacation planning.
Camping Prices
At the time of this writing the cost for all campsites in John Pennekamp State Park cost $36 per night, plus approximately $14 additional in various fees.
Is Pennekamp full hookup?
The campground in John Pennekamp is full hookup, including water, electrical, and sewer hookups.
Electrical hookups include 30 amp, 50 amp, and standard 110-volt household electrical connections.
RV Dump Station
There is an on-site dump station at John Pennekamp Coral Reef State Park. The dump station is located behind a locked gate which requires a code, given to campers.
It is not clear whether the dump station is available for non-campers to use.
There is a charge to use the dump station, on top of normal fees to enter the park, if applicable.
Tent Camping
Campsites do allow tents, but the campsites are paved or gravel, and not very comfortable to sleep on.
Tent campers should be aware that no see ums, mosquitoes and other insects can be intense depending on weather conditions, especially during calm wind conditions.
Big-Rig Friendly
The campsites are big-rig friendly. Most spaces are large enough for large rigs and tow cars up to 40 feet.
Several spaces are also available for rigs greater than 40 feet.
There are generally not big overhead trees or obstructions.
Downsides of John Pennekamp State Park Campground
The worst part about John Pennekamp State Park is that there are not enough campsites to meet the high demand.
Campsites are difficult or impossible to reserve. It is not uncommon for the campgrounds to be completely booked immediately when they first become available, 11 months in advance.
Campers should be aware that most sites offer very little privacy. The campsites are very close together, some sites have only a few feet between them and are in full view of neighboring sites.
A few sites are slightly wider with more privacy; those are even harder to book. Because the campsites are so close, some sewer hookups might be right beside a neighbor's picnic table.
The campgrounds can be "buggy". There are often many noseeums, mosquitoes, and biting insects because the campground is located in an area with dense vegetation and no seabreeze.
Marina
There is a small marina inside John Pennekamp Coral Reef State Park, operated by the on-site concessionaire.
There are boat slips and moorings for visitors who arrive by boat, or who bring a boat with them.
Boat slips and moorings can be rented for overnight use, including for boat camping.
Slips in the marina include water and electric hookups, as well as access to shore facilities like bathroom and shower facilities nearby.
The marina's boat moorings are located in Largo Sound. There is a dinghy dock at the marina.
Slip rentals and moorings include access to pump-out facilities, trash disposal and other park facilities.
The marina is popular, and space is limited. Reservations may be necessary to secure space.
The marina monitors VHF channel 16 and can be reached at (305) 451-6325.
History
John Pennekamp Coral Reef State Park was created in the late 1950s.
At the time marine biologists saw that the coral reefs in the Florida Keys were dying due to development and human destruction.
One man, Dr. Gilbert Voss from the Marine Institute of the University of Miami, led the fight to protect the reef, along with a Miami journalist named John Pennekamp.
Pennekamp later became an editor at the Miami Herald and the first chairman of the Florida Board of Parks and Historic Memorials.
Pennekamp joined Dr. Voss to fight for preservation of Florida's coral reef system. He also helped Marjory Stoneman Douglas establish Everglades National Park.
In 1960, the state park was established and became the first undersea park in the United States. Its mission was to protect and preserve a portion of the only living coral reef in Florida, and the continental U.S.
The park's original name was going to be Key Largo Coral Reef Preserve. It was later changed to John Pennekamp Coral Reef State Park to honor Mr. Pennekamp's vision and conservation efforts.
"The park is named for the late John D. Pennekamp, a Miami newspaper editor whose efforts led to the establishment of this state park. The park was originally established due to growing concern that the coral reefs in the Florida Keys were being destroyed by excessive collection of coral, conch, and tropical fish. As development increased in the Keys, it became increasingly important to acquire additional upland habitat to protect the entire ecosystem." -Florida State Parks
Environmental Protection
John Pennekamp Coral Reef State Park was created to protect Florida's sensitive coral reef habitat.
The reef, like many others on the Florida coastline, was being destroyed by development, pollution, careless visitors and people who removed pieces of the reef as souvenirs, among other things.
Today the coral reef and marine ecosystem are in poor health, and remain extremely sensitive to environmental destruction.
State park employees and ocean conservation societies work together to protect the reef. They're doing their best to protect and restore coral populations, monitor water quality, and educate visitors on minimizing human impact on the reef and Florida's sensitive environment.
Sadly, the efforts of conservationists are being overpowered by overdevelopment, pollution, and endless damage to Florida's oceans, waterways and natural environment.
Pros And Cons
Like any State Park, John Pennekamp Coral Reef State Park has its pros and cons:
Pros
A beautiful and unique park with lots of things to do
An opportunity to see a living coral reef up close
A convenient location with easier access to South Florida than other parks in the Keys
Cons
The park get very crowded at times
A half day, or more, is necessary to experience the park's offshore beauty
Near-shore swimming and snorkeling may be disappointing
The beaches are "man-made" and not as nice as other beaches in Florida
Campsites are difficult to reserve, and are very limited
FAQ
Which is better, Bahia Honda or John Pennekamp?
Bahia Honda has much nicer beaches and campgrounds than John Pennekamp State Park, but offers worse water activities. John Pennekamp has better water activities and better access to the Florida barrier reef, but has worse beaches than Bahia Honda State Park.
Are there showers at John Pennekamp?
There are outdoor rinse showers in John Pennekamp State Park, as well as indoor changing rooms. There are outdoor, cold-water showers near Cannon Beach, Far Beach and near the marina.
There are hot-water, indoor showers at the state park campground, although those are reserved for campers' use only. Non-camper park visitors can buy tickets to use the campsite showers from the state park ranger station.
Where is the underwater Jesus statue in Key Largo?
The famous Jesus Christ of the Abyss Statue is located 20-25 feet underwater at Key Largo Dry Rocks Reef. This site is a popular stop on John Pennekamp snorkel and dive tours.
Does Key Largo have pretty beaches?
Key Largo has several small beaches along the overseas highway. The beaches are pretty and nice, but visitors should have realistic expectations to avoid disappointment. The beaches in John Pennekamp State Park are small with hard sand, rocks, and large areas of mangroves. The water at Pennekamp State Park beaches is usually calm, but the water is not as clear or beautiful, as some people wrongly assume. Beautiful, crystal-clear water is found offshore near the coral reefs, but boat access is required.
Are there crocodiles at John Pennekamp?
The Florida Keys, including John Pennekamp State Park, is home to the American Crocodile. Florida's American crocodiles can be found in South Florida and throughout the Keys. The Crocodile Lake National Wildlife Refuge is also located in Key Largo, just a few miles from John Pennekamp.
Does Pennekamp have alligators?
Alligators exist in all parts of Florida, including some parts of the Florida Keys. That said, alligators are primarily freshwater amphibians. Alligators are rarely seen in salt water environments; it is not their primary habitat. On the other hand, crocodiles do live in saltwater habitats in the Florida Keys, including areas around John Pennekamp Coral Reef State Park.
Visitors may notice "Crocodilian" warning signs in John Pennekamp state park, warning of saltwater crocodiles.
Additional Resources
https://www.floridastateparks.org/parks-and-trails/john-pennekamp-coral-reef-state-park
Featured Image: Ebyabe, CC BY-SA 3.0, via Wikimedia Commons
Note: Details were verified at the time of publication, but all information is subject to change. We suggest contacting the state park, or park concessionaire for the most current information. If you notice any information which has changed please let us know so we can make corrections.