Kelly Park/Rock Springs is one of the most beautiful springs in Florida.
The main attraction at Rocks Springs is a gorgeous natural Florida spring and spring run, which is great for tubing.
Many people describe Rock Springs as Orlando's natural lazy river, which is a great description!
Rock Springs/Kelly Park is less than 30 miles away from Orlando, but it feels like you're in a different world. The spring and park is surrounded by beautiful, peaceful nature and lots of Florida Wildlife.
Rock Springs starts flowing from its spring vent, located inside Dr. Howard A. Kelly Park. After rising from the spring vent, it forms a small, clear river known as Rock Springs Run.
Are there Alligators in Rock Springs Kelly Park?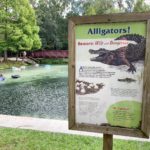 Yes, alligators are sometimes found at Kelly Park/Rock Springs, although they do not usually cause problems. The following video shows a 5 ft. alligator being removed from Rock Springs. Many signs in Kelly Park/Rock Springs warn alligators, snakes and dangerous wildlife. Alligators can live in nearly every large body of water in Orange, Seminole, Lake and Osceola counties. There's at least one recorded incident of an alligator attack in the region. The following article describes an attack on a woman swimming in the Wekiva River. Tragically, she had part of her arm bitten off by an alligator.
Note: In the past the spring and river have been closed to swimming, tubing and water entry due to alligator danger. It is always a good idea to check the park status before visiting.
Florida Springs Guides
We created a guide to the best springs in Florida, along with an interactive springs map.
If you want to find new springs you might not know about, we also suggest this guide, "Touring the Springs of Florida". It lists most of the major springs in Florida, including lesser-known springs. It's very well organized, and easy to use.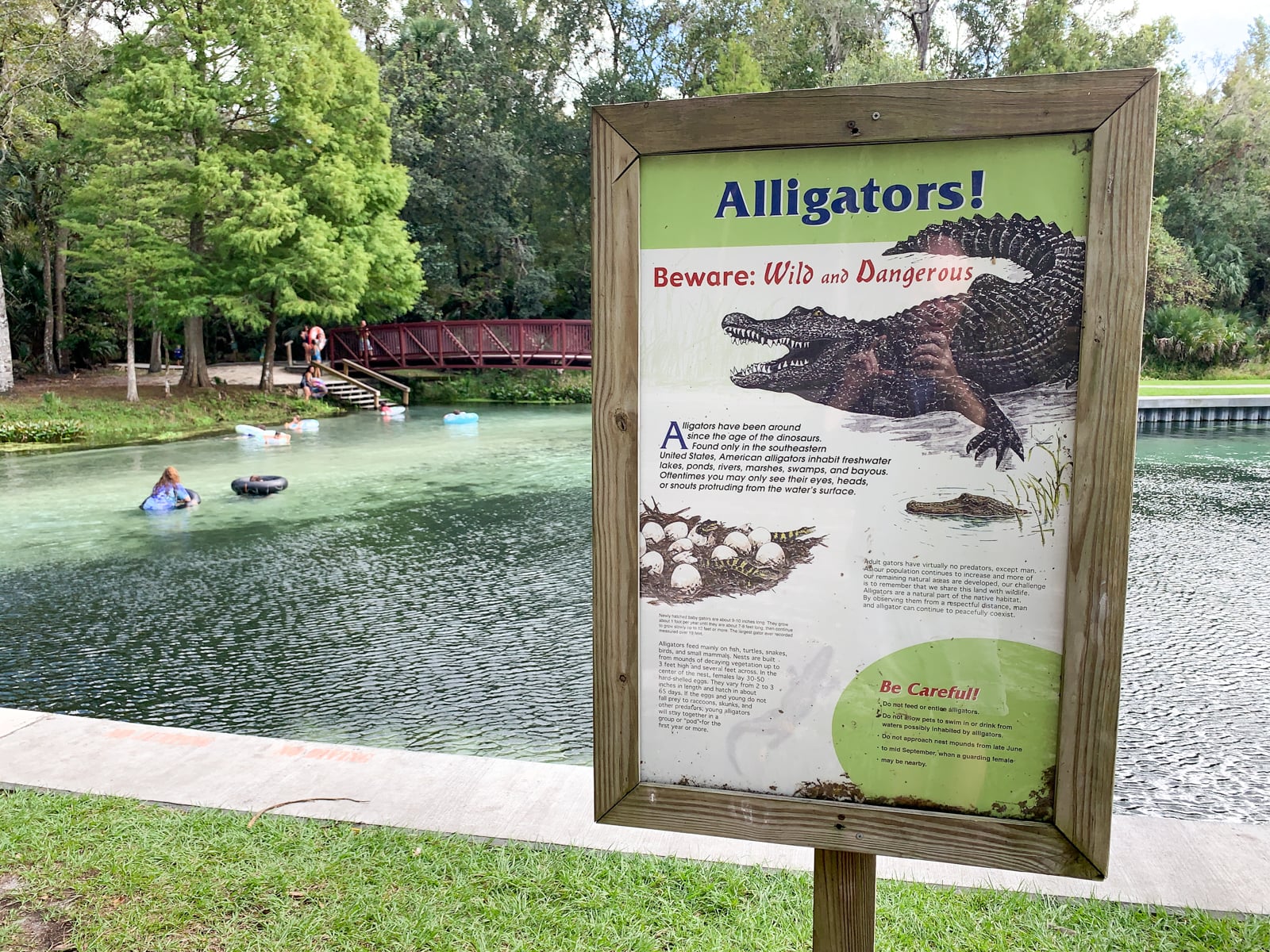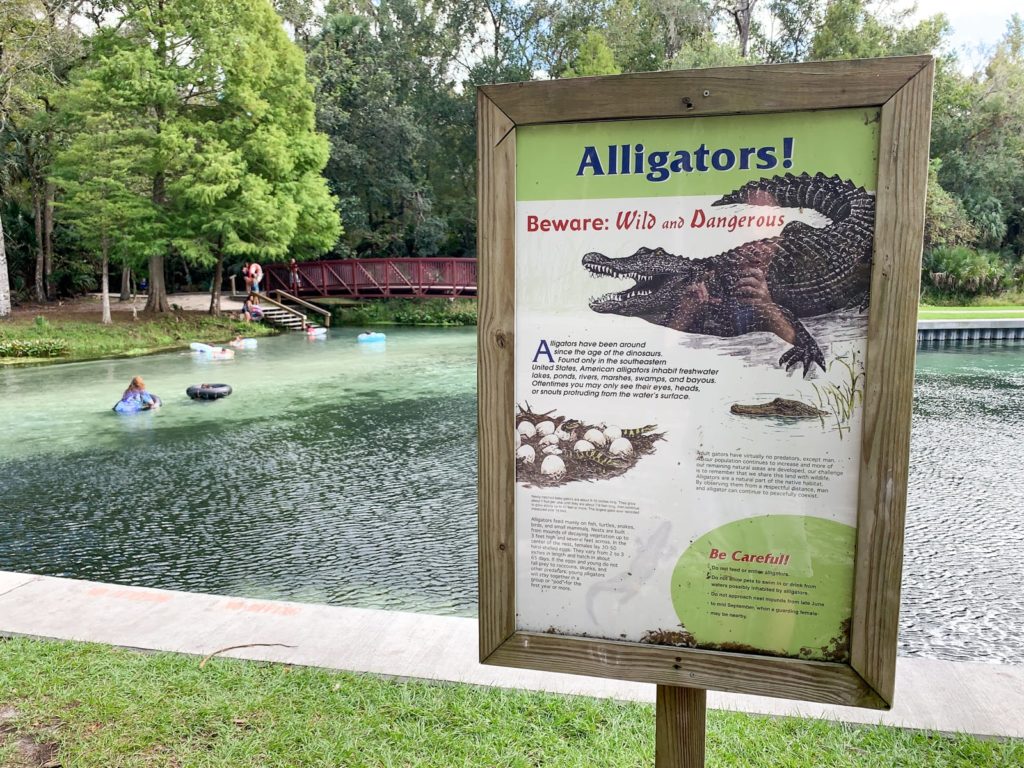 Rock Springs Run flows downstream for 8 miles. There, it merges with another spring run to form the Wekiva River.
Tubing Rock Springs: Orlando's Natural Lazy River
Most people who visit Rock Springs do so for the amazing tubing.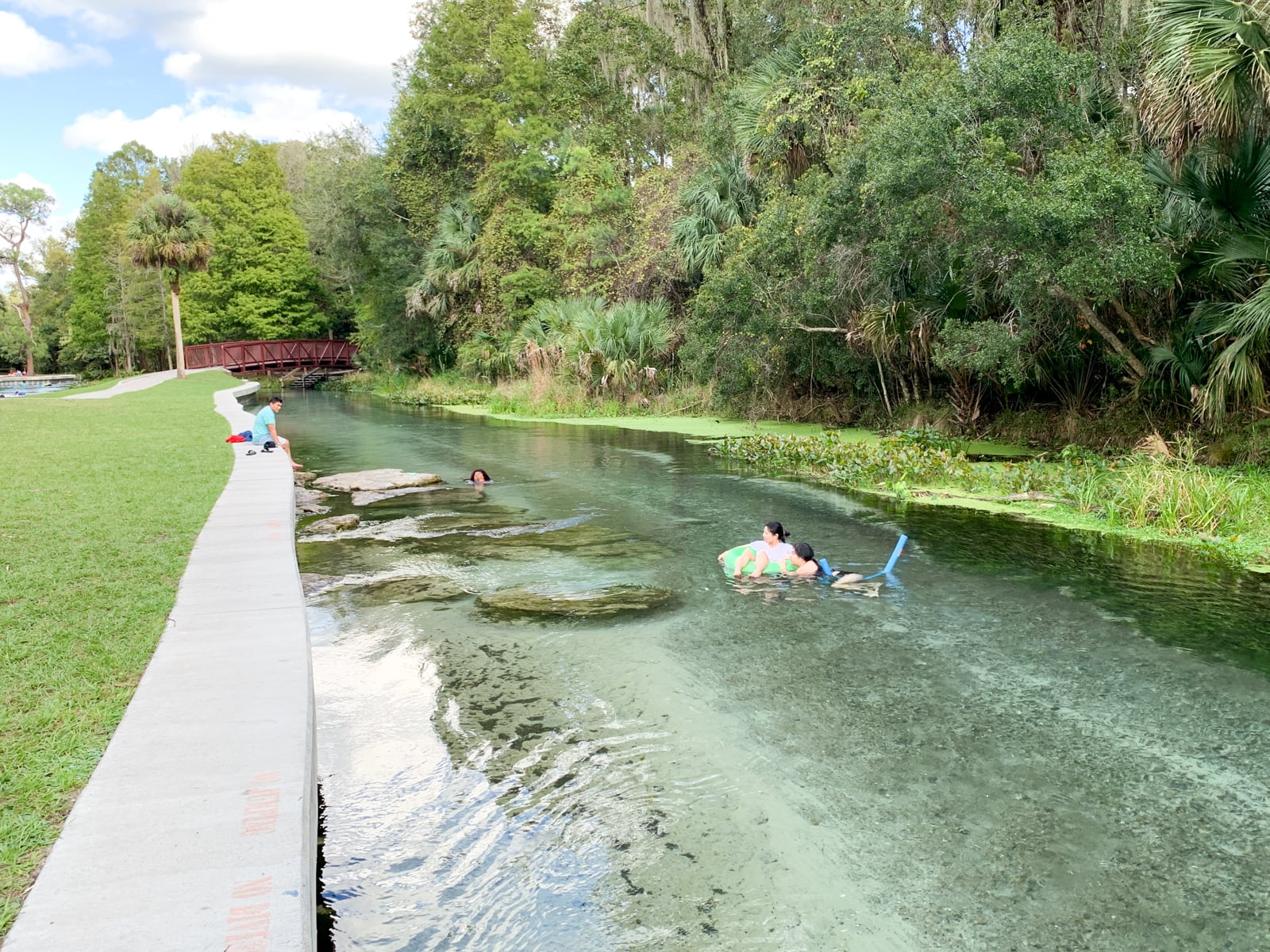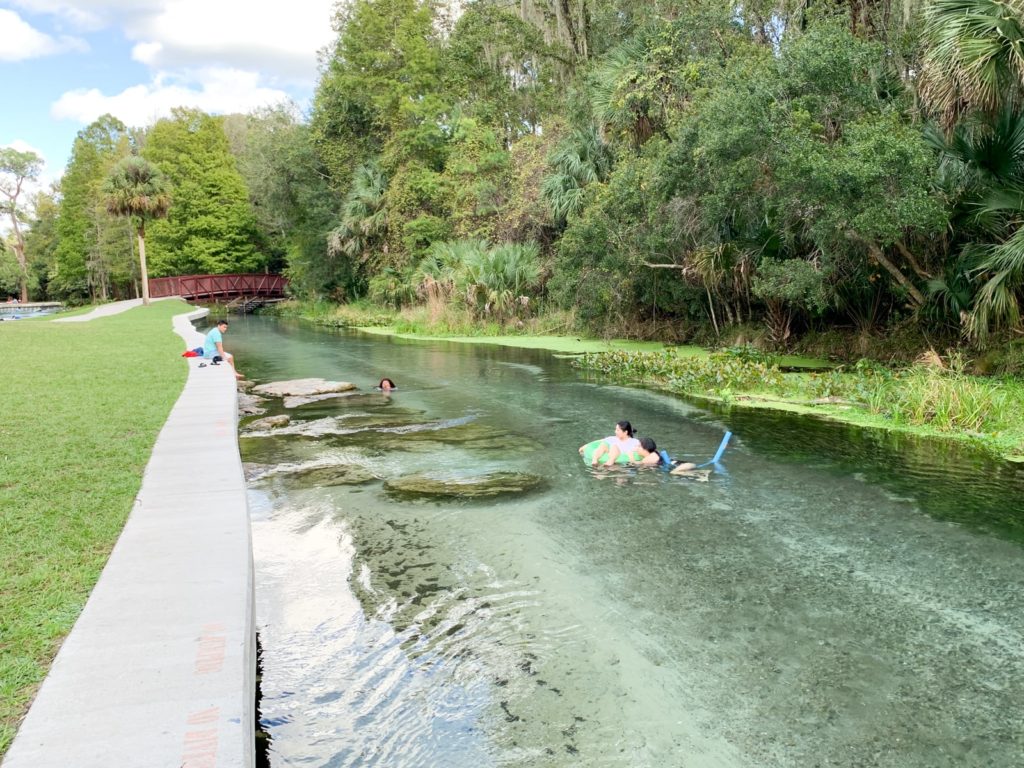 The process for tubing Rock Springs is that you float from the top of the spring run, to the bottom, then repeat as much or as little as you want.
Tubes are available for rent outside the park, but they aren't available from inside Kelly Park. The concessionaire does have other stuff for sale, but they don't rent tubes.
You're allowed to bring your own tubes and pool noodles. I suggest bringing your own tube to avoid the hassle of dealing with an outside rental.
Tubes are surprisingly inexpensive. They're almost the same price as a rental, plus you get to have your own forever, and avoid the cost of renting in the future.
These tubes are the ones you see everyone use for tubing and river floating in Florida.
Note: If you bring your own tubes, remember that tubes can't be more than 5 feet long or wide!
This video shows the entire process for tubing Rock Springs, from entering the park to exiting the spring run.
To tube Rock Springs, you launch your tube at the top of the spring run, near the spring's vent.
This is where all of the water flows out of, into Rock Springs Run.
There are wooden stairs which go down toward the river, and it's very easy.
Some people launch their tubes a bit further upstream, above the bridge, and closer to the spring vent.
This requires navigating through rocks, though. It's best to launch from the tube launching point downstream from the bridge.
You'll float through a beautiful natural lazy river, and under a beautiful canopy of trees. It almost feels like a jungle.
Some areas will have shallow spots, and there are rocks in some areas that you need to dodge. You'll often see wildlife on the sides of the spring run.
About 15-20 minutes after launching you'll get to a bridge, which is the end of the tubing run. There is a long, easy ramp out of the river.
After you float the river you can walk back up along a paved path to float down again, or take a break. Many people float the spring run over and over, spending all day on the river.
Note: Kayaking is allowed in the spring run below the bridge, but swimming and tubing are prohibited past the wooden bridge and exit.
Wildlife in Kelly Park/Rock Springs
Rock Springs is located inside the city of Apopka, but it doesn't feel like the city at all.
It's surrounded by environmentally protected land, and feels like a true natural adventure. For being inside a city, there's a surprising amount of Florida wildlife.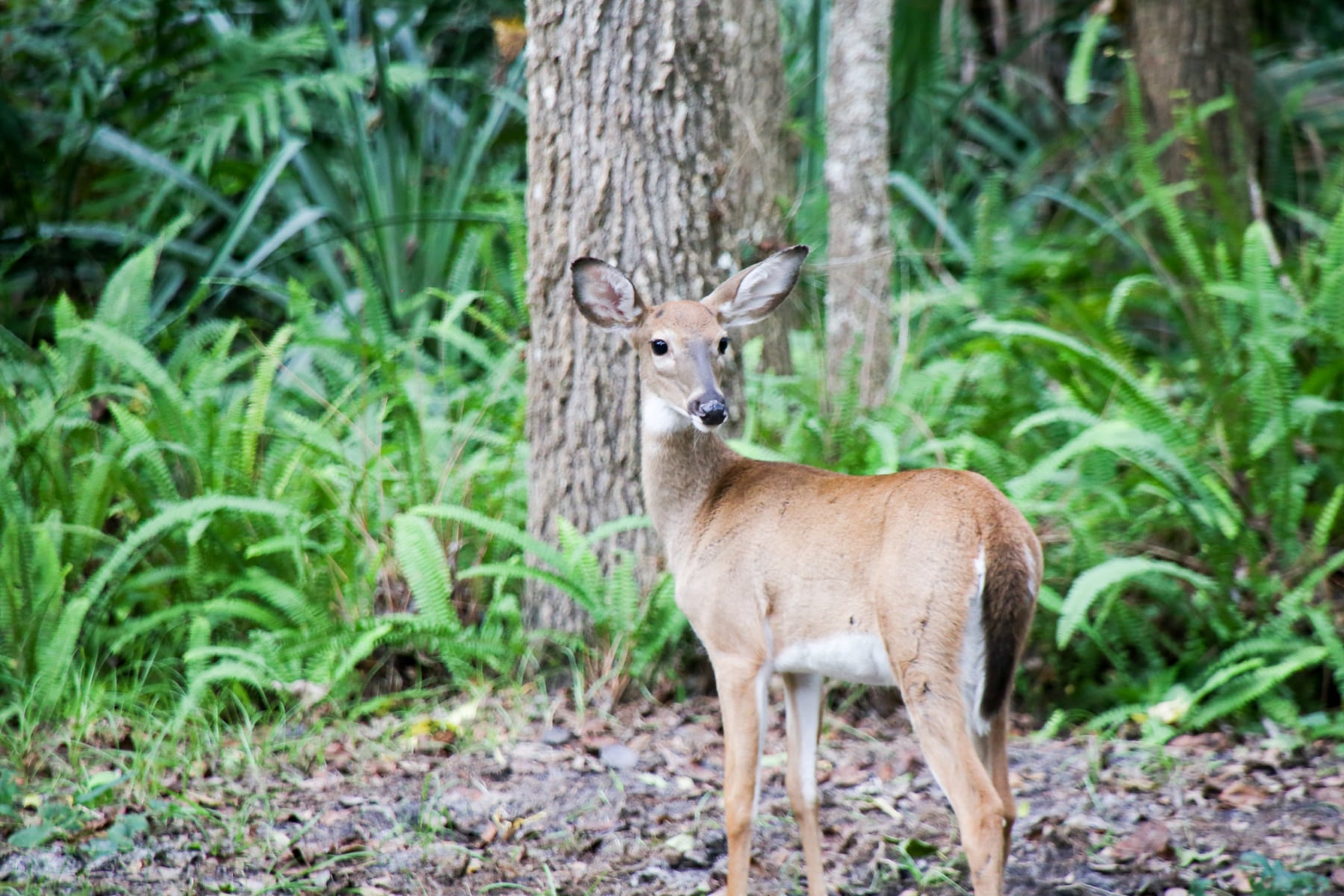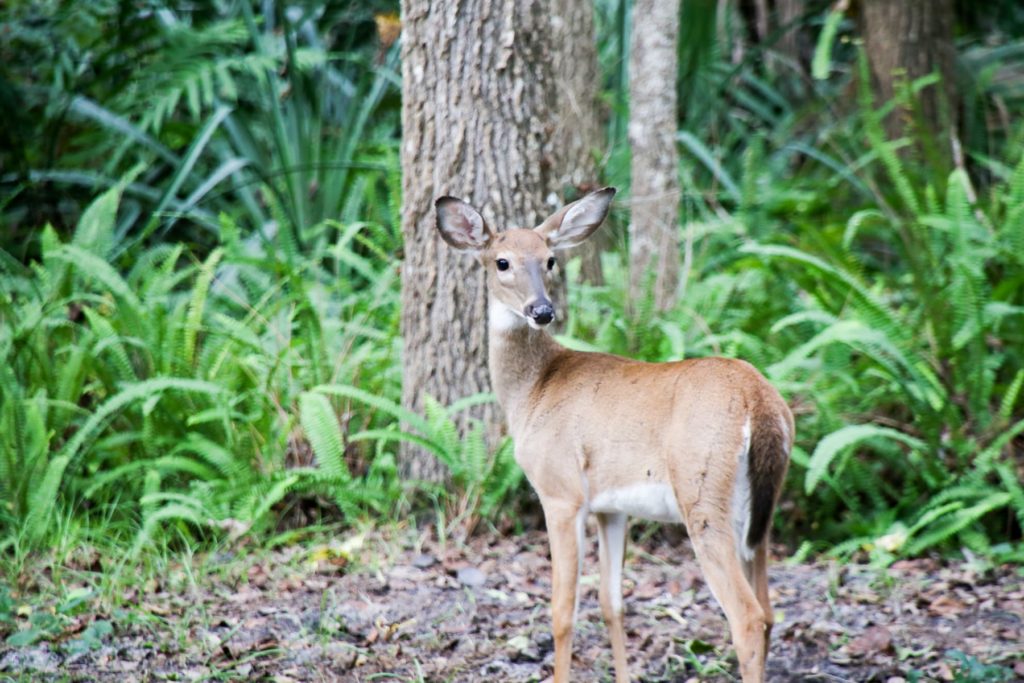 One reason wildlife is so abundant around Rock Springs is because of the huge amount of protected land; they have a much larger habitat to roam through.
If you look at a google map you'll see a huge area of green protected areas.
Almost all of these natural areas are continuously connected to each other. This lets wildlife roam freely, and expands their natural habitat.
Kelly park/Rock Springs
Wekiwa Springs State Park
Rock Springs Run
Lower Wekiva River
Rock Springs Run State Preserve
Wekiva River Buffer Conservation Area
Seminole State Forest
Black Bear Wilderness Area
Blue Springs State Park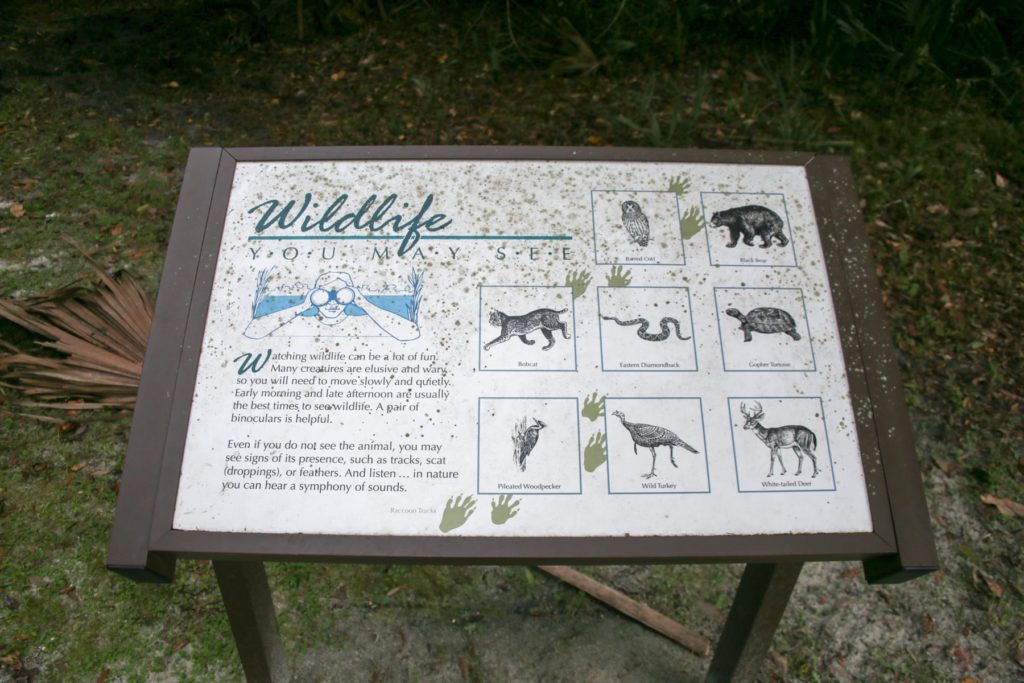 Visitors to Rock Springs Kelly Park, and the surrounding areas, often see local Florida wildlife:
Birds
Squirrels
Raccoons
Turkeys
Deer
Snakes
Fish
Turtle
If you're lucky you might even see rare Florida animals:
Bald eagle
Otters
Black bear
Alligators
Snakes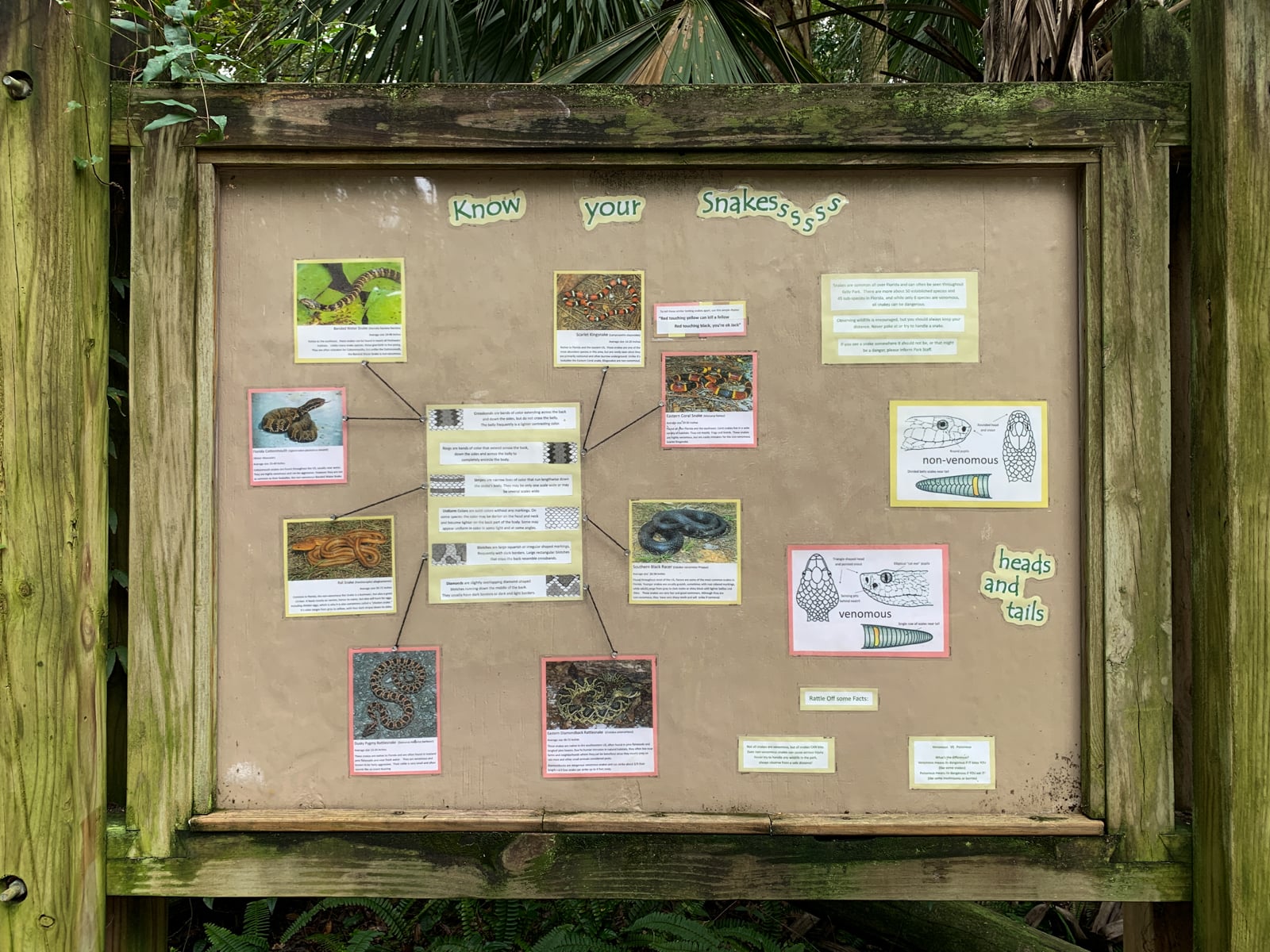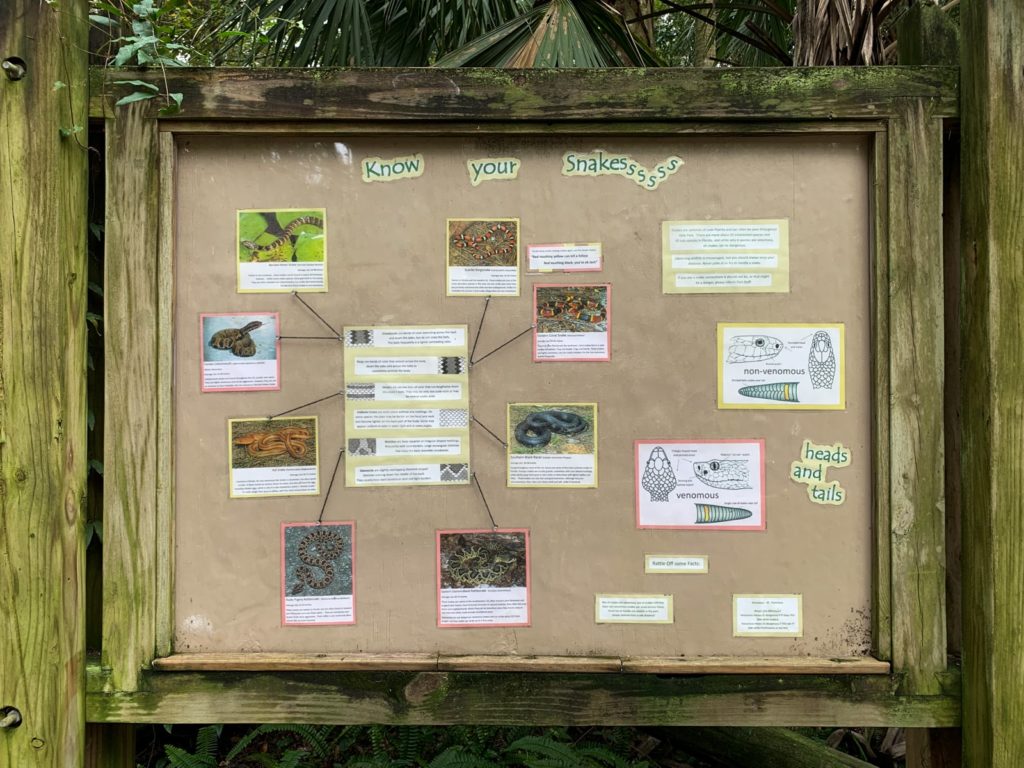 Kelly Park and Rock Springs swimming and tubing
What is the water temperature of Rock Springs?
The water in Kelly Park Rock Springs is 68 degrees all the time. That makes it a year-round destination.
In the summer the water is refreshingly cold on a hot, sweaty summer day. On a warm winter day it's still fine for swimming or floating.
Swimming
There are shallow, sandy areas perfect for children, and also larger, deeper areas for older kids.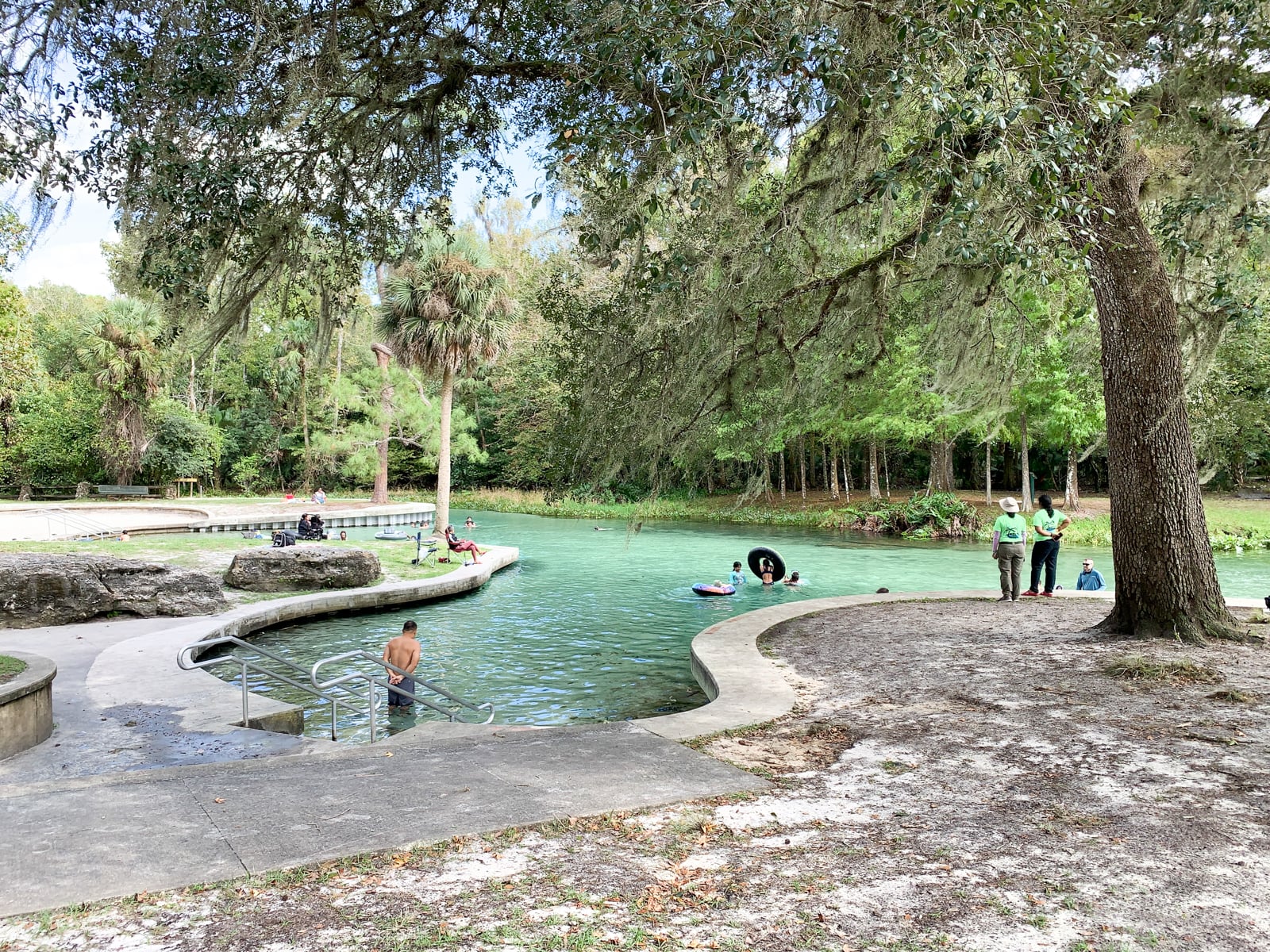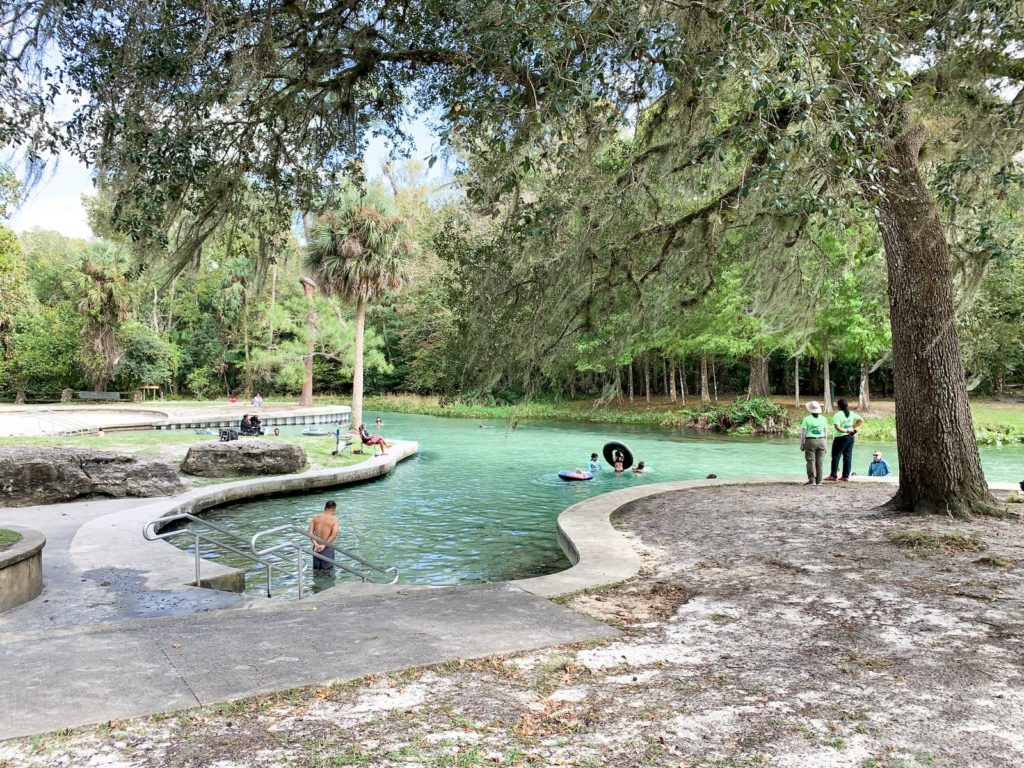 The largest swimming area is in the main pool section.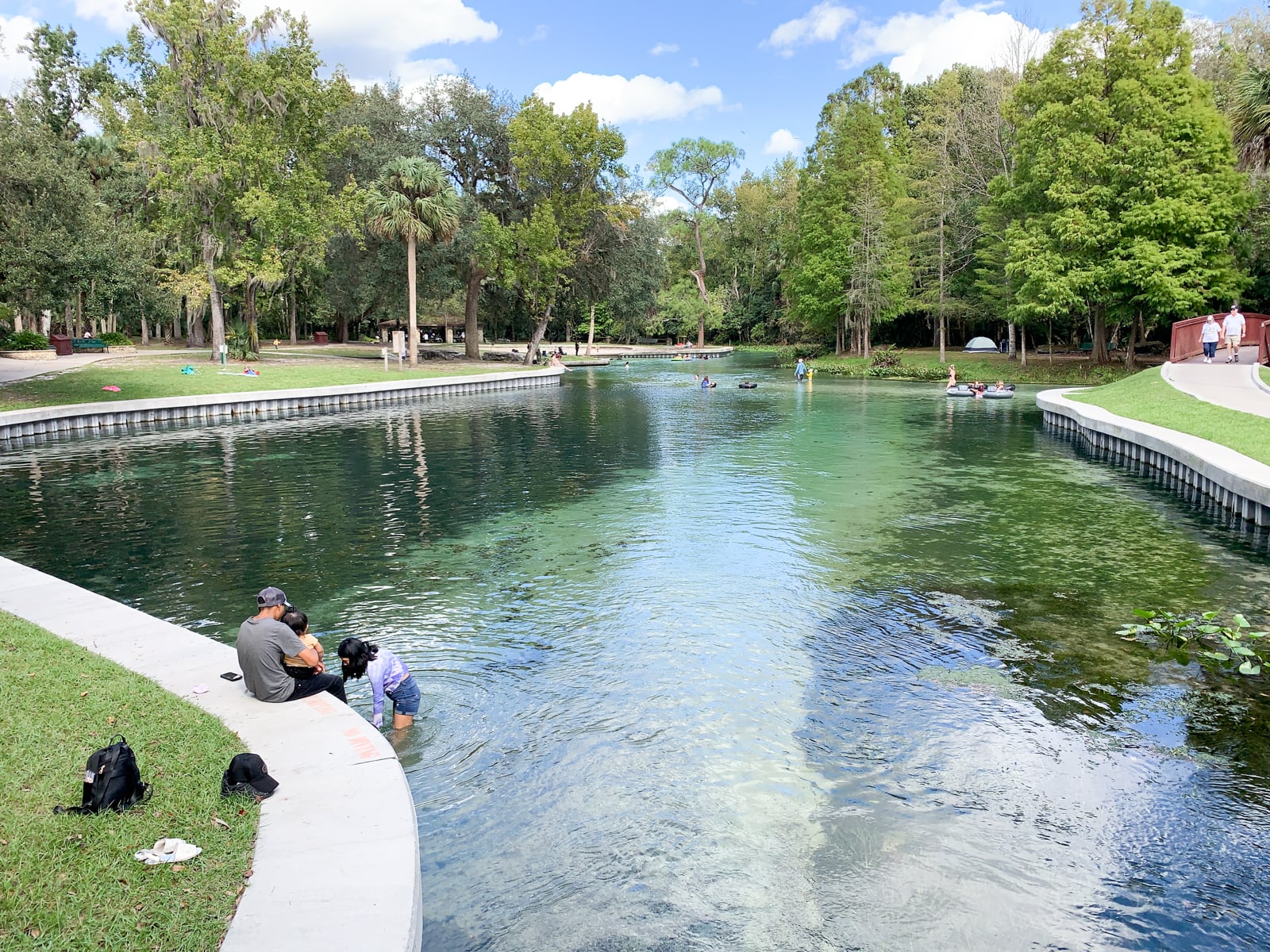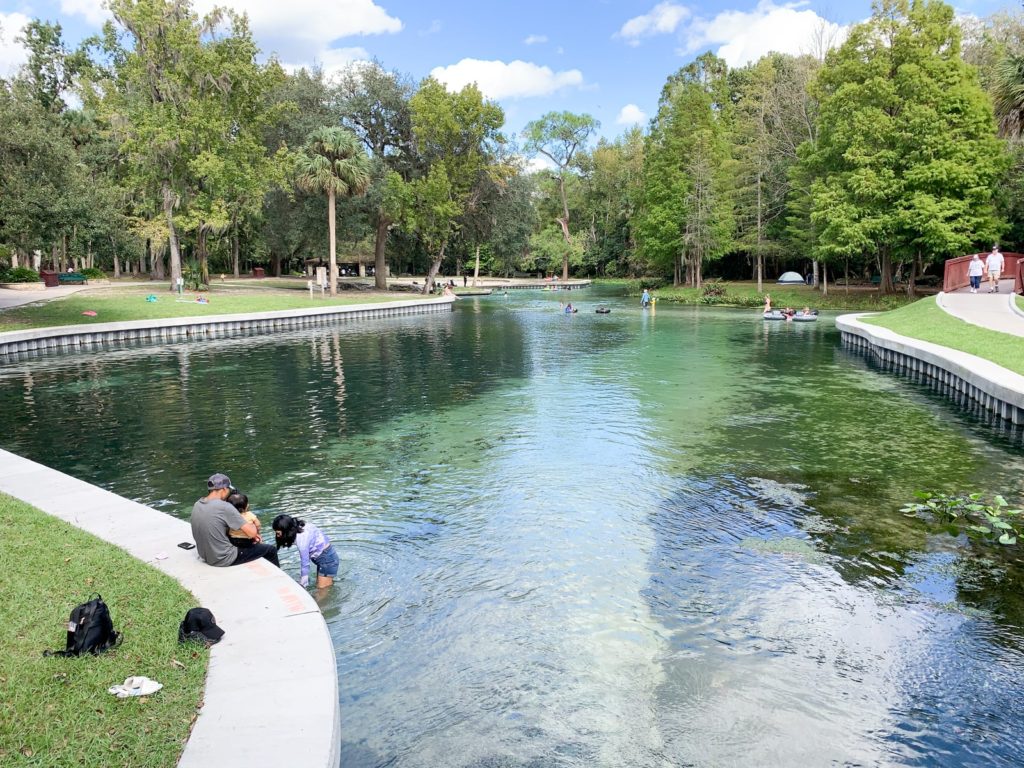 There is also a very small swimming area near the Rock Springs head spring, although most of the spring run in the upper section is blocked by rocks in the water.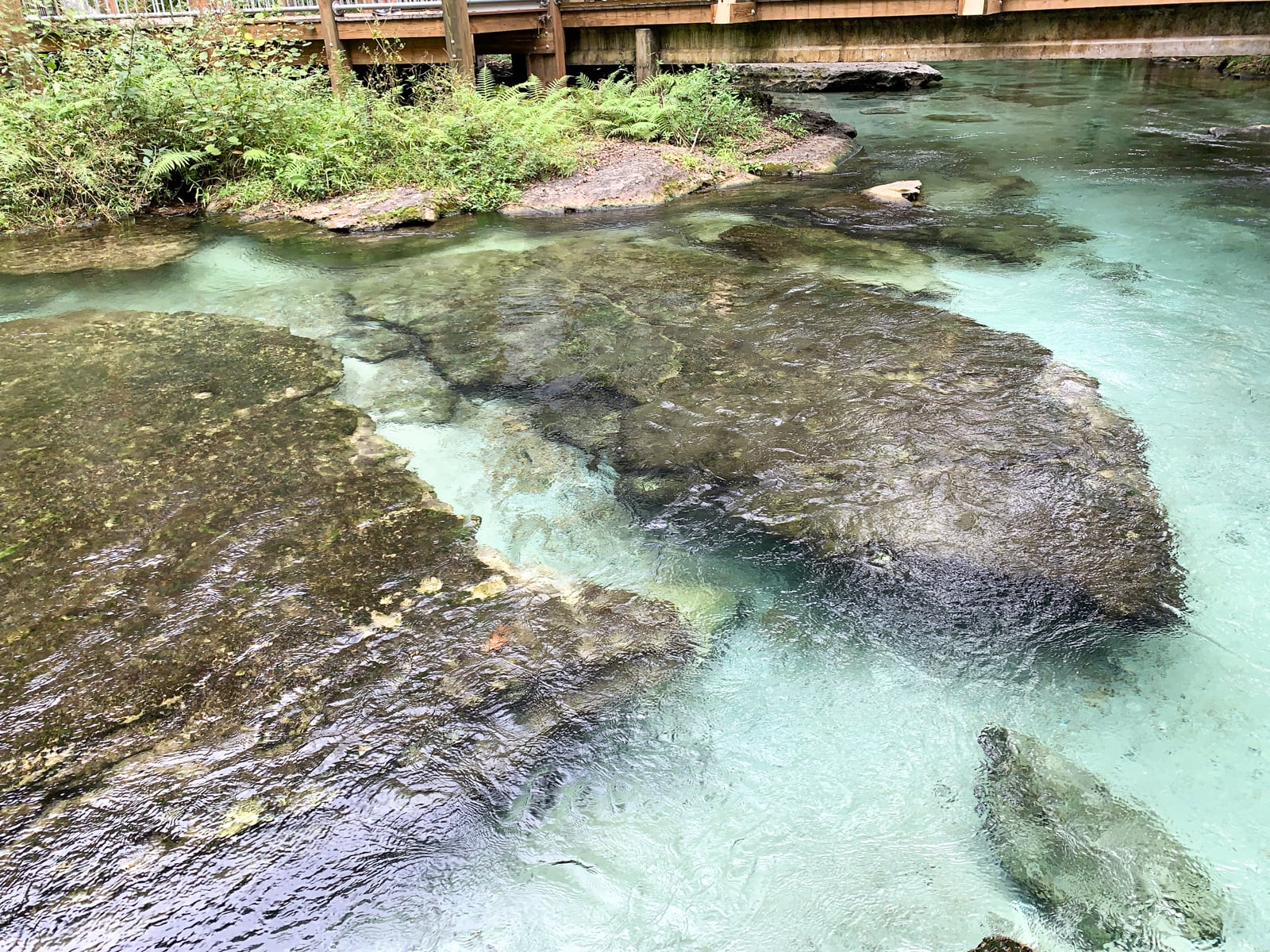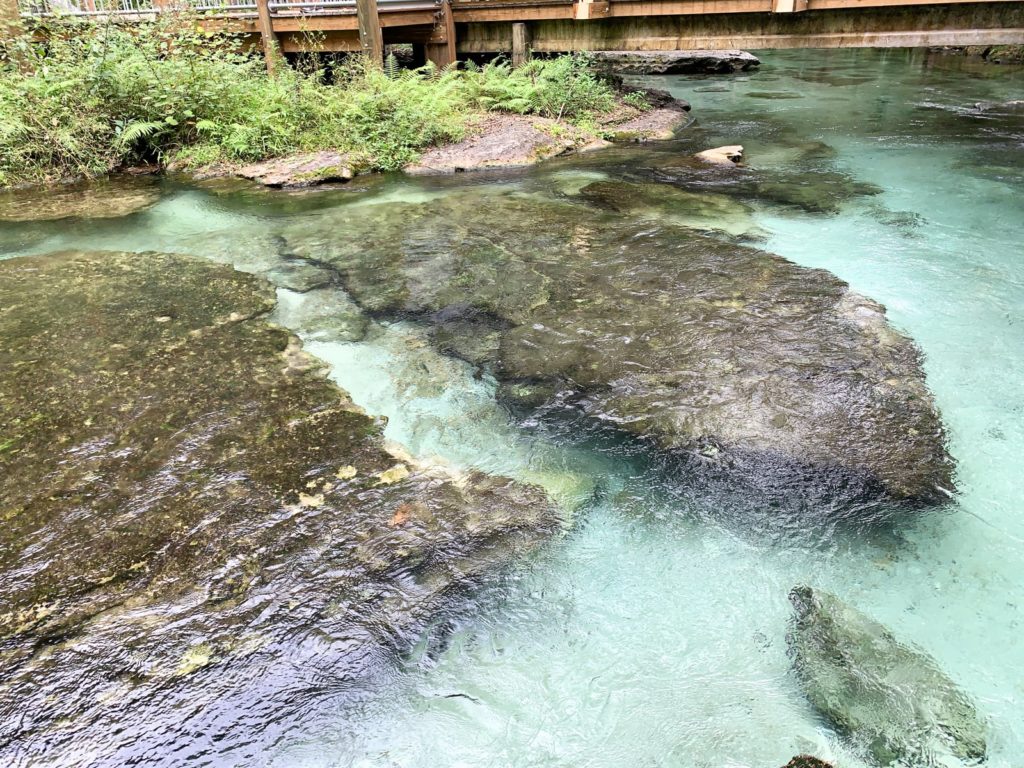 There is a very small area near the head spring vent with water which is a bit deeper. Jumping or diving into the water in this area is extremely dangerous due to shallow depths and rocks, which can cause serious injury.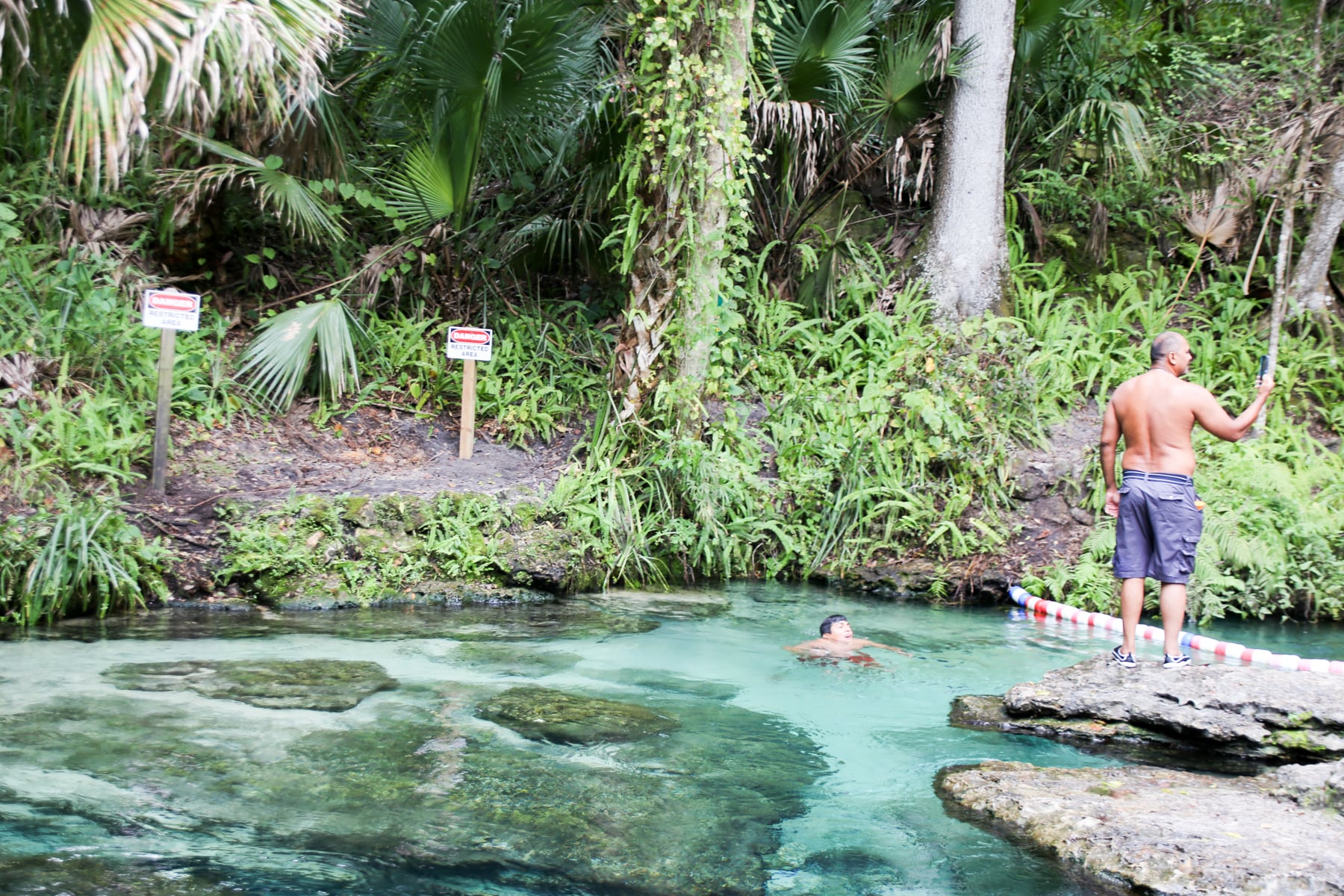 Canoeing and Kayaking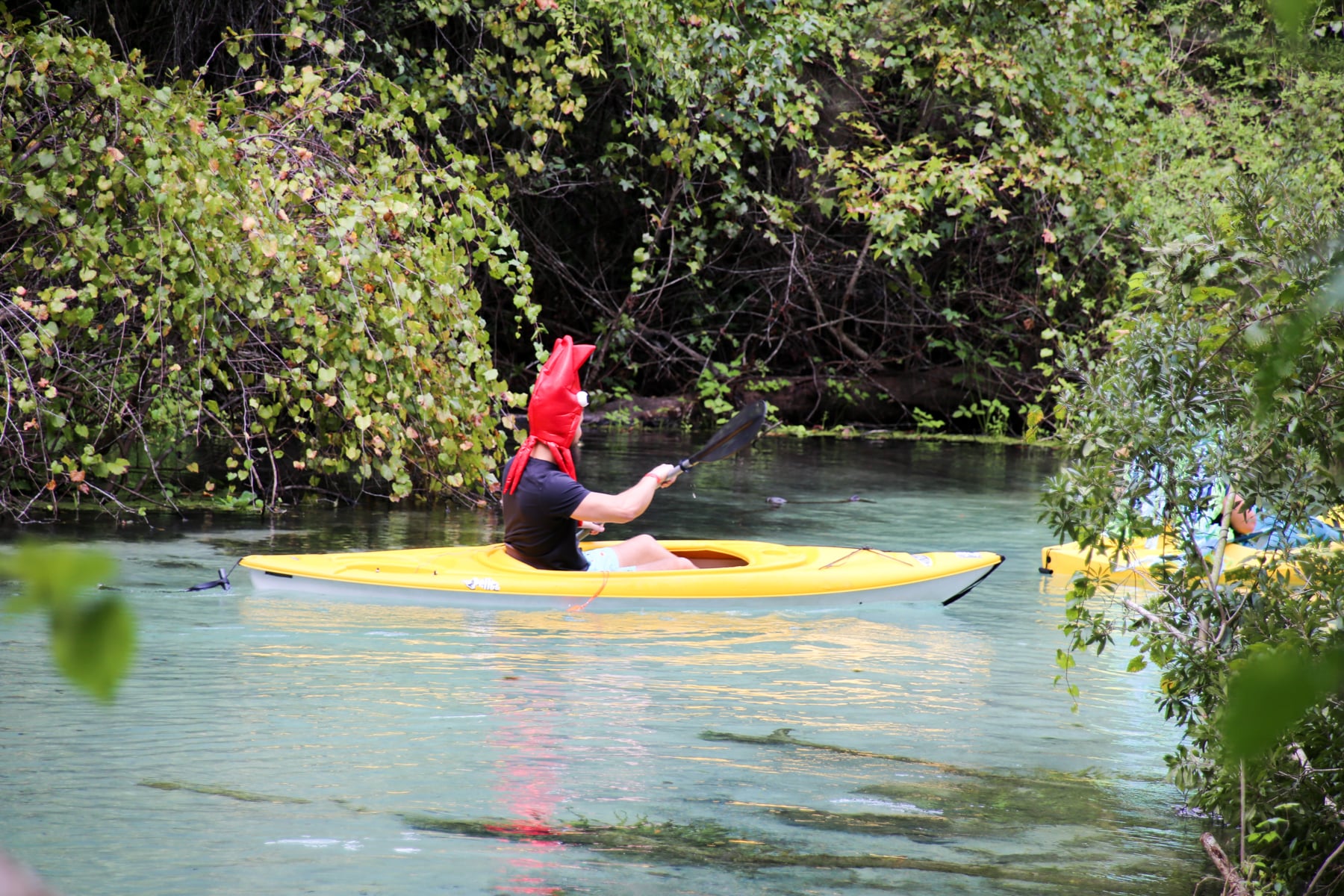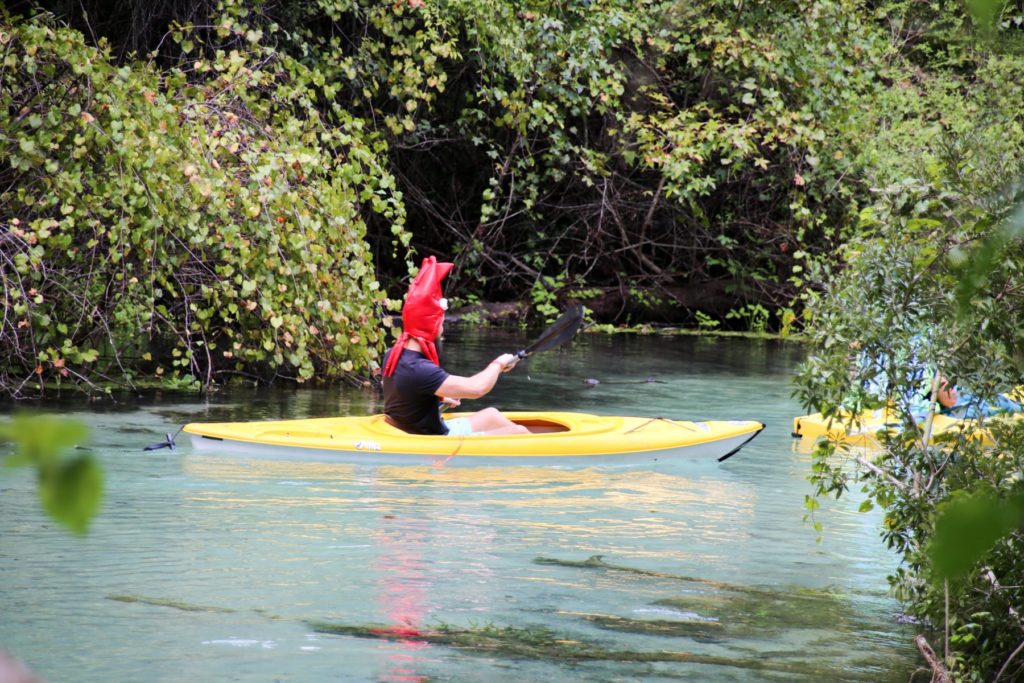 Excellent Canoeing and kayaking is available further downstream at King's Landing, but is not allowed within Kelly Park.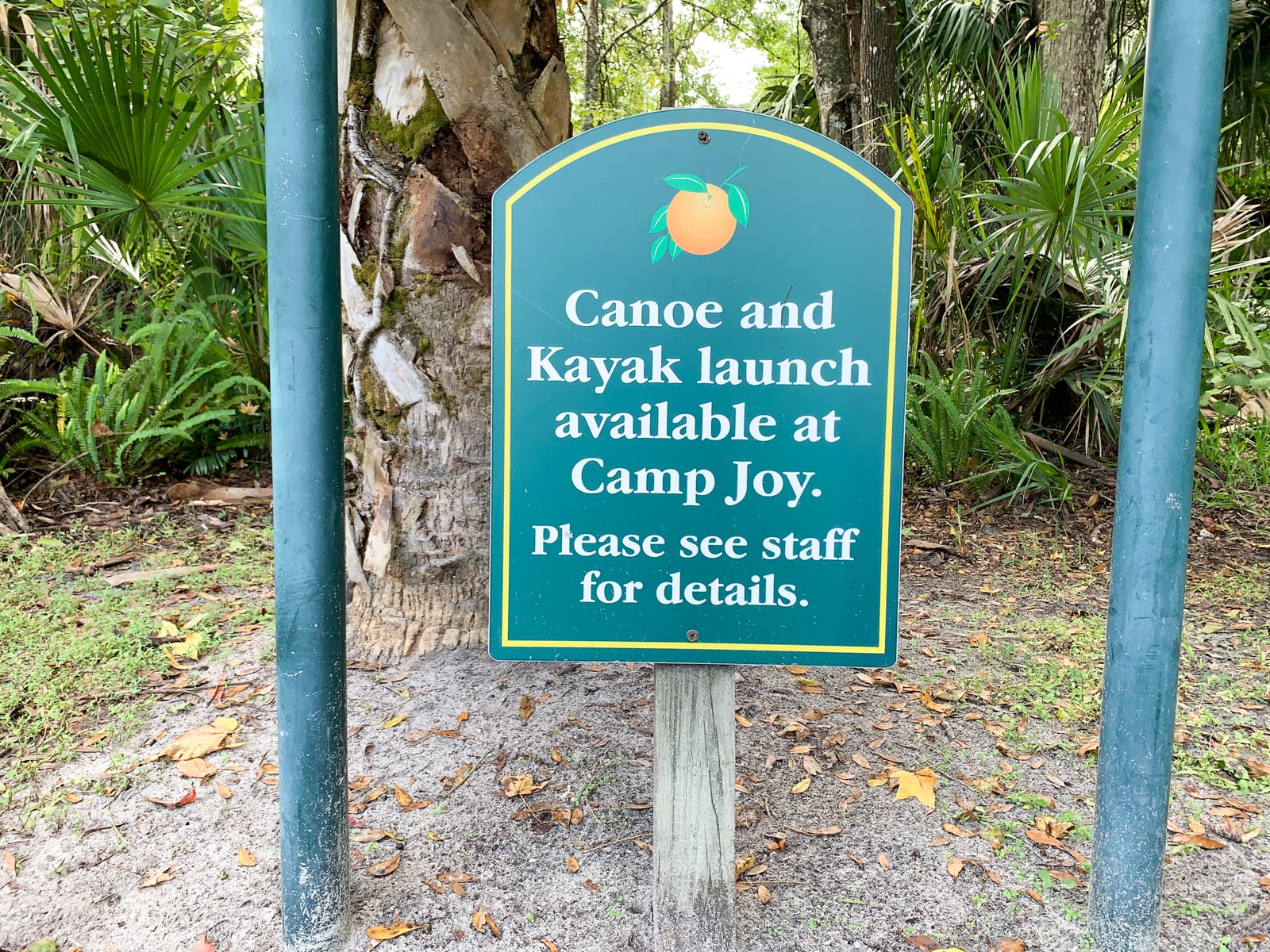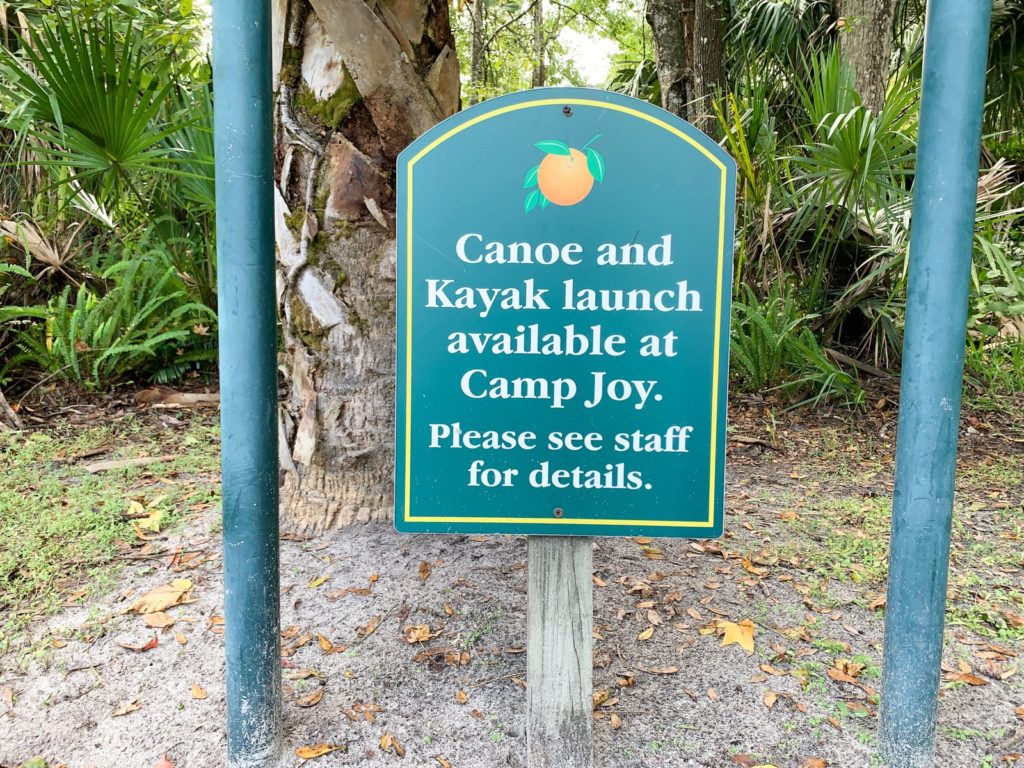 Canoe and kayak launching is usually available at Camp Joy. It was closed for quite a long time, but it now appears to be open, at least partially. More information can be found at the Camp Joy webpage.
Get there early!
Kelly Park/Rock Springs has strict visitor limits to preserve the environment and prevent overcrowding.
It's best to try to go on weekdays. If you must go on a weekend try to arrive as early as possible to have a better chance of getting in!
Highlights:
Beautiful water
Swimming
Tubing (Rent from outside the park or bring your own)
Pristine nature
Hiking trails
Cool limestone boulders and rock formations
Limestone caves
Camping
Great chances to see wildlife
Unbelievably clear water
Family-friendly adventure
Full-service concession: Snacks and some river gear
Picnic pavilions
Playground
On-site camping and other options close by
30 miles from Orlando!
Shark Teeth in Rock Springs
A really fun and unique feature of Rock Springs is the chance to find shark teeth.
They're left over from Florida's fascinating geologic past, when oceans covered all of Florida. The shark teeth are trapped in layers of ancient limestone, and get blasted out by the flowing spring water.