On a map, Florida can sometimes look like a small state because of its long, narrow shape. But, Florida is deceptively large in both land area and population.
Florida covers 65,758 square miles, which makes it the 22nd largest state by land area.
According to the most recent 2019 census estimate, 21,477,737 people live in Florida. That makes it the third largest state by population; only Texas and California have higher populations.
There are 282 cities in Florida, but Florida's population is mostly concentrated in five major cities. In florida, these urban hubs are the biggest economic drivers in the state.
Here's an overview of the five major cities in Florida, ranked by population.
Map of Cities in Florida
This map shows the location of the 5 largest cities in Florida by population. Most of Florida's population is found within these cities, or their surrounding suburbs. These cities are also the most active drivers of Florida's economy.
Jacksonville
Jacksonville is the largest major city in Florida. As of the 2019 census estimate, approximately 936,250 people live in Jacksonville.
Jacksonville is located in northeast Florida, almost at the border of Georgia. Jacksonville sits in Duval County, but the greater Jacksonville metro area includes Baker, Clay, Nassau and St. Johns counties.
Jacksonville is a sprawling metropolitan area. It covers the largest land area of any city in the United States.
Jacksonville is a great city for water lovers because the region is dominated by water. The city is located on Florida's Atlantic coast, and the banks of the St. Johns River.
The St. Johns River offers excellent conditions for fishing, kayaking, boating, sailing, and more. Interestingly, the St. Johns river is one of the only rivers in the US that run from south to north.
The St. Johns river is one of Florida's most important waterways, and is home to the enormous and busy Port of Jacksonville, or Jax Port.
Some of Florida's most beautiful beaches are found near Jacksonville. Jacksonville Beach, Neptune Beach, and Atlantic Beach are some of the most popular beaches near Jacksonville.
Jacksonville is also a great place for fishing, outdoor adventures and wildlife observation. Jacksonville has large tracts of wetlands, which are magnets for marine life and migratory birds.
The St. Johns River forms a large and biodiverse saltwater estuary; Dolphins, manatees, and sharks all live in the river and in the nearby Atlantic ocean.
Jacksonville has the largest urban park system in the country, including seven State Parks and two National Parks.
Jacksonville is a hub for aviation, aerospace and military activity. It has the third largest military presence in the country.
The U.S. Navy is one of the largest employers in Jacksonville, thanks to the presence of both a Naval Air Station and a Naval Submarine Base.
Florida has a reputation for being filled with old retirees, but residents of Jacksonville are relatively young, with an average age of 36. By comparison, the average age in Florida is 42.
Jacksonville's younger demographic profile is helped by the high number of employers in Jacksonville.
Jacksonville is also a beneficiary of a trend called nearshoring, which occurs when corporations relocate employees to affordable, low-cost of living American cities.
Firms benefit from nearshoring because their payroll and wage expenses are lower, and employees often report an improved quality of life in a lower cost city.
Compared to other urban areas in Florida like Miami, Jacksonville has a low cost of living and relatively high earning potential. This is a common trend; communities in North Florida tend to have some of the lowest costs of living in Florida.
Many financial firms have large numbers of employees in Jacksonville, and many Jacksonville residents moved to Florida from New York and other northeastern cities.
Miami
Miami is the second largest major city in Florida, behind Jacksonville.
As of the 2019 census estimate, the approximate population of Miami was 497,924.
Miami is located in Miami-Dade county, in the southeast tip of the state. It's sandwiched between the Florida Everglades to the west, and the Atlantic Ocean to the east.
Miami is severely vulnerable to the effects of rising sea levels.
Much of Miami sits at or just above sea level, and most of the region is built upon wetland environments.
Today, many parts of Miami flood during normal high tides, even without storms. This phenomenon is known as "sunny day flooding". Flooding problems are expected to increase as sea levels continue to rise.
Miami's culture is heavily influenced by latin American, caribbean and Cuban influences. The mixture, plus other international influences, produces one of the most fascinating and international cultural scenes of any city in the U.S.
Cuban history is especially important in Miami.
Millions of Cuban exiles immigrated to Miami to escape Castro's regime during the 1950's and 60's. Cuban immigrants brought a vibrant culture that still shapes the city today. Neighborhoods like "Little Havana" and "Little Haiti", among others, offer some of the most fascinating cultural experiences in Florida.
People visit Miami from all over the world, for a variety of reasons. It's a world-class, international shopping destination, and it's also the gateway to the Overseas Highway and the Florida Keys.
Miami is an international travel hub. It attracts visitors from all over the world to experience its unique culture. They also come to board and disembark cruise ships via the Miami Cruise port terminal.
Miami is well known for its beautiful people and its nightlife. For these reasons, it has some of the hottest dance clubs in the world. It's not unusual for partiers to wait for hours, hoping to be allowed inside an exclusive club.
Compared to some other major cities in Florida, Miami has a relatively well-rounded economy.
Most economic activity revolves around the hospitality/tourism, education and healthcare sectors. The Miami-Dade Public School System is the largest employer in Miami.
Miami has one of the highest costs of living of any city in the U.S. The cost of living in Miami is especially expensive relative to its low wages and low earning potential.
Housing affordability is a constant challenge for Miami residents.
The median home cost is $329,000, well above the state average. Miami's housing market is subject to an unusually volatile boom-bust cycle. Many people blame unaffordable housing costs on rampant real estate speculation, especially from international buyers.
The Miami real estate market attracts capital, speculators and investors from around the world, partly because of Miami's cosmopolitan reputation.
Traffic is notoriously bad in Miami.
A 2020 study found that the Miami commute is the worst in the country; Miami residents spend an average of 56 minutes in traffic every day. https://www.miamiherald.com/miami-com/miami-com-news/article239313138.html
Miami has a reputation for being a dangerous city, partly because of the famous narcotic smuggling craze. By some measures, Miami's city's crime situation and reputation has improved in recent years.
Tampa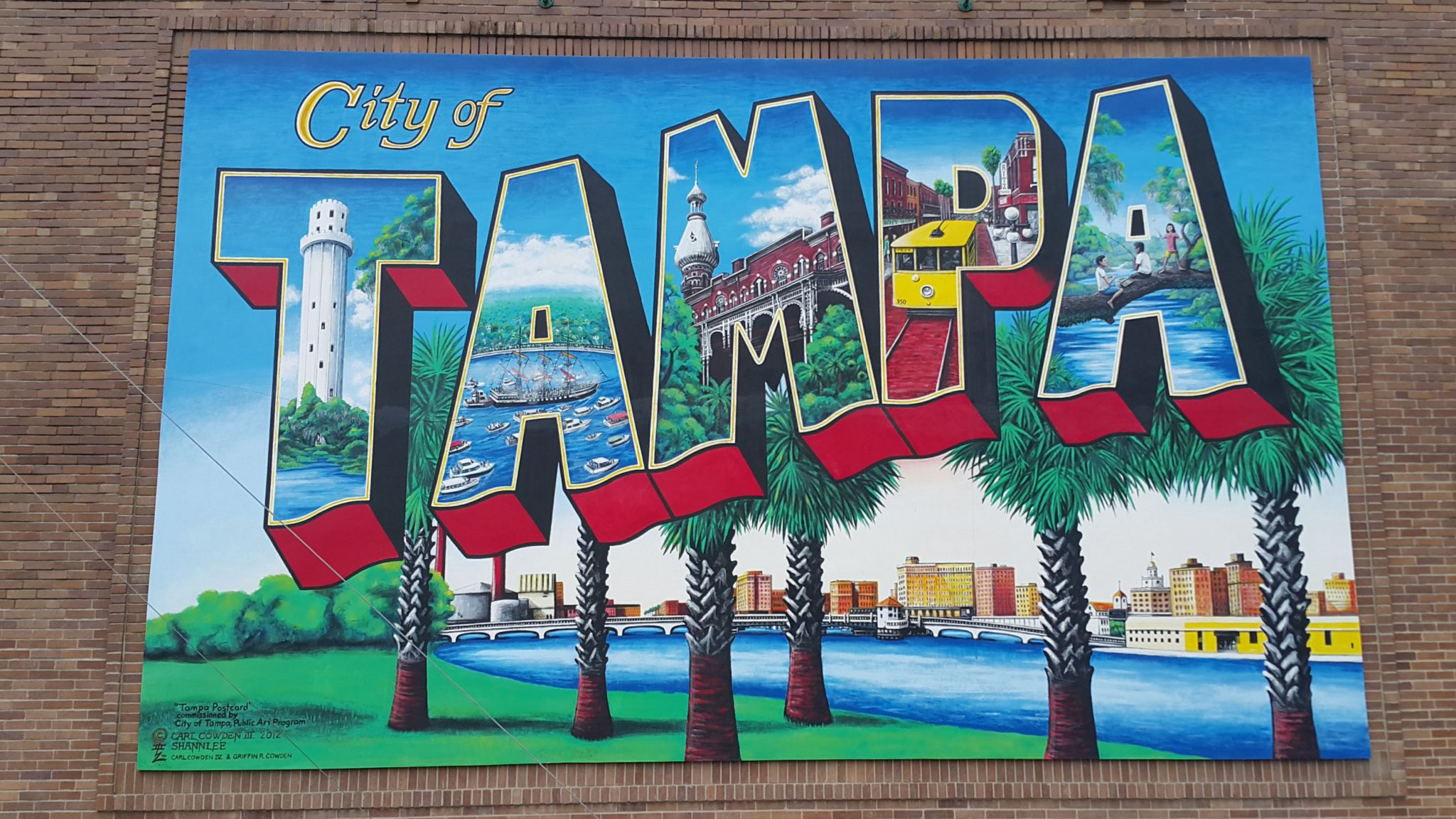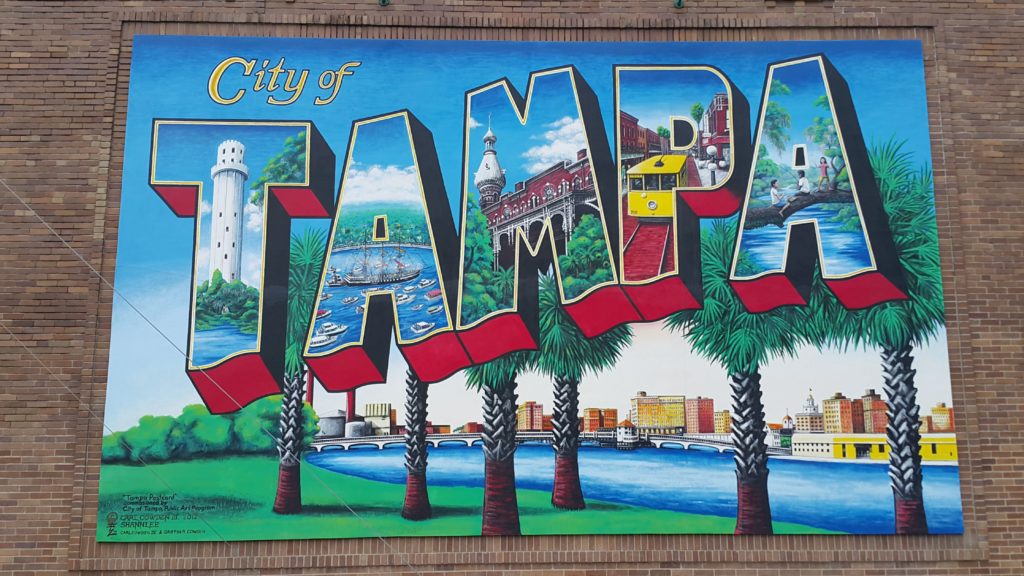 Tampa is located in west central Florida, in Hillsborough County. It's about one hour west of Orlando. It's located mostly on a peninsula, and the shores of Tampa Bay.
Tampa does not have beaches of its own, but world class beaches are located about one hour away on the Gulf of Mexico.
According to the most recent 2019 census estimate, the city of Tampa has approximately 392,953 residents. That population makes Tampa the third largest major city in Florida, after Jacksonville and Miami.
In reality, Tampa is even bigger than that population would suggest. The City of Tampa is only one city in a larger metropolitan area, generally known as "Tampa Bay". Or, more officially, the Tampa-St. Petersburg-Clearwater metropolitan area.
This larger metropolitan area includes large neighboring cities, which together form a sprawling metropolitan area.
The population of the Tampa Bay region is growing rapidly. As of 2020, the population is estimated to be approximately 3.24 million people.
Compared to other major cities in Florida, Tampa has a relatively robust job market.
The most prominent industries include health care, financial services and education. Tampa provides customer service for many multinational corporations because wages tend to be lower than the national average.
Historically Tampa was known as a very low-cost-of-living city. That is no longer true.
Dramatic cost of living increases, especially in housing, have made the city much more expensive, and less affordable, than in the past.
Many low and moderate-income residents feel that life in Tampa Bay has become difficult due to the increased cost of living, and stagnant wages.
The public school system in Tampa is mixed. Some schools and districts are above average, and others are decidedly below average. Suburban communities surrounding Tampa tend to have the best schools.
Tampa Bay is home to several prominent universities. The University of South Florida is located in Tampa, and has been featured as one of the best public universities in Florida.
Tampa is not as popular among tourists as other cities in Florida, like Miami or Orlando. But, it still attracts a fair amount of tourists, especially for its nearby beaches on the Gulf of Mexico.
Downtown Tampa has received sizable investment and development activity in recent years via the Water Street Tampa project.
Water Street Tampa is a pet project of several billionaire investors, including Bill Gates' Cascade Investment fund and former hedge fund mogul Jeff Vinik. Vinek owns the Tampa Bay Lightning hockey team.
The downtown waterfront riverwalk has received most of the development attention, to varying degrees of success.
The Tampa Riverwalk is a popular place for locals to hang out, attend sporting events, outdoor concerts, festivals, and more. The area is also home to the University of Florida campus and the historic Henry Plant Museum, which has a fascinating history.
There are many things to do in and around Tampa. Other popular attractions in Tampa include the Tampa Aquarium, the Tampa Museum of Art, Busch Gardens, and Adventure Island.
There are also more niche attractions in Tampa, like a unique Thai temple, which is a local favorite.
Other popular attractions like Bok Tower, Legoland and Orlando are all located near Tampa, just to the west via highway I-4.
One of Tampa's biggest annual events is the Gasparilla Pirate Festival.
This series of wild parties celebrates the story of Jose Gaspar, the last Buccaneer pirate. Gasparilla runs from January through March, and includes parades, music festivals, art shows, and a half-marathon.
Tampa offers exceptionally pleasant weather in the winter, which makes it a popular destination for snowbird residents, and folks who move to Florida for warm weather.
Like all other cities in Florida, Tampa suffers from unbearably hot and humid summers. And, like all coastal cities in Florida, Tampa is vulnerable to hurricanes.
The Tampa Bay region is seriously unprepared for a severe hurricane. Experts predict that the next major hurricane impact will devastate the entire area.
Orlando
Orlando is Florida's fourth largest major city, with a population of approximately 298,943 residents.
Including surrounding suburbs and communities, greater Orlando has a population of approximately 2.13 million residents.
Orlando is located directly in the center of Central Florida. The city of Orlando is located in Orange County, but the sprawling metropolitan area of greater Orlando covers numerous counties, and almost stretches to the Atlantic ocean.
Orlando is known as the theme park capital of the world.
A staggering 75 million people visit Orlando every year, making it the most popular tourist destination in the U.S. Disney World is the main attraction, followed by Universal Studios, SeaWorld, Islands of Adventure, Volcano Bay and others.
Visitors are attracted to luxury outlets, fine dining, specialty shops, concert venues, and more. Disney Springs, CityWalk, and International Drive are popular outdoor shopping and entertainment venues.
Orlando is landlocked, except for nearby inland lakes. The closest beach to Orlando is a popular surfing spot, Cocoa Beach, 60 miles from Orlando. The drive from Orlando to Cocoa Beach takes more than one hour, and often more, hour due to heavy traffic.
Driving is difficult in Orlando for many reasons.
The roads are congested with traffic, filled with tolls, and accidents are common. Many Orlando residents say that high numbers of tourists add to the confusion and mayhem. Road construction is also a perpetual issue, as local infrastructure struggles to cope with runaway population growth.
There are thousands of AirBnBs and rental properties in Orlando. Many residents of the city complain that short-term rentals are a nuisance, and have driven up the cost of housing, as affordable housing inventory is removed from the housing market.
People assume hospitality and customer service are the main job sources in Orlando. Surprisingly, 80% of Orlando's employment is unrelated to tourism. Other important industries include manufacturing, aviation, aerospace and defense, among others. (https://business.orlando.org/l/key-sectors/).
St. Petersburg
St. Petersburg is Florida's fifth largest city, with a population of approximately 271,044 residents.
St. Petersburg is located on the west coast of central Florida. It's just over the bridge from Tampa, and about an hour west of Orlando.
St. Petersburg sits on a narrow peninsula, surrounded by water. It's sandwiched between the Gulf of Mexico to the west, and Tampa Bay to the east.
St. Petersburg is located in Pinellas County. Pinellas County is the most densely populated county in Florida. This density can be explained because of two reasons:
First, Pinellas County is located entirely on a narrow peninsula. Outward growth is constrained by water, and usable land is limited.
Second, Pinellas County contains several large and mid-sized cities, each with their own sizable populations.
St. Petersburg is one of the best cities in Florida for young professionals. The city offers a hip, urban atmosphere, easy access to many nearby beaches, and a relatively robust job market.
The main industries in St. Petersburg include financial services, light manufacturing, hospitality and tourism, contact centers, information technology, advertising, and more.
The public school system in Pinellas County is mixed. Some schools are below average, but some residents boast about the system's high-quality magnet schools. Private schools are often expensive, but tend to offer better experiences and outcomes for students.
Historically, St. Petersburg was known as a low-cost place to live. It was especially popular among retirees, and was often referred to as "Heaven's waiting room", along with other gulf coast cities.
Along with retirees, Saint Petersburg's low cost of living attracted an eclectic and energetic community of artists, creative communities and a large LGBT community. In recent years, as the area has become more popular, many artists have been priced out of the area due to rapidly rising housing costs.
Today, multi-million dollar high-rise condominiums are the norm, instead of modest affordable housing. The condos often sit empty because they're owned by out-of-town real estate speculators.
Wages in St. Petersburg are lower than the national average, and many St. Petersburg residents complain that it's no longer an affordable place to live.
Thanks to its artistic, bohemian roots, the arts are important to St. Petersburg's vibe and culture. Some of the best art museums in Florida are found in St. Petersburg, including the world-renowned Salvador Dali Museum.
The Central Arts District, a trendy downtown district, has many museums, outdoor murals, galleries, and trendy boutiques. The district hosts live music performances, cafes, restaurants and more.
St. Petersburg is a popular tourist destination because of its warm winter climate, vibrant downtown and gorgeous nearby beaches on the Gulf of Mexico.
Many of the nearby beaches have won "best beach" awards, and are internationally recognized.
Fort de Soto County Park offers some of the best beaches in St. Petersburg.
The park offers miles of natural beaches, picnic and bbq facilities, a historical military fort, camping, bike rentals, and more. Fort Desoto also has one of the best dog parks in St. Petersburg, including a dog-friendly beach, which is very popular.
For a fee, Fort Desoto visitors can take a ferry to nearby barrier islands, including Shell Key and Egmont Key. These two uninhabited islands offer truly unspoiled, pristine beach experiences, with white sandy beaches, clear water and more.
Sadly, as Florida's popularity grows, many of Florida's major cities are facing severe growing pains.
Florida's environment has suffered from many disasters caused by population growth, and the problems show no signs of slowing.
Runaway housing costs, insane traffic, hurricane vulnerability, overdevelopment and other problems plague almost all of Florida's major cities.
Sources