The Nixon Sandbar is a popular sandbar near Miami, on Key Biscayne. The sandbar is an extremely popular hangout for boaters near Miami and surrounding areas.
On busy weekends and holidays many dozens, or even hundreds of boats gather, anchor, raft up and party.
The Nixon Sandbar is also known as Nixon Beach, and the Nixon Beach Sandbar. It is also sometimes called "Mashta Flats" because it sits offshore from Mashta Island on Key Biscayne. All of the names refer to the same location.
Nixon Sandbar is one of many other popular sandbars located in Florida. There are also many other sandbars in the Florida Keys.
Key Biscayne Sandbar
There is another sandbar north of Nixon Sandbar, often called the "Key Biscayne Sandbar".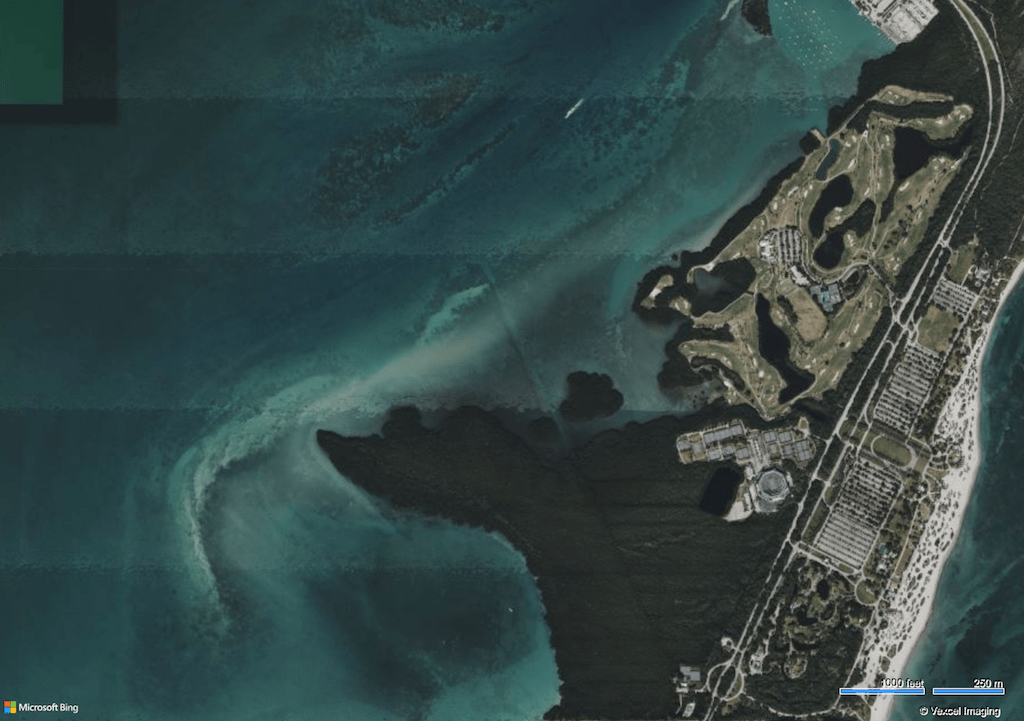 Nixon Sandbar Location
The Nixon Sandbar is located on the western side of Key Biscayne, approximately two miles north of Cape Florida.
The Nixon sandbar is located just outside of a protected inlet named Hurricane Harbor.
There are many luxurious mansions and yachts inside Hurricane Harbor, and along the western shores of Key Biscayne.
Navionics Nautical Chart for Nixon Sandbar
There are other notable attractions near the Nixon Sandbar.
Virginia Key is located approximately 3 miles north of the Nixon Sandbar. 
Bill Baggs Cape Florida State Park is located 1.5 miles southeast of the Nixon Sandbar.
Crandon Park is located northeast of the Nixon Sandbar, on the east side of Key Biscayne.
The Key Biscayne Lighthouse (Cape Florida Lighthouse) is located approximately 2.2 miles southeast of the Nixon Sandbar.
Stiltsville is located approximately 2 miles south of Nixon Sandbar.
Nixon Sandbar Description
The Nixon Sandbar is a patch of sand and shallow water near Key Biscayne, at the mouth of Hurricane Harbor.
Sand on the bottom of the Nixon Sandbar is soft, fine and white. There are some patches of seagrass. There is extensive damage in the area from boats and boat propellers.
A single boat can destroy years worth of healthy seagrass growth. Once seagrass is damaged, erosion starts, and the damage spreads, and can destroy an entire seagrass bed.
Seagrass is essential for a healthy marine ecosystem. Seagrass destruction has caused immense ecological damage throughout Key Biscayne and south Florida.
Seagrass destruction harms water quality and contributes to harmful algae blooms, including red tide.
Best Sandbars Near Miami
The Nixon Sandbar is popular, but it is generally not considered to be one of the best sandbars near Miami.
Many people preferred the Haulover Sandbar before it was dredged and removed. The Haulover Sandbar was much more protected, and the water was more shallow and clear.
The best aspect of the Nixon Sandbar is that it is convenient for many people to access from south Miami.
Many people launch their boats out of the Matheson Hammock marina and boat ramp, just across Biscayne Bay.
Downsides of Nixon Sandbar
There are downsides to the Nixon Sandbar.
The biggest downside of the Nixon Sandbar is that the water can be dark and murky. Water clarity is especially poor when wind, tide and water conditions are not calm.
The surrounding bay is large enough that waves and swell can build. Strong tides and currents also flow through the area.
The water is often choppy, and can get rough depending on the wind conditions. At times the swell and chop can be bad enough that it's uncomfortable to be aboard a boat due to rolling and pitching.
Unlike other sandbars in Florida, the water at Nixon Beach Sandbar is not very shallow. The water is chest-high, or even overhead in many places.
Many people bring floats since the water is not as accessible, or as shallow as other sandbars.
Many people also raft up to other boats and remain aboard to have parties instead of going onto the sandbar itself.
Sandbar Parties
Nixon Sandbar is a popular party spot. As with many sandbars in Florida, crowds around Nixon Sandbar can quickly spiral out of control, and can sometimes be dangerous.
Boat traffic is often excessively high
Boaters are often inexperienced or reckless
Alcohol is often consumed to excess, and some people may operate while impared
There have been serious injuries at Nixon Sandbar, including sunken boats and even death. There are often incidents of dangerous behavior, fights and other disturbances, often linked to alcohol.
There have been community discussions about closing the sandbar to boat access, and creating a "Vessel exclusion zone", similar to the boat ban at Islamorada's sandbar at Port Antigua.
President Nixon's House
The sandbar is named "Nixon Sandbar" because former president Richard Nixon used to live near the site, in the neighborhood on Key Biscayne.
Nixon stayed in his Key Biscayne house to maintain privacy throughout his presidency, during the Watergate scandal and his impeachment.
Former President Richard Nixon lived at 500 Bay Lane, in Key Biscayne. The house was very modest and ordinary, even when it was new. It was a standard 3 bedroom, 2 bathroom ranch-style house, built out of cinder block.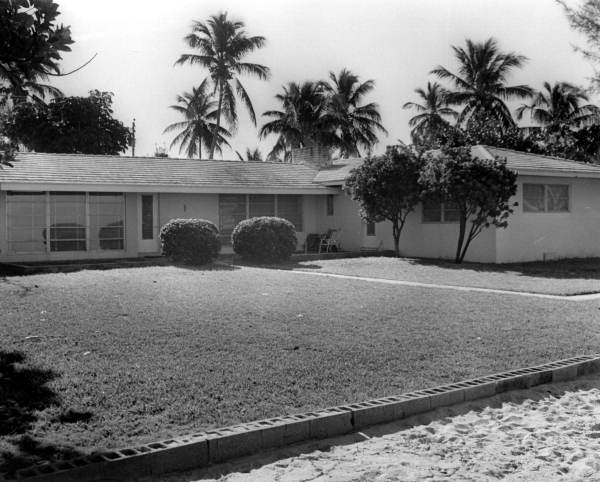 The Nixons bought their Key Biscayne house in 1969 for 125,000 and sold it in 1976 for 320,000. Nixon also owned 516 Bay Lane, which he used as a presidential office.
Nixon's house did have some unusual and luxurious features. It had a private beach, a nice view of the Miami skyline, a large pool, and a helicopter pad built out into the water, which was installed and owned by the U.S. government.
The large concrete helicopter pad is clearly visible from Google satellite views, and is a prominent feature about 1,000 feet northeast from the Nixon Sandbar.
Former President Nixon's house was eventually demolished in 2004 so a new residence could be built on the property.
Featured Image: Microsoft Bing Maps screenshots reprinted with permission from Microsoft Corporation.