Key West is a wild place. It's a modern-day pirate town, known for crazy parties on Duval Street, quirkiness and adult-friendly entertainment.
Key West celebrates individual freedom and permissive attitudes. Sometimes, it can feel like almost anything is allowed. With such a wild reputation, there must be nude beaches in Key West, right?
Well, surprisingly, no!
Many visitors are surprised, and are often disappointed, to learn that nude beaches in Key West just aren't a thing. In Key West, even topless sunbathing is illegal. Who knew?
Related Guides

Guide to all of the beaches in Key West with descriptions (Public and Private Beaches)

Public nudity is officially illegal according to Key West laws.
Prohibited conduct. No person shall be nude in a public place or insufficiently clothed to prevent improper exposure of his or her person in a public place.

Public place means any place where the conduct may reasonably be expected to be viewed by others and an individual does not have a constitutionally protected expectation of privacy.

Key West Municipal Code
Related: Guide to Key West
Pier House Beach
The beach at the Pier House Resort is the only beach in Key West that discreetly allows topless sunbathing.
There is a small, secluded section of topless beach, off to the side of the main private sand beach. It used to be clearly marked with a "No bikini" sign to indicate that topless sunbathing is allowed.
Some recent visitor reports say that the "Topless" sign may have been removed, but that topless sunbathing may still be discreetly allowed. Please be sure to check with the hotel for updates if this is important for you.
Clothing-Optional Pools and Bars
Although there are not any legal nude beaches in Key West, it's still a destination for many naturists, and people who want to be nude in the Florida Keys' sun.
There are a few places where nudity is allowed in private hotels, guest houses, bed and breakfasts and bars.
Many of the private nude-friendly establishments have various age restrictions. Some also have restrictions based on who is allowed to visit. Some may cater only to males, females, or other identification groups.
Some of the most popular nude establishments have been closed over the years, leaving fewer options.
Many of the remaining clothing-optional resorts and hotels in Key West are near Duval Street, where there is more of a party atmosphere.
The most famous example is the Garden of Eden, a clothing-optional bar above the Bull and Whistle Bar.
It should be noted that the experience at clothing-optional places in Key West will vary dramatically based on the other guests who are present at the time.
As you read reviews, remember that your experience may be totally different. It all depends on a bit of luck, and who else happens to be visiting at the same time.
Even at establishments that are known for being nude places, you may find that on a particular day, nobody chooses to be nude or topless. And, vice versa.
If you are making plans or have any concerns, it's a good idea to ask the hotel staff about what sort of experience you should most likely expect.
Nude Boat Charters
In my opinion the best and safest way to be nude in Key West is to take a boat tour to a remote spot, away from other people.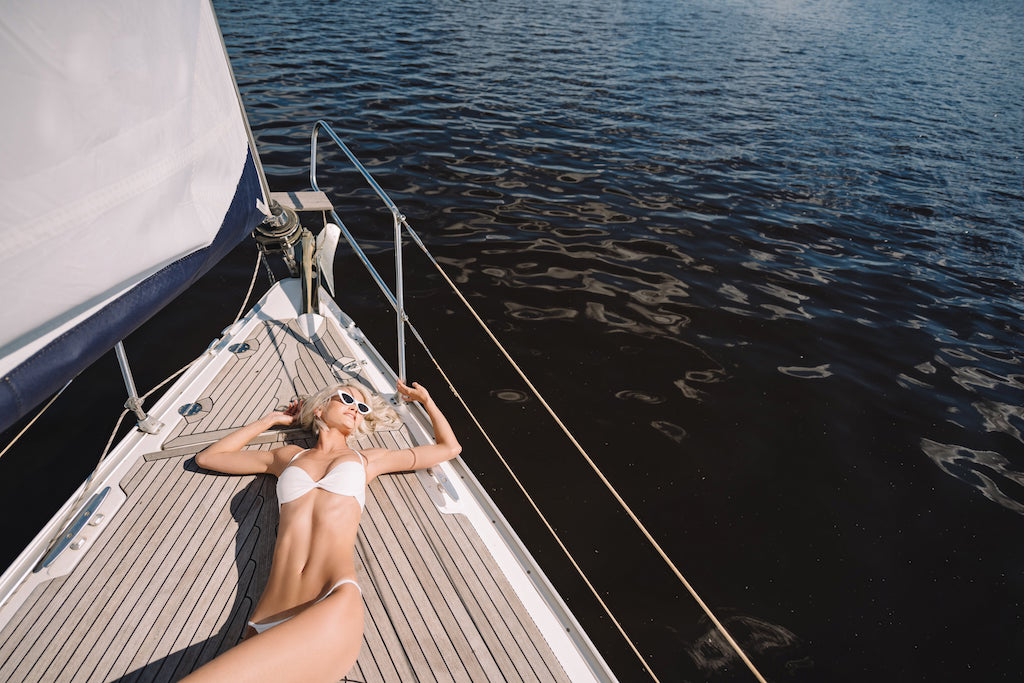 Out on the water, without anyone around, it may be safer to go topless, or nude.
Many boat charters in Key West have large floating mats, often called floating lily pad for boats, that could be perfect for sunbathing, as long as nobody else is around.
There are quite a few clothing-optional boat charters in the Florida Keys that take guests out sandbars near Key West, or just out to beautiful clear, blue water, if you prefer.
Honestly, sandbars in the Florida Keys are way better than any of the traditional beach options on land, anyway.
Sandbars are amazing. They have crystal-clear water like you'd see in the Bahamas, and fine, sugar-white sand.
Nude boat charters usually aren't publicly advertised, since they're a niche service offering. Some charters do mention the offering discreetly on their websites.
Sandbars can also be a good solution, as long as you can find a safely deserted one. There are many sandbars near Key West, but some are often crowded, and wouldn't be very private. There are many other sandbars scattered around the region.
There are quite a few options for sandbar charters in Key West and throughout the Florida Keys.
Note: Sandbars in Florida are not officially designated as nude beaches, so this option may carry an element of risk. It's important to respect local laws. It would only ever be appropriate to be nude or topless on a sandbar if there was not anybody else around, and if it was legal according to local law.
Fantasy Fest
The wild and crazy Fantasy Fest lasts for 10 days every October, but it isn't the norm in Key West.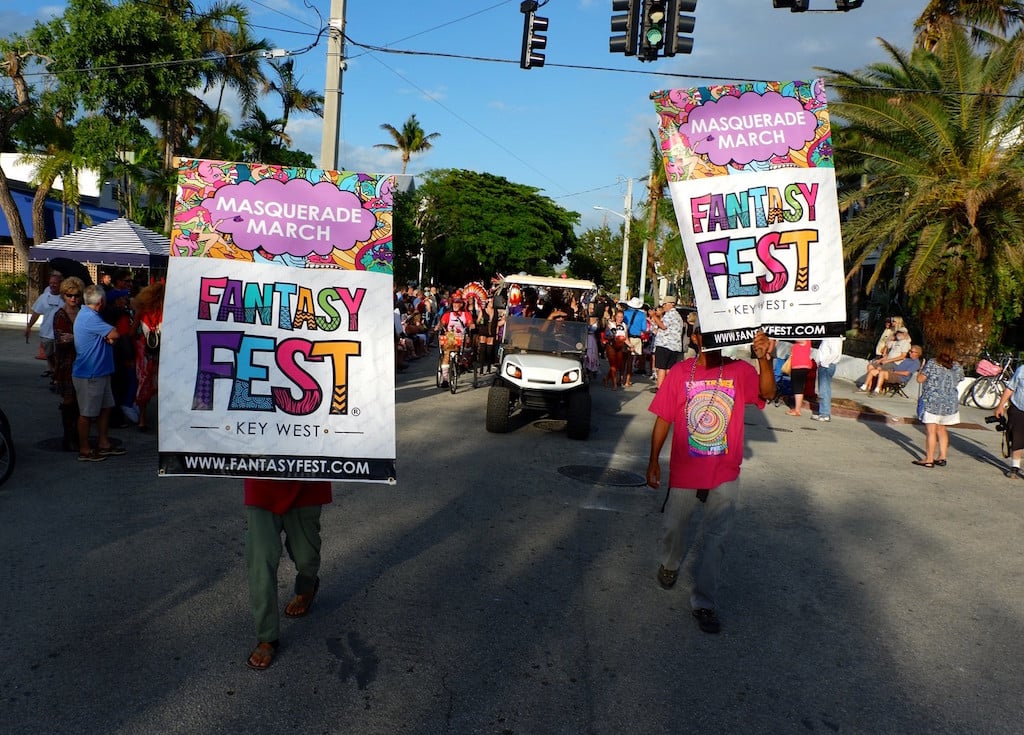 Even though the event has a reputation for being a free-for-all without any rules, there is actually a code of conduct which explicitly prohibits public nudity.
At times, the issue of public nudity has caused tensions for local residents who live in Key West.
Most of the top rules in the code of conduct explicitly state that nudity is not allowed in Key West:
Nudity is illegal and is not allowed on public property or in public view at any time.
Lewd acts on public property or in public view are strictly ILLEGAL and NOT tolerated.
Body painting is allowed but must be done in enclosed or screened in areas, entirely out of public view. Painted female breasts must be covered with pasties or bikini top.
Please wear a cover-up to avoid ILLEGAL exposure on public property and on all city streets.
The Fantasy Fest rules and code of conduct are extremely important. The event's survival depends on a peaceful coexistence with the rest of the community.
Key West is Surprisingly Conservative
It's true that Key West is a wild, non-stop party place for many people. But, for other people, it's their family-friendly summer vacation.
The economy in Key West is almost totally dependent on tourism revenue. Family-friendly vacationers are a huge target demographic in Florida, especially in Key West. The tourism-driven economy must be careful not to scare away family-friendly folks.
The island must try to strike a balance for all visitor demographics, including partying adults, and families who travel with children.
Given this fact, it's not surprising that public nudity is kept on a short leash.
Key West is also inhibited by its relationship with surrounding government entities. The state of Florida itself is very conservative in many ways. So is Monroe County, where Key West is located.
Although Key West is known for being a very liberal, "anything-goes" type of place, it's a wild island in a sea of pearl-clutchers and conservatism.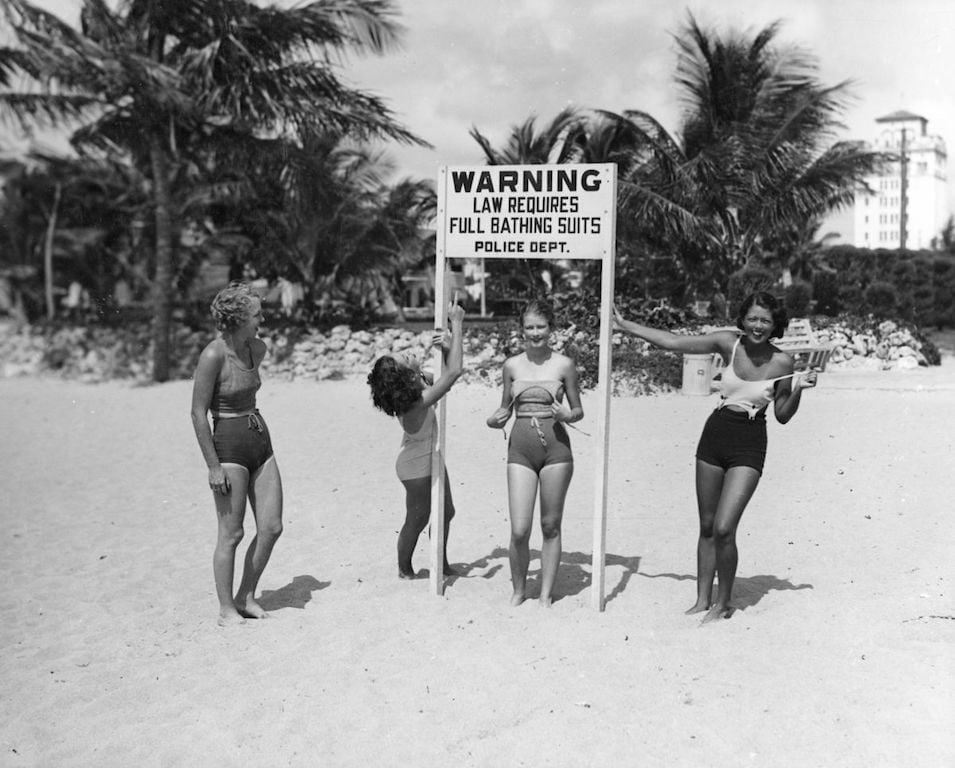 Florida Nudity Laws
Florida has confusing nudity laws. According to some legal interpretations, in some jurisdictions it may technically be illegal for someone to be nude in their own backyard pool.
One relatively recent law proposal would change that ambiguity. The proposed law would officially make it legal to be nude at clothing-optional beaches in Florida, which is illegal under current law.
The laws' sponsor says that it can help protect visitors to nude beaches who might otherwise face serious consequences.
Nude Beaches Illegal in Key West
Key West made nude beaches illegal in 1983. The law was apparently passed in response to a hotel, the Pier House, which wanted to establish a nude beach. Today the Pier House is the only hotel and beach which allows topless sunbathing.
According to that 1983 law, nudity could be punished by fines, and even jail time.
There have been several efforts to clarify, and/or change the laws over the years. There was an effort in 2009, and then again recently in 2020.
"But there are cases where people have been arrested and charged for being nude at a nude beach…His bill (SB 850) would expressly allow being "naked in public … including, but not limited to, clothing-optional beaches." –The Palm Beach Post
Nude beaches in Key West were almost legalized in 2009. At that time Florida's economy was in shambles after the housing market collapse.
Tourism revenue was down, and Key West was more open-minded than usual about welcoming naturist visitors.
The city of Key West talked about having a nude beach referendum, but nothing has ever come of the effort.
The idea of nude beaches seems to be very popular among Key West locals, especially business owners. One informal poll of Key West hotel owners and innkeepers showed overwhelming support to have a nude beach in Key West.
To be clear, public nudity is illegal in all of Key West, including topless sunbathing, or other forms of nudity. According to the law, even some popular swimsuit styles may technically be illegal, if they expose too much skin.
Are there any topless beaches in the Florida Keys?
The Florida Keys don't have official nude beaches.
Public nudity in the Florida Keys is always illegal, until the existing laws are changed.
Some beaches in the Florida Keys are relatively remote, and have reputations for being unofficial nude beaches, or at least a place where you may see beach nudity.
The closest thing to a nude beach near Key West is Boca Chica. Boca Chica is on an island called Geiger Key, further north in the Florida Keys.
To be clear, nudity is not officially allowed on Boca Chica Beach. Some visitors report recent problems with trespassing charges. If you visit, be sure to follow all local laws and do not trespass!
But, the beach is remote enough that many people go there to be nude, apparently without being hassled for breaking the law.
There is always a serious risk of being nude in public in Florida. There are documented cases of people being arrested and charged with serious criminal offenses, possibly even in a designated nude beach.
In one nude arrest incident at Anne's Beach, the person was "booked into the Plantation Key Detention Center on two felony counts of lewd and lascivious behavior and seven misdemeanor counts of indecent exposure — one for each person who reported seeing him."
In the above case it appears as if there may have been quite a bit of other indecent behavior involved.
Would charges be filed against a discreet nude swimmer? Or, a topless sunbather? It's impossible to know for sure.
But, it's safe to assume that similar criminal charges could potentially be brought against any person who breaks local laws and chooses to be nude in public.
Anyone who wishes to be topless or nude in public should be sure that they know and follow all local laws, and be extremely careful to avoid breaking any laws, or subjecting themselves to risk.
It should also be noted that being topless in public is inherently risky and would probably break laws, but it may be somewhat less risky than being fully nude.
Can you be topless in Key West?
It's illegal for females to be topless in Key West. Even during adult-oriented events like Fantasy Fest, there are specific rules of what is allowed, and not allowed.
Toplessness in Key West has special rules regarding toplessness during Fantasy Fest, which applies to the official "Fantasy Zone" location and boundaries of Fantasy Fest.
In general, public nudity is officially illegal according to Key West laws.