Pass-a-Grille beach is my favorite beach near St Pete!
The sand is soft, white and excellent. The water is often crystal-clear. The town is super cute, and it has a perfect laid-back beach town vibe.
There are some things that could be better about Pass-a-Grille, but overall it's an excellent beach.
Pass-a-Grille Beach is one of the best small beach towns in Florida.
The town has kept its small beach town feel, and has avoided becoming an overdeveloped tourist trap. Almost all of the town consists of beach houses and 1950s beach bungalows.
There are no high-rise hotels or condos in the town. The highest building in Pass-a-Grille is only 6 stories high, and most are one or two.
Most of the streets are lined with palm trees, and lush landscaping is everywhere you look.
All of this character is both a blessing and a curse – the same thing that makes it charming makes it a difficult place to visit if you're not a local.
Historical District
There is a very cute historical district in Pass-a-Grille.
The business district consists of only a few streets, but it's still very cute. Buildings are painted in fun pastel colors and brick streets add to the historic charm.
The beautiful Pass-a-Grille beach is to the west, and a lovely waterfront to the east.
There are sidewalks throughout the downtown area and along both waterfronts. The eastern waterfront along the ICW also has a pier, and there is a dog beach.
Downtown Pass-a-Grille is included in the National Register of Historic Places.
Location
Pass-a-Grille is the southernmost beach in St. Pete Beach.
​​
Pass-a-Grille sits at the very southern tip of a barrier island named Long Key, which is occupied by the town of Pass-a-Grille and the City of St Pete Beach.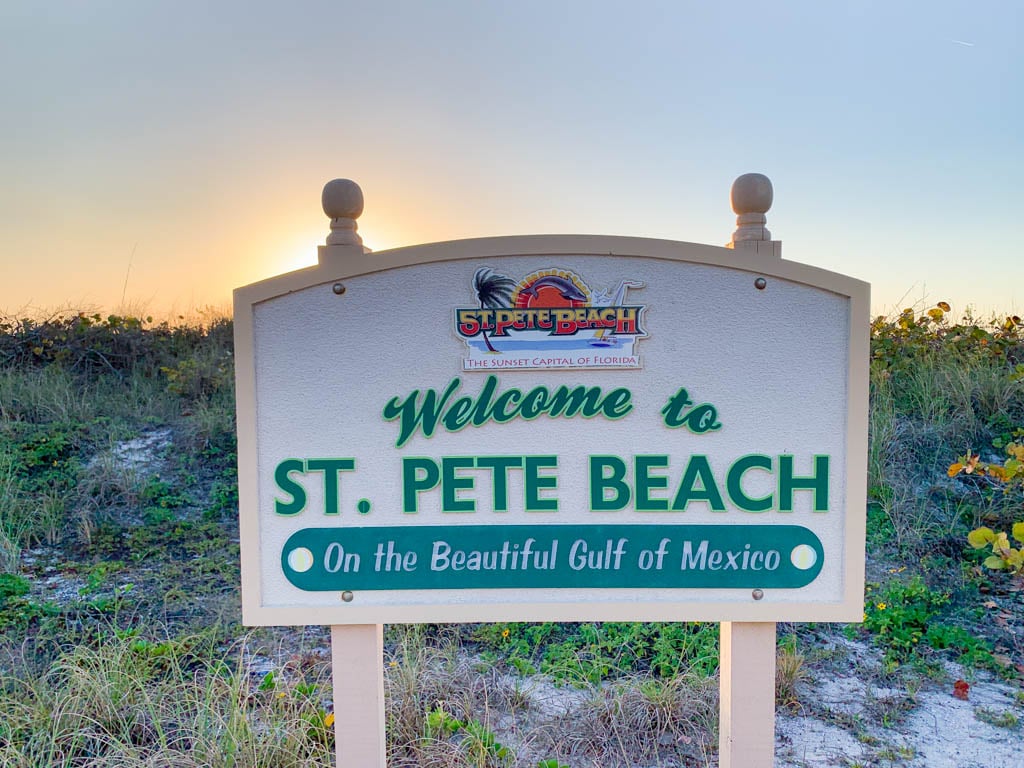 The Long Key barrier island lies between the Gulf of Mexico and the mouth of Boca Ciega Bay.
Pass-a-Grille is at the end of a barrier island so there is easy access to the Gulf of Mexico and protected waters in the ICW and Boca Ciega Bay.
The area around Pass-a-Grille is very nice, and the drive to the island is lovely.
The main road, Pass-a-Grille Way, is lined with beautiful houses and passes by the opulent Don Cesar Resort, Restaurant and Spa.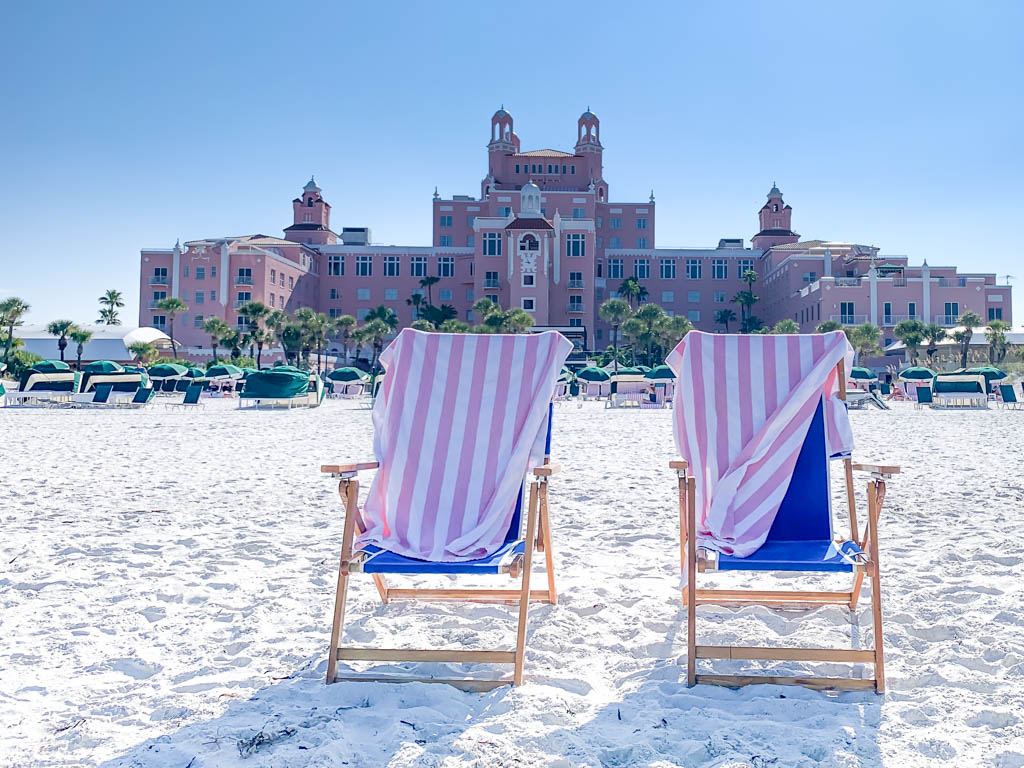 You may also pass over the Pinellas Bayway Bridge, depending which direction you come from.
Lodging and Places to Stay
The old-school, laid-back beach charm also means that there is a limited amount of hotel capacity in Pass-a-Grille, and the few lodging options that exist are vacation rentals.
Things to Do
Note: Pass-a-Grille is a very quiet, laid-back community. It does not have nightlife, except for a handful of beachfront restaurants and bars. It suits people who are looking for peaceful relaxation, and low-key beach vibes, rather than high-energy nightlife.
Pinellas Bayway Bridge
The Pinellas Bayway is a very nice bridge which leads onto Long Key and St. Pete Beach and while crossing over Boca Ciega Bay. You may drive over it depending on which direction you arrive from. There is a toll for this bridge.
The bridge has very nice views of the Don Cesar, the waters of Boca Ciega and the Gulf of Mexico.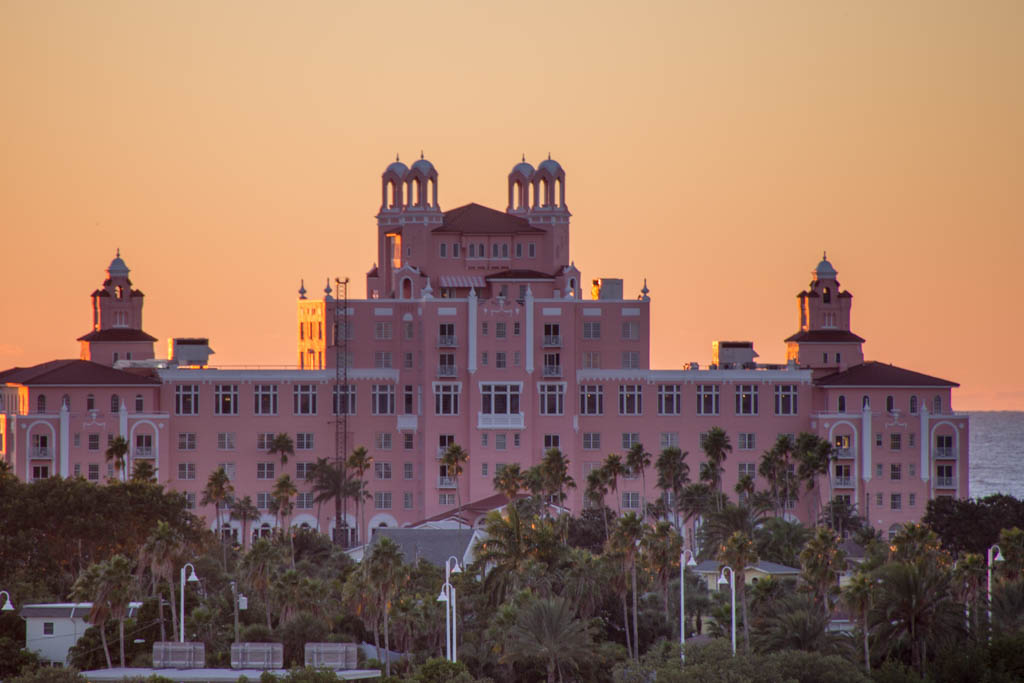 It is also interesting to see an aerial view of the neighborhoods down below.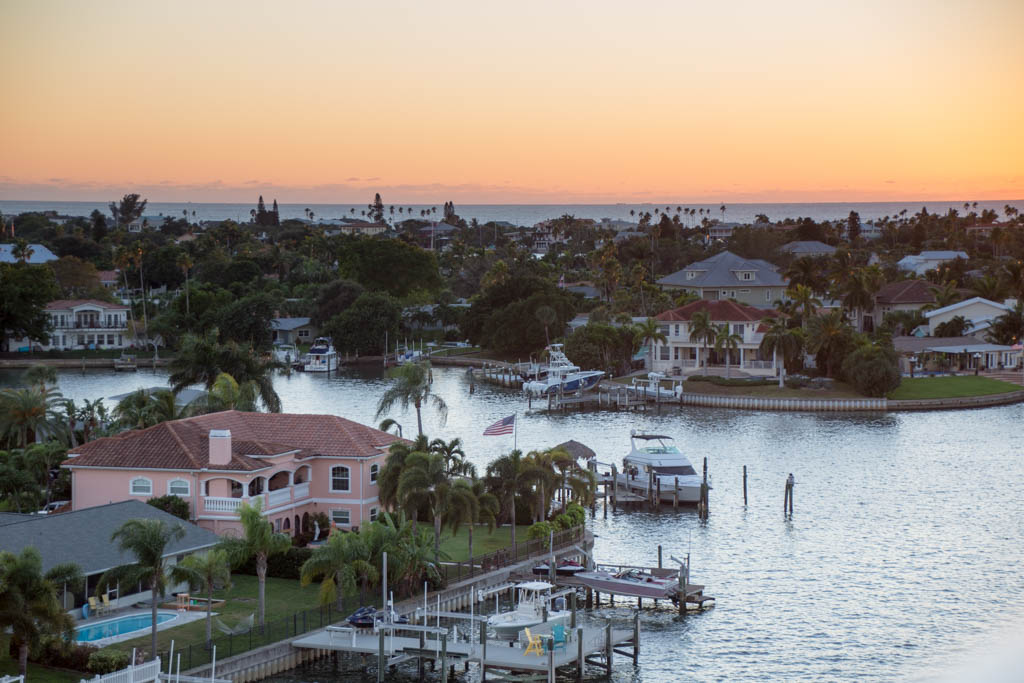 The bridge is also very popular for walkers, joggers and cyclists. Parking to walk the bridge can be a challenge.
Merry Pier
The Merry Pier is a small boat pier on the eastern side of Pass-a-Grille, in the Pass-a-Grille Channel, near the mouth of Boca Ciega Bay.
Boat tours leave from the small pier and head to Shell Key, a fun uninhabited island just offshore and across the channel.
The island of Shell Key sits between Pass-a-Grille at the north, and Fort De Soto, which is to the south.
Pass-a-Grille Dog Beach
There is a dog beach on the ICW side, east of the downtown district near the southern end of the island.
Pet owners should keep a close eye on their pets and should especially beware of red tide which can be harmful to pets, and other possible hazards.
Watch the Sunset
Pass-a-Grille is an excellent place to watch the sunset. When the sun begins to set the entire beach pauses to watch it sink below the Gulf of Mexico.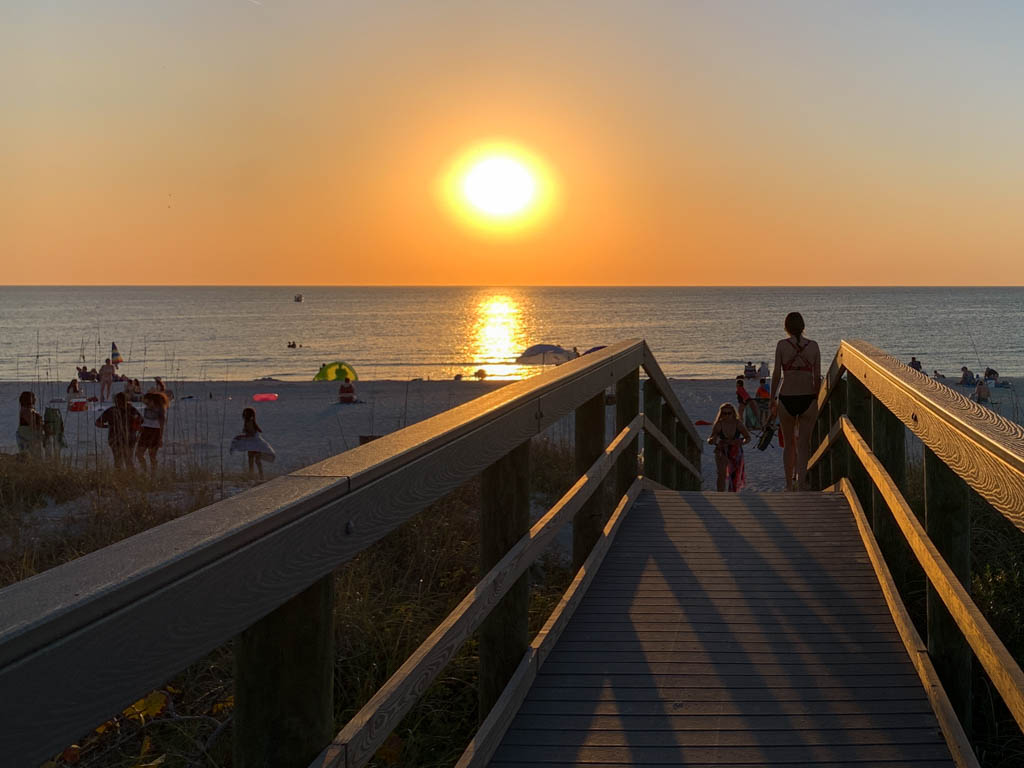 There is also a ceremonial bell which is rung at sunset, sort of like the conch shell is blown in Key West.
Beach Rentals
There are beach rentals, including chairs, umbrellas, SUP paddleboards, kayaks and more.
One rental stand is near the Paradise Grille and another is further north near the Don Cesar.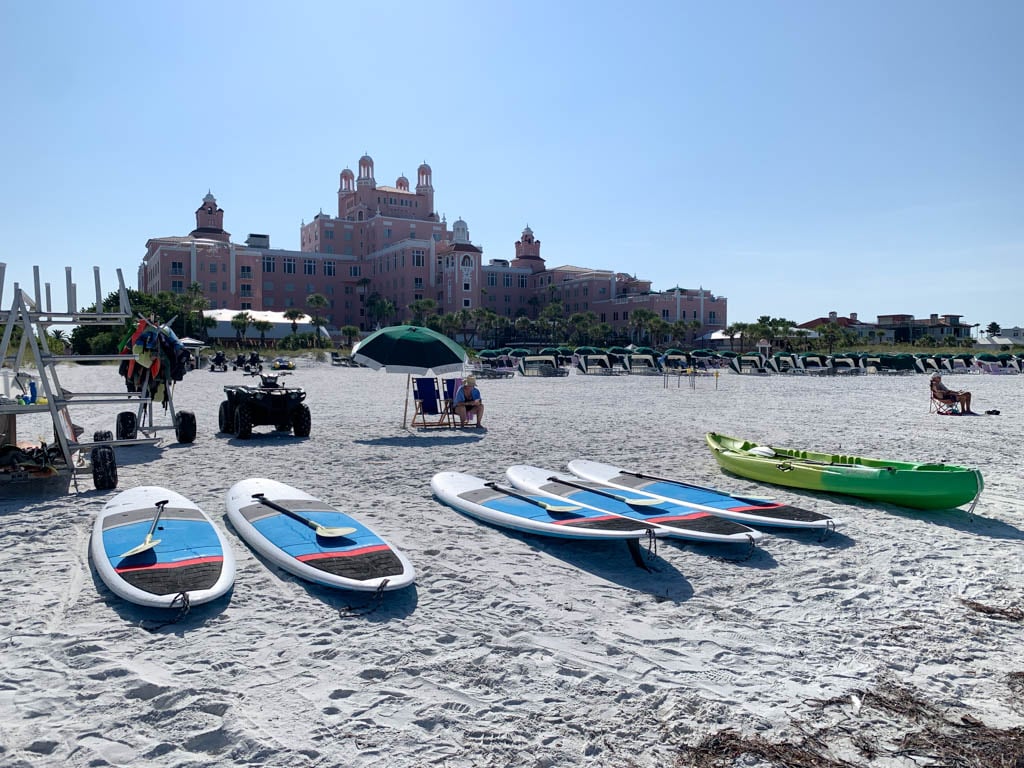 Kite Boarding and Wing Foiling
Pass-a-Grille Beach is a popular place for kite boarders and wing foilers. Each can often be seen flying offshore.
Yoga
Pass-a-Grille Beach is a popular place for beach yoga.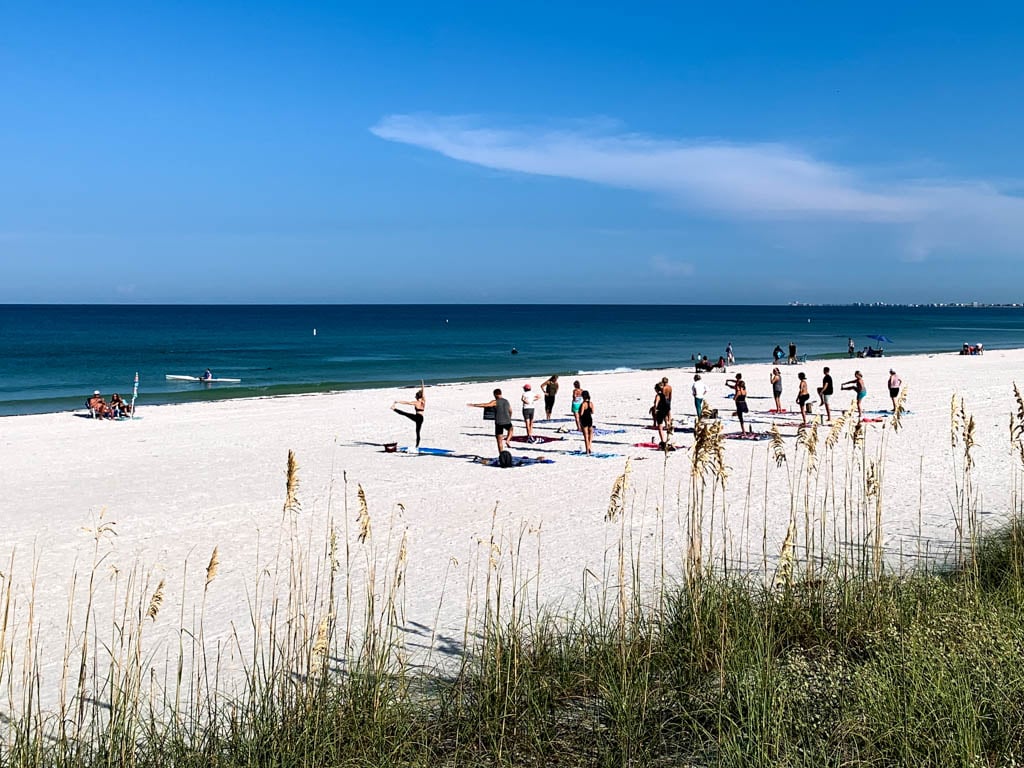 Rock Jetty
There is a large rock jetty at the southernmost point of the beach.
The main purpose is to prevent erosion and to mark the boundaries of the pass. It's not the most exciting thing in the world but it is interesting to walk out onto it to get a different perspective of the beach.
Historical Walking Tour
There is a nice walking tour in Pass-a-Grille which shows points of interest in the town, including 21 historical buildings. View the Walking Tour
Gulf Beaches Historical Museum
Pass-a-Grille has a small historical museum, the Gulf Beaches Historical Museum.
The museum is located inside a neat historic building, which has its own story. The building served as the city's first church, built in 1917.
The church was set to be demolished but was saved and purchased by a determined local resident, Joan Haley, who sold her house and transformed the building into her new home.
When Haley passed away in 1989 she donated the property to Pinellas County to serve as the Island Museum.
The historic museum has high ceilings, wood floors and feels appropriate for a small beach town museum.
It's fun to see photos and artifacts from the town's history, especially from the times when it was quaint and undeveloped, like most of us wish it still was.
The museum is run by volunteers and is open from 10 am until 4 pm Monday-Saturday. It is open from 1-4 pm on Sundays. The museum is located at 115 10th Avenue, St Pete Beach, 33706.
You can also take a virtual visit, provided courtesy of the University of South Florida: View the Virtual Visit
Beach Description
The entire beach at Pass-a-Grille is very nice. There is a surprising variety at the beach, and locals all have their own favorite spots.
My favorite area of the beach in Pass-a-Grille is in the middle section, well-north of Paradise Grille and south of the Don Cesar.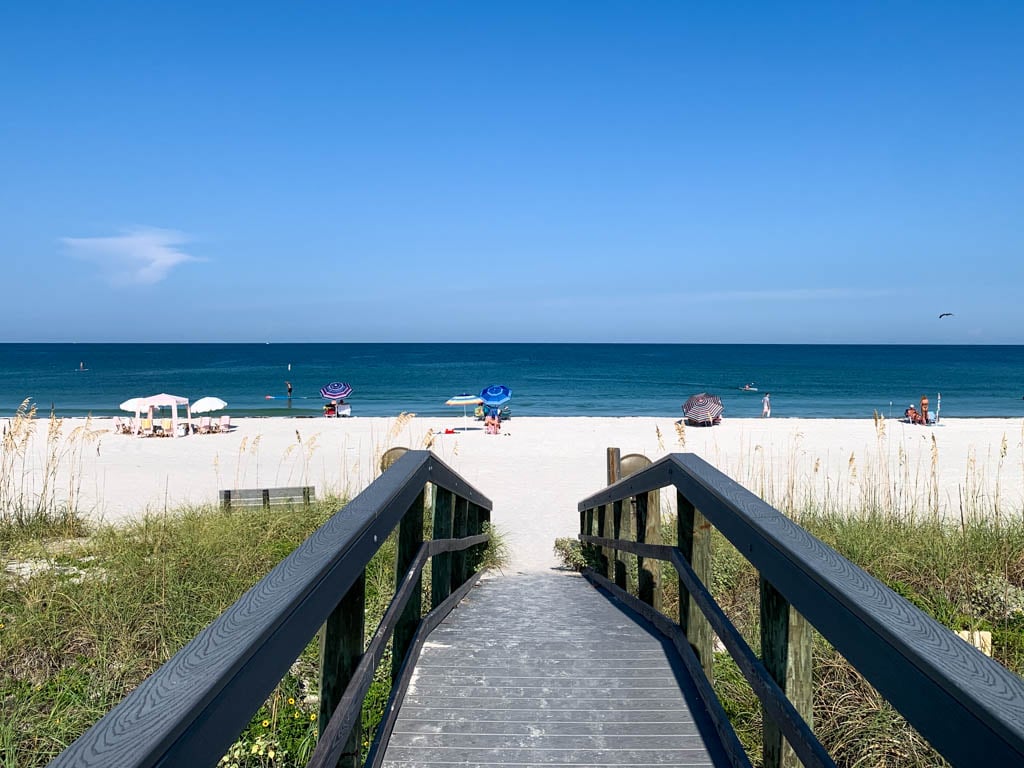 There are very nice wooden dune walk-overs throughout the beach, and a large number of beach access points which allow crowds to spread out.
The beach gets crowded during peak times, but it is much less crowded and much less touristy than other beaches near Tampa/St. Pete.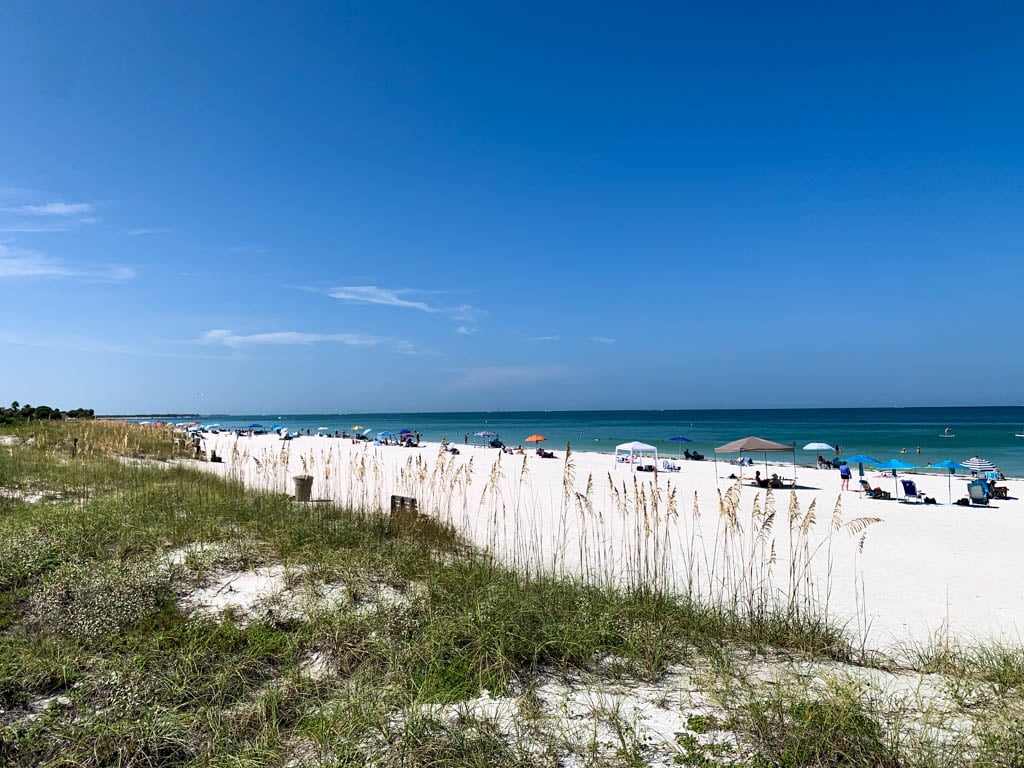 The middle section of the beach is the quietest. It is more crowded near the Don Cesar, and then again towards the south end where there is ample public parking.
The south end of the beach juts up against a rock jetty.
Sand Description
The sand at Pass-a-Grille beach is excellent in my opinion, although it does vary a bit.
There are areas of coarse sand in some spots, and shells in some locations which are hard on bare feet.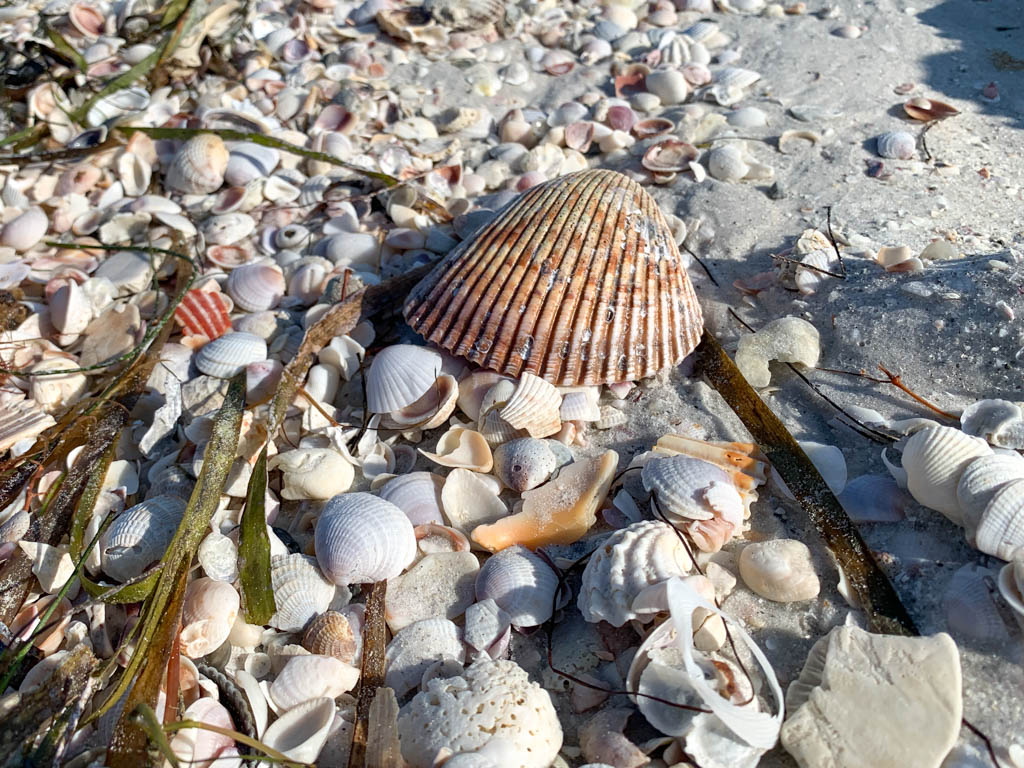 The sand varies quite a bit. It is coarse and crushed shell in some areas, and fine powder in others.
Water Description
When wind and wave conditions are calm the water at Pass-a-Grille beach is extremely clear. When conditions are right it has some of the clearest water in Florida.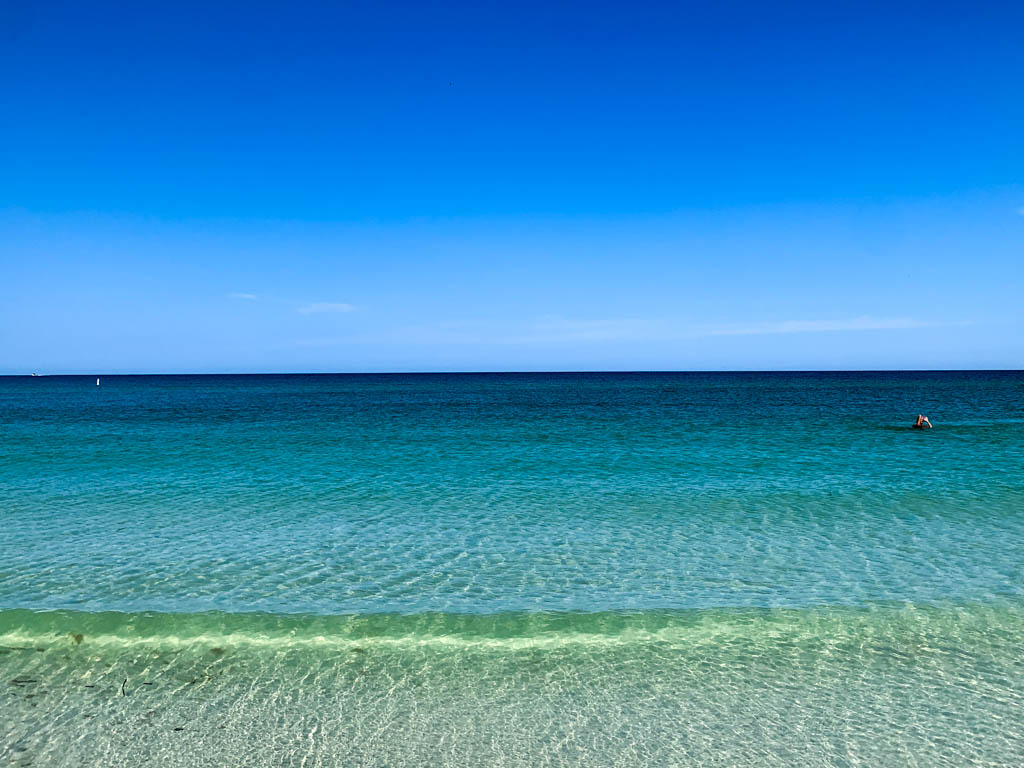 It's not always this crystal clear. When there is wind or waves the water is still beautiful but it has a more cloudy turquoise feel because sand gets stirred up on the bottom.
Dolphins and manatees can sometimes be seen offshore, along with kite surfers and wing foilers who are fun to watch, and frequently use the beach.
Public Restrooms and Showers
There are public restrooms at two locations in Pass-a-Grille:
At Paradise Grille
At Hurley Park
Some of the walkovers have outdoor showers to rinse off sand, while others do not have showers.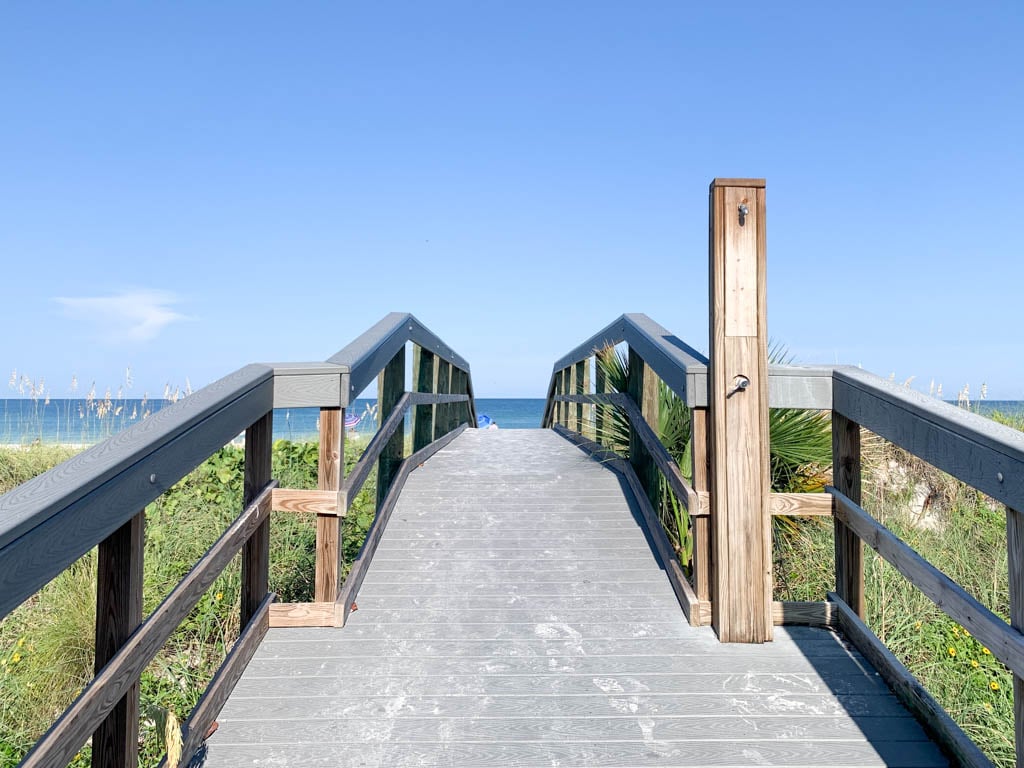 Parking in Pass-a-Grille
One of the worst things about Pass-a-Grille beach is that parking is hard to find. Parking is in very high demand, and very low supply.
It seems like there is a "No Parking" sign every 100 feet in Pass-a-Grille, or "Residential Permit Required".
Most areas are subject to parking restrictions which require payment, or a residential parking permit. Parking is paid via electronic parking meters which accept credit cards.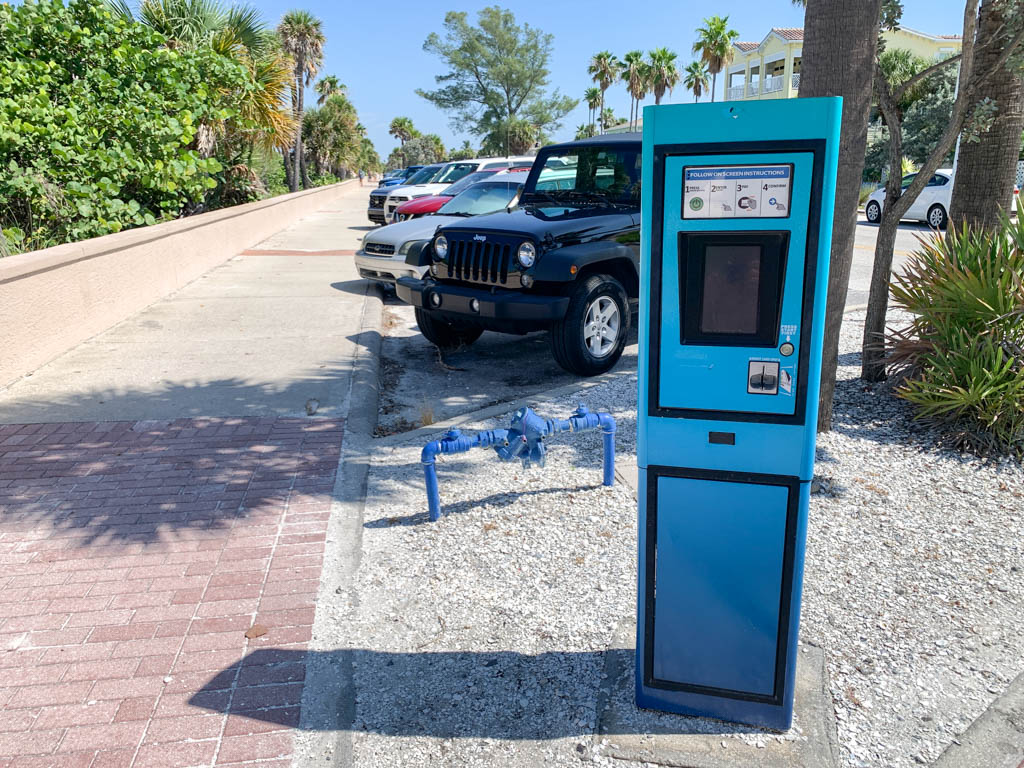 Parking restrictions run from 8am until 8pm.
My favorite place to park is near Hurley Park because there is usually good parking availability and there are convenient public restrooms in the north west corner of the park.
Where to find parking
There is usually paid parking available along the two streets which run parallel to the water.
Along Pass-a-Grille Way (Parallel to the bay side)
Along Gulf Way (Parallel to the Gulf side)
The city of St. Pete Beach has a map which shows real-time parking availability: View the parking map
There are a few exceptions, but in general the horizontal cross-streets are residential-only parking.
Free parking in Pass-a-Grille
There is a very limited amount of free parking in Pass-a-Grille, near the downtown district, including:
The free parking is for 3-hour parking. Signs say "Business Parking Only, No Beach Parking". I am not sure how this is enforced, but there are signs.
There is also some free parking on 16th Avenue but it is only for the community center building or tennis courts.
Nearby
Restaurants
There are several restaurants in Pass-a-Grille.
To avoid disappointment it's best not to have high culinary expectations in these small Florida beach towns. The best part is the overall feel, and laid-back beach town vibe.
Paradise Grille
The beachfront cafe, Paradise Grille, is a great place to spend time at the beach.
The prices at Paradise Grille are actually fair and are not inflated like most beachfront restaurants.
Paradise Grille often has live music and serves a variety of food and drinks, including coffee, and breakfast. I can always smell delicious bacon and breakfast smells from a mile up the beach.
There are outdoor tables to sit and watch the ocean, or the sunset. There is a bit of shade from trees, depending on the sun position.
There are public restrooms and changing rooms, along with showers to rinse off after swimming in the ocean.
Other nearby restaurants include the Brass Monkey and the Hurricane Seafood Restaurant which have upstairs seating and a rooftop bar, in the case of the Hurricane.
Pros and Cons
Pros
Charming small beach town
Very nice beaches with a variety of sections to find a suitable spot
Beautiful water, especially when wind and wave conditions are calm
Cons
Traffic can be frustrating.
There is only one two-lane road (Pass-a-Grille Way) that services most of the island from the Don Cesar to the end of the road.
Parking is expensive and is charged per hour.
Free parking is only in one spot in the downtown district, which requires a lot of luck to get, and is not allowed for beach parking
The residential parking laws are in effect from 8 am until 8 pm, making it pretty useless for beach parking. Parking restrictions are especially frustrating in the fall and winter when the sun sets early.
There is a lack of affordable hotel or rental accommodation
Weddings
Weddings in Pass-a-Grille Beach are very common, and very popular. It's common to see weddings set up at various spots along the beach.
If you're interested in getting married on the beach in Pass-a-Grille I suggest that you do your homework to be sure you won't wind up with large crowds around your ceremony, unless you are OK with that.
Living in Pass-a-Grille
Living in Pass-a-Grille beach could be amazing if you can afford it and your lifestyle fits the island pace!
Living in Pass-a-Grille is very expensive due to the cost of housing.
The town of Pass-a-Grille is generally a very wealthy, affluent community. Residents who live in Pass-a-Grille tend to be very wealthy, and usually earn their incomes from outside of the beach town.
There are very limited job opportunities, mostly only hospitality jobs, without a long commute
Real estate prices are very high due to high demand, especially for high-priced vacation rentals.
The barrier island is very vulnerable to storms and hurricanes, resulting in high costs for hurricane insurance and flood insurance.
History
Like almost all of Florida, Pass-a-Grille has a very long and fascinating history!
The area of modern-day Pass-a-Grille has been inhabited by Native American and indigenous peoples for many thousands of years, dating back to paleo-Indians.
The Beach Islands Museum has a historical timeline which begins at the year 1500 AD, but the greater region was inhabited even before that.
The first Europeans did not arrive until the mid 1500s, when Pánfilo de Narváez anchored his ship near modern-day Pass-a-Grille in 1528.
Pass-a-Grille is said to be the oldest tourist town on Florida's Gulf Coast. It began receiving visitors as early as 1857.
The first residents established homesteads in Pass-a-Grille in 1886 and development began to take off around the year 1900.
As of 1901 there were 7 houses on Pass-a-Grille. The area's first general store opened in 1902.
Other early community developments included a hotel and a ferry service which linked Pass-a-Grille with nearby Gulfport via the Boca Ciega Bay.
The Merry Pier is named after the Merry family, one of the first families to settle Pass-a-Grille.
The town of Pass-a-Grille Beach has been part of the city of St. Pete Beach since 1957.
What does the name "Pass-a-Grille" Mean?
The name Pass-a-Grille comes from a French word, "Pass Aux Grilleurs", meaning the "Pass of the grillers". This refers to the fishermen who initially used Pass-a-Grille as a fish camp in its earliest days.