St. Pete Beach is a small beach town on Florida's central Gulf Coast.
St. Beach Beach is known for its beautiful white sand beaches and convenient access to downtown St. Petersburg. It is also conveniently located near Clearwater Beach and many other beach destinations in Pinellas County.
Location
St. Pete Beach is located on a barrier island called Long Key. St. Pete Beach occupies all of the island.
The island of Long Key is long and skinny. It's approximately 5.5 miles long and runs from north to south. The island is only a few blocks wide in most spots.
Because of its shape St. Pete Beach has many miles of beautiful beaches, and also a large waterfront on Boca Ciega Bay.
St. Pete Beach is connected to the Florida mainland by three bridges:
| | | |
| --- | --- | --- |
| Island Section | Location | Bridge Name |
| North | Near Upham Beach | Treasure Island Bridge |
| Middle | Near Corey Avenue | Corey Causeway |
| South | Near Pass-a-Grille | Pinellas Bayway |
The city of St. Pete Beach is located approximately 8-10 miles west of downtown St. Petersburg, depending on the exact spot.
There is good access to downtown St. Petersburg and neighboring beach towns and destinations, although traffic can be very congested.
Other nearby cities include:
Tierra Verde
Madeira Beach
The best beaches near Tampa/St. Petersburg
Limited public transportation options do exist but they can be slow and unreliable, and have limited functionality for real life usage.
Freebie shuttle
Central Avenue Trolley
Sunrunner
The Sunrunner is the most convenient public transportation route between St. Pete Beach and downtown St. Petersburg.
Things to know Before Visiting
St. Pete Beach visitors are diverse. You're likely to see everyone from families with kids to college kids, snowbird retirees and everyone in between.
St. Pete Beach is suitable for a wide range of ages, including young children, adults who enjoy nightlife and laid-back peace and quiet.
St. Pete Beach is extremely popular for tourists, but it's a local beach favorite too.
Many people are confused by these things.
The City of St. Pete Beach is different than the City of St. Petersburg!
The name of St. Pete Beach is "St. Pete Beach", not "St. Pete's Beach".
Nobody really cares about this, and people will probably ignore it, but it's cringey and slightly embarrassing, so try to avoid this.
The City of St. Pete Beach includes all of Long Key Island, including Pass-a-Grill to the south and Upham Beach to the north.
St. Pete Beach has three general sections:
| | | |
| --- | --- | --- |
| Upham Beach | North | Quiet and less touristy. My second-favorite. |
| Central St. Pete Beach | Middle | Most busy and most touristy. My least-favorite. |
| Pass-a-Grille Beach | South | Less busy and less touristy. My personal favorite. |
Pros of St. Pete Beach
Beautiful white sand and clean, clear water at times
Large, wide beaches with room to spread out
Beautiful crystal clear water when conditions are calm
Near St. Petersburg. Accessable from downtown St. Pete without a car via SunRunner, rideshare or public transport
The beach is beautiful and can be easily accessed without walking too far
There are many options for bars and restaurants in the area
There is decent place for surfing near Upham Beach
Cons St. Pete Beach
Many areas are unattractive urban sprawl
Red Tide can be a big problem
The beaches are often crowded
Some spots of the beach are excessively touristy
Traffic is extremely very frustrating and parking can be difficult to find
Away from the beach, these barrier islands are not super cute or attractive, in my opinion.
There are some cute areas, but once you leave the beach, it isn't a very picturesque area.
The area has a strong feel of ugly, outdated urban sprawl, especially when it's crowded at peak tourist times.
Traffic is often terrible. There are often too many cars for the small roads to handle, so parking and driving are frustrating. Be prepared to be patient.
Beaches
St. Pete Beach is one of the best beach towns in Florida, and has some of the best beaches near St. Petersburg.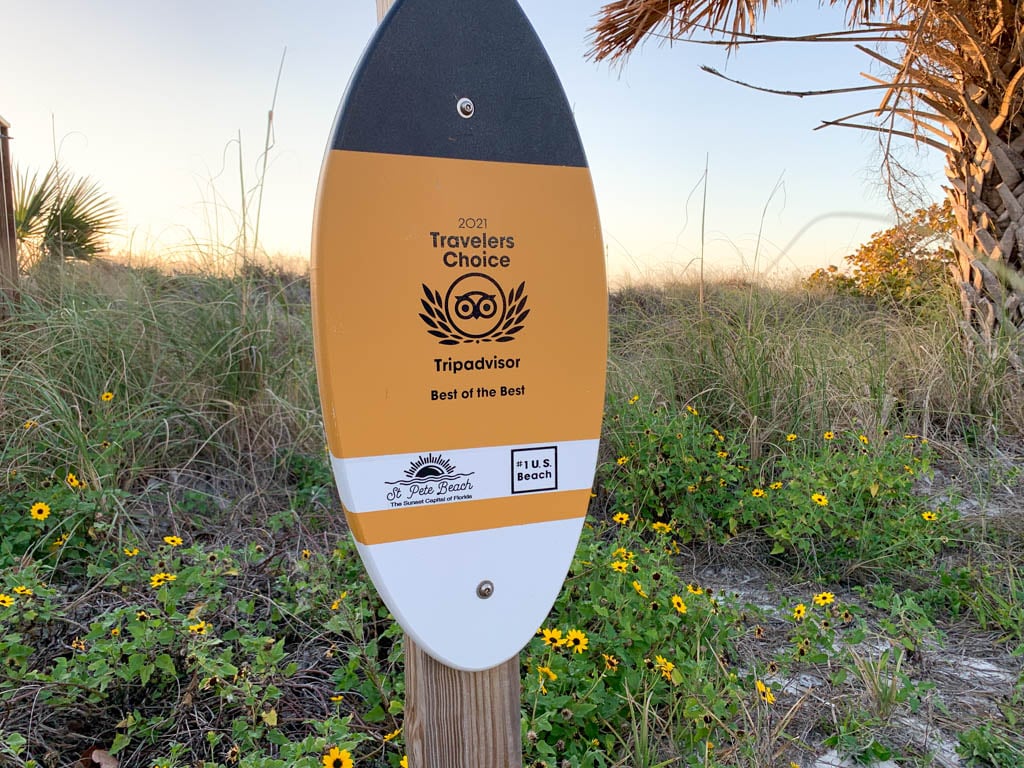 In particular, Pass-a-Grille is the best beach in all of Tampa/St. Pete, in my personal opinion. It's my personal favorite.
St. Pete Beach is continually ranked in the top beaches in the U.S., and was voted the "Best beach in America" in 2021.
The beaches are excellent for their soft, white sand, although the sand is different in various parts of the island.
There are approximately four miles of white sand beaches, stretching from Upham Beach (north) to the south jetty of Pass-a-Grille Beach (south).
All along that stretch there are many beach access points throughout St. Pete Beach. Access points each have their own unique feel and characteristics.
The sand is soft and white in most places, although shells do accumulate in some spots, which can be painful on bare feet.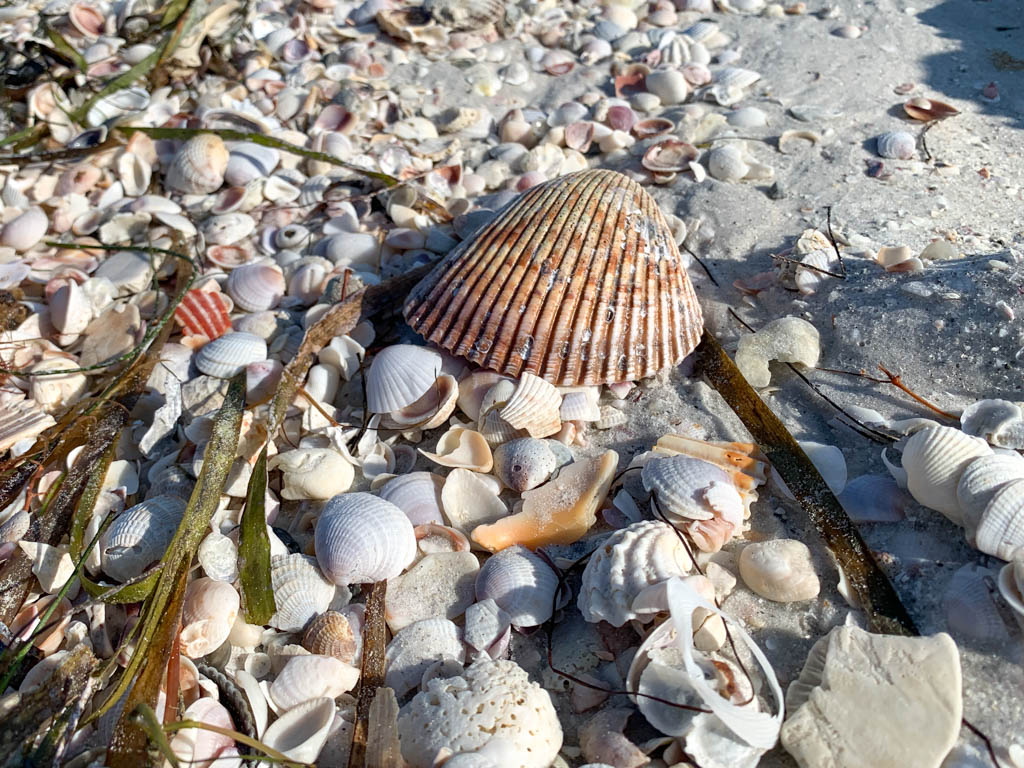 The beach is wide in most areas, although the beach does get progressively narrower towards the south end of Long Key, especially at the southern end of Pass-a-Grille Beach.
Note: The north end of Long Key is sheltered behind Treasure Island, so there are not any beaches on the islands' very northern tip.
Upham Beach
Upham Beach is located at the northern tip of St. Pete Beach.
This area of the island is a little bit off-the-beaten-path because it's not located directly on Gulf Boulevard.
Upham Beach tends to be more popular with locals and is usually not as crowded with tourists compared to other beaches in St. Pete Beach. I like it and consider it to be almost on-par with Pass-a-Grille Beach, in my opinion.
Depending on wind and wave direction Upham Beach can be very calm and protected because it's blocked by rock jetties.
The area around Upham Beach has interesting views of Blind Pass, the waterway which separates Long Key from Treasure Island to the north.
Upham beach has:
Sand volleyball nets
Secret Garden
Rock jetties
Paradise Grille
Public restrooms
Outdoor beach showers
Benches
There is a large beach-front parking lot at Upham Beach Park with electronic pay stations.
Surfing
One interesting thing about Upham Beach is that it's actually got decent surfing waves when conditions are just right.
Surfable waves exist because of the nearby Blind Pass waterway and rock jetties which can create rideable waves.
Don't expect too much, though. Waves are usually too small to ride. The best season for surfing here is winter, when north or northwest winds have enough time to generate wind in the Gulf of Mexico.
Secret Garden
There is also a "Secret Garden" in the northern part of Upham Beach. It's not going to amaze you but it is nice to visit.
The garden is small but has lush tropical trees and plants, and is a fun place to walk around.
Paradise Grille (Upham Beach)
There is a northern location of Paradise Grill in Upham Beach; one of two locations in St. Pete Beach.
The other Paradise Grille location is at the south end of the island in Pass-a-Grille Beach. Paradise Grille serves food and fairly priced wine and beer.
Pinellas County Beach Access St. Pete Beach
When you hear people talk about "St. Pete Beach Access" this is often the beach access they're talking about.
This beach access park is located in the middle of the island. It is owned and operated by Pinellas County.
This is often one of the easiest beaches to visit because of the on-site parking and the nice amenities. There are public restrooms and showers on-site.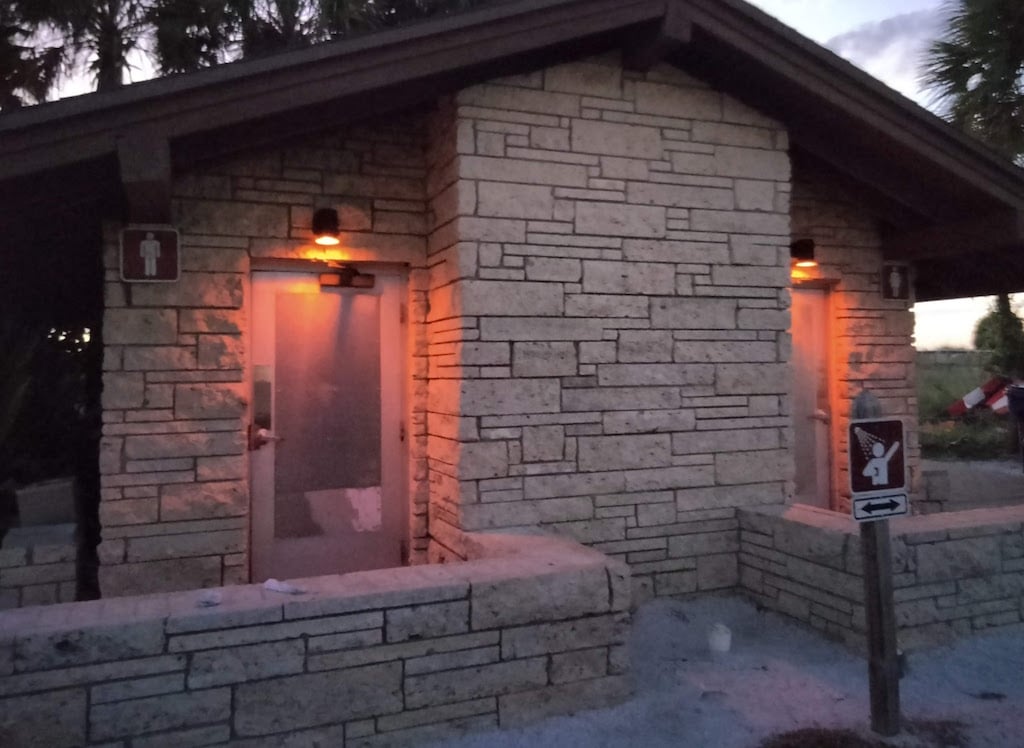 There are on-site rentals for beach chairs, beach umbrellas and cabanas. There is a small snack bar/concession stand which also sells beach gear like sunscreen, water toys and more.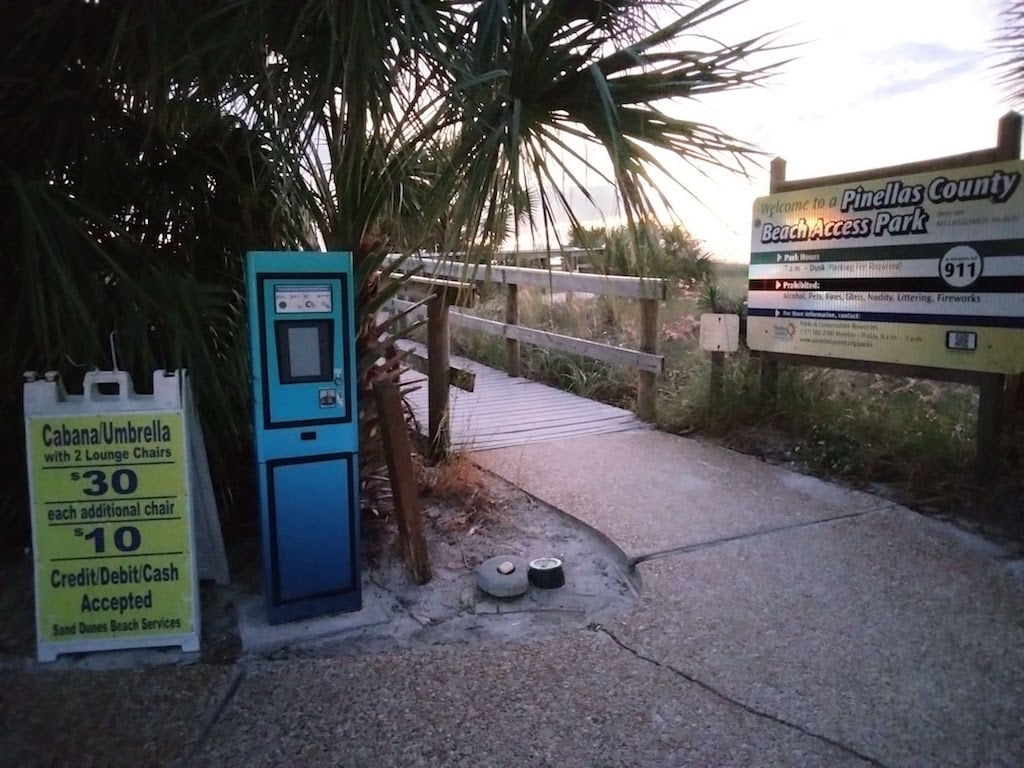 Alcohol is not sold or allowed at this beach access point because it's a Pinellas County Beach.
This part of the beach does get very crowded. But, there are three boardwalks so beach visitors can spread out a bit.
There is a large beach parking lot with paid parking. This is one of the largest beach parking lots in St. Pete Beach, with 235 beach-front parking spaces.
I always think the parking lot feels large when the beach isn't crowded, but it still isn't enough during peak times.
It's common for cars to drive around in circles while hunting for a space, or to strategically wait for cars to leave.
The Middle Section of St. Pete Beach
The middle section of St. Pete Beach, south of the Pinellas county beach access, is the busiest part of the island.
This part of the island has the highest concentration of resorts, hotels and restaurants.
There are also many tours and things to do, including rentals and parasailing on the beach.
This is all good for people who want lively excitement, but it's a turnoff for people (like me) who prefer laid-back vibes.
There are basically continuous sandy beach access points in this central section of Long Key.
It's worth exploring until you find a good beach access point you like. Certain stretches of the beach here can get very crowded, and feel more touristy than other parts of the island. It's common for thousands of people to be on a small patch of beach at one time.
Some beach access points are squeezed into narrow alleyways between hotels, resorts, restaurants and parking lots.
Random beach access points usually don't offer beach parking for visitors or non-guests, but they are still usable beach access points.
Note: Personally, this is my least-favorite section of the island. Traffic is the worst here and driving can be stressful.
To me, this part of the island feels dangerous for pedestrians who aren't paying attention. And, unsafe for drivers too, for that matter.
Whether you're driving or walking it's a good idea to pay close attention to your surroundings, especially when there's heavy traffic.
The Southern Section of St. Pete Beach (Pass-a-Grille Beach)
The beaches in Pass-a-Grille are the best beaches in St. Pete Beach, in my opinion. This is my favorite beach access point, and where I always prefer to go to the beach.
Read more about Pass-a-Grille Beach
Pass-a-Grille has a lovely laid-back beach town vibe. There are not any large resorts or hotels in this area and it has a much more laid-back feel.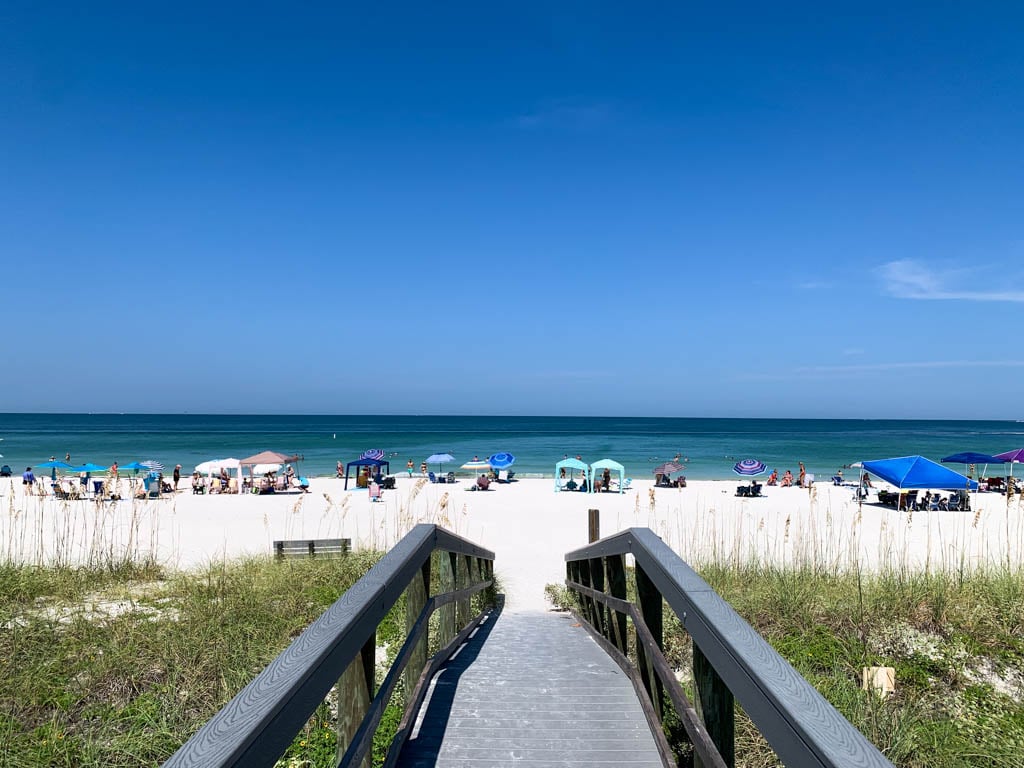 On the downside, there are fewer restaurants and things to do in this area, although there are enough options to choose from.
Parking can be difficult to find, or impossible to find in some residential districts. It also takes a long time to drive all the way to the south end of the island, especially when traffic is heavy.
Things To Do
St. Pete Beach is on a small barrier island but it has many excellent restaurants and bars, and a ton of things to do on the island, and nearby.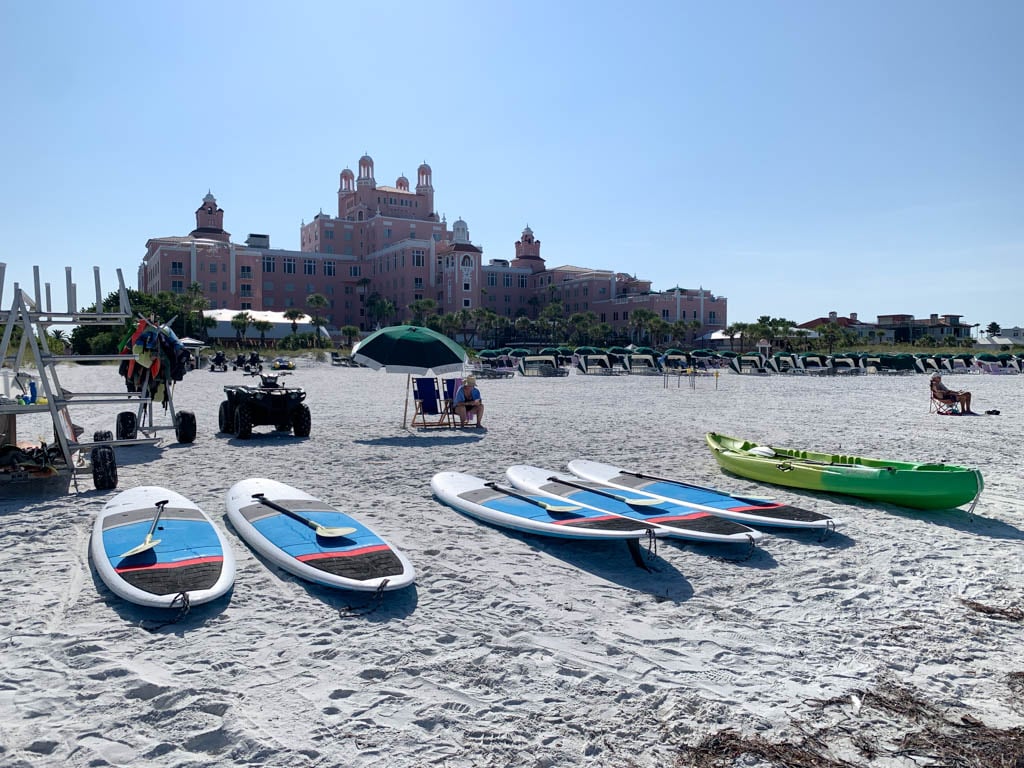 Activities range from relaxing spas to extreme adventures:
The Beach
Spas
Jet skiing
Parasailing
Kiteboarding
Huge waterslides
Jetpack flying
Beach bars
Rooftop lounges
Surfing
Events and festivals
Sunset cruise
Shell Key tour boats
And more
High Tide Waterside
The High Tide Waterslide is one of the best things to do with kids in St. Pete Beach.
The slide is big – three stories tall – and 200 feet long.. The resort also has other fun and exciting things to do, including paddleboard rentals, an obstacle course, jetpack flying, and more.
Corey Avenue Shopping
There is a pretty decent shopping district in a downtown area called Corey Avenue. It's filled with boutiques and it's also the site of a weekly farmer's market.
Corey Avenue Farmers Market
The Corey Avenue Farmers Market is a good thing to do for a low-key, local experience.
The market is held on Sunday mornings; there are different hours depending on the season. More Information
There are dozens of vendors with cool stuff, including lots of different foods.
Restaurants in St. Pete Beach
Here are a few popular restaurants in St. Pete, plus bars and breweries:
Chill Restaurant and Bar
Beverly's La croisette
Larry's Old Fashioned Ice Cream
La Casa Del Pane
Woody's
Boulevard Burgers and Taphouse
Jimmy B's
Mastry's Brewing
St. Pete Beach Rules
Here are a few St. Pete Beach rules that people usually want to know.
Dogs
Dogs aren't allowed at beaches in St. Pete Beach or Pass-a-Grille, except for one exception.
There is a dog park – St. Pete Beach dog park – which is located at the north of the island. But, there isn't any beach or water access for dogs at this park.
There are two other nearby dog parks with water access. One is near Sunset Beach and one is at the south tip of Pass-a-Grille, on the bay side. This is the only dog beach in St. Pete Beach.
Alcohol
Alcohol is allowed on the beach in St. Pete Beach but with very specific rules. Alcohol is only allowed in certain locations, and subject to restrictions.
In St. Pete Beach alcohol is only allowed on the beach at licensed beachfront hotels, and only for registered hotel guests.
Alcohol can be consumed at licensed concession stands that sell alcohol, like the Paradise Grille in Upham Beach or Pass-a-Grille.
Parking
Parking is difficult to find everywhere in St. Pete Beach, and it's probably the biggest downside to the city.
There are parking lots near each of the major beach vicinities, but there is not enough parking to satisfy demand during peak times.
Parking is not a problem when the beach is not crowded, but it's very hard to find parking spots on weekends, holidays and during peak travel times.
Parking is a constant problem and local businesses have no patience for illegal parking, so pay attention to where you park to avoid parking tickets or getting towed.
St. Pete Beach Parking Map
This map shows spots and parking lot availability in real-time. It's slightly annoying to use but it can be helpful for parking in St. Pete Beach.
Resorts and Hotels in St. Pete Beach
There are a large number of resorts, hotels and places to stay in St. Pete Beach. Here are some of the more popular options:
The Don Cesar
Sirata Beach Resort
Beachcomber
Coral Reef Beach Resort
Postcard Inn on the Beach
Island Grand Beach Resort
Rumfish Beach Resort
Beach House Suites by Don Cesar
Inn on the Beach
St. Pete Beach Suites
Dolphins Beach Resort
The Don Cesear
The Don Cesar is one of the best hotels in St. Pete Beach, in my opinion. It's also one of the most fancy and expensive.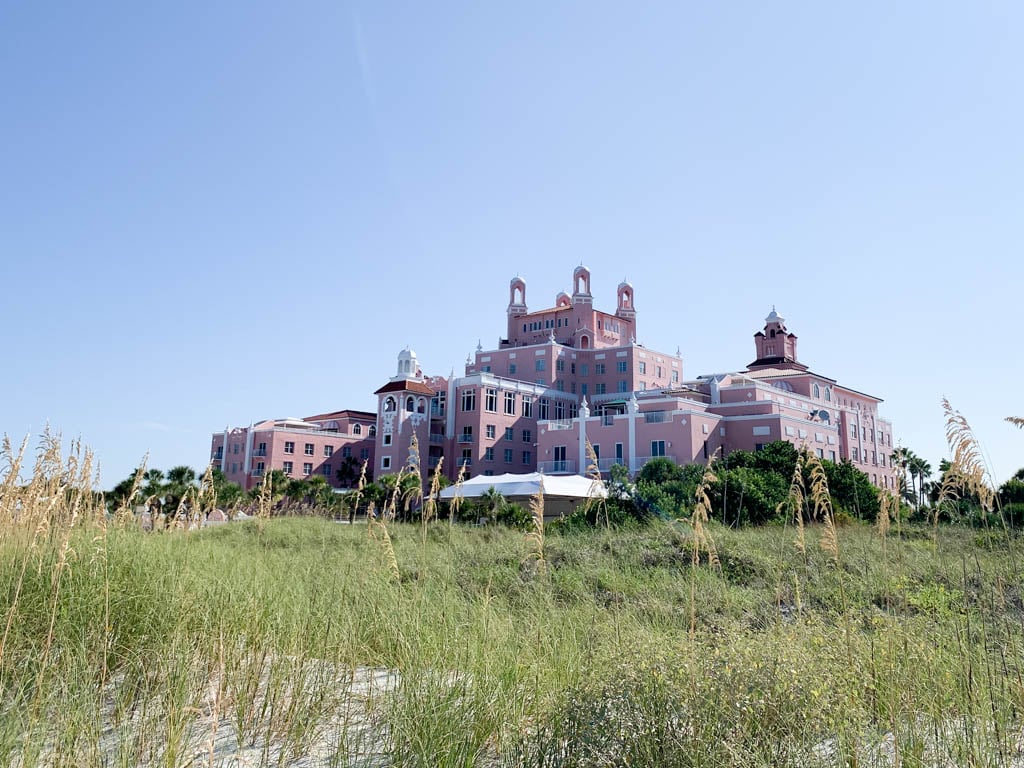 The hotel also has a spa, restaurants and bars you can visit even if you are not a hotel guest, including a rooftop bar.
The Don Cesar has a really interesting history and is a historic hotel. It was built in 1928 and has had many famous guests over the decades.
The Don Cesar is one of several historic hotels in florida. It has beautiful outdoor seating, awesome beach access, beautiful landscaping and pool area, and more. The hotel is historic, massive, and beautiful.
Events in St. Pete Beach
St. Pete Beach hosts quite a few events throughout the year. Here are the most notable:
St. Pete Beach Bike Fest
The St. Pete Beach Bike Fest is an annual event in November. There are a variety of activities, including poker runs, live music and concerts, a huge variety of motorcycles, and more.
Island Festival
The Pass-a-Grille Island Festival is held every March. It is a fun festival with music, a car show, food and more.
Annual Boat Parade and Tree Lighting Ceremony
Movies in the park
Festival of Trees
Beach Goes Pops
The main event is a free outdoor concert – two-consecutive evenings of live music on the beach in Pass-a-Grille. There are also other things to do, including an arts and crafts festival, food vendors and more.
More events can be found on the city website calendar
Weddings in St. Pete Beach
St. Pete Beach is a very popular beach for weddings and honeymoon vacations.
St. Pete Beach can be a great place to get married if it matches your expectations, but I suggest that you know what you're getting into.
I have seen weddings on the beach that make me feel bad for the couple – noisy crowds, high winds with blowing sand, cold weather, heavy fog, disruptive noise, you name it.
Getting married in St. Pete Beach can be lovely, I just suggest you do good research and ask lots of questions about the specific area where your beach ceremony will be.
For example, you want privacy, be sure to have it in an area where that is actually possible
Overall, St. Pete Beach is one of the best small beach towns in Florida. It's grown a lot, and has some downsides, but it's a very nice beach spot for visitors, or picky locals like me!