Picnic Island is a small, undeveloped island and sandbar in the lower Florida Keys.
Location
Picnic Island is located in the Newfound Harbor Channel, south of Little Torch Key and southeast of Ramrod Key. It is less than a mile northeast of the Little Palm Island Resort.
Water around Picnic Island is shallow. Depths around the island are approximately 1-3 feet. Water is deepest on the west side of the island, where depths are marked as 6-9 feet.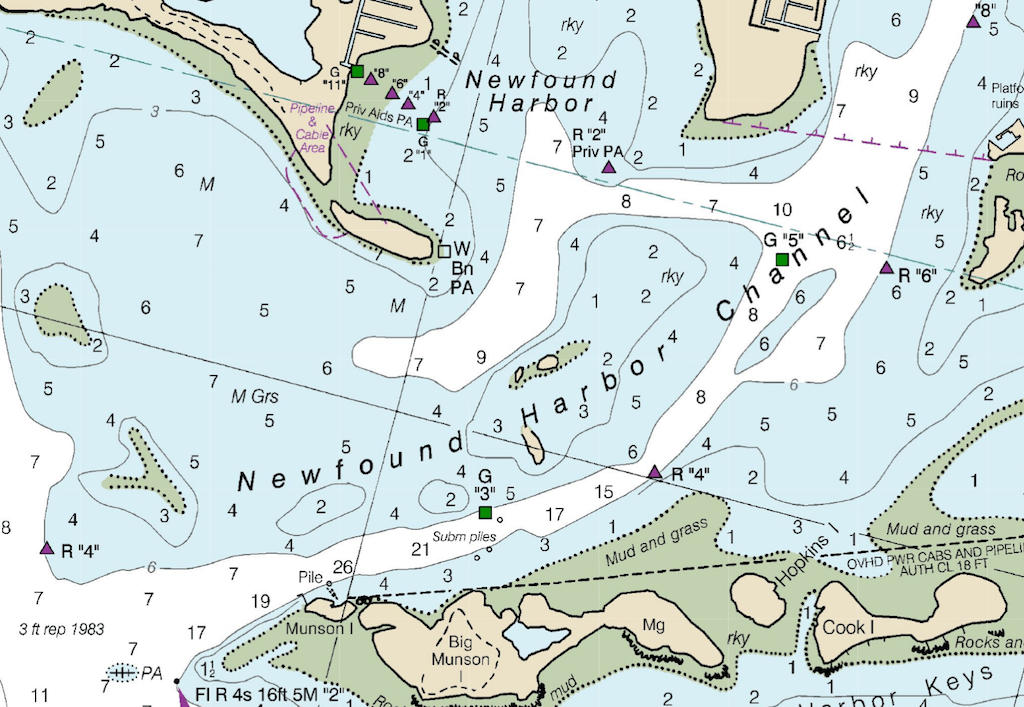 View a marine chart for Picnic Island on Navionics
Overview
Picnic Island is an uninhabited, undeveloped island.
The island is filled with weathered driftwood, jury rigged swings and decorative signs.
There is a semi-permanently moored houseboat near Picnic Key with a full-time resident liveaboard, commonly known as "Cap'n Jack".
Visitors say that Jack is very friendly and welcomes visitors to the island.
Unlike many sandbars in the Florida Keys, the area around Picnic Island is rocky, and is not very nice to walk on barefoot. There is loose white sand on the island itself. There may be sharp debris on or near the island, so caution is advised.
There is a limited amount of vegetation on the island, including trees and mangroves.
Picnic Island is rapidly eroding, and tends to shrink in size after major storms. Vegetation on the island is important for stabilizing the soil and preventing further erosion.
The water can be clear around Picnic Island, but it typically isn't as good or as pretty as other sandbars. Visibility drops quickly in rough conditions.
Crowds, "Wetstock" and Sandbar Parties
Picnic Island is a popular place for boats to anchor, and is one of the most popular sandbars in the Florida Keys.
At times Picnic Island and the surrounding area can become crowded with dozens, or even hundreds of boats.
Picnic Island is sometimes home to large gatherings, including some semi-organized music events. One popular event, "Wetstock", is held every year on the 4th of July.
Picnic Island is a bit controversial. Some locals say that it has lost its appeal over the years as it has gained popularity, especially on social media.
On a marine navigation application, one user gave Picnic Island two stars out of five, with the comment:
"Local hangout especially Sundays. Stop leaving trash, crap, and signs on the island, it's not mini Key West!"
Some claim that it suffers from littering and disrespectful visitors.
Others disagree with the controversy, and say that Picnic Island is a great place to have fun, and is just as good as it ever was!
Featured Image: Source: USGS Earth Explorer