Salt Springs is a heavily developed spring inside Ocala National Forest. There is a shallow spring pool and a spring run. The pool has several vents and the spring water is rich with minerals.
There is an on-site campground near Salt Springs. The spring and campground are very popular and are sometimes crowded.
Notice: There may be limited to no cellular signal in Ocala National Forest or the Salt Springs Recreation Area.
Salt Springs Details
Salt Springs is a 2nd magnitude spring inside Ocala National Forest.
The water is fresh water from the Florida Aquifer, it is not sea water. It is called Salt Spring because of the natural mineral content, especially magnesium and sodium.
Many believe that the spring's mineral water has health benefits. Like many springs, this site was used as a mineral spring resort in the past.
It's a beautiful spring, but it doesn't feel particularly natural because it's so developed.
A 5 ft. concrete wall has been partially built around the spring pool. This was done to help prevent shoreline erosion and to protect the spring.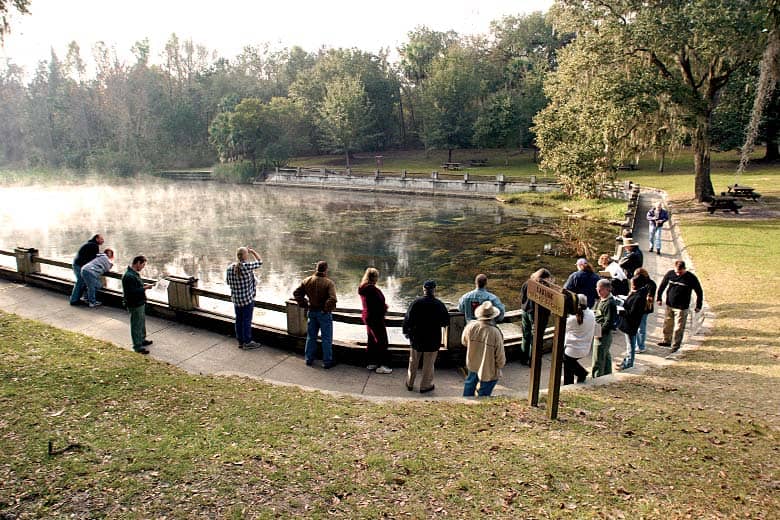 The spring is extremely popular, and gets a lot of foot traffic. Without protection, the fragile shoreline would be destroyed by visitor footsteps.
Three sides have walls; the north, south and west sides. The walls have entrance points with concrete steps, ramps and metal handrails.
Surrounding Area
The surrounding area is mostly flat and grassy.
There are many picnic sites and tables around the springs. Many of the picnic areas have charcoal grills.
There is a lot of natural shade, thanks to beautiful mature Live Oak trees and Spanish moss.
There are gently rolling sand hills to the north, south, and west of the spring.
Visitor Information
Fees
The Salt Springs Recreation Area has a day-use fee of $6.50 per person.
Parking at the private Salt Springs Marina is $10. Fees may be subject to change.
Hours
The recreation area is generally open from 8am to 8pm, but the hours vary by season.
Before visiting, be sure to call ahead, or check the official Salt Springs Recreation Area website for information.
Spring Information
Water inside the spring pool is generally clear, calm and blue.
The spring has four vertical spring vent shafts, all inside a large, shallow spring pool. The spring pool is 129 ft from northeast to southwest and 189 ft when measured from northwest to southeast.
In most areas the spring pool is only a few feet deep. The average depth is approximately 2 ft. deep, though it varies with the underlying aquifer water level. Areas over the spring vents can be up to 20 ft deep.
The spring bottom is natural, except where the concrete stairs and ramps enter the water. The bottom is mostly exposed limestone and sand.
There are concrete stairs, ramps and metal handrails at the spring entrances. The bottom, and all surfaces around the spring are very slippery. Extreme caution and good water shoes are recommended!
There are some native water grasses and plants inside the spring. There is a thin layer of algae on limestone throughout the spring basin.
Spring Vents
There are four spring vents. They usually have strong spring boils, where the powerful water flow visibly disturbs the water surface. This is dependent on the underlying aquifer, water and rainfall conditions.
After rising from the spring vents, the water from Salt Springs flows into a spring run, towards Lake George. Eventually the spring water flows into the St. Johns River.
When to Visit
The spring can become very crowded, especially on weekends and holidays in hot weather.
For the most peaceful experience with the fewest crowds, the best time to visit is in the morning during the week. If you camp at the on-site campground you can visit the spring before it opens to the public.
Like most natural springs in Florida, the water in Salt Springs is 72 degrees F year-round. It's chilly, and you will become cold quickly while swimming.
The spring water feels best on hot, sunny weather.
The water is most beautiful on sunny, cloudless days when the sun is directly overhead.Sun and cloud cover make a big difference for the water visibility and appearance, especially for photography.
For photographers, polarized and NF filters can give interesting results!
In cold weather the spring is much less crowded. On cold mornings, or in cold weather, steam visibly rises from the relatively warm 72 degree water.
Manatees often visit the warm spring water during cold winter months.
Spring Run
The Salt Spring Run is approximately 4.5 miles long. It flows southeast into the northwest corner of Lake George. After Lake George it flows into the St. Johns River.
The Salt Spring Run can be a challenging place to canoe, paddleboard and kayak due to several factors:
Potentially high winds
Large, exposed bodies of water
Choppy water
Motor boat traffic
Sun exposure
Distance
The spring run is very wide in many places. It's widest for the first 2.5 miles closest to Salt Springs. In places it can feel like a lake, instead of a river.
There are long stretches without protection from the sun or wind. The amount of shade increases as the run approaches Lake George, and the river becomes narrower.
The spring run is very shallow. It's deepest in the center, and shallower towards the sides. The deepest center section is approximately 5 ft. deep, on average.
The spring run has high levels of aquatic vegetation. Sadly, river damage occurs from uninformed motor boat drivers and poorly operated boats. Some inexperienced or inconsiderate motorboat drivers may cause large wakes.
Motorboats are not allowed in the Salt Springs pool. Many boaters leave their boats outside of the swimming area while they explore the springs.
Amenities
The Salt Springs Recreation Area is well developed, and has visitor amenities including:
Bathrooms with running water
Hot showers in the campground
Separate changing areas
Picnic tables, grills
Boat ramp
Small store
Snack food
Hiking trails
There is a small concession store inside the recreation area. They have basic snack food options. They also sell swimming gear, including snorkels, masks, goggles, floats other miscellaneous gear.
Salt Springs Recreation Area Map
Here is a map of the Salt Springs Recreation Area, spring and campground.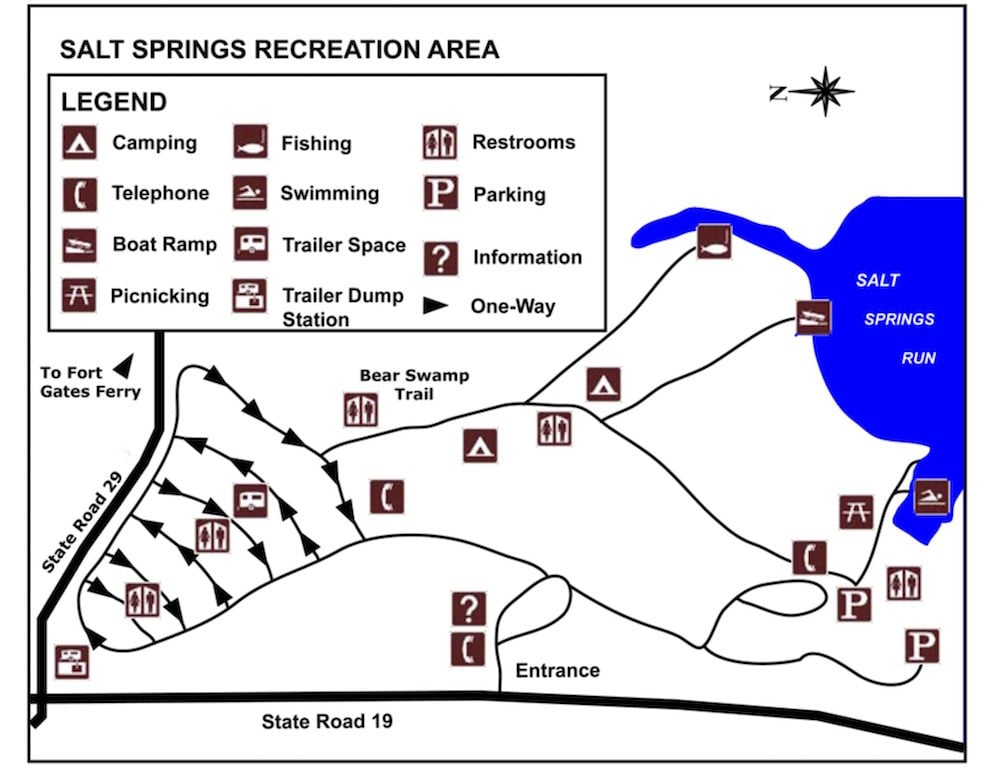 It can be accessed from the official recreation area website.
Local Area
The small community of Salt Springs has basic amenities, including:
Several restaurants
A small grocery store
A gas station
Bait and fishing tackle
Laundromat
Marina
Visitor center
Boat Rentals
Boats can be rented from the private Salt Springs Marina. Canoes, kayaks, Stand up paddle boards (SUP) are all available. Life jackets are provided with rentals.
There is a parking fee of $10 at the marina. Be sure to bring exact change for parking. The marina website encourages advance arrangements because boat rentals sell-out quickly. Their website says that it's best to call by phone: (352) 685-2255.
Canoes
Kayaks
SUP stand up paddle boards
Pontoon Boats
Other motorboats
If you rent a boat, be sure you drive the boat properly to avoid damage to the boat, and the river. Go slow.
Many inexperienced boats have damaged their boats and the river because they didn't know how to operate the boat properly.
Salt Springs Recreation Area Campground
The Salt Springs Recreation Area Campground is beautiful.
Roads inside the park are lush and green with mature trees. The area feels very natural.
The campground itself is also very nice. It's well-developed, and has nice facilities. It's the largest campground in Ocala National Forest.
The campground has 104 RV campsites with full hookups. There is a separate tent camping area with an additional 54 non-electric sites.
Bath houses have hot showers, although the water is not always very hot.
Campers may be allowed to access the springs 30 minutes before the park opens to the public.
RV Camping
This campground is very popular because it's big-rig friendly. It's also the only option for camping in Ocala National Forest with full RV hookups, including on-site sewer hookups.
RV sites are large and well maintained. The sites are level and are all paved. Campsites do not have much tree cover for privacy, but are generously spaced and have large grassy areas.
Roads inside the campground are paved with blacktop. They are nice and open, with ample room to maneuver.
Tent Camping
The campground has 54 primitive tent camping sites. These sites to not include electrical hookups. Facilities are available in the nearby bath house.
Salt Springs Campground Fees
Reservations can be made at Recreation.gov
As of this writing there is conflicting price information on the Ocala National Forest campground website. The most reliable information can be found on the Salt Springs price and fee page.
RV camping: The reservation price on Reserve America is $50. At the time of this writing, full-hookup sites cost $34. On the same Ocala National Forest website, another webpage says $50.
Tent camping: The cost on Recreation.gov is $31. On the Ocala National Forest website one webpage says that tent sites cost $21. Another Ocala National Forest webpage says $23.
The campground has discounts for senior citizens and Access passholders. Please note that access passes are not the same as national park passes.
Reservations can be made via phone by calling 1-877-444-6777, or on Recreation.gov.
Visit the campground's official website for further details and the most up-to-date information. Calling ahead for details is always advised.
Non-campers can reportedly use the RV sewer dump station for $8.
Nature and Wildlife
Many forms of native Florida wildlife may be found in or near Salt Springs, including:
Otter
Freshwater fish
Turtles
Blue crab
Bears
Fox
Raccoons
Squirrels
Bald eagles
Ospreys
Hawks
Egrets
Herons
And more
Manatees in Salt Springs
Visitors sometimes see manatees in and around Salt Springs.
Like many other springs, manatees sometimes visit Salt Springs in search of warm water refuge, and to graze on seagrass. They may stay in the spring run, or may cross into the swimming area.
It is illegal to touch a manatee because they are a protected species. It is also illegal to harass or chase a manatee. They may approach you, but to not touch them.
Manatees rely on the warm spring water for warmth when other water temperatures become cold. If they are frightened or harassed and forced to leave a warm water sanctuary they may die from cold water exposure.
Petting a manatee is illegal, and causes serious problems. Manatees are friendly and curious. When they become conditioned to humans they lose their fear of boats. This leads to manatees being run over by speed boats and sliced up from propellers.
Don't pet manatees, and don't interact with them! Keep wildlife wild.
Alligators in Salt Springs
Alligators may sometimes be found in Salt Springs.
Alligators are known to live in almost all bodies of freshwater in Florida. They are very common in Lake George, which is connected to Salt Springs via the spring run. There has been at least one fatal alligator attack in Lake George, although they are rare.
Alligators also live in the Salt Springs Run and other areas inside Ocala National Forest.
There are alligator warning signs posted inside the Salt Springs Recreation Area. One sign in the swimming area says:
"Alligators are present in this forest. They are an important part of Florida's ecology and can be found wherever there is a natural body of water. They have a natural fear of man, but may lose that fear by being around people especially if they are fed. When this happens alligators can be dangerous. For this reason, alligators should not be fed or molested in any way."

An Alligator warning sign in Salt Springs Recreation Area
That said, Salt Springs is an incredibly popular swimming area. Every day, many people swim at Salt Spring without incident. Alligators are typically afraid of humans and avoid areas with high human activity.
Rules
Food and drink are not allowed in the spring water.
Do not feed, touch or harass any wildlife.
It is illegal to touch a manatee, or harass it in any way.
Dogs are allowed in the campground, but not in the spring or day use area.
Diving is not allowed because the water is dangerously shallow.
Bikes are not allowed in the spring area.
You must not chase, touch or bother turtles, fish, crabs or any wildlife.
Metal detectors are prohibited
Coolers may be subject to inspection
Fishing is now allowed in the spring area.
SCUBA diving is not allowed in Salt Springs.
There are no lifeguards.
Be sure to stay inside the marked boundaries of the swimming area.
History
Archeologists know that Salt Springs, and the surrounding area, was inhabited by ancient paleo-indians.
Ancient Florida was much cooler and drier, and the sea levels were much lower. Springs like Salt Springs would have provided an important source of freshwater, and would have also attracted wild animals for paleo indians to hunt. There is a shell midden along the river.
Later, Salt Springs became one of the first modern tourist attractions in Florida. In the early 1900s the site was used as a mineral water resort.
People believed that the warm weather and spring minerals could cure health problems. Many people still believe that the spring's minerals have beneficial health properties.
In the early 1900's Theodore Roosevelt was president. Roosevelt was an outdoorsman. He firmly believed in protecting nature's beauty, and preserving natural lands for future generations. At his urging, Ocala National Forest was created and protected in 1905, partly due to the beautiful springs.
Morgan-Townsend House
There is a historical residence, the Morgan-Townsend House, on the property.
The house was built sometime in the 1890s and was moved onto the current site in the early 1900s. It sits on a small hill just beyond Salt Spring. The Morgan-Townsend house was added to the Register of Historic Places in 2013.
Hiking near Salt Springs
There are two hiking trails near Salt Springs.
Bear Swamp Trail
The Bear Swamp Trail is a 1.3 mile loop. It starts and ends at the edge of the Salt Springs campground. It's a gentle walk. The ground surface is natural, but is well-groomed. There are interpretive exhibits along the path. It passes through local Big Scrub habitat and low lying swamp. Wooden boardwalks are built over low-lying wetland areas. Be prepared for insects.
Salt Springs Wildlife Observation Trail
The Salt Springs Observation Trail is a 1.9 mile loop. Many birds can be seen from the trail. There is an observation deck over the waterway for observing birds and wildlife.
This trail may have ankle-deep flooding during times of high water. The hiking trail is a natural surface trail, it is not paved. There is a boardwalk, and sharp climbs. The trail is rated as easy to intermediate difficulty.
More Information on hiking:
There are interpretive hiking trails with educational signs. Boardwalks are built over wet, swampy lowland areas.
There are many other opportunities for hiking and trails inside Ocala National Forest.
There is drinking water inside the recreation area.
Nearby City
Daytona Beach
Gainesville
Ocala
Orlando
Saint Augustine
Region
Central Florida
Activities
Boating
Canoeing
Hiking
Kayaking
Manatee Viewing
Paddle Boarding
Picnicking
Snorkeling
Swimming
Camping
On-site Camping
Related Spring Group
Ocala National Forest Springs
Contact Information
Salt Springs Recreation Area: (352) 685-2048
Lake George Ranger District: (352) 625-2520
Camping Reservations: 1-877-444-6777
Ocala National Forest, Salt Springs Recreation Area Website
Location
Address: 13851 FL-19, Fort McCoy, FL 32134