The Shell Mound Campground is a very nice campground near Cedar Key. The campground is set in a beautiful location, and is a great spot for exploring the surrounding area.
Location
The Shell Mound Campground is located in Levy County, and is managed as a Levy County Park.
The campground itself is located on County Road 326, which is a small turnoff from the main highway, County Road 347. County Road 326 is also known as SW 78 Pl.
| | |
| --- | --- |
| Address | 17650 SW 78th Pl, Cedar Key, FL 32625 |
| Phone | (352) 221-4466 |
| Website | None |
The Shell Mound Campground is conveniently located near Cedar Key, approximately 12 miles drive.
Directions from Mound Campground to Cedar Key
The Shell Mound Campground is one of only options for camping near Cedar Key, and is the only publicly-owned camping option.
Shell Mound is a great destination in of itself, and is also a great hopping-off point for visiting the island of Cedar Key.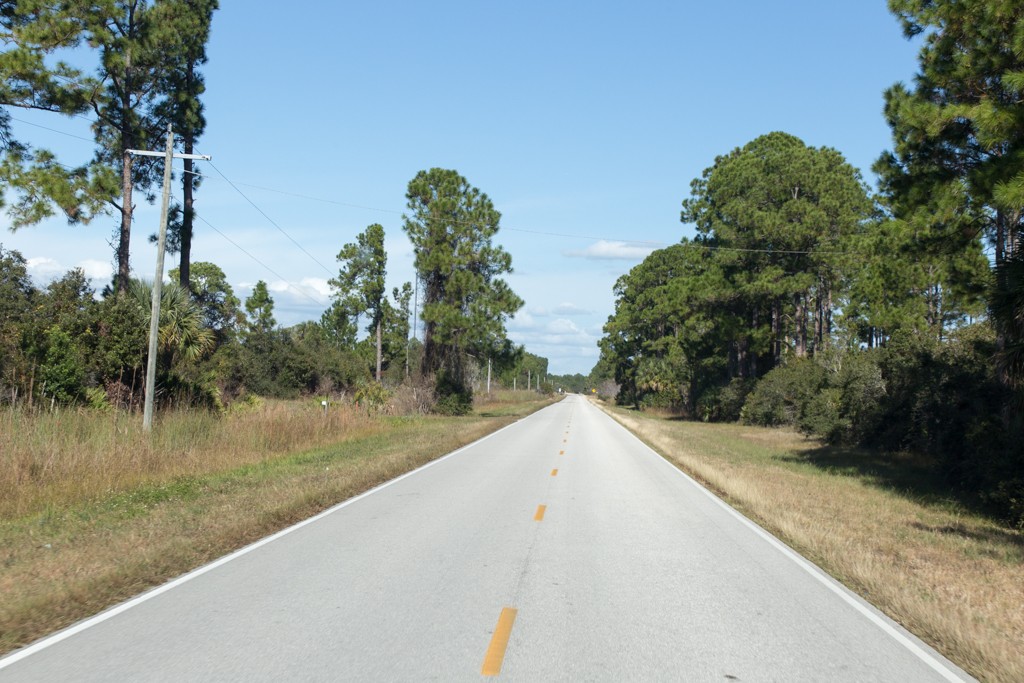 This region of north Florida is very rural so there is essentially never any traffic between the campground and Cedar Key, except for the traffic on Cedar Key itself.
Hours
The Shell Mound Campground is open year-round. The hours are from 7:30 am to 6:30 pm.
The campground is generally staffed during business hours. They have a sign on the door advising what to do if you arrive after-hours.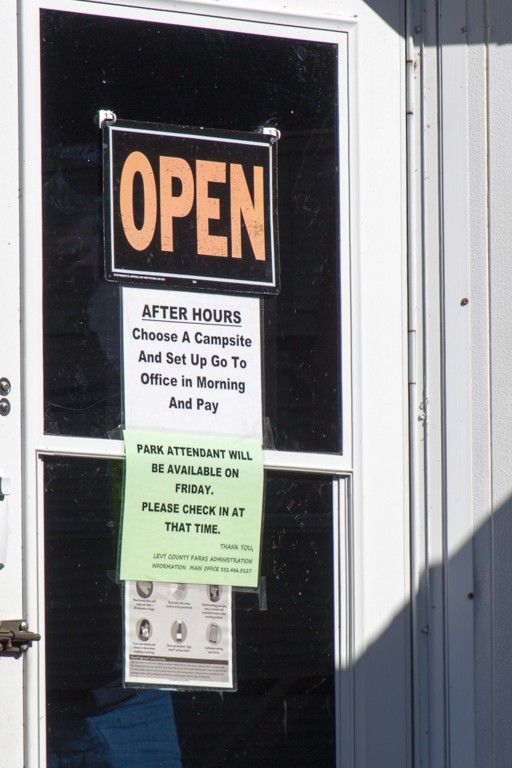 If the office is not staffed the signs say to pick a spot, and to pay when someone returns, or in the morning.
If the park attendant is not available you can call (352) 221-4466
Cost
The Shell Mound Campground is very low-cost compared to many other camping options in Florida.
They have separate pricing options for dry camping, electric-only, or electric and water. See the red sign above for specific site numbers.
| | |
| --- | --- |
| Water and Electric | $25 |
| Electric Only (Sites 13-18) | $20 |
| Primitive, No Hookups (Sites 9,19,22) | $10 |
There is an RV dump station on-site.
Note: Pricing is for 2 people. Additional guests are $2/person per night. There is a maximum stay of 7 days.
There are some discounts available. Levy County Citizens aged 65+ or 100% disabled receive a discount of 50% of park admission rates.
Important! Payment is via cash only. Prices do not include tax, which is extra, so you'll need to pay an odd amount after tax.
Campground Description
The campground is neatly maintained. There are tall pine trees and some palm trees. The ground is mostly trimmed grass, there is not much underbrush.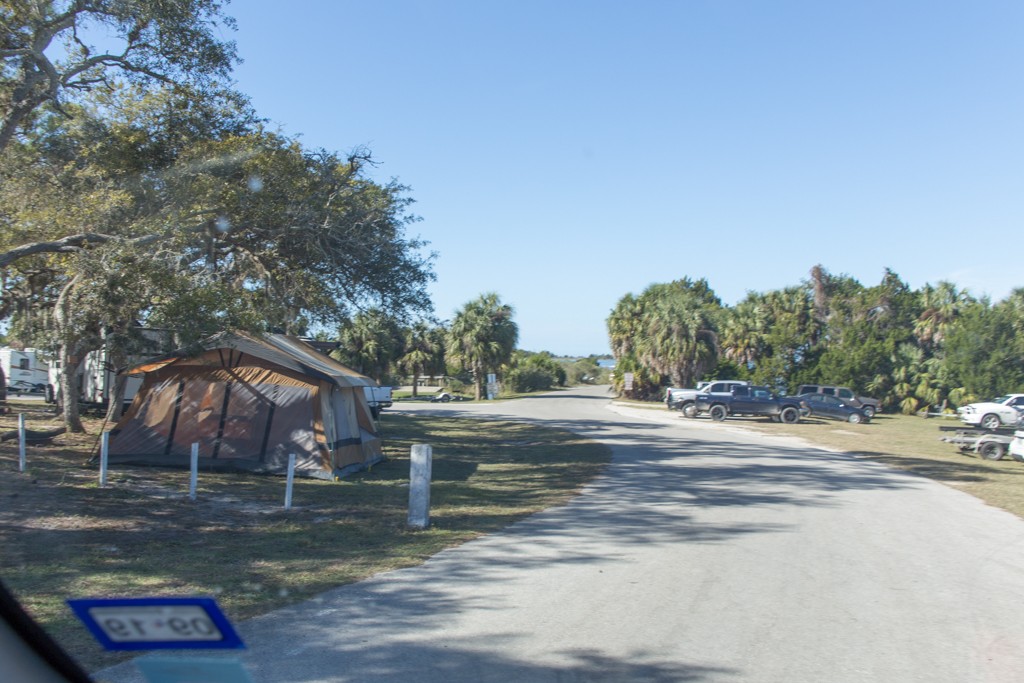 The surrounding area is beautiful. The campground sits on a peninsula which juts out into the Gulf of Mexico.
The area is surrounded on three sides by wetlands and salt marsh, which offer beautiful views of the Gulf of Mexico.There are numerous islands strewn around the region.
The campground is small and can be extremely packed on holidays and popular weekends.
Other campers are generally local people from North Florida. When we were there campers and fishermen seemed respectful and conscientious.
Note: Alcohol is not allowed in the Shell Mound Campground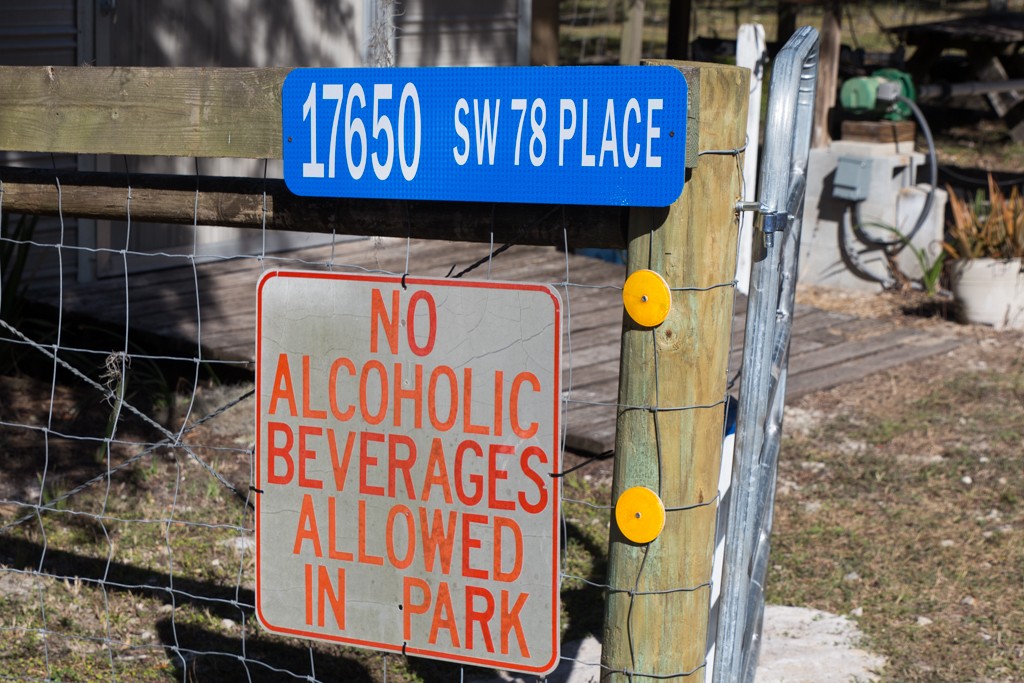 It felt like most people come to kayak, fish or enjoy nature, rather than have wild partiers like we've found in some other Florida campgrounds. It probably helps that alcohol is not allowed in the park!
Shell Mound Campground Amenities
The amenities at Shell Mound Campground are older, but are nicely maintained.
The nearest stores, restaurants and amenities are on the island of Cedar Key. The nearest Walmart is in Chiefland, approximately 32 miles, or 40 minutes away.
We had good cell phone reception in Shell Mound Campground.
Bathrooms and showers
The bathrooms are in an old cinder block bath house. They are old, but are generally very clean. There is a sign that says "Showers are for Campers Only".
The showers are individual private stalls, but they are incorporated into the rest of the small bathroom and do not have a separate changing area. There is also an exposed outdoor shower on the exterior of the bathroom building.
As with all campgrounds, the cleanliness really depends on who is using them, but the staff generally does a great job of keeping them clean.
The restrooms tend to be nicer when the campground is not full. It's least crowded during the week and during the "off-season". The campground is most crowded on popular weekends and holidays.
The women's restrooms tend to see less use because many visitors are fishermen.
Small playground
There is a shaded children's playground with a slide and swing set. There is also a volleyball court, a basketball court, and a number of nearby walking trails.
Public boat ramp
In addition to being a campground, the park is heavily used for fishing.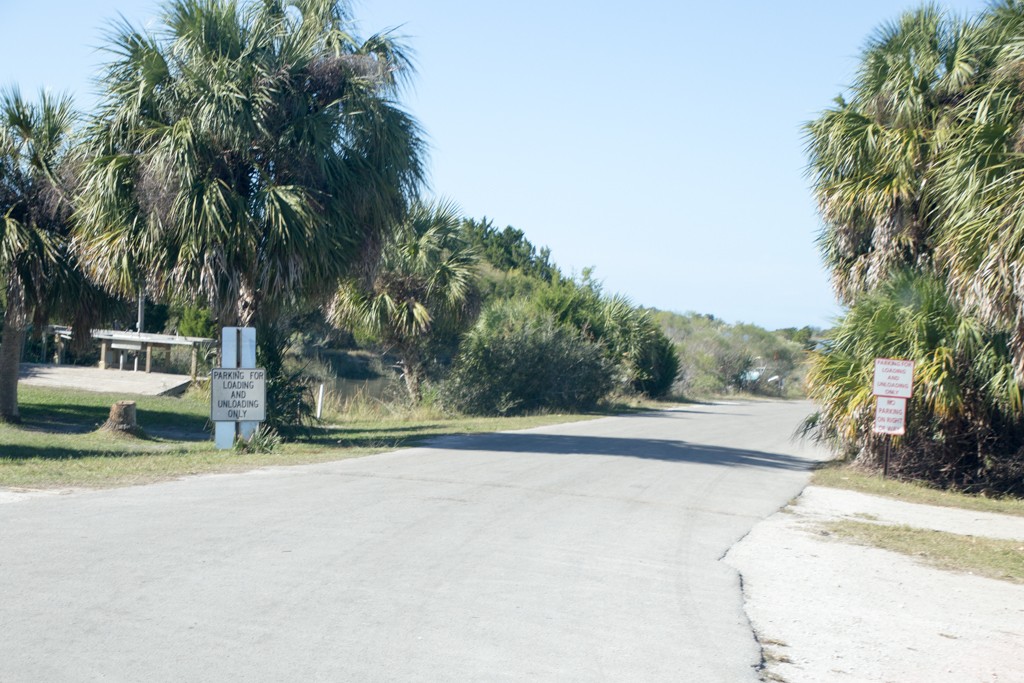 There is a small public boat ramp with two boat launch lanes. One side of the boat ramp has a small fixed (non-floating) wooden dock running alongside.
There is a wide open grassy space next to the boat ramp, with enough space for about 20 boat trailers to park. The parking area fills up during busy weekends and holidays.
There is another public boat ramp nearby at the end of the road.
Fish cleaning station
There is a small wooden deck with a fish cleaning station next to the boat ramp. It is perched slightly out over the water.
Best Time to Visit
This part of north Florida is very hot, muggy and buggy during summer, and can get cold during winter, especially when cold fronts push through.
In my opinion the best time to visit the Shell Mound Campground is during the mild shoulder months of spring and fall, when temperatures are most pleasant.
Depending on your preference for excitement or solitude, you should strongly consider when you visit in terms of crowds.
Weekends are often crowded with local fishermen and local campers. The campground begins to become crowded on friday, and campers start leaving on Sunday afternoon.
Weekdays are usually not very crowded, regardless of the time of year.
Reservations and Booking
Note: The Cedar Key Shell Mound Campground is a Levy County Park, not a Florida state park. It is well-managed, but is very informal.
The Shell Mound Campground is cash-only! This catches many people off guard. The nearest ATM is in Cedar Key.
The Shell Mound Campground does not take reservations, and all bookings are walk-in, first-come, first-served.
The way it works is that they tell you to pick an open site, and then come in to tell them which site you chose, so they can check you in.
Some of the sites are better than others. Some are not very level, so it's a good idea to check them out closely before choosing and settling in.
Campsites
The Shell Mound Campground has approximately 30 campsites.
20 campsites with water and/or electric hookups
10 primitive campsites for tent camping
Some campsites are waterfront, and some back up to marsh. Not surprisingly the waterfront campsites are popular and are often the first to be taken.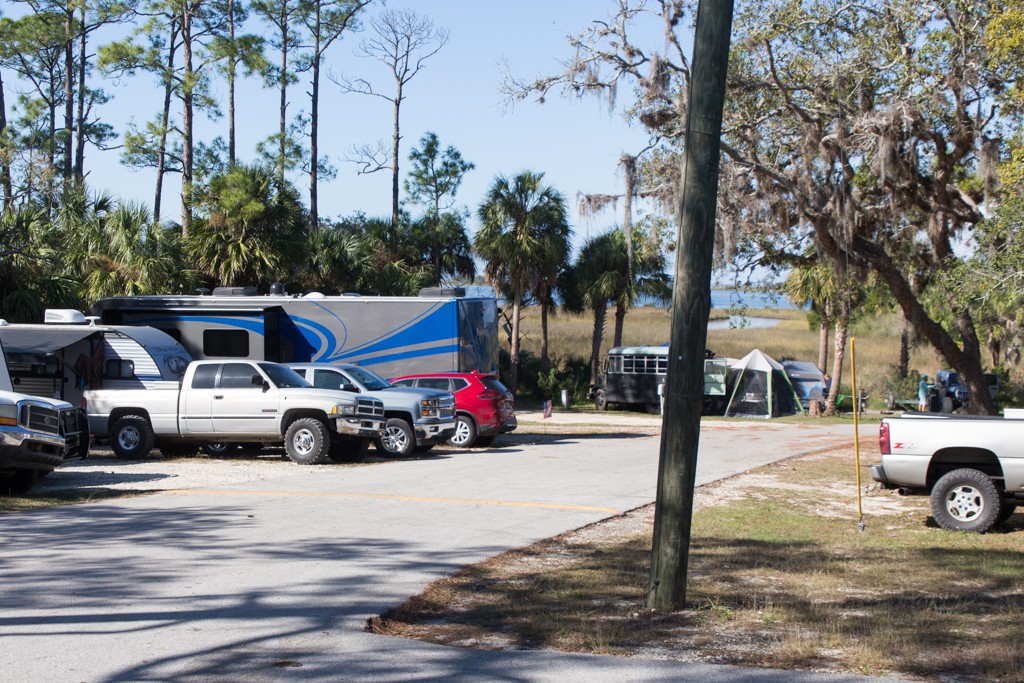 All of the sites can be buggy with mosquitos and noseeums. Bugs are worst during hot weather and during calm periods without wind.
Some campsites have water and electric hookups, and some only have electricity. The sites also have picnic tables, charcoal grills and fire rings. The tent campsites in the center of the campground are the most shaded, and sit amid oak trees.
The campsites are dirt and grass, and are not paved.
Some of the sites are not perfectly level.
None of the sites feel very private; the entire campground is generally open.
The campground is relatively small, but is big-rig accessible. The trees are generally trimmed up high. I would avoid trying to navigate a big-rig on a busy weekend or holiday because the park becomes crowded with cars, and may be difficult to maneuver. If in doubt, it'd be a good idea to call ahead and ask.
I do not recommend taking a large vehicle or RV down towards the shell mount itself because there are low hanging trees and the road is quite narrow.
Cars sometimes park on the roadway and it can become constricted.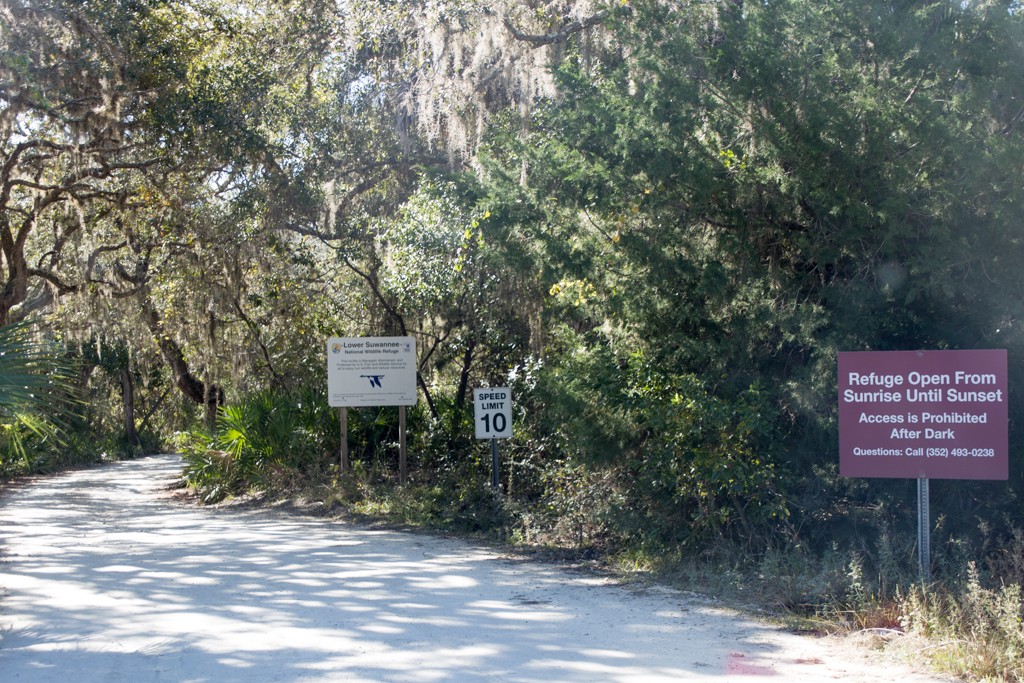 Noise
Airboats are extremely noisy, which can get annoying while you're trying to sleep or relax. The sound carries over the water for a long way. I have heard the motors roar from miles inland.
Things to do
There are many things to do near the Shell Mound Campground.
Excellent wildlife observation and bird watching
Excellent boating, kayaking and fishing
History and archeological sites
Hiking and walking trails
This region of Florida is also excellent for stargazing, especially on crisp, dry winter nights. The lack of light pollution allows the stars to become amazingly visible!
Kayaking
The Shell Mound Campground is a popular destination for kayakers, including both fishing kayakers and touring kayakers.
There are countless tidal creeks and islands to explore. There are a number of kayaking routes. Route documentation is provided by the Friends of the Suwannee and Cedar Keys National Wildlife Refuges.
One of the most popular kayaking spots in the region is Atsena Otie Key. The now uninhabited island was the original site of Cedar Key before it was destroyed by a hurricane in 1896. The whole region is a great place for kayaking, photography, birdwatching and more.
Explore Cedar Key
The Shell Mound Campground is conveniently located near the charming and historic island of Cedar Key.
Visiting Cedar Key is one of the best things to do in the area. The island is very cute, and is a very popular weekend getaway and road trip destination for Florida locals.
There are many things to do in Cedar Key, including a small public beach, kayaking, fishing charters, window shopping and art boutiques, waterfront dining and more.
Cedar Key Shell Mound
The Cedar Key Shell Mound is absolutely fascinating if you enjoy history, or have any interest in what human life would have been like thousands of years ago.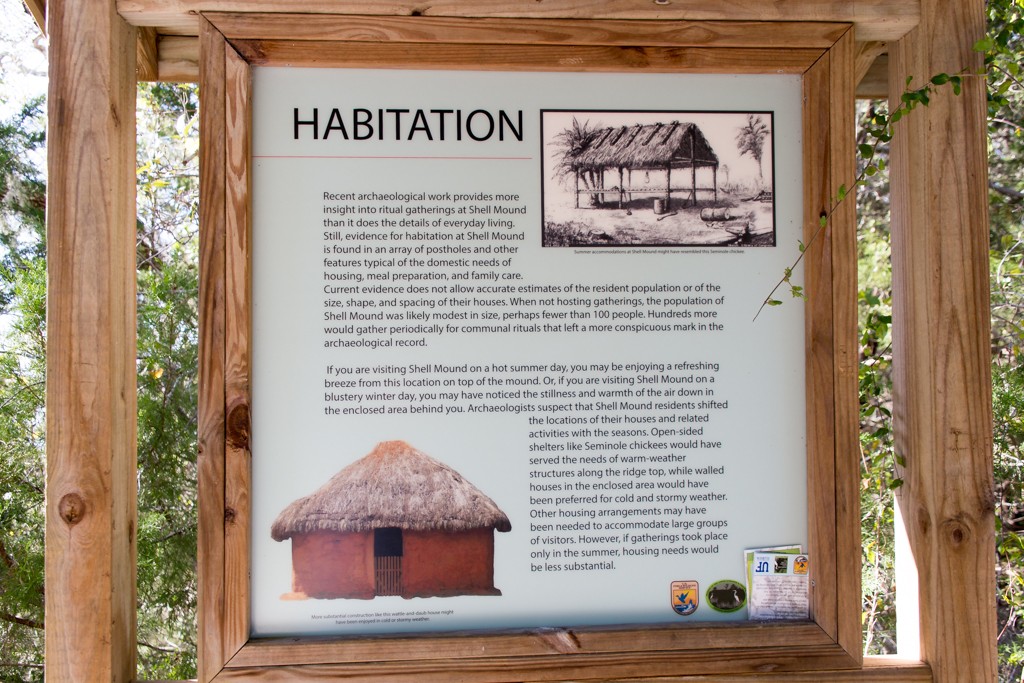 The shell mound archeological site is approximately ½ miles away from the Shell Mound Campground.
It's located on the same highway, County Road 326, and is further down at the end of the road.
Thankfully the shell mound was preserved today. In the past the archeological site was privately owned.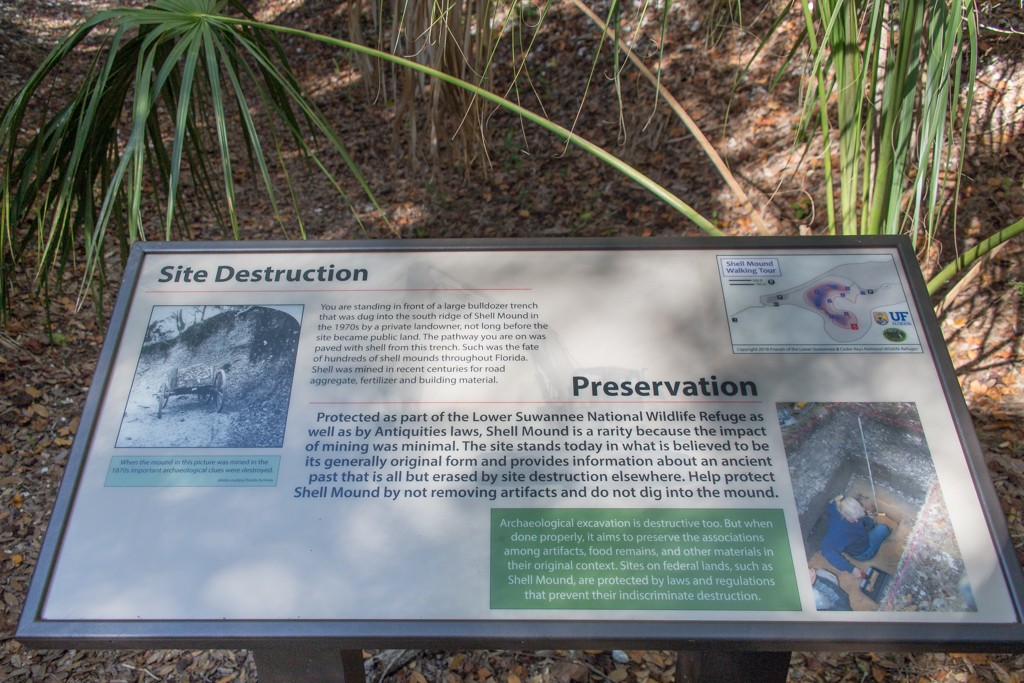 Sadly, like many other archeological sites in Florida the shell mound was partially destroyed to use as road fill material.
Lower Suwannee National Wildlife Refuge
The Shell Mound Campground is located next to the Lower Suwannee National Wildlife Refuge.
The wildlife refuge is open from sunrise to sunset.
The Lower Suwannee National Wildlife Refuge was created in 1979. It is one of the largest river delta estuaries in the United States.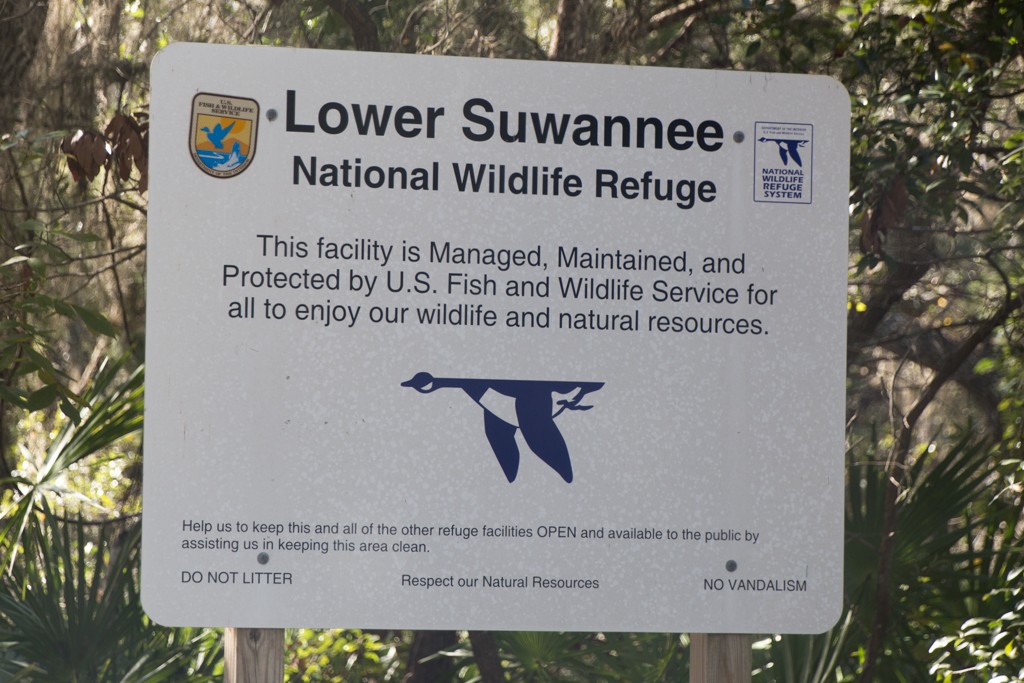 The refuge protects more than 53,000 acres of wetlands,oyster beds, tidal creeks, undeveloped islands and wilderness.
The refuge protects many different types of habitat, including endless salt marsh, tidal flats, hardwood swamps, pine forests and others.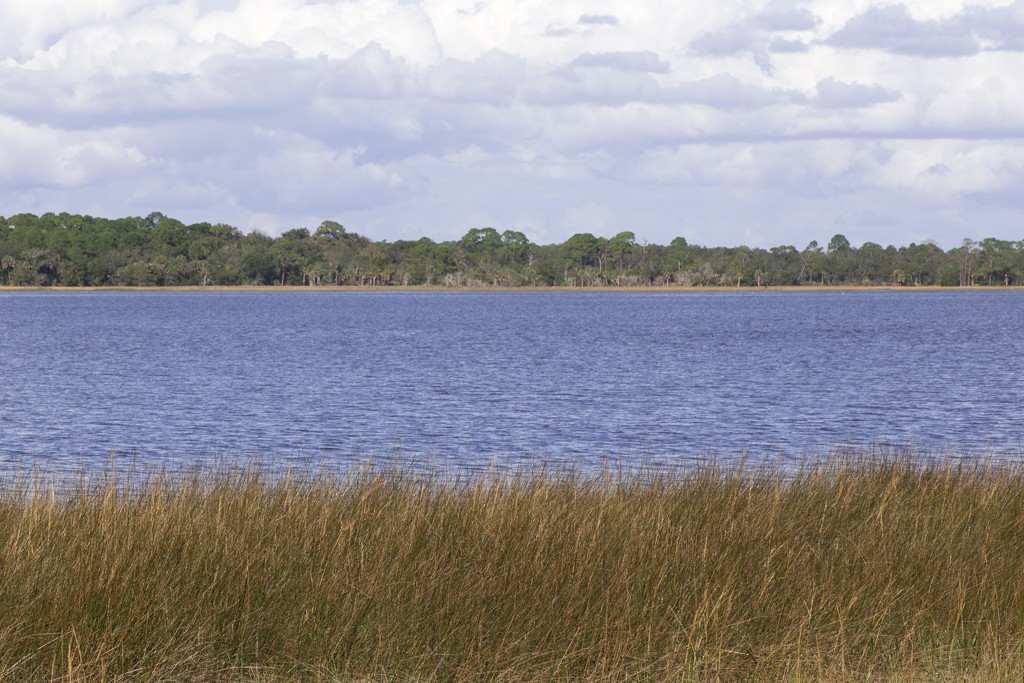 The refuge is filled with wildlife, including West Indian Manatees, whitetail deer, wild turkeys, Swallow-tailed Kites, Bald Eagles and a wide variety of other wildlife.
There is also a large population of butterflies in the Lower Suwannee N.W.R, including many rare and beautiful species!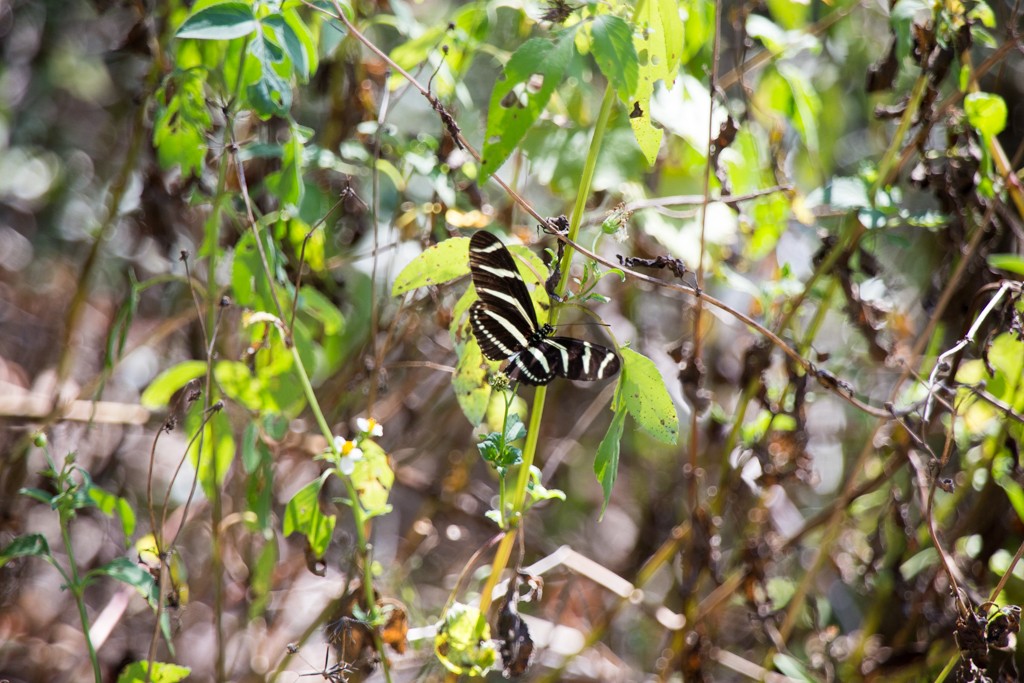 The waters of the refuge are filled with fish, and is a very popular place for fishing.
The refuge is a very nutrient-rich area because of the flows from the Suwannee River, which is dangerously polluted with nutrients from agricultural runoff.
Hiking Trails
There are numerous walking paths around the Cedar Key Shell Mound.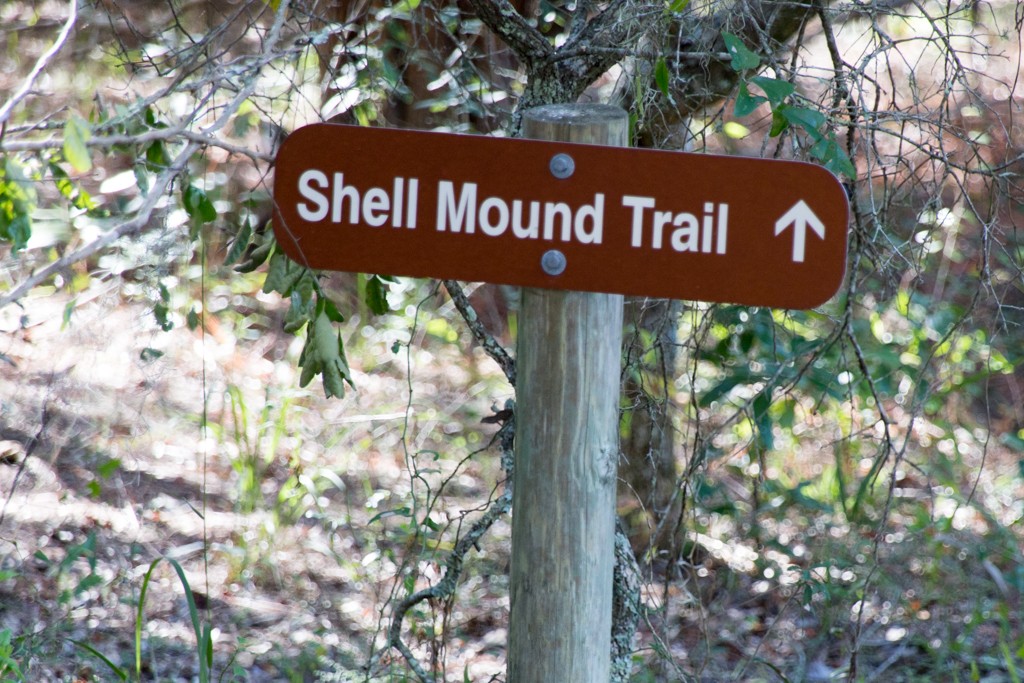 The University of Florida has published great signs that outline the archeological history of the site, and information about the native Americans who lived here long ago.
One popular trail is a 1-mile walking trail called the Dennis Creek Trail. Some portions cross through hammocks and over salt marsh via a raised boardwalk.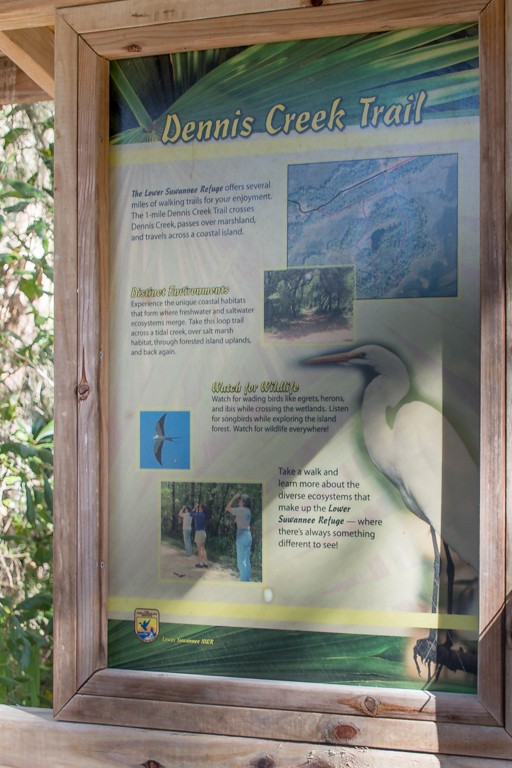 There are designated bird watching spots on the trail, strategically located to allow wildlife observation of wading birds and migratory species.
Other Campgrounds near Cedar Key
The Shell Mound Campground is one of several options for camping near Cedar Key, and is the only publicly-owned campground.
The campground is located about for miles north as the crow flies, but the actual driving route is about 9 miles, or about a 10-15 minute drive.
Other Camping Options Near Cedar Key
Angler's RV Campground
Cedar Key RV Resort
Low-Key Hideaway (Adults only)
Shell Mound RV Park
Camptel Resort (Formerly Sunset Isle RV Park)
Waccasassa Bay Preserve State Park
Final Thoughts
The Cedar Key Shell Mound Campground is a beautiful hidden gem, and is well worth visiting! We hope you found this guide helpful.
If we left anything out, or if you notice that anything is outdated, please let us know so we can update this for other visitors. Enjoy your visit!