Cedar Key is a small island in Florida. It's located in a beautiful, remote and largely undeveloped region of Florida's central Gulf coast that is known as the "Nature Coast".
Cedar Key is a very popular destination for road trips in Florida, and is a favorite weekend getaway for Florida locals.
Where is Cedar Key?
The island of Cedar Key is part of Levy County, and sits off of the western coastline in the Gulf of Mexico.
Cedar Key is part of a chain of barrier islands known as the "Cedar Keys". Many people confuse Cedar Key with the Florida Keys because of the name.
Unlike the Florida Keys, which are located in south Florida, Cedar Key is located in a rural part of central Florida called the "Nature Coast".
How do you get to Cedar Key?
The island of Cedar Key is located approximately three miles into the Gulf of Mexico.
It's accessed via a large causeway, and sits at the end of state road 24. The causeway does not have any sort of toll, and the island of Cedar Key is fully open to the public.
The causeway passes over a spit of narrow land and has three bridges which pass over shallow water and salt marsh.
Cedar Key is pretty far from most other major cities.
Gainesville is the nearest major city, which is about 50 miles, or an hour away. Cedar Key is 135 miles north of Tampa, or about 3 hours' drive away, according to Google maps.
Orlando is also 135 miles away. The drive from Orlando to Cedar Key takes about 2.5-3 hours, depending on traffic and the chosen route.
Cedar Key is tucked out of the way, but that's part of its charm, and it's a very fun place to visit. In my opinion, Cedar Key is one of the best road trips in Florida.
My only suggestion? Just be sure to leave yourself plenty of time so you can savor the drive and experience.
What is Cedar Key Known For?
Cedar Key is known for many things, including:
Interesting history
Cute small beach town charm
A variety of cute boutiques and restaurants
The Cedar Key National Wildlife Refuge
Cedar Key Museum State Park
Cedar Key Historical Society Museum
Cedar Key Beach
Kayaking and nature watching
Waterfront dining, including freshly caught seafood
Cedar Key is a very charming place, and has retained a cute, southern "old Florida" feel.
Unlike many other beach towns in Florida, Cedar Key is very undeveloped. There are not any chain restaurants, chain hotels, or high-rise buildings.
Friendly locals cruise around on golf carts. One southern gentleman even asked if we wanted a ride while we walked.
The whole place has a lovely, eclectic and relaxed feel.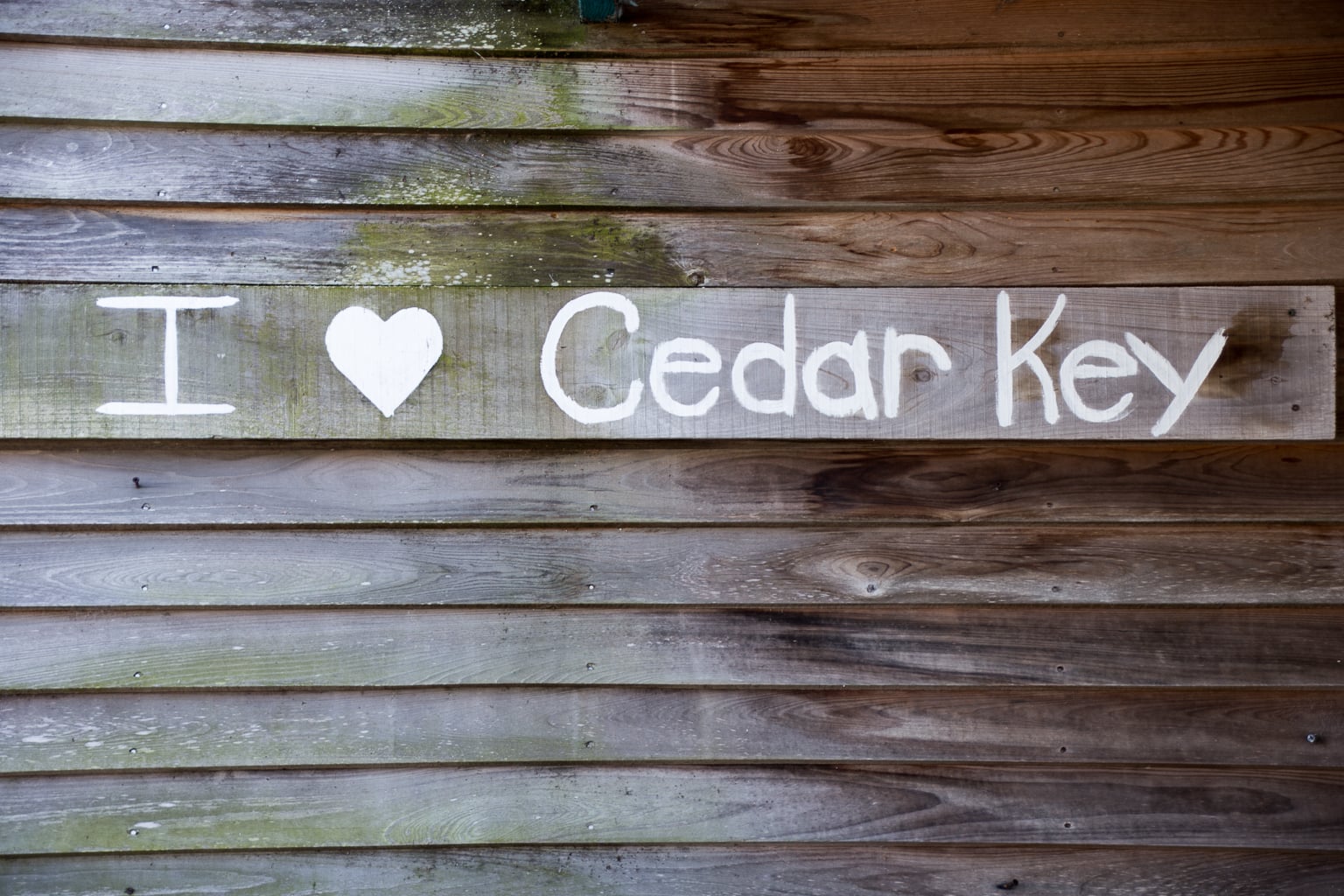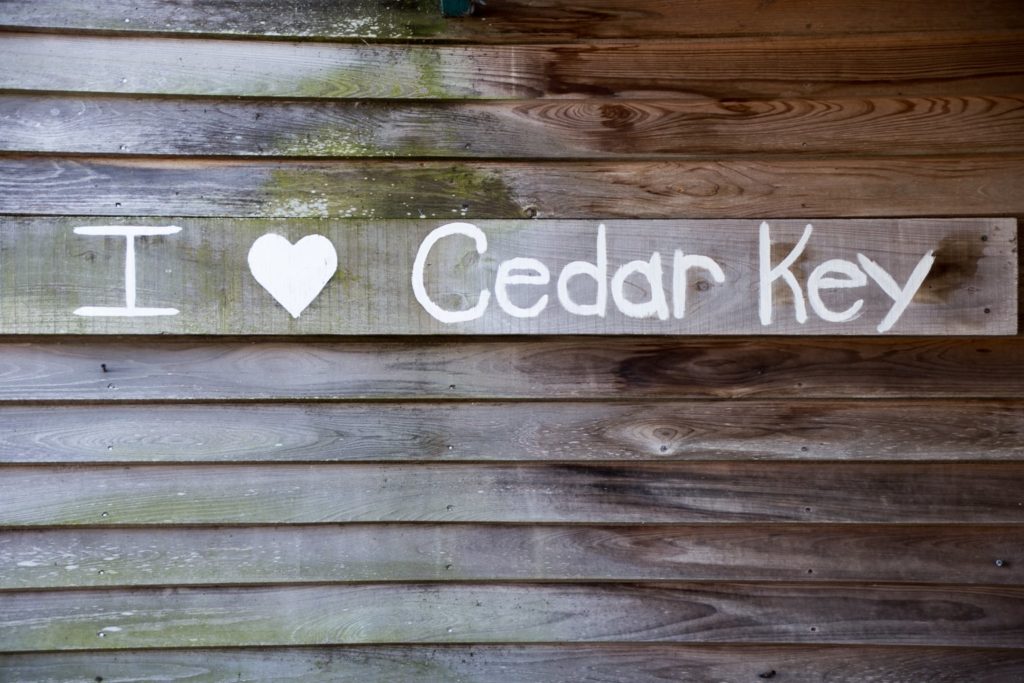 It's hard to describe, but the ambiance on Cedar Key sort of feels like a mixture of an old hippy haven, a western frontier town and a new england fishing village.
It's often described as "How Key West used to be". Many of the buildings are historic, and are built out of old weathered wood.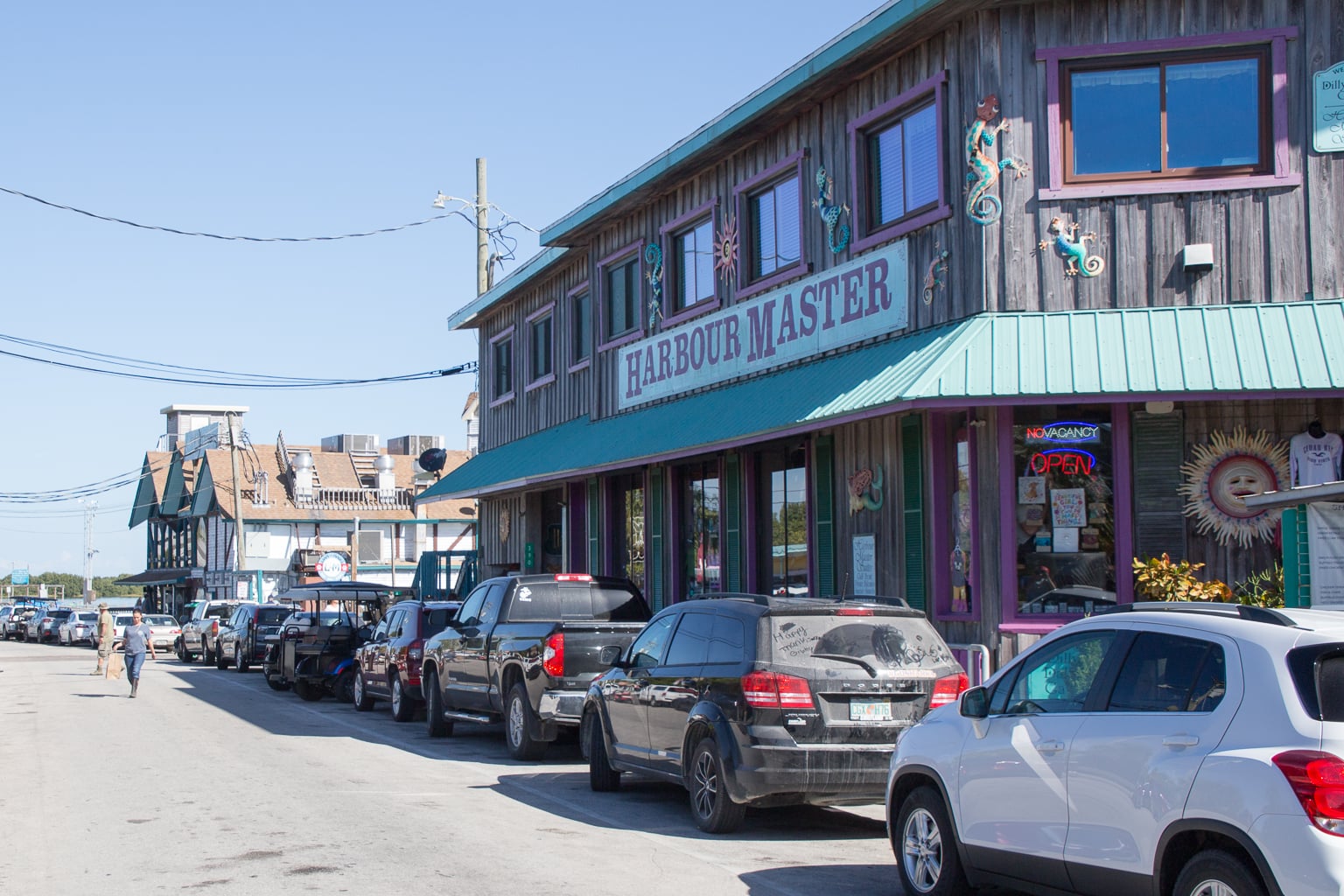 Creative folks flock to Cedar Key. The small island community has many artists, writers, photographers and other creators who are drawn to the low-key lifestyle and beautiful nature which surrounds the island.
Nature lovers have been attracted to Cedar Key for centuries. The famous environmentalist and conservationist John Muir visited Cedar Key as part of his "Thousand-mile walk to the Gulf" from Indianapolis to the Gulf of Mexico.
Is Cedar Key Worth Visiting?
Cedar Key is 100% worth visiting, especially if you are interested in cute small towns. There is a reason why Cedar Key is such a popular road trip spot for locals, and has been for many years.
On the other hand, Cedar Key may not be worth visiting if you are looking for a modern, exciting or posh destination. It's not Miami! The town is low-key, relaxed and is how "Old Florida" used to be.
Living in Cedar Key
Cedar Key is popular with snowbirds who are looking for a slower pace of life than other beach towns in Florida, which may be more hectic and less relaxing.
Many fishermen and boaters enjoy visiting Cedar Key, and many have put down permanent roots to live on the island.
According to the 2020 census, the resident population of Cedar Key is 730.
What is the history of Cedar Key?
Cedar Key is the second oldest town in Florida, so it has a rich and fascinating history.
Read more about the fascinating history of Cedar Key
Although it is a generally sleepy, quiet community now, it was once one of the busiest and most important cities in Florida.
Before railroads and highways, Cedar Key was a crucial maritime port which helped facilitate trade and transportation throughout Florida.
When railroads came to Florida, Cedar Key became even more important because it was the western terminus of the cross-Florida railroad, which connected the Gulf of Mexico to Amelia Island and the Atlantic Ocean.
One other major attraction near Cedar Key is an ancient native American shell mound.
The mound is truly massive and fascinating, it's definitely worth a visit if you like learning about ancient human civilizations!
The shell mound is massive, and traces back to approximately 500 B.C.
Archeologists believe it was built with a significant orientation which is related to the sun, and has precise astronomical positioning.
Archeologists believe that native Americans used it as an important site for rituals, including the Summer Solstice.
There are interesting signs throughout the site which give insight into what life was like for some of Florida's earliest inhabitants.
The shell mound is located about 10 miles north of Cedar Key in the Lower Suwannee National Wildlife Refuge, it is definitely worth a visit!
Evidence of even earlier human inhabitants have been found throughout the region, including 12,000+ year-old artifacts from paleo humans.
The University of Florida has more information on the history of Cedar Key.
Things to Do in Cedar Key
There are many things to do in Cedar Key, but they all have one thing in common: they are low-key and slow-paced.
Cedar Key is part of the Great Florida Birding Trail, and birding is very popular because of the wide variety of coastal and migratory birds which live in the area, and nearby wildlife refuges.
Many birders are excited to see a famous population of migratory whooping cranes which live in the nearby Chassahowitzka National Wildlife Refuge.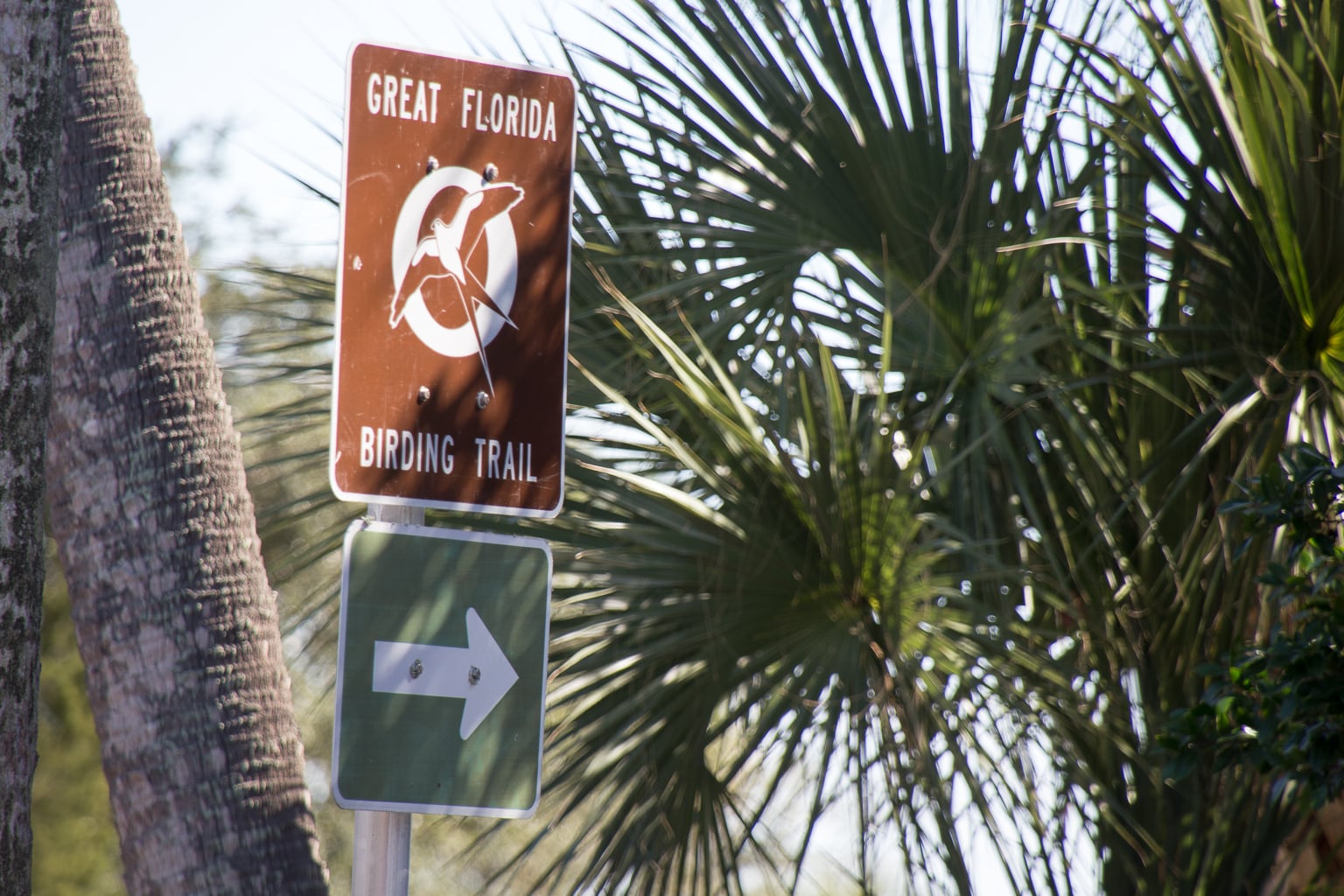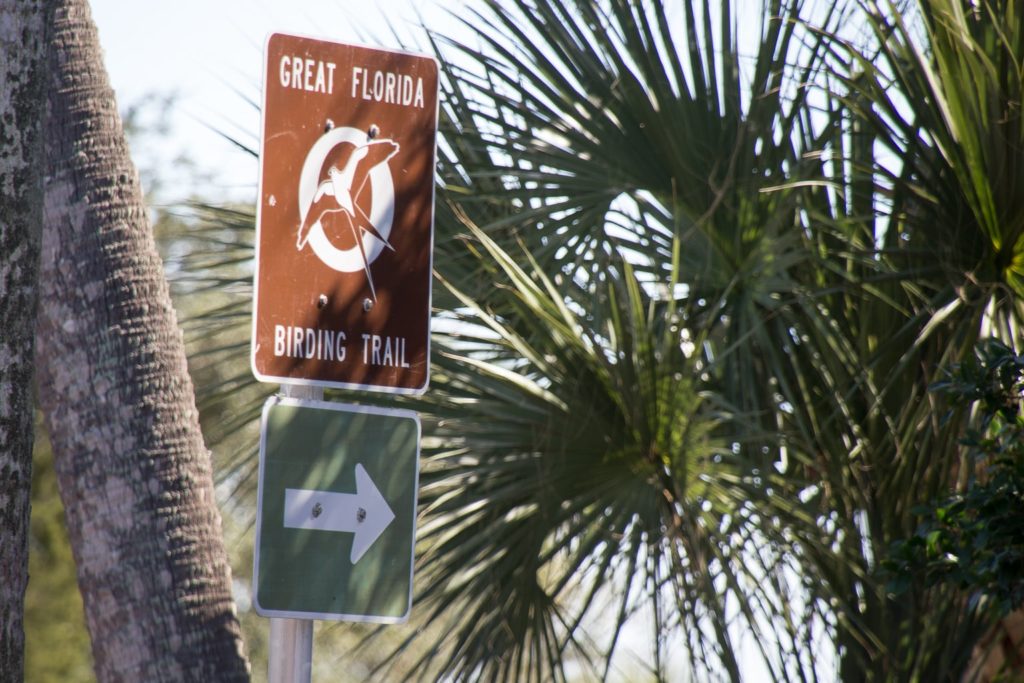 More information can be found in this seasonal guide to birding in Cedar Key.
Kayaking, paddleboarding, fishing and boating are also popular.
Kayaking is a great way to get a feel for the surrounding waterways and the beautiful nature that makes the island what it is.
Atsena Otie Key
One popular kayak tour is to visit the ruins of Atsena Otie Key, found inside the Cedar Key National Wildlife Refuge.
The ruins of Atsena Otie Key are all that's left of a historic neighboring town which was destroyed by a severe hurricane in 1896, and then again by Hurricane Hermine in 2013.
Read more about the devastating Cedar Key hurricane of 1896
Can You Swim in Cedar Key?
You can technically swim in Cedar Key. Cedar Key Beach is the main beach in Cedar Key, which has a designated swimming area.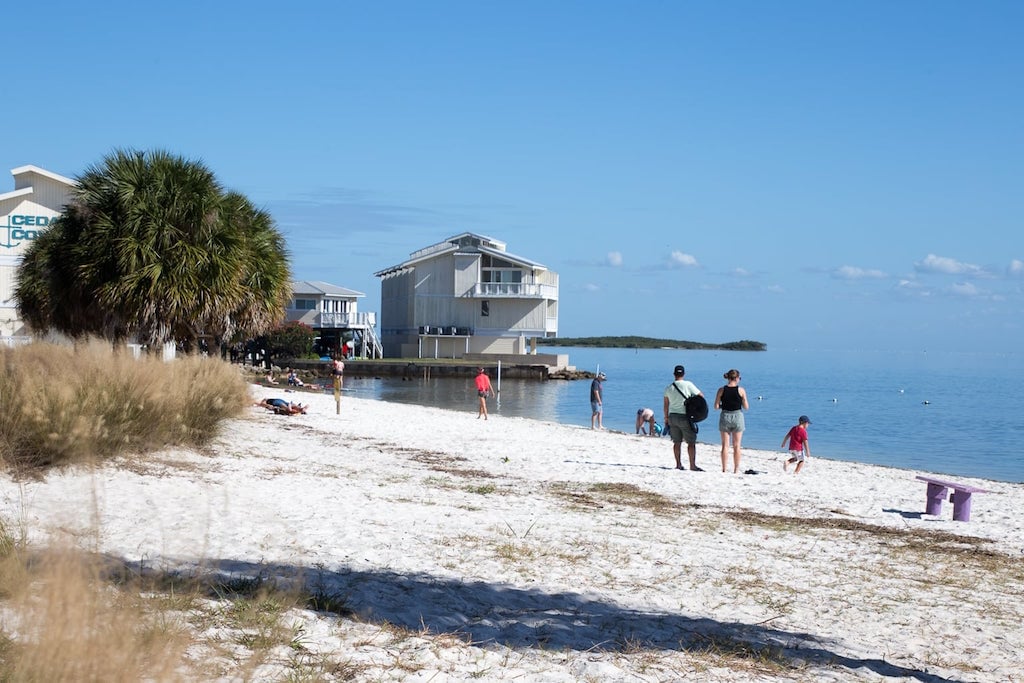 Does Cedar Key Have a Beach?
There are a few other small waterfront beaches scattered around the island, but none of the beaches are really a main-draw. The beaches on Cedar Key are not why people visit the island.
The beaches in Cedar Key are mainly used for sunbathing, kayak launching, and other things besides swimming.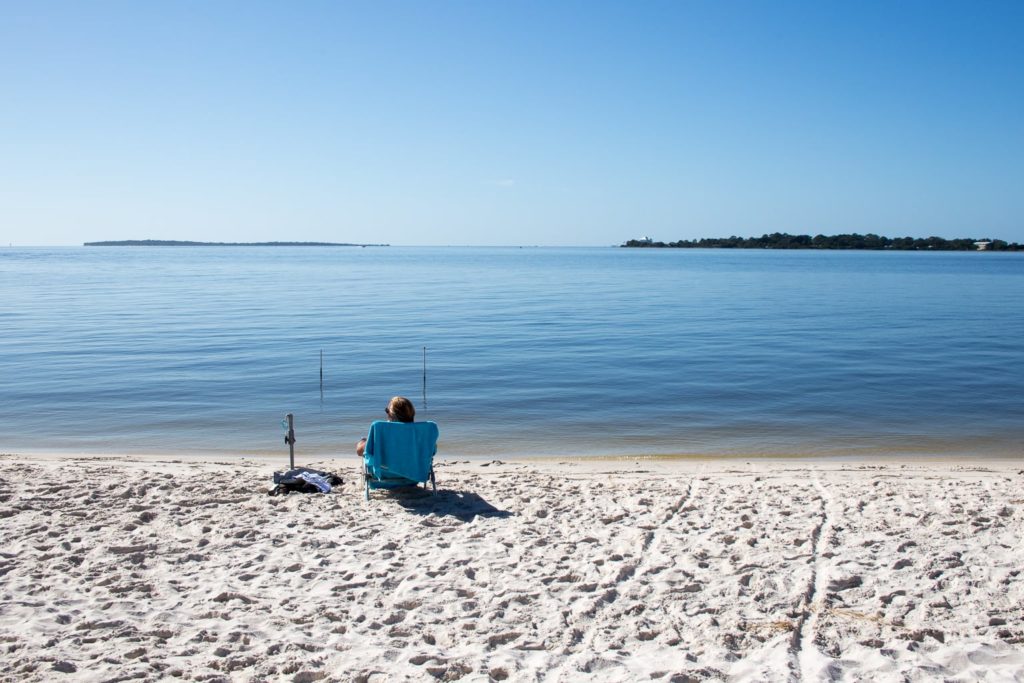 The water around Cedar Key is not clear, and the beaches wouldn't be considered "inviting" by most Floridians' standards.
The beaches are nice, and although they're pretty and are probably used by some visitors and locals, there are much more attractive beaches in Florida.
Things to Do Near Cedar Key
Cedar Key is located in a pretty remote spot, so there aren't a ton of other things to do, except for the fascinating nearby shell mound.
If you have enough time, you could combine the road trip with other hidden gems, including:
The Lower Suwannee River National Wildlife Refuge
The Cedar Key Shell Mound
Where to Stay
There are not any major hotel chains in Cedar Key, but there are a variety of smaller establishments which all have different amenities and characteristics.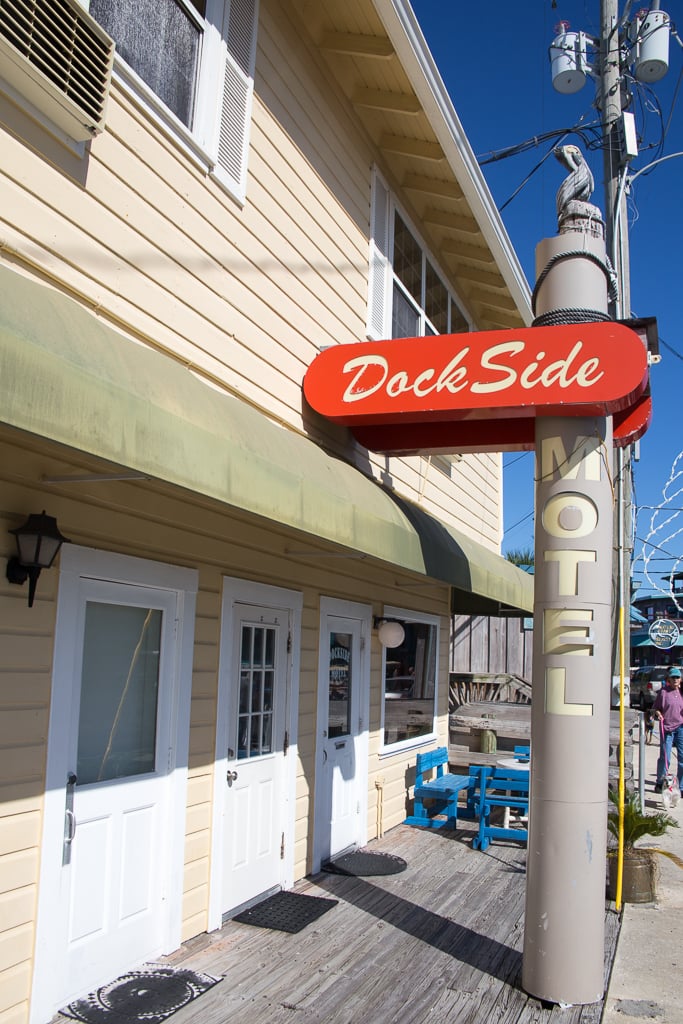 Cedar Key has waterfront motels, historical bed and breakfasts, luxurious modern beach houses, antiquated condominiums and many other lodging options.
There is a fairly wide selection of private rentals and AirBnBs in Cedar Key, especially for such a tiny island.
There is a wide range in terms of pricing, quality, cleanliness and how recently the property was updated.
The prices are not particularly cheap, although there are some better deals than others. The prices tend to start from around $150 per night.
Note: Because Cedar Key is a popular spot at certain times, and there is a relatively small selection of places, it's best to plan ahead and book early. You can find rental options on AirBnB, VRBO and on individual property websites.
Some of the vacation rentals in Cedar Key are historical properties, and can be more than 100 years old.
Camping at Cedar Key
There are a few options for camping on the islands of Cedar Key itself, and also some nearby options for convenient camping near Cedar Key, a relatively short drive away.
The nearby Shell Mound Campground is a Levy County park which is very nice.
Last time we visited it was very busy and full. But, we were there on a busy peak-season weekend.
The campground is a great little spot and is often empty during slower times, especially during the off-season.
Other options for Cedar Key Camping:
Angler's RV Campground
Cedar Key RV Resort
Low-Key Hideaway (Adults only)
Shell Mound RV Park
Camptel Resort (Formerly Sunset Isle RV Park)
Waccasassa Bay Preserve State Park
Things to Know Before Visiting
One thing I wish I'd have known before visiting is that the roads can be quite narrow, and crowded in certain places.
There are also low-hanging trees in some spots, which could be a problem for tall vehicles.
If you drive an R.V., a large vehicle, or are towing a boat, be careful so you don't get stuck in a tight spot.
Cedar Key is a small island, and can be very crowded at times. Depending on your preference for peace and quiet, or a lively buzz, you may consider visiting during either the off-season, or the high-season.
There's a big difference between "busy" and "quiet" on Cedar Key. It's worth planning ahead and considering this aspect.
Also, note that some businesses may be closed on Mondays or when tourist crowds are small.
Cedar Key is small How small? Deceptively small. You can feel like you've "seen it" in a very short amount of time. But, in my experience and opinion, it's worth budgeting more time than you'd expect.
The best way to experience Cedar Key is to slow down and get a better feel for the place.