Silver Springs State Park is a 4000-acre recreational paradise in Central Florida.
The park includes Silver Spring, the Silver River, and surrounding forest areas. Visitors come to experience its gorgeous blue springs and famous glass bottom boats.
Location
Silver Springs State Park is located in Silver Springs, Florida, just outside of Ocala National Forest.
Silver Springs State Park is located approximately 90 minutes north of Orlando.
Silver Springs State Park is located near some of Florida's largest highways, including the Florida Turnpike and I95, making it a convenient stop on many of Florida's best road trips.
| Nearby City | Distance |
| --- | --- |
| Orlando | 85 Miles |
| Gainesville | 41 Miles |
| Atlanta | 367 Miles |
| Miami | 301 Miles |
| Tampa | 103 Miles |
| Jacksonville | 101 Miles |
Major Cities Near Silver Springs State Park
History
Silver Springs has a fascinating history which dates back to prehistoric times, and to more recent history.
Prehistoric Man
Archaeologists know that humans have lived and hunted in Silver Springs for more than 10,000 years.
Mammoth bones and primitive tools have been found in the springs, showing that the earliest humans in North America lived around Silver Springs.
Modern History
More recently, Silver Springs has been used as an important transportation hub, a popular recreation site and tourist destination.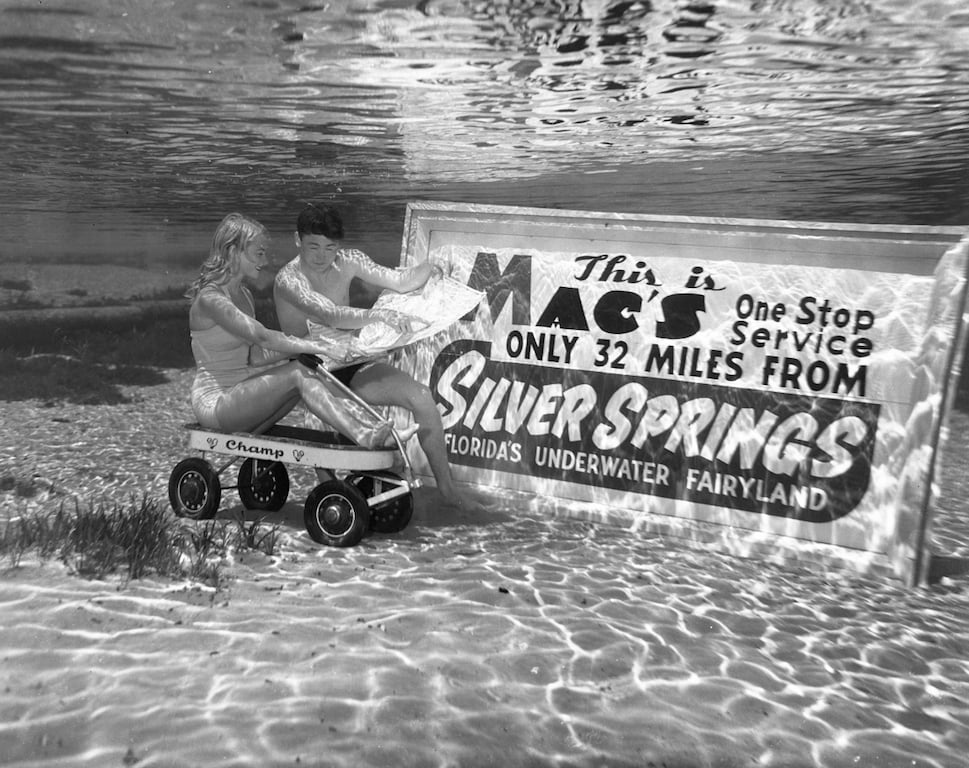 As early as the 1800s, before Florida's highway system was built, the Silver River was used as a steamship route to transport people and cargo into central Florida.
In the late 1870s the first glass-bottom boats were launched for public tours.
Silver Springs has remained a busy tourist destination, and glass bottom boats have survived as the most popular tourist attraction in the park.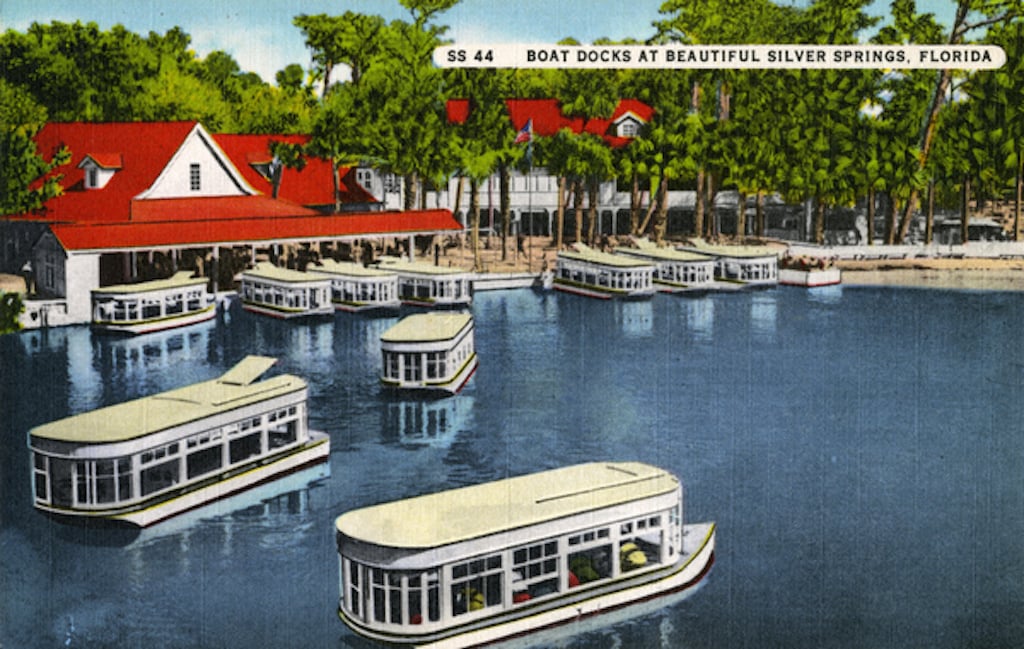 Movies filmed at Silver Springs
From the 1930s to the 1950s, Silver Springs became a popular set for Hollywood films. More than 20 movies were filmed in Silver Springs, including the infamous "Creature from the Black Lagoon".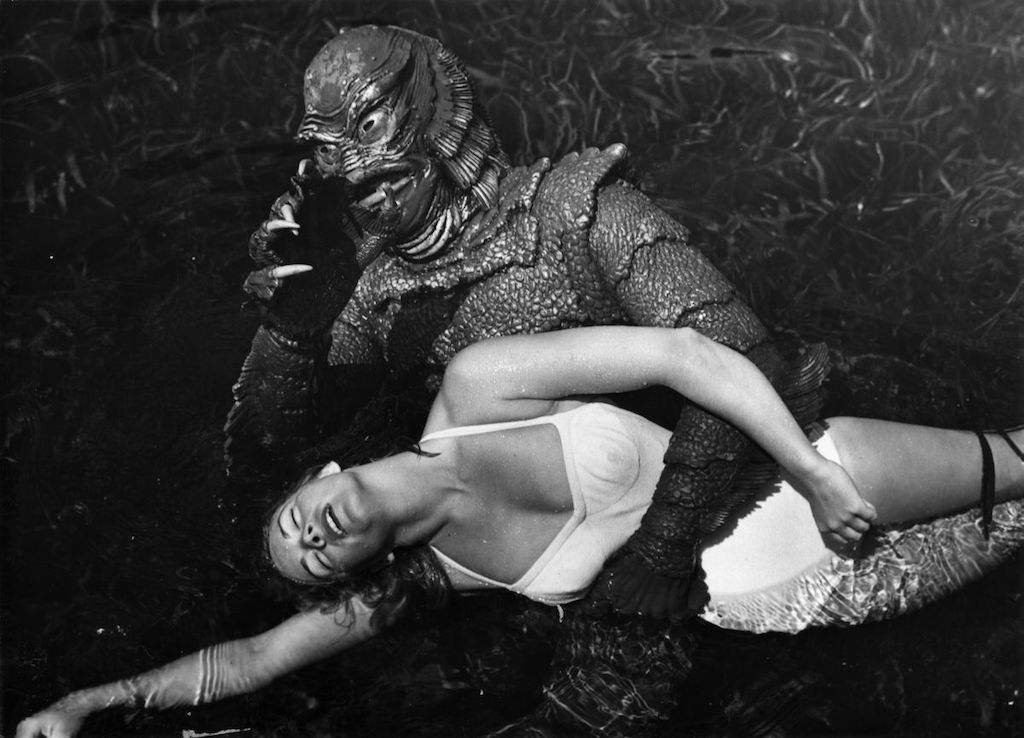 Props from some of these productions can still be seen in certain parts of the springs. The props, along with algae-covered statues, have become a unique part of the underwater ecosystem.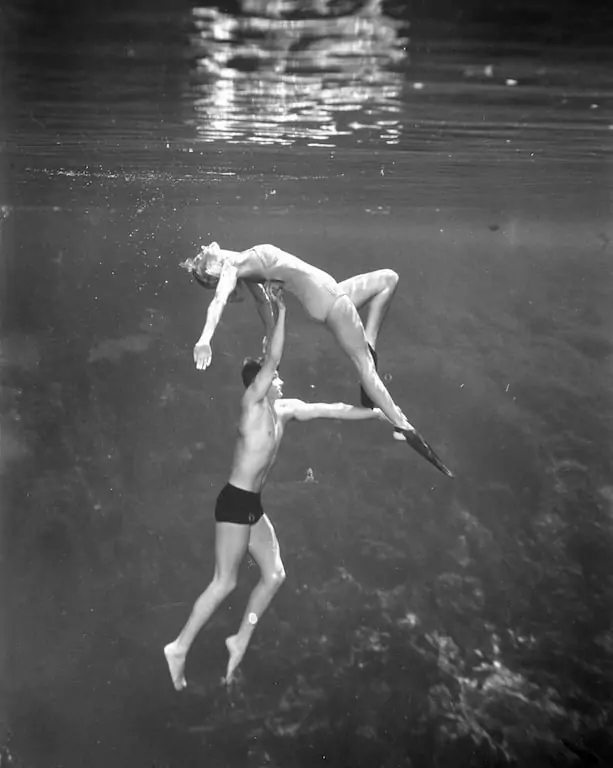 Throughout the years park operators added many amenities, including a tourist center, a museum, an on-site campground and a restaurant.
Due to environmental concerns, the Florida state park service took control over Silver Springs in 2013. Areas of Silver Springs and Silver River were merged to create Silver Springs State Park.
Monkeys in Silver Springs State Park
In the 1930s, park operators expanded Silver Springs as a larger tourist attraction.
Tourism marketers imported many types of exotic animals, including monkeys, and began offering a "Jungle Cruise".
Silver Springs was a model for Weeki Wachee Spring, which would come later.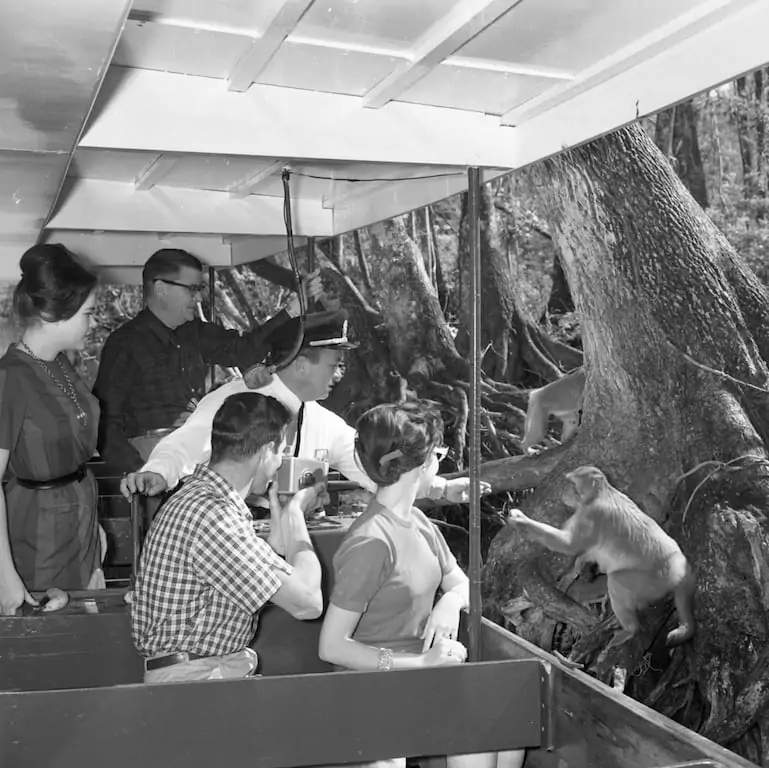 The monkeys in Silver Springs are the only wild monkeys in Florida.
All of the monkeys are non-native; they were all imported and released to establish a colony on one of the islands in the Silver River.
The park operators assumed that the monkeys could not swim, and would be contained on the island. This was a big mistake. As it turns out, the monkeys were good swimmers.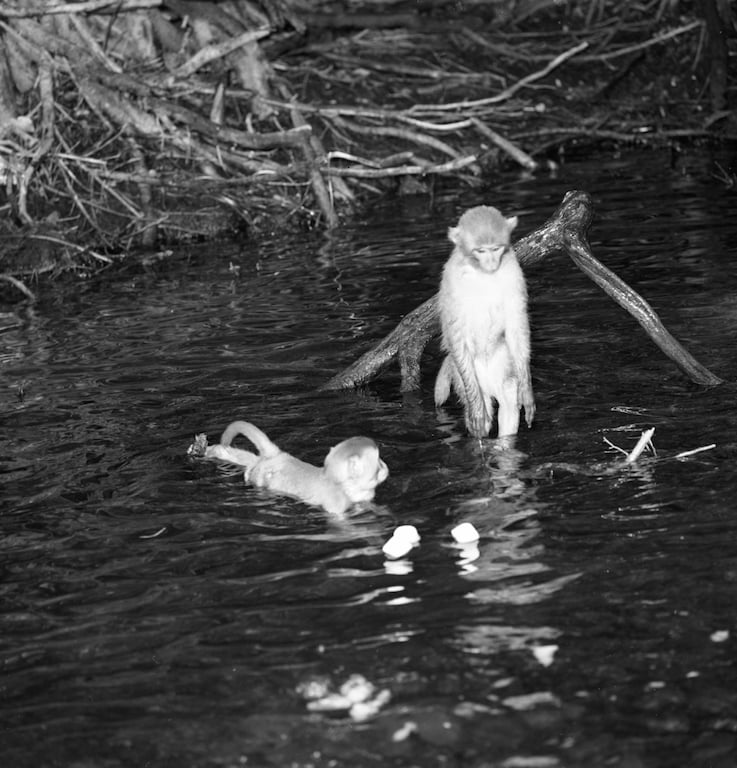 The monkeys easily "escaped" the island and quickly spread throughout Silver Springs and the surrounding forest areas.
The monkeys in Silver Springs have become a source of controversy and public health concern to this day, especially because they carry strains of the Herpes virus which can infect humans.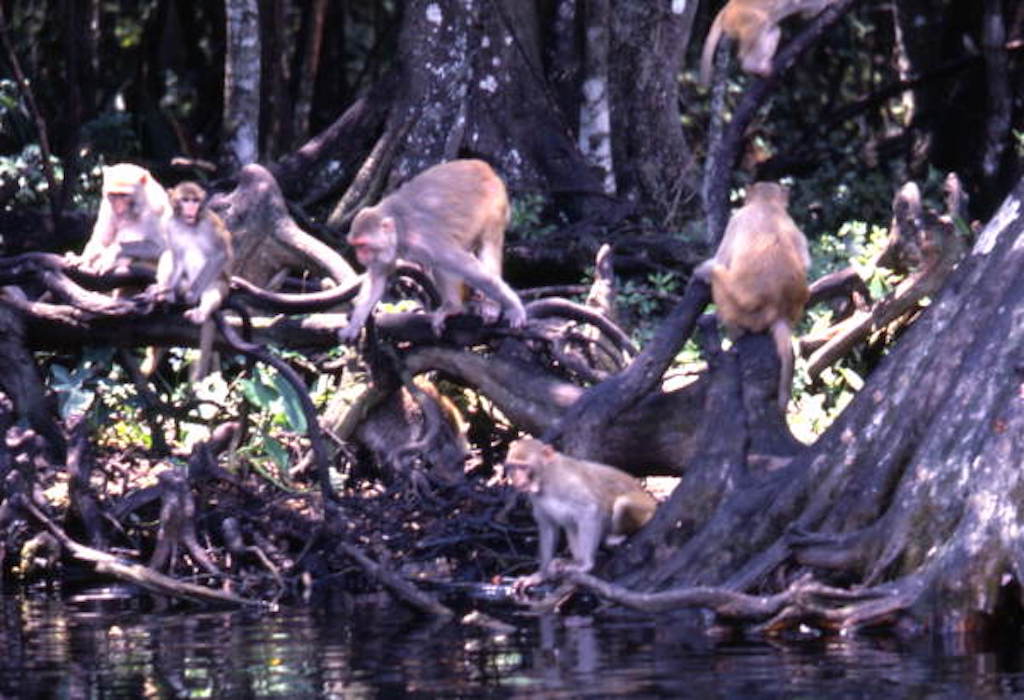 Amenities
Silver Springs offers many amenities for visitors to enjoy while they explore the springs, campground, river, and trails.
Silver Springs State Park Amenities:
Boat Tours
Biking
Pavilions (available for event rentals)
Restrooms
Picnic Tables
Hiking Trails
Biking Trails
Horseback Riding
Kayak, Canoe, and Paddleboard Rentals
On-site Campground (RV and tent camping)
Cabin Rentals
Museum
Gardens
Wildlife Viewing
Historic Sites
ADA Accessible Tour Options
Things to do
There are many activities and things to do in Silver Springs State Park.
Glass Bottom Boat Tours
Glass bottom boats are one of the best things to do in Silver Springs State Park, and are one of the most unique features.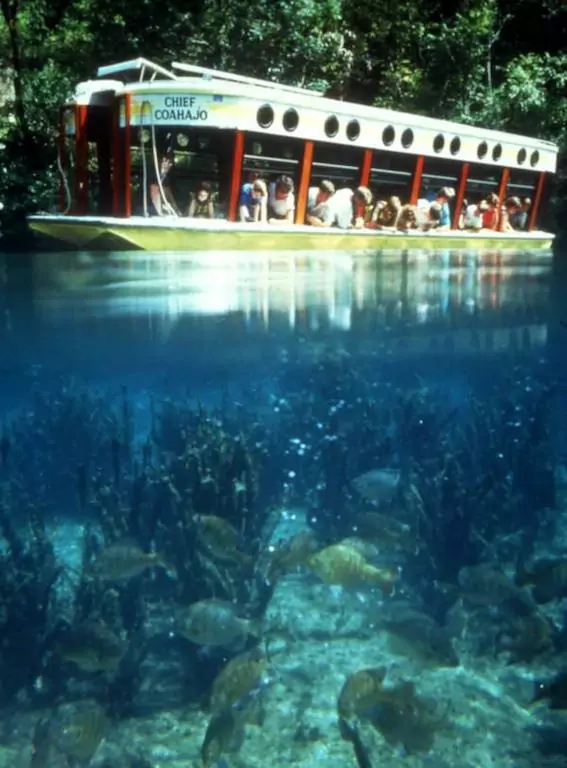 Glass Bottom Boat Tours run daily (weather permitting) and are $12 per person for a 30-minute tour.
Extended tours are available on weekends. The extended tours cost $25 per person for a 90-minute tour.
Guests learn about the history of the spring and get an up-close look of the natural springs, the Silver river and natural wildlife.
A Window Into Florida's Environmental Destruction
Long-time visitors say that the glass bottom boats provide a unique window into the sad destruction of the natural waterways.
The water in Silver Springs used to be the purest and clearest water in Florida, but it's been damaged by water pollution and destruction of Florida's natural habitats.
In Silver Springs, where the water was once so clear it was as if the fish swam through ­air, there are now goopy mats of algae so thick that alligators can perch atop them.

Craig Pittman, Florida's Vanishing Springs
Compared to the past, Silver Springs suffers from:
Water pollution
Poor water clarity
Reduced wildlife
Reduced spring health
Florida's springs are threatened and damaged by a variety of factors, including over-pumping of the Florida Aquifer and excessive pollution from a variety of sources:
Leaking septic tanks and failing sewer treatment facilities
Industrial agriculture pollution
Industrial groundwater pollution
Golf course and lawn fertilizer pollution
Road and highway groundwater runoff
And more
The Florida Department of the Environment found that 29% of nitrogen loading to groundwater in the area was caused by septic systems, 22% from urban and sports fertilizer use and 36% from livestock waste, including horse and cattle farms, and farm fertilizer.

The Ocala Star Banner
Many visitors also note that the large and beautiful native White Catfish which once swam in the springs are now replaced with Tilapia, an invasive species.
While still found in the Ocklawaha their numbers are very low when compared to surveys done prior to the construction of the Rodman Dam. These fish were a major attraction at Silver Springs. Today they are rarely seen.

Free The Oklawaha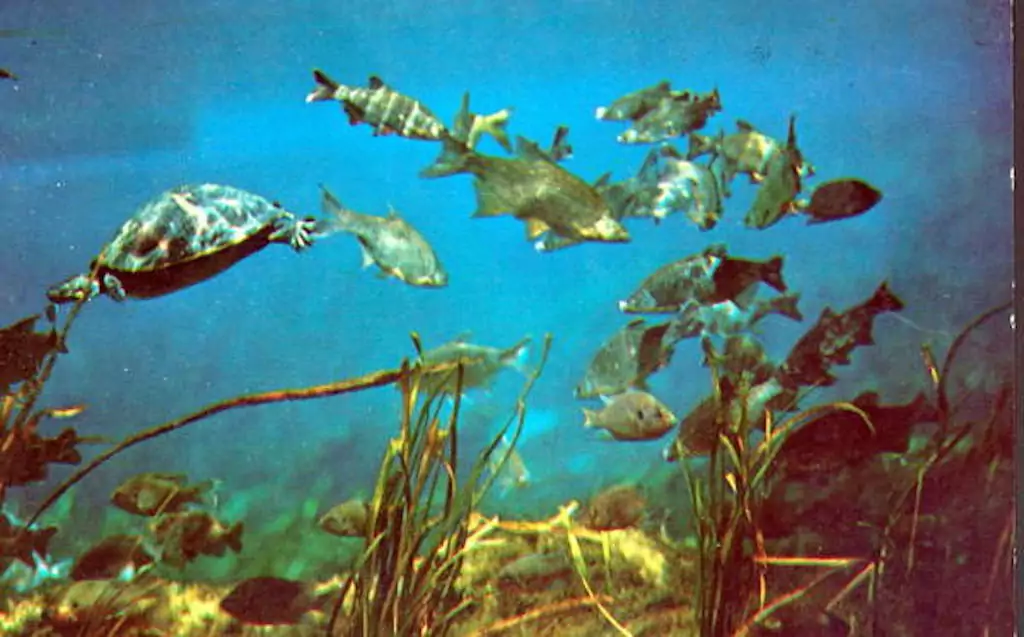 The extremely unpopular, environmentally destructive Rodman Dam also damages Silver Springs, and many other natural springs.
After the construction of the Rodman/Kirkpatrick Dam, fish species like these disappeared or were greatly reduced in Silver Springs and the Ocklawaha and St. Johns Rivers.

The Dam prevents migration of these fish between their feeding and breeding grounds from Silver Springs to the Atlantic Ocean. Reduced natural downstream flow caused by the Dam also affects many other non-migratory fish, plants, and wildlife.

These fish species are at high risk for disappearing from the Ocklawaha River forever. Many could face extinction.

Free The Oklawaha
The Rodman dam prevents natural wildlife migrations, restricts water flow, and causes many other environmental disasters.
Kayaking
Kayaking in Silver Springs is one of the best way to explore the state park. Kayak and watercraft rentals are available on-site.
Visitors can rent kayaks, paddleboards, or canoes for $25 – $55 depending on the rental length. Rentals are available in hourly or daily time periods.
Guests can relax on the water, paddle through the natural springs or up the Silver River.
Many forms of wildlife can be seen in Silver Springs, including manatees, turtles, birds, alligators and monkeys.
Hiking trails
Silver Springs State Park offers 5 unique hiking trails in the park.
The hiking trails vary in length, ranging from 1 mile to 4.6 miles. The trails are suitable all experience and fitness levels.
Hikers can explore different ecosystems including forests, swamps, and pinelands. Some trails offer great views of the river and opportunities to see wildlife, including alligators.
Walking, Running, and Biking
Silver Springs State Park has many sidewalks and paved paths for walking and running. The boardwalk trail also offers a stroll with stunning views of the springs and gardens.
Bicyclists can enjoy a 1.1-mile paved road for a leisurely ride or 4.5 miles of unpaved trails for off-road trail adventures.
Horseback Riding
Silver Springs State Park has several equestrian trails and is a popular destination for local horse owners.
Horseback riding is also available for guests without horses. An onsite concessionaire, "Cactus Jack Trail Rides" operates horse-riding tours through the park.
For more information visit: Cactus Jack's Trail Rides
Camping and Cabins
Silver Springs State Park has an on-site campground with 59 campsites. Camping is available for both RVs and tent camping.
Campsite amenities include water, electricity, picnic tables, fire rings, and barbeque grills. Some sites are ADA accessible.
Shared restrooms and showers are located inside bath houses, a short walking distance from the campsites.
For a more comfortable camping experience the park offers 10 cabins for rent.
Each cabin has 2 bedrooms, a kitchen, dining area, bathroom, and central air-conditioning. Cabins in Silver Springs can accommodate up to 6 people.
Campsite and cabin reservations can be made through: Florida State Parks Reservation System
Museum and Historic Sites
Visitors to Silver Springs State Park can learn about its unique history and diverse plant and animal life through the Silver River Museum and Cracker Village.
At the Silver River Museum, visitors can learn about the area's natural history. Skeletons of mammoths and saber-tooth tigers that have been excavated at the park are on display.
Visitors can also get an up-close look at paleolithic era tools and weapons found nearby.
Cracker Village is a replica of the settlements commonly found in the Florida pinewoods at the turn of the century.
Visitors can get a glimpse of what life was like for Florida settlers in the 1890s. Cracker Village includes a schoolhouse, blacksmith shop, barn, and smokehouse.
Food and Drink
There are several food options inside Silver Springs State Park.
Springside Restaurant
The Springside Restaurant offers hamburgers, corn dogs, sandwiches, and salads. They also have a snack menu with chips, pretzels, fries, and more.
Guests can dine inside the restaurant or outdoors overlooking the boardwalk and springs.
Paradise Treats
Paradise Treats is an old-fashioned ice cream parlor and soda shop. Guests can enjoy hand-dipped ice cream cones, ice cream soda floats, and homemade fudge. Coffee and baked goods are also available.
Weddings
Weddings in Silver Springs state park are beautiful. The sparkling waters and lush greenery of Silver Springs State Park make the perfect backdrop for wedding ceremonies.
Silver Springs State Park has three venue options which can accommodate receptions for 50 – 300 guests.
Options for Glass Bottom Boat Tours are also available and give the Wedding Party and their guests a unique and memorable experience.
For information on wedding packages visit: Weddings & Special Events | Silver Springs
Wildlife
Visitors to Silver Springs State Park will have many opportunities to spot wildlife within the park, in several different Florida ecosystems.
High-ground pinelands are a refuge for deer, fox, armadillo, wild turkey, and gopher tortoises.
The park is also a migration point for many species of birds and part of the Great Florida Birding and Wildlife Trail.
The lowland waterways are home to alligators, manatees, and turtles.
Florida Black Bears are occasionally seen in Silver Springs State Park. Visitors should exercise caution and follow rules from the Florida Wildlife Conservation: Living with Bears | FWC
Visitors are also cautioned not to interact with the rhesus macque monkeys in Silver Springs State Park. These monkeys may be aggressive, and may carry viruses which are transmissible to humans, including the Herpes virus.
Fishing
Fishing is now allowed inside Silver Springs State Park because it is a preserved ecosystem.
For information on nearby fishing areas visit: Fishing & Hunting in Ocala | Ocala / Marion County Florida
Frequently Asked Questions
Can you swim in Silver Springs?
Swimming is prohibited at Silver Springs State Park. The closest spring with swimming access is Rainbow Springs State Park, about 45 minutes west of Ocala in Dunnellon, Florida. Other nearby springs also offer swimming.
Are there alligators in Silver Springs State Park?
There are many alligators inside Silver Springs State Park. Alligators can often be spotted basking along the banks of the Silver River and can also be seen swimming in the springs.
Guests should not approach or feed alligators and exercise caution when near the water. For more information on the Florida Alligator visit: Living with Alligators| FWC
Are there monkeys at Silver Springs?
There are many Rhesus Macaque monkeys inside Silver Springs State Park.
The monkeys can be seen in the trees along the banks of the Silver River. The monkeys are not native to Florida; they were released into the park as a tourist attraction in the 1930s.
The monkeys escaped and have lived in the local wilderness ever since. Visitors should not approach monkeys in Silver Springs because they carry viruses which are transmissible to humans, including the Herpes virus.
For more information on the monkeys of Silver Springs, visit: History and Status of Introduced Rhesus Macaques (Macaca mulatta) in Silver Springs State Park,
Can you see manatees in Silver Springs State Park?
Manatees can be seen in Silver Springs State Park. Manatees can be seen year-round in the river and spring areas, but winter is the best time for manatee viewing.
As the other waters of Florida cool down from November through March, manatees migrate into the springs in search of warmth. Florida's springs provide natural warm water refuges for manatees because they remain 72 degrees fahrenheit year-round.
Additional Sources
Silver Springs Park Concessionaire
Florida State Parks Archeology