Weeki Wachee Springs is a popular spring in central Florida. Weeki Wachee Springs was once privately owned, but the spring became a Florida state park in 2008.
Weeki Wachee Springs is located near Orlando and Tampa, making it a popular destination for many visitors.
Weeki Wachee Springs is most famous for mermaid shows, its spring-fed water park and beautiful clear and blue water.
Many people dislike the overly-developed nature of Weeki Wachee Springs, and wish the spring's natural environment was better preserved.
Weeki Wachee Springs can feel like a tourist trap in many ways. But, beneath the mermaid shows and water park, it is a truly amazing natural wonder.
The Weeki Wachee Springs cave system is one of the deepest underwater cave systems in the world, and the spring flows into the gorgeous Weeki Wachee River, a kayaking and paddleboarding paradise.
Weeki Wachee Springs Details
Weeki Wachee Spring is a large first magnitude spring in Central Florida. It produces more than 117,000,000 gallons of water per day.
After rising from the head spring, spring water flows into the Weeki Wachee River. The river travels for 12 miles before mixing with the Gulf of Mexico.
The head spring vent is approximately 100 feet deep inside the main spring, where underwater mermaid shows are performed.
Weeki Wachee is part of a fascinating underwater cave system. It is one of the largest cave networks in the world, and is still being discovered.
For years Weeki Wachee Springs held the record for being the deepest natural underwater cave in the U.S. In 2013 a deeper cave system was mapped in Texas.
Controversy
Like many other Florida stories, the Weeki Wachee story is filled with controversy.
Many people are angry over the history of environmental exploitation, mismanagement and destruction of what was once a beautiful, natural spring.
Aerial photos show that development has consumed and surrounded the spring on all sides.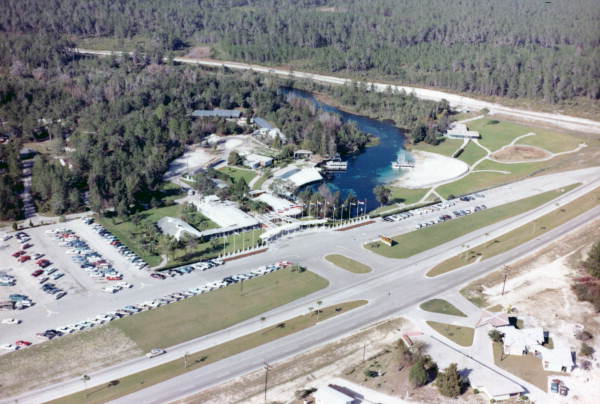 In many ways, Weeki Wachee is a classic example of Florida's over-development and environmental destruction. An beautiful spring was paved over to build a roadside tourist trap.
The spring basin is cornered by two busy highways, and the area is almost completely surrounded by concrete.
The pavement funnels polluted water– storm runoff, engine oil, antifreeze and more– into the porous karst ground. The polluted water flows into the fragile spring watershed and our drinking water supply.
Thankfully, public opinion has changed some over time. Today's public knows how fragile and priceless Florida's springs and water resources are. It's getting better with every generation. People don't want to see springs wasted, or ruined any more.
Thankfully, there is hope for Weeki Wachee. Since 2008 it's been under the protection of the Florida State Park system. Maybe that will help protect it.
History
Newton Perry first developed Weeki Wachee in 1947.
Perry was a colorful character. He was an early adopter of SCUBA technology, which was a new invention at the time. Jacques Cousteau tried his first Aqua-Lung prototype– the ancestor of modern SCUBA equipment– in 1943.
Perry had helped develop other natural springs into tourist traps, including Silver Springs and Wakulla Springs. He allegedly helped train U.S. Navy personnel in SCUBA, and had a successful career as a movie stuntman.
When Perry first found Weeki Wachee Springs it had been abused. Like many springs and sinkholes, it'd been used as a garbage dump. it was filled with junk — old cars, refrigerators, and more.
He cleaned it up and built a crude underwater auditorium. He installed a glass wall which looked into the spring like an aquarium.
Inside the water, he'd rigged air hoses for performers to breath underwater. He hired local women, some as young as 15 years old, to swim in the springs and give performances.
In the early days, some of the early mermaids remember hearing a car coming down the highway, and running to flag them down to come watch the show. The show began with modest roots, but it grew fast.
By the late 1940s and 1950s, Weeki Wachee was one of the most famous and popular tourist attractions in the world.
The beautiful young women were glamorous; they were treated like movie stars. Women from across the world auditioned to be Weeki Wachee mermaids.
In 1959 Weeki Wachee was sold to the television broadcast network ABC. Under ABC's ownership Weeki Wachee was expanded, renovated and marketed. Its fame and popularity soared.
The ABC years marked the peak for Weeki Wachee's growth and stardom. In 1971 Disney opened in Orlando, two hours to the east. Public attention abandoned Weeki Wachee, and went to Disney instead.
ABC sold Weeki Wachee to other private owners in 1984. With decreasing crowds, Weeki Wachee fell into disrepair. Buildings, boardwalks and railings began to deteriorate.
The health of the spring suffered. Eventually, it caught the attention of the Florida government and the Southwest Florida Water Management District.
The Water Management District was responsible for the health and management of the region's water resources.
The State of Florida tried to enforce environmental regulations, but were met with delays and stall tactics. Eventually they sued the operators, and were met with more delays and legal maneuvering. Source: NPR Report
Amid the lawsuit, water management district officials say the operators used the national press for free publicity and marketing.
As part of the legal maneuvering, the operators at one point "donated" their interest in Weeki Wachee's lease to the City of Weeki Wachee, which has since been disbanded.
Eventually, the water district sued to terminate the operator's lease. In 2008 the State of Florida turned the site into a state park.
The whole thing was a mess, typical of Florida scandals. Eventually the State of Florida would disband the city of Weeki Wachee amid accusations of mismanagement and conflicts of interest.
Thankfully, Weeki Wachee may now be in better hands. The spring is still not natural, or totally protected. There aren't any plans to restore the pristine natural environment. But, at least things are a bit better.
In 2013 year the State of Florida began renovations and site improvements. They tore down unsafe, neglected waterslides and structures. They built environmental barriers to reduce the amount of pollution which flows into the springs.
Ancient History
Like many of Florida's freshwater springs, Weeki Wachee is an important historical site, and has a very long history of human use.
The name Weeki Wachee was first used by Seminole native Americans; it translates to "winding river", or "little spring".
In 1969 workers, using a tractor to clear land, accidentally dug up the Weeki Wachee Mound. Using archeological evidence, scientists found that the site was used by indigenous people from 900-1725 AD.
Like all other springs in Florida, Weeki Wachee Springs was almost certainly used for thousands of years before that.
Artifacts from Paleo-Indians have also been found which are more than 13,000 years old. Fossils of large prehistoric mammals have been found in and around Weeki Wachee Springs, including mammoths, giant sloths, saber tooth cats, matadons and others.
Nostalgia
Despite its history of controversy, Weeki Wachee Springs is special to many people. Whether warranted or not, it commands a deep sense of nostalgia.
The roadside attraction defined the local community, and it created a unique and glamorous life for many people who were along for the ride.
Activities
There are many water-based activities inside Weeki Wachee Springs State Park.
The site is unique because it is the only natural, spring-fed water park in Florida. The water is not chlorinated. Like most of Florida's springs, the water stays a consistent 72 degree water year-round.
Manatees
Weeki Wachee Springs is an excellent place to see manatees. The water is very clear and shallow, so the manatees are very easy to view.
Manatees live in the Weeki Wachee River and sometimes swim upstream into the Buccaneer Bay swimming area, and into the main basis of Weeki Wachee Springs.
Swimming and Tubing
Swimming is allowed in the water park, Buccaneer Bay, but not in the main spring.
Snorkeling is popular in the crystal clear waters of Buccaneer Bay.
There is a floating swimming dock and other water features.
Tubing: There technically is tubing, but not like what most people hope or expect. Tubing is not allowed in the Weeki Wachee River. Tubing is only allowed in the "lazy river" inside the water park, Buccaneer Bay.
Mermaid Shows and River Boat Tours
Besides the Mermaid shows, there are also educational wildlife programs.
Boat tours float down the Weeki Wachee River. They offer educational commentary along the way.
Picnicking
There are several picnic areas around the water park, Buccaneer Bay. There are restrictions on where food can be taken. There are on-site snack and food options.
Event Rentals
Weeki Wachee is available for event rentals: Covered pavilions can be rented. The park concessionaire offers set-up and catering services.
Weddings: Weeki Wachee can help arrange wedding services.
Weeki Wachee River
Kayaking and paddleboarding the Weeki Wachee River is amazing. Visitors love the peace and quiet, and the chance to see manatees.
Be sure to call and verify before making any plans. Kayaks, canoes and SUP paddle boards can be rented from inside the park, or through an outside vendor downriver.
It's possible to launch private canoes and kayaks from inside Weeki Wachee State Park, but only with reservations. There are other options for launching downstream on the Weeki Wachee River, as well, and paddling upstream.
There are numerous rules for paddling the Weeki Wachee River. These rules are good because they help protect the river, which is already being destroyed by overuse.
Disposable items are not allowed on the river. Reusable containers are allowed. A size limitation is enforced on coolers.
The Weeki Wachee River is an extremely fragile ecosystem, and suffers from overuse and abuse from many visitors.
One common complaint about the Weeki Wachee River is that motor boats are allowed on the river, which damages the environment and destroys the natural experience of the river.
Camping
There are not any camping options inside Weeki Wachee State Park. There are other camping options near Weeki Wachee Springs.
Underwater Cave System
Underwater cave divers have explored the cave system extensively, but it's still not fully mapped. In 2007 explorers found that Weeki Wachee was 407 ft. deep. At that time it was the deepest known underwater cave in the U.S.
The spring kept that honor until 2012, when divers discovered that Texas' Phantom Springs Cave was deeper, at 462 feet deep.
Nearby Cities
Ocala
Orlando
Saint Petersburg
Tampa
Region
Central Florida
Activities
Canoeing
Kayaking
Manatee Viewing
Paddle Boarding
Swimming
Touristy Attractions
Weddings
Camping
Nearby Camping
Related Spring Group
Weeki Wachee Springs Group
Contact Information
Phone: (352) 592-5656
Weeki Wachee Springs State Park Website
Weeki Wachee Springs Concessionaire Website
Location
Address: Weeki Wachee Spring, Florida 34606