Winter Haven is a medium-sized community in Central Florida. Winter Haven is a part of Polk County. It is well-known for its desirable winter climate and a chain of lakes, which are linked via canals.
Location
Winter Haven is centrally located between two of the largest cities in Florida, Orlando and Tampa. Both Tampa and Orlando are approximately one hour's drive away.
In the most recent 2019 census the population of Winter Haven was approximately 45,000 people.
Good Things
Locals and visitors like Winter Haven for its central location and its warm, dry winters.
It's great for recreational water activities like fishing, kayaking, wakeboarding, pontoon boat tours, and more.
One local resident, an M.D. at the local hospital, described Winter Haven as the best of all worlds.
He enjoys the proximity to large metropolitan areas and culture in Tampa and Orlando, and the small-town feel of "Old Florida".
He loves that everyone in Winter Haven seems to care for each other, and look out for each other.
He also enjoyed the beauty and recreational opportunities provided by the chain of lakes, and the chance to spend time outdoors with his family. He wrapped up by saying "It's just a great place to live".
Overall, Winter Haven has a small-town vibe, but with more to offer, and more stuff to do.
Winter Haven has a lively farmer's market, a craft beer brewery and outdoor concerts.
This city offers affordable housing and lake living opportunities.
The cost of living in Winter Haven is lower than many other parts of Florida. This is partly due to its distance from major metropolitan areas, and relatively high supply of land. It has some of the most beautiful parks and lakes in the state.
The elevation of Winter Haven is approximately 167 feet above sea level, which makes it one of the highest points in Florida. This is thanks to an ancient geological formation known as the Mid-Florida Ridge, or the Lakes Wales Ridge.
Thanks to the high elevation, Winter Haven has reduced flooding risk and residents can enjoy beautiful views over orange groves.
Bad Things
Like most parts of Florida, Winter Haven has a below-average education system, compared to many parts of the United States. Many residents say they dislike the backward southern "Good ol' boy" system, lack of diversity and sub-par economic opportunities.
Residents also complain about worsening traffic, crime, drugs, and a rising cost of living.
Things to Do
Winter Haven is known as "Chain of Lakes City" because it sits on a vast network of lakes, which are interconnected via a canal network.
Because of this, Winter Haven is a lake watersports paradise for boating, fishing, kayaking and more.
The lakes are important parts of Winter Haven's environmental heritage, and are important economic drivers for the region.
Winter Haven is home to:
30 waterfront parks
50 lakes
14 public docks and boat ramps
One resident summed it up best, when asked about his favorite part of living in Winter Haven. He said "My favorite part is the lakes. They're all over the place! I love fishing after work, and spending time on my boat."
Winter Haven is full of places to visit.
Winter Haven has an award-winning, historic downtown area. There are many cute boutique shops and restaurants.
You can check out the world's largest collection of vintage aircraft at The Fantasy of Flight, a working restoration facility. Or, if you head towards Iron Mountain, you can visit Bok Tower Gardens.
If shopping is more of your thing and you're looking for antique treasures, you should know that Winter Haven is also part of Florida's Antique Loop.
Still, Winter Haven's biggest attraction today is the LEGOLAND Florida Resort, which replaced Cypress Gardens in 2011.
This location is the largest in the world and offers an interactive theme park, as well as a beautiful hotel and beach resort.
History
Like most of Florida, the area now known as Winter Haven has been inhabited by humans for many thousands of years.
Until the 1800s the area was dominated by the Timucua and Calusa indigenous peoples.
Later in the 19th century the Creek and Seminole people used the Winter Haven area for living and hunting.
During the Seminole war, Winter Haven was a native American stronghold.
Winter Haven's first modern pioneers began settling in 1845 after Florida became a state.
The 1920's economic boom brought more people who moved to Florida, and intense land and real estate speculation.
Settlers arrived from the north by railroad via Cedar Key or Jacksonville, and then took boats to reach Winter Haven.
Winter Haven was not called by its modern name until 1911.
Before, it was called Harris Corners, in honor of the city's first builder F.A.K Harris.
The name "Winter Haven" was chosen to market the town as a winter escape for wealthy northerners.
The first Publix Super Market opened in downtown Winter Haven in September 1930. Plus, the opening of Cypress Gardens in 1936 put Winter Haven on the map, when it attracted tourists from around the world.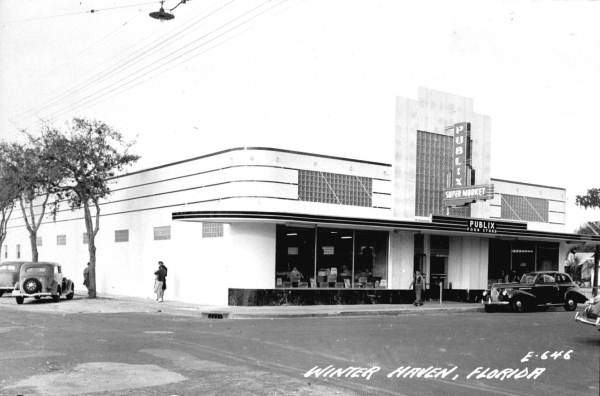 Sources
https://www.visitflorida.com/en-us/cities/winter-haven.html
https://www.mywinterhaven.com/community/
https://visitcentralflorida.org/cities-towns/winter-haven/
Featured Image Credit: Ultrahip, CC BY-SA 3.0, via Wikimedia Commons