Tampa Bay has two islands with the name "Beer Can Island".
One "Beer Can Island" is located in the middle of Tampa Bay. It was recently renamed to "Pine Key", and is the subject of this article.
Click this link for the other "Beer Can Island", located at the northern tip of Longboat Key, near Sarasota.
Beer Can Island Description
"Beer Can Island", also known as "Pine Key", is located in the middle of Tampa Bay.
The island sits approximately 2.5 miles west of the small town of Apollo Beach, and approximately 2.7 miles northwest of Tampa's TECO Manatee Viewing Center.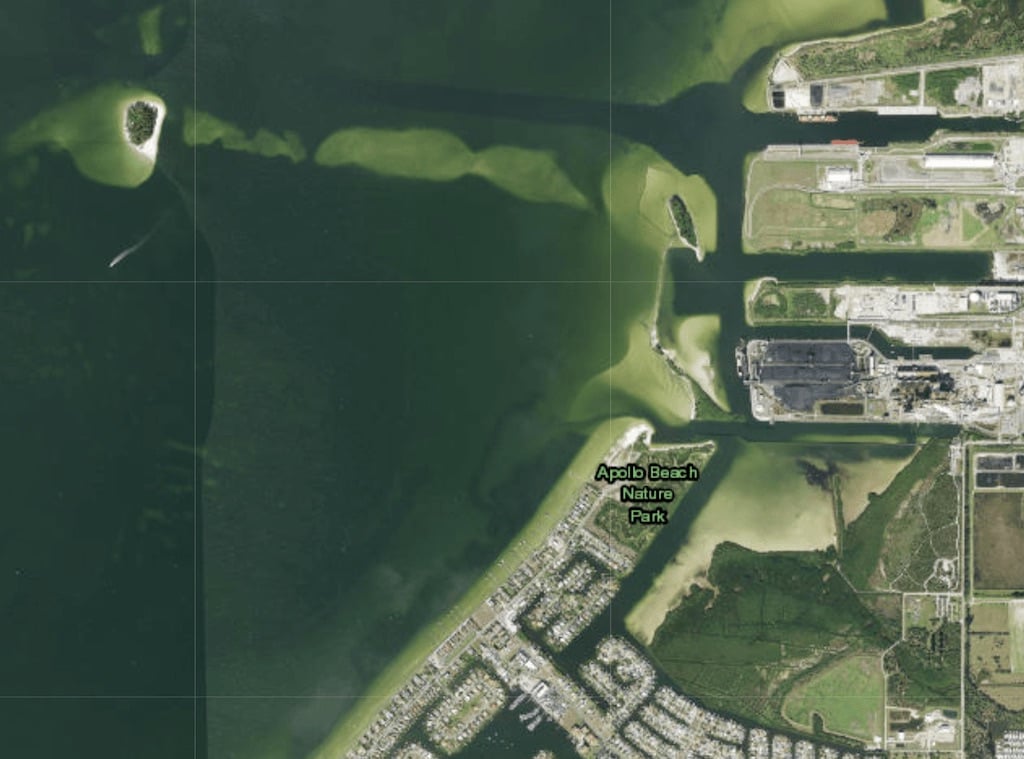 View the location on Google Maps
The island's official website lists the address as "1 Beer Can Way | Apollo Beach, FL 33572", a fictitious address which does not officially exist.
Beer Can Island is a small, man-made island. It was created as a "spoil island", where sand and soil debris were dumped after being dredged, or dug up, from the sea floor of Tampa Bay. Much of the island's soil came from dredging the nearby Apollo Beach Marina.
The center of Beer Can Island is covered in various forms of trees, including Australian Pine trees. The beaches generally have nice white-ish sand.
Tampa Bay's "Beer Can Island" is a popular spot for boaters to anchor and camp, and has been for many years.
Insects can be intense on the island, especially mosquitoes and noseeums.
Why is Beer Can Island Called Beer Can Island?
Many people visit Beer Can Island to have wild parties and drink alcohol. Sadly, many people leave garbage behind, which is where the "Beer Can" part of its name originated.
Matt Billor, a local musician made a song specifically about Beer Can island.
Beer Can Island Access
Beer Can Island is surrounded by water, and can only be reached by boat.
The island is quite far from shore, but experienced and properly-equipped kayakers may be able to reach the island by paddling, but only with property safety precautions and in safe weather conditions.
Some local boat charters offer day trips, shuttle and ferry service to the island. Most visitors to Beer Can Island arrive on privately owned boats.
Island Use and Development
Tampa's Beer Can Island has been a popular place for boats to anchor for many years, although the island has historically lacked any amenities, restrooms or infrastructure.
Without bathrooms, it was common for people to relieve themselves on the island, creating serious health and hygiene concerns.
After it was purchased by the current owners, the investors tried to commercialize the island and turn it into a privately-owned party and event spot.
The island has beach games, sand volleyball, and a large, multi-story inflatable waterslide.
Is Beer Can Island Open?
Today, according to its website, Beer Can Island says that it's open for use by members.
The website lists several amenities and activities, including primitive camping, use as a wedding venue, and more.
Future development plans appear to depend on a successful resolution with Hillsborough County.
Future development plans reportedly include a stage for musical performances, tiki huts and similar additions.
Can Anyone Go to Beer Can Island?
Membership may be required to officially visit Beer Can Island. There is an option to become a "Member" for free here on the island's membership page. There are other membership options, as well.
The owners of Beer Can Island have repeatedly said that Beer Can Island would remain open to anyone for free, and that they would not charge visitors merely for visiting the island.
According to past statements, charges would only apply to visitors who wanted to use the islands' improvements or amenities. The current state of the island access policy is unclear.
Zoning and Legal Battles
Pine Key, formerly Beer Can Island, is at the center of a zoning and code-enforcement conflict between the island's owners and Hillsborough County.
The conflict arose because the previous owners began developing and adding amenities, but allegedly failed to secure an official zoning status.
Hillsborough County has reportedly issued a number of fines against the owners for operating without permission or a legal zoning status
Beer Can Island Renamed to "Pine Key"
The owners of Beer Can Island changed its name to "Pine Key" in late 2021.
The name change may have been an attempt to rebrand itself in a more positive, family-friendly light as it negotiates with Hillsborough County over legal and zoning issues.
Beer Can Island History
Pine Key was purchased in 2017 by a group of private investors. The group reportedly paid $63,650 to purchase it from Imperial Sand, the previous owners.
One previous owner of Beer Can Island included a petroleum company, Supertest Oil.
Before it was purchased by the current owners, Beer Can Island was mostly left alone by its owners.
For many years Beer Can Island was a popular boating destination, much like other sandbars in Florida. It was used by recreational boaters who anchored and camped for free off the islands' beaches.
Access was not restricted or regulated, and anyone could visit without restriction.
There were rumors of possible sales and various forms of development over the years, but none occurred.
Bitcoin Auction of Beer Can Island
In 2021 some of the owners of Pine Key, formerly known as Beer Can Island, took action to sell part of their interest in the island.
The auction and sale attracted attention because the seller wanted to be paid in Bitcoin.
Erosion
Beer Can Island, or Pine Key, covers approximately 8.9 acres today. In the past it covered approximately 23.62 acres.
Beer Can Island is rapidly eroding due to wind, wave and tide erosion. The island is very low-lying, and sites just at or above sea level.
The islands' owners have suggested that they may try to slow or reverse the islands' erosion by planting mangrove trees and using other living shoreline techniques.
They have also suggested that they may receive loads of sand from nearby dredging operations, which is how the island was created in the first place.
The owners have tried to raise $500,000 in Go Fund Me "Donations" to "Save" and improve their private island.
The campaign has been unsuccessful so far. The campaign may be struggling because normal people may feel reluctant to "donate" money to a group of investors who own a private island in Florida.
Like many attractions and businesses, Beer Can Island adapted to Covid-19 by changing its admission policies and closing down at one point. According to the islands' website, it has since reopened for use by members.