TECO Manatee Viewing Center Update
Update as of 10/24/2021: The TECO Manatee Viewing Center is scheduled to reopen on November 1, 2021. The manatee viewing center was temporarily closed for the 2020 season due to Covid-19 safety precautions.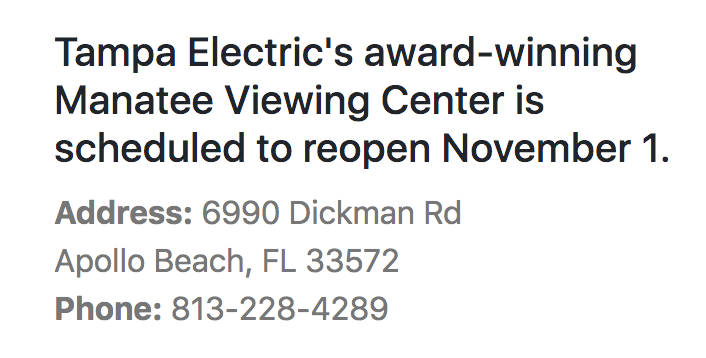 Please check official website for the most up-to-date information, especially before visiting or planning a trip.
Location
The TECO manatee center is located at 6990 Dickman Rd, Apollo Beach, FL 33572
Manatee viewing is one of the best things to do in Florida's winter. In addition to camping, manatee viewing is one of the best outdoor activities in winter months, when it's too cold to swim.
If you have the chance it's a great place to visit!
Manatees are fascinating animals, and it's well worth the chance to see so much of Florida's nature up close!
This day trip is a great, easy chance to teach kids about nature, and help get them engaged with science. It's exciting to see such a lovable, strange type of animal which is very different from anything most people have seen before.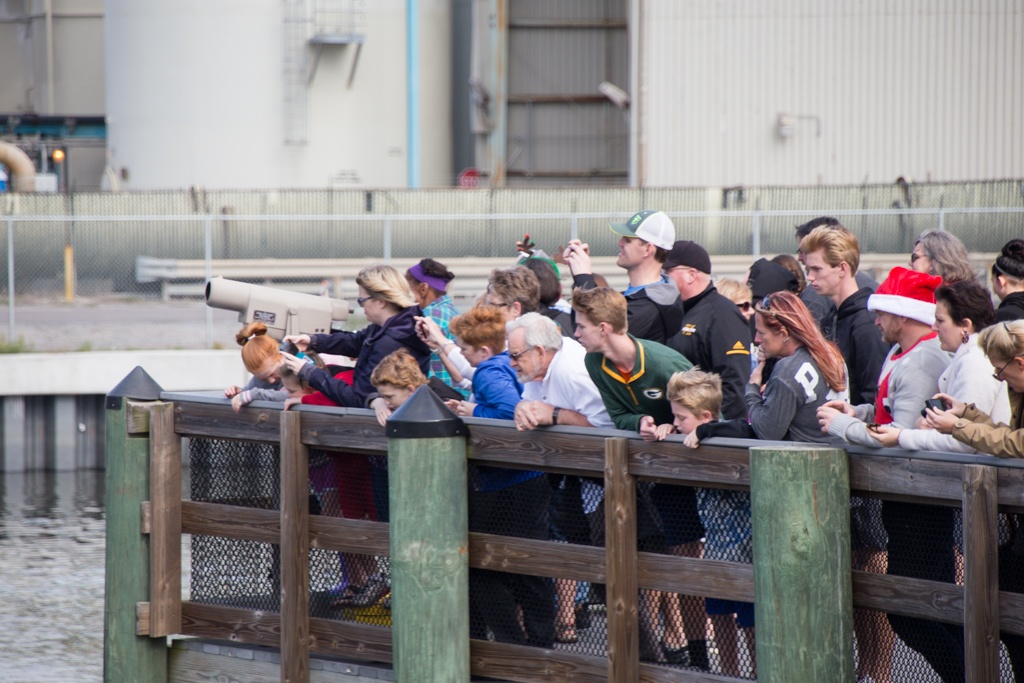 If they're old enough, it could be a great introduction to different science topics, like:
Evolution
The importance of environmental protection
Natural selection
The West Indian manatee (Trichechus manatus) is believed to have evolved from a four-footed, plant-eating land mammal more than 60 million years ago. Its closest modern land relative is the elephant, hyrax and aardvark

Source: TECO Manatee Viewing Center
Although manatees are the main attraction at the TECO center, there are other fascinating types of wildlife. Many different species come to congregate in the warm water discharge areas.
There is also a "wet touch tank" where visitors can have hands-on encounters with rays and other marine life.
When we last visited, we were happy to find giant spotted eagle rays, which sometimes even launched themselves out of the water. There are sudden episodes of thrashing and excitement, as sharks hunt enormous fish.
Big Bend Power Plant
Manatees, and other wildlife, gather at the Manatee Viewing Center because the coal-fired power plant creates a pool of warm water. Manatees need a source of warm water to stay warm during Florida's winter months.
Today, coal fire-fired power plants are being decommissioned. This is great for many reasons, but it's created a challenge because many manatees depend on the power plant for warm water, and survival. This has created a challenge for those who protect florida manatees.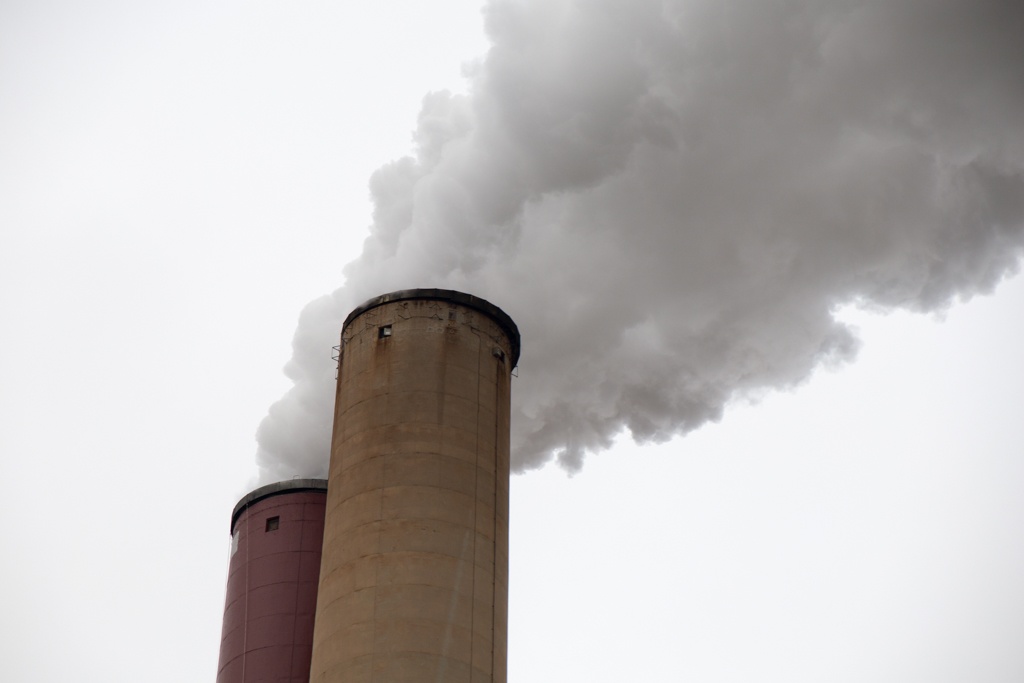 The TECO power plant is one of several power plants around Florida which provide sanctuary for manatees.
Who Should Visit?
Almost everyone who visits the manatees will have a great time, and will be pleasantly surprised. It would be a great trip for anyone who's looking for fun. It is definitely one of the best free things to do in Tampa.
For many families living in Tampa, the manatee viewing center is an annual tradition. Even on Christmas Eve, the parking lot overflows, as volunteers direct excess traffic. Many folks also like to stop off at the manatee to stretch their legs, as they drive north or south on I-75.
Families and individuals with mobility issues will find that the viewing center is a nice, easy and accessible way to experience nature.
The Best Time to Visit
Normally, the center is open during Florida's colder winter months, from November 1st until April 15th. It's closed on Christmas Day and New Years Day.
Be sure to check the official website for updated hours and availability before you go!
What's the best time of day to see manatees?
As with most wildlife, the morning is generally the best time to see manatees.
Outside air and water temperatures are usually at their coldest in the morning, and manatees body temperatures will be at their lowest. Because they need to warm up, manatees are likely to be more active in the early morning, and are more likely to be gathered in predictable locations, around warm water sources.
It is also good to look for manatees after winter cold fronts. A park ranger told us it can take approx. 3-12 hours for manatees to reach warm water sanctuaries after a cold front.
How can you tell if a manatee is nearby?
If you spend enough time around the water in Florida, you'll learn to listen for the sound of a manatee's exhale. It sounds like a deep exhale from a human, or like the sound of a person clearing a snorkel.
Another great way to see manatees is to look for signs on the water surface.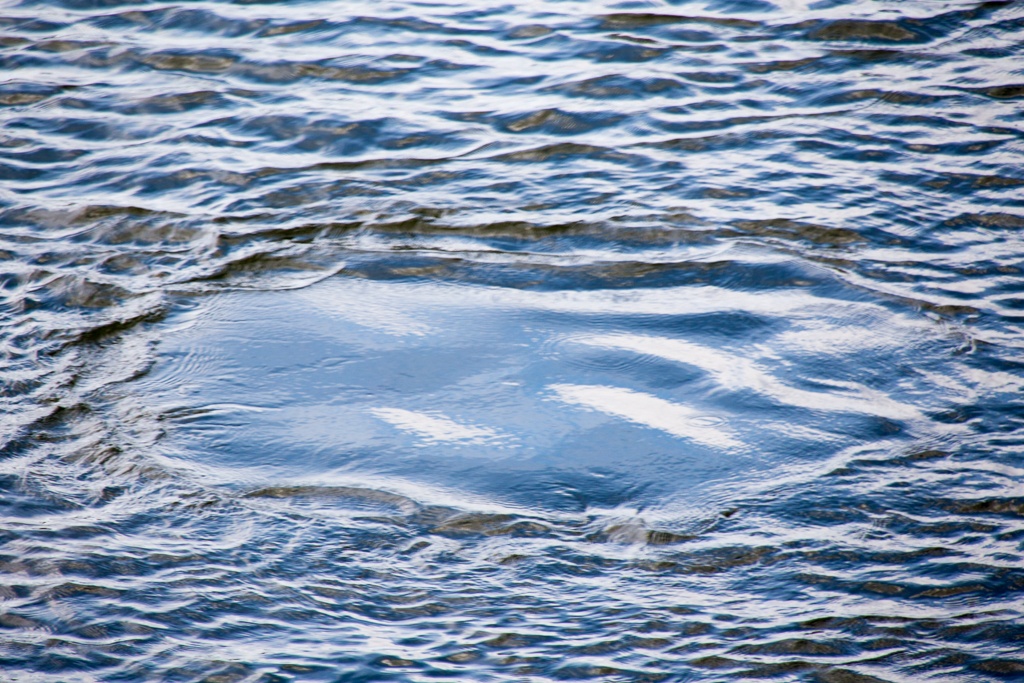 When manatees lay on the seafloor, they produce a strange looking circle pattern, which is visible from above. As they swim, you can often see slight, consistent and rhythmic surface water disturbances from their tail movements.
If you want to see manatees, be sure to wear polarized sunglasses and a hat. Both will help your eyes see below the surface of the water. A polarized camera lense also helps cut through the water's glare, and may give you a better photo.
Of course, if you're in the water with a manatee –safely, and from a respectful distance– you'll get the best photo opportunities.
If you have a choice, sunny days and blue skies are best for manatee viewing. It can make a really noticeable difference. If the sun's out, it'll be easier to see down into the water. Cloudy, overcast skies create darker conditions, and the grey reflection makes it more difficult to see into the water.
Coastal Habitat Trail
If the weather is chilly –which is the best time to see manatees — you can warm up with a hike around the TECO viewing center property. There is a mile-long nature walk through coastal habitat.
Interesting informational signs give perspective into the surrounding nature. The nature trail eventually leads to a 50 foot tall wildlife observation tower.
Be sure to plan ahead. The TECO site advises that there are no restrooms on this part of the property, and you should consider bringing good shoes for the walk. When I was last there, it was very muddy thanks to rain and wet weather; plan accordingly.
Because almost all of the fun at TECO manatee viewing center is outside, be sure to bring suitable winter clothing for Florida's winter.
Great Florida Bird Trail
The natural habitat on the TECO property is officially designated as part of the Great Florida Birding Trail. You're likely to see a wide variety of diving and wading bird species, including the regal Brown Pelican and Double-crested Cormorant.
Often, the main manatee viewing platforms can get crowded. If you need a bit of breathing room, consider walking around other sections of the TECO property.
Tampa Bay Estuary Boardwalk
Be sure to check out the well maintained, handicap accessible (ADA Compliant) boardwalk.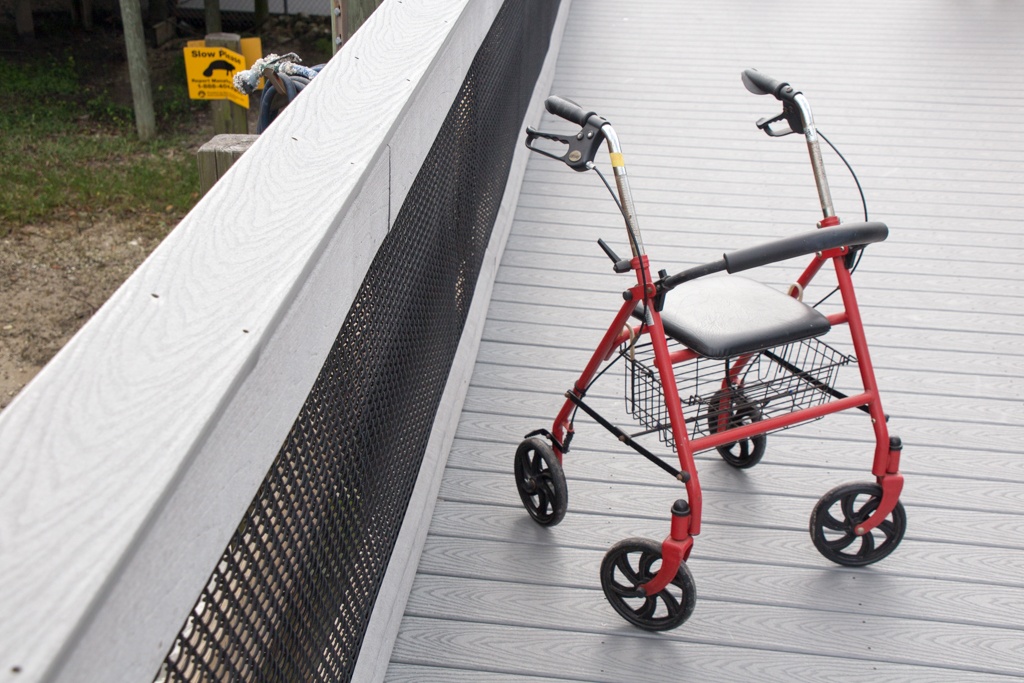 The boardwalk runs parallel to the power plant's warm water discharge zone for about 900 feet, and gives more chances to see estuary habitat and wildlife. You'll see giant fish lingering and hunting in the shallows, including spotted sea trout, snook, tarpon, and schools of shoaling mullet.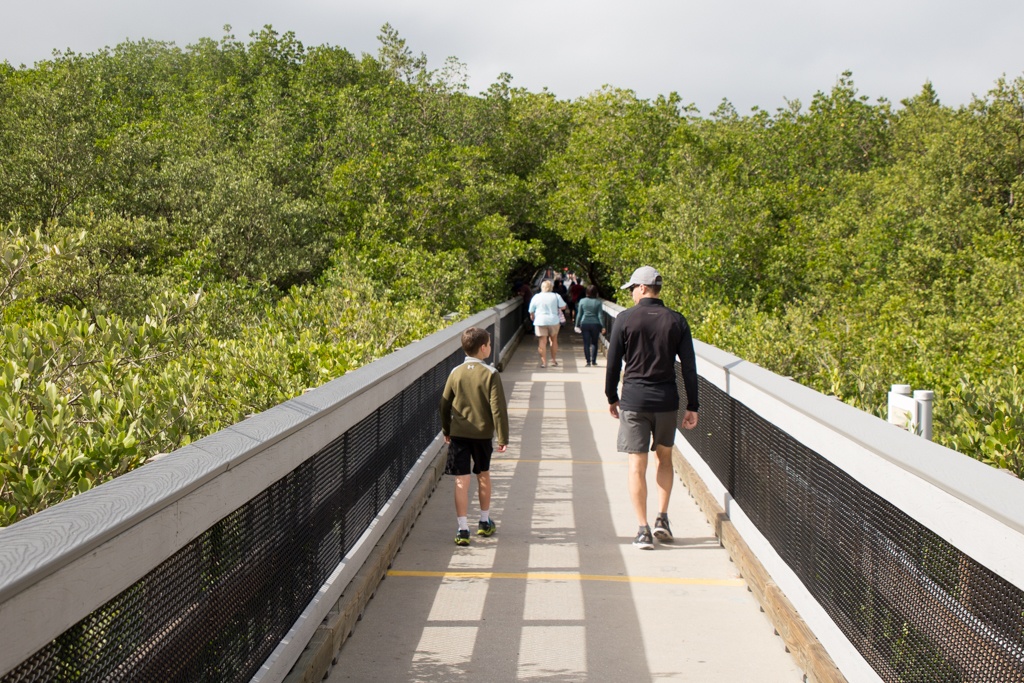 Part of the nature walk passes through dense mangrove forest. This is awesome because it gives an up-close view of vitally important coastal vegetation. This is a great conversation starter for kids, and a chance to reflect on the importance of protecting Florida's environment.
The nature trail is open from November 1 until April 15, from 10 a.m. to 4 p.m. It's open until 3 p.m. on Christmas Eve, and is closed on Christmas Day and Easter. Be sure to check the official hours before going, or making plans.
Other places to see manatees near Tampa Bay
The best place to find manatees really depends on the weather.
In the summer, manatees are harder to find because they spread out to forage on seagrass. When the water is warm, they have no reason to gather near warm water sources, so manatees can be anywhere. Sometimes they even swim just offshore of beaches.
In warm weather I often see manatees near Anna Maria Island, Coquina Beach and Longboat Key.
The best time to see manatees is in the winter. When the water is cold, they're easier to find because they gather in predictable locations.
Manatees' migratory behaviors display a trait known as "High site fidelity". Fidelity means loyalty — they return to their favorite warm-water spots every year.
Manatees even teach their offspring where to find warm water, which is why they gather in such large groups. That also means that when you find a good manatee spot, it remains a good spot because they, and their offspring, will return for the rest of their lives.
Places to See Manatees in Florida
In the winter, there are several locations where you can reliably see manatees. In some spots, you can even get in the water and swim with manatees, although this is an ethically questionable practice.
If you choose to swim with manatees, be sure that you do it responsibly, and don't contribute to long-term harm for the animals.
Keep a safe and respectful distance from the manatees.
Do not splash around, or do anything to scare them.
Be extra careful not to disturb the manatee's natural behavior.
Never try to touch a manatee, or chase them. It may seem harmless, but manatees have fragile behaviors. If they become accustomed to humans they become less afraid of boats and other dangers. Many manatees have scars on their backs from being cut by boat propellers.
Petting manatees conditions them to human presence, which hurts their long-term survival. It makes it more likely that manatees will be injured in the future, or may die from cold water stress syndrome. Please don't do it. Let's all keep wildlife wild!
Manatees are very sensitive to their environment. If humans make a manatee feel uncomfortable they may leave the area and never return. If this happens, they can be left without a warm-water source, which they need to survive. So, never crowd around a manatee, or give it any reason to feel afraid.
Crystal River
Crystal River is just a short day trip from both Orlando and Tampa. It's one of the best places to find manatees in the world, especially Three Sisters Spring.
The entire town of Crystal River seems to have rallied around manatees, and the economic boost they bring to the small town and sleepy region.
You can also see manatees in other places around the state.
Chassahowitzka River
The Chassahowitzka River is one of the best places to see manatees in Florida! It is close enough to Tampa and Saint Petersburg for a long day trip.
The Peanut Island snorkeling lagoon
Manatees sometimes make their way into the warm, shallow and protected waters of the Peanut Island Snorkeling Lagoon. The water is very calm, and provides a nice, safe place for them to rest, away from dangerous boat traffic and propeller injuries.
Just south of Peanut Island, the famous Manatee Lagoon is one of best places to see manatees manatees. There, they gather outside the warm water discharge vents of the FPL power plant. There is a great interpretive center, which has many opportunities to learn about manatees and other marine life. Much of the center is indoor, and it has a covered balcony from which you can see manatees. Again, try to visit on a cold, clear, sunny day. Clouds and rain make it difficult to see below the water's surface.
Florida Springs
Manatees love Florida springs, and they can be a great place to reliably find manatees in the winter! Many around the state become winter sanctuaries for manatees who must find warm water for their survival.