Note: The Tampa Bay area has two popular islands named "Beer Can Island". Both are popular beach spots for boaters to gather. This article is about Beer Can Island on the northern tip of Longboat Key, also known as Greer Island.
The other "Beer Can Island" (Pine Key) is a small, privately-owned island in the middle of Tampa Bay. It's located approximately two miles away from Apollo Beach, and is just offshore from the TECO Manatee Viewing Center.
Beer Can Island Location
Beer Can Island, also known as Greer Island, is located at the northernmost point of Longboat Key.
Beer Can Island Description
Beer Can Island is essentially a one-mile stretch of sandy beach which wraps around the northern tip of Longboat Key.
It's bordered by the waters of Longboat Pass, and sits at the south side of the Longboat Pass Bridge, which connects Longboat Key with Anna Maria Island.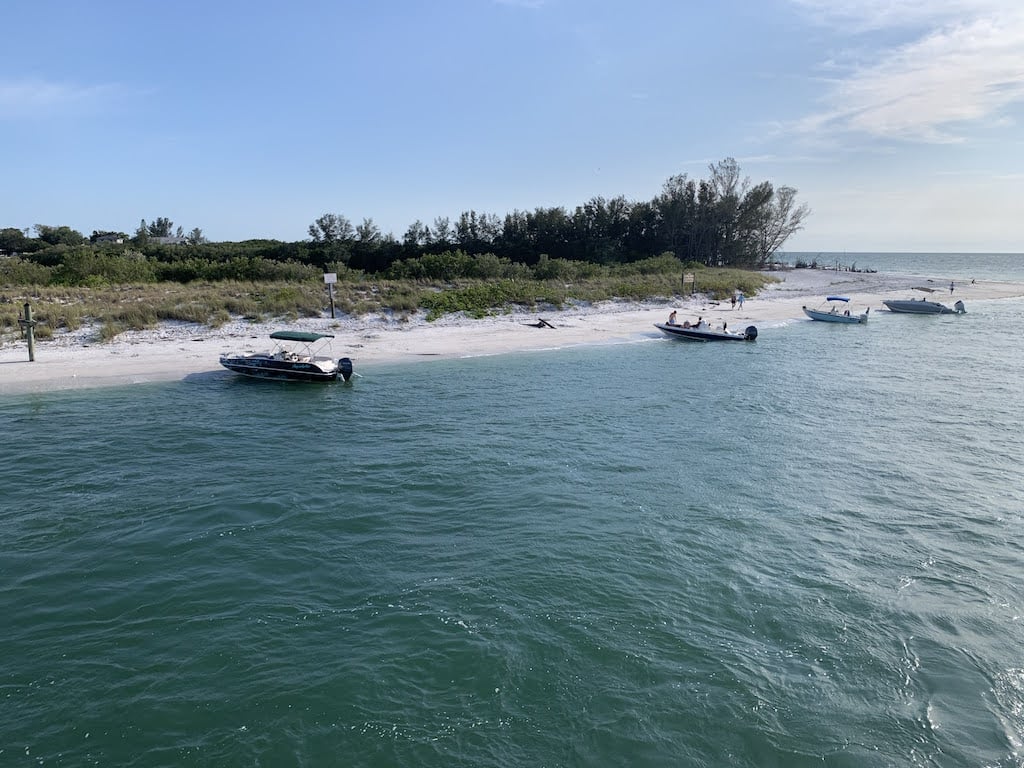 The history of this small island traces back for many decades. Local historians say it was created in the 1930s as part of the ICW dredging project, and it's been a popular destination since at least the 1950s.
Today Beer Can Island is not actually an island, but more of a peninsula. It was an island in the past, but shifting sand and beach erosion have connected it with the rest of Longboat Key.
The sand is beautiful and baby-powder white, just like the other famous beaches nearby, including the beautiful Coquina Beach to the north and Whitney Beach to the south.
The beach at Beer Can Island is absolutely beautiful. The water is generally clear, especially during periods of low wind and wave action.
Manatees and dolphins can sometimes be seen in the clear, shallow waters.
Most visitors agree that the beach at Beer Can Island is just as beautiful as all of the other nearby beaches, which are more famous, and are usually more crowded.
Beer Can Island offers a much more interesting and adventurous beach experience than other beaches in the area.
Many locals consider Beer Can Island to be the best beach near Sarasota because it's natural, unique and is always changing. There is always something new to find.
On uncrowded days it can be a great place to find beautiful shells and sand dollars. It's also a popular spot for birdwatchers and photographers.
Birders come in search of shorebirds and migratory bird species. Photographers and nature lovers often come to take photographs among the impressive driftwood forest.
Many Australian Pine trees have fallen over the years. As they age, the trees have weathered into a beautiful gray driftwood color.
The trees, set against the beautiful blue water, offer dramatic photo opportunities.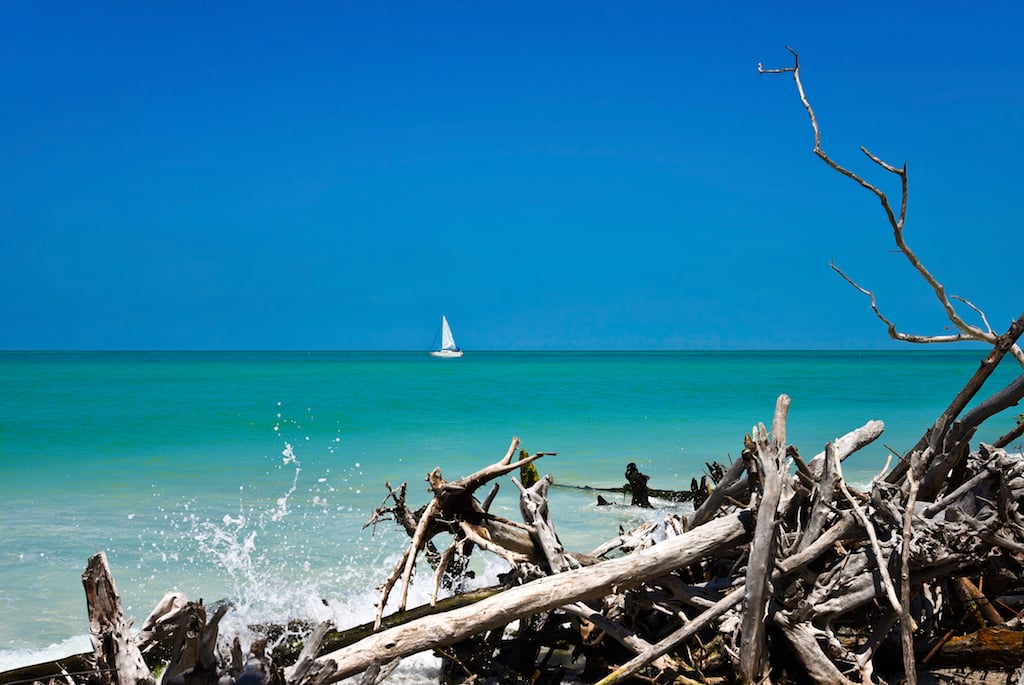 Some driftwood was removed in 2021 as part of a large beach renourishment project, which was controversial in the local Longboat Key community.
The image below shows how it used to look, before much of the driftwood was removed.
History of Beer Can Island
Beer Can Island appears to have been created in 1939, during the dredging and construction of the Intracoastal Waterway.
According to local knowledge, the Corps of Engineers Dredging operation dumped sand onto two small existing islands, Jewfish Key and Pickett's Key.
The dredge material joined the two smaller islands, and altered the flow of water through Longboat Pass.
Beer Can Island and Longboat Key are both barrier islands, which change constantly from wave and tide erosion.
Like all islands in Florida, the creation of Beer Can Island dramatically altered the natural water flow and environment. The shape and accessibility of Beer Can Island have changed dramatically over the years.
Before the island was created, the bay is said to have flushed itself out at every turn of the tide. After the dredge fill altered the water flow, sand began accumulating, and Beer Can Island began to grow.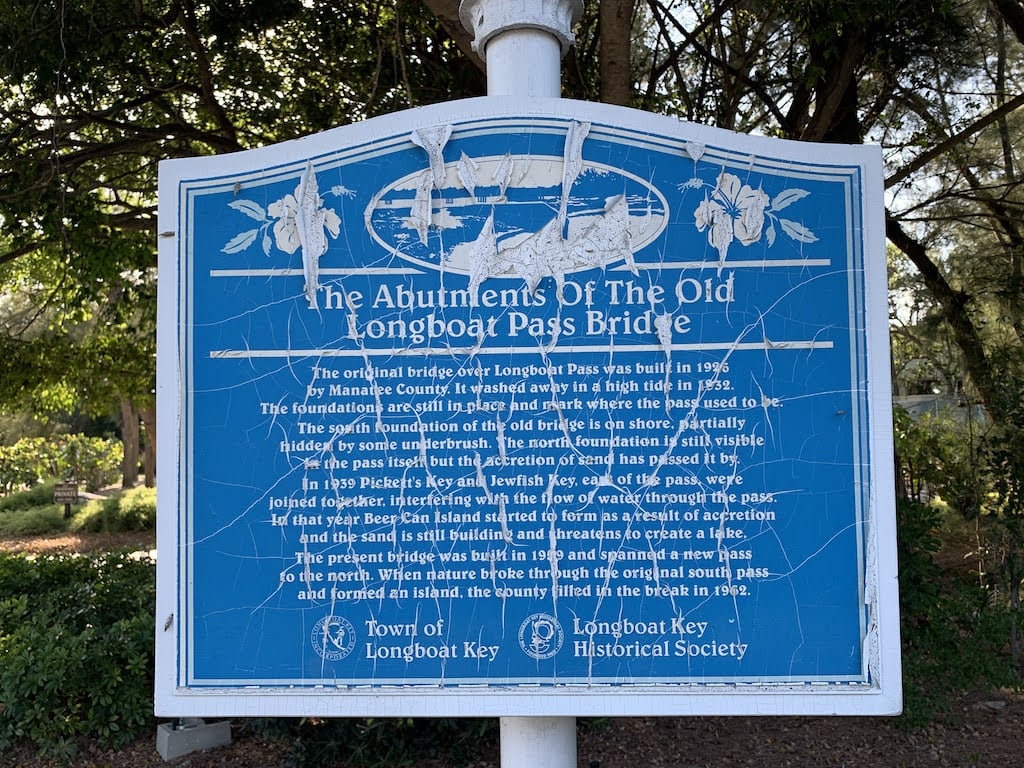 Over time sand accretions connected Beer Can Island with the rest of Longboat Key, and the island turned into more of a peninsula.
The joining of the island also closed off a shallow lagoon, which is a popular place for shorebirds.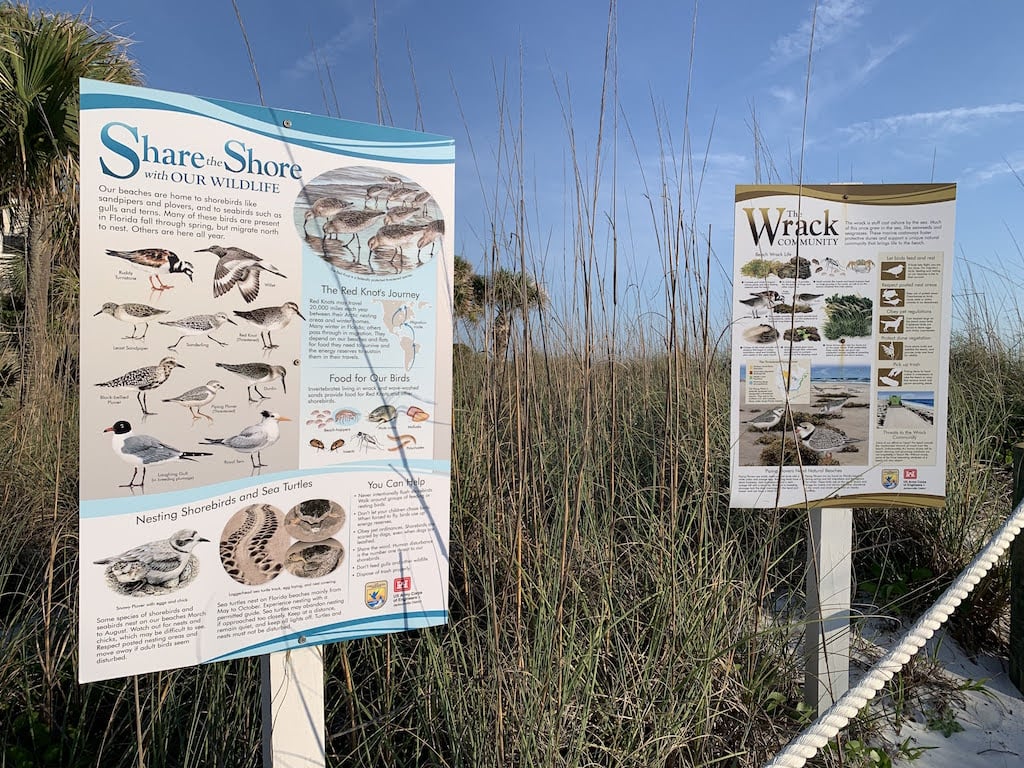 Throughout its history, Beer Can Island has been a popular beach spot. Some sources mention that it was a popular beach hangout as far back as the 1950's, before other beaches in the area were developed into county parks.
The name "Beer Can Island" has apparently been used since at least the 1950s, and possibly earlier.
Beer Can Island is subject to the jurisdiction of the Town of Longboat Key, and was apparently donated to Manatee County in the 1970s.
The name "Greer Island" honors a local couple, the Greers, who fought to save the island from development.
The name was never officially changed to Greer Island. Today the island is referred to as both Beer Can Island and Greer Island interchangeably.
Access to Beer Can Island
Beer Can Island on Longboat Key is a public beach. Although parking is limited, anyone can go to Beer Can Island on Longboat Key.
This is not an issue after the 2021 beach renourishment, in the past high tides and strong waves sometimes blocked beach access to Beer Can Island.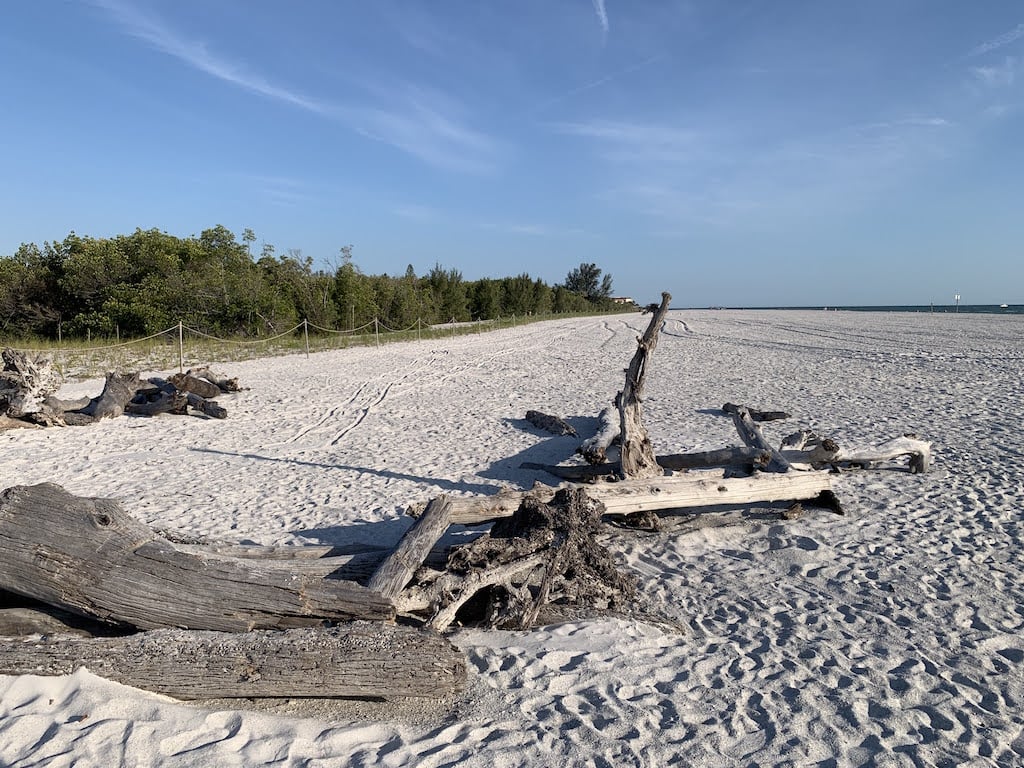 Visitors should always be extremely careful and should not attempt to access Beer Can Island if conditions are unsafe.
Visitors should also be aware of private property near the parking areas for Beer Can Island, and should ensure that they comply with parking rules.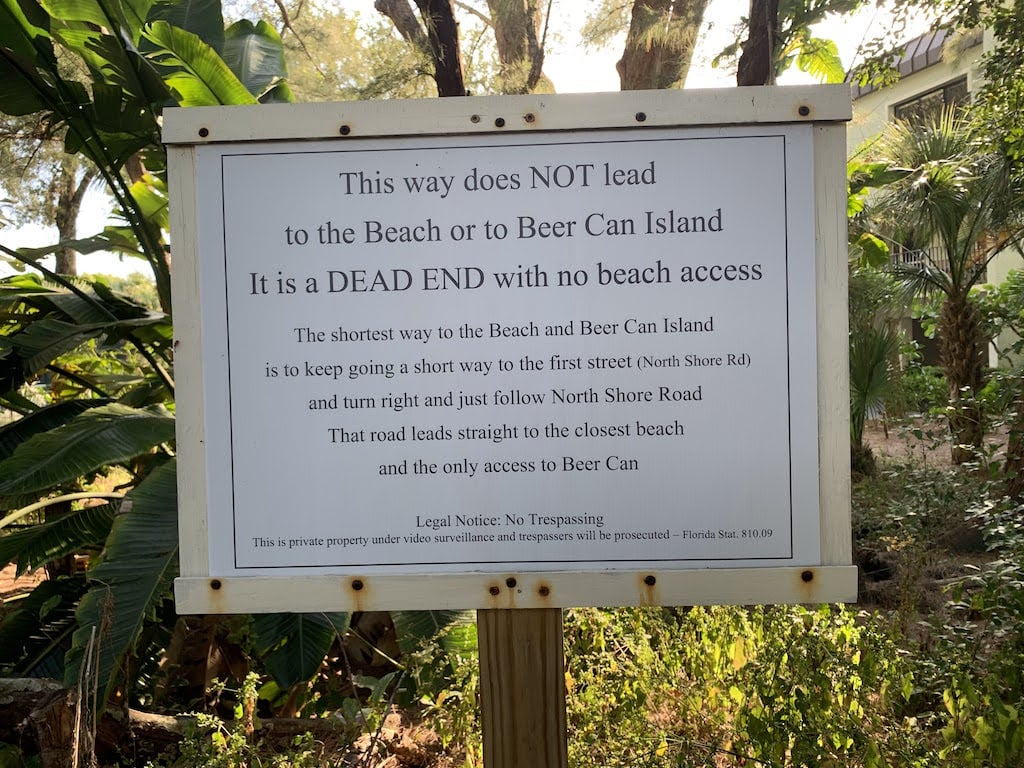 Dogs and alcohol are prohibited on Beer Can Island.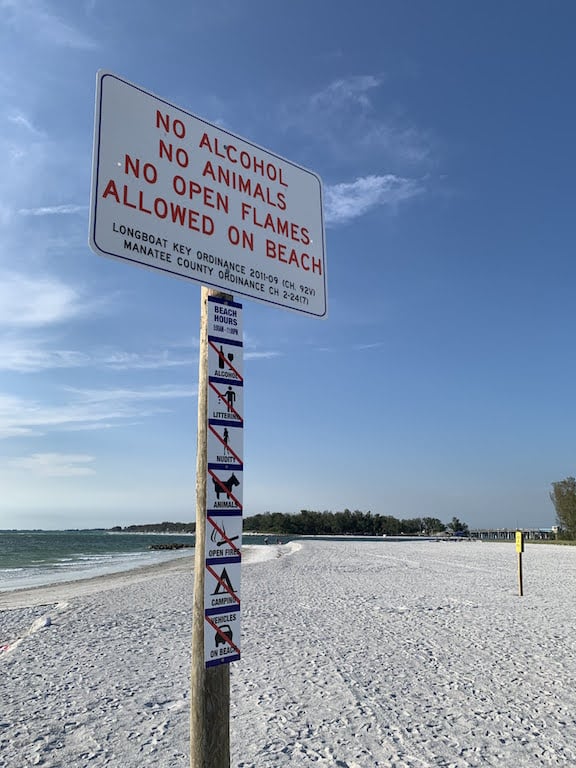 Parking for Beer Can Island
Visitors to Beer Can Island should be careful to only park in public parking lots, and should avoid parking on any private property. Parking violations may result in fines, or their vehicle being towed.
There are a few public parking areas which provide reasonable access to Beer Can Island.
The most convenient parking for Beer Can Island is a public parking area just south of Longboat Key Bridge.
Parallel parking is available along N. Shore Drive. Signs indicate that parking is restricted from 9pm until 5am.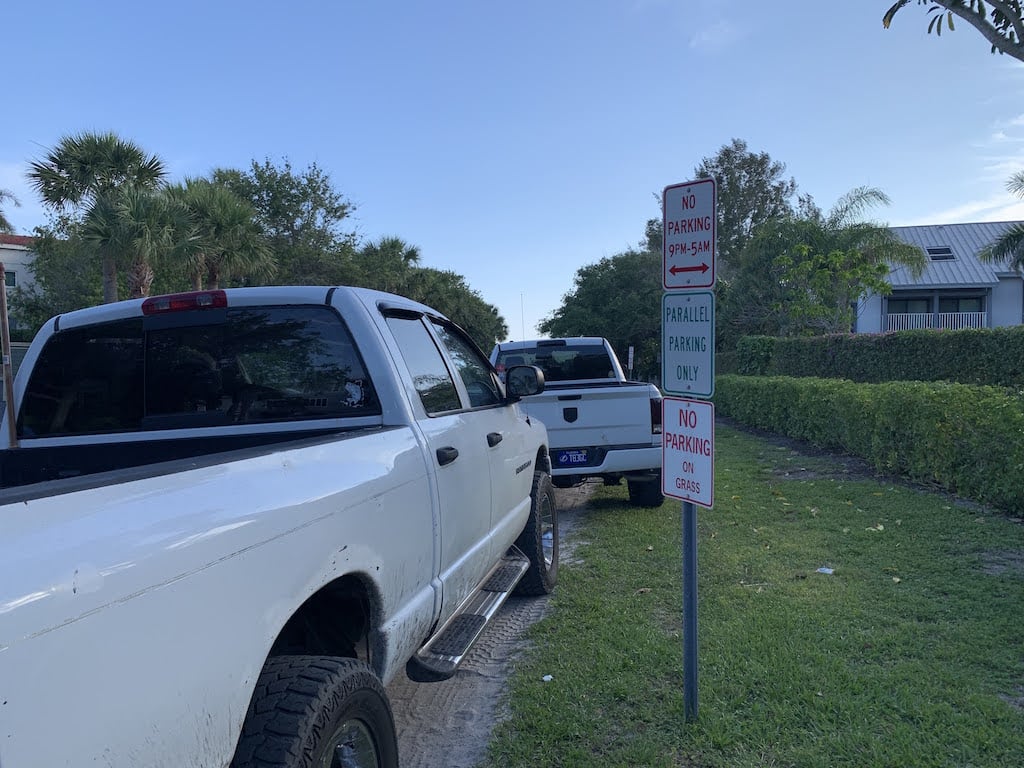 Additional parking is located on Broadway street at Seabreeze Avenue. This small parking lot is several blocks south from Beer Can Island.
To access Beer Can Island from Whitney Beach, walk north for approximately ½ mile from the Broadway Street beach access point.
A third parking option for Beer Can Island is to park at the Coquina Beach parking lot on Anna Maria Island, and then walk south across the Longboat Key bridge.
Boat Access
Many people like to visit Beer Can Island via boat. Especially on summer weekends, many boats come to anchor off of Beer Can Island and the nearby Jewfish Key sandbar.
There are not any docking facilities, so boaters should be prepared to anchor safely and have the proper knowledge and gear.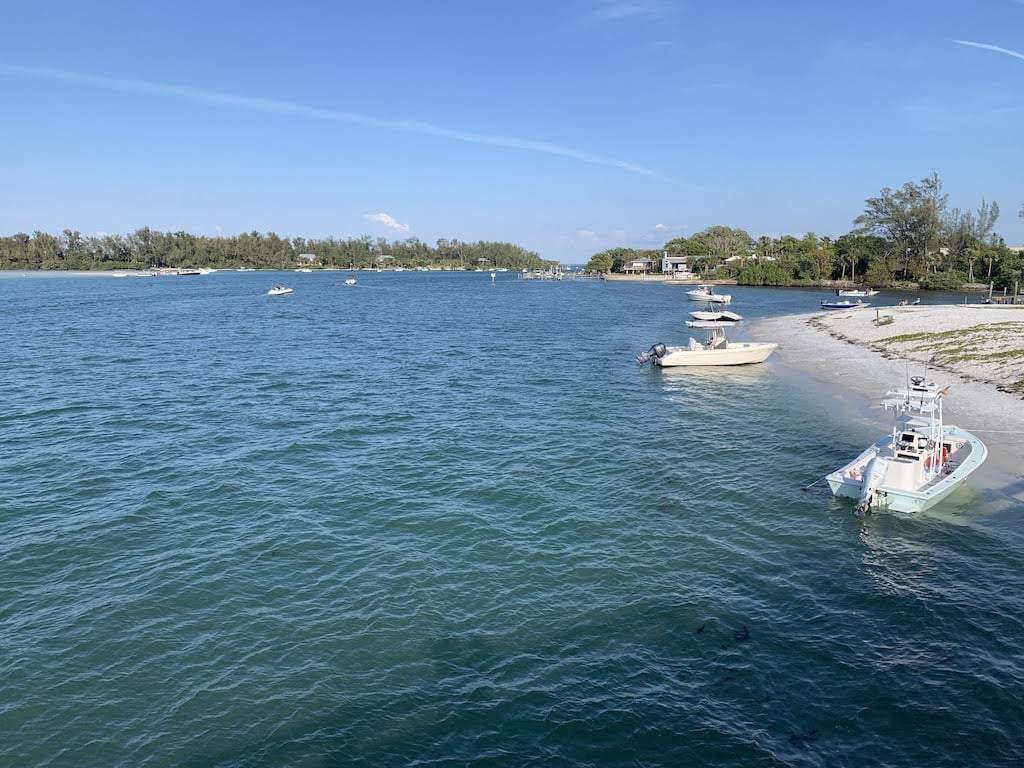 Things To Know Before Visiting Beer Can Island
Beer Can Island is a favorite beach spot for many locals, but there are some downsides.
There are not any restrooms or facilities of any kind on Beer Can Island, so be prepared! Bring your own trash bag, and be prepared to "Pack it in, pack it out!"
There is a relatively long walk from the parking area to Beer Can Island, so be prepared and wear appropriate shoes. The renourished sand is rough — it may hurt bare feet.
Because of the shallow lagoon, mangroves and other natural features, the area around Beer Can Island can be very "buggy". Mosquitos and noseeums can be intense. Visitors should bring good bug protection which is effective against noseeums.
The area around Beer Can Island is natural and is generally not groomed like other public beaches. Visitors should be careful and watch out for hazards like partially buried stumps, and others.
The tide and current in Longboat Pass can be extremely strong, depending on current conditions. Visitors should be extremely cautious. There are not any lifeguards on duty at Beer Can Island.
The boat activity in Longboat Pass can be heavy, and many boats operate recklessly. Be careful!
Parking is limited at Beer can Island. Depending on when you go, it may not be very convenient. Parking his heavily enforced on Longboat Key, so there is a high risk of having your car towed or ticketed if you park illegally.
Be sure to only park in a properly designated place. Be sure to follow local signage and to parallel park appropriately.
Overnight parking is prohibited, and camping is not allowed. During certain times parallel parking may be restricted, so be sure to pay attention.
In general, Beer Can Island is an excellent beach for exploring, but there are better nearby beaches for laying out and sunbathing.
The beaches at the tip of the island aren't very wide, and many parts have stumps buried in the sand. There are extremely wide, sandy beaches nearby, just not directly at the tip of the island.
Beer Can Island is usually not very crowded during the week, but can become very crowded on weekends and holidays.
Beer Can Island is a great place to visit. It is beautiful, and is very unique compared to other nearby beaches.
It's not for everybody, but it is a great place to explore and find a nice, relaxing stretch of beach, if you avoid going during the busiest times. It's also a great place to visit by boat, for an even more adventurous experience!
If you visit, I hope you enjoy it! Please help leave it cleaner and more pristine than you find it, it's a special place!