There are about 150 miles of almost continuous beaches in the Florida panhandle.
White sand beaches and crystal clear water stretch almost continuously from Port St. Joe to Perdido Key at the Alabama state line. The beaches keep going after that, but we're only talking about Florida's panhandle beaches.
What is the best beach in the Florida panhandle?
In my opinion the best beaches in the Florida panhandle are found in Henderson Beach State Park and Navarre Beach.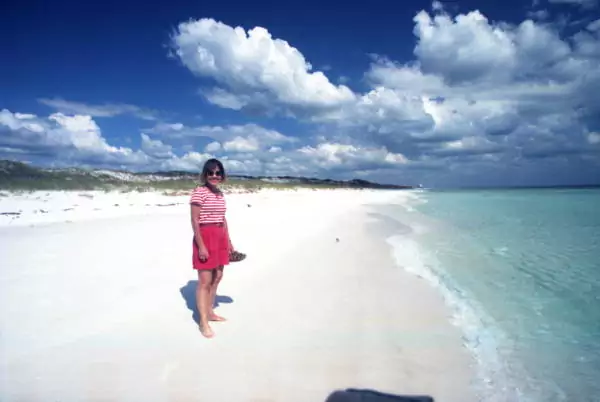 In our visits to the panhandle we've noticed that the water quality and sand quality are excellent for most of the beach locations.
The sand is mostly the same brilliant snow-white, finely ground quartz. The water is mostly the same beautiful crystal clear emerald blue/green
Note: The panhandle can have crystal clear water, but the clarity does vary dramatically and depends on wind and wave conditions. It's a good idea to have realistic expectations to avoid possible disappointment!
The most important factors that will determine your experience will be:
The town you choose
The place hotel or vacation rental you stay at
The things you choose to do
The beach access point you choose
And most of all, the local weather conditions and season when you happen to visit.
The Towns
There are differences in the "feel" of various towns.
Some towns in the panhandle are private, exclusive and luxurious. These communities tend to be newer master-planned cities. They try to make everything appear perfect.
Many have strict building codes to maintain (I.e. enforce!) a very particular look and feel.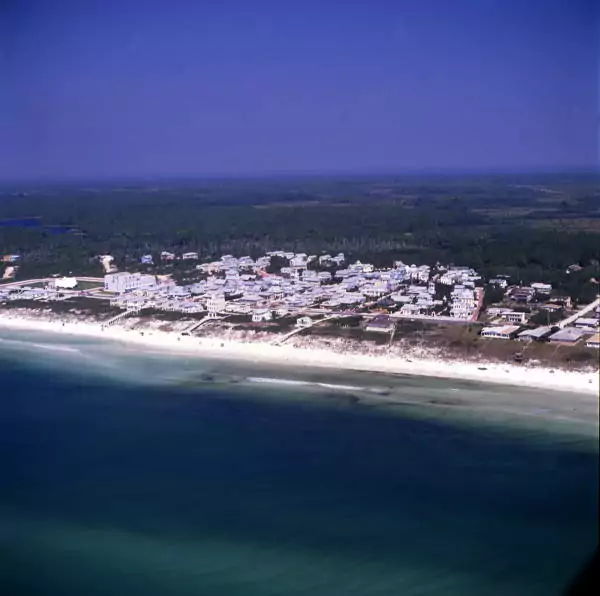 Other beach towns in the panhandle are more "for the masses". Sometimes they feel like free-for-alls, with uncontrolled development everywhere you look.
Honestly we don't really care for either of those extremes. Our favorite beach spots are the down-to-earth, real, natural areas, mostly found in state parks.
Here is a rundown of the best beaches in the Florida Panhandle that most people want to know about when planning a vacation.
Panama City Beach
Panama City Beach (PCB) is one of the most popular tourist destinations in the panhandle.
Panama City Beach has approximately 30 miles of beachfront along the Gulf of Mexico. The sand is beautiful and white, the water is often a beautiful emerald blue.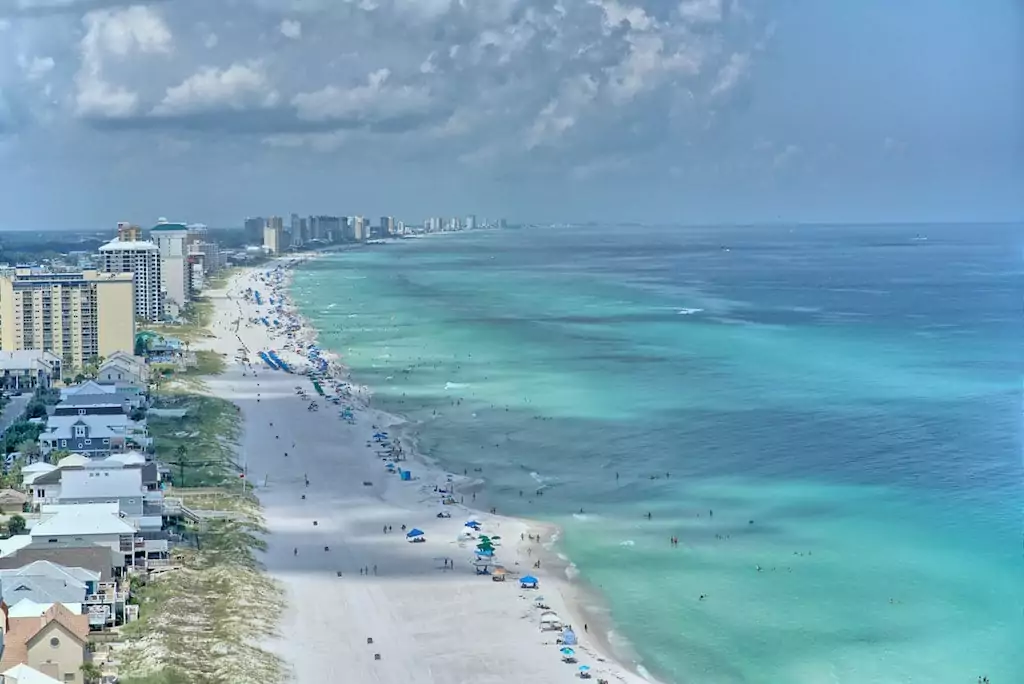 Panama City Beach is one of the most heavily developed beach towns in the Florida panhandle, which has pros and cons.
It's more congested and less "cute" than many other beach locations, but it also has the most activities and things to do.
Hotels and vacation rentals in Panama City Beach can also have lower prices (at times) due to the higher volume of rooms and accommodations.
There are two state parks and other natural areas near Panama City Beach which offer a nice natural contrast to the overdeveloped tourist trap vibe.
St. Andrews State Park is located just to the east
Camp Helen State Park is located further to the west.
The beautiful, undeveloped Shell Island
Pros: Panama City Beach has a lively atmosphere, with lots of attractions and activities for different ages and preferences.
Cons: Panama City Beach can feel congested, overbuilt and crowded. It can feel a bit on the low-end side with many elements that some people may find unpleasant. Traffic can be terrible and slow.
Destin
Destin Beach is absolutely beautiful. It has brilliant white sand and clear emerald blue water that feels good for your soul. The sand is like finely ground flour, and the water can be infinitely clear when wind and waves are calm.
In my opinion the best beach access point is at Henderson Beach State Park, which is my favorite. There is also an excellent public beach access point at James Lee Park, with a very large, convenient beach-front parking area. It has a seafood restaurant on-site and a public bath house.
Destin has a nice, balanced feel. There are a good number of fun things to do, ranging from outdoor adventure to upscale shopping and dining. But, it doesn't feel too overdeveloped or trashy.
Pros: Destin Beach is a good choice for pretty much any type of visitor. It's family-friendly, and it's also a fun destination for adult or child-free travelers. Destin often has amazingly clear water and clean, brilliant-white sand. The HarborWalk Village area is fun and easily walkable. It's undoubtedly touristy, but it offers convenient things to do, restaurants and entertainment options. Destin has lots of activities like boat tours, jet ski rentals, boat rentals, tours to Crab Island, and more.
Cons: The beach can be too crowded during peak season. Destin can be an affordable place to visit, or very expensive, depending on your choices and preferences.
Navarre Beach
Navarre Beach is located in the middle of the panhandle. Pensacola Beach is to the west, and Destin is to the east. 
Navarre is one of the most low-key, beautiful, relaxing beach towns in Florida. The town motto is "Florida's most relaxing place".
Navarre has approximately 12 miles of beach. The beaches have the usual beautiful fine white sand and crystal-clear water that's found throughout the panhandle.
Navarre is one of the least-developed beaches in the panhandle. There are some high-rise condos and hotels in Navarre, but it doesn't feel nearly as over-developed as some other areas in the region.
Many of the "things to do" revolve around nature, water and the outdoors. There is a very large, tall and long fishing pier — it's almost 1600 feet long and extends far out into the Gulf. There is a fee to go out on the pier but it's a fun thing to do and offers good views of the beaches.
There is a county-run marine park located near Navarre Beach Bridge, and a sea turtle conservation center to rescue, rehabilitate and release injured sea turtles. Both are fun places to visit. There are also several near-shore reefs in the Navarre Marine Sanctuary for snorkeling and scuba diving.
One of my favorite things to do is to road trip through the beaches of Gulf Islands National Seashore, between Navarre and Pensacola Beach.
The views, beaches and water are indescribably beautiful, and it's totally undeveloped except for the roadway and occasional parking areas.
Navarre is a great choice if you want a peaceful beach trip away from the congestion and overdevelopment of other Florida beach towns.
Pros: Navarre Beach is clean, pristine, and much less crowded than other beaches in the Florida panhandle. I (And many other Floridians!) like Navarre when we visit the panhandle. Navarre gives great access to Gulf Islands National Seashore and nearby Navarre Beach Marine Park offers opportunities for snorkeling and exploring marine life.
Cons: There are fewer things to do in Navarre compared to other beach towns in the panhandle. This is a good thing if you want relaxation, but it could be a con if you need lots of things to do to keep busy. Restaurant and entertainment options are also a bit limited compared to other panhandle beaches.
Rosemary Beach
Rosemary Beach is a high-end, planned community. Rosemary Beach is a very unusual town – it's very cute, but it doesn't really fit my mental image of a Florida beach town.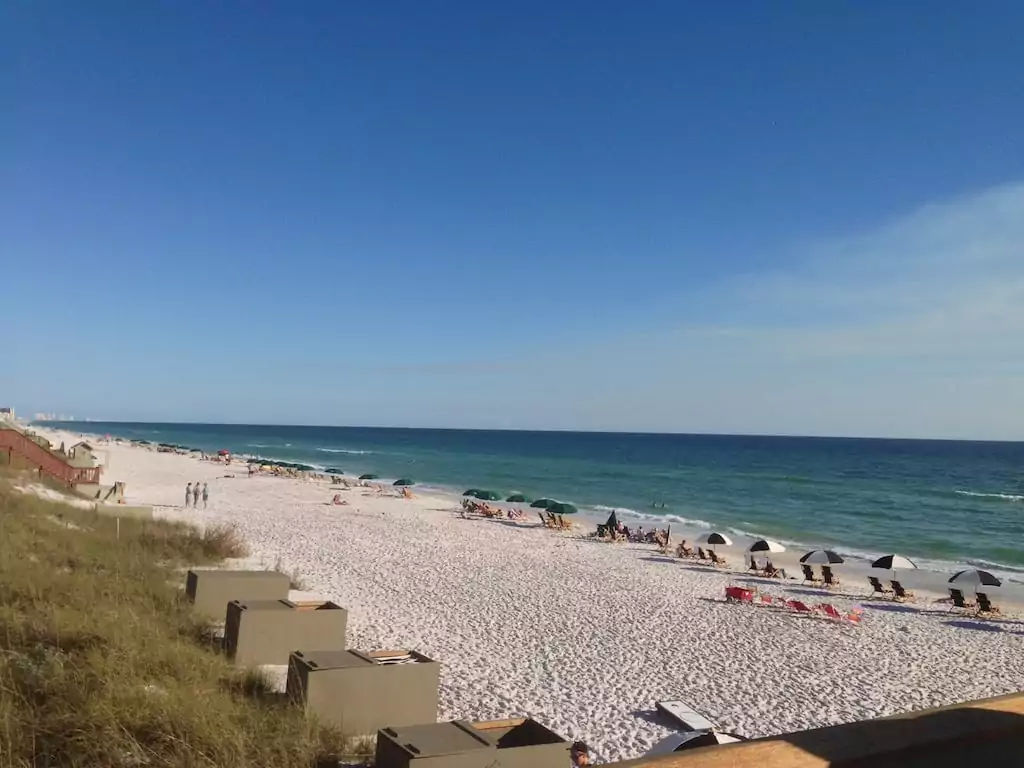 Rosemary Beach is one of the most upscale communities along 30A, and is one of the most expensive places to visit or live in Florida.
The town has a very unique for a beach town in Florida. It has a European-style architecture and design. It kind of feels like a Swiss mountain town, or something similar.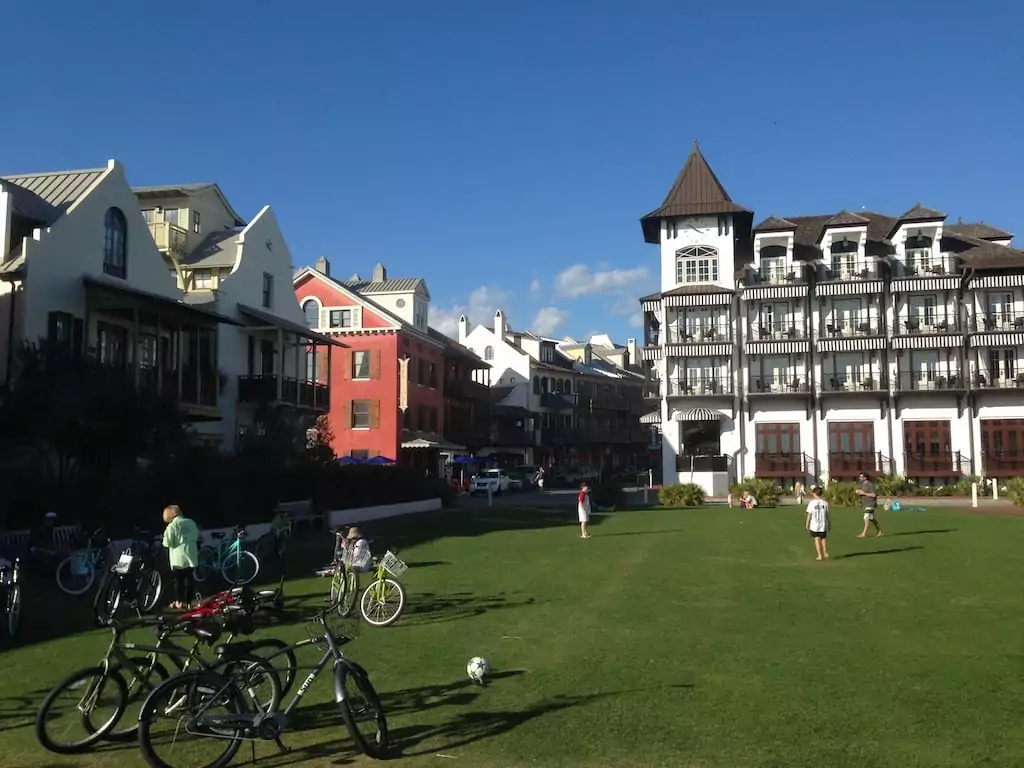 There are cobblestone streets, town squares and lots of European details. Rosemary Beach has a wide variety of boutiques, shops, restaurants, and the beach is just across the dunes. Many people really like it.
Pros: Rosemary Beach is a unique, stylish and romantic spot. It has a very upscale, sophisticated atmosphere.
Cons: To me, Rosemary Beach doesn't really fit with my idea of a Florida beach town. It's an expensive place to visit or live.
Grayton Beach
Grayton Beach is one of the cutest beach towns in Florida. It's one of the oldest and most authentic towns in the panhandle and Highway 30A.
Grayton Beach is fun, unpretentious, welcoming and laid-back. People don't take themselves too seriously and love the slow-pace of their beach town.The town motto is "Nice dogs, strange people".
Grayton Beach is located in a very unique, beautiful natural environment, and is surrounded by freshwater dune lakes. My favorite part of Grayton Beach is the nearby Grayton Beach State Park.
Pros: Grayton Beach is a beautiful place to visit. The nearby dune lakes are fascinating and rare. There is excellent nature and wildlife in the area, and it's a great place to access the water.
Cons: Partly because Grayton Beach isn't over-developed, there aren't as many things to do as some other beaches in the panhandle. Some people note that there are not many restaurants or entertainment options nearby. But, that can be a good thing, depending on your perspective.
Pensacola Beach
Pensacola Beach is one of the westernmost beaches in Florida's panhandle.
Perdido Key is the only other island further west of Pensacola Beach, which quickly reaches the Alabama state line.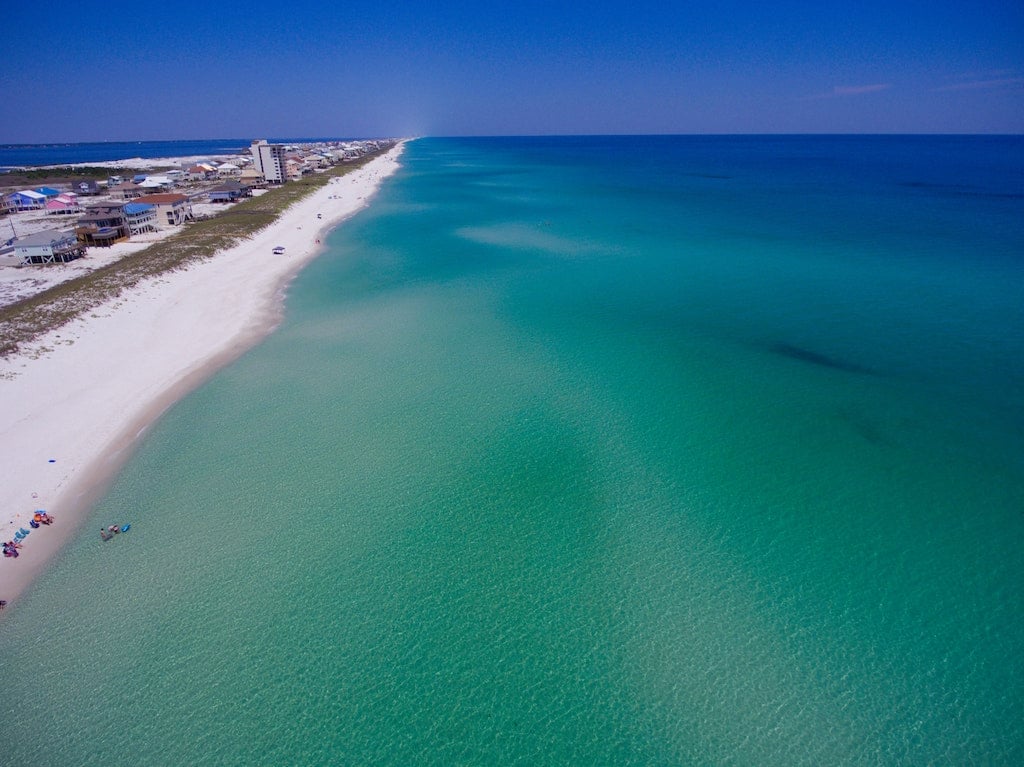 Pensacola Beach is located on the western half of a beautiful barrier island, Santa Rosa Island.
Pensacola Beach stretches from nearby Navarre Beach in the east to Fort Pickens in the west.
There are approximately 18 miles of beach in Pensacola Beach, all of which have fine white sand and clear water.
Much of Pensacola Beach feels pristine and undeveloped because it's protected, including a large area of the Gulf Islands National Seashore.
Pros: Pensacola Beach is less developed, less crowded and more peaceful than other beaches in the Florida Panhandle. The protected lands of Gulf Islands National Seashore are beautiful and undeveloped, which is rare. Pensacola Beach has two dog beaches, which are some of the few (and best!) beaches that allow dogs in the Florida panhandle.
Cons: The lack of development means that there are fewer entertainment options and restaurants compared to other areas. This could be a pro or a con, depending on your perspective.
Mexico Beach
Mexico Beach is one of the most low-key beach towns in the Florida panhandle.
Mexico Beach has never been as famous as other Panhandle beach towns, but that's why so many people love it. Its claim to fame has been to keep its identity as a small, close-knit beach community instead of a sprawling tourist trap.
Mexico Beach is probably most famous for being completely destroyed in 2018 by Hurricane Michael, but it's rebuilt and still has its quaint "Old Florida" charm.
Pros: Mexico Beach has a simple beach town vibe. It's peaceful, slow-paced and laid-back.
Cons: Some people may find life to be too slow in Mexico Beach. I think the sand is darker in Mexico Beach, and the water is darker due to natural tannins. This makes the water feel less clear than western beaches in the panhandle.
Santa Rosa Beach
Santa Rosa Beach is a really interesting area. I don't hear it mentioned very much, I think it's a hidden gem.
Santa Rosa Beach is located east of Miramar Beach and Sandestin, and west of Seaside. It sits south of the beautiful Choctawhatchee Bay.
Due to its geography Santa Rosa Beach is a much larger area than other beach towns in the panhandle. The land here feels much more broad, rather than a skinny barrier island, although it's still separated from the mainland by a bridge.
Santa Rosa Beach is covered with trees and a sort of wooded, forest feel in many areas. There is a wide variety of nature and wildlife, including Topsail Hill Preserve State Park, Point Washington State Forest.
There are several large dune lakes in Santa Rosa Beach, including Draper Lake, Campbell Lake and others. It's also got a very large amount of shoreline on Choctawhatchee Bay.
There are miles of beautiful beaches in Santa Rosa Beach. There are massive, undeveloped natural beaches in Topsail Hill Preserve State Park and other beaches which stretch pretty much to the boundaries of Grayton Beach State Park.
Blue Mountain Beach is one of the main beaches in Santa Rosa Beach, which is developed and has beachfront condos and hotels. There are also upscale shops, restaurants and other attractions for people who want to splurge.
Pros: Santa Rosa Beach offers a unique forest/beach feel. To me it feels different than other beaches I've visited in the panhandle. It has all of the beautiful sandy beaches, but it also has a sort of natural woodsy feel which I like.
Cons: Many visitors are surprised, and sometimes annoyed, to find out that most places in Santa Rosa Beach close very early.
We hope you found this useful! We're still working on exploring more, please let us know if we missed your favorite spot, or if you have any comments or suggestions.