Navarre is a small beach town in the Florida Panhandle.
Navarre is known for its uncrowded white sandy beaches and crystal clear waters, which are a beautiful, emerald green.
Navarre is also known for its laid-back, relaxed atmosphere, which we love. Every time we visit we're shocked at how laid-back it is compared to other beach towns in the panhandle.
Navarre is much quieter and more low-key than other towns in the Panhandle, like Pensacola, Panama City Beach, or even Destin, which all feel larger and busier.
The quiet relaxation is a big part of Navarre's identity. In the past Navarre described itself as "Florida's best kept secret", and later changed their town slogan to "Florida's most relaxing place".
Location
Navarre is located in the western Florida panhandle, on the shores of the Gulf of Mexico.
Navarre consists of two sections, which are connected by the Highway 399 bridge, which spans Santa Rosa Sound.
The main section of Navarre is located on the Florida mainland
Navarre Beach sits on Santa Rosa Island, a barrier island
Important Note: Many people use Navarre and Navarre Beach interchangeably. My family and I tend to refer to the area as Navarre, in general.
It's a good idea to pay attention to the map when booking accomodations, especially if the goal is to stay in a hotel on the beach in Navarre.
Navarre and Navarre Beach are part of Santa Rosa County and are part of the greater Pensacola metropolitan area.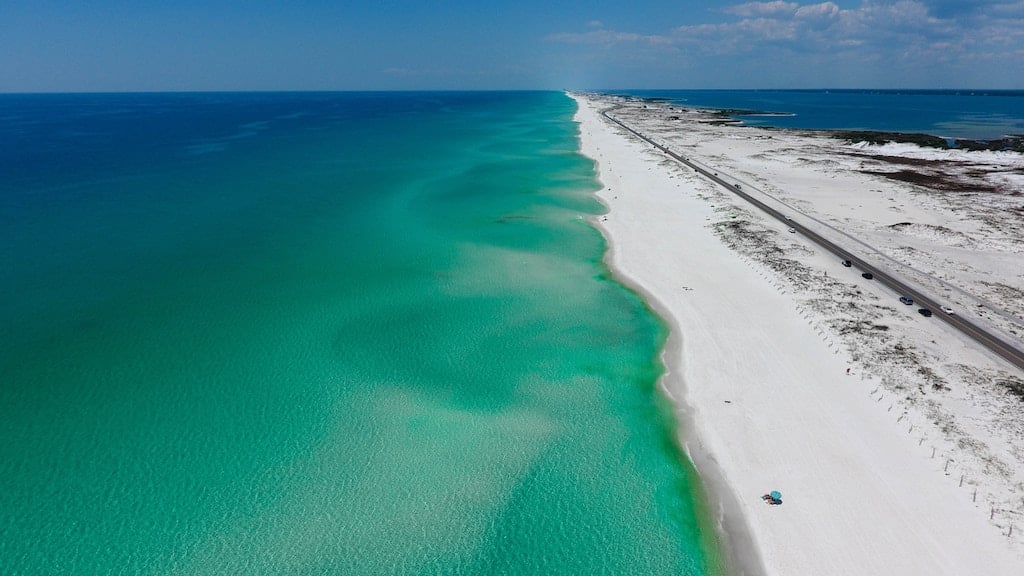 Getting to Navarre
Almost all Navarre visitors arrive by car. Most visitors drive from neighboring states, especially Alabama, Mississippi and other southern Gulf states.
Airports near Navarre
There are two airports near Navarre.
Destin-Fort Walton Beach Airport is located to the east
Pensacola Airport is located to the west
Both of Navarre's airports are surprisingly small, and we find them both nice and easy to navigate.
Most air passengers who visit Navarre fly into Pensacola Airport (PNS). A lower number fly through Destin Airport (VPS).
Nearby Towns and Cities
Navarre and Navarre Beach are located in a beautiful area of the Florida Panhandle. There are a number of nearby cities, towns and attractions to explore.
| | |
| --- | --- |
| Beach Name | Distance from Navarre |
| Woodlawn Beach | 8 miles |
| Tiger Point | 10 miles |
| Oriole Beach | 12 miles |
| Gulf Breeze | 16 miles |
| Mary Esther | 16 miles |
| Destin | 26 miles |
| Niceville | 32 miles |
| Pensacola/Pensacola Beach | 18 miles |
| Milton | 28 miles |
| Fort Walton Beach | 19 miles |
| Atlanta | 226 miles |
Best Time to Visit Navarre
The best time to visit Navarre and Navarre Beach depends on your weather preferences, what you want to do.
Spring and Fall Shoulder Seasons
In my opinion the best time to visit is during the spring and fall seasons.
I prefer this time because the weather is mild, and the crowds are smaller than in the peak summer months or spring break.
Note: Spring break in Florida is always very busy and visitors should keep this in mind when planning travel.
Summer
Summer months in Navarre are very hot and humid, with average temperatures in the mid-80s to low-90s. Crowds are often at their highest due to high numbers of vacationing families and summer vacation schedules.
In my opinion, and for my preferences, summer is a bad time to visit Navarre and I try to avoid this time whenever possible. That said, a visit in the summer can be ideal for many people and summer trips to the beach are often amazing vacations.
Winter
It gets cold in Navarre in the winter – the Florida panhandle gets surprisingly cold, which many people don't expect. It is often chilly for the entire winter, with average temperatures in the mid-50s to low-60s.
Brief cold fronts often push down from the north and can bring truly cold weather, including freezing temperatures.
Winter is often the least crowded time to visit the Florida panhandle, although many "snowbird" seasonal residents come to the region during winter months.
Things to do in Navarre
Navarre is a relatively quiet destination. There are enough things to do to stay busy and satisfied, but there aren't as many things to do as busier destinations like Destin or Panama City.
For people like us who love the beach, the ocean, water, fishing and water sports, Navarre is a paradise. Most activities in Navarre revolve around the beach or water:
The beach
Jet ski rentals
Boating
Fishing
Kayaking and SUP paddleboarding
Surfing (Sometimes)
Helicopter tours of the beaches
There are other things to do on land too, for those who aren't comfortable on the water, or when the weather is cold.
Beaches in Navarre
The most popular thing to do in Navarre is to hang out on the beach, which is why most people visit the area.
Most people hang out on Navarre Beach itself, since it's closest to Navarre and avoids the need to drive.
Beaches in Navarre are usually most crowded around the base of the pier, with crowds spreading out on either side of the pier.
Crowds also tend to be higher in front of beach-front hotels and condos on the western side of the pier, although there aren't that many beach front hotels.
There is convenient public parking near the eastern side of the pier, at the Navarre Beach Marine Park area.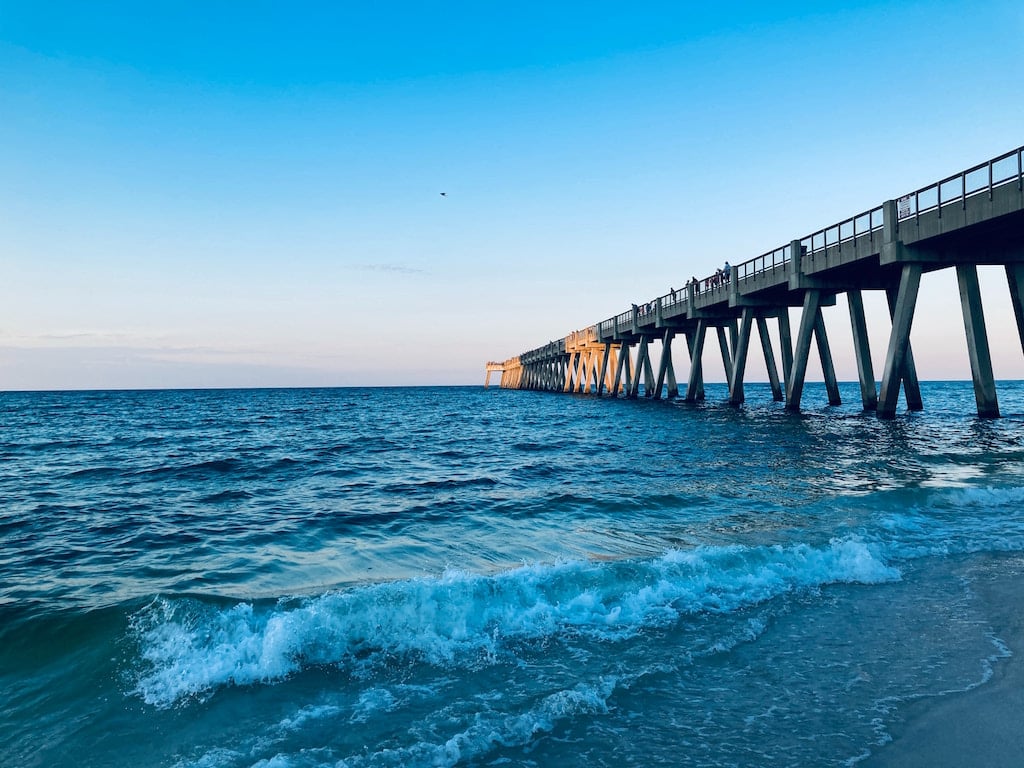 Some people also like to explore other beaches in the area. Other good beaches near Navarre Beach include:
Langon Beach
Opal Beach
Gulf Islands National Seashore
Pensacola Beach
Pensacola Dog Beach
Santa Rosa Island
Okaloosa Island
Henderson Beach State Park
O'steen Public Beach Access
Crab Island (Sandbar, boat access only)
Navarre Beach Marine Park
Navarre Beach Marine Park has some of the best beach access in Navarre. The park has convenient beach access with parking, picnic areas, a playground, and more.
The park is quite large – 110 acres, and has a nice selection of amenities. The park has:
12 picnic pavilions
Barbeque grills and picnic tables
5 public restroom buildings
Hundreds of parking spaces
Seasonal lifeguards
Parking for RVs and boat trailers (Day use only)
Water Activities
Navarre is filled with things to do on the water. There are quite a few beautiful waterways in the area. The largest and most popular are Santa Rosa Sound and the Gulf of Mexico, but there are also rivers and other waterways in the region.
Popular rivers near Navarre include:
Blackwater River
Escambia River
And others nearby
Some of the most popular water activities in Navarre are swimming at the beach, snorkeling at the artificial reefs, kayaking, and SUP paddleboarding.
There are water rentals in Navarre for jet skis, boat rentals, kayaks, including clear kayaks, paddle boards and other types of water sports equipment. Night kayaking is also an option.
Navarre Snorkeling Reefs (Artificial)
Navarre is one of the best places for beach snorkeling in Florida.
There isn't a typical living reef here like you'd find in the Florida Keys, but the water is often crystal clear, and there is a large artificial reef that's accessible from the beach.
The snorkeling reef consists of man-made concrete structures which provide anchors for marine organisms to grow on.
There are several different reef sites which are free to visit and are open to the public. There are four sections — East, West, Gulf and Offshore.
Some sections are only a few hundred feet from the beach shoreline.Other sections of the reef are located in deeper water, and may be better suited for SCUBA diving.
| | |
| --- | --- |
| East | Smallest section of reef. Located northwest of Sandpiper Pavilion. Most easily accessible site. About 150 feet from beach/shoreline. Water depth approx. 12 feet. Top of reef is approximately 7 feet below surface |
| West | Largest section of reef. North of Red Drum Pavilion and the Navarre Beach Science Station. Good for scuba diving, not as good for snorkeling 700 feet from beach/shoreline. Water depth: 20 feet. Top of reef is approximately 14 feet below surface |
| Gulf | Located south of Sea Oat Pavillion. Located offshore of the second sandbar. 78 reef structures. 340 feet south of the mean tide line |
| Offshore reef | One mile offshore from Navarre Beach. 557 artificial reef modules and 27 individual reef sites |
More information about the snorkeling reef in Navarre can be found on the Navarre Beach Marine Sanctuary website.
Things to do on Land
There are quite a few things to do in Navarre that aren't water activities.
The historic town of Milton
Blackwater River State Forest
The Panhandle Butterfly House
Gulf Breeze Zoo
Helicopter tours of the area
Electric bike rentals
Shelling
Shelling and beachcombing are some of the most popular activities in Navarre.
Beachcombers find all types of shells, including and dollars and the occasional rare shell, including Whelks and Conchs. They're usually found in the water, but are sometimes found on the beach.
Winter is usually the best time for finding seashells in Navarre because the beaches are almost empty, and there aren't as many people to collect the beautiful shells.
Birdwatching
The area around Navarre is excellent for bird watching, especially during fall, winter and spring migratory seasons. Some of the best spots for bird watching near Navarre include:
Gulf Islands National Seashore
Blackwater River State Forest
Santa Rosa Sound
And the numerous waterways the region
Fishing
Fishing is a very popular thing to do in Navarre, including fishing from the beach, boats, and piers.
Navarre Beach Pier
The Navarre Beach Fishing Pier is the longest pier in the Gulf of Mexico. It's 1,545 feet long and sits 30 feet above the water. It is truly enormous and when I'm out on the end of the pier I always feel like I'm very far from the shore.
The current Navarre Beach Fishing Pier is made of concrete. It opened in 2010 to replace the old wooden pier, which was built in 1974 and was destroyed by a hurricane in 2005.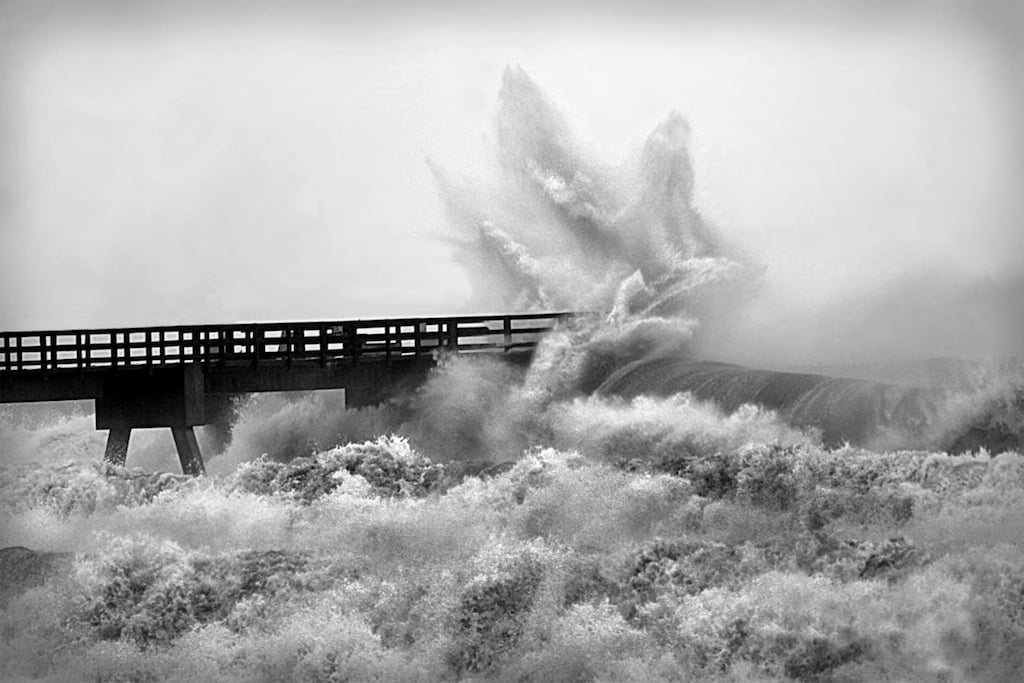 The pier is an excellent spot for fishing and for capturing beautiful views of the surrounding waters and beaches. At the time of this writing:
There is a fee of $1 for the day to walk on the pier
Weekly passes are $5
Daily fishing pass costs $7 for adults
Weekly and annual passes are available for fishing.
Gulf Islands National Seashore
One of the best things to do near Navarre is to explore the nearby Gulf Island National Seashore.
The Gulf Island National Seashore is a long stretch of sugar white sand and beautiful emerald water. The main attraction is the secluded, undeveloped beaches; some of the most beautiful in Florida.
The National Seashore also has other things to do, including walking trails, campsites and historic forts, shelling, and more.
The national seashore is divided into several sections. One section is located near Navarre, while another is located further west, on the other side of Pensacola Beach
The Opal Beach Ranger station is the closest to Navarre and has parking and picnic areas available.
There is a fee to enter Gulf Islands National Seashore — the cost is generally $15 per person, which is good for 1-7 days. There are also other price categories, i.e. per vehicle, motorcycle, annual passes, etc.
There are several public parking lots available along Gulf Boulevard for visitors who aren't in a beachfront hotel or vacation rental.
Parking spots can fill up fast during the spring and summer months, so it's best to arrive early if possible.
The main sections of the national seashore in the Florida section are:
Fort Barrancas
Fort Pickens
Naval Live Oaks Trails
Okaloosa
Perdido Key
Santa Rosa
Navarre Beach Sea Turtle Conservation Center
The Navarre Beach Sea Turtle Conservation Center is one of the best things to do in Navarre, in my opinion.
The conservation center is all about helping sea turtles. The mission of the center is to support public education, and also facilitate conservation, and research. The center serves as a hospital for injured sea turtles to rehabilitate them to release them back into the wild, when possible. There is also a permanent-resident green sea turtle named Sweet Pea, who, sadly, is not able to be released back into the wild.
My favorite thing is getting to see sea turtles up close, which is impossible to do in the wild. There is also a special area where you can see baby sea turtles.
There are other exhibits, too, including a jellyfish exhibit, seahorses, shark tooth hunting and much more.
There is an admission fee — $5 for regular admission — but I am happy to pay it because I love sea turtles, and I think it's important to support the center and its mission.
More information can be found at the organization's website.
Festivals and Events in Navarre
Navarre and Navarre Beach offer a variety of events and festivals throughout the year.
| | | |
| --- | --- | --- |
| Highway 87 Outdoor Market at Pik-itz | This market offers live music and a wide range of products, including handmade crafts, fresh produce, and unique gifts. | Saturdays in April |
| Hwy 87 Market at Sand Dollar Plaza | This market features local vendors selling everything from jewelry to home decor. Visitors can also enjoy food trucks and live entertainment. | Saturdays in April |
| The Navarre Beach Arts Festival | showcases the work of over 100 artists and features live music, food vendors, and a children's art tent. | April |
| The Navarre Beach Sand Sculpting Festival | Professional sand sculptors create incredible works of art. | September |
| Navarre Beach Mardi Gras Parade | A Mardi Gras parade and celebration in Navarre | February |
| Navarre Beach Regatta | | September |
| Navarre Beach Christmas Parade | An annual Christmas parade in Navarre | December |
| Tunes by the Dunes free spring concert series | A music festival in April and May | April and May |
| 87 Artfest Art Festival | A popular arts festival | May |
| Buddhist temple street market in Navarre — Sunday early afternoon has a Thai street-style food market | Buddhist temple street market in Navarre — Sunday early afternoon has a Thai street-style food market | Weekly, on Sundays |
More events can be found at the Navarre Chamber of Commerce Events Calendar
Places to stay in Navarre
There are a number of hotels in Navarre and Navarre Beach:
Springhill Suites by Marriott (Navarre Beach)
Best Western (Navarre Waterfront)
Hampton Inn & Suites (Navarre)
Days Inn & Suites (Navarre Conference Center)
In my opinion the best hotel in Navarre is the Springhill Suites by Mariott. It's directly beachfront and has a beautiful pool right by the beach.
There are also other lodging options, ranging from RV parks to beachfront vacation rentals.
Most people choose to stay in a vacation rental in Navarre, partly due to the lack of hotel options.
Approximately 56% of visitors in Navarre rent a condo or vacation rental house.
Approximately 11% of visitors stay in a hotel
10% stay in a RV park or campground.
The remaining 23% of visitors stay with friends, family or another type of lodging
Restaurants in Navarre
In my opinion, restaurant options in Navarre are average. There are some good restaurants in Navarre, but Navarre isn't particularly known as a foodie destination.
Many locals say they drive to Destin or Pensacola for food options when they get tired of the restaurants in Navarre. Here are some good restaurants to consider:
Slippery Mermaid: Sushi
Cactus Flower: Good TexMex Mexican food
Scooter's Fish House
The Grand Marlin
Johnny Houston's: Good burgers and bar food
Bella Luna: Good Italian food
Dewey Destin's: Good seafood. I hear the blackened shrimp is really good
The Shrimp Basket: Good fish sandwiches, shrimp dishes and burgers
Windjammers on the Pier: Good location, mixed reviews. Usually have live music and really good views of the Gulf of Mexico
Juana's Pagodas and Sailors' Grill: Fun restaurant/bar in Navarre Beach which often has live music
History
Like most places in Florida, Navarre has a long and fascinating history that most visitors overlook.
The area we now call Navarre was first inhabited by Native Americans and Paleo Indians.
Indigenous people lived in the region for many thousands of years before it was "discovered" by a Spanish expedition in 1693.
Interestingly, the region around Navarre experienced some combat activity during the U.S. Civil War.
Navarre was controlled by northern Union forces, who used Navarre as a base to attack Confederate forces in the area in the nearby community of Gulf Breeze.
Like most of the Florida panhandle, Navarre remained largely unsettled until recent decades. It was still a very small town until the 1970s, when the population began growing rapidly.
Only a few thousand residents lived in Navarre in the 1970s. Today the population of Navarre is much larger – the population was 40,817 as of the official 2020 census, and the area is one of the fastest growing regions in Florida.
The rapid growth is welcomed by some, especially real estate developers, but the rapid growth is putting the local environment, local residents and infrastructure, under strain.
Cost of Living in Navarre
Navarre can be a relatively affordable place to live, especially for those looking for a beach lifestyle.
However, the affordability really depends on one's career, earning potential and luck finding a good housing arrangement.
Normal costs of living, like groceries, gas, and other common necessities, are generally on-par with national averages, and may fall above or below depending on the specific item.
Housing Costs
Navarre has lower house prices compared to many beach towns in Florida, which is generally true of beach towns in the Florida panhandle.
House prices in Navarre range from modest and affordable to ridiculously expensive. Not surprisingly, house prices on Navarre Beach are much higher than on the mainland.
At the time of this writing:
The median house price in Navarre is $451.5k, and the median price per square foot is $220.
The cheapest house for sale in Navarre is approximately 130,000, which would be generously described as a fixer-upper.
Most houses are more expensive, and many are over $1 million.
The price of rent in Navarre is quite expensive for the panhandle, partly due to its popularity as a visitor destination and other factors.
At the time of this writing the price of rent ranges from approximately $1,000 to $3,500 per month, and varies greatly depending on the house.
In recent years house prices in Navarre, and nearby, have exploded higher. This is partly due to an increase in demand and a general lack of homes for sale in Navarre.
Many houses have appreciated by extreme amounts in the last few years. This can feel like a good thing for people who already own their homes, but can be a major problem for those who are interested in buying.
This has also caused a massive increase in the cost of living in Navarre, especially compared to the relatively low wages in the area.
Jobs and Employment in Navarre
Navarre is a small beach town, and the job market is limited.
For anyone interested in moving to Florida, I always suggest that it's best to arrange a job before moving, rather than trying to find a job after moving here.
Residents often say that one of the worst parts about living in Navarre is the lack of good employment opportunities.
Like many places in Florida, jobs in Navarre are in the service, hospitality and tourism industries. There are usually ample opportunities in hotels, restaurants, and retail stores, but these roles tend to be low paying.
Many people who live in Navarre commute to military installations like Hurlburt Field, or larger cities like Pensacola or Destin.
Nearby military bases provide some job opportunities for civilians, primarily in administrative and support roles. Major military installations near Navarre include:
NAS Whiting Field
NAS Pensacola
Saufley Field
Corry Station
Duke Field
Hurlburt Field
Eglin AFB
Living in Navarre
Navarre can be a great place to live, although it's not a great fit for everybody.
Navarre is best suited for those who want to live near a beautiful beach, and are willing to accept the area's downsides.
There are several pros and cons to living in Navarre:
Pros
The best parts of living in Navarre are obvious – the beautiful beach and waters, mild winters and a lower cost of living than many places in North America.
Quiet beach town living, beautiful beach and clear waters
Family-friendly community
Outdoor activities and water access
Generally safe
Relatively good Schools
Relatively low cost of living
Cons
Severe risk of Hurricanes
Relatively high house prices compared to wages
Traffic is a problem!
Lack of cultural activities like art museums and theaters
Relatively limited job opportunities
Hot and humid summers
Relatively cold winters compared to other parts of Florida
Noise from military aircraft and nearby bombing ranges
Hurricanes
One of the biggest downsides of living in Navarre is the risk of hurricanes.
Navarre – and the Florida Panhandle – are very vulnerable to hurricanes and tropical storms.
Many residents experience storm-related anxiety and worry during Florida's hurricane season, which lasts from June 1 until November 30 every year.
Storm danger, damage, flooding and disruption are major considerations for people who live in Navarre.
Evacuating and preparing for hurricanes can be a very expensive and stressful ordeal, not to mention the costs of insurance, cleaning and repairing damage after a storm or hurricane hits.
Traffic
Traffic in Navarre can be very frustrating.
One of the worst traffic issues is constant road construction and the large growth in population. Both of these factors strain and congest local roadways. Summer is often worse due to the influx of tourist traffic.
Pretty much everyone told us that traffic can feel terrible by local standards, but it's not as bad as other major cities.
People describe traffic as a major annoyance, but most people say it's a fair tradeoff for living in an otherwise beautiful area.
Everyone's experience is different, and one's perspective will vary depending on your living and working situation, and how much you drive and other factors. It's just a good thing to keep in mind.
Schools
Navarre is a good place to live for families. The schools are highly rated, and there are plenty of parks and recreational activities for kids and families.
Schools in Navarre are generally above average for Florida and the surrounding region. Many locals have good things to say about Gulf Breeze High School, in particular.
Final Thoughts
Overall, Navarre and Navarre Beach are amazing hidden spots – true gems in Florida.
Navarre strikes a great balance for people who want a quiet, laid-back destination with beautiful beaches and nature, with enough options for things to do to avoid being bored.
My family and I love Navarre for so many reasons and we always look forward to going back!