Caladesi Island is a beautiful island and state park in the Gulf of Mexico. The island is known for its pristine, undeveloped beaches and nature.
Caladesi Island is notable for several reasons. Caladesi Island is:
One of the prettiest beaches in Florida
Conveniently located near major cities, including Clearwater, Tampa and St. Petersburg
One of the only pristine, undeveloped barrier islands in Florida
A wild, deserted island, but is still relatively easy to access
Note: Caladesi Island cannot be directly accessed by car. It is accessible by a pedestrian ferry, personal boat, kayak or watercraft. Caladesi Island can also be accessed by a difficult, 3-mile walk along the beach from Clearwater Beach.
Where is Caladesi Island?
Caladesi Island is located on Florida's central west coast. The island lies between the waters of the Gulf of Mexico and St. Joseph Sound.
Caladesi Island is located near several large communities in the Tampa Bay metro area. It sits north of Clearwater Beach, west of Dunedin and south of Honeymoon Island State Park.
Other major cities, including Tampa and St. Petersburg, are also nearby and are a major source of the island's visitor traffic.
Caladesi Island is located south of Honeymoon Island State Park, and north of Clearwater Beach.
Caladesi Island is physically connected to Clearwater Beach via a sandy land bridge, which is accessible at low tide and can be accessed by walking.
Caladesi Island State Park Information
Entrance Fees by Private Boat
$6 per boat (up to eight people); $2 each additional person.
$2 per person for pedestrians, kayakers or SUP paddleboards.
There are additional costs for entering Honeymoon Island State Park, to access the ferry.
Ferry, marina and boat camping fees are extra.
Amenities on Caladesi Island
Caladesi Island is almost totally undeveloped, but there are basic conveniences and amenities on the island
Snack bar with a small cafe
Water fountain at the snack barPicnic tables and charcoal BBQ grills (1st come, 1st served)
Large, covered picnic pavilions for reservation and rent
Two modern restroom buildings (North and South) with flush toilets, running water and outdoor showers
Umbrellas and beach chairs can be rented on Caladesi Island. Rentals can be purchased for cash or credit card in the cafes, or for credit card only on the beach.
Things to do
The best things to do on Caladesi Island all revolve around the beautiful nature, especially the Gulf of Mexico and beaches.
Visitors can explore the beach, swim in the ocean, and explore the island. Visitors can also see many forms of native Florida wildlife on the island, and on the ferry ride to Caladesi Island.
The most popular things to do on Caladesi Island are:
Swimming
Beach games
Sunbathing
Photography
Shelling and Beachcombing
Kayaking and Boating
Enjoying solitude
Wildlife viewing
Grilling and Picnicking
Birthday parties and events
Fishing (Allowed in some areas, with a license)
Observation Tower
A large, 3-story open-air observation tower will soon open on Caladesi Island.
The tower will help share information about the island's natural environment and fascinating history.
Snorkeling
The water around Caladesi Island's beaches is not great for snorkeling, but it might be OK for beginners when conditions are right.
Experienced snorkelers will probably not be impressed with snorkeling at Caladesi Island. There is not any coral, or really anything to see on the sandy seafloor.
The water in the Gulf of Mexico can be incredibly clear when the water is calm, and there is not any wave action.
Snorkeling is less pleasant when wave action is high, when the water is not clear due to disturbed sand in the surf.
Picnic Pavilions
Picnic pavilions on Caladesi Island can be rented for $30 per day plus tax. Reservations should be made by phone at least two weeks before the desired date.
Children's Playground
There is a children's playground on Caladesi Island, near the picnic area. There are swings and several slides. There is a shaded pavilion near the playground.
Camping
Camping is not allowed on Caladesi Island, except for boat camping in the marina. Campers must remain on their boat overnight, and cannot leave to roam the island.
Some boat slips are reservable, and some are first come, first-served.
The cost for boat camping is $24 per night, including tax. There is also a reservation fee of $6.70 and there is a $7 fee for utilities.
There are other fees as well. For the latest fees, check the Florida State Parks webpage.
Hotels and Places to Stay
There are many hotels near Caladesi, especially in Clearwater and Dunedin. There are not any hotels or camping facilities directly on Caladesi Island itself.
Nature on Caladesi Island
Thanks to its protection as a state park, there is an abundance of nature on Caladesi Island.
It's common to see dolphins, and sometimes even manatees, on the ferry to Caladesi Island.
The park also has many different types of plants and trees which are native to Florida, and a wide range of diverse habitats.
There are broad expanses of oyster reef beds and seagrass beds in St. Joseph Sound. There are also mangrove forests on the bay side near St. Joseph Sound, and and to the south towards Clearwater Beach State Park.
Oyster reefs, mangroves and seagrass are all vitally important to Florida's natural environment.
On land the state park protects several natural habitats and ecosystem zones, including:
Sand dunes
Mangrove forests
Maritime and Oak hammock
Mesic and pine flatwoods
Interior highlands with slash pine and live oaks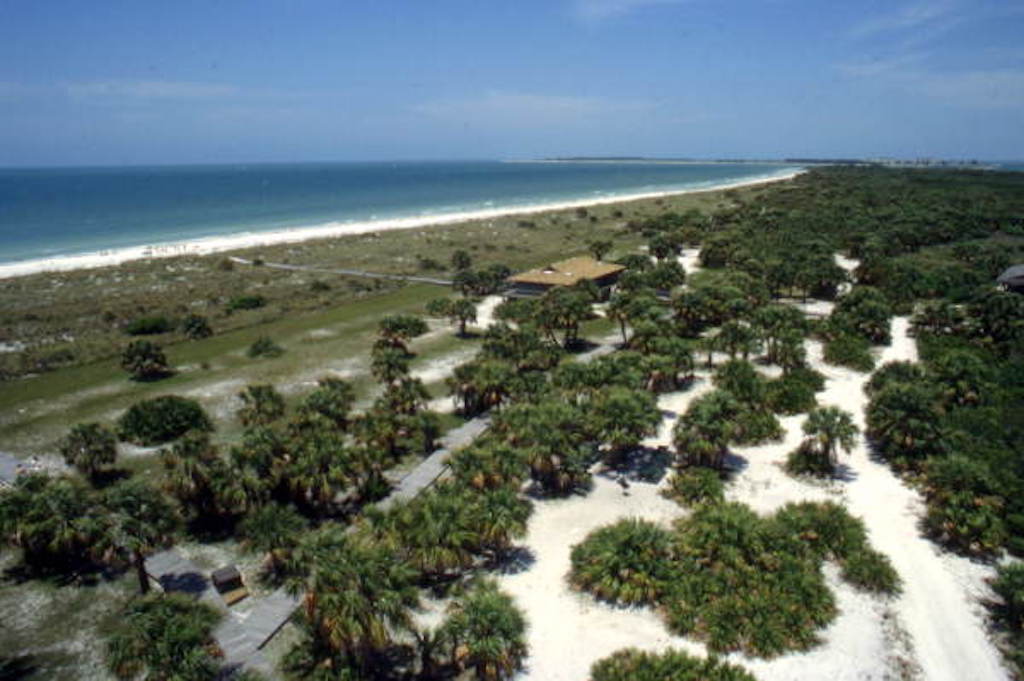 Shells
The beaches of Caladesi Island are great for shelling. Live shelling is prohibited, but there are many types of shells to satisfy beachcombers.
Strong tides and currents often dump shells on Caladesi's beaches, especially after strong winds and storms. Many types of shells can be found, including:
Bird watching
Caladesi Island State Park is a part of the Florida Birding Trail. It's a great place to see many of Florida's bird species, including:
Bald Eagles
Blue Herons
Egrets
Osprey
Hawks
Common Nighthawk
Migratory Birds
Scarlet Tanager
Rose-Breasted Grosbeak
Magnolia Warbler
Swainson's Thrush
Red Knot, Piping Plover
American Oystercatcher
Black Skimmer
Terns
Gulls
Waders
Wildlife on Caladesi Island
Other wildlife can be seen on Caladesi Island, including:
Florida Box Turtle
Sea turtles
Gopher Tortoise
Rattle snakes
View more information on Caladesi Island wildlife from the Florida Birding Trail
Nature Trails
The nature trails on Caladesi Island are easy and flat, with little or no elevation gain.
The trails are approximately three miles long. A sign at the trailhead advises that it takes approximately 1.5 hours to cover the entire trail. Hikers can retrace the original trail, or return along the beach.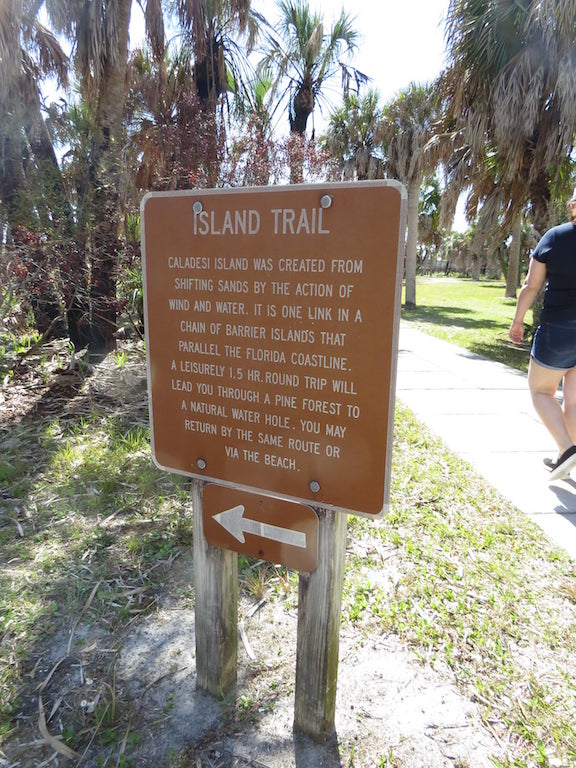 The trail passes through a series of natural Florida habitats, including coastal dune, mangrove, maritime hammock and pine flatwood zones.
Some trees along the route are more than 200 years old. The trail also pases beside elements of the historic Scharrer homestead, including the homestead foundation and a brick chimney.
Paddling Trails
There are beautiful kayaking and paddling trails in and around Caladesi Island.
Paddling trails wander through a maze of mangrove tunnels, over lush seagrass beds and over bright white sand. The water is often crystal clear in many places, especially when wind and wave conditions are calm.
There are two paddling trails on Caladesi Island. One is one-mile long, and the other is three miles long.
Visitors can bring their own kayaks and SUP paddleboards, or rent kayaks or paddle boards on-site.
Kayak and paddleboard rentals are also available in the nearby area, including from vendors on the Dunedin Causeway.
A kayak launch is available on-site, for use with rentals or visitors' own watercraft. View more information about Caladesi Island Paddling Trails
Beaches on Caladesi Island
Without a doubt, the beaches on Caladesi Island are the main attraction. The beaches are loved for their beauty, and for their lack of development.
Unlike most beaches in Florida, Caladesi Island is almost completely natural. There are hardly any buildings, and there are absolutely no hotels or condos to interrupt the beaches' natural beauty.
The only development on Caladesi Island is the minimalist footprint of Caladesi Island State Park infrastructure. The island has only a marina, a ranger station and a small concession stand, "Cafe Caladesi".
Caladesi Island State Park is a view into what the region was like before it was developed, paved over and commercialized.
Best Beach in America
Caladesi Island is one of the best beaches in Florida, and all of America.
Beach expert Stephen Leatherman, AKA "Doctor Beach" has chosen Caladesi Island as one of the top beaches in America several times.
To make his choice, Dr. Beach uses a formula and grading system which accounts for beach quality, water quality, pollution, and many other factors which create a great beach experience.
Caladesi Island was named a "Best Beach" in 2007, 2008, 2019, and again in 2021. The numerous awards have made Caladesi Island famous, and have increased interest in the state park considerably.
Caladesi Beach Description
The beaches on Caladesi Island are gorgeous. The sand is soft, fine and bright white, like sugar.
The beaches on Caladesi Island are natural beaches, meaning that they are not groomed or cleared of seaweed, which is important for the health of the beach and natural erosion control.
Caladesi Island has approximately three miles of pristine beaches.
To access the beach visitors are guided across the island via pathways. The paths cross over raised wooden boardwalks, which protect the fragile and important sand dunes.
Some areas of Caladesi's beaches have photogenic, weathered driftwood. There are shells and seaweed in some areas, other areas have clean white sand.
Seaweed often accumulates in certain areas, especially at the northern end of the barrier island near Hurricane Pass.
Caladesi Island Vs. Honeymoon Island
Although they are right next to each other, most people agree that the beaches on Caladesi Island are much nicer than Honeymoon Island. There are usually fewer people, and there are fewer rocks on the beach.
Note: Honeymoon Island is covered by limestone rock. Hundreds of tons were dumped on the island as it was being prepared for construction and development. Instead, Honeymoon Island was saved and protected as a state park.
Beach Crowds
Caladesi Island state park attracts a huge number of visitors annually. It can get crowded during peak periods, but there are almost always secluded spots on the beach and to escape the crowds.
Most people gather in crowds at the beach boardwalks. To avoid crowds it's best to walk away from the beach entrance points. The crowds typically fade away quickly.
Beach chairs and kayaks can be rented on the beach, or at the main concession stand.
Beach signs on Caladesi say "No Lifeguard on Duty" but there are sometimes lifeguards on duty in the summer season, from Memorial Day until Labor Day.
Snack Bar
There are not any restaurants on Caladesi Island, but there is a limited offering of food, drinks and essential supplies at ""Cafe Caladesi", located near the ferry dock and marina.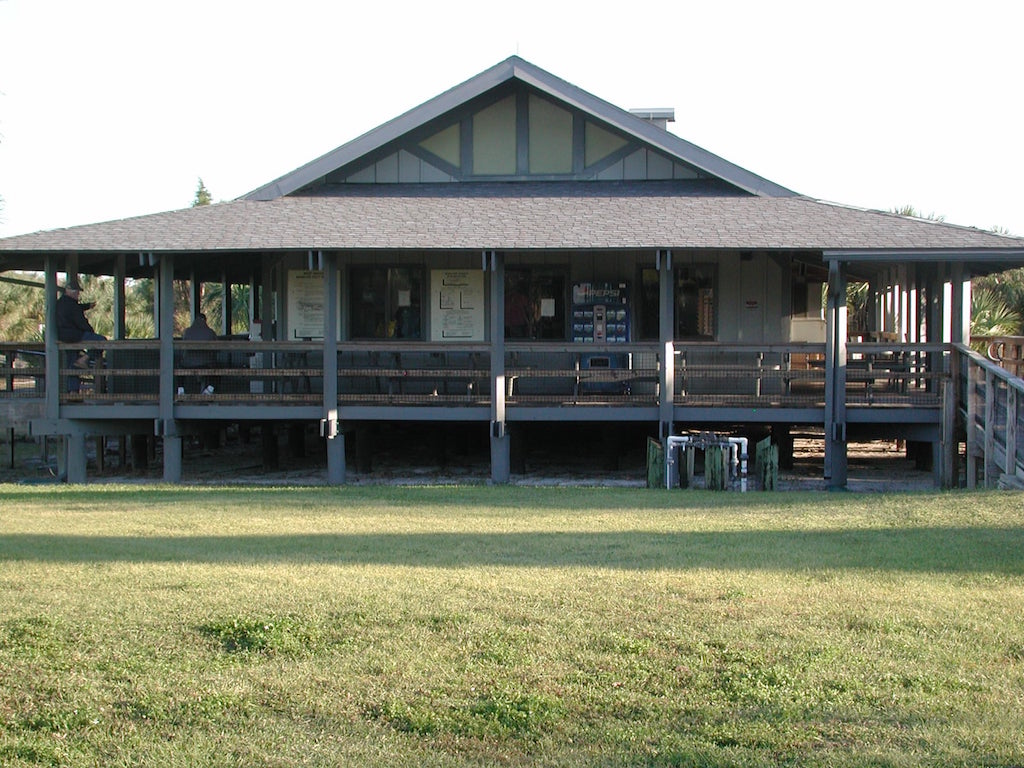 The cafe sells sandwiches, burgers, fish and chips, smoothies, ice cream and other snacks. View the full menu for Cafe Caladesi
Surprisingly, the snack bar also sells bottled beer and hard seltzer. The beer is expensive and must be consumed on-site; it cannot be taken away.
The snackbar has a gift shop which sells sunscreen, T-shirts and other basic supplies.
The cafe and gift shop is located near the marina and ferry docks.
Marina
There is a large marina on Caladesi Island for day-use and overnight camping. The marina is located on the bayside towards St. Joseph Sound, near the ferry dock.
The marina at Caladesi Island State Park has 108 floating boat slips. Slips have water and electric hookups with 30 amp electric service.
Some slips allow reservations, while others do not. Boat campers must register for camping before sunset.
Boat camping at the marina is the only way to camp overnight at Caladesi Island. There is not any other option for camping on the island.
Kayak Rentals on Caladesi Island
Kayak rentals are available on Caladesi Island itself, or from Dunedin Causeway.
Many visitors rent kayak and SUP paddle boards to paddle across St. Joseph Sound to Caladesi Island, instead of taking the ferry.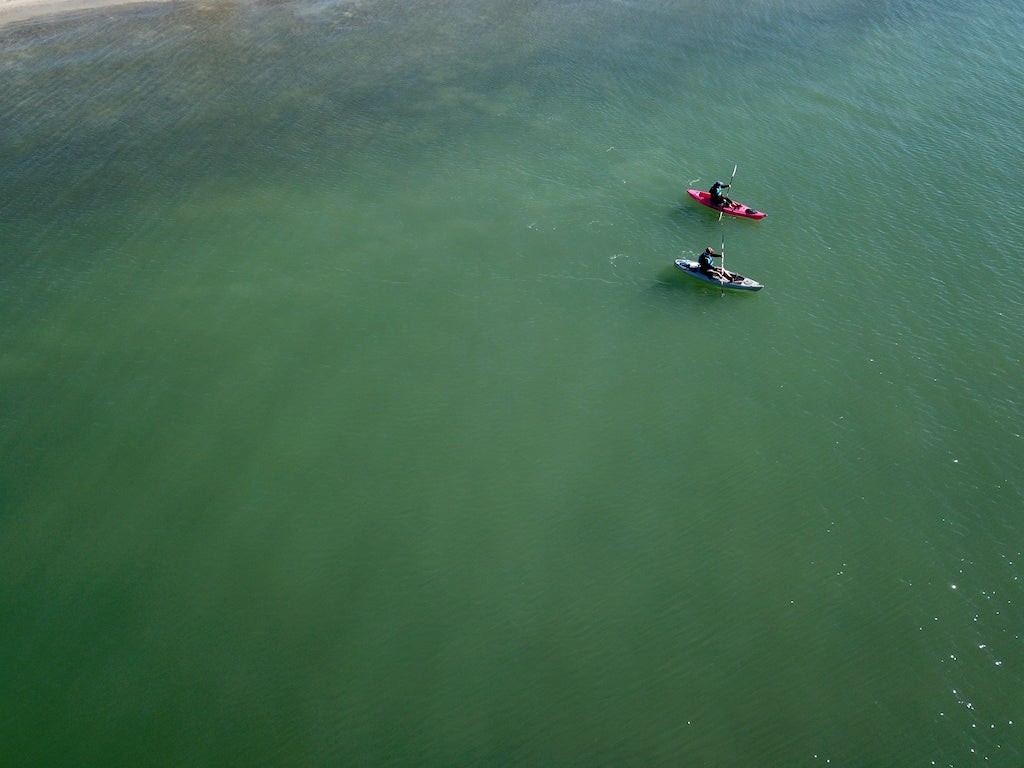 The cost to rent kayaks on Caladesi Island itself is $25 per person. Rentals are arranged from the cafe concession stand.
Paddles in and around Caladesi Island should beware of boat traffic. There is a large amount of boat traffic in St. Joseph Sound, especially around Hurricane Pass. Some boats operate recklessly.
How to get to Caladesi Island
Visitors can access Caladesi Island in several ways. Visitors can:
Take the Caladesi ferry from Honeymoon Island State Park
Paddle to Caladesi Island
Drive a private boat
Walk to Caladesi from Clearwater Beach
Note: During peak tourist season long lines of cars can form at the entrance to Honeymoon Island. Traffic can back up for miles onto the causeway.
Caladesi Ferry
The easiest way to access Caladesi Island is to take the Caladesi Island Ferry from Honeymoon Island State Park. This is how most visitors get to Caladesi Island.
The ferries are two large pontoon boats; each carries approximately 50 passengers. The ferry ride takes approximately 10-30 minutes.
The Caladesi ferry runs every day except for during bad weather, Christmas Day and Thanksgiving. two ferry boats.
The ferry ride takes approximately 20 minutes. The ferry ride is fun, and it's common to see dolphins and manatees on the ride.
Ferry boats leave frequently and regularly. Boats depart and return every 30 minutes during the busy season, and every hour during slower seasons.
The ferry waiting areas are open-air, covered with shade, and have benches.
There is ample parking at the ferry dock parking lot inside Honeymoon Island State Park.
Caladesi Island Ferry Prices
| | |
| --- | --- |
| Adult | $16 |
| Child (6-12) | $8 |
| Child (Under 5) | Free |
Plus cost of admission to Honeymoon Island
Downsides to the Caladesi Ferry
There are some downsides to taking the Caladesi ferry, which motivates some visitors to access the island via other methods.
With a ferry ticket you are assigned a "Guaranteed return" time to return back to Honeymoon Island. This time slot limits you to four hours on the island.
Return times are fixed at four-hour increments to avoid overloaded ferries late in the day, when everyone wants to leave at once.
The wait for a ferry can be long when crowds are high, especially around holidays and busy summer weekends.
Boating, Kayaking and Paddling to Caladesi Island
To avoid taking the Caladesi ferry, visitors can reach Caladesi Island via kayak, SUP paddleboard, or private boat.
Swimming to Caladesi
It is not recommended to swim from Honeymoon Island to Caladesi.
The distance appears to be short, but it is dangerous for many reasons. Tide is strong. Lots of boat traffic.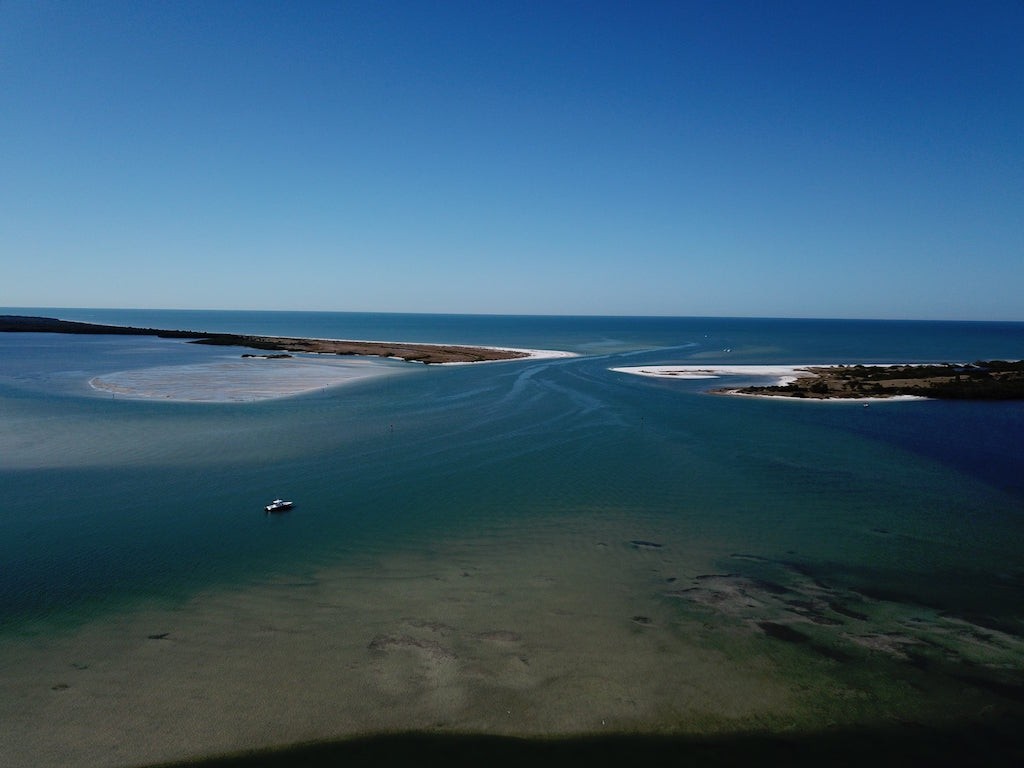 Hurricane Pass is also a popular place for shark fishing. There are many sharks in the surrounding waters.
Walking to Caladesi Island from Clearwater Beach
It is possible to walk to Caladesi Island from Clearwater Beach. The distance from Pier 66 in Clearwater Beach to Caladesi Island State Park is approximately 3 miles, and can be accessed by walking north along the beach. 
Depending on where you park, your walking speed and other factors, it takes approximately 1-2 hours to walk from Clearwater Beach to Caladesi Island.
There is a welcome sign at the southern park boundary towards Clearwater Beach. After crossing the state park boundary it is approximately one additional mile to reach the state park facilities.
Visitors who walk to Caladesi Island still need to pay a $2 admission fee per person, payable at the ranger's station.
The walk may be difficult for many people, and is generally not advised unless you are physically and mentall prepared for an adventure.
Some sections of the beach may be under water during high tides, and may require wading through water or through mangrove trees.
There is not any shade along the beach, or drinking water along the route. The sun, heat and humidity can be extremely intense.
Visitors should also remember that sand can be exhausting to walk through, and is much more difficult than dirt or pavement.
Note: One of the most difficult things about getting to Caladesi Island from Clearwater Beach is finding good parking in Clearwater Beach, especially towards the north end of Clearwater Beach.
Visitors should be sure to park in a safe, legal parking space to avoid parking tickets or being towed.
History of Caladesi
Caladesi Island has a long and fascinating history; the island is approximately 4,800-7,000 years old. 
Caladesi Island formed as a large sandbar as sand accumulated over many years. Over time it transformed into an island as vegetation stabilized the sand. The island changes constantly as it's shaped by the forces of nature.
Caladesi Island is typical of barrier islands in Florida. It is approximately four miles long, and is less than a mile wide at its widest point.
Despite its name, Caladesi Island is not really an island. Caladesi is connected to Clearwater Beach via a narrow sandy land bridge.
Caladesi and Clearwater Beach were once separated by a body of water, Dunedin Pass, but the pass was filled with sand in 1985 by Hurricane Elena.
Caladesi Island was inhabited by native Americans for thousands of years, especially the Tocobaga tribe. Native Americans survived by hunting on the island, and by fishing in St. Joseph Sound and the Gulf of Mexico.
Archaeologists and anthropologists have found artifacts on the island, including burial shell mounds and evidence of other ceremonial sites.
After the Spanish arrived in the 1500s the island was used sporadically for the next several hundred years, until the 1800s, when it was permanently settled. During that time it was generally as a temporary camp for fishermen and sailors. 
Modern-day Caladesi Island was formed in 1921, when a strong hurricane changed the area's landscape.
Caladesi Island used to be connected to present-day Honeymoon Island. The islands consisted of one large barrier island named "Hog Island".
The 1921 hurricane caused intense erosion which cut the island in half. A deepwater channel was formed; this is modern-day "Hurricane Pass" between Caladesi Island and Honeymoon Island.
Besides the 1921 hurricane, Caladesi Island has been shaped by storms over the years. Connections and channels have been made and lost repeatedly as sand is deposited and eroded.
One of the most dramatic changes to Caladesi Island occurred in 1985, thanks to Hurricane Elena.
The hurricane dumped large amounts of sand and connected Caladesi with Clearwater Beach, making it possible to walk from Clearwater Beach to Caladesi Island.
The land bridge has narrowed and widened over the years. It is currently rather thin, and is partially submerged during high tide. The land bridge is expected to widen again when the next storm hits and deposits sand again.
Caladesi Island is owned by the State of Florida, and is managed as a state park. There is no other development on the island.
Caladesi Island became a state park in 1967 from a mixture of land donations and land purchases by the State of Florida for natural preservation.
Scharrer Homestead
Caladesi Island was not always uninhabited. It was settled by a family of pioneer homesteaders in the late 1800s, the Scharrer family.
Henry Scharrer was a Swiss immigrant and naturalist. He came to the Tampa Bay area while working on Henry Plant's railroad and development projects. Scharrer married a local woman from Dunedin, and later established a homestead on Caladesi Island.
Henry's daughter Myrtle Scharrer was raised on the island, and loved the free and natural life. She was known to row a boat to Dunedin every day so she could attend school.
Late in her life Myrtle Scharrer wrote a memoir, "Yesteryear I lived in Paradise" about her experience living on Caladesi Island. 
How did Caladesi Island Get its Name?
The exact origin of the name "Caladesi" is disputed. Some early sources claimed that the name "Caladesi" was a Spanish name, meaning "beautiful bayou". "Cala" means "Creek" or "cove" in Spanish.
Other sources suggest that the island may have been named "Cayo de Caldees" after a fisherman who established a camp on the island in the 1700s.
Caladesi is technically pronounced "Caladeezy", but many people pronounce it as "cala-dessi". Both are commonly used.
Accessibility
Caladesi Island State Park is accessible to all visitors, and accommodations are made for people with mobility challenges.
Beach access points have wooden ramps
There are modern, accessible restrooms
Free beach wheelchairs are available at the ranger station on a first come, first-served basis.
The Caladesi ferry boats are designed to be accessible. The crew will provide assistance when needed.
Downsides to Caladesi Island
There are very few downsides to Caladesi Island. Most people come and go happy, without any complaints.
The biggest downside, depending on your perspective, is that getting to Caladesi Island is slightly difficult, and can be more expensive than other beaches.
A short ferry ride is required, which increases the cost, especially for large groups. It's all part of the island experience, but it is a slight inconvenience and is a downside for some people.
One other potential downside is that alcohol is generally prohibited on Caladesi Island. Beer is sold at the snack bar, but can only be consumed at the snackbar.
The rule against alcohol could be viewed as a good thing, or a bad thing, depending on your view and preference.
Hazards on Caladesi Island
There are numerous hazards on Caladesi Island which visitors should be prepared for.
The biggest hazard is the sun, which is intense.
Visitors should come prepared with smart sun protection, especially hats, sun shirts, sunglasses and shade in the form of a good umbrella or sun shelter.
Visitors should also bring a good quality sunscreen, and bug repellant.
There are often many biting insects on Caladesi Island, including mosquitoes, sand fleas and noseeums. The insects are worst when there is no wind, and in areas with standing water.
There are often stingrays in the ocean around Caladesi. Visitors should do the "stingray shuffle" to avoid being stung by stingray's poisonous barb.
There are also often jellyfish and other stinging sea life in the oceans surrounding Caladesi.
There are venomous rattlesnakes on Caladesi Island, so visitors should be careful in areas where snakes may be present, especially while hiking in the island's interior.
There are also raccoons on the island, so visitors should ensure their trash and food is kept secure.
Visitors should ensure that they remain safe while swimming. There are strong currents around Caladesi Island, especially around Hurricane Pass and other areas with fast-moving water. Dangerous rip tides are often present.
Boat traffic is intense in St. Joseph Sound and around Caladesi Island. Swimmers, kayakers and boaters should be on high alert for boat traffic, and use extreme caution.
Pets
Pets are technically allowed in Caladesi Island State Park, but with many restrictions that make it unattractive to bring pets.
Dogs are not allowed on any beaches in the park, or on the ferry. Pets must be on a 6 foot leash at all times. There is a large dog park on nearby Honeymoon Island.
Pet rules from Caladesi Island State Park
Final Thoughts
Caladesi Island State Park is one of the best hidden gems in Florida. It is not exactly a secret any more, but the beaches and nature are natural treasures. If you have the chance to go, take it!
We hope you found this guide helpful. If you have any suggestions, or if we left anything out, please let us know so we can update this guide. Enjoy!