Cocoa Beach is one of the nicest beach towns in Florida. It's an attractive city with many positive features, including beautiful public beaches and a historic beach boardwalk and pier.
Beaches in Cocoa Beach are among the most beautiful beaches in Florida. The sand is clean and the coastline offers some of the best surf spots in Florida.
Cocoa Beach is the closest beach to Orlando, so it attracts many visitors and residents from central Florida, which doesn't have any ocean or beaches.
Location
Cocoa Beach is located on a long, narrow barrier island. It is surrounded by water; the Atlantic Ocean is to the east, and the Banana River borders to the west.
Cocoa Beach is located about an hour east of Orlando, making it the closest beach to Orlando.
Cocoa Beach is also located near other beach towns, including Melbourne, which is approximately 20 miles to the south. It also sits just south of Port Canaveral, which is one of the largest cruise ports in Florida.
The high number of towns near Cocoa Beach makes it an easy day trip to or from other area destinations.
Cocoa Beach is located in Brevard County, along with sixteen other cities.
Brevard County is enormous, and covers more than 1,000 square miles of land area. The county also includes approximately 500 square miles of water, including ocean, lakes, rivers and wetlands.
History
Cocoa Beach was formally established in 1925. Before that, a family of formerly enslaved people settled in Cocoa Beach, until a hurricane forced them to move in 1885.
The town of Cocoa Beach established its police department in 1947. At the time, the population was so low that the police department only had a single part-time officer.
By 1949, there were 246 residents in Cocoa Beach. It became a city in 1957, and its first store and bank opened to serve the residents.
In the 1960s, the U.S. space program breathed life into the city of Cocoa Beach. The region gained scores of high-paying jobs, which attracted well-educated scientists and workers from across the U.S.
Many upper-middle class families migrated to Cocoa Beach in search of jobs at NASA. Today NASA and various space progams, both government and private, remain important to Cocoa beach and the regional economy.
The importance even earned the nickname, the "Space Coast".
Besides employment, NASA also draws many people to Cocoa Beach for tourism. One of the best things to do in Cocoa Beach is to watch a rocket launch from nearby Capa Canaveral.
Weather and Climate
Cocoa Beach has weather and climate that is typical for Florida.
Winters in Cocoa Beach last from approximately December until late March. They are generally mild and dry. Freezing weather is almost unheard of outside of freak events. The average low temperature in Cocoa Beach is approximately 50 degrees Fahrenheit in January.
Summers in Cocoa Beach last from approximately June until November, which is also its hurricane season.
Summers in Cocoa Beach are hot, humid and rainy. The average high is typically 90 degrees Fahrenheit in July and August, which feels much hotter due to the intolerably high humidity.
Hurricanes pose a severe threat to Cocoa Beach, along with the rest of coastal Florida.
Things to do in Cocoa Beach
There are many things to do in Cocoa Beach.
The city has everything you would expect from a major tourist destination, and also offers a beautiful natural environment in the form of beaches, rivers, wetlands and more.
Cocoa Beach also has educational attractions, including a dinosaur museum, a planetarium, an observatory, and a botanical garden.
Surfing in Cocoa Beach
Cocoa Beach is one of the best surfing spots in Florida. Especially around the pier, surfers can be found in the water almost every day of the year, regardless of the conditions.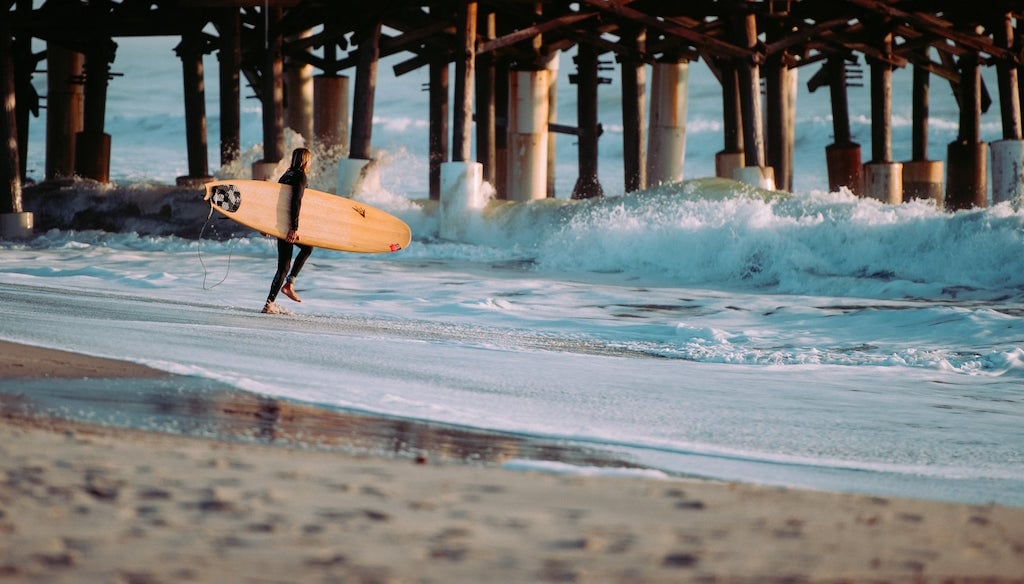 Cocoa Beach has the largest Ron Jon Surf shop in the world. It is two stories tall and is packed with surfing and beach gear.
The Ron Jon Surf Shop also has a Cocoa Beach surf museum, which is fun to visit and is free.
There are other surf shops in Cocoa Beach as well, including the Cocoa Beach Surf Company, right next door. It is also huge.
The Cocoa Beach Surf Company has an on-site restaurant, a ton of surf gear, and a small aquarium with live sharks.
Parks in Cocoa Beach
Cocoa Beach has a variety of options for physically active people, including a golf course and multiple tennis complexes.
There are twelve public parks in Cocoa Beach, including a skate park and an aquatic center which is mostly popular among local residents. Two parks in Cocoa Beach have tennis courts, multipurpose recreation centers, and gyms. There is also a dog beach at the Lori Wilson Park.
Downtown Cocoa Beach
Downtown Cocoa beach has the city hall and municipal buildings. There are some boutiques, but it is pretty sleepy; most of the action in Cocoa Beach is at the beach.
Cocoa Beach hosts dozens of popular festivals throughout the year.
Beaches in Cocoa Beach
There are more than six miles of public beach in Cocoa Beach, and four oceanfront public beach parks.
Alan Shepard Park
Sidney Fisher Park
Lori Wilson Park
Robert P Murkshe Memorial Park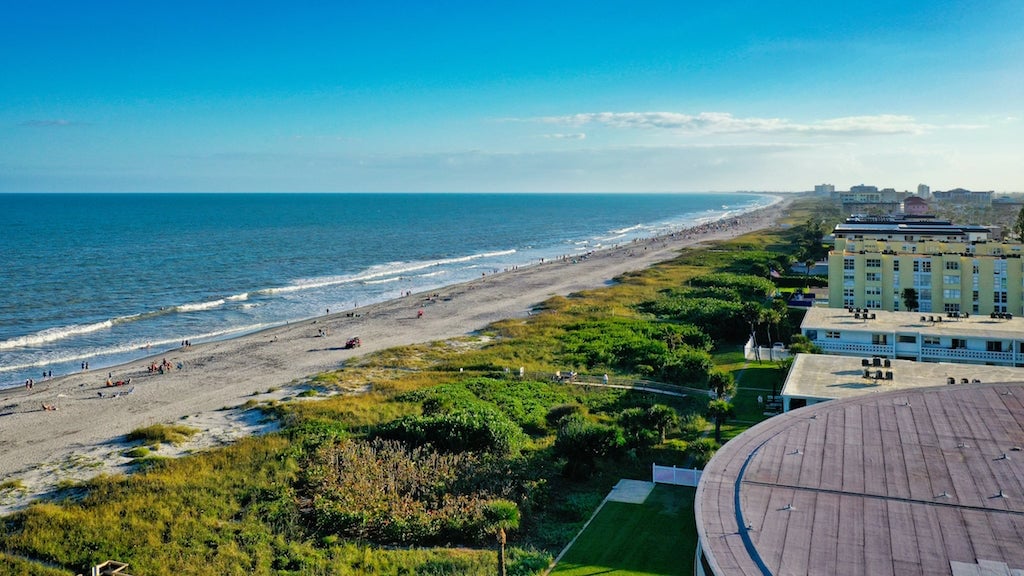 The public beaches are operated by either Brevard County or the City of Cocoa beach.
There are also numerous beaches in the surrounding area, including some of the only nude beaches in Florida.
The public beach access points have bathrooms and low-cost parking. Many of the public beaches have easy access to shops, bars, and restaurants on foot.
The beaches in Cocoa Beach have beautiful white sand. It is not as brilliant white as the fine, sugary beaches on the Gulf Coast, but it is still very nice. The sand on the Atlantic coast does tend to be a bit darker, which can make it hotter under the intense Florida sun.
Beaches are accessed via raised boardwalks over the dunes. Some boardwalks have rinse-off stations to clean away sand.
Some beaches in Cocoa Beach are patrolled by lifeguards, especially near the pier. Some stretches of beach are not patrolled or guarded.
The water in Cocoa Beach is not usually very clear because sand is disturbed up by the waves. Water visibility is clearest during calm weather and periods without wind or wave action.
Beaches are generally most crowded near the pier, and in the areas to either side.
Warning! Waves can be large in Cocoa Beach! The large waves are often great for surfing, but the waves may be too large for small children or people who are not comfortable in the ocean.
Dog Beach in Cocoa Beach
Dogs are allowed on the beach in Cocoa Beach, but only in one certain section between 4th Street South and the northern edge of Murkshe Park.
This is the only place where dogs are allowed on the beach in Cocoa Beach. Dogs must be on a leash at all times, and leashes must be less than 10 feet long.
There is a dog park in Lori Wilson Park but dogs are only allowed in the fenced dog section, which does not have any beach access. Dogs are not allowed to be outside of the fenced section, or on the beach near Lori Wilson Park.
More information is available here from the City of Cocoa beach.
Cocoa Beach Pier
Without a doubt, one of the main things to do in Cocoa Beach is to visit the iconic Cocoa Beach Pier.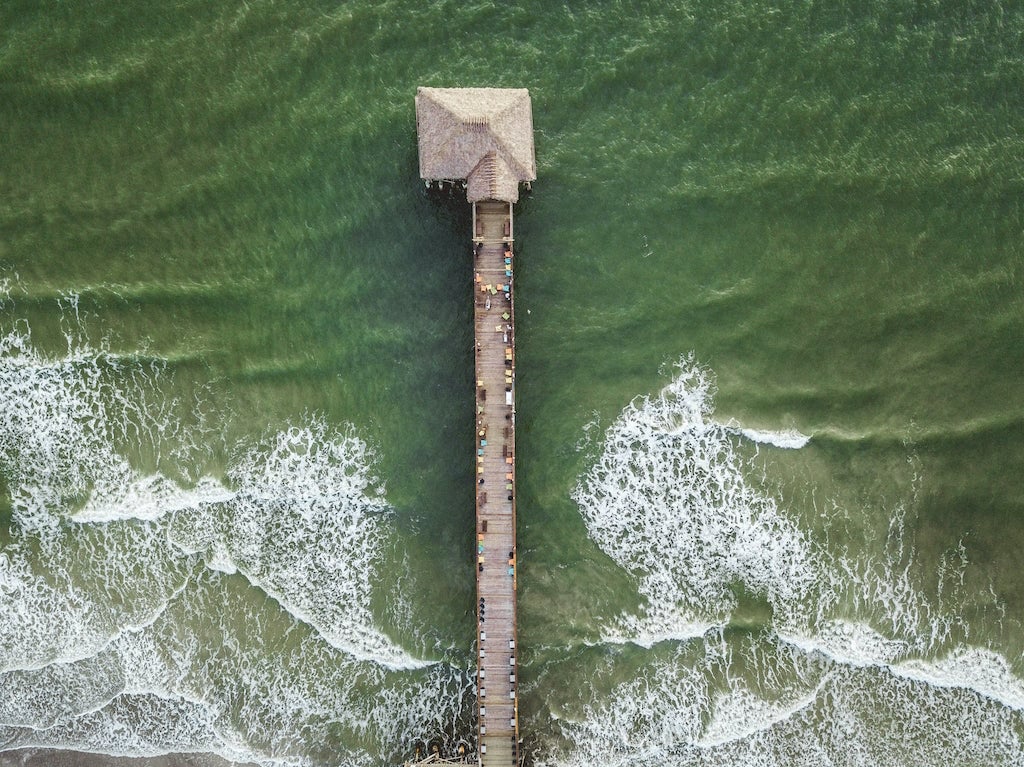 The pier is a large wooden boardwalk which extends over the water. It is older than many other boardwalks in Florida, so it has a very traditional feel.
There are several small beach stores on the boardwalk, and two restaurants, although they are owned and operated by the same company.
At the end of the Cocoa Beach pier there is a small bar, the Rikki Tiki Tavern, which serves drinks and offers beautiful views over the water.
There are also a number of independent restaurants and gift shops near the pier.
Due to Covid-19, policies on the Cocoa Beach Pier changed. Depending on the current policies, you may not be allowed out onto the pier without purchasing food or drinks.
Many visitors complain that the food and drinks are too expensive for what they are, and the food quality can be hit or miss.
Parking is expensive around the pier, some parking lots can cost $20 or more. There is usually cheaper meter parking, if you are willing to hunt for it, further from the beach.
Police do patrol the meters and parking lots, so be sure you pay attention to parking restrictions!
Restaurants in Cocoa Beach
When it comes to restaurants, Cocoa Beach has just about everything. There are options for everything from Chinese and Latin American cuisine to classic barbeque and wing shops. Many restaurants also serve alcohol.
Bars ranging from traditional Irish pubs to blues clubs. Cocoa Beach even has a cigar lounge!
There are plenty of thrift stores as well as local shops for clothing shopping. Cocoa Beach also has plenty of surf shops to supply the tight-knit local surf community.
Surf shops in Cocoa Beach usually sell and rent surfboards, along with accessories like wet suits, surf wax, fins, repair kits and everything else surfers may need.
Most surf shops also have surfing lessons available, or can offer local recommendations.
Tours in Cocoa Beach are also very popular among visitors, especially for specialized activities. Some tour operators also allow rentals for self-guided adventures.
Kayaking, sailing, sunset, helicopter, and boat tours are all among the most popular things to do in Cocoa Beach. The prices range from affordable to very expensive, especially for plane and helicopter tours.
Many affordable tours in Cocoa Beach revolve around local wildlife, especially kayak tours. Manatees, dolphins, and other wildlife can be seen at the local wildlife refuge, or in the waters around Cocoa Beach.
Size and Demographics
According to the US census, Cocoa Beach had 11,354 residents in 2020. The median income has been rising since 2018, and the poverty rate has been dropping.
The crime rate in Cocoa Beach is much lower than in the rest of Florida, and lower than the United States as a whole. Crime has dropped since 2016, although it does tend to rise during periods of economic downturn.
Cocoa Beach has a relatively high median income when compared to the rest of Florida. More than half of the households in Cocoa Beach make more than $60,000 a year.
Photography Credits
Overhead pier by Florian Schneider
Beaches by TM
Surfer by Annie Spratt