Nude beaches in Florida are a hot topic. Many people love them, and some hate them, for a variety of reasons.
Many people love Florida's clothing-optional beaches. They say that it feels great to soak up the sun, feel free in nature and sunbathe without tan lines.
Note: Public nudity is illegal in almost all places in Florida. Lewd behavior in Florida is against the law, violators may be arrested.
During the winter, many northerners visit Florida with one goal: to soak up as much sunlight and natural Vitamin D as possible.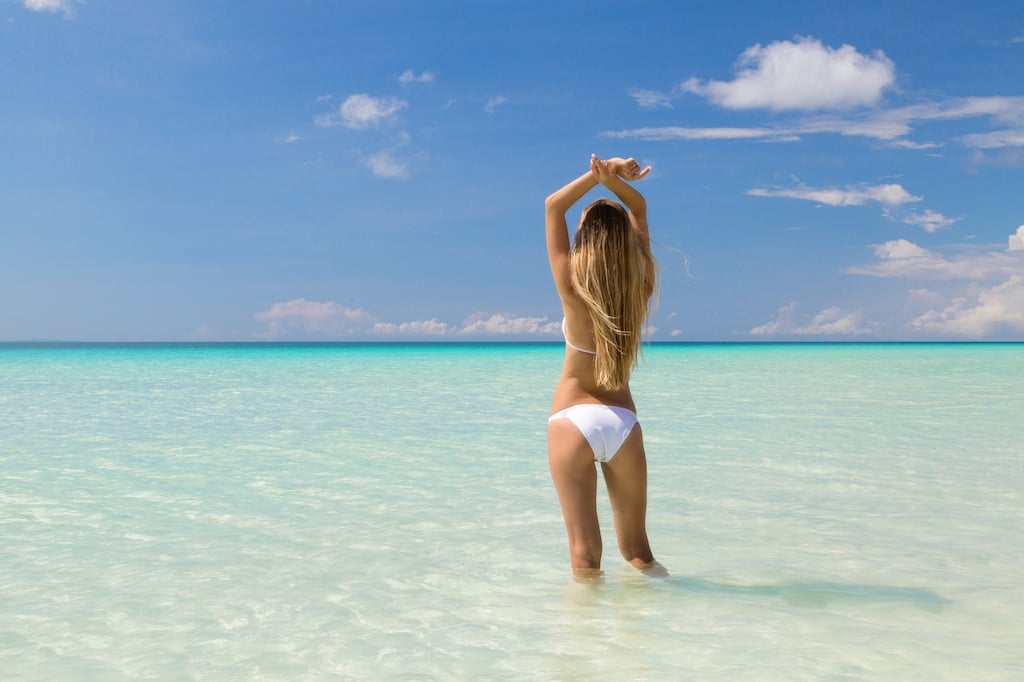 Nude and topless beaches are especially popular with European visitors because topless sunbathing is much more widespread in Europe.
But, not everyone likes nude beaches.
Many local residents hate the idea of nude beaches. They don't want them in their communities. Their attitude is "Not in my backyard!".
Some actively try to prevent nudist and clothing-optional beaches from existing at all.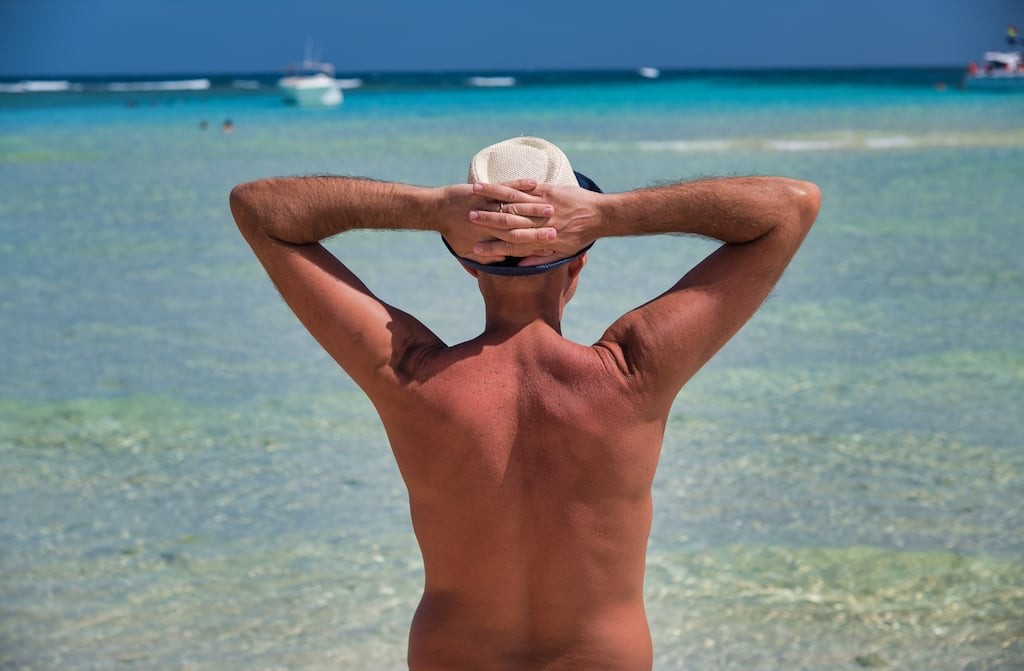 Warning: The Risks of Nude Beaches
There are undeniable risks to visiting a nude beach!
First and foremost, there is a severe risk of sunburn! Many people don't realize how sensitive private skin areas can be because they're usually covered and protected by fabric. First-time nude beach visitors often suffer severe sunburns, usually on… well, the most sensitive skin areas.
Skin cancer is a serious risk, and is a fact of life in Florida. Even one serious sunburn can increase the risk of skin cancer. Even if you are nude, it's wise to consider wearing specific articles of clothing to protect yourself against sun damage.
Nude beaches also carry the risk of embarrassment, and the risk of being uncomfortable with the sight of other nude bodies.
Are Nude Beaches Legal in Florida?
Although there are numerous nude and/or clothing-optional beaches in Florida, some operate on a legally questionable status.
Many nude beaches in Florida are either technically illegal, or may exist in quasi-illegal grey areas; some are officially sanctioned, and others are not sanctioned at all.
Some remote beaches that are used as nude beaches are technically off-limits because they are nature preserves.
Nude beach-goers get around this rule by staying in the water and avoiding stepping onto the sand. This type of activity carries inherent risks, and may result in legal consequences or confrontations with law enforcement.
Some of the most popular nude beaches in Florida are located on Federal property, where local prohibitions against nudity are either not enforced, or are sporadically enforced.
Visitors to nude beaches in Florida should familiarize themselves with all of the relevant laws, or run the risk of getting a ticket, or even arrested.
Nude beaches also come with their own unique and specific set of cultural norms. Newcomers to nude beaches in Florida should familiarize themselves with the Do's and Don'ts before visiting.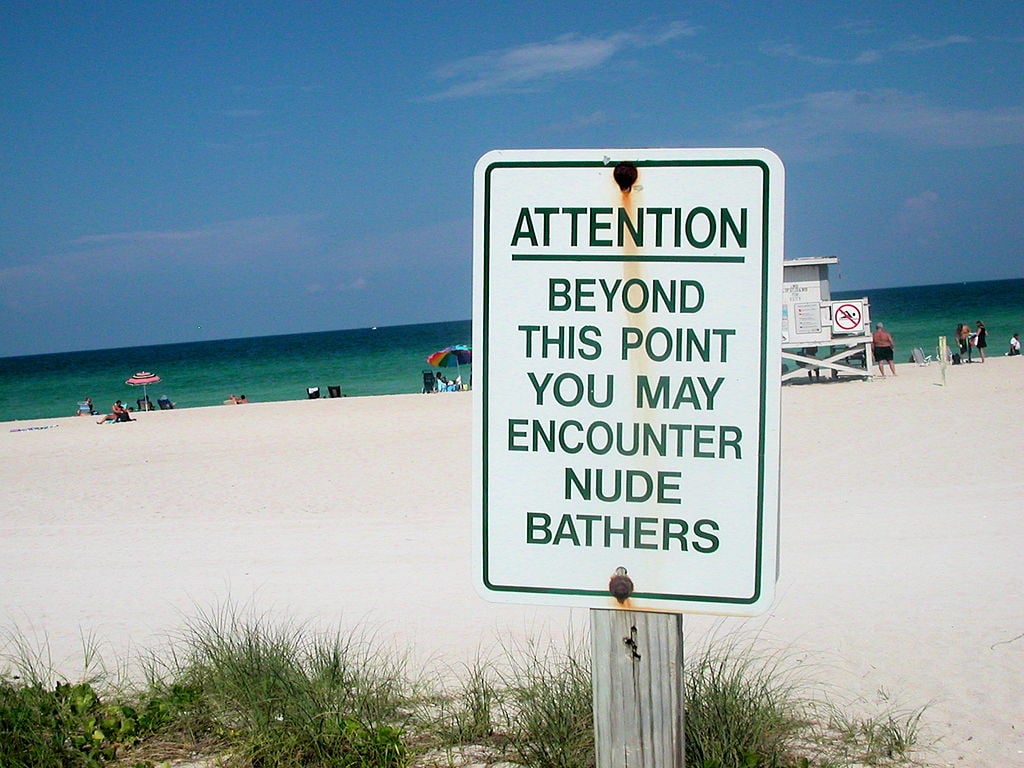 Popular Nude Beaches in Florida
The following list includes nude beaches in Florida.
Warning! Some of these may be officially sanctioned, and others may not be officially sanctioned nude beaches. Visitors to clothing-optional beaches should always do their own research, know and follow local laws to avoid possible legal consequences. When in doubt it is always a good idea to check with the relevant local authorities, especially the police, for a reliable answer!
Blind Creek Beach
Blind Creek Beach is located on Hutchinson Island, in an area known as "Florida's Treasure Coast".
Blind Creek Beach is relatively secluded, and large sections of the beach are primitive and undeveloped.
Because it is relatively out of the way and uncrowded, this beach has a long history of being used as an unofficial clothing-optional beach.
Blind Creek Beach seems to have been officially designated as a clothing-optional beach in 2020, after a vote from the local St Lucie County commission. The clothing-optional section reportedly covers approximately 36 acres out of the 408 acre park.
Blind Creek Beach has portable toilets, but does not have running water or showers at this time. There are not any concession services, so visitors should come prepared with their own food, water and beach gear.
Haulover Beach Park
Haulover Beach is probably the most famous nude beach in Florida. It is also the most heavily populated, and is even patrolled by lifeguards.
Haulover Beach is one of the only officially-recognized nude beaches in Florida. The clothing-optional section is located on the northern third of the beach, between lifeguard towers 12 and 16.
More information, including frequently asked questions, can be found at the Miami Dade County website, and a website made especially for Haulover Beach Park.
Hobe Sound
The nude beach at Hobe Sound seems to be either illegal, or may fall into a quasi-legal grey area.
Hobe Sound is one of the wealthiest and most exclusive places to live in Florida. The beaches in Hobe Sound are generally uncrowded because they are difficult to access.
Nudity is not officially sanctioned or allowed, but many visitors report that low-key, respectful nudity may be tolerated without fuss. Various sources for clothing-optional beaches report that the Wildlife Refuge area is the best place for nude bathing.
Visitors to Hobe Sound should use their own best judgement, know and follow all local laws.
South Beach
Miami Beach's South Beach is not an official nude beach. But, some nudity is reportedly common around Lummus Park.
The beaches around South Beach receive a large number of European and South American visitors. These visitors often wear very revealing bathing suits and sometimes sunbathe topless, even though it is not legally sanctioned.
Because nudity is not officially allowed, full-nudity is not advised. Anyone attempting to use South Beach as a partially clothing-optional beach should be aware of the possible risks, and willing to accept the possible legal repercussions. Know and follow all local laws!
Passage Key
Passage Key is an sandbar near Tampa, just a bit south of Egmont Key.
Passage Key is mostly a low-lying sandbar, just north of Anna Maria Island, and just south of Egmont Key.
Passage Key used to be much larger. It was once a substantial island which covered approximately 60 acres.
The island has shrunk over time due to erosion, and is now anywhere from 0 to 10 acres, depending on recent tides, erosion and storm action. The island's size and shape fluctuate constantly with tides and other natural forces.
Much of the island was once covered by large trees and mangrove forest, but today there is much less vegetation.
The remaining natural vegetation is home to many bird species, including rare and endangered species. The island also has a small saltwater lagoon, which once a freshwater lake.
Passage Key is a protected wildlife refuge, and is managed as part of the Crystal River National Wildlife Refuge.
It was designated as a National Wildlife Refuge in 1905 to protect seabirds, who were at risk of being hunted to extinction, so their feathers could be used for fashion, in women's hats.
Today Passage Key provides an important rookerie and habitat for royal terns, black skimmers, sandwich terns and many other species.
Important! Passage Key NWR is a closed site year-round. The sandbar itself not open to the public.
Some visitors access Passage Key via private boat and use the water-covered sandbar as an unofficial nude beach.
Stepping foot onto the dry land of the island is illegal, and it disturbs an important wildlife sanctuary.
Do not trespass on Passage Key! If you visit, stay off of the island and don't disturb the wildlife!
The island of Passage Key is popular among boaters because it is one of the only semi-legal nude beaches near Tampa. But, anyone who actually steps on the island is trespassing and breaking the law!
Human access is not allowed and nudity is not officially sanctioned. The area is under the jurisdiction of various law enforcement agencies. Unsanctioned access, including nude access, may lead to legal consequences.
Canaveral National Seashore
Two beaches in the Canaveral National Seashore are used as clothing-optional beaches; Apollo Beach and Playalinda Beach.
Both Apollo Beach and Playalinda Beach are located in the The Canaveral National Seashore, which is one of several national parks in Florida.
The Canaveral National Seashore is located on a long, narrow barrier island; it's the longest stretch of undeveloped coastline on Florida's Atlantic coast. These remote, secluded stretches of beach have a long history of being used as clothing-optional beaches.
Note: Neither Apollo Beach or Playalinda are explicitly designated as nude beaches, so visitors should do their own due diligence to know the legalities and possible consequences. Know and follow local laws!
Apollo Beach
Apollo Beach is located at the northern end of Canaveral National Seashore in Volusia County.
Visitors report that there is a designated clothing-optional section of Apollo Beach. The clothing-optional section of Apollo Beach is reportedly located at parking lot 5. Signs warn visitors that they may encounter nude sunbathers near boardwalk 5.
Playalinda Beach
Playalinda is located at the southern end of Canaveral National Seashore.
This section of beach sits along the border of Volusia County to the north, and Brevard County to the south. Only a particular section of beach sits inside the limits of Volusia County, which is reportedly clothing-optional.
Brevard County has an ordinance against public nudity. Signs on the beach warn that nudity is prohibited by Brevard County Ordinance 95-21.
But, part of Canaveral National Seashore lies within Volusia County just to the north, which is reportedly not subject to the Brevard County ordinance.
Nude beachgoers should be careful to stay out of sections belonging to Brevard County. Visitors searching for the clothing-optional section should look for parking lot #13.
There is a limited amount of parking in parking lot #13 which tends to fill quickly. Many visitors to the "nude beach" section must park in other parking lots, sometimes as far away as parking lot #10, and walk to the clothing-optional section.
Know and follow local laws!
Boca Chica Beach/Geiger Beach
Boca Chica Beach is located in the Florida Keys, and is the closest thing to a nude beach in Key West.
The beach at Boca Chica is located on a thin sliver of land directly adjacent to the naval base. Like all beaches in the Florida Keys, the beach at Boca Chica (Geiger Key) is not very attractive.
Or, at least it's not the most beautiful beach the traditional sense, as most people imagine beautiful beaches. It's still beautiful in its own way.
Boca Chica Beach is rocky, not manicured at all, and sadly there can be a lot of trash, debris and litter.
Like most of the nude beaches in Florida, Boca Chica is not an officially-sanctioned nude beach.
Visitors to Boca Chica should know that nudity is not officially sanctioned, and there may be possible legal repercussions from law enforcement encounters.
Still, many people report that remote, secluded sections of the beach are used for clothing-optional sunbathing. This site is reportedly popular among the gay and LGBQT communities of Key West.
Is Smathers Beach Clothing-Optional?
No, Smathers Beach is not a nude beach, or clothing-optional! Key West has a reputation for being a party town and having tolerance for nudity, but Smathers Beach is not a nude beach.
Image Credit: Lyndi & Jason from Dallastown Pa, United States, CC BY-SA 2.0, via Wikimedia Commons