Destin, Florida is a small beach town located in the Florida panhandle. It is an incredibly popular beach destination for tourists, and has been a popular destination for many decades. 
Destin was once a quaint fishing village, but has grown into a busy tourist destination. More than 4.5 million people visit Destin annually, according to the Florida Department of Environmental Protection.
Location
Destin is located in west Florida, in the Florida pandle.
Destin sits between two of the largest cities in the Florida Panhandle, Pensacola and Panama City Beach.
Other towns are nearby as well, including
Seaside
Santa Rosa Beach
Miramar Beach
Watersound
Rosemary Beach
Okaloosa Island
Fort Walton Beach
And others.
Destin is located near major regional attractions, including the Henderson Beach State Park and Eglin Air Force Base. Destin is served by the Destin-Fort Walton Beach Airport.
Destin is located in Okaloosa County, and is the county seat.
Geography and Environment
Destin is located on a narrow peninsula, and is surrounded by water on three sides.
Although there is water surrounding Destin it is not an island because it is connected to the mainland of Florida.
The Choctawhatchee Bay sits to the north of Destin, and the Gulf of Mexico is found to the south.
Okaloosa Island is located across the waters of East Pass, and is accessed via the Destin bridge, or Highway 98.
Choctawhatchee Bay
Choctawhatchee Bay is a large estuary where freshwater flows into the Gulf of Mexico.
The Choctawhatchee Bay is very long, and stretches for approximately 30 miles. The waterway creates a bottleneck for highways, and imposes a geographical limit on the growth of nearby communities.
The bay is a sensitive marine ecosystem, and is an essential habitat for many species of wildlife, including fish and birds.
Beaches in Destin
Beaches in Destin are among the best beaches in Florida, and the United States.
Destin is part of an area of Florida known as the Emerald Coast. It gets its name from the emerald green color of the water that surrounds it.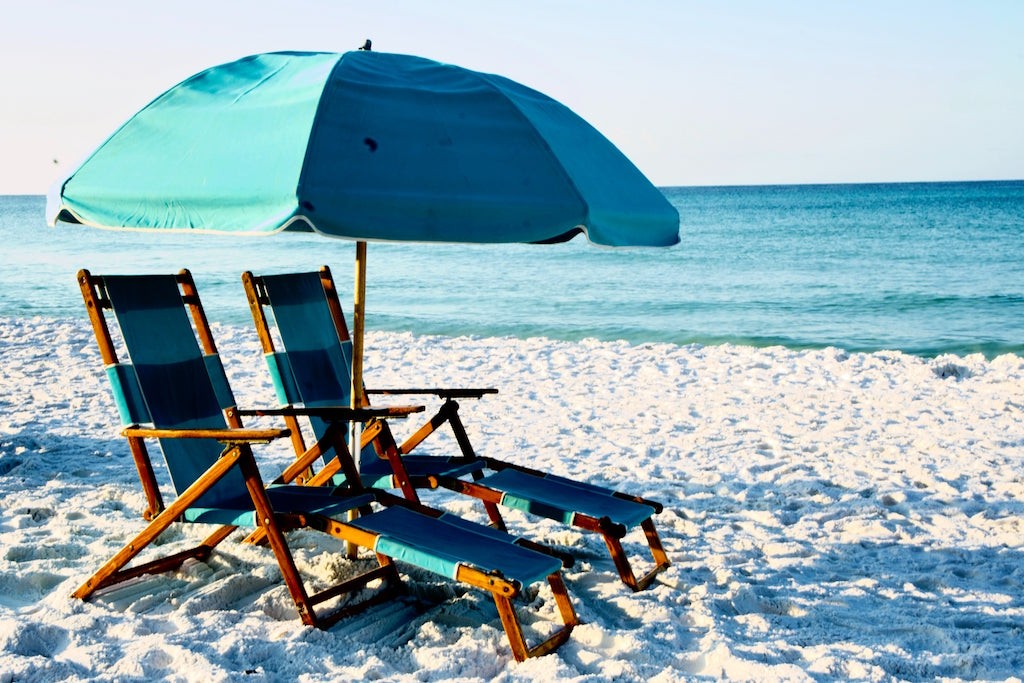 Destin's beaches are beautiful. They are what most people imagine when they think of beaches in Florida.
Beaches in Destin are located on the northern shores of the Gulf of Mexico. They have brilliant white, sugary sand that is as fine as baby powder.
The sand is very high in quartz content because it has been eroded from the Appachian mountain range over millennia.
The bright white color reflects sunlight, helping it stay cooler even in the hot Florida sun.
The quartz also creates a unique "squeak" sound underfoot while walking on it, as the grains of sand rub against each other.
The bright white sand is contrasted against blue skies and amazingly blue-green turquoise water.
This region of Florida is known as the "Emerald Coast" because of the beautiful colors seen in the ocean and inshore waters.
The water in Destin, along with the rest of the Florida Panhandle, is crystal clear because of a lack of sediment in the water. Because Florida is located east of the Mississippi River Delta, it is located "upstream" of the sediment, and is not clouded by the brown, murky water.
Things to do in Destin
Because it is such a popular tourist destination, there are a ton of things to do in Destin.
The activities revolve around the beautiful beaches, warm weather and outdoors.
Although water activities are extremely expensive in many places, the high amount of competition in Destin gives visitors surprisingly affordable options to get out on the water, including jet ski rentals, boat rentals, dolphin tours and more.
Water sports are very popular, including dolphin tours, sailing, parasailing, fishing charters, sandbar tours, scuba diving, dolphin cruises and more.
Many people who visit Destin enjoy the pristine white sandy beaches and world-class golf courses.
Surfing in Destin
It is possible to surf in Destin, and there are surf lessons available. Visitors should be warned though, it is not considered to be one of the best place to surf in Florida. The waves in Destin are often small and very choppy.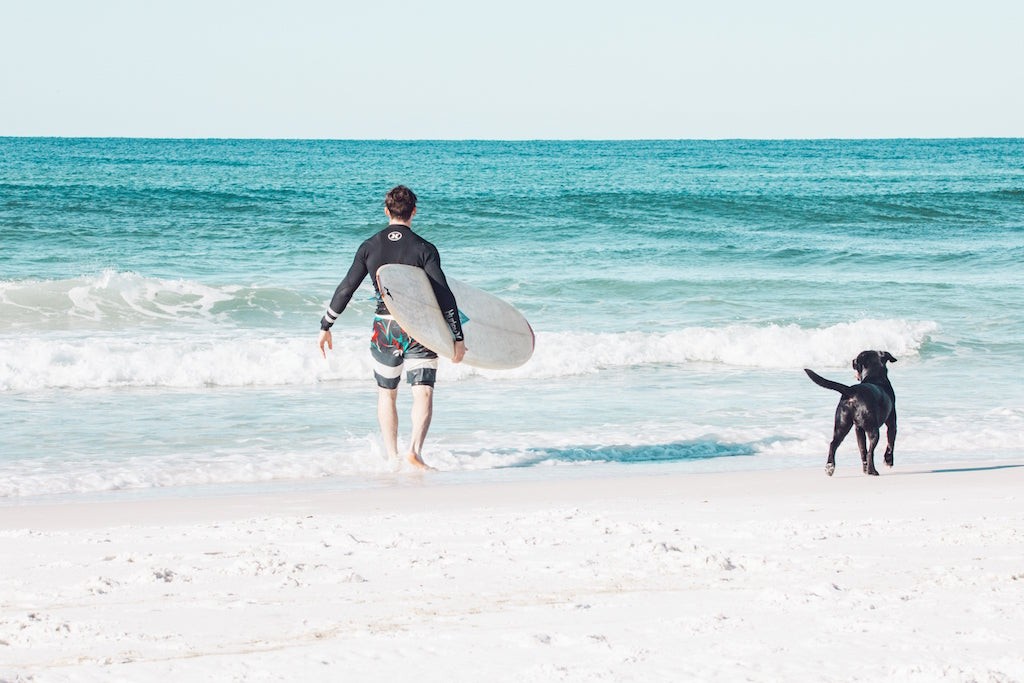 The small waves can make Destin a good place for beginners to learn to surf, but the small, weak waves can actually make it more challenging to stand up and ride waves for some people.
Surfing waves in Destin are usually largest when there are hurricanes or strong storms in the Gulf of Mexico. Hurricanes and storms can generate large, powerful swells and waves, which travel for great distances.
During these times the ocean can become very dangerous. The beaches and water would not be suitable or safe for anyone without deep experience and local knowledge.
There is a robust community of standup paddle boarders around Destin who enjoy paddling the clear waters and local shorelines.
Kite surfing in Destin is also very popular, and it can be a great place to take lessons.
Henderson Beach State Park
Henderson Beach State Park is one of the best places to visit in Destin.
The state park offers a variety of activities, including camping. The state park has 60 campsites for both tents and RVs.
The sand is white, the water is blue, and the state park offers a glimpse into the beauty of Florida's undeveloped beach and natural shoreline.
Destin History and Fishing Museum
The Destin History and Fishing Museum is one of the best places to visit in Destin!
The museum chronicles the fascinating history of Destin and the surrounding area, from the early Native American inhabitants through present day.
The museum focuses heavily on the fishing culture, and has a number of interesting displays.
There are interesting artifacts from various periods, including antiques from early pioneers. There are also many exhibitions dedicated to the area's sea life, including a depiction of sea life on the seafloor of the Gulf of Mexico.
There is also an aviation museum at the Air Force Armament Museum at Eglin Air Force base.
Getting Married in Destin
Destin is one of the most popular places to get married in Florida.
The beautiful blue water and white sand beaches provide a beautiful wedding backdrop, and allow for amazing wedding photography.
Thanks to the wide range of lodging and event venues the area around Destin is well suited for a destination wedding in Florida.
Harborwalk Village
Harborwalk Village is a popular tourist attraction located on the Destin Harbor waterfront.
The waterfront offers a number of popular boutique shops and restaurants, including seafood staples like East Pass Seafood and Oyster House.
Harborwalk Village often has live music, and is a popular venue for events.
There are also watersport rentals in the area, including:
Jet ski rentals
Boat rentals
Kayaking and paddleboarding
Parasailing
Glass-bottom boat tours
Fishing charters
And more
Harborwalk Village sometimes hosts firework shows and other events. There is also a zipline which soars high over the boardwalk and gives great views of the harbor and water.
Fishing
Fishing is an important part of Destin's past, and future.
Destin has a large fishing fleet, often referred to as "The Destin Fishing Fleet", which is one of the largest in Florida and the United States.
Destin is located unusually close to deep water in the Gulf of Mexico, which gives it good access to excellent offshore and deepwater fishing grounds. There are also ample opportunities for both near-shore and shallow-water fishing
Crab Island
Destin's Crab Island sandbar is one of the best sandbars in Florida, and is one of the top things to do in Destin.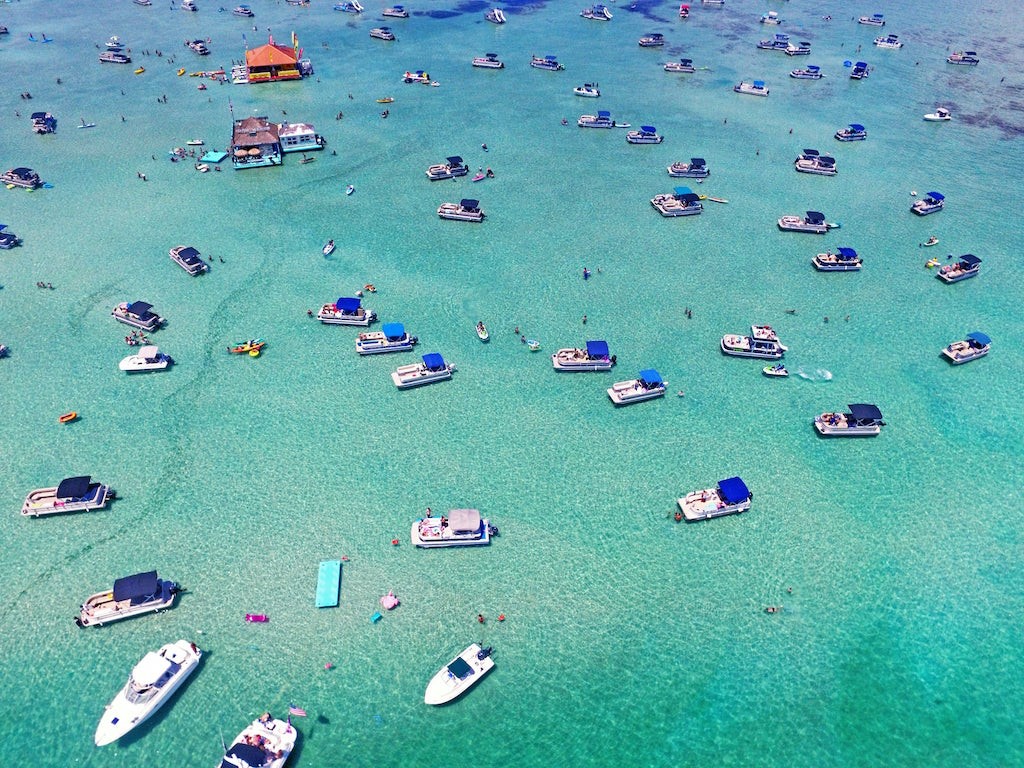 The beautiful, shallow emerald water is a perfect place to hang out, and is a fun alternative to the traditional beaches in the area.
On a nice day, Crab Island will have over a hundred boats anchored. Crab Island is a shallow sandbar that is only accessible by boat, or watercraft.
Crab Island has grown out of control, and is unrecognizable from its early days as a quaint local hangout sandbar.
On the busiest days Crab Island attracts thousands of people. It can be a wild place, so be sure you know what to expect, and be prepared.
Crab Island is a popular hotspot for locals, and has become a main attraction for tourists as the party has grown over the years.
Most people who visit Crab Island go in their own boats, although there are jet ski rentals, boat rentals and shuttle boats to Crab Island for people who do not have their own watercraft.
Read more about Crab Island
Places to Stay in Destin
There are several resorts in Destin, including The Henderson Resort and The Emerald Grande Resort.
There are a number of options for condos, vacation rentals, monthly and seasonal rentals throughout Destin.
The best way to find a hotel or place to stay is to use an aggregator so you can view all of the hotels at once, instead of visiting each individual hotel or resort page, since the websites are all over the place in terms of quality.
TripAdvisor is usually a good place to start because it has the most active user base and typically the most accurate reviews. Booking.com is also good, they can basically be used interchangeably.
Best Times to Visit Destin
Destin prides itself as a unique place to visit any time of the year. It has a wide range of activities for families, couples, retirees, and people of all ages.
Everyone has different preferences, but in my opinion, the best time to visit Destin is from April until June, and from October until November.
During these "shoulder season" crowds will be slightly lower, since families with children will be busy with school and work schedules.
April is usually late enough to miss spring break visitors, and early enough in the season to avoid oppressively hot, humid weather.
Note: If you visit Destin during spring break season you should be prepared for heavy crowds!
The weather is also slightly cooler during the spring and fall months. Visitors should beware of hurricane season when planning vacations or visiting Destin.
June, July and August are the hottest months, and are uncomfortably hot and humid. Average high temperatures are usually in the upper eighties or low nineties.
Ninety degrees may not seem that hot, but it is. The temperature feels considerably higher due to high humidity levels. Record highs can reach 100 degrees.
July, August and September are also the rainiest months. Afternoon thunderstorms occur almost daily because of the high humidity and daytime heating effects.
Hurricane season in Florida lasts from June 1 until November 30. Hurricanes can strike at any time during this period.
Living in Destin
Destin is a nice place to live in some respects, and an unpleasant place to live in other ways.
On the plus side, Destin has the beautiful Gulf of Mexico, beaches and a beautiful environment.
Destin also has a warm, temperate climate year-round. Visitors and prospective residents should be warned though, it does get cold in Destin.
Winter temperatures are often much colder than many people expect, and considerably colder than other destinations in south Florida.
Destin can even experience freezing weather during strong northern cold fronts. The average low temperature in Destin in the winter is in the mid forties. Record low temperatures in Destin's winter months are frequently in the low twenties and thirties.
Traffic and crowds are a common complaint for residents who live in Destin.
During the peak months, especially spring break and summer months, residents in Destin are overwhelmed by waves of tourists.
Tourism is a double-edged sword. On one hand, tourists come to experience the same beautiful beaches and oceans that residents and locals love.
Without tourists, many locals would not be able to live in Destin, and the local economy would not exist. On the other hand, tourist traffic and annoyances are frequent subjects of complaints for local residents.
Destin has a high cost of living, especially compared to the very low wages and dismal local job market.
The cost of living in Destin varies considerably according to one's wealth, and lifestyle. For some people Destin is an amazingly cheap alternative to other coastal cities which are much more expensive.
To others, Destin is not an affordable place to live at all, due to the lack of high-paying jobs and the cost of housing.
For people who earn local wages, Destin is an expensive place to live relative to the region's job market and earning potential.
Destin struggles with affordable housing, along with all of Florida. The rise of services like AirBnB and VRBO have exacerbated the affordable housing problem in Florida as it has removed entry-level housing inventory from local markets.
Like the rest of Florida, Destin and the Florida Panhandle have volatile real estate markets. Throughout history home prices have repeatedly soared to unimaginable heights amid housing bubbles, and plunged back to Earth, or below, after the bubbles inevitably pop.
Economy and Demographics of Destin
For demographic and economic purposes Destin is included as part of the Crestview-Fort Walton Beach-Destin Metropolitan area.
The population of Destin was 13,931 as of the most recent 2020 census. In 2010 the population was 12,305, which is a growth of 13.2%.
Tourism is the largest driver of the economy in Destin, and the Florida panhandle.
Hospitality and tourism are the largest employers, by far. The area's dependence on tourism makes the region vulnerable to economic shocks, since many people cancel or delay their vacations during economic hardship. Hospitality and tourism jobs are also very low-paying relative to other sectors.
Real estate construction is another leading economic driver in Destin, and throughout the Florida panhandle.
There are major military bases in the Florida panhandle, which bring many temporary residents to the area and contribute to the region's economy.
Eglin Air Force Base
Eglin Air Force Base is located northwest of Destin, across the waters of the Choctawhatchee Bay.
The base is enormous, and covers more than 720 square miles and can host tens of thousands of military personnel at a time.
Naval Air Station Pensacola is also very large, and is a significant contributor to the regional economy. NAS Pensacola is about 50 miles west of Destin, or about an hour and a half drive.
History of Destin
Destin is mostly known as a tourist destination, but it also has an interesting history.
Native American artifacts show that Destin was inhabited for many thousands of years.
Experts believe that Destin was first inhabited by humans approximately 15,000 years ago, by early paleo-humans who migrated south from Alaska and the Bering Strait.
Destin supported stable villages of native Americans, at least as far back as the seventh century. Artifacts indicate that native Americans fished and survived off of seafood from the abundant local fishing grounds.
The Destin area was later visited by Spanish explorers who mapped the area. Remnants of Spanish shipwrecks have been found nearby, and are continually found in marine archeological sites.
The settlement of Destin was founded as a small fishing village in 1852 by Captain Leonard. Destin was an American boat captain, originally from Connecticut.
Destin and his family flourished in the Destin area. They made use of the large shade trees, fertile soil, and the productive fishing grounds.
Destin remained a small fishing village for many years, but saw growth spurts over time.
One of the earliest growth periods occurred after the end of the U.S. Civil War, when a wave of new residents came to Florida from the north after the war's end. Growth in Destin was similar to other towns in Florida which advertised themselves to retired veterans.
Highways and roadways also played a role in Destin's growth. Destin grew rapidly after the construction of US Highway 98 and the completion of the East Pass Bridge in 1936.
The highways provided much needed public access to the island, and further opened the area. With better access, the population of Destin began to increase rapidly. It also brought tourism to the area.
Destin was a quaint, authentic fishing village as late as the 1950s and 1960s. Since then it has grown rapidly. In the 1980s, Destin experienced even more growth, and tall buildings and condominiums were built along the Gulf beaches.
Over the years Destin has become one of the top tourist destinations in Florida. Today more than 4.5 million people visit Destin every year. It is still a small beach town compared to other cities in Florida. The beaches and ocean are still beautiful, but Destin is unrecognizable from what it once was.