Spring Break in Florida is amazing. The weather is often beautiful, and it's a perfect escape from cold northern winters.
This guide covers spring break in Florida, and what you should expect.
Note: Many of the most popular beaches on Florida's Gulf Coast are suffering from severe red tide outbreaks. Read more about current red tide conditions
Beaches in the Florida Panhandle and Atlantic Coast are not currently affected by red tide conditions.
College students
About 40% of U.S. college students travel on spring break, usually somewhere warm. Florida is the destination for many of them.
For college students, spring break in Florida is the ultimate party. It's often like something out of a crazy movie.
Many beaches around Florida are packed with beautiful young people, often in tiny swimsuits. Drinks often flow freely. Everyone wants to have a good time.
But, there's a big dark side to spring break in Florida. For locals, spring break season in Florida can be a terrible, exhausting hassle. This isn't anything new – the conflict and controversy goes back many decades, to the earliest days of spring break in Florida.
During spring break, Florida's beach towns fill with traffic and crowds. Here's how one local described the annoyance:
"It usually takes us a few minutes to get to the beach. During Spring Break it takes an hour. Our favorite restaurants usually have no wait. During spring break they're booked up every night. Our grocery store is usually quiet. During spring break it's chaos, like the day before Thanksgiving."
Life becomes chaotic for locals, and sometimes scary. Things can spin out of control, or even be violent. Police and officials are on high-alert because of crowds, crime and property damage.
One local sheriff in the Florida Panhandle described it like this:
"You're talking about two million people coming through our area in a 47-day period. And they did not come to go to church."
Every year young people make mistakes that can have life-changing consequences.
"In South Florida, raucous crowds, public drinking and growing violence associated with the city's world-famous South Beach neighborhood led officials to impose a midnight curfew over the weekend. The action followed shootings that injured five people on South Beach last week"
Spring break today vs. previous years
Spring Break has changed a lot over the years.
Compared to today, spring break was relatively modest and low-key when it first began in the 1930s. The intensity and craziness has gone up and down over the decades.
The "Peak" of Florida's spring break craziness was in the mid to late 1980s and early 1900s.
At the time MTV was all the rage, and they gave non-stop national coverage to Florida's beach parties and massive concerts.
Fort Lauderdale, Daytona and Panama City Beach were the main spring break destinations at that time.
Many local cities disliked the chaos and cracked down on spring break debauchery. Locals wanted less crime, traffic, property damage and other negative aspects of spring break.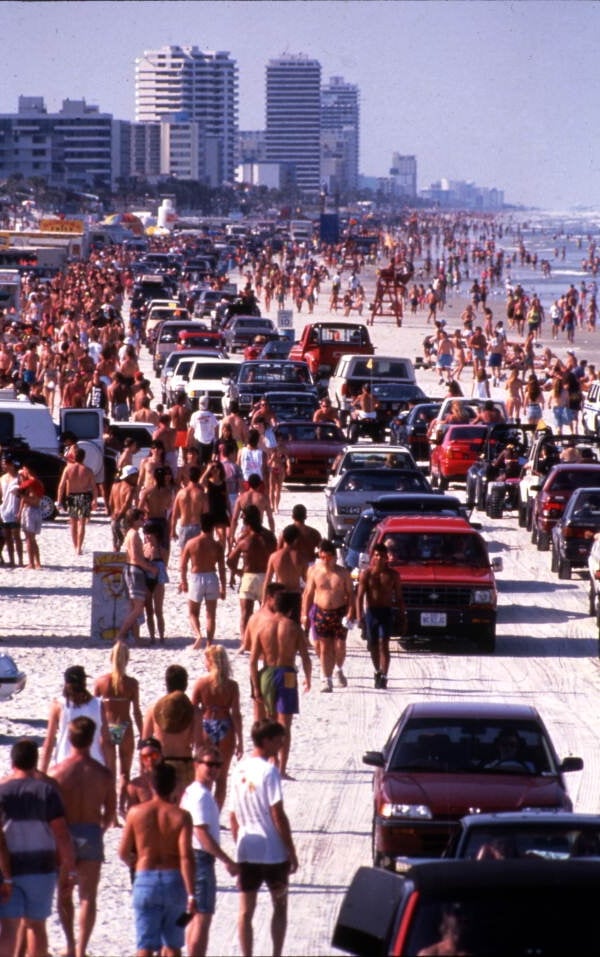 Recent years have generally been more tame than the late 80s and early 90s.
Police and locals say that modern spring break visitors are generally more mature, more respectful, and more responsible. But, things have gotten worse in recent years.
Police say that spring breakers in 2021 and 2022 were especially bad in some spots, especially Panama City Beach and Miami Beach, among others.
In some locations police used crowd control measures, enforced curfews and conducted mass arrests.
How will it be for spring break 2023? We'll see!
Frequently Asked Questions about Spring Break in Florida
What is spring break season in Florida?
Spring Break season in Florida is from early February until mid or late April.
It's important to know that spring break in Florida is not always warm, and the water is often too cold for many people to swim comfortably. This varies a lot, and is unpredictable. It depends on factors which are unknowable, including weather, temperature, location and personal tolerance for cold water temperatures.
Where do spring breakers go in Florida?
In general, college student spring breakers visit these beach destinations:
The Florida Panhandle
Fort Lauderdale
Daytona Beach
Miami Beach and surrounding areas
Many spring breakers also visit Florida's inland destinations, especially Orlando.
Families who visit Florida on spring break tend to avoid rowdy beach destinations with large crowds of college students. Many families visit theme parks in Orlando and national parks.
Local Floridians on spring break tend to visit local beaches, as well as springs in central Florida and state parks.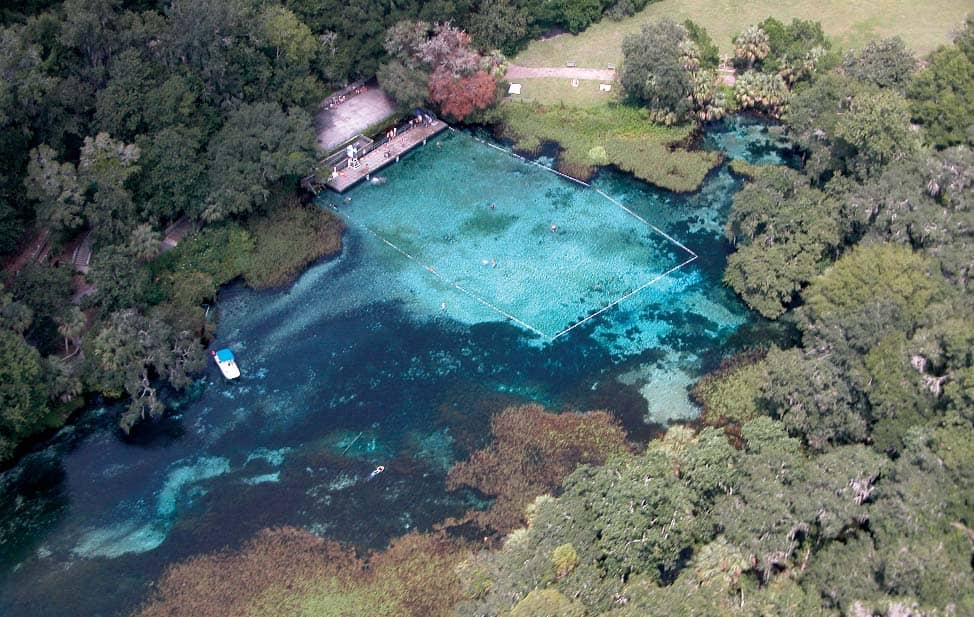 Where can I avoid spring breakers in Florida?
To avoid spring breakers in Florida it's best to seek destinations with these characteristics:
Beaches with private or restricted access
Cities which prohibit alcohol on the beach during spring break
Cities without a reputation for being spring party spots
Higher cost travel destinations which deter college students on spring break
Expensive destinations and restaurants tend to have fewer spring break crowds.
It's also a good idea to travel outside of peak Spring Break vacation dates, if at all possible.
Many remote stretches of beach in Florida offer long stretches of uncrowded beaches, often without spring break crowds. Examples include:
Playalinda Beach
Canaveral National Seashore
Juno Beach
Vero Beach
Flagler Beach
Longboat Key
Florida state park beaches can be excellent places to avoid spring break party crowds.
State parks often have rules against alcohol consumption and unruly behavior so they tend to filter out rowdy spring breakers. Good examples of state park beaches include:
Henderson beach state park
State parks in Florida may be good places to avoid spring break party crowds, but they will likely still be crowded with normal, non-partying state park visitors.
Do college kids go to the Florida Keys for spring break?
In general, college kids don't go to the Florida Keys in large numbers for spring break because Keys travel costs are expensive, especially hotel prices.
Most college kids go to mainland Florida beach destinations with large amounts of low-cost accommodation.
The most popular spring break destinations include:
Beaches in the Florida Panhandle
Fort Lauderdale
And others
That said, many people do visit the Florida Keys during spring break, including some college kids, because it is one of the best times to visit the Keys in terms of weather.
Some college kids tend to visit the Florida Keys on short road trips from Miami to Key West via the Overseas Highway.
Read more about Key West and the Overseas Highway
When is spring break?
In general, spring break season in Florida lasts from approximately early February until late April.
Almost all states, school districts and universities in Florida and the U.S. vary their spring break schedules, so there is a steady stream of spring break visitors throughout the spring break season.
Many southern states have spring break earlier in the season, while northern states tend to have later spring breaks because of their long and harsh winters.
Many spring break schedules around the U.S. and Canada include the Easter Sunday holiday (Sunday, April 9, 2023). So, mid-late April is usually a very busy time for spring break in Florida.
Because of quirks in school district scheduling, it's common for Florida to be filled with visitors from a particular state, city or college at the same time. One week may be filled with Michigan folks, while the next week will be filled with Texans, Minnesotans or visitors from Georgia.
Florida's public school districts are all different, but most school districts in Florida have spring in mid-March.
This document gives a comprehensive list of spring break dates for school districts in Florida. Please note that this document is from 2020, but the dates should still be similar today, so it may be helpful in planning to avoid crowds.
Is Spring Break a good time to visit Florida?
Depending on your preference, spring break in Florida is the best time to visit Florida, or the absolute worst time to visit Florida. It all depends on what you want from your trip and tolerance for traffic, crowds and high prices.
Visitors who come to Florida during spring break should know what to expect to avoid surprise or disappointment.
Advantages and Disadvantages to visiting Florida for spring break
Spring break in Florida is amazing, but there are serious downsides for both locals, and visitors. People who are looking for a good spring break destination should carefully consider what they want out of their vacation and choose carefully.
The Best things about Florida for spring break
Excellent weather, usually
Beautiful beaches
Fun party atmosphere
You don't need a passport
There is affordable lodging in some places
The worst things about visiting Florida for spring break
Other destinations may offer a better spring break experience
It's easy to get into trouble. Police are often on high-alert and may have zero-tolerance
Locals may not appreciate your presence
Florida is more expensive than other spring break destinations
The weather is unpredictable and it may not be very warm
The water may be too cold to swim for many people
Other Events during Spring Break
Spring in Florida usually has the best weather of the year, so it's a very popular time for large festivals, concerts, and other events.
Events and festivals, on top of spring break, can increase demand for lodging and hotel rooms beyond capacity, and drive up prices.
Restaurants, beaches and other attractions may also be even more crowded than usual.
Visitors who come to Florida during spring break should research their destination so they know if other events are not happening at the same time.
Spring break also coincides with snowbird season in Florida, so crowds are really at their peak capacity.
Final thoughts
Spring break in Florida can be amazing, but it also comes with serious downsides.
Florida offers an escape from cold northern winters, warm weather and sunshine, and a ton of things to do. It's got a fun beach party scene, there's almost always something for everyone.
If you do visit Florida for spring break, please remember to be respectful, careful and make good decisions.