The Florida Aquarium is one of my favorite aquariums in Florida! It has amazing marine life and marine life, with a huge variety of exhibits. It is actually interesting and fun for both kids and adults.
What to Expect and Things to See
The aquarium is very large. Depending on how long you linger and enjoy the exhibits, you could budget as little as 1-3 hours, or make it an all-day experience.
Restaurant
There is an on-site cafe which has burgers, wraps, and more. They have vegetarian and healthy options available. Alcoholic drinks are available for reasonable prices, including local Florida craft beers! Here is their menu.
Wetlands of Florida
This exhibit has an 80-foot-tall glass dome with Florida birds, including roseate spoonbills and white ibises. There are also tanks with turtles, freshwater fish, mangrove trees, and more.
You can see alligators, fun river otters, and learn about Florida's freshwater and brackish habitats.
Journey to Madagascar
I'm not exactly sure of the Florida/Madagascar connection, but this exhibit is cool anyway. This area focuses on the unique wildlife of Madagascar, including ring-tailed lemurs and a tropical coral reef, including threats to native habitats and species.
Shorelines
This section highlights Florida's coastal environments. You can see a variety of native Florida marine life, including spiny lobsters, garden eels, pufferfish, and others.
Stingray Beach
We love this section! It's interactive experience where you can touch cownose rays and other species in a large touch tank.
No Bone Zone
This section has invertebrates like sea stars, anemones, and sea cucumbers. Be prepared – the water is very cold in this exhibit!
Morph'd
I really liked this exhibit because the species are all fascinating – all have unique survival adaptations, like electric eels, mudskippers, and poison dart frogs.
Coral Reef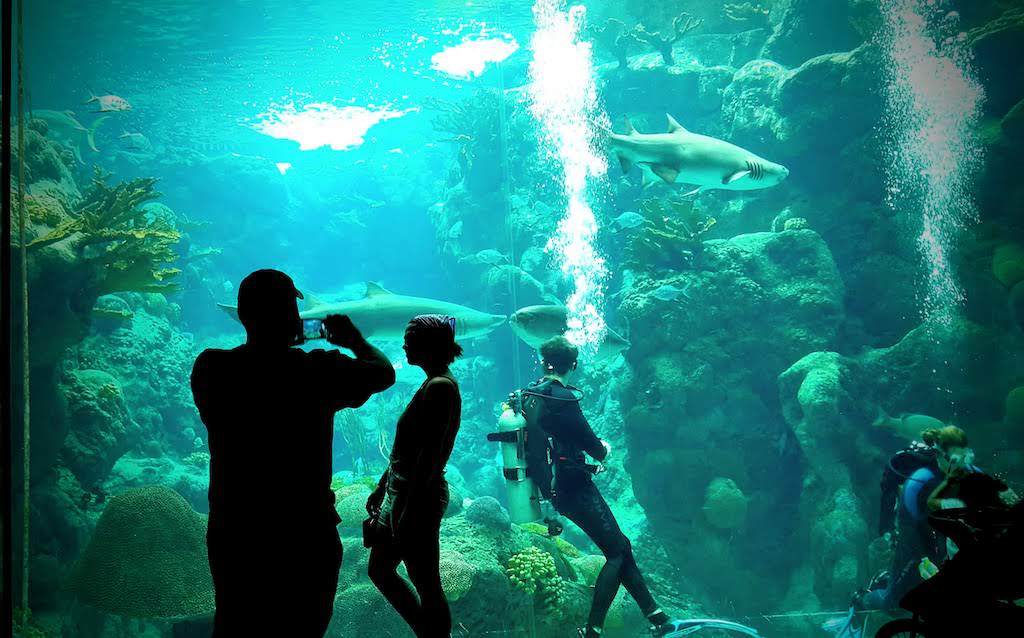 This is my favorite part of the aquarium! There is a 500,000-gallon salt water tank, housing sand tiger sharks, huge sea turtles, giant Atlantic stingrays, and a countless reef-dwelling fish. You can often see scuba divers inside the tank, swimming with the sharks.
Amazingly, visitors can also swim and dive inside the tank with a "Sea Trek" experience! There is also a walk-through tunnel to have an immersive experience inside the tank without actually diving inside.
Reef Secrets, Waves of Wonder, Moon Bay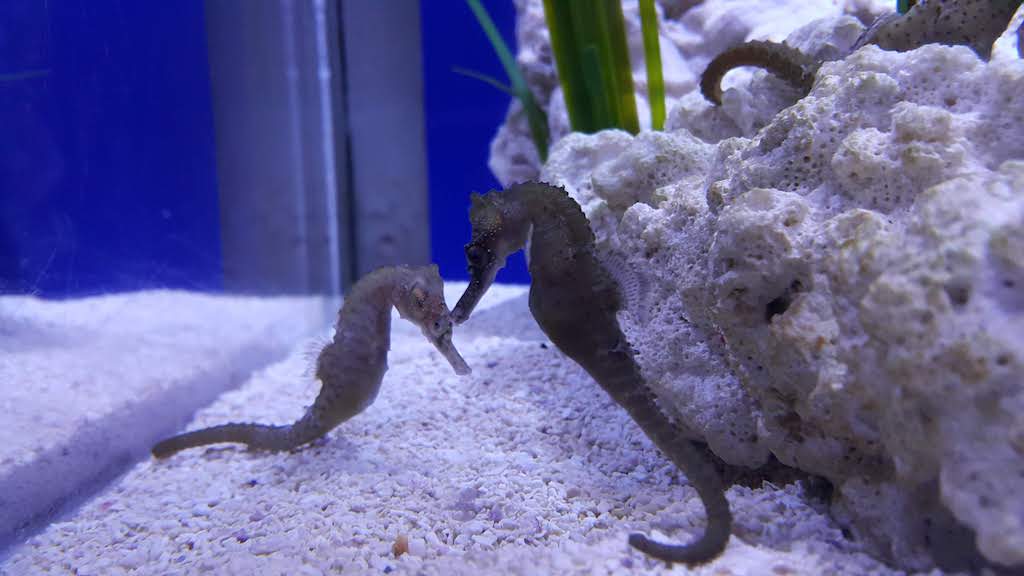 I really like these sections because I love seahorses, jellyfish and all of the fascinating sea creatures that live in our oceans. All of these sections have great exhibits to learn about the different species.
This Waves of Wonder exhibit has amazing jellyfish, clownfish, anemones, a great Pacific octopus, and a variety of Florida marine life.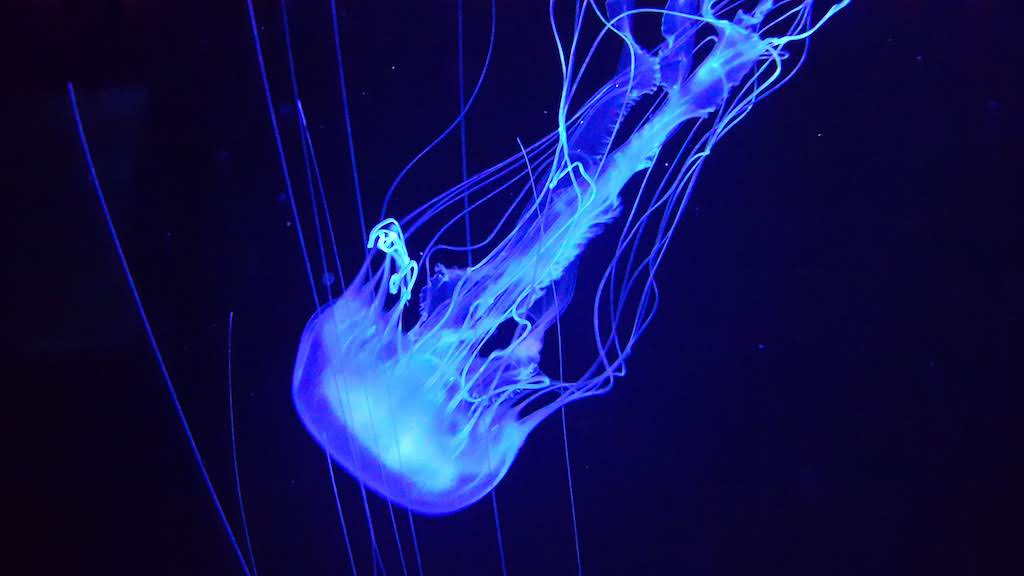 The Moon Bay exhibit has jellies you can touch, along with cool tank habitats with changing-colored lights and fascinating information about jellyfish.
Conservation Campus in Apollo Beach
The Florida Aquarium also operates a 20-acre "Conservation Campus" in Apollo Beach, just southeast of Tampa. The facility is a partnership between the Florida Aquarium, TECO Manatee Observation Center, Florida FWC, and the University of Florida. It includes the Coral Conservation Center, Sea Turtle Rehabilitation Center, research labs, and pollinator gardens, touch tanks, and more. Some areas are open to the public from November to April each year, when manatees and marine life come to the power plant for warmth.
Other Experiences
The aquarium offers some amazing experiences, including a dolphin boat tour and, amazingly, the chance to swim inside the aquarium with a SCUBA diving helmet!
Pricing for these activities is very reasonable and some include the regular price of admission.
Penguin Encounter
SeaTrek dive in the aquarium
Wild Dolphin Cruise
Nearby things to do in downtown Tampa include:
American Victory Ship & Museum
Tampa Bay History Center
Tampa Convention Center
Tampa Riverwalk
Fort Brooke Park
Tickets and Pricing
You can buy Florida Aquarium tickets on-site without reservations, or you can buy tickets in advance for a discount and guaranteed admission.
The Tampa Citypass also gives a big discount. It may be worth looking into if you want to visit any other attractions in Tampa.
There are good attractions in this program, including Busch Gardens, the Tampa Zoo, Clearwater Aquarium, Tampa Museum of Science and Industry, The Tropics Sunset boat cruise, and more.
In my opinion the admission cost and "Premium" experiences both offer good value for the price. But, it can get expensive, especially if you need to buy several tickets.
On the bright side the proceeds go to a great cause. The aquarium is a 501c3 non-profit organization. The aquarium serves in a variety of research and conservation efforts, including planting coral reefs in the Florida Keys, sea turtle rescue and rehabilitation, and much more.
To balance out the cost you can combine the aquarium with a walk on the waterfront, which is free, or choose from other free things to do in Tampa.
There are also various "Free" days to visit throughout the year. We've visited during one of these days through a credit card travel benefit. It can save a lot of money but these days are often very crowded, so there is a trade-off.
Location, Hours and Contact
The aquarium is open daily from 9:30 AM until 5 PM. It's open year-round, but is closed on Thanksgiving and Christmas.
The Florida Aquarium is located in downtown Tampa, in a fun and busy area called the Channel District, near the cruise ship port.
Phone: (813) 273-4000
They also have a "Chat" function on their website!
Website: https://www.flaquarium.org/
Address: 701 Channelside Dr, Tampa, FL 33602
Map
Parking and Transit
The area around Channelside is busy and in a dense downtown area. There are parking garages just across the street, and in the area around the aquarium.
The aquarium has valet parking — $20 for 3 hours and $40 for visits longer than 3 hours. Traffic and parking at the aquarium can be crazy when cruises are in port.. If you have any questions it's always good to call and ask.
The aquarium can be accessed via the Pirate Water Taxi and the TECO streetcar system.
You could also use the Cross Bay Ferry to or from St. Petersburg, if the scheduling works for you.
Parking is available via valet and also in nearby parking lots and garages, which are paid. There are both private parking garages and City of Tampa lots and garages nearby.
Be prepared for the area to be very busy when cruise ships are in port!
Accessibility
The aquarium is accessible for visitors with limited mobility, and they have special programming for people with sensory differences.
Wheelchairs, scooters and strollers can be rented on-site. Here is a link to this section on their website.