Tarpon Springs is a hidden gem in Florida's nature coast. It's conveniently located near several of the largest cities in Florida, and is a great alternative to the stereotypical list of "Things to do in Florida".
Tarpon Springs is a fantastic weekend getaway for Florida locals who want to explore an interesting place, or a good destination for a weekend road trip.
We love Tarpon Springs and are always excited to visit. Here are our best things to do in Tarpon Springs.
Explore Tarpon Springs' Sponge Docks
In our opinion the historic Sponge Docks are the best thing to do in Tarpon Springs!
Along with the fascinating Greek culture, the historic sponge dock district is the best, most distinct and unique attraction in Tarpon Springs. The sponge docks are really Tarpon Springs' claim to fame.
Tarpon Springs' sponge docks have been in operation since the late 1800s and it's a really interesting place to visit.
Even today it's sometimes possible to see sponge boats unloading sponges directly onto the wharf!
Tarpon Springs' sponge docks were established in the early 1900s, when Tarpon Springs emerged as the "Sponge Capital of the World".
At its peak Tarpon Springs' sponge fishing fleet had more than 50 boats and more than 500 divers.
Many of the divers were immigrant sponge divers who came from Greek islands with a long history of sponge diving.
Many of the sponge divers brought their entire families. Some opened Greek restaurants to feed the hundreds of hungry sponge divers, leading to Tarpon Springs' awesome Greek food scene.
Depending on your preference it's possible to fill an entire afternoon around the sponge docks and Dodecanese Boulevard, the main waterfront street.
Tarpon Springs' waterfront is lined with boutique shops, Greek restaurants, hand-made olive oil soaps and other unique products.
Warning: Some people might be able to spend an entire day perusing in the small shops of the sponge docks. Other people might be completely bored.
Families with kids should be sure to plan on some more exciting activities like a boat tour, kayaking, the aquarium visit, or something exciting to hold kids' attention besides scented olive oil soaps and natural sponges.
Tarpon Springs Sponge Exchange
The Tarpon Springs Sponge Exchange is another great place to visit, located just beside the sponge docks.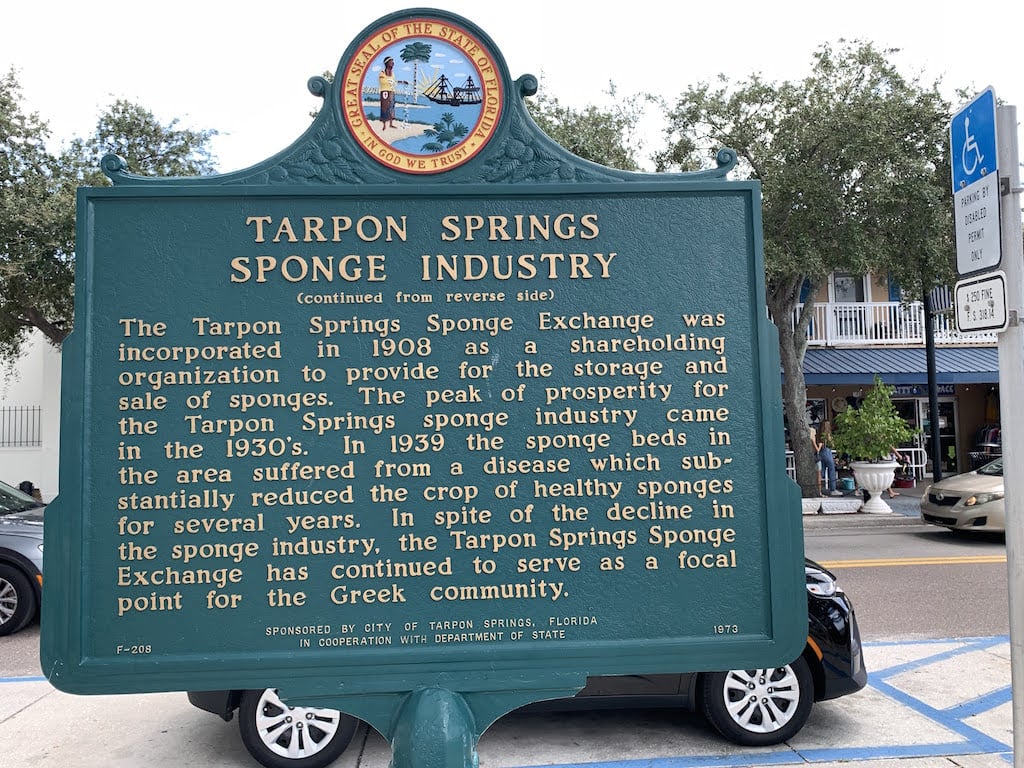 At one time the sponge exchange was a vital cornerstone of the local economy, where traders would come to buy and sell the region's natural sponge harvest.
Today the exchange is more touristy and feels like a quaint Mediterranean town square, complete with restaurants, coffee shops, snack stands and shopping boutiques.
There is also a large historic boat on display which is characteristic of the historic sponge fishing fleet.
Shopping
Shopping in Tarpon Springs is a fun and unique experience! Dodecanese Boulevard is filled with eclectic and unique boutiques.
Some of the best shopping in Tarpon Springs revolves around Greek and Mediterranean specialties, especially olive oil products, which the Mediterranean region is famous for.
Olive oil soaps, lotions, skin products and other products are found in many of the shops in Tarpon Springs.
Many other Greek-inspired souvenirs are also found, including sponges, shells, corals and many forms of nautical artwork.
The shops in Tarpon Springs are also intermingled with cute fashion boutiques, art galleries, fresh seafood joints, Greek food, coffee and smoothie stands and many other interesting finds.
We especially enjoyed looking through A Simple Peace, one of the many cute boutique shops in Tarpon Springs. We enjoyed chatting with the friendly owner and browsing their unique collection of jewelry and clothes.
Note: At first it may feel like many of the stores have the same products, but if you look carefully you'll notice that most stores have their own blend of products.
Experience Greek Culture
Did you know that Tarpon Springs has more Greek residents than any other city in the U.S.?
Because of the large Greek population, there's a ton of authentic Greek culture in Tarpon Springs, including delicious, authentic Greek food!
Visiting Tarpon Spring isn't exactly the same thing as visiting Greece, but it's still a fun change from other small towns in Florida.
Many buildings in Tarpon Springs have subtle hints of Greek architecture and Mediterranean colors.
St. Nicholas Greek Orthodox Cathedral
One of the most unique places to see in Tarpon Springs is the St. Nicholas Greek Orthodox Cathedral. 
The cathedral is truly unusual in Florida, and reflects Tarpon Springs' Greek culture, architecture and heritage.
The cathedral is enormous, features ornate stained glass windows, beautiful murals and a distinctive dome-shaped roof which is common in Greek and Mediterranean architecture.
The cathedral was built in 1943 to replace a smaller building from the early 1900s which was outgrown.
Tarpon Springs Historical Museum
The Tarpon Springs Historical Society operates a historical museum in the old train station.
Hours are generally limited, and visitors should always check the operating hours before visiting.
When we last visited the posted hours were from 11:00 am until 3:00 pm from Wednesday until Saturday.
The Tarpon Springs Historical Museum is free to enter but donations are appreciated.
The Tarpon Springs Historic Train Depot building is more than 100 years old. Parts of the museum have been restored to show how the train station would have looked when it was a functioning train station.
The train station was built to connect the port and waterfront sponge docks to the rest of Florida's economy. The railroad helped facilitate travel throughout Florida and was a major contributor to the town's growth.
Eat Greek Food and Seafood
One of the best things to do in Tarpon Springs is to eat!
Tarpon Springs offers amazing locally caught seafood and a very unique offering of authentic Greek food, along with many Mediterranean favorites.
Fresh Seafood
Seafood restaurants in Tarpon Springs are known for offering fresh, locally caught seafood.
Two of the most popular seafood restaurants in Tarpon Springs include Captain Jack's and Rusty Bellies.
Captain Jack's is located across the Anclote River from Tarpon Springs.
Rust Bellies is located at the end of Dodecanese Boulevard.
Greek Restaurants
Greek food in Tarpon Springs is authentic and delicious thanks to the huge local Greek population.
Many of the restaurateurs and staff are Greek themselves, so they cook and actually serve authentic Greek recipes.
Be on the lookout for these popular Greek foods to try:
Dolmades
Keftedes (beef and lamb meatballs)
Greek coffee
Gyros
Calamari and seafood
Ouzo Greek liquor
And many others
Some of the most popular greek restaurants in Tarpon Springs include:
Mama's greek cuisine
Hella's restaurant and bakery
Yianni's seafood and greek cuisine
Mr. Souvlaki
Dimitri's on the water
Mykonos
Leepa-Rattner Art Museum
The Leepa-Rattner Museum of Art is a small modern and contemporary art museum in Tarpon Springs. It's located in the Tarpon Springs campus of St. Petersburg College.
The museum is a local "gem" with a variety of surprisingly good exhibits, especially those which highlight local Florida artists.
Although it's not one of the typical "Best things to do in Tarpon Springs" or a main attraction for the town, it is described as a lovely surprise by almost everyone who visits.
The art museum may be an especially good thing to do during Tarpon Springs' hot summer afternoons for a break from the sun, heat and humidity.
By all accounts the Leepa-Rattner Art Museum is a fun thing to do, and is worth spending an hour or two to explore.
Boat tours
After exploring the sponge docks, one of the best things to do in Tarpon Springs is to take a boat tour to explore the local waterways.
Several boat tour companies operate out of Tarpon Springs and depart right from the sponge docks.
Options for boat tours in Tarpon Springs are varied and include:
Dolphin cruises and the chance to see manatees
Beach combing and seashell hunting tours on Anclote Key Preserve
Sunset Tours to see Tarpon Springs' beautiful Gulf of Mexico sunsets
Kayak tours to observe nature and wildlife up-close and personal
Deep sea fishing tours to venture out into the Gulf of Mexico's offshore fishing grounds
Scuba diving tours
Beaches in Tarpon Springs and Nearby
There are several beautiful beaches near Tarpon Springs, making them one of the most popular things to do near Tarpon Springs besides the historic downtown and sponge docks.
There are several options for beaches in Tarpon Springs itself, including Sunset Beach and the beach at Fred Howard Park.
There are also several other beaches within a reasonable driving distance, including Anclote River Park and Honeymoon Island State Park.
Lasly, some of the best beaches near Tarpon Springs are only accessible by private boat, boat tour or ferry service.
These beaches include Anclote Key Preserve State Park, the many Anclote Sandbars and Caladesi Island State Park.
Read more about the best beaches in Tarpon Springs and nearby
Tarpon Springs Splash Park
For families with young kids, one of the best things to do in Tarpon Springs is to visit the Tarpon Springs Splash Park.
Especially on a hot day, young kids will love this instead of learning about the history of sponge fishing, or shopping for olive oil skincare products.
The splash park is designed for young children, from the very young up to approximately age 12 or so.
The splash park is very cute and is designed with local themes, including Greek themes and local wildlife and marine life.
Some of the features include a manatee, a tarpon fish, a pelican, a sponge diver and a lighthouse to honor the local Anclote Key Lighthouse.
There are picnic facilities, some first come, first-served pavilions, changing rooms and restrooms on-site.
The splash park is located approximately half a mile from the eastern end of the sponge docks area, inside the Live Oak Recreational Complex. Other amenities include a playground, dog park, kayak launch and access to the Pinellas Trail.
As of this writing the splash park is open daily from 10 am until 6 pm, it's not clear whether the hours vary depending on the season. As always, readers are advised to always check before visiting!
Tarpon Springs Aquarium
For families, one of the most popular things to do in Tarpon Springs might be to visit the Tarpon Springs Aquarium and Animal Sanctuary.
Note: The Tarpon Springs Aquarium recently moved from its old location on Dodecanese Boulevard near the sponge docks. It's now located a few minutes' drive from the sponge docks at 1722 N Pinellas Avenue.
The aquarium is small because it's family-owned and operated, but it offers a chance to experience local wildlife, including:
Sharks
Alligators
Snakes
Reptiles
Goliath Grouper
Stingrays
Turtles
And other marine life and wildlife
Some animals can even be fed or touched via interactive exhibits, under supervision from the resident wildlife biologist.
Note: Many visitors caution that there are major downsides to this aquarium.
Many guests say that the admission price is quite expensive relative to the tour length and overall experience. The aquarium does offer options for reduced rates, including a discount for Florida residents during summer months.
Many visitors voice concern about small wildlife enclosures, the condition of the aquarium tanks and facilities. Most visitor complaints and concerns are from when the aquarium was in its older, smaller location.
On the plus side, almost everyone says they're impressed with the staff's knowledge, enthusiasm and passion for the animals.
Explore Downtown Tarpon Springs
Downtown Tarpon Springs is an essential place to visit while in Tarpon Springs.
Sadly many visitors to Tarpon Springs don't even know about the downtown area, and limit their visit to the Sponge Docks.
This is a mistake! Tarpon Springs' historic downtown is a perfect example of a lovely small town in Florida.
Downtown Tarpon Springs is well worth visiting because of its very cute, small-town-Florida feel.
The downtown district has a nice collection of shops and restaurants which line the lively and well-maintained main street.
Most of the shops have covered awnings which provide shade, and benches are strewn around generously.
One of our favorite things to do in downtown Tarpon Springs is to tour around the historic neighborhoods, especially those around Craig Park.
Many of the houses are beautiful and are filled with historic character and charm.
Craig Park is also a lovely place to take a walk and have a picnic on the shores of Whitcomb Bayou. The park offers shade under beautiful live oaks draped with Spanish moss.
Lastly, Craig Park is the site of a beautiful bronze statue of an AMA mermaid emerging from the water. The statue is a tribute to Tarpon Springs' important maritime heritage.
Replay Amusement Museum
Many of the popular "Things to do in Tarpon Springs" can be boring for kids – and many adults, for that matter.
The Replay Amusement Museum might be a great option for people who prefer video games and arcades over history or Greek-American culture.
The Replay Amusement Museum has more than 100 arcade games which have been configured to be played "for free" after paying admission to the museum.
Many of the arcade games are "vintage" classics, including pinball, Pacman, and others.
The admission policy to the museum is generous and allows for multiple re-admission, so visitors can leave and come back later.
This might be a great activity to pass the time during the heat of the day in a cool air conditioned spot, especially after eating a heavy lunch.
Kayaking and Paddleboarding
The waterways around Tarpon Springs are filled with life, including birds, marine life and many land-based species.
The mangrove-filled bayous are best explored via kayak so paddlers can explore up-close and personal in the narrow, shallow waters.
Kayakers and paddleboards with their own kayaks or boards can launch via a number of local boat ramps. Kayaks can also be rented for self-guided tours, or guided paddle tours can help you find wildlife hangouts more reliably. 
See Manatees
Tarpon Springs is not exactly the best place to see manatees in Florida, but they do tend to gather in Tarpon Springs' warm water bayous during periods of cold weather.
Manatees can sometimes be seen in the Anclote River, Whitcomb Bayou and other waterways throughout Tarpon Springs.
If you're determined to see a manatee you might have better luck in other areas, including Crystal River, Homosassa Springs, the Tampa Manatee Viewing Center, or another of the more reliable places to see manatees in Florida.
View the best place to see manatees in Florida
Scuba diving
One of the more unusual things to do in Tarpon Springs is to go scuba diving.
Tarpon Springs isn't necessarily the best place to scuba dive in Florida, but for central Florida locals it's a good diving spot.
Many people come to Tarpon Springs to get scuba certified and to experience scuba diving in the ocean, as opposed to diving in central Florida's freshwater springs.
Depending on local weather conditions and the season the Gulf of Mexico can also be more calm and intimidating than other diving locations in Florida, especially offshore in the Atlantic.
Tarpon Springs does not have any coral reef, or tropical fish. The seafloor in this region of Florida is generally not super interesting, except for sponges, of course.
It might be interesting to dive in the same region as the sponge divers, to gain even more insight into Tarpon Springs' sponge diving history and legacy.
There are some other interesting things to see and do while diving in the Gulf of Mexico.
The area around Tarpon Springs is popular for spearfishing, and there are a few shipwrecks to explore.
The waters off of Tarpon Springs are also home to the Circle of Heroes, an underwater tribute and memorial to honor military veterans. The memorial features full-size bronze statues which honor veterans from all of the military branches.
Narcosis Scuba is the main SCUBA operator in Tarpon Springs.
Events in Tarpon Springs
Tarpon Springs hosts a number of fun and interesting events throughout the year. Some of the most popular events include:
Sunset Beach Concert
First Friday Family Event
2nd Saturday Market
Arts and Crafts Festival at the Sponge Docks
The Tarpon Springs Seafood Festival
Docktoberfest
Thanksgiving Arts and Crafts Festival
The Tarpon Springs Fine Arts Festival
City of Tarpon Springs Christmas Parade
Tarpon Springs Epiphany Celebration
Greek Independence Day Parade
Hippie Fest
and more
More information about events in Tarpon Springs can be found at the Tarpon Springs Chamber of Commerce Events Calendar.