West Palm Beach is one of my favorite places in Florida. The region is beautiful and there are a bunch of fun things to do.
Here are our favorite things to do in West Palm Beach and nearby.
Clematis Street
Clematis Street is one of the best places to visit – it's basically the heart of West Palm Beach. 
Clematis Street is a pretty long road – the eastern side is cute and walkable, with a waterfront section on Lake Worth Lagoon. The street has quite a bit of shade and is lined with shops and restaurants on either side. It has a fun feel. There are usually people out and the area has lots of energy. 
Clematis Street has many boutiques, shops, restaurants, and cafes. A lot of the offerings are high-end and, including clothing, jewelry, art etc. It's a fun place to explore in the evening. When the sun sets the vibe changes to feature more live music and nightlife. 
There is a a large public park with a splash pad fountain, lots of green space, a waterfront boardwalk and more.
On Thursdays (6-9pm) there is a weekly event called Clematis by Night, which has live music performances, food trucks, art vendors and more. There is also a weekly Saturday farmers market which lasts from October until April.
Art Museums
West Palm Beach is home to a rich art scene, and there are many museums in the area.
One of the most popular museums in West Palm Beach is the Norton Museum of Art. It's one of the largest art museums in Florida and has more than 7,000 art pieces, including European, American, and Chinese art work. There is a nice mix of art styles, including contemporary pieces, photography and more. 
Another good option is the Armory Art Center, which has art displays and classes and activities to make your own art. The art center has offerings and classes for all ages and skill levels, including classes for painting, sculpting, jewelry making and more.
Clock Tower
The Clock Tower on Worth Avenue is a popular place to visit, especially for taking photos. Truthfully it's not the most exciting place to visit – it's kind of just a clock. But, it's nice, and is a  photogenic symbol for the city. 
The clock tower is located on Worth Avenue, which is an upscale shopping district with high-end dining, boutiques and hotels. The clock is surrounded by palm trees and sits in front of the Atlantic ocean.
The Square
The Square (AKA Rosemary Square) is a popular place to visit in the entertainment district. The square has more than 100 stores, boutiques, restaurants and bars. There is also a movie theater and a performance center. Rosemary Square has events throughout the year and is usually a lively place to people-watch, shop or explore.
There are free trolleys that run around Clematis and the Rosemary Square districts and other destinations — they run every 15 minutes.
Peanut Island Park
Peanut Island Park is an amazing place to visit. This is actually my favorite beach in all of Florida.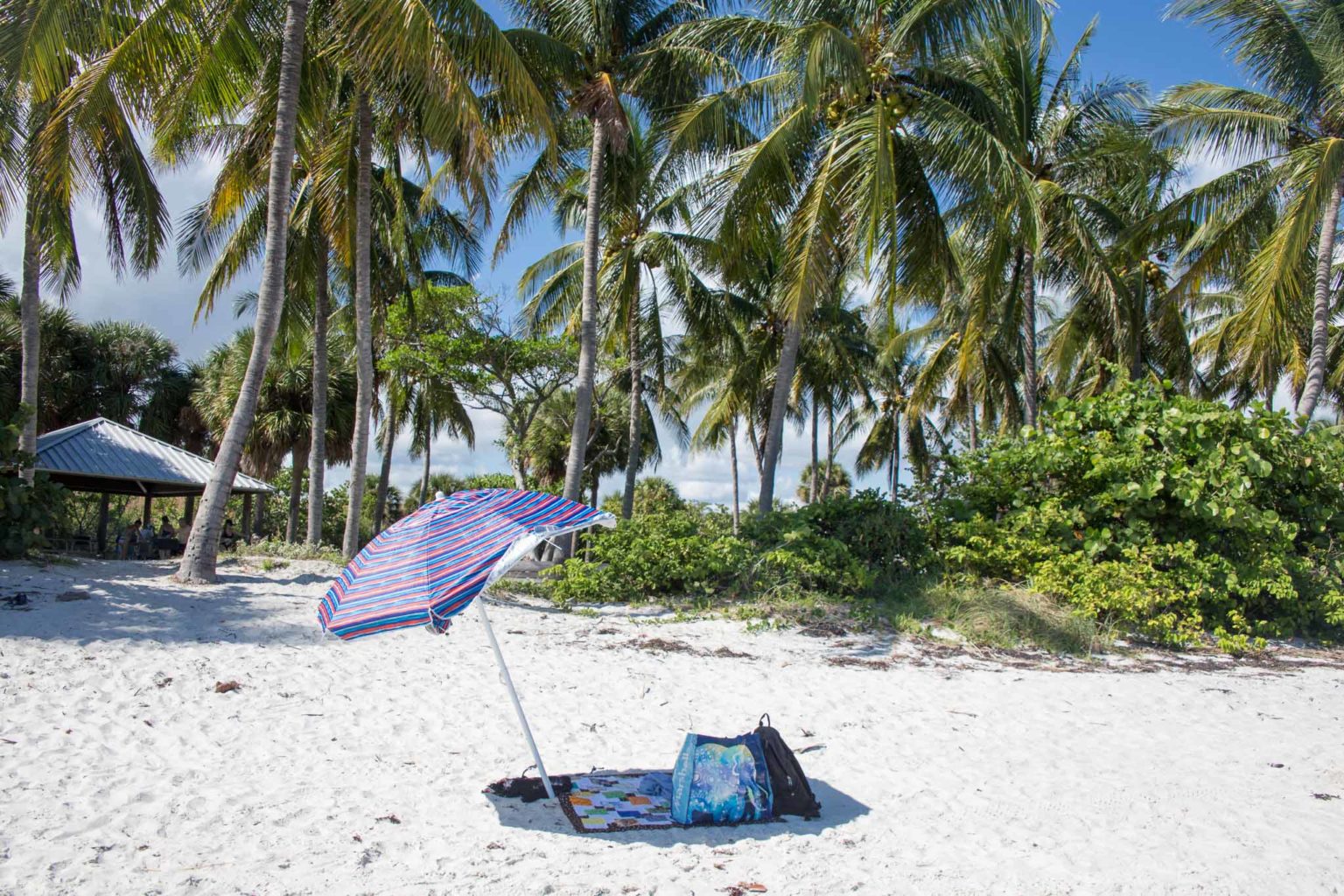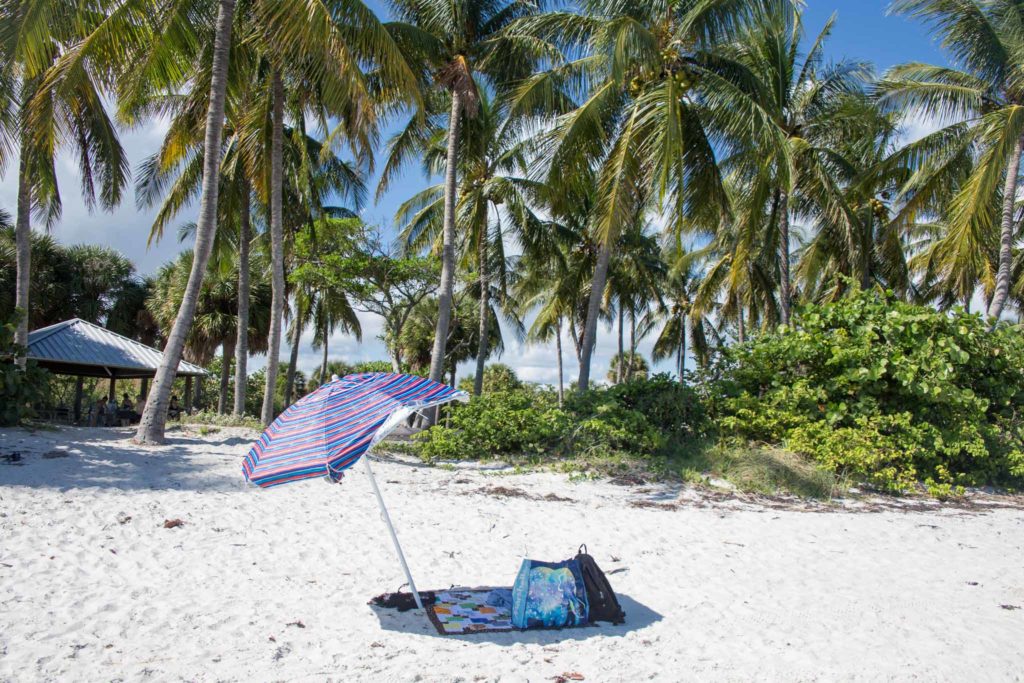 Peanut Island has awesome amenities, beautiful beaches, crystal clear water, snorkeling, walking trails, a swimming lagoon, and much more. There is also an awesome bunker that was used to protect John F. Kennedy during the cold war, but it's currently closed without plans to reopen.
The island is accessible only by boat or watercraft. If you don't have your own boat or kayak you can arrive via public ferry (paid) or rent a kayak. Some people even come to the island by stand up paddleboard.
It's a little bit of a hassle to take the ferry, and it can get expensive to pay for multiple people, or rent multiple kayaks.
The ferry prices have gotten more expensive in recent years. But, it's not that bad, and the boat ride adds to the adventure – it's like a mini boat tour en route to the island. It's well worth it, in my opinion.
If you have time, you can also camp on the island. The county park has a nice campground with excellent amenities, including a giant fire pit and nice shower houses.
Peanut Island Sandbar
The Peanut Island Sandbar is just north of Peanut Island. It's a fun place to explore and hang out, and is a super popular spot for boaters to gather. 
Alcohol isn't allowed on Peanut Island because it's a county park, so boaters anchor on the sandbar north of Peanut Island, where the county park rules don't apply. Marine police do patrol frequently though, so be safe, know and obey the laws!
The sandbar can be quiet on weekdays, but it's often crowded and rowdy on weekends and summer holidays. Events – including large music festivals – have been held on the sandbar, along with events like Floatopia and others.
Read more about Florida's sandbars
Diving and Snorkeling
Palm Beach is one of the best places in Florida for scuba diving. The entire "Palm Beaches" region is known for its beautiful diving conditions, clear water and amazing marine life.
There are options for diving or snorkeling from the beach at Phil Foster Park, although some of the best sites are only accessible via boat.
Divers and snorkelers can go on a diving tour, rent a boat or use their own watercraft. Dive charters and boat tours are the easiest options.
Phil Foster Park
Note: This dive site is often referred to as "Blue Heron Bridge" because it's located under the Blue Heron Bridge, which connects Singer Island to the mainland.
Phil Foster Park is one of the best places for beach snorkeling in Florida. There is a lot to do in the park, but the main attraction is a series of artificial reef installations, arranged in an underwater snorkeling trail.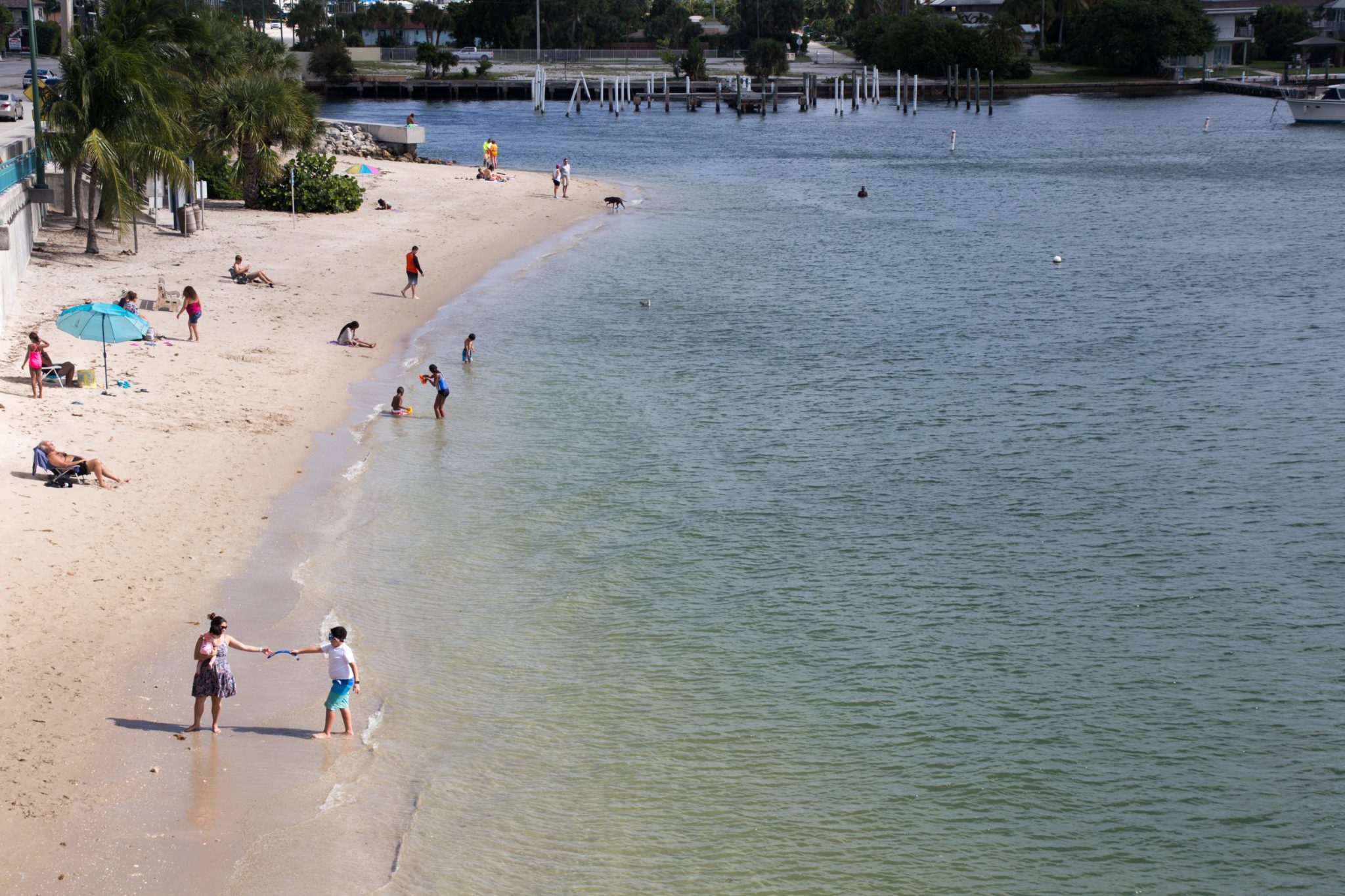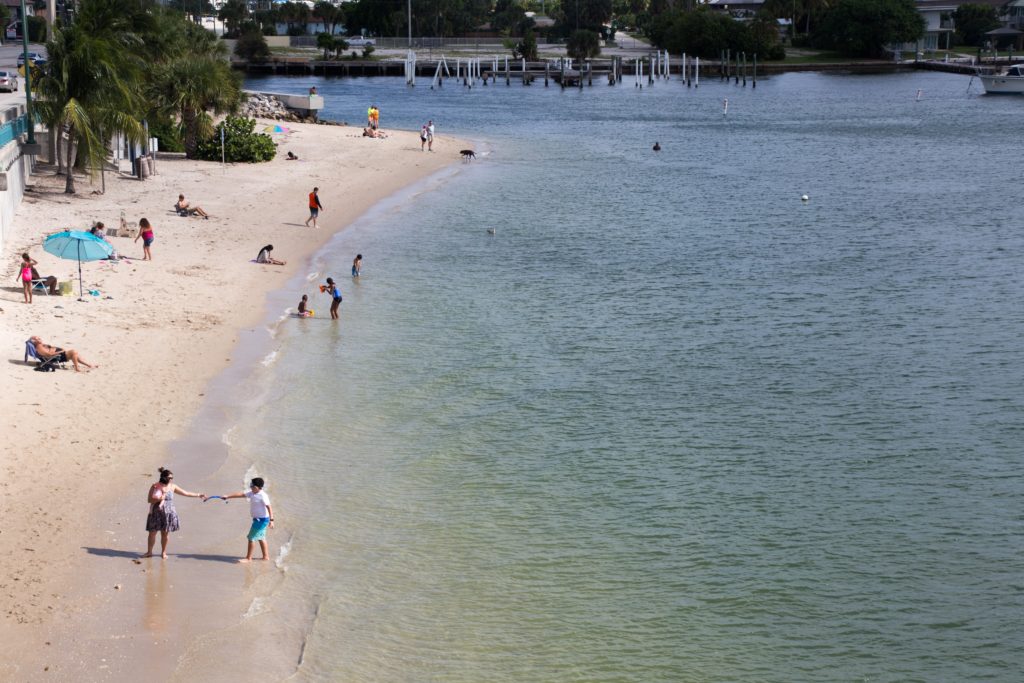 There are underwater statues, sunken boats and fun things to explore. It's also a very popular spot for scuba divers, even though it is a very shallow site. This site is especially popular with "Macro" divers who use underwater cameras to photograph tiny marine organisms up-close.
Blue Heron Bridge is often ranked as one of the best scuba dive sites in Florida, and the United States.
Read more about Blue Heron Bridge and Phil Foster Park
Rapids Water Park
Rapids Water Park is a large water park in West Palm Beach. It's very popular with locals and would be a good place for vacationers to visit, too.
The park has a nice variety of rides and water features. There are things for all ages, ranging from kiddie pools to scary vertical-drop water slides. There are also lazy rivers, an endless wave surf machine, an on-site restaurant, and more.
Rapids Water Park is one of the best things to do in West Palm Beach, especially when the ocean is too rough, or if you want a break from the beaches.
See Manatees at Manatee Lagoon
The Manatee Lagoon is one of the best things to do for families, because it combines fun with wildlife and a chance to learn about nature. It's an amazing place to visit, especially when manatees are present. 
Manatee Lagoon has great exhibits to learn about manatees' biology, threats to manatees and (failing) efforts to protect them from extinction. The staff is also very friendly and knowledgeable, and are happy to answer questions.
The center is very large, open and modern, with inside and outside sections. Inside there is a large array of educational exhibits and interactive displays. There is even a giant manatee skeleton, which I thought was awesome. Outside there is a large, multi-story balcony to see manatees below in the water.
The best time to visit Manatee Lagoon is during cold winter months, when many manatees visit the warm water discharge from the Florida Power and Light (FPL) power plant.
Explore the Palm Beach Zoo
The Palm Beach Zoo is a great place to visit, especially for families and animal lovers. The zoo is large – approximately 23 acres – and is home to more than 500 animals, including species from around the world.
The zoo does a great job with their programming, and has things for all ages and interests. There are hands-on animal encounter programs, interactive exhibits, educational programs, and special events. It's a great place to visit with kids, to learn about nature and the importance of environmental and wildlife conservation.
Honestly I'm not usually a fan of zoos, but I think the Palm Beach Zoo is well-done. It's also a 501c3 non-profit, which makes me feel slightly better about the idea than if it were a for-profit zoo.
See the Port of Palm Beach
Disclaimer: This idea isn't for everyone – but for people like me who love ships and boats, this is a really cool thing to do. At least in my opinion. 
The Port of Palm Beach is one of the busiest cruise ports in Florida. It's filled with an interesting mix of commercial ships and recreational boaters. Many boat tours and activities depart from the port area, including cruises, sightseeing tours, fishing tours, sailing tours and more.
Cruise ships depart from this port, sailing from Florida to the Bahamas and other Caribbean destinations. Many cruise ships also come here for maintenance, from what I understand.
Overall, the port has a bustling energy and is a fun place to visit, but maybe only for people who like ships and boats.
You generally cannot enter the port, as far as I know — the best and easiest way to see the port from the water is from Peanut Island or the ferry ride. Or, maybe an overview from the sidewalk on the tall Blue Heron Bridge, although it's a bit far from the actual port.
Riviera Beach Marina Village
The Riviera Beach Marina and waterfront are fun places to visit. The marina is beautiful, and the docks and boardwalks have great views of the water and waterways. 
There is a huge variety of boats, yachts and ships in the area, which are all fun to see. Visitors can walk along the marina boardwalk, go shopping, rent kayaks, paddleboards, or embark on a boat tour.
There are also boutique shops and a good selection of restaurants, including seafood and waterfront dining options.
There is free, convenient parking, and this is also the departure point for the Peanut Island Ferry and Water Taxi.
Lion Country Safari
Lion Country Safari is one of the best drive-through safaris in Florida. If you've never done this before, it's pretty fun.
You can see a large variety of exciting animals, including exotic wildlife like lions, giraffes, zebras, rhinos, and others. Safari parks like these are designed to be more like the animals' natural habitat, and often give much more space to roam than confined zoo enclosures. 
The drive-through safari is the biggest attraction but there are other activities, including the chance to feed animals, a petting zoo, and other activities.
This might be a great thing to do for families and offers a nice break from typical beach activities. I've noticed that animals are usually most active early in the day, and tend to be least active during hot afternoons, when they sleep.
Ballpark of the Palm Beaches
The Ballpark of the Palm Beaches is one of the best baseball stadiums in Florida. The stadium hosts spring training for two Major League Baseball teams,  the Houston Astros and the Washington Nationals.
The baseball stadium is state-of-the-art, and is fun to visit.
During spring training season visitors can watch professional baseball games in beautiful weather, when much of the U.S. is still buried under snow. The Ballpark of the Palm Beaches also hosts other events and activities throughout the year.
Try Local Seafood
West Palm Beach is a great destination for seafood in Florida. Many restaurants in Palm Beach specialize in fresh seafood dishes – often freshly caught offshore.
There are a good number of seafood restaurants to choose from, ranging from casual dockside fish shacks to upscale dining experiences.
Note: Some restaurants will clean and cook fish for you if you catch your own. I've noticed that some do it for free and some charge a nominal fee.
Paddleboarding and Kayaking
Palm Beach is a great place for kayaking and SUP paddleboarding.
There are several waterways in the area that are worth exploring, including the Lake Worth Lagoon, waterways around Macarthur State Park, and others.
There are options for organized paddling tours in Palm Beach, or rentals that allow self-guided paddling.
Some rental providers will deliver watercraft equipment to you for multi-day rentals, while others require you to pick it up from their facility.
Organized tours are a good option for most people, especially if you aren't an experienced paddler, or aren't familiar with the nuances of the waterways.
Fishing
Palm Beach has some of the best fishing grounds in Florida, including options for inshore, near-shore, and offshore fishing charters.
Inshore fishing spots in Palm Beach mostly include the ICW (Intracoastal Waterway) the Loxahatchee River, and various flats and mangrove areas. Typical fish targets include snook, redfish, trout, tarpon and others. Kayak fishing and wading are popular options because the waters are typically calm and protected.
Near-shore fishing charters typically stay within a few miles of the coastline. Target species usually include snapper, grouper, kingfish and others
Offshore fishing charters and tours go further out into the Atlantic Ocean, into and beyond the Gulf Stream. Deep waters offshore give access to a wide range of pelagic species, including mahi-mahi, sailfish, tuna, wahoo, marlin and others.
Fishing in Palm Beach is a big deal, especially offshore fishing charters. This region of Florida's Atlantic coast is called "Sailfish Alley" because of its excellent fishing grounds.
The main attraction is its proximity to the Florida Gulf Stream, which provides a constant flow of clear, warm water that's filled with fish and sea life.
It's not an exaggeration to say that these fishing grounds are among the best in the world.
Swim with Sharks
Palm Beach is one of the best places in Florida to swim with sharks, if you're willing to try it.
The area offshore from Palm Beach County is filled with a variety of shark species, largely due to the presence of the Gulf Stream and amazing fishing grounds. 
Most of the shark species found in Florida can be seen here, including bull sharks, lemon sharks, reef sharks, nurse sharks and others.
Some of these species can even be seen inside Lake Worth Lagoon, while snorkeling or swimming, although shark sightings are more rare.
I know this activity is not for everybody. It might be a dream experience, or a true nightmare. But, if you're up for the adventure, swimming with sharks is an amazing and unforgettable experience.
Note: Swimming with sharks should only ever be done with expert supervision and guidance. There are a number of reputable guided tours in the Palm Beach area, which are led by experienced shark diving professionals. Options for the tours vary, as do the experiences and conditions.
John D. Macarthur Beach State Park
John D. MacArthur Beach State Park is located on Singer Island, just north of Riviera Beach, in the nearby city of North Palm Beach. 
The state park is a beautiful natural reserve which protects sensitive and diverse coastal ecosystems. The park has beautiful, undeveloped beaches, coastal dunes, mangrove swamps, maritime hammocks and important habitats for wildlife and marine life.
There are many things to do in the park, including swimming, sunbathing, picnicking, and nature trails.
The park provides a safe habitat for many Florida bird species, mammals, and a variety of marine life, including nesting sea turtles.The park has organized activities, including guided nature tours.
Snorkeling is also a popular activity, but it depends a lot on ocean conditions. When we visited the ocean was very rough, but the water can be very clear when wind and wave conditions are calm.
Visit Jupiter
If you're in the Palm Beach area, it might be worth taking a little trip to visit Jupiter. In my opinion, Jupiter is one of the best beach towns in Florida. It has a lovely vibe, and is a quintessential beach town. 
Jupiter has some beautiful beaches, and the whole town has a laid-back beach vibe, focused on beaches, water and the outdoors. It has become very upscale and affluent in recent years, though. There are several beautiful places in Jupiter. My favorite are in Jupiter Beach Park and Carlin Park. Jupiter is also home to Jonathan Dickinson State Park, which offers hiking, biking, camping and other outdoor activities.
There are several beautiful waterways for exploring, including the Jupiter Inlet and the Loxahatchee River, which are great places for kayaking, paddleboarding, and fishing. There's also a very popular sandbar for boaters to explore.
Jupiter also has a beautiful lighthouse – the Jupiter Inlet Lighthouse – and an active arts scene, and much more. If you're up for a short trip, Jupiter is a lovely place to visit!
Cox Aquarium and Science Center
The Cox Science Center and Aquarium is a fun place to visit near West Palm Beach. It's actually located in West Palm Beach, but the drive is doable.
The aquarium is a 501c3 non-profit and does a great job of providing fun and educational exhibits.
Some of the cooler exhibits include a planetarium, along with freshwater and saltwater aquariums. There is an admission fee to enter, but it supports the aquarium.
Singer Island
Singer Island is a really fun place to visit, if you enjoy seeing mansions and how extremely wealthy people live.
Singer Island is known for its beautiful beaches and unbelievable beachfront mansions, and extremely wealthy owners.
The island is home to upscale hotels and resorts which have ritzy amenities, including spas, fine dining, and amazing ocean views.
The island itself has an interesting history. Singer Island is named after Paris Singer, one of its most famous residents – an heiress to the Singer sewing machine empire. Singer purchased the island in the 1920s and began developing it as a luxury resort destination.
Riviera Beach Municipal Beach Park
Riviera Beach Municipal Beach Park is located on Singer Island.
The park is quite large – it covers approximately 95 acres – and has beautiful beaches. There are public restrooms, nice volleyball courts, tennis courts, covered picnic pavilions, rinse-off showers and more. It's a beautiful spot and I think it's one of the best beach access point in the Palm Beach area.
Ocean Reef Park
Ocean Reef Park is a large, beautiful public beach and park, with some of the best beaches on Singer Island. The park has nice amenities, including large parking areas, restrooms, covered picnic areas, large pavilions, and barbeque grills, nature trails and more. It's a really nice place. There is lots of shade throughout the park, although not on the beach itself.
In my opinion these beaches, along with those in John D. MacArthur State Park, are some of the best beaches on the Atlantic coast. Nearby beaches in Lake Worth Lagoon are more protected and may have more clear water, depending on the conditions and tides.
Map of Things to Do
Final Thoughts
West Palm Beach is a great spot to visit. We hope you find this list of ideas useful!
If you think we missed something, or if you have any suggestions, please let us know! We're always on the lookout for new places to explore, and new things to try.