Three Sisters Spring is one of the most beautiful natural springs in Florida. It's also one of the best places to see wild manatees in Florida.
Note: The Chassahowitzka River is another excellent location to swim with manatees, and it's relatively nearby Three Sisters Spring.
If you will visit Three Sisters Spring, be sure to know the procedures, and how avoid harming the manatees or breaking federal law.
The springs, King's Bay and the surrounding area of Crystal River, are an essential habitat for the imperiled Florida Manatee.
Because it's such an important natural ecosystem, Three Sisters Spring is federally protected, as part of the Crystal River National Wildlife Refuge.
Three Sisters Spring is an important warm-water spring refuge for manatees during cold weather. The constant flow of warm spring water keeps manatees safe from cold water temperatures, which can cause cold stress, injury or even death.
The springs are part of the Crystal River watershed, and greater King's Bay. There are more than 70 springs in the Crystal River area, and many hundreds of springs in Kings Bay.
There are more than 20 spring vents in the Crystal River Spring Group. Other springs include:
Gator Hole
King Spring
Blue Waters Spring
Crystal River NWR protects some of the most sensitive wetland areas in Florida. Despite conservation efforts, human presence has negative effects on manatee health and survival.
Citrus County is the only place in the United States where it's legal for humans to swim with manatees. Swimming with manatees is extremely controversial.
On one hand, swimming with manatees helps educate people about manatees, and may inspire people to help protect them.
On the other hand, it is not good for manatees for many reasons. They are extremely sensitive animals, and are stressed by crowds. They can easily be scared out of their warm water refuges, which can lead to their death.
It's common for manatees to be swarmed by dozens of clumsy snorkelers while they're trying to rest and conserve their energy.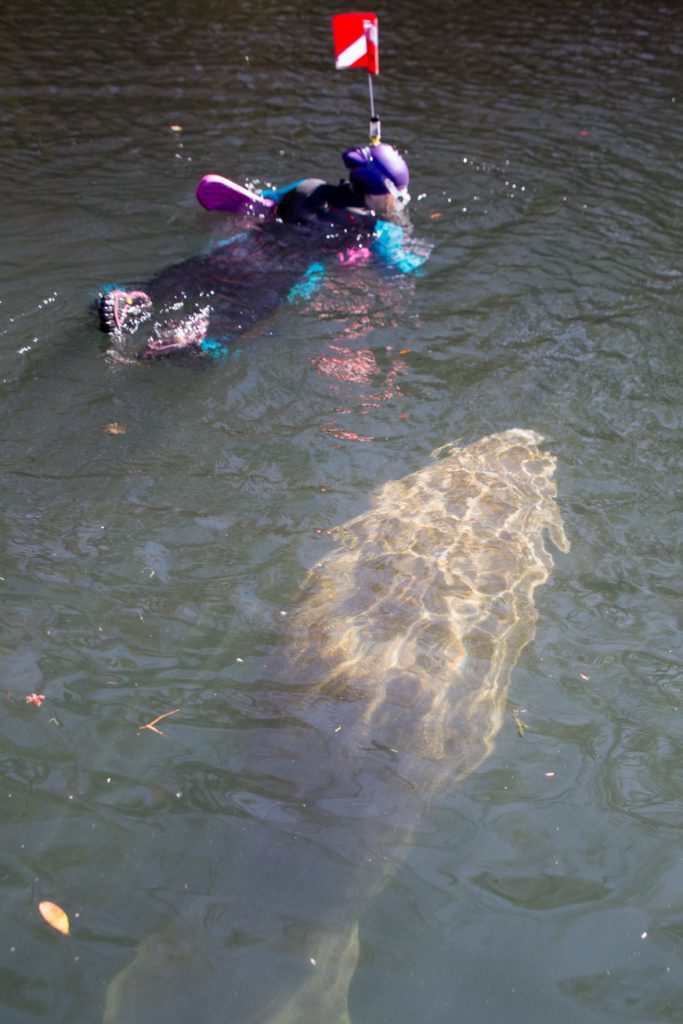 During busy times, the area around Three Sisters Spring can feel like an overcrowded carnival. On a busy day many hundreds of tourists can crowd into the area.
Some visitors are irresponsible and may harass the manatees. Visitors often splash around, disrupt, touch and harass the manatees, who have nowhere else to go. This is illegal, but it still happens.
Others don't mean harm, but are oblivious, and may accidentally scare the manatee families by getting too close and overcrowding.
"Access to the spring, however, is only possible through a short spring run just 10 to 15 feet wide. When a boardwalk was constructed around the spring to allow manatee viewing, it quickly became apparent that swimmers and kayakers frequently forced manatees to escape the spring through the narrow spring run that was also often packed with swimmers. To prevent disturbance of resting and nursing manatees in the spring, the Save the Manatee Club petitioned the FWS in August 2014 to designate the spring as a manatee sanctuary with no human access allowed, and to explicitly prohibit people from touching manatees."
Clearly, it would be best for the manatees if humans observed them quietly, from a distance, and did not disturb them.
Skeptics ask, if it's not good for manatees anywhere else in the country, why is it magically OK in Citrus County?
Some local tour operators have stopped offering "Swim with the Manatee" tours because of concerns for the manatees and irresponsible, overcrowded conditions.
Recent years have been among the most deadly on record for Florida's manatees. Hundreds have died each year, in far greater numbers than in historical memory.
Despite the record setting manatee deaths, protections for manatees were removed under the Trump administration.
Manatees are dying in great number for variety of reasons. The biggest issue lately has been mass starvation due to seagrass die-offs, which have been decimated by water pollution.
Manatees have also struggled with lost access to important warm water refuges, including power plants.
For example, two of the best places to see manatees in Florida are at power plants — one at the Tampa manatee viewing center, and the other at Manatee Lagoon in Riviera Beach.
Three Sisters Spring Overview
Three Sisters Spring has three main spring vents, and several other minor vents. There is a spring run which flows into a canal, and then into the Crystal River.
Access to the land surrounding the spring is jointly owned by the Southwest Florida Water Management District and the City of Crystal River. It was acquired from private real estate developers in 2010, saving it from being turned into a condominium complex.
The on-land refuge area covers 57 acres and helps protect an important wetland ecosystem and habitat.
Among other things, the refuge helps prevent soil erosion which would damage the springs and river. There are hiking trails throughout the refuge and a well-maintained boardwalk runs around part of the spring.
There are other water features on the property, including the man-made Lake Crystal, and another spring, Magonia Spring.
When to See Manatees
The best time to see manatees at Three Sisters Spring is in the late fall, winter and early spring, when the weather is coldest.
For the absolute best conditions, try to visit on a cold day, after a strong cold front has dropped weather temperatures. Manatees are most likely to seek warmth at Three Sisters Springs when water temperatures in the Gulf of Mexico drop below 68 degrees.
High tide is typically the best time for seeing manatees, but some manatees typically remain in the area during all tide conditions.
Manatee season begins around November 15th and lasts until late March or early April.
If you choose to swim with manatees, please be careful and mindful of how your presence affects the manatees.
When the weather is cold, manatees are most vulnerable to human disturbance.
If manatees are scared away, or disturbed, the manatee may be killed by exposure to cold water temperatures.
If you see other people harass or bother manatees, be sure to alert officials who can intervene on behalf of the manatees.
How to Access Three Sisters Spring
Accessing Three Sisters Spring is a bit different than most springs. Visitors should be sure to learn the process before going.
Three Sisters can be accessed via two possible ways: by land, or by water.
Each method involves its own separate procedure. It's important to know that:
You cannot access the water by land
You cannot access the land by water
Again, if you access the spring by land, you cannot access the spring's water. You cannot even touch it.
If you access the spring by water, via the Crystal River spring run, you cannot access land surrounding the spring.
The reason for this policy is to help protect the sensitive spring shoreline, and to avoid the devastating soil erosion that would happen with so many visitors.
Please read on for more details about each method of accessing the spring.
Contact Information
Three Sisters Springs Center

Phone
(352) 586-1170
Hours

8:30 am – 4:30 pm EST

Last Admission and ticket sale at 3:30 pm EST
Access by land
Land access is generally open daily from 8:30 am until 4:30 pm. No additional visitors are admitted after 3:30 pm.
If you access the spring via land, you must pay an admission fee. The price for Three Sisters Spring varies by season.
Prices
Note: These prices were correct at the time of publication, and were verified as of 11/22/2022. Please be sure to check the official website for the most up to date pricing information, and other rules.
If you notice any information which has changed, or is outdated, please let us know so we can update this information.
| | Summer | Winter |
| --- | --- | --- |
| Adult | $12.50 | $20.00 |
| Senior (55+) | $12.50 | $17.50 |
| Military | $11.50 | $15.00 |
| Child (6 – 15) | $7.50 | $7.50 |
| Child (5 & Under) | Free | Free |
Discounts
There are various discounts for special groups.
$5 admission discounts for some Federal land access pass holders
Citrus County residents
Annual passes and group rates
Check the official website for the most current and accurate information.
Three Sisters Spring Official Website
Land Access Entry Procedure
Except for a limited number of handicap spaces, there is no vehicle parking directly at Three Sisters Spring. This is to minimize the environmental impact on the sensitive area.
The best option is to park at the Three Sisters Spring Visitor Center, and ride a free shuttle, which is included in the cost of admission.
Spring Center Shuttle
The Three Sisters Spring shuttle operates on a fixed schedule, and departs from the Three Sisters Springs Visitor Center every 30 minutes. The shuttle also stops at other points along the route, including:
Hunter Springs Park
South Citrus Avenue
Heritage Village.
The shuttle bus and boardwalk are handicap accessible.
Visitors can access the land portion of Three Sisters Spring via several methods:
Walk-in access at the spring front gate
Bicycle access at the spring front gate
Shuttle access, with free parking at the Spring Center
Visitors can also park in one of several free public parking lots throughout Crystal River, and walk to the Three Sisters Spring front gate.
Crystal River is a small town; the walk is usually less than a mile; it takes about 15 minutes to walk.
45 NE 3rd St
SE Corner of NE 5th St & NE 1st Ave
559 N Citrus Avenue
109 NE Crystal St
Rules and Details
Pets are not allowed in the land-based wildlife refuge, except for service animals.
There are restrooms at Three Sisters Spring, only for the land-based refuge area.
There are usually restrooms available in the Three Sisters Spring Visitor Center
Manatee season is generally from approximately November 15th until March 31st
The Crystal River National Wildlife Refuge publishes closure information and updates on their official Facebook page.
Guided Walking Tours
The US Fish and Wildlife service usually has volunteers and staff onsite to answer visitor questions and provide guiding walking tours during manatee season.
At the time of this writing, guided walking tours have been suspended due to COVID-19.
Access by Water
If you wish to kayak, snorkel or swim with manatees, you must access the Three Sisters Spring via water.
The easiest way to access Three Sisters Spring by water is to go with a tour. Crystal River is a small town but there is a surprisingly high number of tour options, given the size of the town.
The clear kayak tours are especially popular because the transparent kayaks allow you to see down into the water while still inside your kayak.
Self-Guided Options
If you don't want to take a tour, the other option is to rent a kayak or canoe. Again, there is a surprisingly high number of options to rent kayaks in Crystal River.
Arguably the best option is to bring your own kayak, canoe or paddle board. If you already have your own watercraft, you can launch one of two public boat ramps.
There are two public boat ramps and launching points in Crystal River. Most people recommend launching at Hunter Springs Park.
It takes approximately 30 minutes to reach Three Sisters Spring from the Hunter Springs Park boat launch, if paddling at a moderate pace.
Hunter Springs Park
King's Bay Park
The Three Sisters Springs Center does not rent kayaks, paddle boards, or other water equipment.
There are many private vendors in and around Crystal River who provide these services.
Water Access Rules and Restrictions
Water access is regulated by the U.S. Fish and Wildlife Service.
Water access to Three Sisters Spring is generally open from sunrise to sunset daily.
The FWC may close water access to the springs if the surrounding water temperature to dangerously low temperatures to protect the manatees, and ensure they have uninterrupted access to warm water.
Swimming is allowed inside the spring year-round. Swimmers are allowed to enter using water noodles and personal flotation devices.
There are seasonal restrictions for accessing the Three Sisters Spring via kayak, SUP stand up paddle board, and other paddle craft.
Canoes, kayaks, paddleboards and other paddle-craft are not allowed inside during manatee season, from November 14 until April 1.
Kayaks, canoes, paddle boards and other small, non-motorized craft are allowed inside Three Sisters Spring during non-manatee season.
Motorized boats are never allowed inside Three Sisters Spring. There is a series of barricades to prevent large watercraft from entering the spring area.
Swimming Safely with Manatees
West Indian Manatees are an imperiled/endangered species.
They are protected by state and federal protection laws. Violations are serious, and expensive.
Manatees are extremely sensitive animals, and are extremely vulnerable to a variety of threats. They are wild animals, and should be left alone.
Visitors should not do anything which may alter the behavior of manatees, or allow them to be accustomed to human presence.
If you notice that a manatee seems accustomed to humans, that is a bad sign; it's a signal that other people have irresponsibly trained the wild animal to be unafraid of humans.
Interactions may seem harmless, but they lead to dangerous behavioral change.
If manatees become unafraid of boats, it makes them more likely to be killed by boat propellers. Migration, eating and drinking habits may also be altered, which threatens their long-term survival.
If manatees are scared away from a warm water refuge, they may lose their warm water sanctuary, and die of cold exposure.
The FWC has published videos for visitors, so they know how to behave around the manatees and avoid breaking Federal manatee protection law.
Everyone in your party should be familiar with these instructional videos before visiting.
Manatee Viewing Guideline Videos
Visitors should help members of their party adhere to the regulations and avoid disturbing manatees, or violating federal regulations.
Human Dangers to Manatees
Human activity is dangerous to the long-term survival of manatees. Especially at Crystal River, there is a real threat of "loving manatees to death".
Over the years Three Sisters Spring has become an excessively popular attraction. In many ways it has stopped being a respectful natural encounter, and has become a dangerous circus-type interaction..
Hundreds of thousands of visitors come to the springs every year.
On busy days, especially during holidays like Spring Break in March, as many as 1,000 swimmers may visit the area in a single day.
Hundreds of boats may enter the area on a single day, so tourists can swim with manatees.
This level of activity is hugely disruptive for manatees.
Several dozen commercial businesses have Special Use Permits to operate in the refuge area. The businesses include dive shops, snorkel tours, kayak, paddleboard and canoe rental shops.
One FWS report notes that dozens of commercial businesses break laws by operating illegally in the refuge area without a permit. Some operators are "fly by night" operations who do not respect manatee safety, or the federal regulations.
The FWS has provided several videos with guidelines on how to safely visit Three Sisters Spring without harming manatees, or breaking federal marine mammal protection laws.
Other Activities
Kayaking in the Crystal River, King's Bay and surrounding waterways
Crystal River National Wildlife Refuge
View the manatees from land, via a wooden boardwalk and viewing platform
Tour the town of Crystal River
Wildlife and Bird watching
Guided walking tours in the refuge
Birdwatching
Manatee Refuge
Crystal River is the largest warm water refuge for manatees in the world.
Most manatee activity occurs in cold weather, generally from November until March. Manatees come into the warm, protected water to rest, eat and conserve their body heat.
Today, as many as 400 manatees gather at the warm spring water vents every winter. A smaller number of manatee live in the Crystal River area year-round, although most others migrate to other feeding grounds during warmer months.
The number of manatees who use Three Sisters Spring has grown over time.
In 2006, as few as 60 manatees were counted in the area at one time. As of 2014, the number had grown to more than 300 during periods of cold weather. Some manatees began using the springs year-round, even in periods of warm weather.
Manatees rely on the warm water for survival. Manatees must seek sources of warm water when the surrounding water temperature drops below approximately 68-72 degrees.
Manatees have very little body fat, and are extremely sensitive to cold temperatures. They can easily die from cold temperatures.
Cold stress is one of the leading causes of death, along with death by boat propeller, and starvation due to pollution-related seagrass die offs.
Because so much spring water flows into King's Bay and Crystal River, the water temperature remains stable, and relatively warm during cold weather.
City of Crystal River
The city of Crystal River is located on Florida's western Gulf Coast, approximately halfway up the state from north to south.
It's approximately 90 miles north of Tampa and 90 miles northwest of Orlando.
Crystal River is one of the most popular places to swim with manatees. Three Sisters' Spring is the most popular destination in the town.
Manatee-related tours, activities and outfitters are the largest economic driver in Crystal River, and are one of the largest in the region.
Read more about Crystal River
Rules for Swimming with Manatees
Swimming is only allowed if swimmers follow strict rules. Breaking the rules is bad for the manatees, other guests, and it's a serious federal crime.
People have been prosecuted, faced insanely high fines and put in jail for breaking the rules of manatee interaction.
The only form of interaction allowed is "Passive Interaction". It is illegal for swimmers to touch, feed, chase or harass manatees in any way.
"It is unlawful for any person, at any time, intentionally or negligently, to annoy, molest, harass, or disturb any manatee."
Manatees are very gentle, curious creatures.
Some manatees may approach snorkelers and swimmers. It feels cute, but you must resist the urge to touch them or interact with them beyond passively watching.
Swimmers, snorkelers, paddlers and boaters should not train manatees to seek human interaction.
Why is this so important?
It's sort of like Florida's dangerous alligator situation.
When people feed alligators, they're selfishly endangering people who will come after them, and may be injured. As alligators become accustomed to humans, it is likely that they will be euthanized unnecessarily.
When people touch or interact with manatees, they're training them to seek human presence, and lose their natural protective instincts. Those manatees are more likely to be injured or killed by a boat propeller in the future.
If you swim with manatees, it's important to avoid touching them, or scaring them.
Avoid sudden movement. Don't splash, make noise, or otherwise do anything which might disturb the manatees, or scare them away.
If manatees are scared away from their warm water refuge, they may not return, because they don't think it's a safe place.
If they can't return to their warm water spring, they may die from cold exposure.
Manatees are very loyal to their locations. Mother manatees teach baby manatees where to find warm water, based on memory.
Their knowledge and memory of warm water locations is limited; if they're scared away by humans, they lose their only source of warm water safety.
Are there alligators in Three Sisters Spring?
There are alligators in Crystal River. They live in King's Bay, and the surrounding canals. They are also found in Three Sisters Spring.
Alligators can live in any body of freshwater in Florida.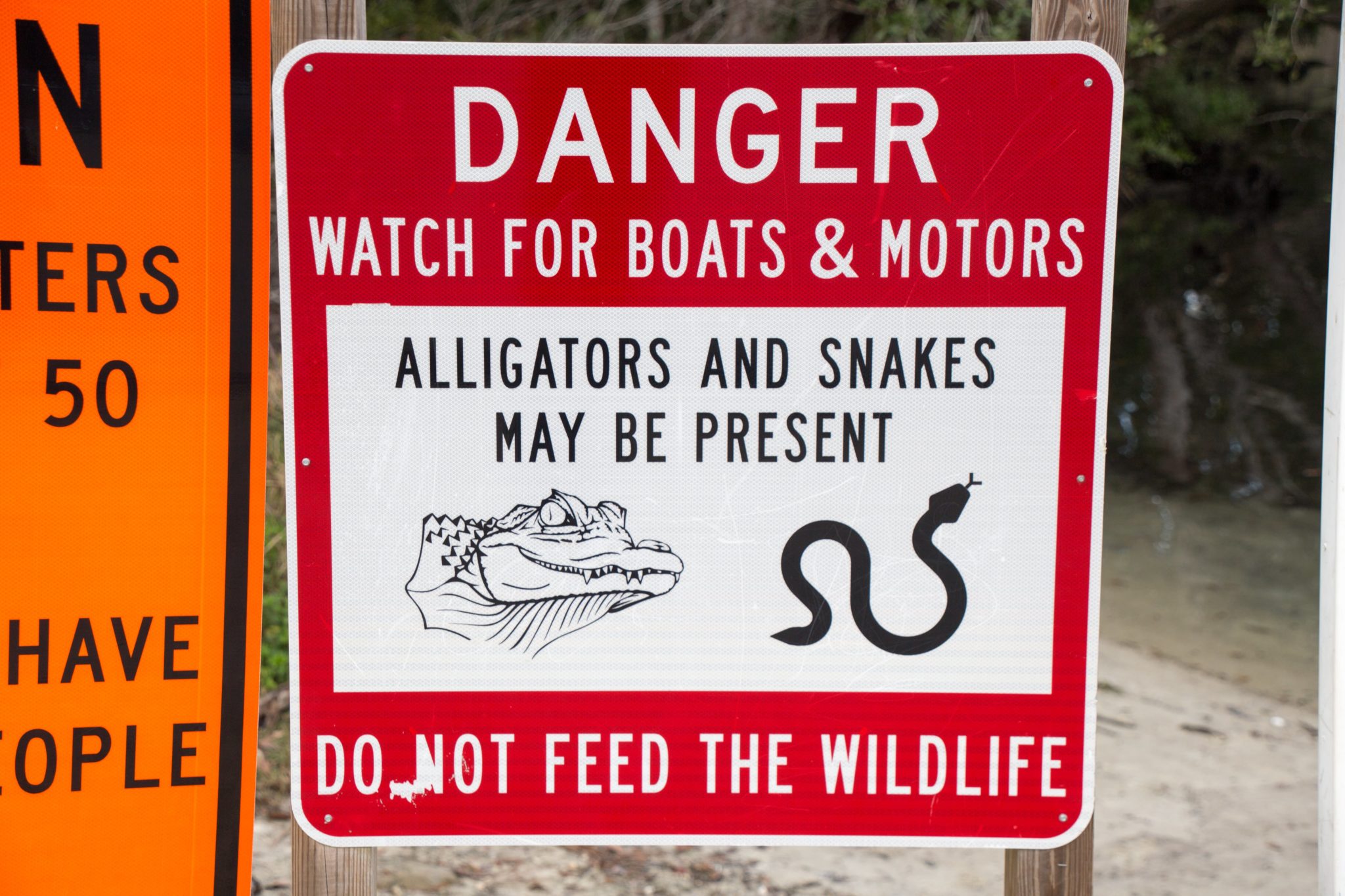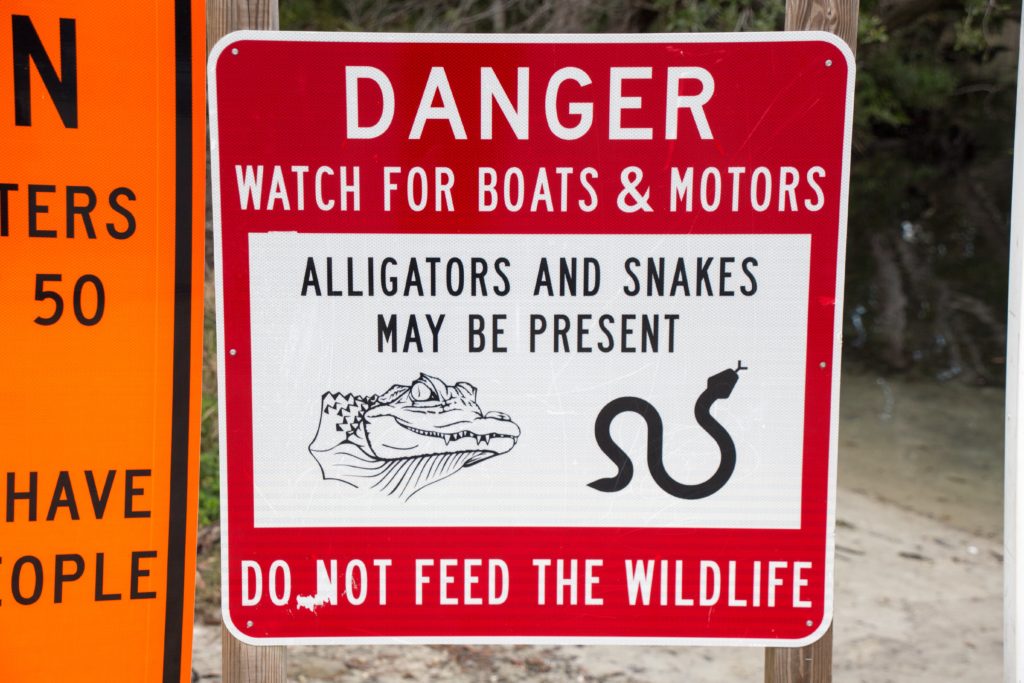 Unless they have been desensitized to human presence, alligators typically avoid humans.
Are there snakes in Crystal River?
There are snakes in Crystal River, and Three Sisters Springs.
Snakes are also found on the riverbanks and in the land surrounding Three Sisters Spring.
Snakes are native to Florida and are important members of the natural ecosystem. They live in almost all natural environments, especially wetlands, swamps and wilderness areas.
Most snakes in Florida are not venomous, or dangerous to humans. Some snakes, including the Cottonmouth, or Water Moccasin, are venomous, and are dangerous to humans.
Water Moccasins often resemble non-venomous snakes, and can be aggressive in the water when they feel threatened, or when defending their territory.
Visitors should not touch wildlife and should remain aware of their surroundings.
For wildlife details, consult a tour guide, a FWS official, or other professional guidance.
Camping
There is not any camping on-site at Three Sisters Spring. There are camping options nearby.
One popular option is the Chassahowitzka River Campground which is approximately 25 minutes away.
History of Three Sisters Spring
There is a 57-acre nature preserve which surrounds Three Sisters Springs.
This land was once privately owned. It was acquired by the Southwest Florida Water Management District and the City of Crystal River in 2010.
Today, Three Sisters Spring is a beautiful protected area. Before being protected, it was almost destroyed and lost forever.
The area around Three Sisters Spring used to be a natural wetland forest. Then, in the 1960s and 70s, the wetland area was destroyed.
Real estate developers wanted to build condos and houses, like all of the nearby neighborhoods. There were also plans to extract water for plastic water bottle production.
Trees were bulldozed. Dredgers dug enormous holes into the wetland. One large pit covers 8 acres and is 40 feet deep. Today it's known as "Lake Linda".
The purpose of the pit was to use fill dirt to elevate the land, so condos and houses could be built. A canal was also dug to allow boat access into the spring basin.
Before the canal was dredged, spring water flowed into King's Bay through a natural spring run. Barriers were built in 1982 to limit boat traffic into Three Sisters Spring.
Three Sisters Spring was almost lost. It was only saved thanks to hard work by nature lovers and organizations like the Friends of Crystal River.
This aerial view, filmed by the U.S. Fish and Wildlife Service, shows the stark difference between highly developed neighborhoods, and the preserved area which surrounds Three Sisters Spring.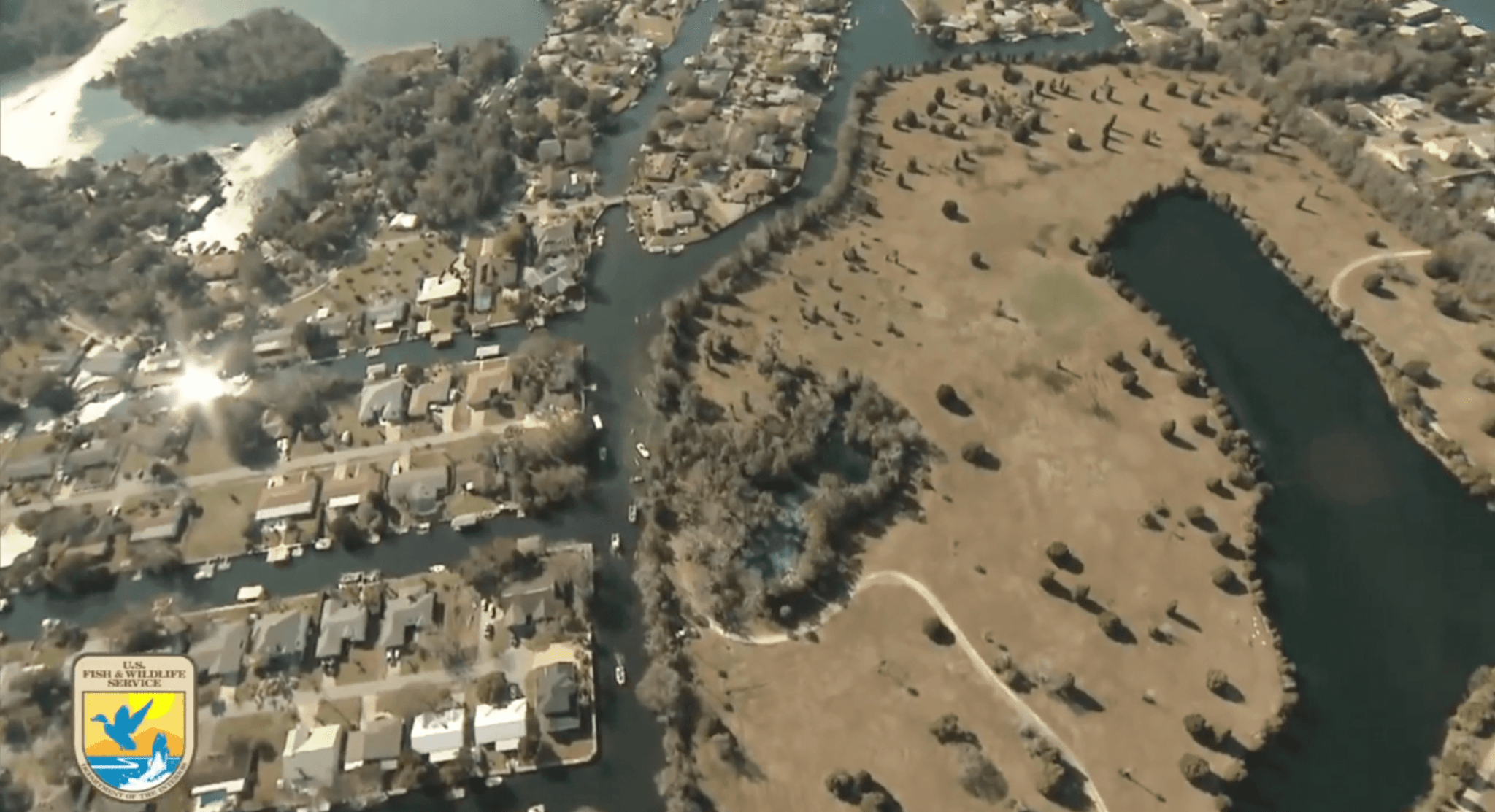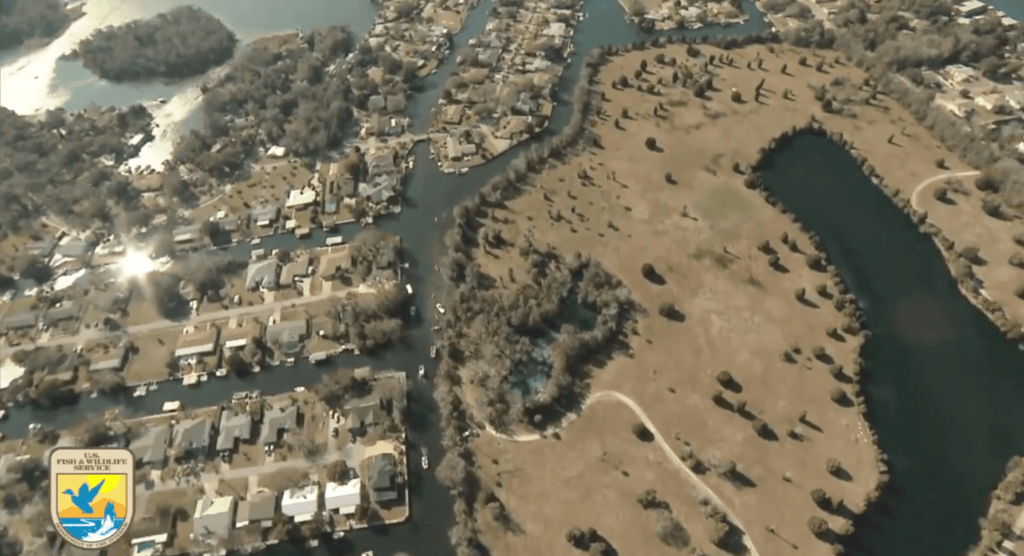 The neighborhood developments have no natural vegetation, or natural wetland characteristics.
Sources
Marine Mammal Commission Requests Additional Protection for Manatees at Three Sisters Spring
Environmental Employees Concerned over Manatee Safeguards
Manatee Conservation Efforts
Efforts to help save manatees from human harassment
Review of laws related to the Florida Manatee
FWS History of Three Sisters Springs