Longboat Key is a beautiful barrier island and small beach town on Florida's west coast.
Longboat Key is known for its uncrowded white sand beaches, resorts, and upscale beach town living.
The island of Longboat Key is long and skinny, like most barrier islands in Florida. It's about a mile wide at its widest point, and stretches for over 10 miles from north to south.
The eastern side of the island faces Sarasota Bay, and is largely covered by mangroves. The western side is filled with white sand beaches and beautiful turquoise water.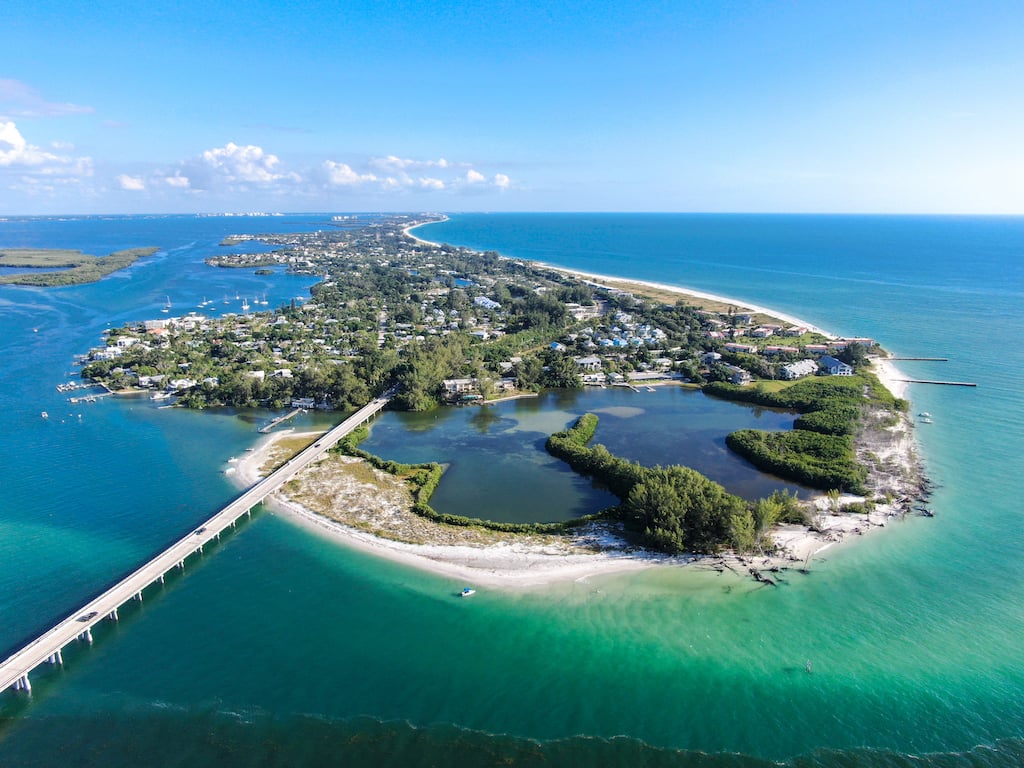 The island of Longboat Key is mostly residential. There is only one main road which runs through the island, and there are fewer commercial areas on than nearby islands. This is partly due to the relatively remote location and lack of a direct bridge to access the mainland.
Much of the south end of Longboat Key is occupied by the Longboat Key Club, a very exclusive club with luxurious amenities.
Location
Longboat Key is located on Florida's central Gulf of Mexico coast. The island is bordered by the Gulf of Mexico to the west and Sarasota Bay to the east.
Longboat Key sits within a string of Gulf Coast barrier islands:
Anna Maria Island sits to the north of Longboat Key, separated by the waters of Longboat Pass.
The island of Lido Key sits south of Longboat Key, across the waters of New Pass.
Both neighboring islands are connected to Longboat Key via bridges, which are the only roadway access points to Longboat Key.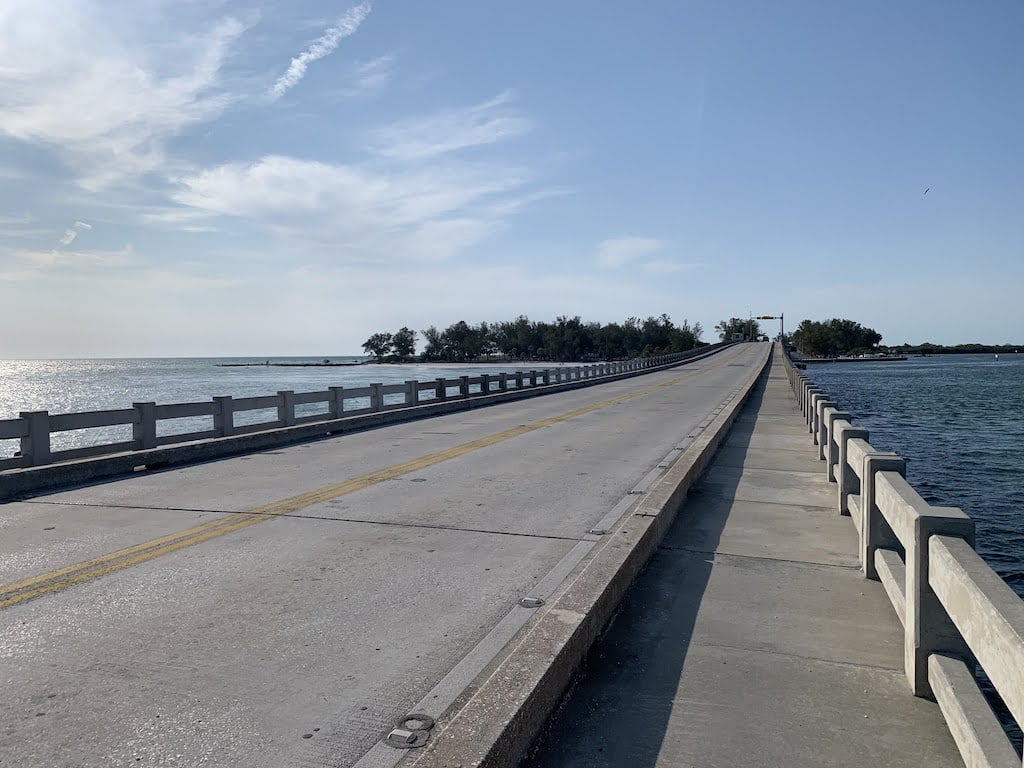 The lack of a quick mainland bridge is one reason why the beaches of Longboat Key remain uncrowded compared to other beaches in the area.
This does create frustrations though. Traffic and congestion is a major problem on the main thoroughfare — Gulf of Mexico Drive, or Highway 789.
Traffic is especially frustrating from approximately October until April, when seasonal residents fill the island.
Nearby cities:
Anna Maria Island and Bradenton Beach are located to the north.
Sarasota is located to the southeast.
Bradenton is located to the northeast.
Longboat Key straddles a county line. Southern parts of the island are part of Sarasota County, while the north is in Manatee County.
Things to do
Longboat Key is a small island, but there are still many things to do, with even more activities nearby.
Beaches
Without a doubt, the best thing to do on Longboat Key is to relax on the beach, or explore the island's many miles of shoreline on Sarasota Bay.
The island is less than a mile wide, so most vacation rentals or lodging options will be within walking distance to the beach, or even beachfront.
Nature
Sadly, much of the natural beauty on Longboat Key has been bulldozed, dredged and developed into housing and golf greens. But, some natural areas remain.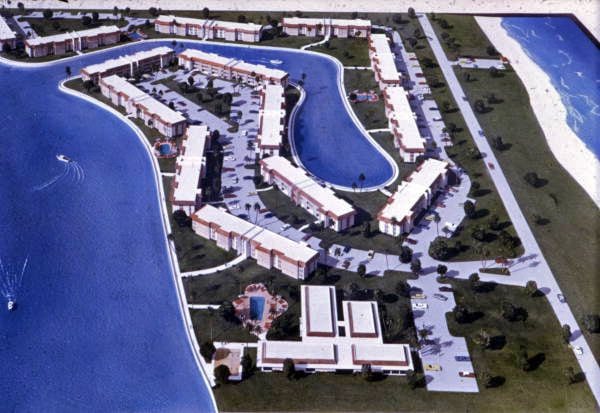 The Quick Point Nature Preserve – a large mangrove-filled nature preserve – covers much of the southeastern tip of the island.
There is another undeveloped area called Beer Can Island at the northern tip of the island, on the banks of Longboat Pass.
Shopping and Restaurants
Longboat Key has very few shopping options on the island — the best shopping in the area is found in Sarasota and St. Armands.
The limited shopping options on Longboat Key are found in the center of the island, in the Avenue of the Flowers Town Plaza. That's also where the Publix grocery store is, along with banks, the town hall, library and other fixtures of the island. Some restaurants are also found in this area.
Additional shopping and dining options are found nearby. Depending on which side of the island you're on it may be more convenient to drive north to Anna Maria Island or south to Lido Key and St. Armands, or around Sarasota.
Tennis, Golf and Sports
Longboat Key is known for its excellent outdoor sports, especially tennis and golf.
The island has world-class golf courses and several high-end tennis facilities, including soft clay tennis courts which are run by the Town of Longboat Key.
Nature, Wildlife and Outdoor Adventures
Longboat Key is located in a beautiful area of Florida with excellent nature and wildlife viewing opportunities.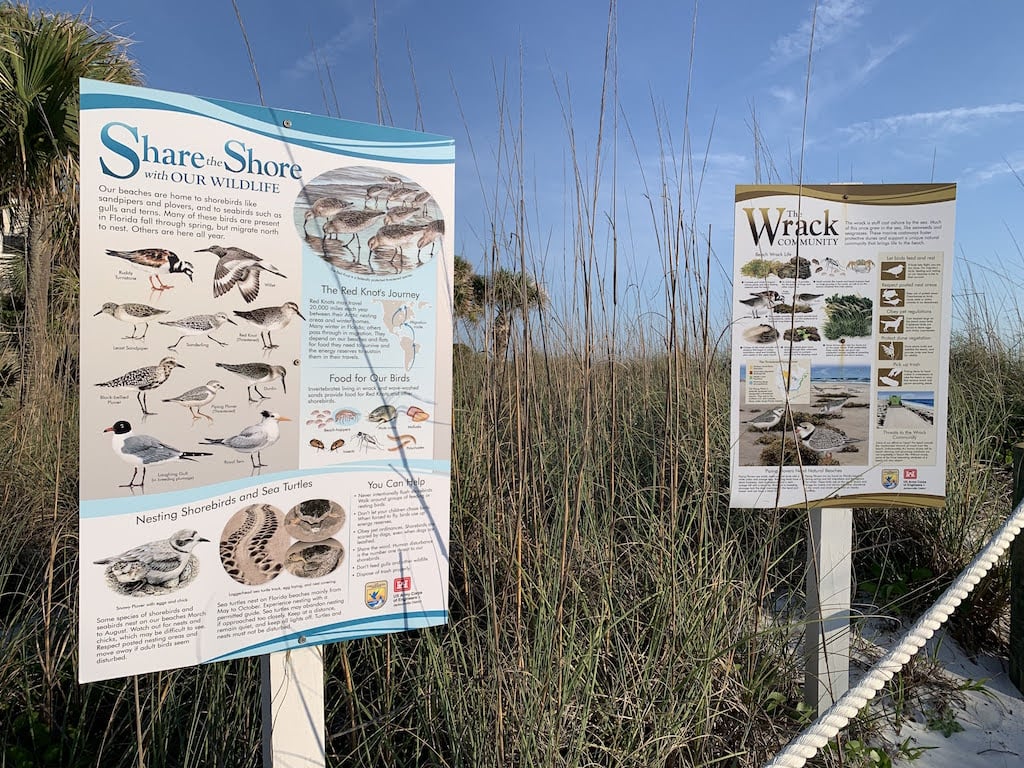 Popular things to do for nature lovers include:
Birdwatching
Fishing and fishing charters
Boating and boat tours
Sailing, sailing tours and charters
Kayaking and SUP paddleboarding at Bayfront Park
Wildlife observation, especially birds and marine life
Sea Turtle Tours
There is excellent fishing near Longboat Key, including offshore fishing in the Gulf of Mexico, and near-shore fishing in local waterways in Sarasota Bay and nearby.
The area's natural mangrove forests, seagrass beds and other natural areas, provide a rich and thriving habitat for many species, including birds,  juvenile fish and many forms of marine life.
Sea Turtles in Longboat Key
The beaches of Longboat Key are an important nesting ground for sea turtles.
Florida's sea turtle nesting season lasts from May through October. During that time female turtles come ashore to dig nests in the sandy beaches and lay eggs, all at night.
Eventually the sea turtle eggs hatch into dozens of baby sea turtles, who dig out from their sandy burrows and make their way back to the ocean.
The Longboat Key Turtle Watch is an active group of volunteers that looks out for sea turtles and their nests. They also lead educational walking tours during nesting season.
Birdwatching
There is a large group of dedicated bird watchers on Longboat Key, and birdwatching is a hobby for many residents of Longboat Key.
The island is an important nesting location for many birds, especially sea birds and migratory species which come to the island each winter.
Beer Can Island
The northern tip of Longboat Key is occupied by an undeveloped area called Beer Can Island, also known as "Greer Island".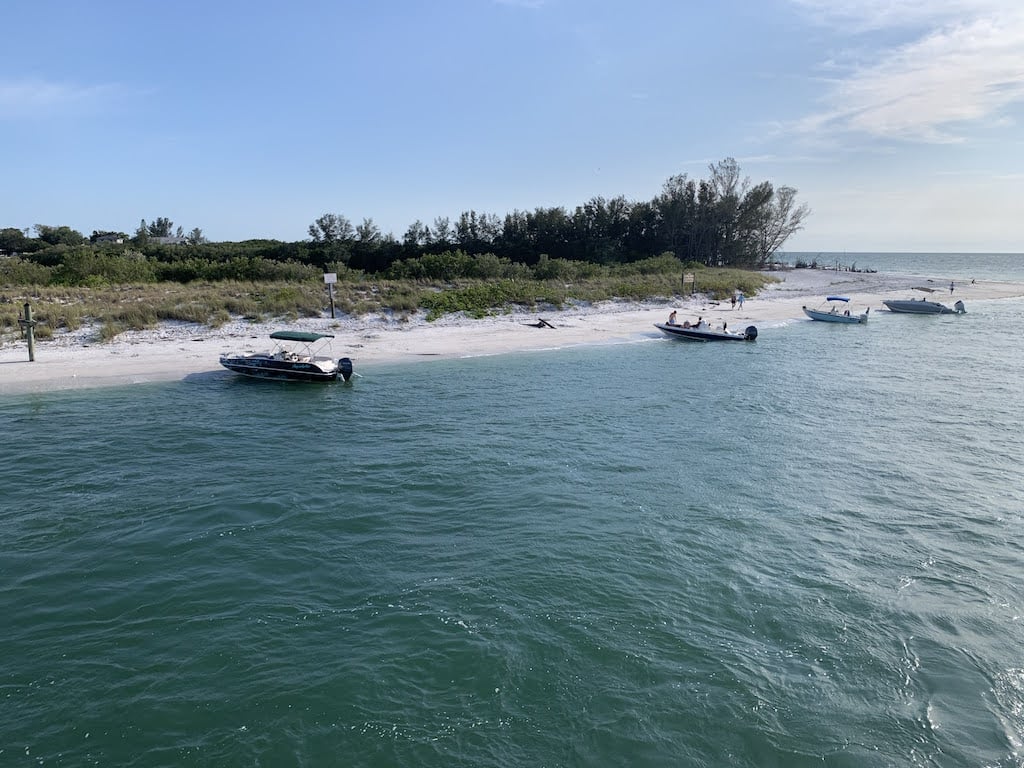 Beer Can Island is a fun place to visit. It's a very popular spot for Longboat Key day trippers and boaters.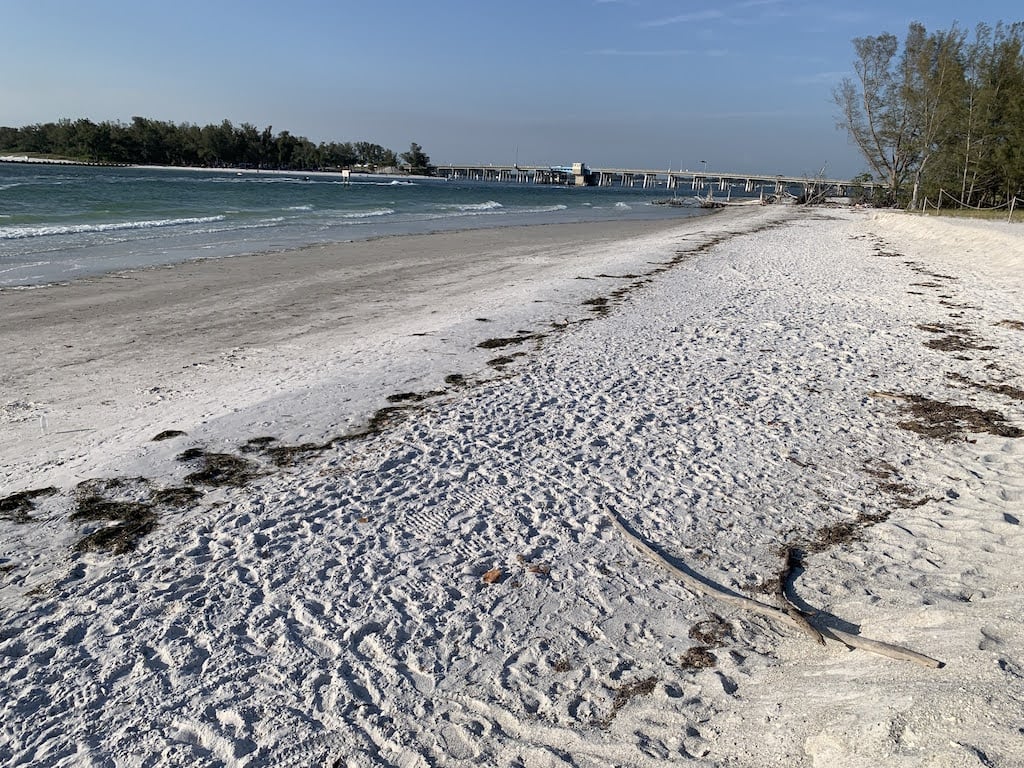 Beer Can Island is not actually an island, though, especially after beach renourishment widened the beaches.
The "Island" description exists because the beach used to be much narrower.
At high tide it was sometimes necessary to walk in the water to avoid dense groves of Australian Pine trees, making it feel like an island.
Beer Can Island is an extremely popular place, and has been for many decades.
If you do visit Beer Can Island be sure to be respectful of the environment and careful when parking to avoid tickets or trespassing on private property.
Read more about Beer Can Island
Beaches
There are approximately 12 miles of beautiful white sand beaches on Longboat Key. I think they're some of the prettiest beaches in Florida.
The sand on Longboat Key is bright white, which helps keep it cool even on hot sunny days. It also reflects sunlight up from the bright white sand, which can lead to severe sunburns.
The sand on Longboat Key varies. It's soft in some locations, and is rather coarse in others, especially in spots where seashells tend to accumulate. 
There are also areas of "renourished" beaches on Longboat Key where sand has been dredged in from the offshore seafloor.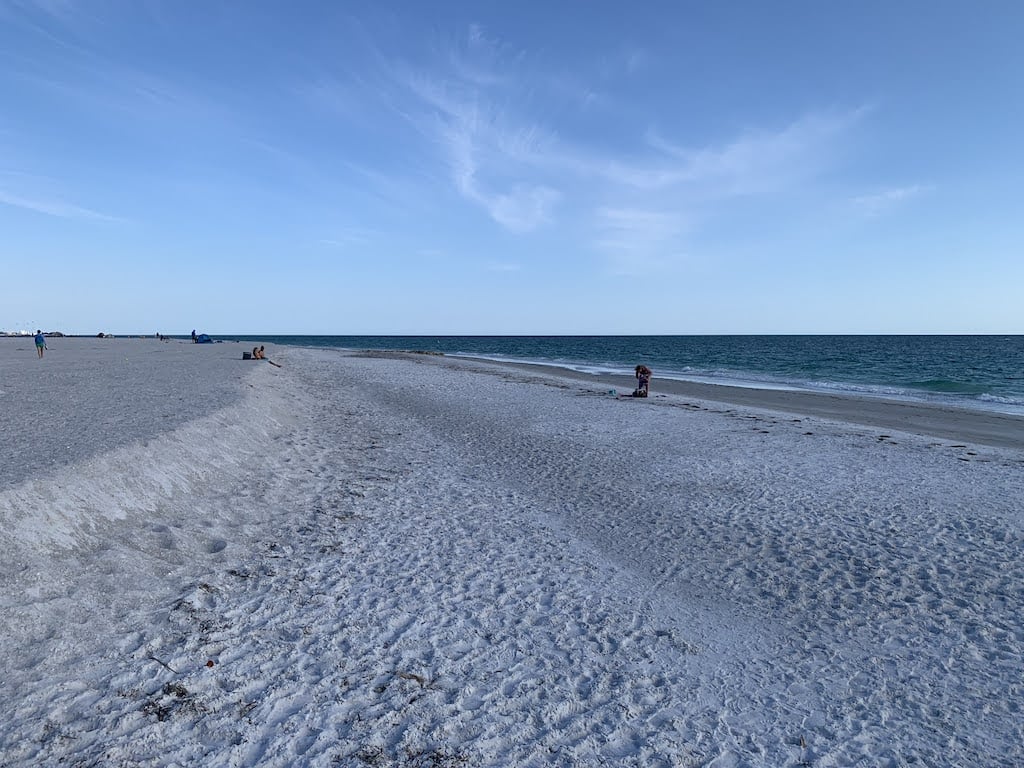 I've noticed that this renourished sand is often filled with crushed shell fragments, which can be painful to walk on. I always bring flip flops, just in case.
Clear Water
The waters around Longboat Key can be extremely clear when wind and wave conditions are calm, but that's not always the case.
Like any other place, the water can become cloudy when it's windy and wavy, because sand is disturbed and suspended in the water. I think the water is always beautiful though, and often has a turquoise color.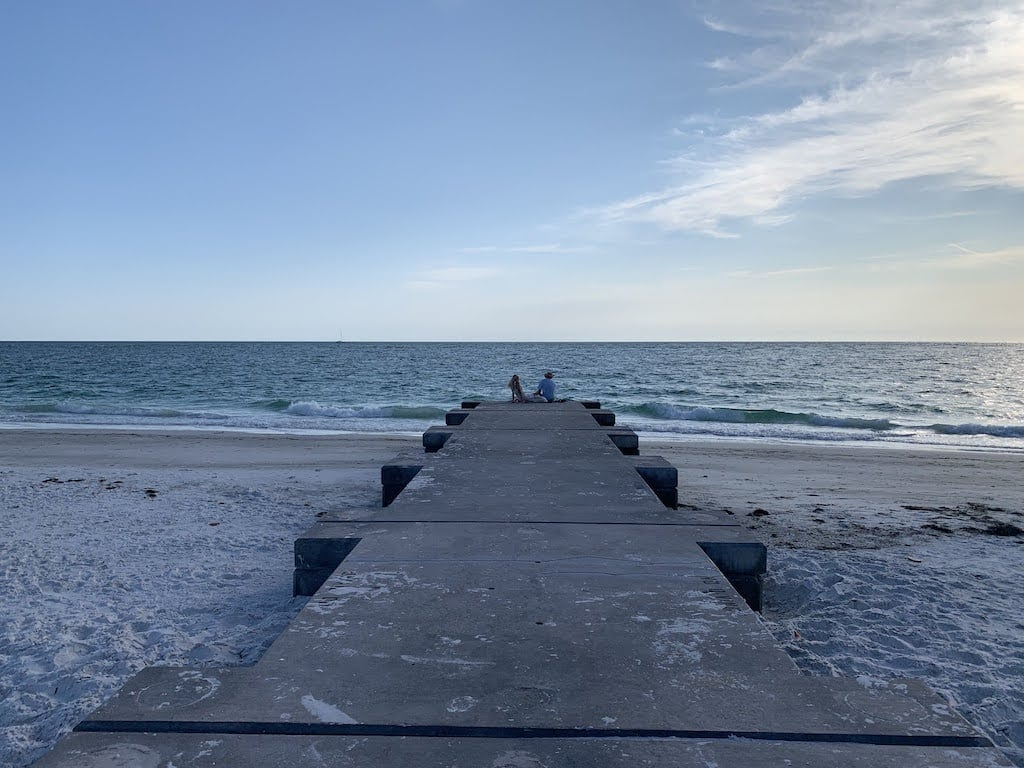 The beaches of Longboat Key were renourished in recent years to counteract beach erosion. The beaches are very wide in some locations and narrower in others.
Beach access points
One of the biggest downsides to beaches in Longboat Key is that there is very limited public beach access, and very little public beach parking.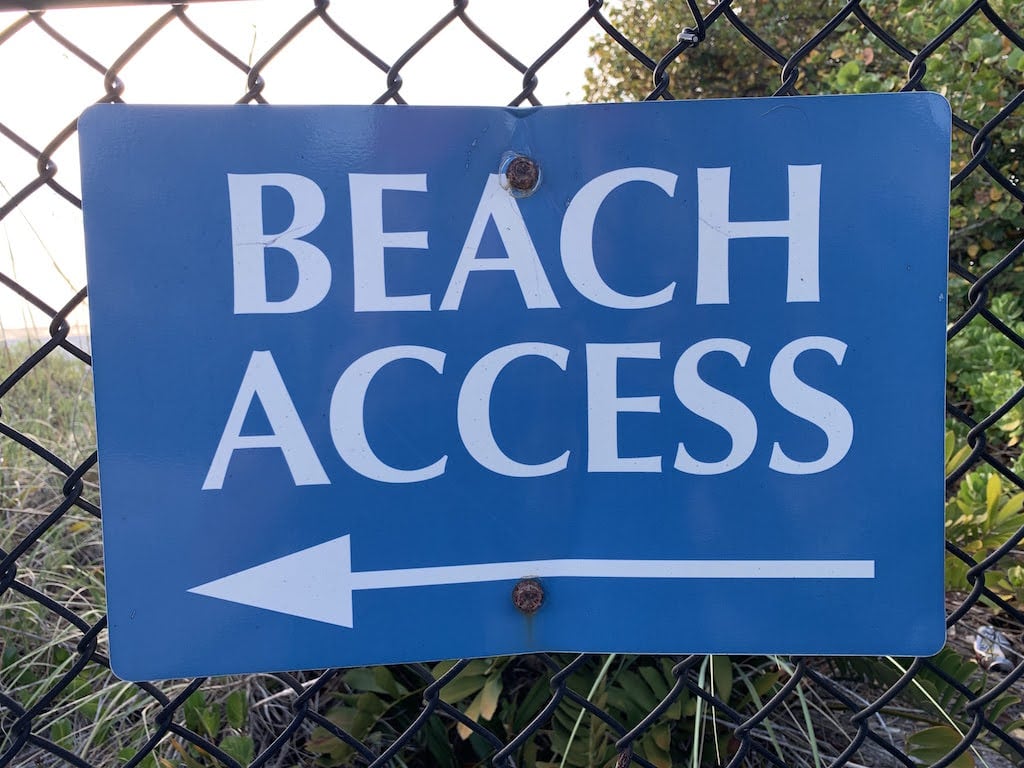 There are 11 public beach access points on Longboat Key. All of the public beach access points are clearly marked with blue signs that say "Public Beach Access".
Some of the beach access points have public parking spaces, while others do not. Some have signs and directions to park a few blocks away at another site. 
Even at beaches with parking, space is limited and the lots are small. Large vehicles may not be able to park, or may have difficulty turning around or exiting the lot.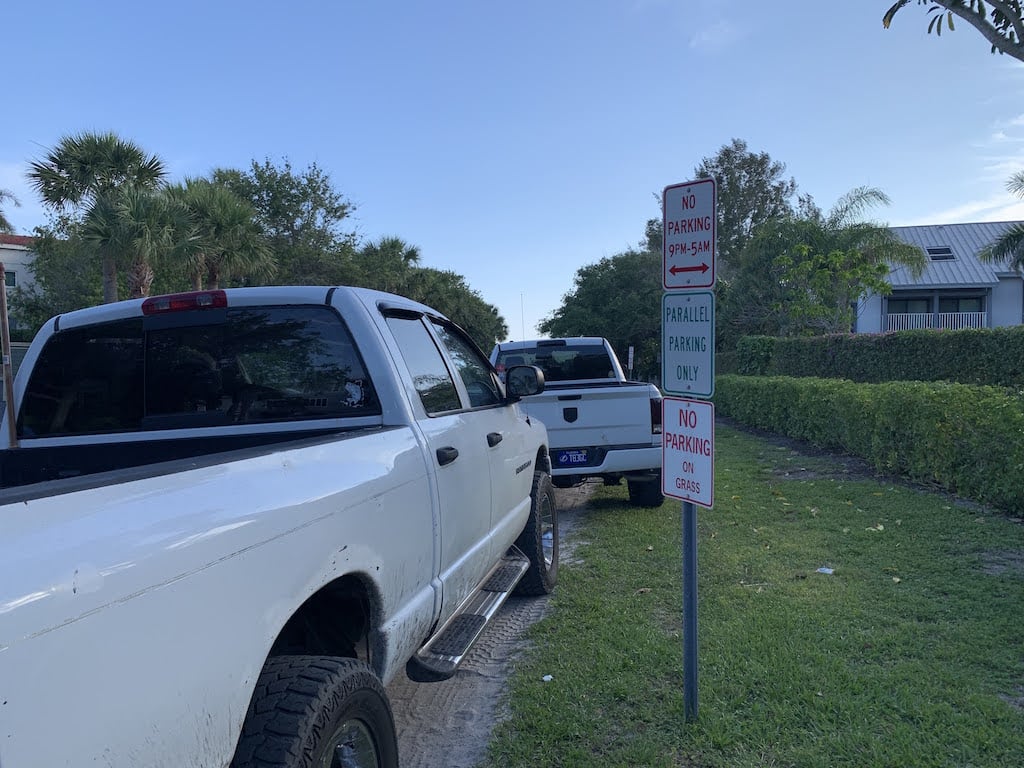 Most beach access points have bike racks which are a great way to avoid parking frustrations.
The other big downside is that the public beach access points don't have restrooms or beach showers to rinse off after swimming.
These things are a blessing and a curse. The lack of parking and amenities is frustrating, but it also helps keep the beaches quiet and uncrowded.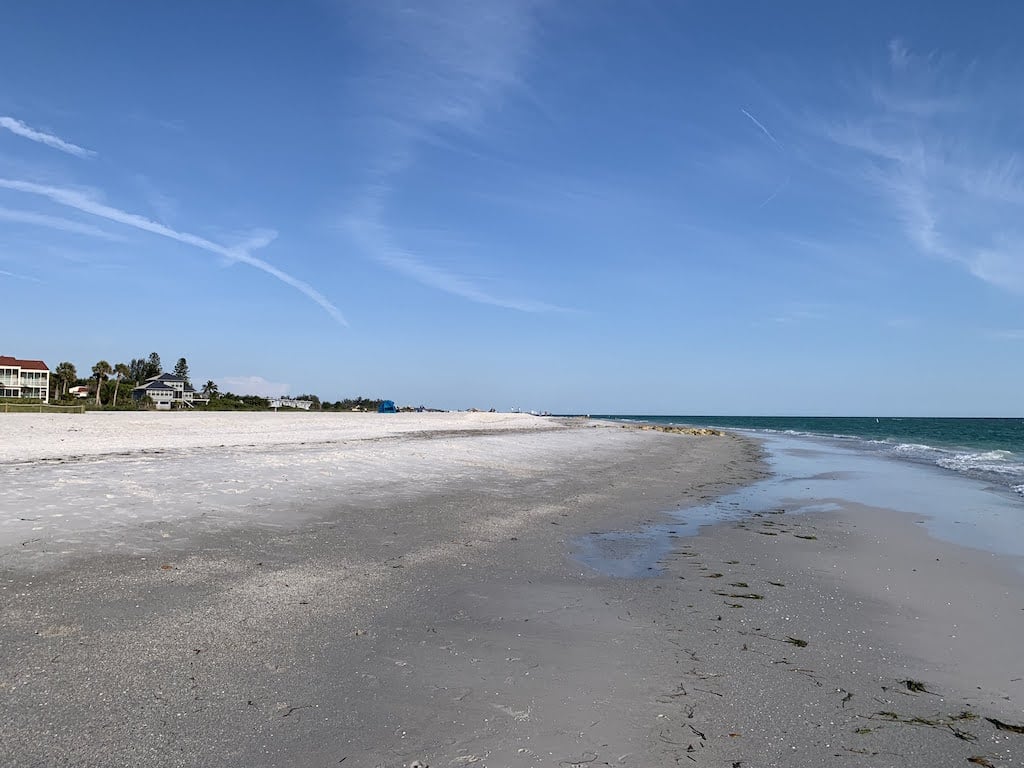 Most public beach visitors and day trippers go to the region's large public beaches in Anna Maria Island or Sarasota.
Note: Be warned, some of the public beach access points are a simple path, awkwardly running between buildings or even private houses.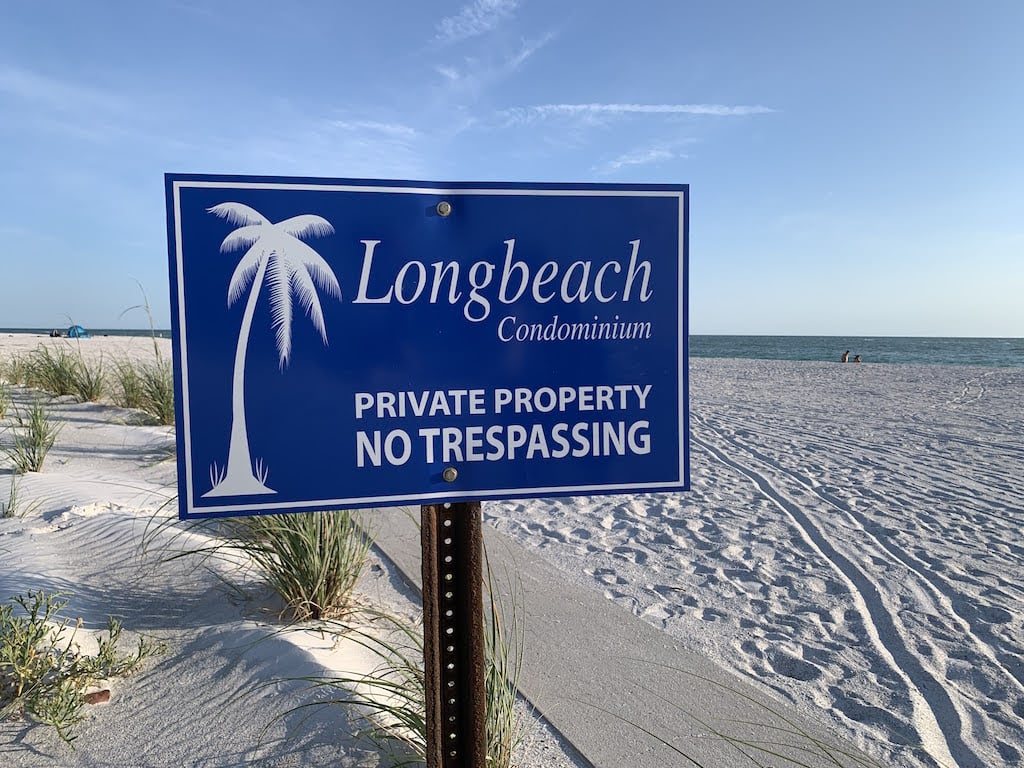 There are some beautiful undeveloped beaches at the north end of the island, around Beer Can Island. Most others are lined by condos and beach houses.
Note: Towing is heavily enforced on Longboat Key! Visitors should keep a close eye out for parking rules. Be careful where you park to avoid parking tickets or being towed.
Restaurants in Longboat Key
There are some excellent restaurants in Longboat Key, with options ranging from casual dockside cheeseburgers to high-end French cuisine. 
Here are some of the best restaurants on Longboat Key:
Blue Dolphin Cafe
Euphemia Haye
Many Restaurants On Lido Key
Chart House
Dry Dock Waterfront Grill
Maison Blanche
Mar Vista Dockside Restaurant And Pub
Lazy Lobster Of Longboat Key
Harry's Continental Kitchens
Longbeach Cafe
Whitney's
Longboat Key Club
One of the most prominent establishments on Longboat Key is the Longboat Key Club.
The private club is mostly only for members or guests, but the general public can get access to the club by staying at the resort or at the marina.
The club covers approximately 500 acres on the south end of Longboat Key and has many luxurious features, including:
Several golf courses
A marina and yacht club
A massive private beach club
Tennis courts and sports facilities
3 beautiful pools
5 high-end restaurants
And much more
Living in Longboat Key
The official population of Longboat Key was estimated to be 7,592 according to the 2021 census estimate.
That count doesn't include snowbirds, or part-time residents, who come for Florida's winter months and return north for summer and hurricane season. 
During fall, winter and spring Longboat Key swells to include approximately 20,000-25,000 people, according to most estimates.
Pros and Cons of Living in Longboat Key
Living in Longboat Key can be idyllic in many ways, especially for seasonal residents. But, living on Longboat Key also has downsides, including:
Hurricane danger
Extremely high cost of living
A very limited job market
Traffic and seasonal overcrowding
Lack of diversity
Traffic is a big problem on Longboat Key, especially during winter months when the island is most crowded.
Statistically, residents of Longboat Key tend to be older than the national average. Most residents of Longboat Key are 65+, and almost all residents are above age 45.
Longboat Key residents also tend to be highly educated. A significant majority have a Bachelor's degree or higher, at a rate which far exceeds the national average. 
The median household income in Longboat Key is well above the national average, and is undoubtedly skewed higher by business ownership, remote work and highly paid careers away from the island.
Wage earners on Longboat Key, especially those working in the hospitality and tourism fields, earn far less and often struggle to afford basic costs of living. 
Longboat Key is often ranked as one of the safest places to live in Florida in terms of crime.
There is a very low amount of crime on Longboat Key, far below the national average in all categories with almost no incidence of violent crime. Theft is the most common type of crime on the island.
Some residents note that the strong seasonality of the island can prevent the formation of community ties. Although, every season there are parties and celebrations to mark the arrival and departure of snow bird friends. Many of these factors depend upon one's own personal experience and lifestyle choices.
The cost of living on Longboat Key is one of the main downsides for people who cannot afford it. But, for those who can afford it, the cost of living – especially housing – is an effective "filter" to preserve the existing way of life in Longboat Key, and maintain economic exclusivity.
Real Estate on Longboat Key
The cost of real estate on Longboat Key is very high.
At the time of this writing:
The lowest-priced homes for sale on Longboat Key are small condominiums and ranch-style homes, beginning in the mid-$400 thousand range.
The most expensive house for sale on Longboat Key is $22 million.
The typical price of a house on Longboat Key is often more than $10 million.
History of Longboat Key
Like most of Florida, Longboat Key has a long and fascinating history. It's much more colorful than most people realize.
Native American people –- the Calusa and Timucua people, among others– thrived in the Longboat Key region long before Spanish explorers "discovered" the area in the 1500s.
We also know that prehistoric Paleo Indians roamed, hunted and lived in this area of Florida's central Gulf Coast more than12,000 years ago.
It's very likely that Paleo-Indians walked the area of modern-day Longboat Key as they stalked and hunted prehistoric animals like mastodons and other big game.
Longboat Key would not have been an island at that time; it would have been part of Florida's mainland. During ice ages sea levels were much lower, and the Florida peninsula extended much further out into what is now ocean.
Amazingly, two of the most significant archeological sites in North America, Warm Mineral Springs and Little Salt Springs, are located near Longboat Key.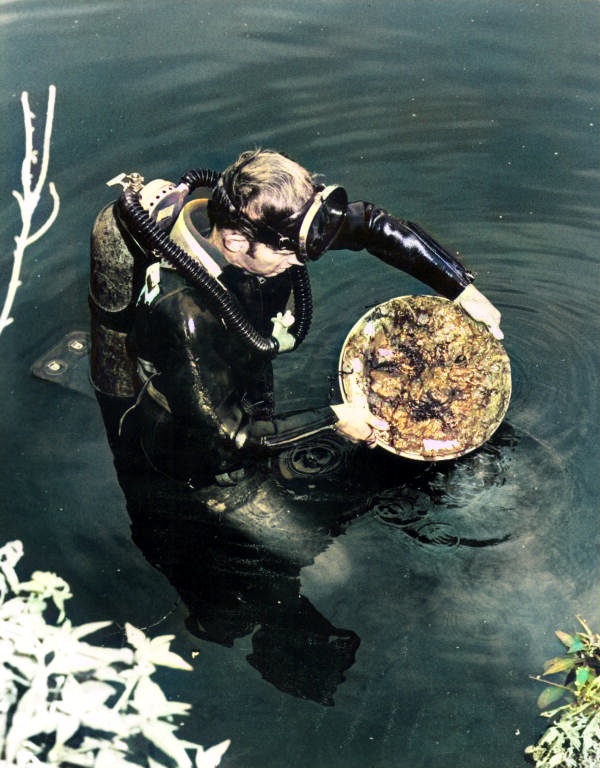 There are also many shell mounds and other rich archaeological sites in the region.
More recently, Longboat Key began attracting its first pioneer settlers in the late 1800s and early 1900s. Some of the first homesteading records begin in approximately 1882.
In its early days Longboat Key was mostly known as a farm community. Many families ran small and medium-sized farms.
Pioneer residents of Longboat Key raised cattle and grew crops, including tomatoes, citrus, avocados and others. Rubber trees were also cultivated on the island. The produce was shipped to market via steamships which stopped at the town dock.
Farming on Longboat Key stopped in 1921 when a hurricane storm surge flooded the island with salt water.
Development of Longboat Key boomed during the great Florida Land Boom, and the roaring 1920s, along with Sarasota, Lido Key and other surrounding areas.
As stock and real estate speculation gripped America it inflated a massive real estate bubble in Florida – a cycle which would continue to repeat itself.
John Ringling was one of the driving forces to develop Longboat Key, as part of his larger investments in Sarasota and Lido Key in the mid-1920s.
Construction of a luxurious hotel on Longboat Key – the Ringling Ritz Carlton hotel – began in early 1926, at the south end of Longboat Key.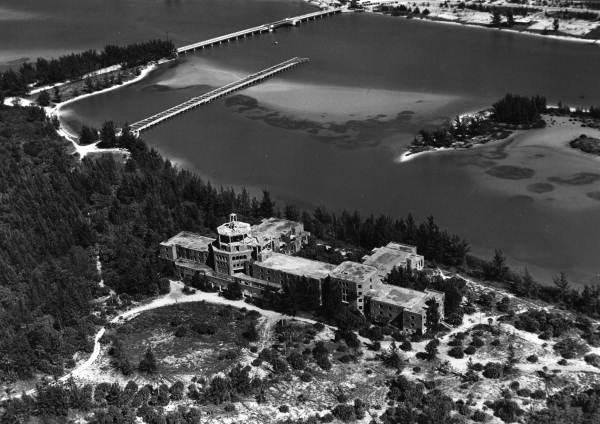 In a stroke of bad luck for Ringling, construction began near the height of the Florida real estate bubble.
Construction stopped only months later when the bubble burst, and the unfinished hotel was left to rot.
Some local residents looted the luxurious hotel and took its valuable fixtures, which they installed in their own homes.
Longboat locals began calling the hotel the "Ghost Hotel", due to its deterioration, and also because many people died while trespassing inside the abandoned space.
The Ringling ghost hotel remained abandoned for decades until it was sold to a developer, the Arvida corporation, in 1964.
Arvida eventually demolished the unfinished Ringling hotel as part of its projects and a new building was eventually built on the site in 1988.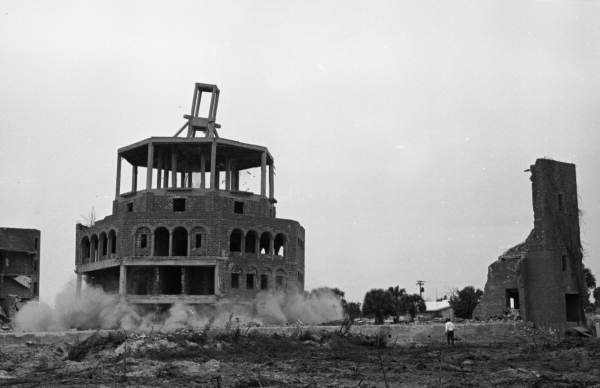 Another interesting tidbit of Longboat Key's history is that it used to be a bombing range.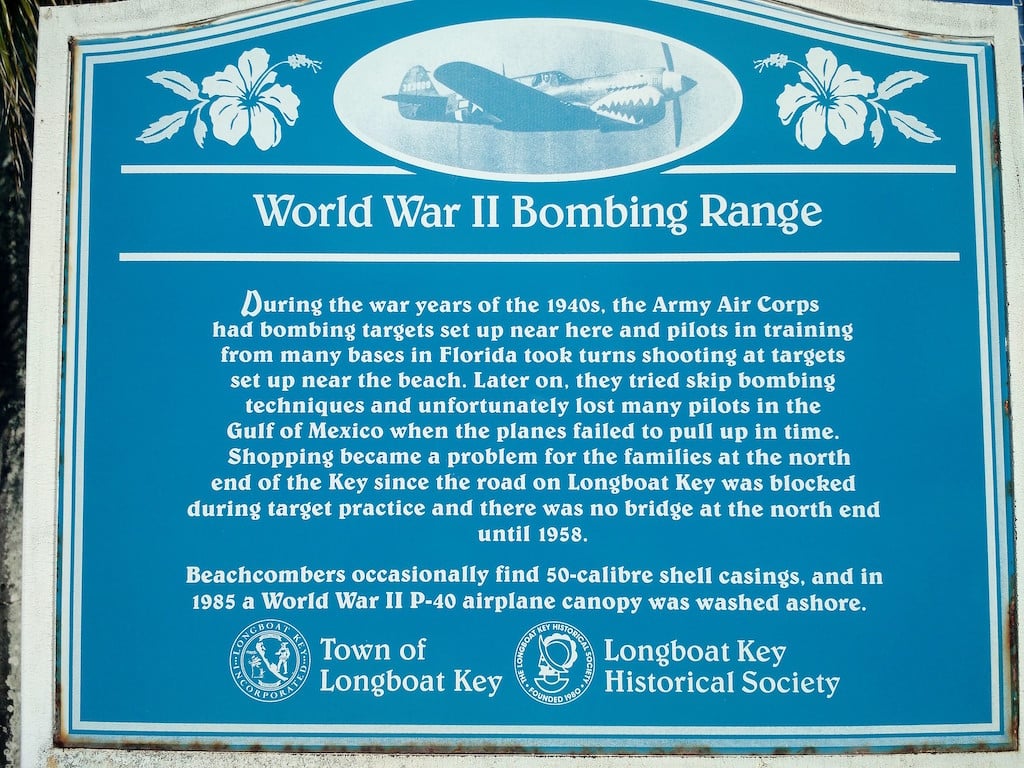 While training for combat in World War II, pilots and airmen from the MacDill air base in Tampa used B-26 bombers, P-40s and P-51s to strafe and bomb practice targets on the Longboat Key Gunnery Range.
The range was also used by air bases in Venice and Sarasota. Pilots competed with each other as they practiced machine gunning, dive bombing and other maneuvers.
Access to the island, or bombing range, was partially restricted for Longboat Key residents. Gates were closed daily from 8 am until 5 pm, except for when gates were accidentally left open, leading to scary incidents for residents.
Residents had to schedule their errands, like grocery shopping, around the gunnery practice.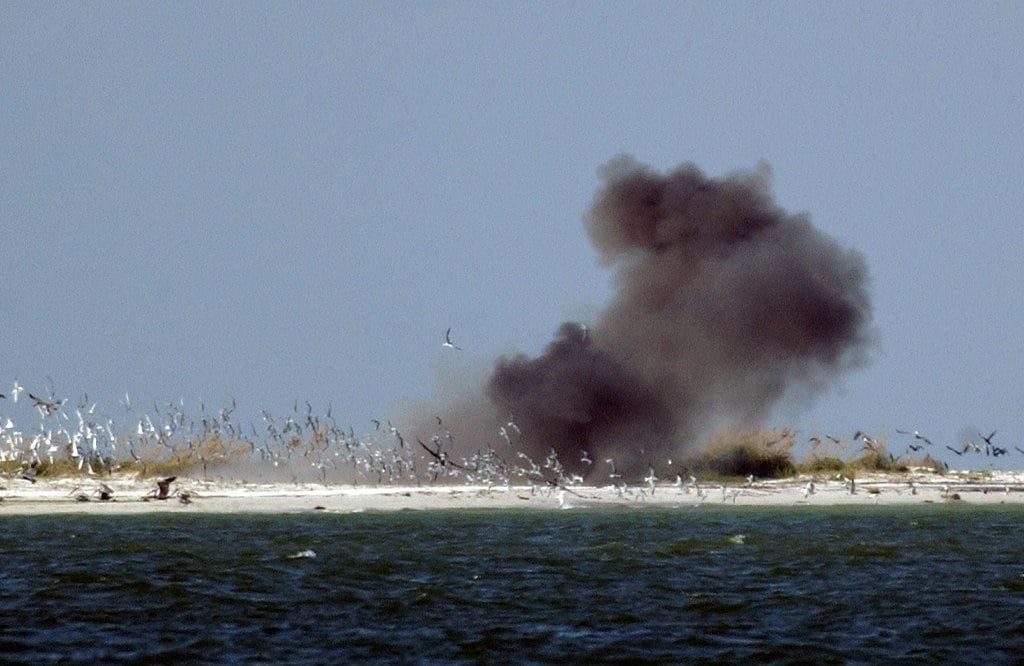 The town of Longboat Key was founded in 1955. Even at that time, only a few hundred people lived on the island.
Growth in Longboat Key was modest at first but development increased substantially in the 1960s and 1970s, especially through the Arvida Corporation.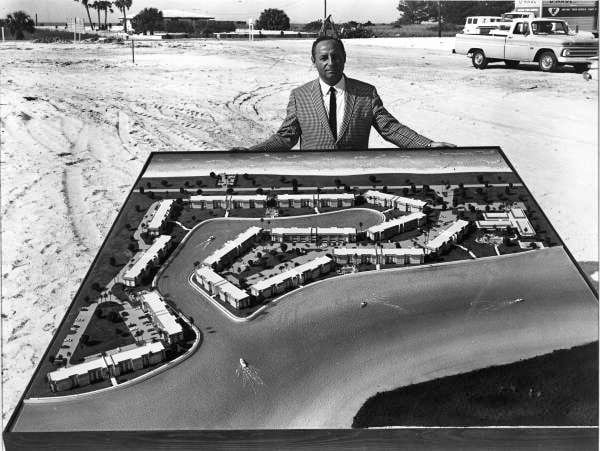 Over the decades Longboat Key has continued to grow and shrink in waves, but development has been largely contained due to the island's natural boundaries.
Island zoning laws and building height restrictions have kept the beach from being grossly overdeveloped. Today the entire island still has a nice, quiet feel.
Final Thoughts
Longboat Key is one of the most beautiful islands in Florida. It has so much to offer– beautiful beaches, access to incredible nature, a very high standard of living, and more.
Like any place Longboat Key has its downsides, but it's one of my favorite places in Florida, and it's worth exploring if you have a chance.
Sources
Photo of bombing range by Jon Evans, CC2.0 via Flickr
More information on the history of Longboat Key can be found at the Longboat Key Historical Society and the website Longboat Key History.