Anna Maria Island is a barrier island in southwest Florida, on Florida's Gulf of Mexico coast.
Anna Maria Island is very long and narrow. It's approximately 7 miles long, measured from north to south. The island is only about a mile wide in its widest point, and is only a few blocks wide in some places.
Anna Maria Island is known for being a laid-back, world-class vacation, resort and fishing destination.
The island has kept its charming "Old Florida" feel, in stark contrast to Florida's crowded tourism hubs of Miami and Orlando.
The entire island feels like a small beach town because it has no high rise hotels, busy highways, or crowded shopping centers.
Anna Maria Island also has a long and fascinating history, including prehistoric native American settlement, Spanish explorers, and some of the earliest Florida homesteaders.
Location
Anna Maria Island is located inside Manatee County, off of Florida's Gulf Coast.
The barrier island lies at the mouth of Tampa Bay, just south of St. Petersburg and less than an hour from the City of Tampa.
The beautiful beaches on Anna Maria Island are often included in guides and recommendations for the "Best Beaches" in Tampa and St. Petersburg.
The island is within reasonable driving distance of both cities, along with other cities in southwest Florida.
There are three bridges to Anna Maria Island:
One bridge connects to the mainland in Bradenton
One bridge connects to the mainland in Cortez
One bridge connects to the island of Longboat Key to the south
Nearby Islands
Like many barrier islands in Florida, Anna Maria lies in a chain of many islands which stretches from north to south.
This chain includes Key Royale, Longboat Key, and Jewfish Key, among others, which are all to the south and southeast in Anna Maria Sound, Sarasota Bay and other local waterways.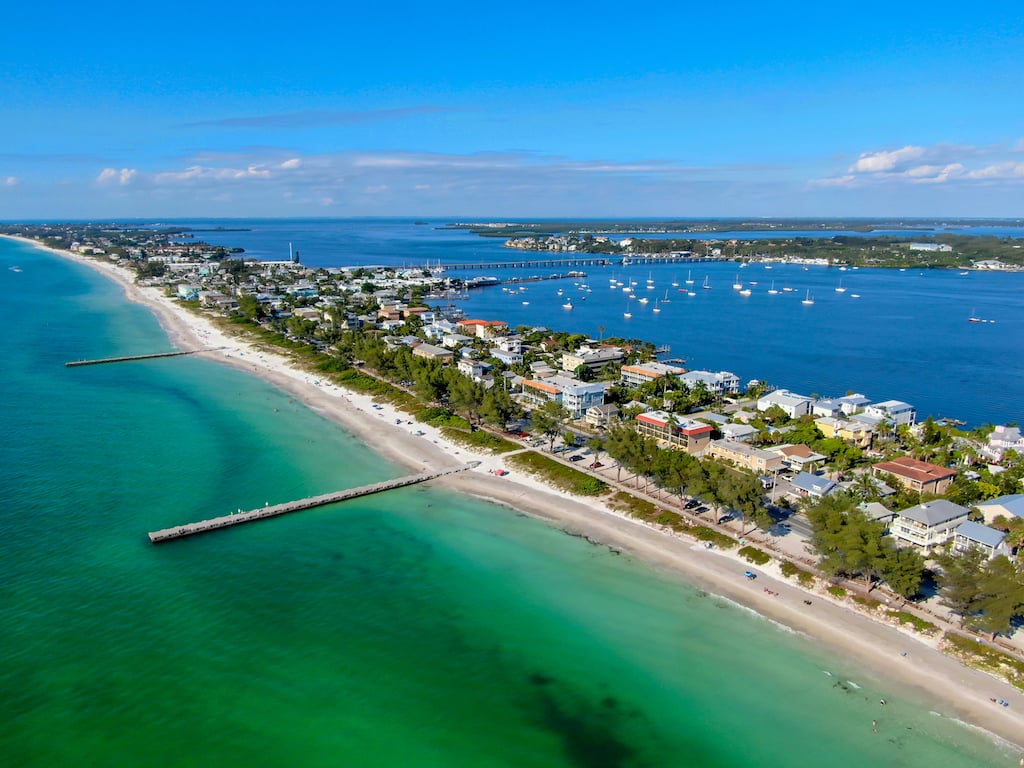 Cities on Anna Maria Island
There are three incorporated cities on Anna Maria Island:
The City of Anna Maria in the north
The City of Holmes Beach in the center of the island
The City of Bradenton Beach in the south
Anna Maria Island is located near the major metropolitan area of Tampa Bay, as well as Sarasota and other cities in southwest Florida.
Nearby Cities
Major cities near Anna Maria Island include:
Bradenton, just to the west
St. Petersburg to the north
Tampa to the northeast
Sarasota to the southeast
Explore the historic Bridge Street downtown district
Explore the Anna Maria City Pier.
Go Horseback riding
Things To Do
There are many things to do on Anna Maria Island, although the town is quite sleepy compared to many other tourist destinations in Florida.
For many visitors the best thing to do in Anna Maria Island is to relax and unwind.
Most activities in Anna Maria Island focus on relaxation and enjoying life in one of the last remaining small beach towns in Florida.
Not surprisingly, most activities revolve around the beach, boating or water-based activities. Spa, relaxation and self-care activities like massages and yoga are also very popular.
Some of the most popular activities in Anna Maria Island include:
Shell Hunting
Sailing
SUP paddle boarding
Kayaking
Jet ski rentals
Boating
Bird watching
Fishing from the beach, pier or offshore fishing charter
Shopping
Eating fresh seafood
Riding in golf carts
Dolphin tours
Visit Cortez, a small and historic fishing village
Kayak or SUP paddleboard through 75+ miles of paddle trails
Explore estuaries, bays, tidal creeks and mangrove forests
Visit nearby attractions: Egmont Key, Sarasota, DeSoto National Memorial Park
Visit the Anna Maria Historical Society
Anna Maria Island has a community center called "The Center". Although it is mostly geared towards residents.
Visitors and non-residents can buy a day pass for $20 to access the gym, fitness classes, yoga, and many other fitness-related activities.
Restaurants
Anna Maria Island is famous for not having chain restaurants. All of the restaurants on Anna Maria are small to medium-sized, family-owned establishments.
Some restaurants like Small Town Creamery and Ginny and Jane's Cafe that feel charmingly unchanged from the 60s and 70s. There are also modern establishments like the Waterfront Restaurant and the Angry Grouper.
Notable restaurants include:
Old Hamburg Schnitzelhaus
Smoquehose
Hurricane Hank's
Bridge Street Bistro
Blue Marlin Seafood Restaurant
Waterfront Restaurant
Two Scoops
Wicked Cantina
Rod and Reel Pier
Pizza Social
And many more
Lodging
Anna Maria Island has banned high-rise condos and hotels. Strict local building restrictions are in place to maintain a small-town feel on the island, but there are still many lodging options.
Anna Maria's rental inventory includes a wide variety of housing options with a very large spectrum of quality, price and level of service.
Some houses for rent are modest inland bungalows, while others are beachfront mansions.
Obviously beachfront rentals tend to be the most expensive, but also offer beachfront access, luxury accommodations, pools, and other amenities which many people are willing to pay for.
The Bungalow Beach Resort and the Silver Surf Gulf Beach Resort are popular resorts with direct beach access and the independent, old-fashioned atmosphere that Anna Maria is famous for.
Haley's couples retreat has been a staple on the island since its beginnings as a motel in the 50s. It offers quaint beach cottages, a free trolley around the rest of the island, and direct beach access.
Last but not least, Tortuga Beach Resort is a great resort for those looking for a more modern, updated experience.
Beaches
Beaches in Anna Maria are beautiful. The island is known for being some of the best beaches and some of the clearest water in Florida, when conditions are just right.
The beaches have clean, fine sugar-white sand and beautiful turquoise water.
The water is often crystal clear when the water is calm, although the water color and clarity does vary depending on wind and wave conditions.
The beaches on Anna Maria Island are famous for having powdery white sand.
The distinctive bright white color is because the sand is finely ground silica, which is a remnant from Florida's ancient geologic past, along with the ancient erosion of the Appalachian Mountains.
The bright white sand helps reflect the sun's radiation, so the sand stays relatively cooler than other dark sand beaches.
The beaches on Anna Maria Island are very wide and spacious. Combined with a lack of surrounding development and relatively few crowds, the beaches often feel like private beaches, even though they are public.
There are approximately seven miles of beaches in Anna Maria's coastline.
The main public beaches on Anna Maria Island include:
Anna Maria Bayfront Park
Manatee Public Beach
Coquina Beach
Bean Point Beach
Many larger public beach access points have public parking and restroom facilities.
Smaller neighborhood beach access points typically do not have restrooms, showers or large parking areas, if any at all.
On the other hand, small neighborhood beach access points are typically not crowded, and offer the quiet privacy of a private beach.
The public beaches have parking, but the parking is often insufficient for the large amounts of visitors, so parking is limited.
To avoid parking frustration it's best to arrive early in the morning, during the week, or after rain storms. Many people leave the beach at the first sign of rain and do not return. Holidays and weekends are the most crowded.
Parking frustrations cal also be avoided by riding the Anna Maria Island Shuttle or riding a bicycle.
Other popular beaches are found on nearby Longboat Key, including the immensely popular beach at "Beer Can Island". The beach also goes by other names, including Greer Island and Gibby Point.
Coquina Beach
Coquina Beach on the southern end of the island is perhaps the most popular. It is equipped with a playground and numerous picnic areas, and a volleyball court, making it perfect for a family day trip.
Another popular draw to Coquina Beach is the pop-up market that is present on Wednesdays and Fridays. Nearby the beach is Longboat Pass where one can watch dozens of boats every hour pass to and from the mainland.
Besides Coquina, there are many other beaches to choose from. Cortez Beach is particularly popular among surfers
Bean Point is perfect for those desiring a less crowded atmosphere
Bradenton Beach is located near the island's main center for shops and restaurants.
Bean Point
Many visitors feel that the northern tip of Anna Maria Island is the most charming.
The northern section includes the Anna Maria City Pier, Bean Point, the famous Rod and Reel Pier, and many other attractions.
Bean Point Beach, located at the northernmost point of Anna Maria, is one of the most beautiful and unique beaches on the island.
The beach has a different feel than those which face the Gulf, and some sections feature large shade trees.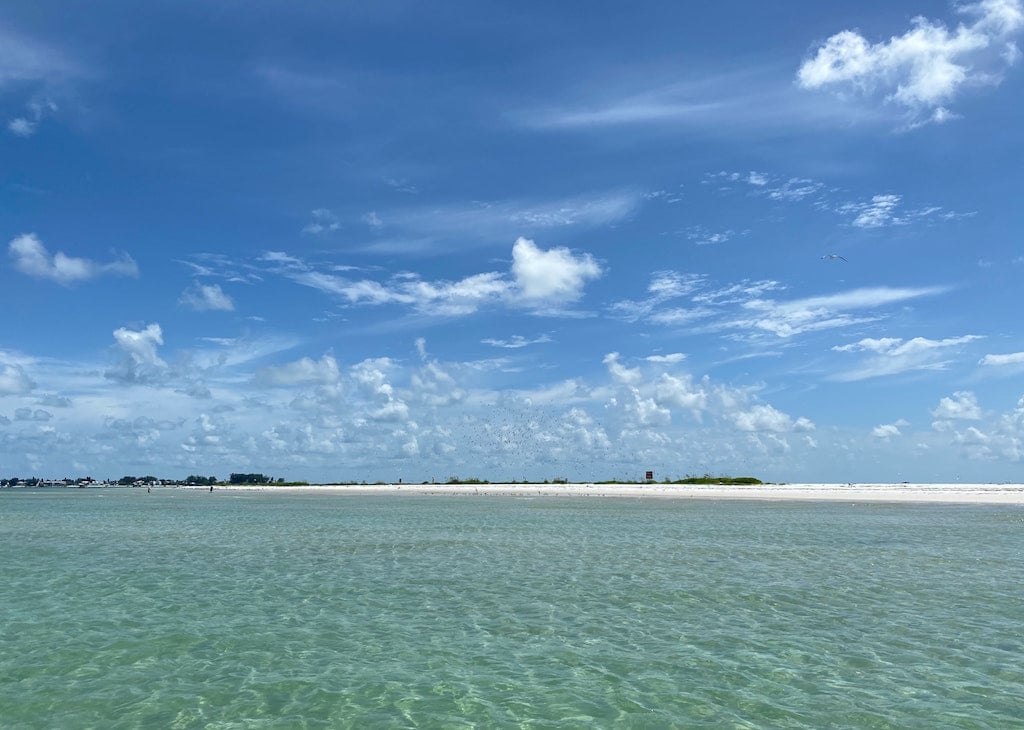 This northern tip of the island also has beautiful views.
Nearby islands and sandbars are visible in the distance, including Passage Key and Egmont Key, along with the the Sunshine Skyway Bridge over Tampa Bay.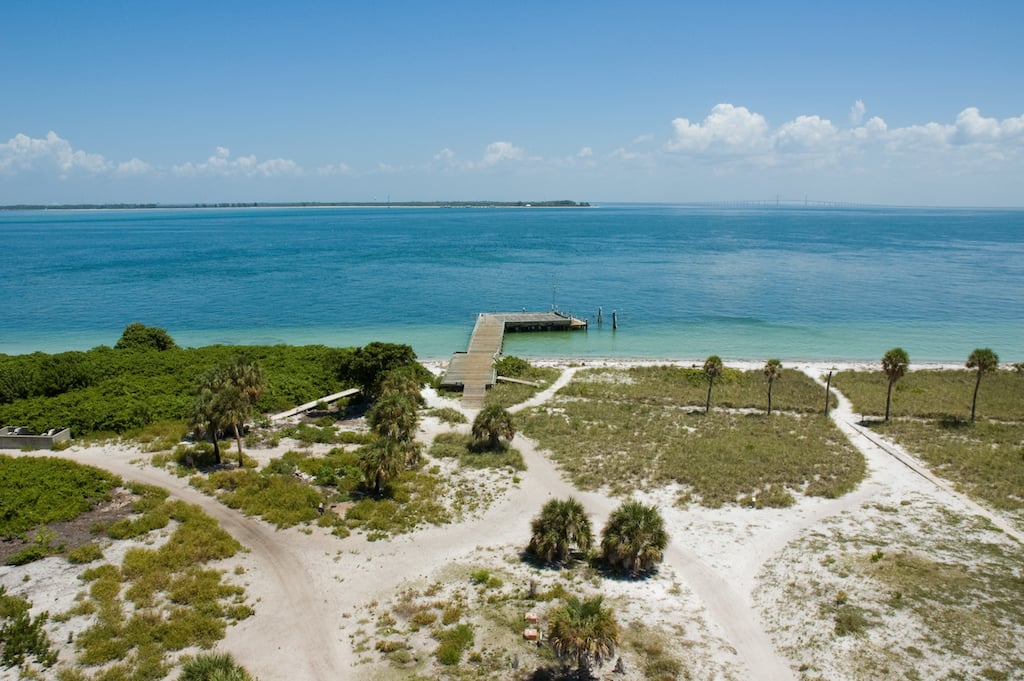 Parking
Because of the island's small size, parking some popular beaches can become congested, and parking may be impossible to find.
To avoid parking problems many visitors use the free shuttle which serves the island.
Anna Maria Island Trolley
The Anna Maria Trolley is one of the best ways to get around the island besides golf carts, bicycles and personal cars, assuming there is no traffic.
The trolley is free and riders can hop on and hop off without limit. The trolleys are even air conditioned!
Trolleys accept bicycles (single seat, two-wheels, 16″ or higher) which can be loaded on a rack at the front of the bus. Bicycles, combined with the trolleys, are a fantastic way to get around the island!
The trolley system uses several trolleys which "loop" the island beginning in the south end of the island at Coquina Beach and running all the way north to the Anna Maria City Pier at the northern tip of the island. The trolleys run daily and are even active on most holidays.
The trolley begins running at 6 AM and buses typically arrive in intervals of approximately 20 minutes, and 30 minute intervals from 9 pm until 10:30 pm, when they stop running.
View more information about the Anna Maria Island Trolley.
The bus schedule can sometimes be delayed when there is intense traffic, severe weather or other extenuating circumstances. But, you'd probably be stuck in traffic during those times as well, so it's to be expected.
There are 35 bus stops in both directions (north and south), dispersed every 2-4 blocks or so. View the MCAT schedule
Visitors can also use the Beach ConneXion Shuttle which shuttles passengers onto Anna Maria Island from a "Park and Ride" center at the Manatee County Area Transit Bus Stop (Manatee Avenue and 7th Street West, near Kmart and Publix), as well as bus stops along the way.
More information about Anna Maria Island Trolleys and shuttles can be found on the Chamber of Commerce website.
Weather and Climate
The weather in Anna Maria is typical for Florida's central Gulf Coast region:
Summers are hot and humid, with almost daily afternoon thunderstorms.
Winters are mild with warm, sunny days and cool nights, with occasional cold, windy weather when northern cold fronts pass through.
Spring and fall offer very nice weather, although fall is haunted by the threat of hurricanes.
Arguably the best time to visit Anna Maria is from February to May, which is when the island has the most pleasant weather conditions.
However, visitors should be warned that these months are also the peak time for tourists. The island is most crowded and prices are likely to be at their highest.
Anna Maria Island has a "Wet season" which occurs in the late summer months of July and August.
Afternoon thunderstorms occur almost daily, and often include torrential rain, thunder and lighting. The thunderstorms are welcomed by many because the rain drops temperatures by as much as 20 degrees.
There are often strong ocean breezes from the Gulf of Mexico which follow a diurnal pattern, thanks to the relative temperature difference between the ocean and mainland.
The sea breeze winds make cool temperatures feel colder, and help make hot weather more tolerable.
Water temperature
Like much of Florida' Gulf Coast, the water temperature in Anna maria is usually warm enough to swim from about May until November.
The water temperature is usually chilly in the spring months, extremely warm during the summer months, and surprisingly warm in the fall due to the accumulated heat from the summer.
Living In Anna Maria Island
Anna Maria Island is an excellent place to live for many residents, although life on the island does come with extreme trade-offs, which may people would consider to be downsides.
Many of Anna Maria Island's residents are part-time residents, often called "Snowbirds". Because they "migrate" north during Florida's hot, humid summer months.
Pros and Cons
The main benefit of living on Anna Maria Island is its easy access to beautiful beaches, laid-back lifestyle, warm weather and tropical environment. To many, it's paradise.
Unlike many other pristine locations that have been overwhelmed with tourism, high-rise condos and development. Residents of Anna Maria island enjoy a relatively humble and quaint living experience.
The island has retained its quaint beach house charm, and the island has a unique personality because there are no large chain stores or restaurants.
Downsides of living on Anna Maria Island
Like many places in Florida, those who live in Anna Maria Island say that traffic is one of their biggest problems.
Congestion issues exist on the narrow island's roads and bridges, especially when tourists and visitors flock to the island during peak visitation times.
The cost of living in Anna Maria Island is the biggest obstacle for most people who would like to live in Anna Maria Island.
Real estate prices are exceptionally high and employment opportunities are limited due to the island's tourist and hospitality-based economy.
History
Anna Maria Island, like many other gulf coast cities and towns, has a long history of Native American and Spanish settlement before the arrival of American homesteaders.
The island was first occupied by Native American tribes, including the Calusa and Timucan tribes.
Artifacts and archeological evidence suggests that the region was inhabited for approximately 12,000 years by prehistoric Paleo-Indians, and then as recently as approximately 4,000 years ago by ancestors of the Calusa tribe.
The region was dominated by the Tocobaga tribe, along with several others, when Spanish explorer Hernando de Soto "discovered" the area in 1539.
Anna Maria remained sparsely populated until American settlers began coming to the island in the 1890s, including the influential Bean family of George Emerson Bean and Charles Roser.
The families established their homestead in the northern section of Anna Maria near the site of the Rod and Reel Pier.
George Emerson Bean is usually considered the first homesteader to begin development of the island as it exists today.
Bean Point, a beautiful section of beach at the northern tip of the island where Bean built his homestead, is named after him.
Bean's son George Wilhelm Bean and his business partner, Charles Roser later took over and established the Anna Maria Beach Company to further develop the island.
The Anna Maria Beach Company built many of the famous historical structures on the island, including the Roser Church and the original Anna Maria City Pier.
Interestingly Charles M. Roser was wealthy because he invented the Fig Newton. In 1910 he sold his recipe to Nabisco Biscuit Company for one million dollars, making him exceedingly wealthy for his time.
More information can be found at the Anna Maria Historical Society, including presentations by local historians.
Demographics and Population
The total population of Anna Maria Island is approximately 6,500 residents, although that does vary because many are seasonal residents who may be counted in other census jurisdictions.
The population is dispersed among three cities on the island:
Holmes Beach: 3800
Anna Maria: 1500
Bradenton Beach: 1200
Holmes Beach is the most heavily populated, with a resident population of approximately 3,800 residents.
Anna Maria and Bradenton Beach both have fewer than 2,000 residents.
Most residents on Anna Maria Island are older than the state and national averages due to a large number of retirees.
The busiest time on the island is from approximately October until April, when seasonal residents return to their beach homes for the pleasant winter season.
Final Thoughts
Anna Maria Island is a wonderful hidden gem in southwest Florida's gulf coast. 
Though often overlooked for the more popular destinations like Naples, Key West, and Marco Island, Anna Maria has so much to offer.
For those looking for a relaxing and laid-back beach town experience Anna Maria is worth exploring!