Treasure Island is a small beach town in Pinellas County, Florida.
Treasure Island is a popular tourist destination known for its retro style, long white sandy beaches and convenient location near St. Petersburg, Tampa and Clearwater.
Treasure Island is also known for having a more residential, laid-back feel than other nearby beach towns, and for having relatively unrestricted alcohol laws compared to other beach communities.
Location
Treasure Island is located on a 4-mile long barrier island in the Gulf of Mexico. The city of Treasure Island has a total area of 5.3 square miles. Of that total land area, 3.8 square miles are water.
Treasure Island is located west of St. Petersburg and directly located between two neighboring islands:
Madeira Beach is to the north and St. Pete Beach is to the south
Treasure Island is surrounded by waterways:
Johns Pass to the north
Boca Ciega Bay to the East
Blind Pass to the south
The Gulf of Mexico to the west
Treasure Island is connected by three bridges:
The Treasure Island Causeway to the mainland
The Johns Pass Bridge to the north
The Blind Pass Bridge to the south
Things to do
Some of the most popular things to do in Treasure Island include:
Swimming
Kayaking
Boogie boarding
Surfing
Other ideas for things to do include:
Pinellas Beach Yoga
Treasure Bay Golf and Tennis
Hubbard's Marina
Treasure Island Boat Rentals
Taylor Beach Rentals Service
Treasure Island Beach Trail
The Treasure Island Beach Trail is one of the best free things to do in Tresaure Island.
The path is a nice, wide, concrete walking path that runs along the beach. It passes in front of several hotels.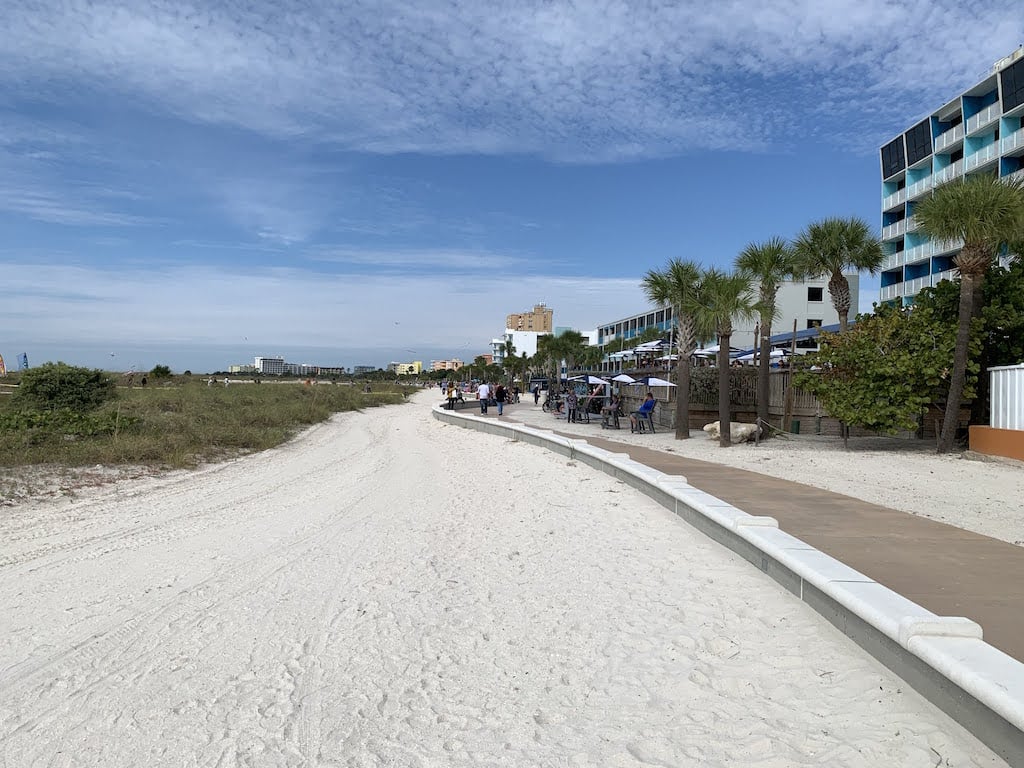 Some places along the beach trail have a waist-high wall which is a nice place to hang out, sit and watch people go by or listen to live music in the area.
Note: Dogs are allowed on the beach trail but are not allowed on other parts of the beach.
Bucky the Pirate Statue
One popular free thing to do in Treasure Island is to take a photo with Bucky the Pirate.
Bucky The Pirate was a mascot of the retro 1950s Buccaneer Motel. The motel closed in 2005. The pirate statue is a fun and popular spot for visitors to take photos.
Treasure Island Slide
One of the best things to do for families in Treasure Island is to visit the giant inflatable slide. I hear that kids love the Treasure Island slide although it could be tedious for parents.
There's also a bounce house and a bungee trampoline. The Treasure Island Slide is located at Gulf Front Park.
Drum Circle
The Treasure Island Drum Circle is held every Sunday evening at sunset. The drum circle meets at Gulf Front Park, near the Treasure Island Slide.
Friday Morning Market
The Treasure Island Friday Morning Market is one of the best things to do in Treasure Island, if you can make it there on a weekday morning.
The morning market is held in the winter months from December until April. There are usually a variety of vendors, including food, arts and crafts, live music and more.
Johns Pass Village
Hubbard's Marina is just across the water from Treasure Island. Johns Pass Village has a large variety of restaurants, shops and tours which depart from Hubbard's Marina.
Johns Pass Sandbar
One of the area's most popular sandbars is located just north of Treasure Island, at the mouth of Johns Pass. This is a very popular spot for boaters to gather and party, especially on summer weekends
Events
Several major events in Treasure Island are held throughout the year. Some of the most popular festivals include:
Treasure Island Kite Festival
Springfest
Sanding Ovations Sand Sculpting Contest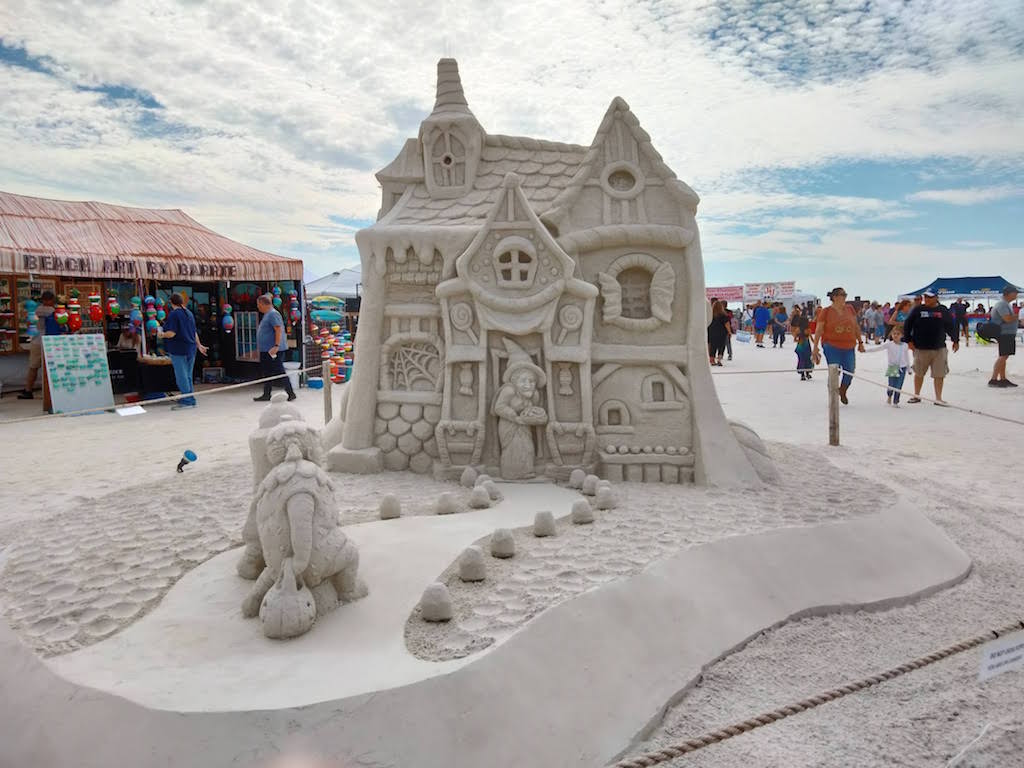 Treasure Island Spring Fest and Carnival
Spring Fest is held every year in the middle of March, which is spring break for many Florida schools.
Spring Fest is a family event with rides and carnival activities. The Spring Fest event is held in Treasure Island Community Park.
Treasure Island Kite Competition and Festival
The annual kite festival is held on the weekend of Martin Luther King Jr. Day, which is held on the third Monday in January.
This is such a fun event and it's always interesting to see the wide variety of kites, which come in a huge variety of shapes, sizes and designs.
Sanding Ovations Sand Sculpting Festival
The Sanding Ovations Sand Sculpting Competition and Festival is held in mid November.
The event is one of my favorite things to do in Treasure Island, we try to go every year! It's always fun and the sculptures are amazing to see. This Treasure Island tradition has a long history, and a world record attached to it.
In 2001 Treasure Island was named the "Sand Sculpture Capital of Florida" after the world's largest sand castle was built on a beach in Treasure Island. This designation helped build support for Sanding Ovations, which is now a massive event in Treasure Island.
A full calendar of events in Treasure Island can be found on their website.
Beaches
Beaches in Treasure Island have a lot of variety, including uncrowded spots for peace and quiet, and lively areas for fun and excitement.
There are three main beach sections in Treasure Island:
Sunshine Beach (North)
Municipal Beach (Central)
Sunset Beach (South)
Beach access points in Treasure Island are marked with signs with a blue and orange seagull. The signs should give information about parking and beach amenities.
Sunshine Beach
Sunshine Beach is the northernmost beach on Treasure Island. It's a very nice beach. The sand at Sunshine Beach is nice, soft and deep in most places.
The north part of the beach is more narrow than central and southern sections, so it can feel more crowded, but there is still plenty of space for people to spread out and find a good spot.
This section of Treasure Island is mostly residential, so beach crowds are usually lower than at the Municipal Beach section.
Parking in Sunshine Beach is difficult to find in my experience. There are a few small City of Treasure Island parking lots.
Sunshine Beach begins at the northern boundary of the island, around the bridge to Madeira Beach which crosses over Johns Pass.
It stretches southward until the next beach section, Municipal Beach.
Municipal Beach (St. Petersburg City Beach)
Municipal Beach is the largest beach on Treasure Island. This area of the island (central) has the highest concentration of hotels, resorts, bars and restaurants.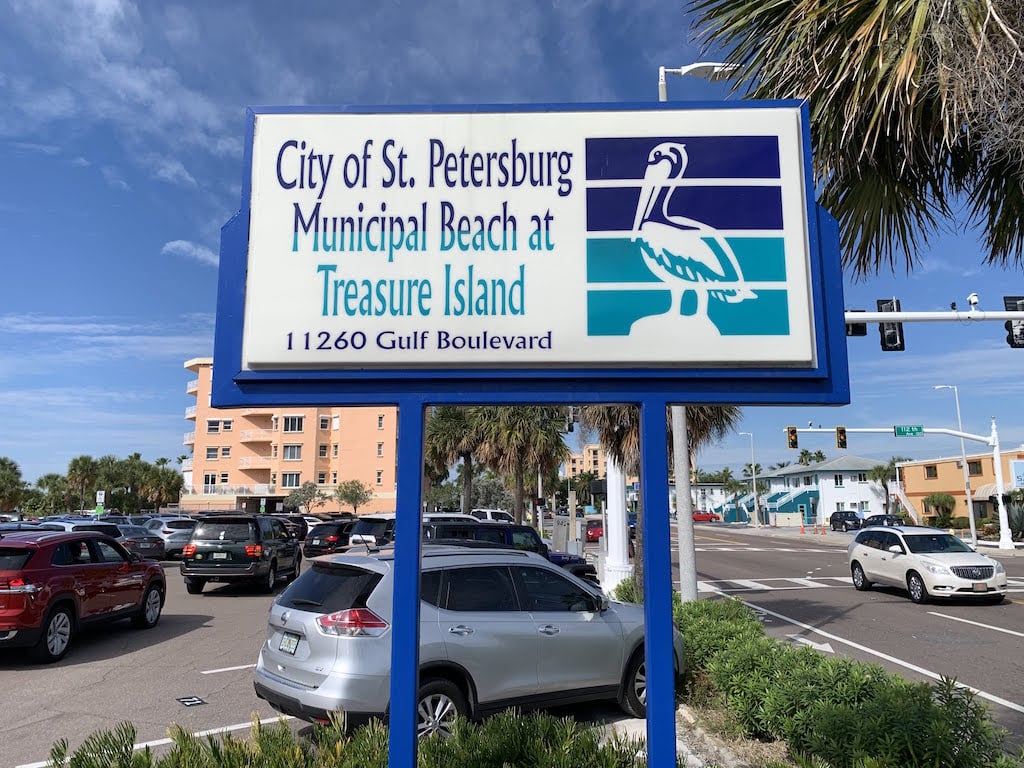 It's usually the liveliest, busiest and most crowded, compared to the north and south beaches which are quieter and more residential.
Interestingly this beach is owned and operated by the City of St Petersburg, rather than the City of Treasure Island.
The beach is massively wide in this section – almost too wide. The sand upland, away from the water, is hard-packed and filled with broken shells, so it's not very nice to walk on.
Municipal Beach has nice facilities. There's a large parking lot with paid parking, although it is often full during busy times.
The beach usually has a steady volume of visitors even during slow times, but it can get overly-crowded when the weather is nice.
$12 buys 12 hours of parking which is more affordable than other nearby beaches.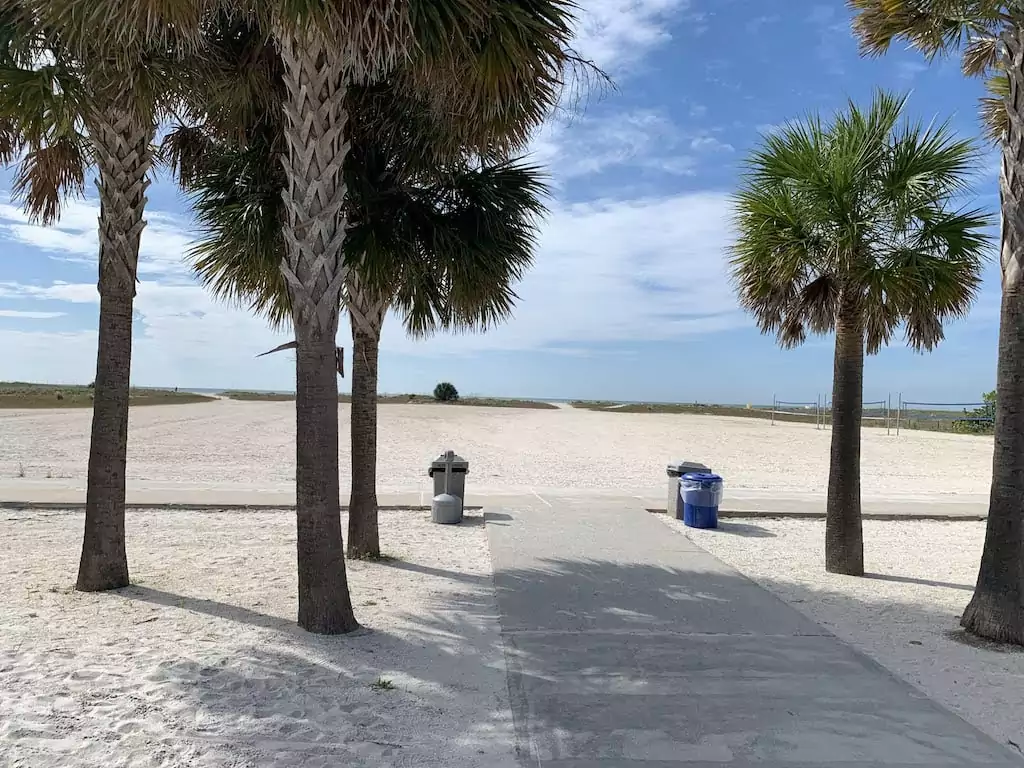 Municipal Beach has nice facilities, including:
Full-service public restrooms
Indoor showers and changing rooms
Children's playground
Volleyball nets
Picnic tables
Beach chair and umbrella rentals
A snackbar and a shop that sells basic beach supplies
The snackbar sells a few alcoholic drinks like beer, wine and sangria
Gulf Front Park Beach
The City of Treasure Beach Access Point at Gulf Front Park is the busiest beach access in Treasure Island.
Gulf Front Park is home to events like Sanding Ovations and is often a lively beach.
Treasure Island's Gulf Front Park has paid parking, restrooms and outdoor showers.
This beach access point has a 400 ft. long mat path to allow strollers, wheelchairs and people with mobility challenges to access the beach.
Sunset Beach
Sunset Beach is the southernmost beach on Treasure Island.
Sunset Beach begins in the south end of the island, near Johns Pass, and continues north toward the center of the island.
Like Sunrise Beach, Sunset Beach is located in a more residential section of the island, compared to St. Petersburg City Beach.
The community in Sunset Beach has a unique. low-key vibe. It's noticeably different than other neighborhoods in Treasure Island or neighboring islands.
This beach is much more narrow compared to the wide, expansive beaches to the north. For that reason this beach can feel more crowded, because crowds are squeezed into a tighter space.
Some sections of this beach have tall trees on the shoreline which can provide shade during the early and mid parts of the day.
Water Quality
The water quality in this stretch of ocean is generally good, except for when red tide is present.
The water is usually clear and has a pretty blue/green color.
The water is prettiest when wind and wave conditions are calm, which can allow the water to settle and become crystal clear. The water quality is pretty on-par with other beaches nearby.
Waves are generally small and typically aren't large unless there is a storm or hurricane in the Gulf of Mexico.
The water becomes extremely warm in summer and early fall, and becomes quite chilly to cold in late fall, winter and early spring.
Beach Rules
Here are a few common Treasure Island beach rules that visitors ask about. Things can change, please be sure to check official city websites or specific location rules before visiting.
Dogs are allowed on the Treasure Island beach trail but are not allowed on other parts of the beaches in Treasure Island.
Here are rules and prohibited behaviors from the beach sign. Be sure to check the official source in case any rules have changed or may vary based on location.
Disorderly conduct
Dogs on the beach
Glass containers
Fires/grills
Littering
Motor vehicles
Soliciting
Throwing objects
The beaches in Treasure Island are closed from 1am until 5am.
Alcohol
Treasure Island is one of the few beaches in Florida where you can drink on the beach.
Alcohol is allowed on the beach in Treasure Island, but only in designated areas, and only during designated times.
It is not a free-for-all by any means, and people should use common sense and make sure they obey the beach rules, local laws, or risk a fine or other consequences.
Alcohol sales and consumption allowed on the beach, but only subject to strict restrictions
Alcohol is prohibited on the beach in certain areas and at certain times.
Alcohol is more regulated on some holidays.
Kegs and glass containers are prohibited.
There are usually signs on the beach which give alcohol rules, like which days alcohol is prohibited. If you will be drinking alcohol be sure to pay attention to the details and be aware of rules.
Transportion
Treasure Island is about 15-30 minutes away from downtown St. Petersburg, depending on traffic.
Because it's a small island it's relatively easy to get around Treasure Island without a car, especially when the weather is nice.
Residents and visitors often walk, ride bikes or take various forms of ride share services or even public transportation.
The local weather does discourage walking during the summer due to hot, humid conditions and summer rain storms which occur daily.
The Suncoast Beach Trolley operates in Treasure Island.
There is also a free ride service which gives rides for the cost of a tip to the driver.
Treasure Island Beach Parking
City of Treasure Island parking lots are all $2.75 per hour and have electronic parking meters. The parking meters can accept credit card, cash, coins or the Parkmobile parking app.
If you're willing to download the app it is convenient because you can monitor and reload your parking meter from your phone, without having to return to the parking lot.
Parking can be difficult to find on Treasure Island due to the island's small size and lack of available space. Parking is especially difficult to find during peak times.
There is parking at many beach access parking lots. Most of the parking lots have paid parking with meters, but a few do have free beach parking.
There are several options for free parking in Treasure Island, including at some beach access parking lots.
The City of Treasure Island has a guide to parking information. City-owned lots are described by bird names:
Heron
Tern
Red-Billed Gull Black Skimmer
Brown Pelican
Sandpiper
White Egret
Community Center
The Municipal Beach parking lot is owned and operated by the City of St. Petersburg, not the City of Treasure Island
Restaurants
Treasure Island has a large number of bars and restaurants. Here are some of the most popular choices:
Sea Dog Brewing Company
Caddy's on the Beach
Island Girl Tiki Bar
The Pearl
Floridian Restaurant
Ricky T's
VIP Lounge Mexican Restaurant
Sloppy Joe's Treasure Island
Lodging in Treasure Island: Hotels, Resorts
Interestingly Treasure Island is missing many major hotel chains most people expect in tourist destinations.
Here are a few of the hotels, resorts and lodging options in Treasure Island:
Thunderbird Resort
Tahitian Resort
Treasure Island Beach Resort
Sunset Inn and Cottages
Barefoot Beach Club
Treasure Bay Resort & Marina
History
Treasure Island was first settled in the early 1900s, especially when the earliest hotel was built in 1915.
Amazingly, the state of Florida sold the land to a private real estate developer for $1.25 per acre.
Treasure Island was one of the first tourist beaches in the Tampa Bay area, along with Pass-a-Grille Beach and St. Pete Beach to the south.
The city grew rapidly in the 1950s, along with other beach towns in the area.
There was a surge of people who moved to Florida after the end of World War II, including young families and retirees.
The City of Treasure Island incorporated in 1955. At the time the city was experiencing a land boom; many of the hotels and buildings on the island were built during this period.
The name "Treasure Island" came from a rumor that pirate treasure was buried on the island.
The rumor was actually a scam by a local businessman, who wanted to drive up the price of real estate on the island. The name stuck and has remained ever since.