Florida locals and visitors celebrate Christmas in Florida with warm weather, the beach, and our own unique spin of warm weather Christmas.
Here are some things to know about Christmas in Florida
The weather
What to pack
Expect crowds and traffic
How Florida celebrates Christmas
Weather in Florida for Christmas
The weather in Florida at Christmas is usually extremely pleasant.
Temperatures are often in an ideal range, either warm or pleasantly cool.
Winter humidity levels often drop dramatically, so the weather feels much more comfortable than in hot, humid summer months. Late December is usually very dry, so there is usually a low chance of rain.
Note: Winter temperatures do vary greatly depending on the location. Florida can get extremely cold, depending on how the local weather happens to be during that time.
Wind and Humidity
Some visitors are caught off-guard by cold weather in Florida. Ask anybody who lives in Florida and they'll tell you that 70 degrees in Florida feels much colder than 70 degrees in other places.
Especially near the coasts, Florida can have strong winds, wind chills and high levels of humidity.
Each of these factors can make winter weather in Florida feel colder than one would expect based only on average temperatures.
Sunburn and Hot Temperatures
Visitors should remember that it's easy to get sunburned, even during Florida's cool winter weather. The sun is always strong here because of Florida's southern latitude.
Packing for Christmas in Florida
How should you pack if you're visiting Florida for Christmas?
For visitors from a cold climate, it may be helpful to imagine packing for late spring weather or early fall. Dressing in layers is usually a good idea.
Of course specific activities like outdoors activities, boating and swimming will require specific packing choices. In general, we suggest the following items as a starting point:
A sweater or sweatshirt and a light-medium jacket for mornings and evenings
A wind and waterproof outer shell for use as a windbreaker and as a rain jacket
A swimsuit and warm cover ups for swimming in cool weather
A wetsuit for swimming, snorkeling or scuba diving
A drysuit for prolonged water activities in cold water
A warm hat, socks and shoes for cool weather
Warm shoes and socks for use in cold weather
Sandals or flip flops for use at the beach or pool
A rash guard for sun protection and warmth while swimming
Sun protection for outdoors activities
Mornings and evenings are usually chilly. Average low temperatures are often around 50 degrees, although it can get much colder during cold snaps.
Afternoons are often warm, dry and sunny.
It helps to have "layers" to stay warm in chilly mornings and evenings, and to "peel off" in warm afternoons.
Waterproof outer shells are excellent because they help block wind and can also serve as a rain jacket. Combined with insulating lower layers, lightweight outer shells are very helpful in Florida.
Note: Be prepared for cold weather, it happens!
When cold fronts push into Florida temperatures may remain low for several days on end. Humidity and strong northerly winds may cause wind chills to become much colder than usual. During these times heavy, warm clothing, hats and even gloves may be advised.
Northern and central regions of Florida also have much colder weather than southern sections.
Is Florida a good place to go for Christmas?
Christmas is an excellent time to visit Florida. Millions of travelers visit Florida every year during the holiday season.
Visitors and locals love Christmas in Florida because of the warm weather and unique holiday traditions.
Holiday crowds begin arriving in November, with large increases lasting from before Thanksgiving until after New Years Day.
The Best Towns to Visit for Christmas in Florida
For out of town visitors and tourists, the best towns to visit for Christmas are typically in south Florida, where the weather and water will likely be warmest.
Some towns in north Florida are also good Christmas destinations, although the weather and water temperatures will almost surely be lower than in south Florida.
Popular towns to visit for Christmas include:
Things to Do, Places to Go
Besides traditions, there are many other ways to celebrate Christmas in Florida.
Disney at Christmas
Walt Disney World is one of the most popular theme parks in Florida.
During the holidays Disney offers several special events and attractions. Two of the most popular include:
Both events offer lights, music, parades, holiday characters and the general magic of Disney.
Another free event, the Christmas Tree Stroll, is hosted in Disney Springs.
The Christmas Tree Stroll has tons of Christmas trees, light displays, holiday characters, and free, family-friendly games.
Universal Orlando
Universal Orlando celebrates their own special brand of Christmas with Mr. Grinch himself.
Visitors can spend time in a spectacularly decorated "Who-Ville", complete with costumed characters and parades during Universal's "Grinchmas".
For Harry Potter fans, Universal offers "Christmas in the Wizarding World of Harry Potter" complete with Christmas lights at the castle and butterbeer.
Busch Gardens
During the holiday season Busch Gardens in Tampa Bay hosts its annual "Christmas Town". The whole theme park is lit up with millions of sparkling lights, holiday decor, holiday shows and visits from Santa.
Legoland
Another family favorite, Legoland, also turns up the magic for Christmas. Their signature "Holidays at Legoland" event has a larger-than-life Lego Christmas Tree, light displays, holiday shows, and special holiday-themed Lego building activities for the kids.
Santa Con
Several major cities throughout Florida host a yearly Santa Con event. During these events anywhere from a few hundred to a few thousand Santa-clad partygoers take over a downtown area.
While we usually think of Santa for children, most Santa Cons in Florida are geared towards an adult crowd since they are usually associated with pub crawls.
Florida cities that typically host Santa Cons include Orlando, Miami, Tampa, Fort Lauderdale, West Palm Beach, Cocoa Beach, Gainesville, Panama City, and others. 
Visit the Town of Christmas, Florida
Christmas, Florida is a small town of only around 1,100 residents in Central Florida. It's about a 30-minute drive from Orlando.
To be honest, basically the only claim to fame for Christmas, Florida is its name, which has been capitalized on to the max.
Every December the town receives an influx of visitors. Most come to take novelty photos with a number of landmarks and signs that say "Christmas", or some variation.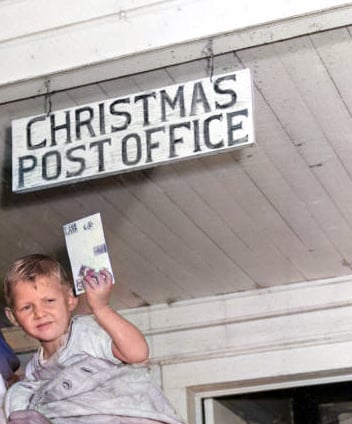 Another popular tradition is to visit the post office to mail Christmas Cards so they'll be postmarked from the town of Christmas.
Christmas is also home to the Fort Christmas Historical Park and a few other Christmas-themed roadside attractions.
Christmas Events & Holiday Festivals
There are many Christmas events and festivals in Florida during the holidays. Here are some popular events in December:
Santa's Enchanted Forest
Santa's Enchanted Forest is probably the best Christmas event in Miami, and all of south Florida. It's been a Christmas tradition for more than 30 years.
The Enchanted Forest is a Christmas-themed carnival with the tallest Christmas tree in south Florida. There are more than 100 games, performances and other attractions.
ICE at Gaylord Palms
ICE at Gaylord Palms is one of the best Christmas events in Florida. People love it, and rave about it. The event is located in Kissimmee, at the Gaylord Palms Resort and Convention Center.
"ICE!" is basically a beautiful "Winter Wonderland" experience. The main attraction is a series of amazing Christmas sculptures, all carved out of 2 million pounds of colored ice.
The event takes place in a massive 20,000 square-foot event space which is cooled to 9 degrees fahrenheit. It's big, and very cold.
The event has a number of activities and attractions, including snow tubing, snowball machines, millions of lights, a 60-foot tall Christmas Tree, a Christmas "Cirque" show, and more.
Pensacola Winterfest
The Pensacola Winterfest is a holiday festival in downtown Pensacola. The event has snow machines, holiday lights, music, and visits from Santa.
Enchant Christmas in St. Petersburg
Enchant St. Petersburg is another massive Christmas event, set inside Tropicana Field stadium in St. Petersburg.
The stadium's lights are dimmed, and you mostly forget you're in a sports arena.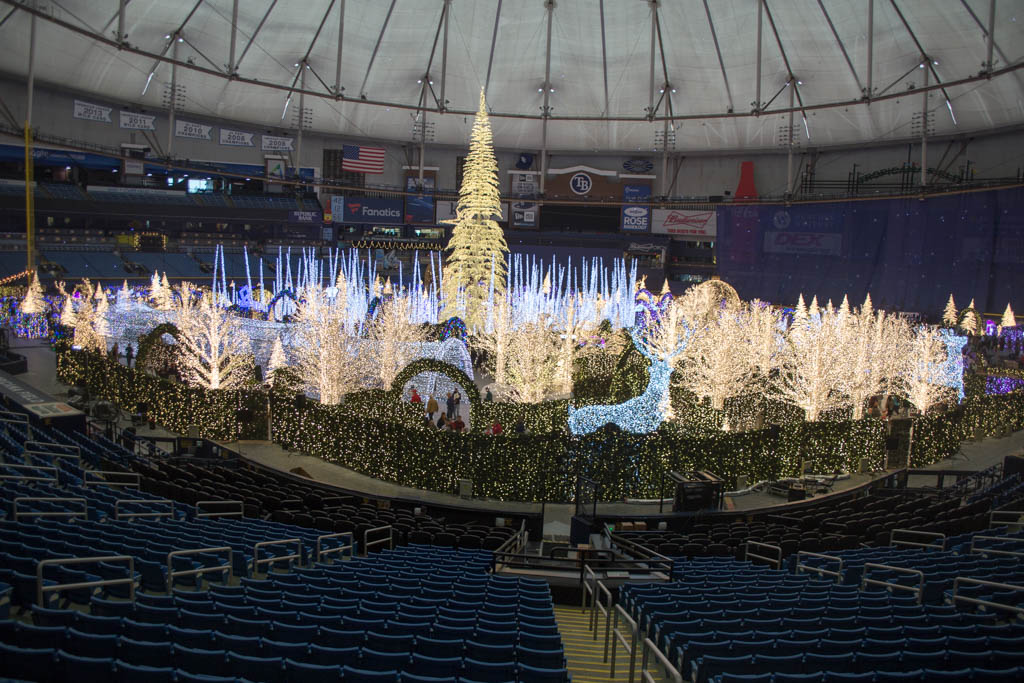 At Enchant guests explore a lighted holiday maze and more. There is also ice skating through a "frozen forest". Enchant has millions of Christmas lights, music, food, a "Christmas Village" and more.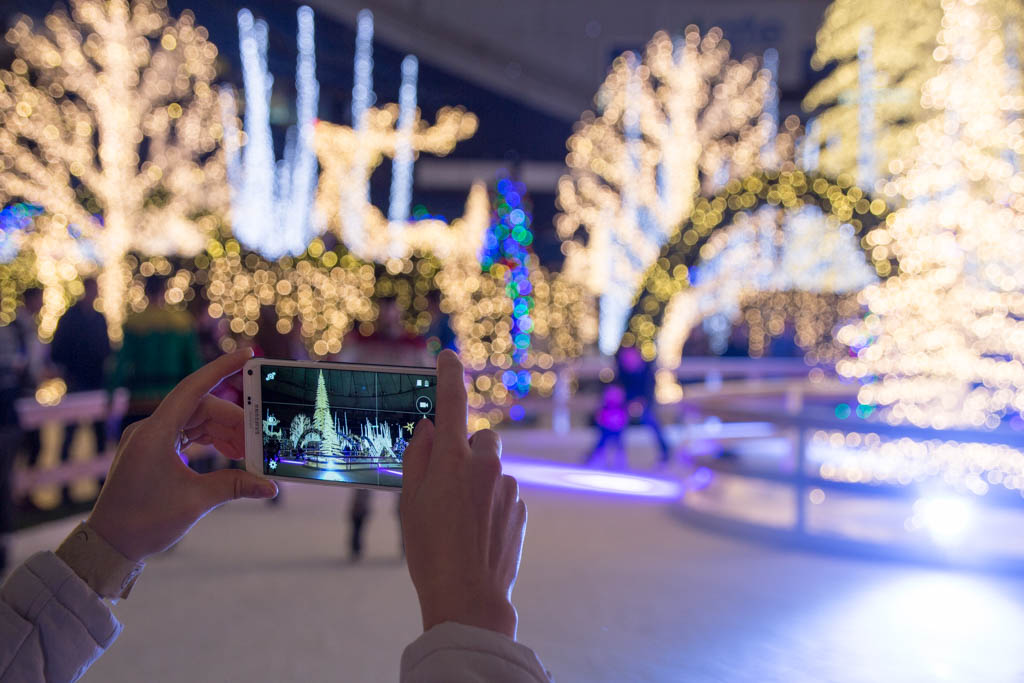 Key West Christmas
Christmas in Key West is amazing.
The island really gets into the spirit of Christmas with lighted palm trees, santas in board shorts, numerous Christmas light displays, and more.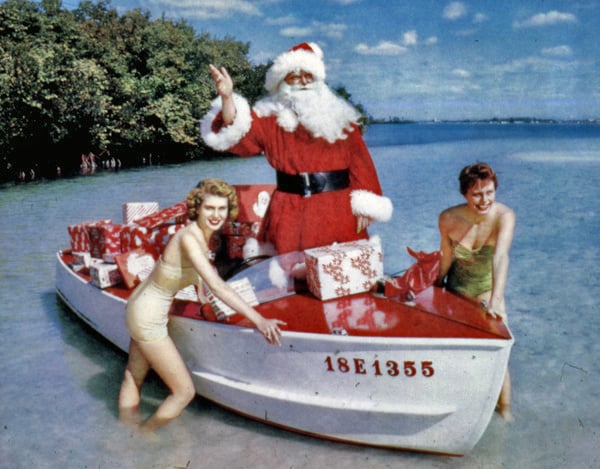 The main celebrations are the Holiday Celebration and "Harbor Walk of Lights", held at the Key West Historic Seaport. Learn more at Key West Christmas
Dazzling Nights in Jacksonville
Dazzling Nights in Jacksonville is an interactive holiday display at the Jacksonville Arboretum & Botanical Gardens, held in December.
Guests walk through a series of interactive displays including an 8,000-square-foot lighted holiday maze, a falling snow simulator and more.
Raprager Family Farms
Raprager Family Farms in Tampa has a 12 Days of Christmas Festival. The festival has Christmas lights, music, photos with Santa, and storytime with Mrs. Clause.
Visitors can also take a tour of Santa's Workshop, a Gingerbread Village, or visit the Sweet Shop for special Christmas treats.
Christmas at St. Petersburg Pier: Winter Beach
The St. Pete Pier is all lit up for the holiday festival Winter Beach at St. Pete. This month-long Christmas festival lasts from November 20th until January 17th.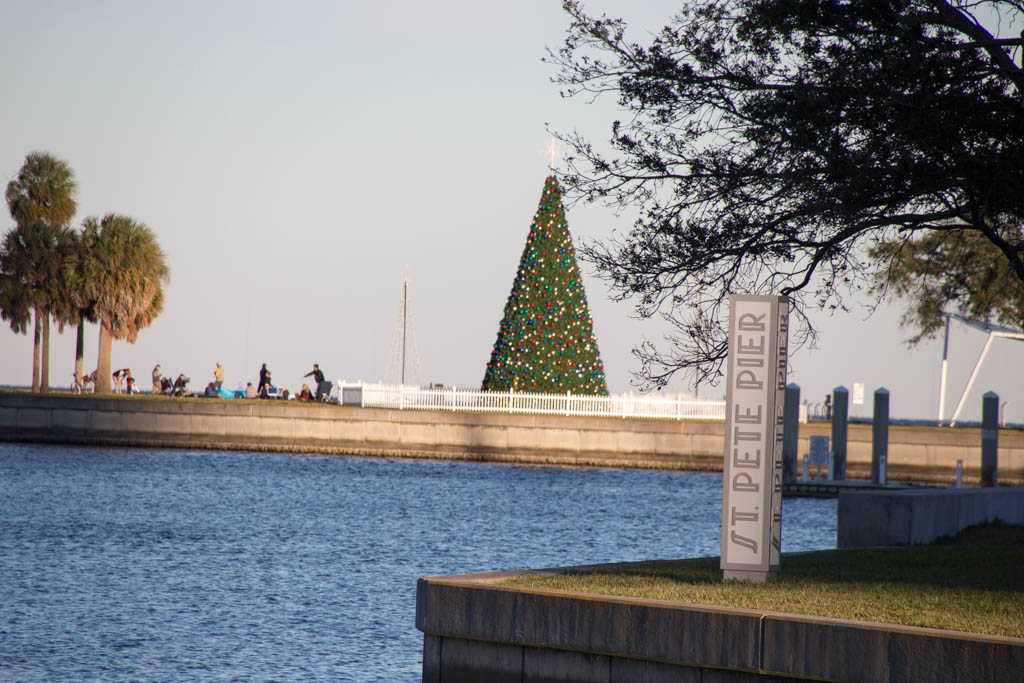 During this time the pier is filled with light displays, a holiday market, and a real ice skating rink. Certain days also have photo opportunities with Santa.
Dickens on Centre, Amelia Island
On Amelia Island, the Dickens on Centre Victorian Holiday Festival is a local favorite every Christmas. The event has costumed characters, decorations, and shows centering around the Christmas stories of famed author Charles Dickens.
Tallahassee Winter Festival
The Tallahassee Winter Festival in downtown Tallahassee has lighted displays, holiday music, a parade, and their signature "Candy Cane Lane" walkable holiday installation. There are also visits with Santa and a Jingle Bell Jog event for runners who want to get in the holiday spirit.
How does Florida celebrate Christmas?
Florida celebrates Christmas with most of the traditional North American Christmas traditions, including Christmas lights, decorations, and religious ceremonies.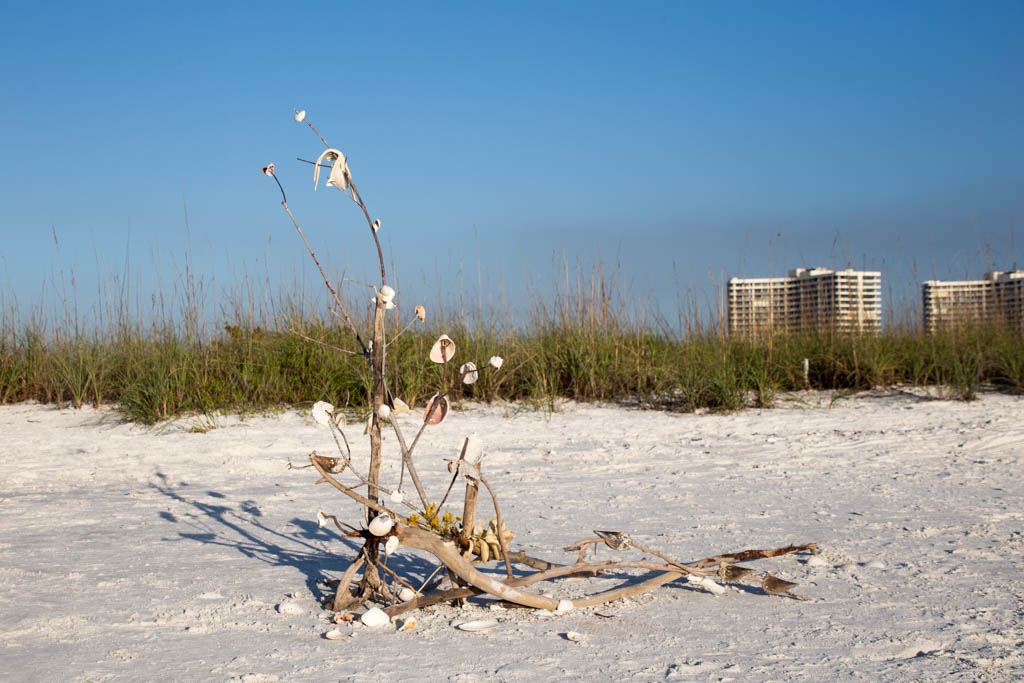 Other popular Christmas activities in Florida are unique, including:
Going to the beach on Christmas day
Swimming in oceans and pools
Building snowmen out of sand
Decorating Christmas palm trees
Creating beach Christmas trees with shells
And other unique Florida traditions
Many Florida residents have unique spins on Christmas meals with Cuban influences, seafood, and other unique twists.
Florida Christmas Traditions
We may not have snow, but in Florida we take Christmas celebrations very seriously. Here are our favorite traditions to celebrate Christmas in Florida.
Go to the Beach on Christmas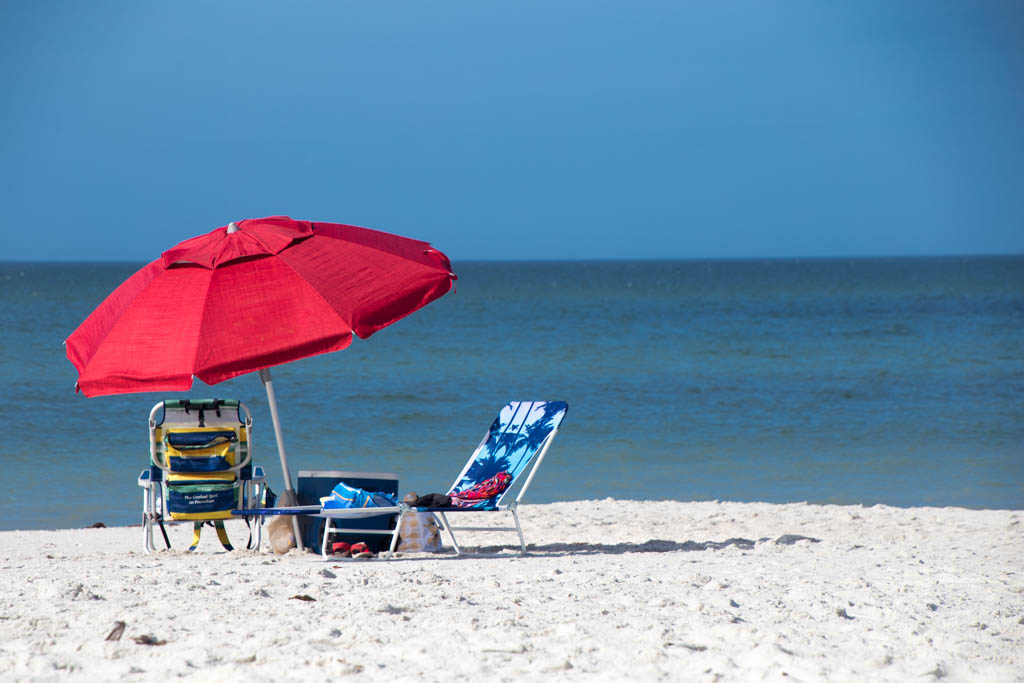 Going to the beach at Christmas is a timeless Florida tradition.
Will the water be warm enough to swim? It'll depend on where you are in Florida, your tolerance for cold water, and the local weather conditions.
It's usually warm enough to swim in south Florida, but sometimes it's too cold even in Key West. If there happens to be a strong cold front it might be severely cold, and swimming would not be a good idea.
Many beach towns in Florida have holiday-themed events and attractions in December. For example: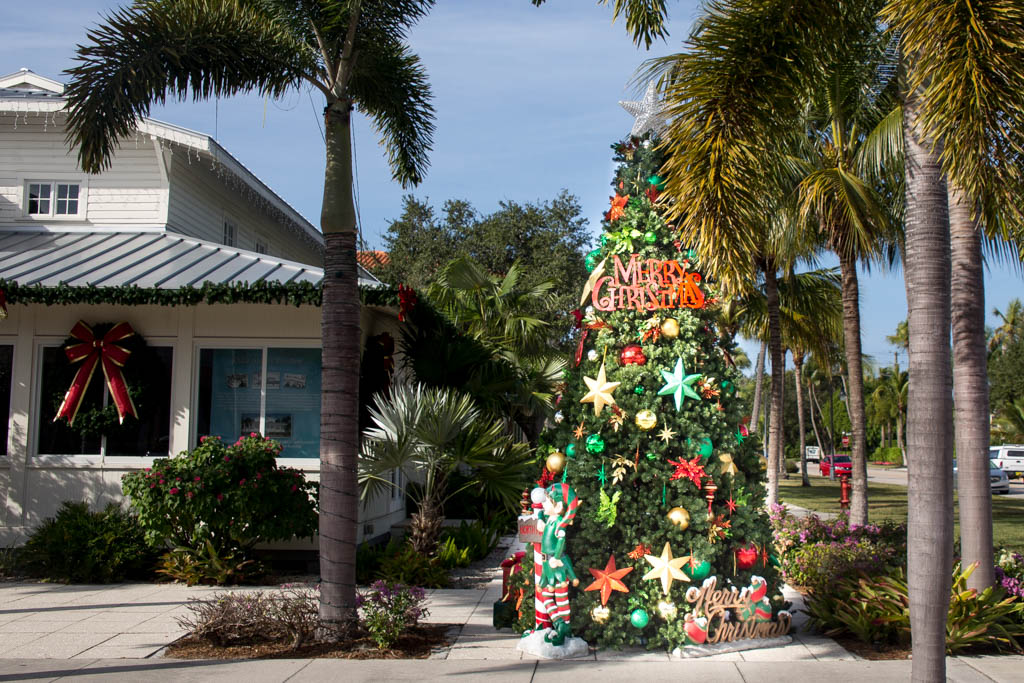 Build a Sand Snowman
For many people it's a tradition to build snowmen out of sand.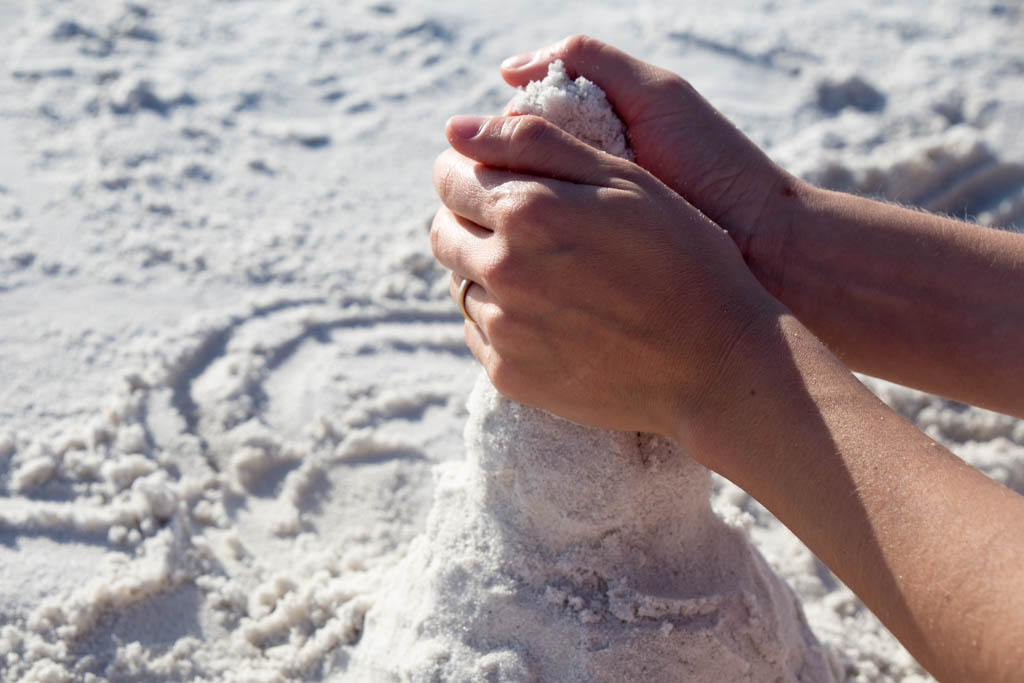 Some people also make "snow angels" in sand, although it's not recommended unless you can go swimming afterward to rinse off.
It's common to see locals casually build sand snowmen on the beach, but some cities also have professional sand sculpting competitions, often held in winter months.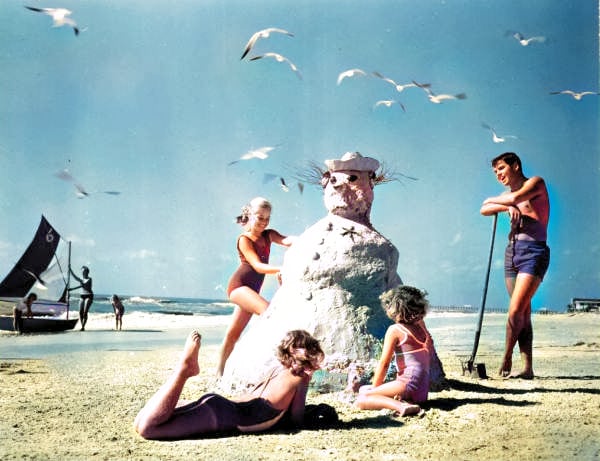 Water Activities
Christmas in Florida wouldn't be complete without water activities. Many tour companies offer unique experiences for the holidays.
Holiday Boat Parades & Christmas Cruises in Florida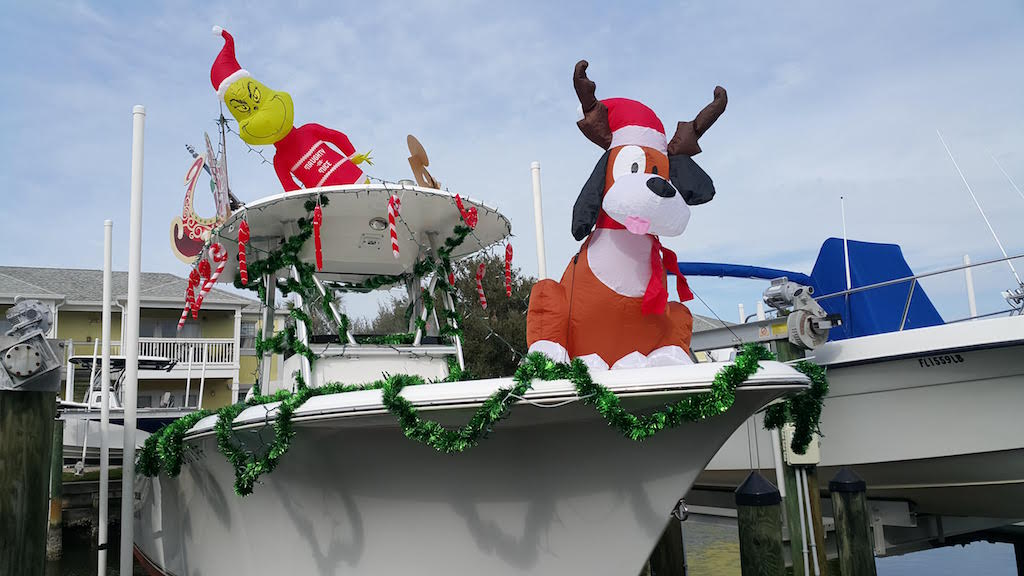 Christmas boat parades are a timeless Florida Christmas tradition.
There are too many parades around the state to count. They're all centered around holiday light displays on the water. They range from huge festivals to small neighborhood events.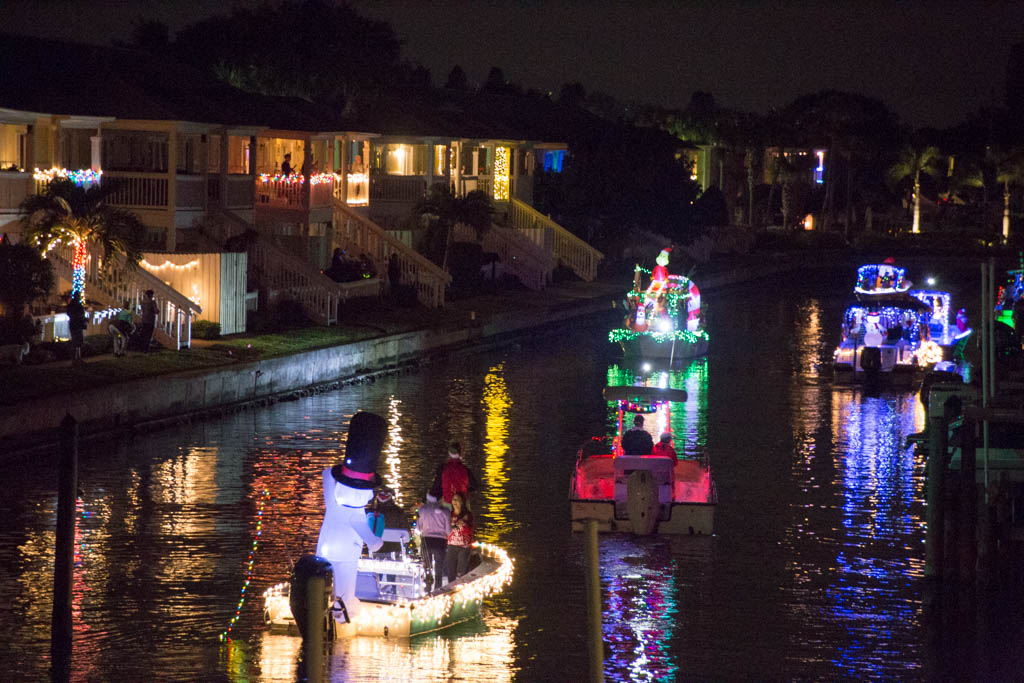 Most boat parades share the same idea – a parade of creatively decorated boats, with happy people and unique twists on Christmas vibes. Holiday music is often blasted from boat speakers.
Mermaids are usually all over the place.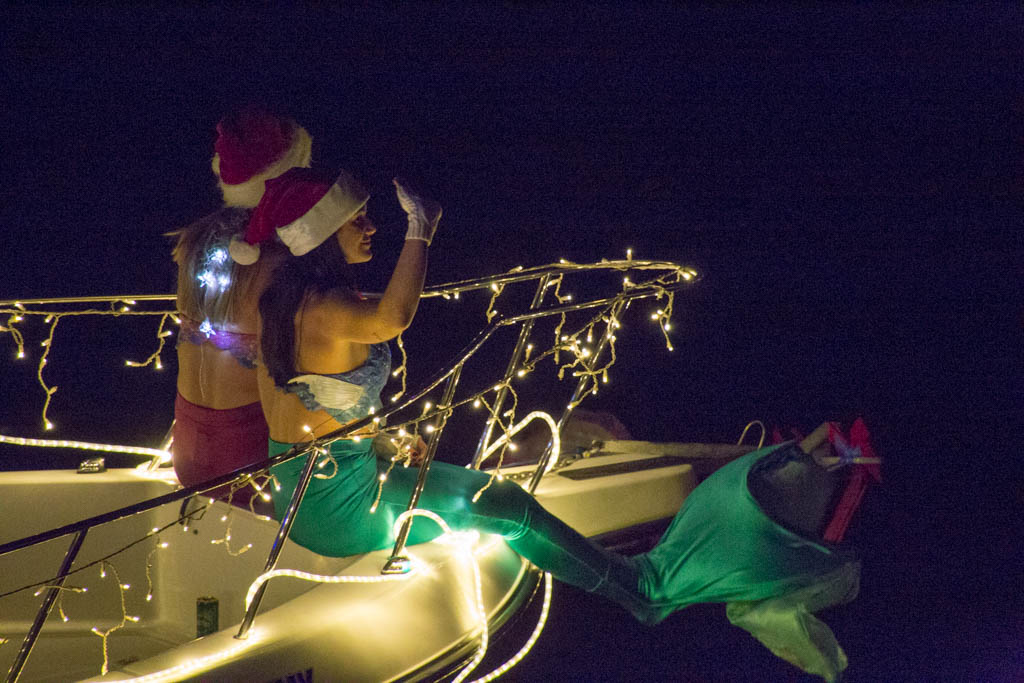 Many parades have contests for "Best Decorations" and other contest categories.
Some of the larger Christmas boat parades include:
Christmas Light Cruises
Holiday boat parades usually drive in front of shore-based spectators. But, people also view shore-based Christmas lights from boats.
In Punta Gorda it's popular to take a Christmas Cruise to see all of the most beautifully decorated homes along the canals.
On the East coast "The Water Taxi" in Hollywood offers a similar Christmas Light Cruise to see beautiful waterfront homes that are decorated for the holidays.
Many kayak and paddleboard rental companies offer special holiday tours.
Visit a Spring
My favorite Florida Christmas tradition is to visit a spring on Christmas Eve or Christmas Day.
While not necessarily Christmas-related, winter is the perfect time to visit the springs in Florida.
Springs are typically more peaceful, quiet and less crowded in the winter than in the summer. Although, many other people do visit on Christmas, so springs probably won't be totally empty.
As a bonus, cold weather offers the chance to see manatees in some springs as they seek refuge in the consistently warm 72 degree spring water.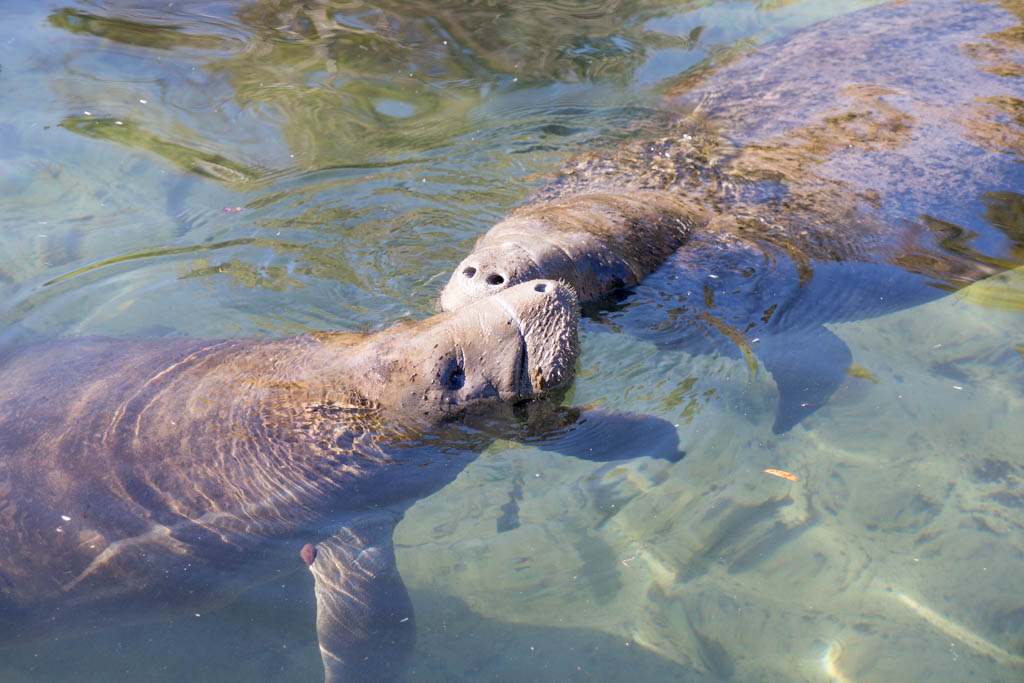 Note: If you see manatees, please don't disturb them! View them from afar, quietly. Manatees need quiet, safe warm water refuges for survival. They can be scared away easily, which is seriously dangerous for their survival.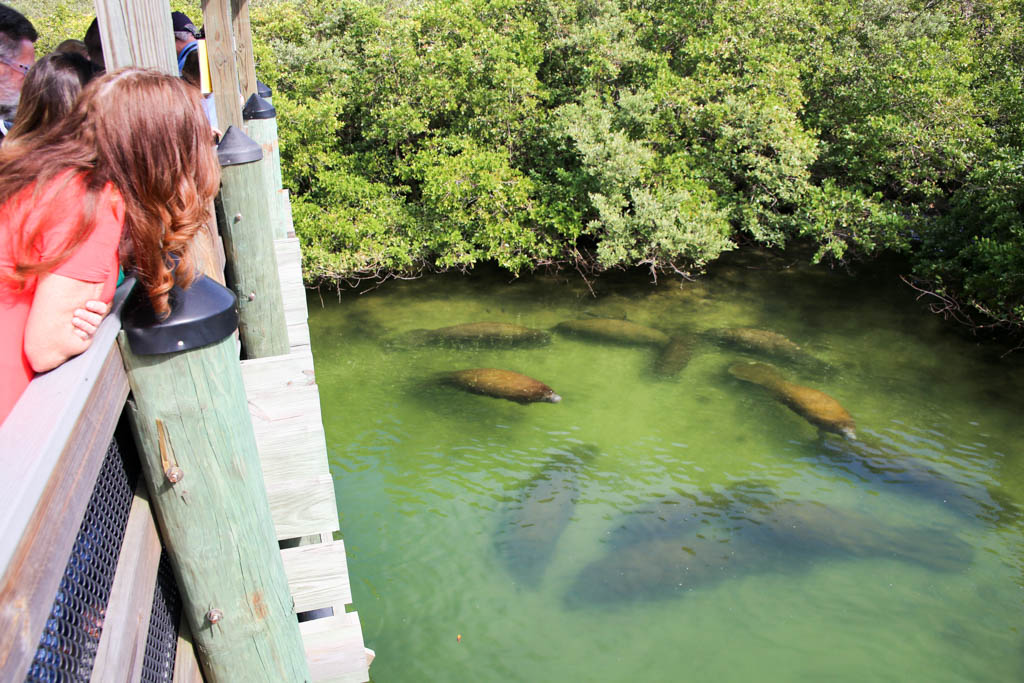 One of most famous springs to see manatees during the winter is Crystal River.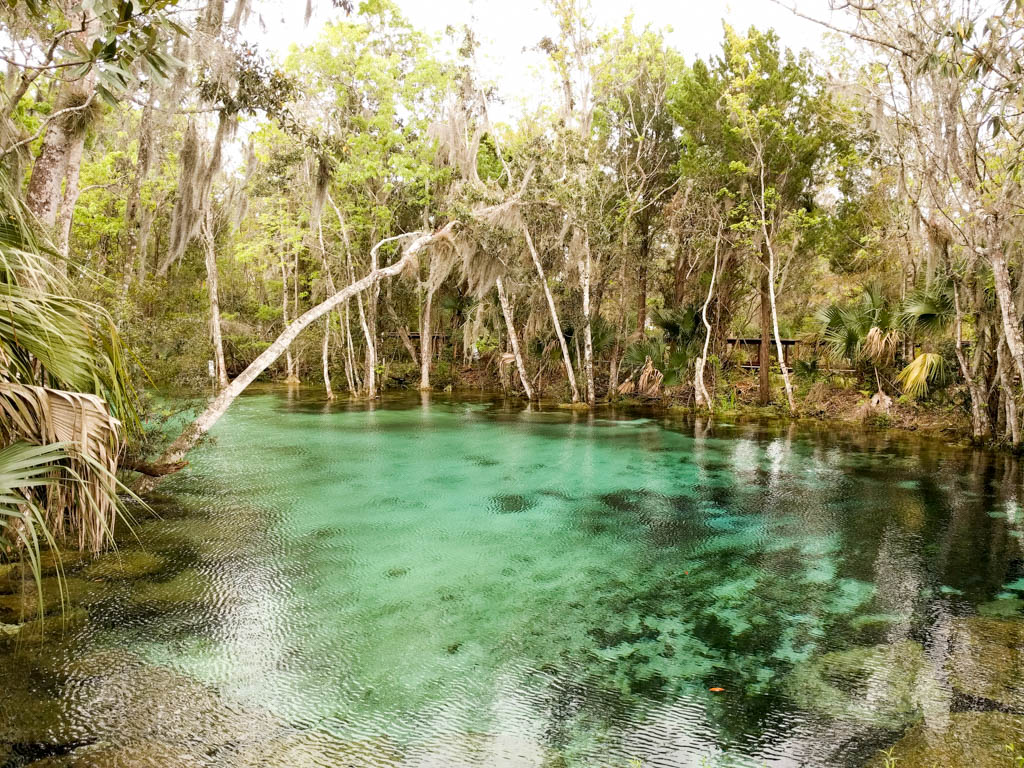 Large congregations of manatees can often be seen, especially in the beautiful Three Sisters Spring.
Visit a State Park
Christmas is a great time to visit a state park! Many state parks in Florida are open on Christmas Eve and Christmas Day, although some services will be closed or have reduced offerings.
Some state parks in Florida decorate for the holidays and offer holiday events.
Weeki Wachee Springs State Park offers a Christmas variation of its famous Mermaid Show. Rainbow River Springs State Park is also known for its festive decorations during the holidays.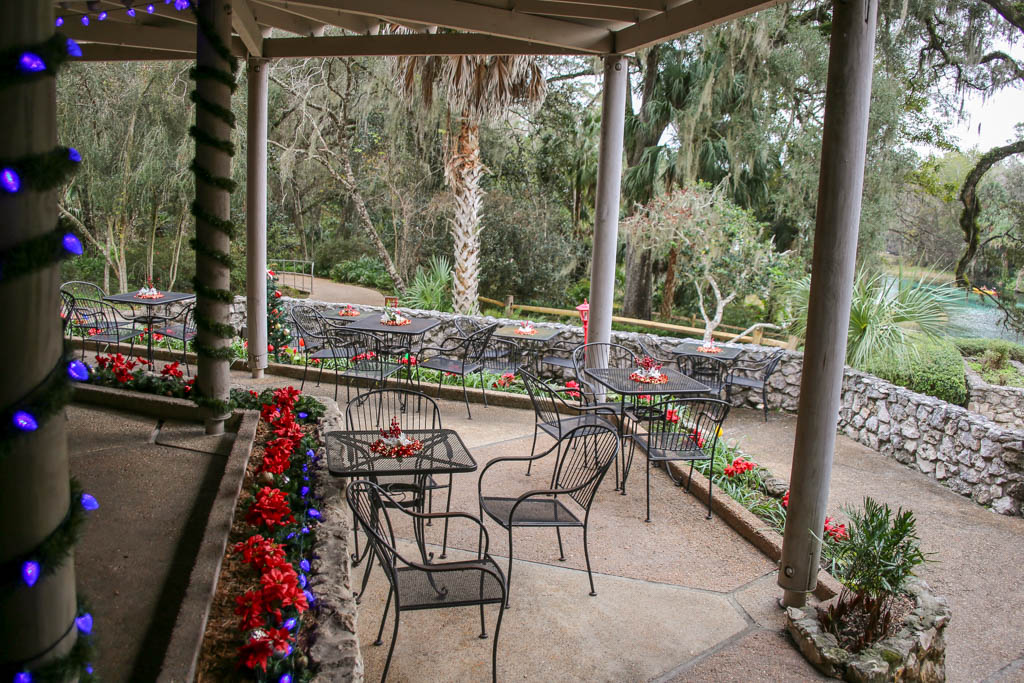 Winter is the best season for hiking in Florida because the temperatures are cool, the weather is dry and mosquitoes and bugs are at their lowest.
The Great Florida Gloat
Perhaps the greatest Christmas tradition of all is to send gloating beach and palm tree photos to friends and relatives stuck in cold northern climates.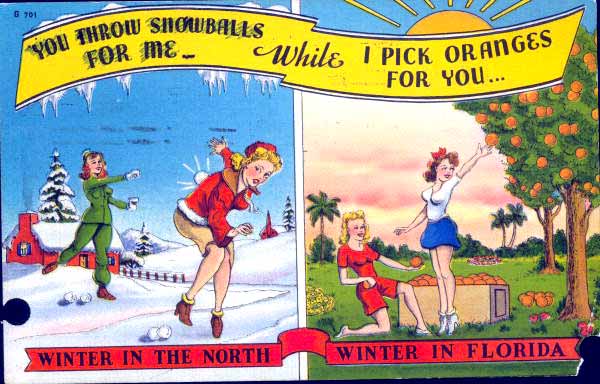 Another version of this Gloat celebration occurs in summer, when northern friends and relatives brag about their lovely summer weather while Floridians are glued in front of an air conditioner, and have not ventured outside in months due to extreme humidity.
Christmas Lights
One of the best Florida Christmas Traditions is to drive around to look at Christmas lights.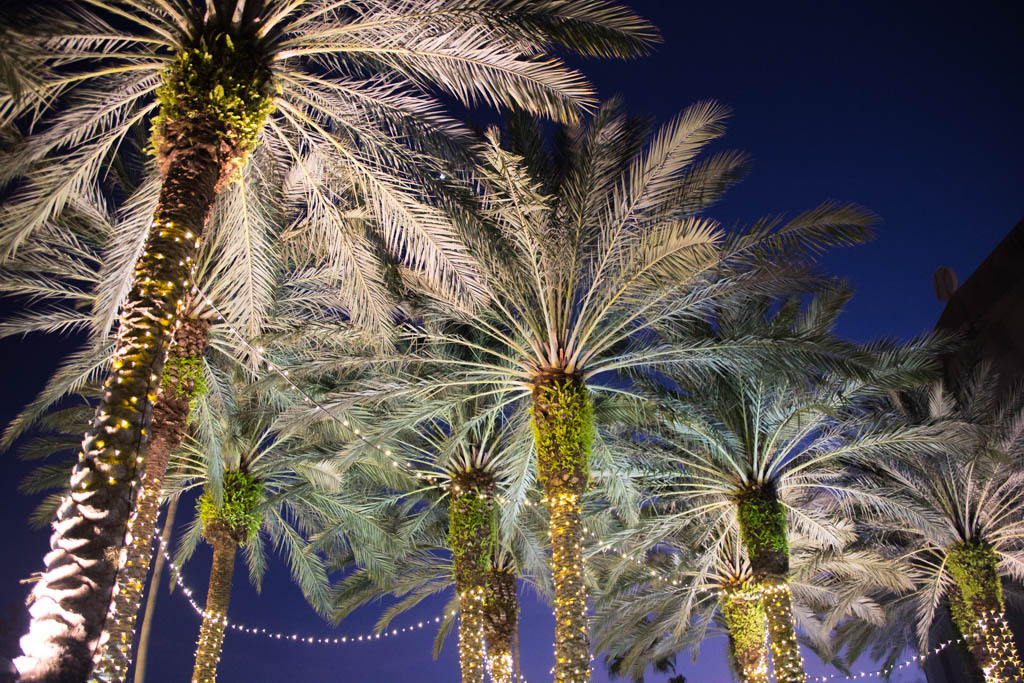 While some houses have better displays than others, there's always a surefire way to see lights at one of the many professional light displays throughout the state.
In St. Augustine, the "Night of Lights" has a beautiful display of over 3 million lights throughout the entire downtown area. Visitors can explore the historic district or take a trolley tour to see all of the lights without worrying about traffic or parking.
The "Holiday Fantasy of Lights" in Coconut Creek has an enormous, 3 mile-long drive-through holiday light display. Perfect for those warmer nights in South Florida, visitors can see dozens of dazzling light displays without leaving the car.
The historic downtown district of Winterhaven is decorated with 22,000 sparkling lights for the holiday season in the city event "Starlight Nights". Visitors can stroll Main Street enjoying the light displays while also shopping and dining.
The Space Coast Light Festival in Palm Bay is boasted as a "virtual winter wonderland". It is a drive-through display featuring lights, characters, and a 200-foot light tunnel. The festival also has visits from Santa Claus.
"Holiday in the Park" illuminates Lake Mary with thousands of Christmas lights, a "snow zone", and visits from Santa. Visitors can take a stroll under thousands of lights all over the park during this free family-friendly event.
In Hallandale, the Symphony of Lights is a free walkable light display centered in the entertainment complex of Gulfstream Park. Every hour the display comes alive with synchronized music and a light show.
Holidays at The Square in West Palm Beach features nightly celebrations that transform the square into a winter wonderland with an orchestrated light show, music, and snowfall. There are also photos with Santa and holiday decorations throughout the square.
"Light up the Holidays" at Altamonte Springs displays over 200,000 glittering Christmas lights and a 60-foot Christmas Tree. Some nights include visits from Santa and other holiday characters as well as music and light shows.
The "North Pole" at Sowell Farms is a beautifully curated Christmas display in the Florida Panhandle. The display has over a million lights, Christmas Trees, train rides, and more.
The Florida Botanical Gardens in Largo hosts its annual "Holiday Lights", featuring over one million colorful LED lights that illuminate the gardens with holiday cheer. Guests can stroll the gardens enjoying the lights and other holiday character displays.
Read more about the best Christmas lights in Florida!
Visit a Christmas Tree Farm
Many people are surprised to learn that Florida has a very large Christmas tree farm industry.
Christmas tree farms in Florida grow many of the trees for the United States. Most tree farms are located in north and central Florida.
Visiting a Christmas tree farm is a very popular tradition. Many families cut their own tree, or visit together to choose as a family.
It is also possible to cut your own Christmas tree in Ocala National Forest, as long as rules are followed and a proper permit is obtained beforehand.
Holiday Movies in the Park
Many parks in Florida host outdoor holiday movie nights.
Families bring blankets, snacks, thermoses of hot chocolate and enjoy movies in lovely cool, dry weather.
While there are almost always movie events in major cities like Orlando and Tampa, many city and regional parks have similar offerings around the holidays.
Search for parks near you to check their event schedules for holiday movie nights.
FAQ
Here are quick answers to many commonly asked questions we get about Christmas in Florida. If you have a question which is not covered here please feel free to get in touch.
Where is the best place to go for Christmas in Florida?
The best place to go for Christmas in Florida varies depending on your preferences.
Christmas in north Florida offers colder weather and the possibility of snow.
Christmas in central Florida offers the chance to visit theme parks and enjoy cool temperatures and low humidity.
Christmas in south Florida offers warmer temperatures and good weather for swimming, snorkeling and beach trips.
Traffic During Christmas in Florida
Christmas in Florida is one of the busiest times for Florida roadways. Road traffic and crowds increase noticeably around Christmas, and in the months before the holidays.
Days and weeks around Christmas are often especially busy due to last-minute Christmas shopping, errands, and holiday activities.
Local families are often on vacation from work and school, and many visitors are in town on holiday vacations. Many "Snowbirds" may have also returned to Florida by Christmas.
Roads and parking lots are often full at popular destinations like state parks, national parks, beaches, shopping malls, theme parks and popular tourist attractions.
Why do so many people go to Florida for Christmas?
People go to Florida for Christmas mostly because of the warm weather.
Other people come to Florida to visit family, have holiday reunions, and to schedule a family vacation around the Christmas holidays.
Many families visit Florida during Christmas because it's the most convenient time when everyone has time away from work or school because of synchronized vacation schedules.
Many people visit Florida during Christmas to escape cold northern winters, and to visit Florida during the winter, when the weather is more comfortable and is not hot or humid.
Final Thoughts
We hope you enjoyed this guide to experiencing Christmas in Florida!
Whether you're a visitor from out of state, or a local looking for Christmas celebration ideas, we wish you and your family a very Merry Christmas and Happy Holidays!