Sebastian is a small beach town on Florida's east coast, along the famous US Highway 1.
Unlike many other busy cities on Florida's east coast, Sebastian still has the charm of a small beach town.
Sebastian is located in Indian River County, in a quiet, laid-back section of Florida's east coast.
Sebastian is located in central Florida, about halfway up the east coastline. The town sits north of Vero Beach and south of Melbourne.
There are not any major cities near Sebastian. Sebastian is 90 miles southeast of Orlando and 95 miles north of West Palm Beach.
Sebastian is a waterfront city. It sits along the shores of the Indian River Lagoon, and the Sebastian River.
There are not any beaches directly in Sebastian, because it does not sit directly on the ocean. But, there are many beaches on nearby barrier islands, accessible via bridges.
Visiting Sebastian
Sebastian is a lovely place to visit. The city is laid back and has a relaxing, beach-life vibe.
It's especially popular as a tourist destination, and among older seasonal snowbird residents.
Snowbird residents come south for the winter, and return to their homes up north during the hot, humid Florida summer, and to avoid the hurricane season.
Pelican Island National Wildlife Refuge
One nearby island in the Indian River Lagoon, Pelican Island, was established as the United States' first National Wildlife Refuge in 1903.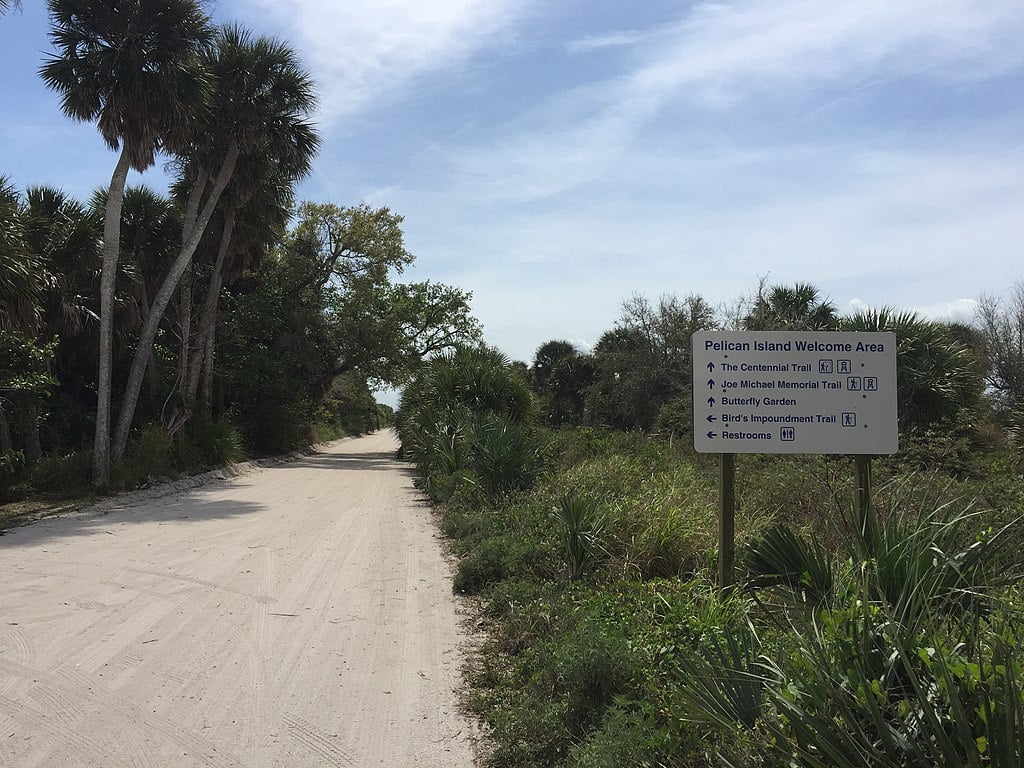 President Theodore Roosevelt designated the wildlife refuge to help protect egrets and other bird species.
The birds were at risk of becoming extinct because women wanted their feathers to wear in hats, which was a fashion at the time.
Sebastian Weather and Seasons
Sebastian has a subtropical climate.
This area of Florida has short, mild winters. The area can become chilly during and after strong cold fronts from the north.
It is generally warm enough to do water activities year-round. In the winter the water can become chilly and some people may prefer to use a wetsuit while entering the water.
Like all of Florida, Sebastian experiences an extremely hot and humid summer. High summer temperatures, and high humidity, can be difficult people to tolerate.
The area receives intense storms and hurricanes from May until November. Sebastian is very vulnerable to hurricanes, high winds, storm surge and flooding.
Sebastian's proximity to the Atlantic Ocean helps regulate temperatures, and a fresh sea breeze can make hot temperatures more bearable.
Things to do in Sebastian
Because it sits on the Indian River Lagoon and is near beautiful beaches, Sebastian is a popular city for beach, water sports and water activities.
There are many other things to do in the area, especially towards the Cocoa Beach area.
Boating, surfing, fishing, kayaking and paddle boarding are all very popular. The Sebastian Inlet State Park is located across the Indian River Lagoon from Sebastian, and is a very popular place to visit.
There is a large tide pool, which is a perfect swimming area for families. It's shaped like a horseshoe, with clear, shallow and calm water in the center.
There is an opening to the Sebastian Inlet, which allows a healthy exchange of water to circulate and refresh the pool.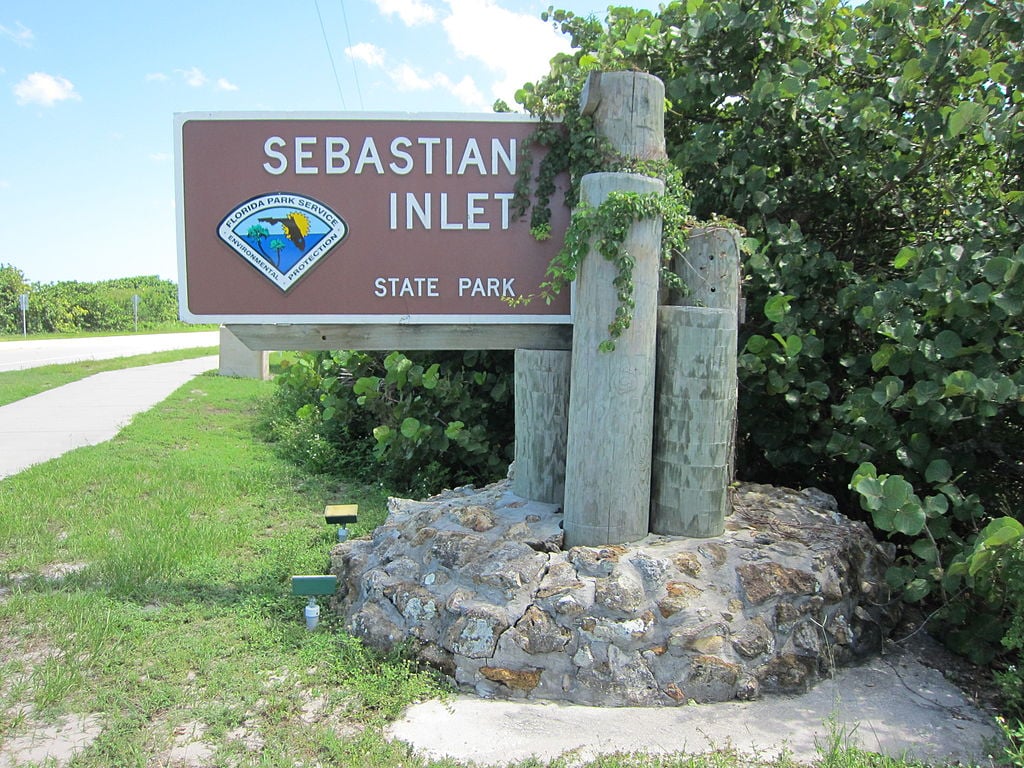 The Indian River Lagoon is an important estuary ecosystem. It has beautiful clear water and supports a wide variety of birds, marine life and other wildlife. Visitors are happy to regularly see manatees and dolphins.
Sebastian is filled with cute boutique shops, restaurants and bars.
The Pareidolia Brewing Company is a fun place to visit, especially to sample their craft beer selection. Paradise Ice Cream is another local favorite.
Sebastian's Riverside Park is one of the nicest places to relax in the town. It sits right on the waterfront and often has outdoor festivals, concerts and more.
Sebastian is also a popular place to stop along Florida's famous highway A1A road trip route.
Captain Hiram's Resort
Sebastian is home to a popular, low-key resort, Captain Hiram's.
The resort sits on the shores of the Indian River Lagoon, complete with a deep-water marina.
For visitors who don't have their own boat, Hiram's offers crewed fishing charters and boat tours. There are many other things to do in the Sebastian area as well, including kayak tours and rentals.
Hiram's also operates a 45 ft.' sightseeing boat which gives ecological tours in the Sebastian River and Indian River Lagoon.
Hiram's hosts live music, usually 7 nights a week. That makes it one of the best things to do in Sebastian.
Hotels and Lodging in Sebastian
Captain Hiram's is one of the best resorts in this part of Florida, but there are many lodging options in Sebastian as well. There number of hotel options in the area is a bit limited, but all of the prices tend to be lower than in other areas on the east coast, especially Miami.
There are definitely some good hotel options that I would be happy to stay at, with prices that I would feel good about paying.
Beaches Near Sebastian
Sebastian sits on the Indian River Lagoon, so there is no beachfront directly in the town. But, there are many beaches nearby on barrier islands.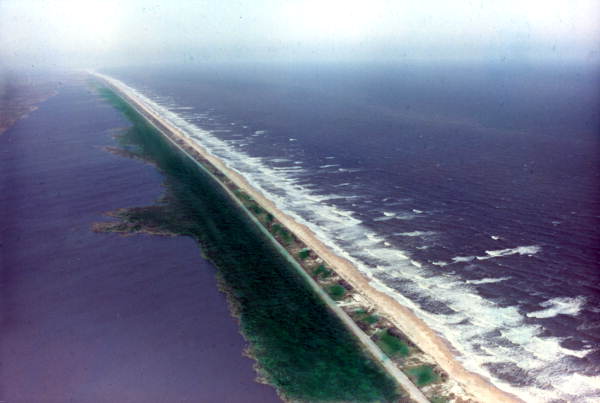 The nearest beach is Wabasso Beach, which is 7.8 miles away. The Sebastian Inlet State park is also nearby. It sits across the Indian River Lagoon, and is accessed via Highway A1A.
Sebastian Inlet Surfing
The beaches near Sebastian make it one of the best places to surf in Florida. It provides some of the most consistent and surfable waves year-round, and has a fascinating history.
The Sebastian Inlet wave is one of the most famous waves in surfing history, and it produced some of the world's best surfers. The wave itself has a fascinating story.
The waves at Sebastian Inlet are good today, but they used to be even better.
The Sebastian Inlet wave was created by accident in the late 1960s. At the time, the U.S. Army Corps of Engineers modified a series of jetties to help prevent beach erosion. The changes had an unintended consequence: they created a legendary surfing wave, and one of the best surfing spots in Florida.
The jetty changes altered the beach water flow pattern, which accidentally created a sandbar. That sandbar created one of the best surfing spots in Florida.
The inlet gave consistent barreling waves, and felt like a wave you'd expect in Hawaii, not Florida.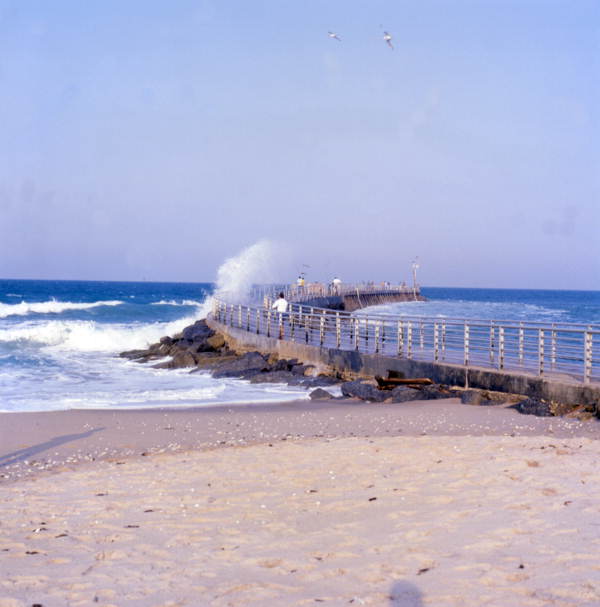 Surfers were drawn to the area from all over. There would sometimes be hundreds of surfers in the water.
Because there were so many young, talented surfers, Sebastian grew a strong surf culture. The waves at Sebastian Inlet produced some of the most famous professional surfers in the world, including the most iconic, Kelly Slater.
Tragically, the wave was ruined in the early 2000s. The jetties were again altered, and the sandbar disappeared. When the sandbar disappeared, so did Florida's best surfing wave. Surfer Magazine
Even though the jetty modifications damaged the save's surfing appeal, it is still one of the best places to surf in Florida.
The tides and hydrology of the Indian River Lagoon still causes large waves that are great for surfing.
When the tide rises, clear blue water rushes into the inlet from the Atlantic ocean. When the tide falls, that water rushes back out. The water, rushing through a constricted inlet, is fast-moving, and can cause large waves to "stack up".
It makes a treacherous situation for boats. Every year, dozens or hundreds of boats sink, as they are overpowered by the large waves. People have died; it is often described as the most dangerous inlet in florida.
Florida's Treasure Coast
This region of Florida is often referred to as the "Treasure Coast" because of its maritime history and discoveries of sunken treasure.
In 1715 a fleet of Spanish sailing ships sank in this region, allegedly carrying $500 million dollars worth of gold. Some gold has been found, but most of it has not.
Gold coins can occasionally be found washed up on beaches, especially after large storms disturb the sea floor.
Many people enjoy beachcombing on the beaches near Sebastian, sometimes with the use of metal detectors, where it's allowed.
The Mclarty Treasure Museum is located inside Sebastian Inlet State Park. It shares the history of the Spanish galleons and the story of the treasure.
The Mclarty Museum also tells the story of Florida's earliest inhabitants, and early pioneers.
Even before the Spanish shipwrecks, the Sebastian area had a long history of human presence. The area was populated by prehistoric native Americans for thousands of years.
There is ample evidence of their existence, including impressively large shell middens and ancient artifacts.
Anthropologists believe that the early humans had sophisticated cultures, and interacted with other communities of people.
They have also found clues which suggest that they had religious beliefs, including burial rituals and other signs of rich culture.
Later, around 1870, Sebastian was settled as a fishing village and center of regional commerce.
The region was serviced by river steamers, which was a new technology at the time, and helped facilitate transportation through Florida.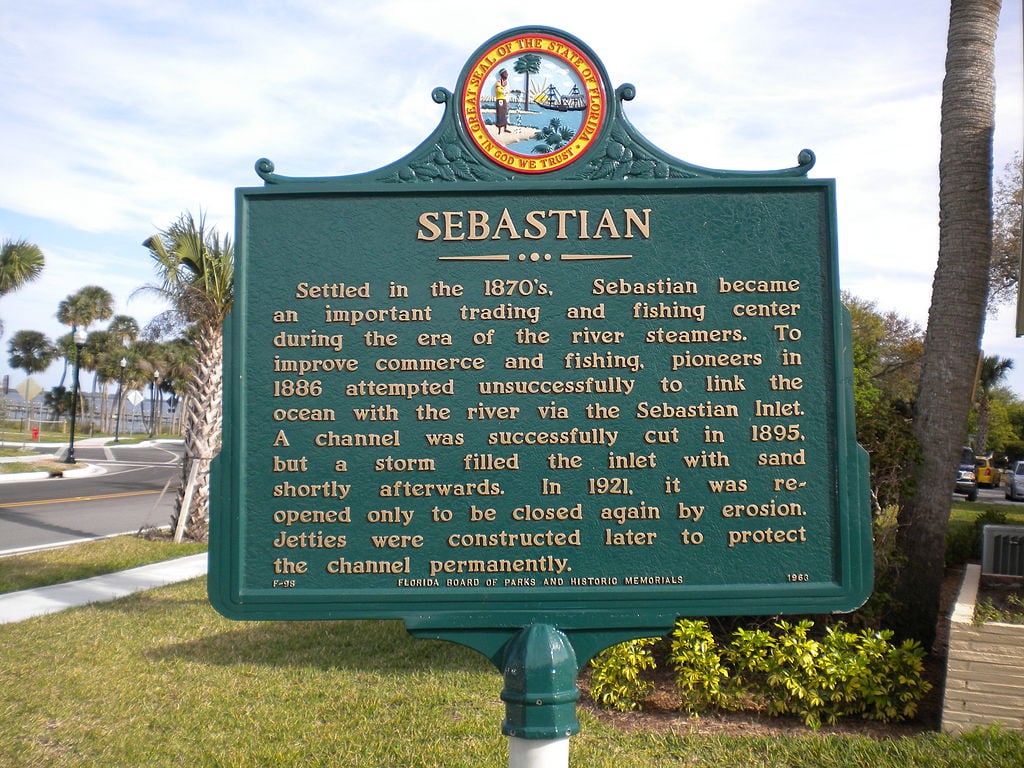 Like many other inlets on Florida's east coast, the first Sebastian Inlet was created by dredging a channel to connect the Indian River Lagoon with the Atlantic Ocean.
The inlet was first dug in 1895, but it was filled by sediment during a hurricane, and rendered unusable. It was reopened again in 1921, but it was again closed by sedimentation and erosion.
Jetties were later installed to keep the inlet and channel open permanently.
Mel Fisher Museum
Sebastian is also home to another popular museum, which is privately owned and operated; Mel Fisher's Treasure Museum.
The museum tells the story of Mel Fisher's life, and his decades-long hunt for treasure in Florida.
There are artifacts from several ships that his team discovered, including the famous Nuestra Senora de Atocha, and the fleet of Spanish sailing ships that sank while carrying tons of gold and treasure.
Most people who visit enjoy themselves. It helps if you're interested in nautical history, and can get swept up in the excitement for sunken treasure.
There are hands-on activities, including the chance to lift a gold bar taken from the Atocha shipwreck.
Like all museums, it has a gift shop. There are fun gifts, nautical themed souvenirs and other treasures. Some people visit more than once.
There is a 20 minute video that plays on a repeat schedule, which tells the story of the wrecks and the endless search by Fisher and his team.
The admission is reasonable — around $8 for adults, with discounts for kids and seniors. Some visitors don't think it's worth the price, but most people are happy to have visited.
Even unenthusiastic visitors admit that it's cool, and strangely impactful, to see actual items taken back from deep-sea shipwrecks. It's one thing to see a documentary on National Geographic, but it's another thing to see the reclaimed personal items of real people who lost their lives.
The only other Mel Fisher Shipwreck Museum location is in Key West.
Events and Festivals
Sebastian hosts many festivals throughout the year. Many of the festivals and events draw large crowds from within Florida, around the U.S. and even internationally. Some of the largest festivals and events include:
The annual Sebastian Clambake Festival
The Grant Seafood Festival
The Grant BBQ Festival
The Fellsmere Frog Leg Festival
Living in Sebastian
Sebastian is a very nice place to live, for a certain type of person. It generally appeals to water lovers who are drawn to laid-back living.
Sebastian often ranks as one of the safest small towns in Florida, and one of the best small beach towns in Florida.
Sebastian is often cited as one of the best places to retire in Florida. Many factors make Sebastian popular among retirees; it offers a laid-back beach atmosphere, high degree of safety and relatively low traffic.
Many people are also drawn to the relatively low cost of living, when compared to other waterfront cities in Florida.
Sebastian is also one of the most affordable beach towns in Florida because it's relatively far from large population centers, and because there are relatively few high-paying job opportunities in the area.
Demographics
Sebastian is part of the Sebastian-Vero Beach MSA, metropolitan statistical area.
The city's welcome sign famously jokes that it's home to "Friendly people and 6 old grouches". But, there are a few more residents than the sign would suggest.
In 2019 the estimated population was approximately 26,118 residents, according to the U.S. Census Bureau.
The resident population in Sebastian tends to be older than the state average.
Unlike other major cities in Florida, there are not many high-paying jobs, or lucrative career opportunities in the area around Sebastian.
Because of the lack of good jobs, there tend to be more retirees and childless couples, rather than families with children.
Cover Photography courtesy of Lacie Slezak