Marco Island is a beautiful island and city in southwest Florida.
Marco Island is well known for its beautiful beaches and wealthy residents. It is a popular destination for vacationers, retirees and people who move to Florida from around the U.S.
The tight-knit island community has large and enthusiastic communities of golfers, sailors, and fishermen communities, among others.
Marco Island has a lot to offer, and provides a very high quality of life for its residents and visitors.
Location
Marco Island is located in southwest Florida, on the Gulf of Mexico coast. The island is located in the extreme corner of southwest Florida.
The surrounding region is largely undeveloped, so there are few communities nearby except for Naples, another popular, wealthy beach town.
Marco Island is approximately twenty-five minutes south of Naples, one hour from Fort Myers, and two hours south of Sarasota.
Miami is located approximately two hours away from Marco Island, separated by the entire Florida peninsula, and connected via the infamous Alligator Alley highway through the Florida Everglades.
Marco Island is also linked to Key West via ferry.
A trip on the Key West ferry takes approximately 3.5 hours one-way, and can save several hours of drive time instead of driving across Alligator Alley, and then driving from Miami to Key West via the Overseas Highway.
Marco Island is the largest island in southwest Florida's Ten Thousand Islands region. Marco Island is only accessible via bridge, which connects it with the Florida mainland
Marco Island is located in Collier County and is part of the Naples–Marco Island Metropolitan Area.
Airports near Marco Island
The largest airport near Marco Island is Southwest Florida International Airport (RSW), located in Fort Myers.
Most air travelers fly into and out of RSW when visiting Marco Island, although visitors also arrive via other airports in the region and then drive to Marco Island.
Marco Island is also served by Tampa International Airport, Sarasota International Airport, and Miami International Airport.
Things to Do
Marco Island is a relatively small island, but it's filled with many things to do for both visitors and residents.
Beaches
The main attraction of Marco Island is its beaches.
Beaches in Marco island are beautiful and clean. The beach sand is soft and white, and the beaches are usually not very crowded, especially compared to other beaches in Florida.
Marco Island has about six miles of beaches in total. One downside of beaches in Marco Island is that there are many beachfront resorts, hotels and residential houses along the beaches.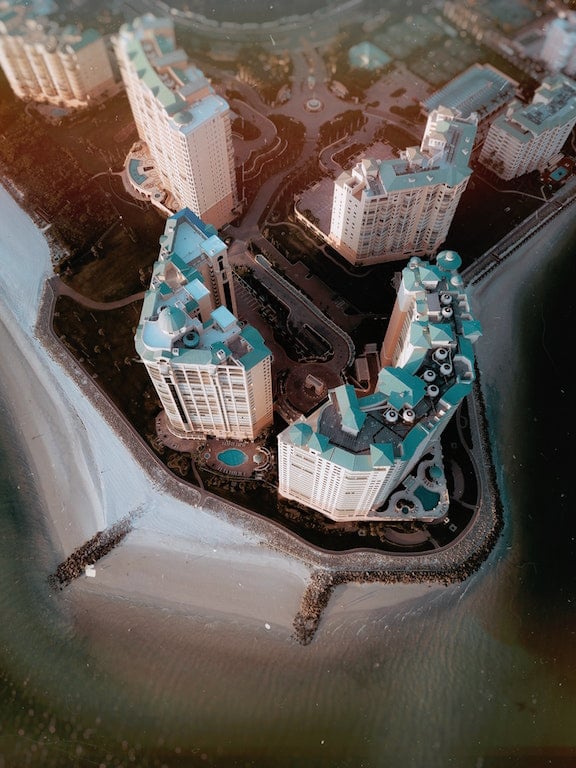 The beaches are difficult for the public to access except for a few limited beach access points.
Water Activities
Besides its beaches, Marco island is a mecca for a variety of watersports, including sailing, fishing, kayaking, boating, swimming and marine wildlife viewing, among others.
Marco Island has almost 100 miles of waterways to explore, and there are numerous boating destinations in the region for boaters to discover, including islands, sandbars and lonely deserted beaches.
Kayaking is especially popular in Marco Island; there are many places to paddle and explore.
One of the best places to kayak in Marco Island is in the mangrove-filled lagoons of Tigertail Beach Park.
There are also a variety of manatee and dolphin tours in Marco Island to view local marine life in its natural habitat.
Bird Watching
Marco Island offers some of the best bird watching in Florida.
Thanks to its subtropical weather and vast, diverse habitats, the region is filled with migratory birds, shore birds, rare threatened and endangered species and more.
Many bird watchers enjoy visiting the Gulf Coast region of Everglades National Park.
Fishing
There is excellent fishing near Marco Island, including surf fishing from the beach, offshore fishing charters, near-shore fishing trips, kayak fishing excursions, and more.
One of the best things to do is charter a private fishing boat and go fishing for pompano, along with other Florida popular fish species. Pompano is one of the tastiest fish in the world and is native to the Gulf of Mexico.
Many waterside restaurants in Marco Island will cook freshly caught fish if you bring them your catch.
Restaurants
Marco Island has a relatively small land area, but there are a surprising number of delicious restaurants.
There are options for every taste and budget, from low-key beach bars to upscale dining options on Collier Boulevard.
Two of the most famous, and delicious and upscale restaurants in Marco Island include Fin Bistro and Marco Prime.
Golf
Marco Island is a mecca for golfers. Especially in the winter, golfers from around the country flock to Marco Island to escape harsh winters and play golf in warm sunshine.
Besides winter visitors, many Marco Island residents enjoy golfing year-round. Marco island only has two golf courses; both are exclusive.
The Rookery Course at the Island Country Club is considered to be the best golf course in Marco Island. The course was designed by two PGA golfers, Peter Jacobsen and Jim Hardy.
Key West Ferry
Many visitors to Marco Island are surprised to learn that there is an ocean-going ferry from Marco Island to Key West.
There is a daily ferry from Marco Island to Key West during Florida's busy tourist season, in the winter months. Another Key West ferry serves Fort Myers Beach year-round.
The Key West Express ferry is a large 155 foot-long high-speed catamaran. The ferry only accepts passengers; vehicles are not allowed.
The ferry trip from Marco Island to Key West takes approximately 3.5-4 hours, depending on weather, sea conditions and other factors.
Living in the city
Marco Island is considered to be one of the best places to live in Florida.
The beaches, weather and environment are all beautiful; the island attracts people from all over the world.
Marco Island is especially popular among retirees, and is frequently recognized as one of the best places to retire in Florida, for those who can afford it.
Due to its retiree population, relatively limited economic opportunity and other factors, the resident population in Marco Island skews towards the older side. The average resident in Marco Island is approximately 65 years of age.
The Best Things about Marco Island
There are many things to love about Marco Island – these are the most commonly heard reasons:
Marco Island is a small island, so residents and visitors never are far from the water, or a beach.
Many houses have direct access to waterways via a man-made canal system, and backyard docks.
The weather in Marco Island is comfortable and mild during spring, winter and fall months.
Although its location in the Gulf makes it at risk for hurricanes, Marco Island has been lucky in the past.
Downsides of Marco Island
Marco Island is a serene paradise in many ways. But, like any place, it has its own downsides.
Many of the downsides of Marco Island are the flip side of its most attractive qualities.
The community of Marco Island is very affluent, which can lead to snootiness. Some visitors, and even residents, say that they dislike feeling snobbish attitudes from locals.
Marco Island is an expensive place to live.
There is high demand for a limited amount of real estate on the island. The cost of living is much higher than in other cities in Florida, even among other expensive beach towns.
At the time of this writing housing costs can be almost seventy percent more expensive than in nearby Naples, which is another wealthy and affluent community with a high cost of living of its own.
Those looking for a mix of beach and big city life will also face disappointment in Marco Island.
Although designated a city, Marcy Island is a very small community, with a population of only around 18,000 residents.
Marco Island is often described as having a sleepy, small town vibe, despite the community's wealth and affluence.
Another downside of Marco Island is that there is a distinct lack of nightlife. Some younger residents complain there is not much for locals to do after the sun goes down and Marco Island goes to bed.
History
Marco island was first inhabited by Calusa Indians many thousands of years ago. Some scholars believe the Calusa considered the island sacred.
In the early 1500s Spanish explorers "discovered" the island, led by famous Spanish conquistador Juan Ponce de Leon.
According to legend Ponce de Leon was later killed by a native American while searching for the fabled fountain of youth. He was probably searching for Warm Mineral Springs in nearby North Port.
The Spanish named Marco Island La Isla de San Marco, but they did very little to settle, or develop infrastructure on the island.
The area of southwest Florida remained unsettled for hundreds of years, except for native Americans, sparse cattle farms and a low number of Florida pioneers.
After the Civil War, American pioneers began to repopulate the island. One notable settler was William "Captain Bill" Collier, a sailor and entrepreneur from North Carolina.
Collier opened the Old Marco Inn on the island in 1890 to serve the growing fishing community. Collier's family continued to develop the rest of the island well into the early 1900s.
The next big change for the island came in the 1960s, when Florida entered into one of its many speculative land boom and bust cycles.
The history is told beautifully in Craig Pittman's book, Paving Paradise.
In the 1960s southwest Florida was almost completely undeveloped, mostly due to its remote location and seemingly endless wetlands and pristine natural habitat.
Developers wanted to bulldoze the wetlands and sell the land to out-of-state buyers.
Developers spent heavily on advertising campaigns to lure northerns, and their money, to Florida, so they could be fleeced.
Developers across Florida used extremely questionable sales tactics, including high-pressure sales, bugged hotel rooms loaded with spy gear, and other methods. Many of their tactics later became illegal.
Many developers joked that they sold "Land by the gallon", referring to the practice of selling unusable, flood-prone wetland to unsuspecting buyers.
Two developer brothers, the Mackle Brothers, bought most of Marco Island through their development company, Deltona Company.
They were among a group of large-scale developers operating at the time, along with others in Cape Coral and other areas throughout Florida.
The Mackle brothers sought to transform Marco Island from a pristine mangrove habitat, rich with wildlife and natural beauty, into a massive real estate development.
Wetlands were replaced with endless rows of dredged canals and track housing. The developers added a golf course, a yacht club, and a country club, and other amenities to augment their sales pitches.
The Mackle brothers, and other developers in Florida, nearly ruined the entire natural environment in pursuit of their development goals.
Some of the environmental destruction was truly senseless. One the blunder in nearby Cape Coral negligently drained the fresh water supply, leading to uncontrollable forest fires and massive fish kills.
Developers were careless, shortsighted, and caused terrible unintended consequences.
The Mackle brothers, along with other developers, were only constrained thanks to forward-thinking local citizens and environmental protection groups which saw the unfolding disaster.
Despite attacks from politicians and local developers, local citizens helped establish The Conservancy of Southwest Florida, Rookery Bay, and other areas, which at least slowed the developers from entirely paving over paradise.
It is worth remembering that without the environmental intervention the entire region of southwest Florida would have been bulldozed, dredged, filled and paved over.
Final Thoughts
Marco Island is a unique destination with a lot to offer. Marco Island's lovely blend of small beach town vibe, combined with rich elegance, is worth experiencing.