Fort Myers is a medium-sized city in southwest Florida. It's one of the largest tourist destinations in southwest Florida, and is a major driver of the regional economy.
Location
Fort Myers is located in southwest Florida, on Florida's Gulf of Mexico coast.
The city sits on the southern shores of the Caloosahatchee River, just south of Cape Coral. Fort Myers is located in Lee County, and is the county seat.
Other nearby cities in Southwest Florida include:
Captiva Island
Bonita Springs
Lehigh Acres
Punta Gorda
Port Charlotte
Boca Grande
Demographics
In 2019 Fort Myers had an estimated population of approximately 87,103 residents.
Fort Myers has the second-highest city population in Lee County, after Cape Coral, which has a considerably higher population.
The vast majority of residents in southwest Florida live in unincorporated areas, which are not subject to city jurisdictions.
History of Fort Myers
Fort Myers is one of the oldest communities along the Gulf Coast, and has a nice mix of history and growth.
Along with the rest of Florida, Fort Myers was inhabited for many tens of thousands of years by Florida's Native American tribes.
Ponce De Leon is often credited with later "Discovering" the Gulf Coast region during his expeditions to Florida in 1513 and 1511.
De Leon ultimately suffered a fatal arrow wound, shot by a Native American. His fatal injury may have occurred somewhere near Fort Myers, possibly near Warm Mineral Springs.
For most of Fort Myers' history the land was sparsely populated, and was mostly used for agriculture, including pine timber production and cattle grazing.
Early settlers recognized that the land was extremely vulnerable to hurricanes, and was generally not a suitable place to build settlements.
The land, especially coastal land and barrier islands, was sporadically used for remote fish camps by Spanish and Cuban fishermen, but the inland region was generally left alone.
Some settlement of the Fort Myers area began in the early and mid 1700s, when Florida was under British control. Still, the region remained a backwater, and was largely unused.
In the late 1700s Fort Myers was used as a base for pirates, who raided commercial shippers as they sailed to and from New Orleans.
Florida became a U.S. territory in 1821, which drew a new wave of American settlers. The settlers clashed with Florida's native Americans, especially the Seminole tribe.
Fort Myers was built on the banks of the Caloosahatchee River in an attempt to help secure the territory, as war was fought against the native people in the Seminole Wars.
Fort Myers played a minor role in the U.S. Civil War in the mid-1800s, and was the scene of the southernmost battle of the war.
Throughout the late 1800s Fort Myers was used as a port to export cattle onto sailing schooners and steamships bound for Cuba.
For most of Fort Myers history cattle farming, logging and farming were the predominant economic activities in the region.
By the late 1800s the population of Fort Myers was still less than 350. Still, it was a relatively large city by the standards of Florida at that time. The only larger city on the Gulf Coast was Cedar Key, which was slightly larger, and also served as a port town.
More residents came to the Fort Myers area in the last years of the 1800s, up until the 1920s, when Florida experienced its great land boom. It would be the first of several real estate bubbles and busts.
The entire country was in the midst of the "Roaring Twenties", and many came to southwest Florida in search of get-quick-rich schemes, especially those involving real estate.
The area was also bolstered by the completion of the Tamiami Trail, which linked Tampa and Miami, and ran through Fort Myers.
The Tamiami Trail was a giant mistake, like many of Florida's "development" projects. It disrupted the region's natural water flows, threatened south Florida's drinking water supply, and caused a host of other problems which still plague the region to this day.
Fort Myers has been hit by numerous hurricanes during its relatively short life as a city.
Two major hurricanes destroyed Fort Myers in a short time period. One hurricane hit Fort Myers in 1921, and another hit in 1926.
The hurricanes, along with other factors, popped the Florida real estate bubble, and helped bring about the Great Depression for the entire United States, and a large part of the world.
Fort Myers once again saw growth and boom times during the 1940s, when the United States built air bases throughout Florida as part of the WWII war effort.
Florida was selected partly because of its large swaths of open land, and year-round flying conditions.
Many members of the military were stationed in southwest Florida for training, or moved through the area while being deployed. Many fell in love and returned with their families after the war was over, to become new Florida residents.
The post-war boom ushered in yet another boom and bust cycle for Florida's insane real estate market.
In the 1950s southwest Florida became the target for intense real estate development. Many communities were built, including the ambitious Cape Coral project in 1957.
The land development was extremely destructive to the environment, and was often a blatant scam.
Shady salesmen used fraud, deception and many ethically questionable sales practices to dupe gullible out-of-towners into bad deals. Many bought swampland; others bought lots without any infrastructure, which could never be developed.
What is the meaning of Fort Myers?
The meaning of Fort Myers comes from a historical military fort, which the town is named after.
Fort Myers was named after Colonel Abraham C. Myers. Myers the son-in-law of David. E. Twiggs, the commander of Fort Brooke, a military fort near Tampa.
Twiggs, the Tampa fort commander, named Fort Myers after his son-in-law as a "gift".
Interestingly, Colonel Myers never physically visited the fort that was named after him.
Fort Myers was built to defend early settlers from attacks by native Americans, especially the Seminole Tribe during the Seminole Indian Wars.
The original Fort Myers was important because it occupied a strategically important location on the banks of the Caloosahatchee River.
Things to Do
There are quite a few things to do in Fort Myers.
Interestingly, Fort Myers is usually considered to be a livelier town than neighboring Cape Coral, despite having a significantly lower population.
This is because of short-sighted community planning in Cape Coral, which prioritized lot sales above all else.
There are numerous natural attractions in the city and in the nearby region. Fort Myers also provides great access to a variety of nearby beaches.
Fort Myers also holds a number of events throughout the year, which are popular for residents and vacationers.
Ford and Edison Estates
Fort Myers is home to the Ford and Edison Estates.
The sites preserve the former winter homes of two of America's greatest minds; Thomas Edison and Henry Ford. The two friends loved Fort Myers, and chose the area for their winter estates.
Thomas Edison came to Fort Myers in 1885 and bought 13 acres of land on the Caloosahatchee River.
At that time Fort Myers was still very undeveloped, and had the feel of a frontier town. Edison named his winter retreat the "Seminole Lodge".
Edison's friend Henry Ford later bought land next door in 1916, after visiting Edison several times. Henry Ford named his winter estate "The Mangoes".
The Henry and Ford Estates are well preserved, and are fascinating places to visit!
Nature Attractions
Some of the most popular things to do in Fort Myers revolve around the beautiful natural environment.
Manatee Park is a great place to see manatees, especially in cold winter months from December to March.
Kayaking and Parasailing are great ways to see the water and surrounding area
The Fort Myers River District
The J.N. "Ding" Darling National Wildlife Refuge is a short drive away
The IMAG History and Science Center offers an aquarium and fun educational exhibits
The Six Mile Cypress Slough Preserve offers more than 3,500 acres of natural wetland ecosystem. It is a great place to see Florida's natural wildlife, exotic birds like the Roseate Spoonbill, and many other species.
Downtown Fort Myers
Fort Myers' downtown is very nice. Downtown Fort Myers has a lovely mix of restaurants, events and culture. There are also some options for living downtown.
Fort Myers' downtown is lively, has a bustling waterfront, and even has some historical significance.
Historical downtowns are rare for Florida, especially on the Gulf Coast, which tends to have very young communities which lack history.
Events
Fort Myers hosts a variety of events and activities throughout the year.
Events are commonly held at Centennial Park, which overlooks the Caloosahatchee River. The Fort Myers Yacht Basin is another popular destination for events.
Events include art walks, farmers markets, live music performances, and others.
The Edison and Ford Winter Estates also host numerous events throughout the year.
One popular event is the Edison Festival of Light. It is an annual festival to celebrate Thomas Edison's birthday on February 11th. The celebrations last for two weeks, and include a large light parade.
The Lee County Visitor and Convention Bureau has more information on events in Fort Myers and surrounding cities.
The Best Time To Visit Fort Myers
The best time to visit Fort Myers is in the winter and spring.
The winter and early spring months, from November until May, are the best time to visit Fort Myers.
March generally sees the return of warmer weather, when average high temperatures begin to creep back up into the 80s, from the mid to high 70s at their lowest points in the winter.
Many families visit Fort Myers in the summer, during school vacation.
The weather is generally hottest and muggiest in the summer, and hurricanes often threaten the late summer months.
Visitors should be on the lookout for late season hurricanes until hurricane officially ends on November 30th.
Living in Fort Myers
Fort Myers, along with other nearby communities, ranks among the fastest growing cities in Florida.
Fort Myers is popular for a variety of reasons, especially because of the warm weather, nearby beaches and relatively low-cost of living.
Fort Myers, along with other surrounding communities, are often touted as the best places to live in Florida, mostly because they offer some of the "cheapest" real estate in Florida.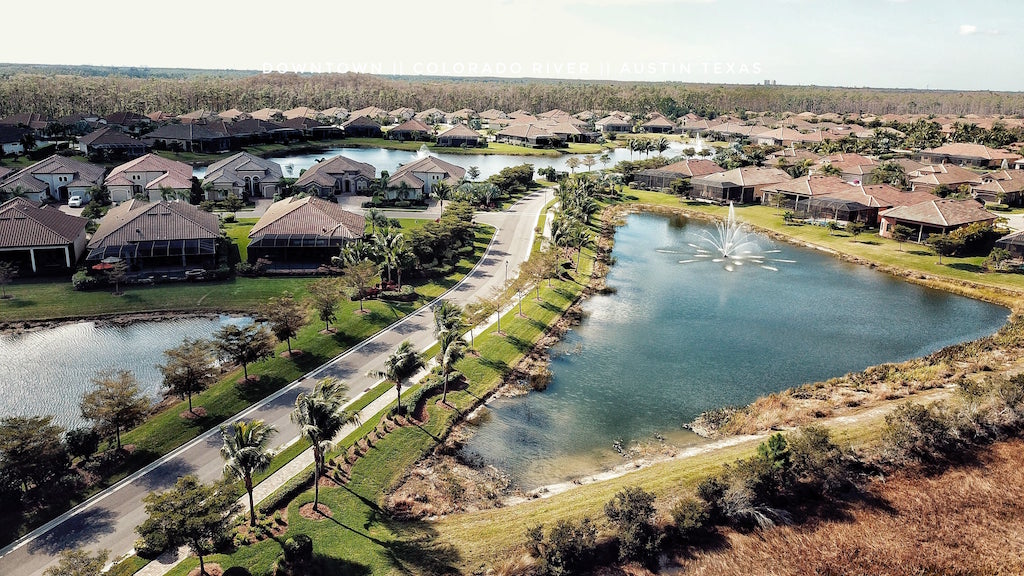 Real estate often appears especially affordable to new out-of-town residents, although the "affordability" comes with its own sets of risks.
The southwest Florida housing market is subject to violent boom and bust cycles, and often catches new, unsuspecting residents off-guard.
Retirees
Southwest Florida's warm weather and prospects of low-cost living have made it a popular destination for retirees from around the U.S. and Canada.
Communities in Southwest Florida have a reputation for being a refuge for retired people, and have the nickname of "Heaven's Waiting Room".
According to the Fort Myers Chamber of Commerce the median resident age in Fort Myers is 32, which is younger than most of the surrounding communities.
Fort Myers is a nice place to live, and is an interesting community for both vacationers and residents.
Fort Myers tends to be a much livelier city than its neighbor, Cape Coral, and has a relatively active community.
Downsides to Living in Fort Myers
There are notable downsides to living in Fort Myers, and the surrounding area.
The economy in southwest Florida is very limited. It is over-reliant on tourism, and tends to experience volatile boom/bust cycles.
Real estate values are also highly variable, and tend to be more volatile than other regions in Florida, and around the United States.
Hurricanes and Severe Weather
Fort Myers, and all of Southwest Florida, are exceptionally vulnerable to hurricanes and storms. The region is vulnerable to storm surge, high winds, and flooding.
Although all of South Florida is vulnerable to these risks, southwest Florida and the Gulf Coast are even more vulnerable due to several factors.
One of the biggest vulnerabilities to Florida's west coast comes from its shallow water. A large shelf of shallow water which extends from Florida's western coast.
The shallow depths make the west coast more vulnerable to storm surge, as opposed to the deep water off of Florida's Atlantic coast.
Because of the large area of shallow water, even minor storms can create devastating storm surge, when certain conditions align.