Devil's Den Spring is a natural spring located in central Florida. It's a unique spot because it's located inside an underground cavern.
Devil's Den is privately owned, and is operated as a SCUBA diving and snorkeling site.
Warning! Unless you plan ahead and get lucky, the cavern will probably be crowded. It may not live up to unrealistic expectations or Instagram fantasies.
Devil's Den always been a popular spot, but it's become increasingly famous on social media, especially Instagram. People are drawn to its deep blue water, fascinating history and beautiful photography opportunities.
Devil's Den is a great trip, and I definitely recommend it. But, first-timers should do their research before visiting. You should plan ahead so you know what to expect, and make the most of your trip.
Visiting Devil's Den is not like visiting a theme park. It's sort of in the middle of nowhere, although there are other cool things to do in Williston.
All that said, it is a truly incredible, beautiful place. You should go. It is literally as close as you can get to an exotic Mexican cenote adventure without traveling to Mexico.
Side note: Cenotes in Mexico are also truly amazing, and are some of my favorite places on Earth. If you get the chance, I highly suggest you go see them!
If you're interested in Florida's springs, I encourage you to explore others, as well!
This guide is a great and easy guide as a starting place: Touring the Springs of Florida
It lists most of the best springs in Florida, including Devil's Den. It's very easy to use and is well organized.
Video Guide to Devil's Den in Florida
There are hundreds of beautiful natural springs in Florida, but Devil's Den is unique because it's set inside an underground cavern. It feels very much like a Mexican cenote, in Florida.
Important Note!
This information was accurate when it was published. I try to keep this guide updated, but some information may have changed since. Please always do your own research and double check facts and information when planning your trip.
If you do find any incorrect or outdated information, please contact me so I can update this guide!
I always recommend calling places directly to get the most updated and accurate information possible. Contact information for Devil's Den is listed below.
How did Devil's Den Form?
The Devil's Den cavern formed over millions of years. It was created as slightly acidic groundwater dissolved layers of soft limestone rock, or karst.
You know how vinegar dissolves baking soda, in the classic "Volcano" science fair project? It's sort of like that, but much slower, and without an intense reaction.
Karst limestone is a type of soft rock, composed of ancient shells, plants and animal skeletons. Over time the shells, skeletons and other organic material were compressed under heavy pressure, and turned into limestone.
It is all left over from millions of years ago, when Florida was a giant coral reef, submerged under warm, shallow seas.
Karst limestone is amazing, and beautiful. It's filled with holes, which sometimes fill with water. Some holes are as tiny as pinholes, and sometimes they're enormous caverns. There are also huge networks of underground caves under our feet in Florida.
Karst limestone is found all over the world, and has formed some of the world's most beautiful spots.
I've spent a ton of time exploring karst regions in Mexico, Central America, Southeast Asia and other places. Mexico's cenotes are some of my favorite spots on the planet.
Karst limestone is also responsible for amazing spots like the Blue Hole in Ichetucknee Springs State Park, and many other of the best springs in Florida.
Interesting side note: Unlike many springs in Florida, and cenotes in Mexico, the ceiling of the Devil's Den Cavern did not collapse. The roof remained in-tact, and the hole at the top of the cavern is actually man-made!
Devil's Den Spring Location
Devil's Den Spring is located in Williston, Florida, a small town in north central Florida. The area around Devil's Den is sparsely populated farmland.
The location of Devil's Den is approximately:
3 miles outside of Williston
24 miles from Gainesville
28 miles from Ocala
120 miles from Tampa
102 miles from Orlando
95 miles from Jacksonville
The area around Devil's Den and Central Florida are world famous for fresh-water spring diving.
There are many springs in Central Florida, including world-class diving locations, within driving distance of Devil's Den.
Devil's Den Spring Map
How to get to Devil's Den
For Florida-based readers, this might seem like a silly question. How do you get there? You drive!
But, lots of people visit Devil's Den from all over the country, and the world. There's a wall map at Devil's Den showing the home countries of its visitors. There are pins from all over the world!
North central Florida is truly a cave-diving capital of the world, and people come from all over to enjoy the pristine springs and diving conditions.
So, if you're a visitor reading this from outside Florida, welcome!
If you need to get to Williston and don't have access to a car, there's good news and bad news.
The bad news is that there is absolutely no public transportation which will bring you directly to Devil's Den. There is not a bus, train or any sort of public option.
The good news is that if you have a driver's license and feel comfortable driving, car rentals are affordable.
Car rentals are available from Gainesville, Ocala and Orlando, which are the nearest large cities.
There is also a service called Turo, which I like. It is like AirBnB for cars. I've used it several times in different places, and have had a great experience every time. It's saved me a crazy amount of money in places like Hawaii, and was often more convenient than traditional rental car options.
You may also be able to find an Uber or Lyft ride from Williston, or as a last resort, take a taxi, although it would be very expensive.
You can also ask for recommendations from any hotel or vacation rental you may be staying at. You can also ask Devil's Den, they may have suggestions or ideas from past guests.
Devil's Den Hours of Operation
This may be subject to change! Check the official website for updated information
Monday – Thursday: 9am to 5pm
Friday, Saturday, Sunday: 8am to 5pm
Devil's Den is open year-round, 364 days a year. It's only closed on Christmas Day.
The last water entry allowed is at 4 pm, 1 hour before closing time.
The main gate closes at 5pm
Dogs are not allowed, except for service animals. RV campers are allowed to have dogs, but only in the RV park section.
Best Time to Visit Devil's Den
These days there is not much of a "low-season" for Devil's Den, it's popular year-round.
The summer is very popular for snorkelers, and the winter is very popular for SCUBA divers.
I was told that the busiest time for SCUBA diving is during snowbird season from January to May, and the hot summer months are most popular for snorkeling.
You can check the reservation calendar to see if a particular time appears to be busy or not.
Reservations Required
Devil's Den used to be first-come, first-served, but they now require advanced reservations, even for snorkeling.
In my opinion this is a huge turn-off. I really dislike making reservations, especially for something like a natural spring.
On the other hand, I totally understand why the operators made this change, and it may be good for some people because it may remove some elements of uncertainty around trip planning.
Some people may see the reservation system as an improvement.
In the past, if you arrived late on a busy day, you might have needed to wait for hours until you were allowed to enter the spring. And even then, it was often crowded and chaotic, which spoils the peaceful, beautiful magic of the spring.
If you want to see the spring and cave in their most beautiful state, make sure to plan ahead, go on a non-busy day. Plan to get there early!
Places to Stay in Williston
There are cabins available for rent, and on-site camping is available for both tents and RV's.
There are also numerous hotel options in the area around Williston.
Places to Eat in Williston
Gainesville is only 23 miles away from Williston and Devil's Den. It's home to the University of Florida, so it has lots of great lodging and dining options.
On weekends there is sometimes a food truck at Devil's Den. Otherwise, you'll either need to bring your own food, or go into either Williston, Gainesville or Ocala for food.
You can also grill out at Devil's Den, and have a picnic. There are charcoal grills available for use on the property grounds. They cannot be reserved, and are first-come, first-served.
There are small kitchens inside the on-site cabins. If you stay in one of the cabins you might be able to save money on food if you bring groceries and cook your own meals. This is especially attractive for people who are getting SCUBA certified.
Description of Devil's Den
To enter Devil's Den you'll need to walk down a narrow, underground hallway of stairs.
There will be limestone rock on either side of you. Then, you'll reach a floor, and another set of stairs descending to a platform at the water surface.
The water level changes depending on local water conditions, so the platform might be dry or under water. The water under the platform is about 20 feet deep, but it's always changing.
The only animals that live inside the spring are fish and turtles.
Some of the fish and turtles have funny life stories. Apparently one fish named Lucky, got lost in the cave network and was missing for more than a year, before he found his way back. His usual color was orange, but he turned white from the ordeal. Who knows what happened to him in there?!
The property surrounding Devil's Den is beautiful, and feels like a well-manicured, slightly wild park. It sits far off the main road, down a gravel driveway. There are beautiful old trees draped with Spanish moss, and nice grassy areas.
Besides the cavern and spring, the owners built a large, multi-acre scuba training lake/pond. There are even deep sections with sunken boats inside, to make exploring more interesting.
Unfortunately, it turned green from uncontrolled algae, and visibility is not good. It's mostly used for advanced scuba training like search and rescue.
There is a heated pool on-site, mostly used for SCUBA training.
How large is Devil's Den?
The spring in Devil's Den has a surface diameter of 120 ft.
Its shape is often described as an upside-down mushroom.
How deep is Devil's Den?
At its deepest depth, Devil's Den is 54 feet deep. There are not any shallow spots in the cave, except for a fixed platform at the bottom of the stairs.
Under the platform, the water is about 20 feet deep. The exact depth changes with local water table conditions.
Pay attention as you climb down into the cavern, and look at the rock walls. You can actually see tiny air pockets where limestone has been dissolved away by water. That same process created the entire cavern and cave system!
Spring Water Temperature
Like most of Florida springs the water inside Devil's Den is always 72 degrees, year-round. That's because the spring water spends most of its life underground. Underground soil is a great insulator, so it isn't affected by hot or cold weather conditions.
The 72 degree water is refreshing on hot summer days, and it's usually warm enough for winter snorkeling and diving. But, if you'll spend a lot of time in the water, especially in winter, you should seriously consider using a wetsuit of at least 3mm.
I can tell you from deep experience that swimming in 72 degree spring water makes you cold and tired quickly. Shivering in cold water sucks the energy out of your muscles, and makes swimming harder.
Pay attention to your body, and be careful not to get too cold. Watch out for people with low body fat content, children and the elderly; their bodies lose heat faster.
If you feel cold, or are worried about someone in your group, get out of the water immediately! Get dry and take a break to warm up. You should also have a plan for getting warm when you get out of the water!
How much does Devil's Den cost?
Devil's Den is pretty expensive to visit.
Note: All pricing is subject to change, be sure to check the official website for the most current pricing.
Florida springs are usually cheap and affordable family adventures, but Devil's Den is one of the most expensive springs to visit, along with Ginnie Springs.
Especially for a family, the cost and overall price could add up quickly. The actual cost will depend on whether you're snorkeling, diving, or just looking at the cave from above ground.
Devil's Den Admission Fees
The prices at Devil's Den may be subject to change, be sure to check their official site for the most current information.
| | |
| --- | --- |
| Monday-Friday | $15 per person |
| Saturday, Sunday, Holidays | $22 per person |
| | Gear rentals are extra. |
Gear Rental Prices
Snorkeling gear can be rented on-site for $12, including a snorkeling mask, fins and snorkel.
Cost of SCUBA Diving in Devil's Den
$38.00/DIVER
$45 Full Gear Rental, including: Mask, Snorkel, Fins, Booties, Regulator, BCD, Tank, Wetsuit, Weights, LED Light. Gear can be rented individually, and they do tank fills. Prices change periodically. Check their website for more prices.
Devil's Den does not have NITROX tank fill capability, but the dive shop inside Blue Grotto does, and it's only a few miles away.
How to make Devil's Den less expensive
Bring breakfast and lunch
Bring your own snorkel and dive equipment
Camp to save on accommodation costs!
Are children allowed in Devil's Den?
There are specific rules for children at Devil's Den.
Kids are only allowed inside Devil's Den if they're age 6 or older. They MUST be extremely good swimmers! Devil's Den is over 50 feet deep, and there are no shallow spots except for the dive platform, which is in 20 ft. deep water. Floatation devices are not allowed!
Minors under age 18 must be with a parent, or have a notarized permission slip!
"Anyone under the age of 18 must have a parent on site. If a parent is not present, court documentation must be presented in order to allow a guardian to sign a waiver on behalf of the minor or the person taking responsibility for the minor must have the parent write out a permission slip giving said person permission to have their child on site and this note must be notarized."
You should not go inside Devil's Den if you are not a strong swimmer! Water inside the cave is over 50 feet deep. The water is cold, and will zap your energy quickly. There are no shallow spots, and floats are not allowed!
Why is it called "Devil's Den"?
Devil's Den (allegedly) got its name from early settlers, who stumbled upon the spring on a cold winter day in the early 1800's. They noticed steam— or, at least what they thought was steam— rising from a hole in the ground.
They must have wondered, is this the top of a boiling, steaming hell-hole? Maybe there are volcanic, geothermal hot springs in Florida?
Not exactly. The "steam" they saw wasn't even steam! It was actually just normal mist, caused by a difference in the 72 degree spring water temperature and cold surrounding air. It's really nothing special— just the same effect that makes your breath visible on a cold winter day.
People call Devil's Den Spring by many names. It's also known as:
Devil's Den Prehistoric Spring
Devil's Den Cavern
Devil's Den Cave
Devil's Den Spring
Devil's Cavern
Devil's Spring
Devil's Cave
Devil's… you get the idea.
Is Devil's Den a Hot Spring?
Some folks wonder if Devil's Den is a natural hot spring. I'm not sure where they get the idea— maybe it's something about the name Devil's Den?
Maybe they think the "Devil" reference means the spring water is sulphuric? Or, maybe they've seen famous photos of steam rising from the cavern vent?
Although there are a few fascinating natural hot springs in Florida— like Warm Mineral Springs— Devil's Den isn't one of them.
Why does steam rise from Devil's Den?
Actually, the "steam" rising from Devil's Den isn't steam! The water isn't boiling, so it's actually a mist.
In the winter, Williston, Florida can get cold, especially on winter mornings. The spring water stays 72 degrees year-round, so the spring water is warmer than the cold air. Just like a hot tub, or a hot spring, the warm water evaporates and produces mist, often mistaken for "steam".
Mist is a mix of air and tiny water droplets. Those tiny drops of water rise from the warm water as it evaporates, and turns from liquid to gas.
The mist effect depends on the temperature difference between water and the surrounding air. When the difference is larger, more mist is produced.
Are there alligators in Devil's Den?
There are not any sharks or alligators in Devil's Den. The only wildlife inside Devil's Den are fish and turtles.
Although the spring is connected to the Florida aquifer and other springs via an underground cave system, there is no way for alligators to enter the spring via the tunnels.
And, the water in Devil's Den Spring is fresh spring water, so you don't have to worry about sharks.
These questions seem ridiculous, but they're included in the FAQ on the spring's official website, so I guess they get asked!
Can you swim in Devil's Den?
The answer is a bit complicated.
You can snorkel and scuba dive in Devil's Den Spring, but you are not allowed to just "swim" in Devil's Den. This sounds like a silly rule, but it's reportedly because of insurance regulations.
To enter the cave, you'll need to snorkel or SCUBA dive, and you must have the required minimum equipment, i.e. snorkeling or scuba gear.
You can bring your own, or rent them on-site from Devil's Den.
Snorkeling and SCUBA Diving Gear Requirements
What exactly do you need to go snorkeling in Devil's Den? At minimum, you must have:
If you don't have this snorkel gear, you won't be allowed inside the cave. All of these things are available for rent inside Devil's Den, for an additional cost on top of admission.
It's also a great idea to use a wetsuit, because the water is chilly and quickly sucks away your body heat.
And, be sure to bring anti-fog mask spray! There's nothing worse than spending all of your snorkel or dive time clearing a foggy mask.
Can you enter Devil's Den without swimming?
There is a strict rule that only snorkelers and divers are allowed down to Devil's Den. You're not even allowed to go to the stairs "just to take a photo".
Access to the cave is controlled by a color-coded wristband system. There's a paid "walk-though only" option to enter the grounds and view Devil's Den from above.
But, without paying for scuba or snorkeling, and having the right gear, you won't be allowed to go down the stairs or view the spring from the stairs.
Again, if you don't have the equipment, you won't be allowed inside the cave, or down the stairs! So many people are disappointed when they show up because they don't read this detail!
This seems like an overly strict rule, but it makes sense. The insurance liability must be insane for a place like this. And, the stair way down to the water is very slippery, tight and narrow. Nobody would be able to squeeze past a group of people– or even one person– taking photos.
Luckily, you know all of this in advance, and you won't be disappointed!
Is Devil's Den Worth It?
The question of whether Devil's Den is "Worth it" or not really depends on your expectations, and your own preferences. Honestly, divers and snorkelers give Devil's Den mixed reviews.
Some people absolutely love it, and think it's worth it. Other people are disappointed and are underwhelmed by the experience. But, even among people who give it bad reviews, almost everyone says they're happy they went. So, in my opinion, I would say it's worth it.
It's important to keep in mind that Instagram photos almost always misrepresent the true feel of a place. Photography can make a place seem more adventurous and exotic than real life.
My own personal opinion is that Devil's Den is definitely worth it. Many people say that it's one of the best snorkeling and SCUBA diving sites in Florida. Heck, I think it'd be worth it just to take photos!
Even if you're already certified, or just want to snorkel, it's absolutely worth a visit.
Things to Bring to Devil's Den Spring
Sunscreen
Bug spray
Flashlights
Cooler, food, picnic, grill
Camping gear
Mask spray
Snorkel gear
Underwater camera
Devil's Den Rules
Devil's Den Spring is a 100% privately owned scuba diving facility.
It's always been privately owned, and has never been public land. They have a specific set of rules, and they're strictly enforced.
Do yourself a giant favor, and read all of the rules before you go. It's best to avoid any surprises that might ruin your trip!
Read the rules before you go! If you have any questions, it's always a great idea to call and ask, or email! Here are some of the main rules to be aware of:
Reservations are now required. There is a maximum number of people allowed in the spring at one time.
You're not allowed to JUST swim. You must SNORKEL, and use snorkel gear, including: mask, fins and snorkel.
Snorkel rental from Devil's Den, is only for 2 hours.
Dogs are not allowed, except for service animals.
Drones are not allowed.
Floats are not allowed in the spring!
Children are only allowed if they are 6 or older. Kids must be extremely good swimmers because the water is deep and cold!
Best time to visit Devil's Den
The best time to visit Devil's Den will depend on what you want to do, and your preferences.
If you're looking for a perfect photo shoot opportunity, you'll probably want to go on a weekday during the winter, and get there as early as possible. That will give you the best chance of getting the perfect, empty and peaceful spring. Late afternoon can also be a good choice.
For every picture-perfect photo of Devil's Den on Instagram or Youtube, there a hundred crowded, chaotic photos filled with splashing snorkelers.
You should also consider the lighting! At midday the sun can shine directly into the cave. This can give a beautiful and dramatic spotlight effect. Unfortunately, mid-day is often the most crowded time of the day.
If you don't care about photos, then you might want to think about what you want to get out of the trip.
If you like high-energy crowds and playing lawn games with lots of people around, you might enjoy going on a warm weekend day, when it's almost guaranteed to be crowded and crazy.
If you get cold easily, you might consider waiting for a warm day. The water stays very chilly, and although the water temperature itself never changes, the air temperature makes a big difference for staying warm.
Wetsuits are also a great idea. If you use a wetsuit, you'll be able to stay in the water for much longer before you get cold. You'll also be able to enjoy the spring earlier in the day, and maybe beat the crowds.
Cold winter mornings are the only time you can see the famous "steam" (mist) rising from Devil's Den.
Stay Safe
Water-based activities are dangerous. Make sure you're extra careful, and always act safely within your own experience level and physical limitations.
Watch out for everyone in your group, and others around you. Be on the lookout for reckless or dangerous activity. If you see something, report it to the site managers immediately.
Although extremely rare, there are documented cases of people dying and being injured in Devil's Den. Most water-related deaths and injuries are avoidable, so pay attention and be careful! Be especially careful on wet and slippery surfaces, too.
Deaths in Devil's Den
There have been at least two documented deaths in Florida's Devil's Den.
"On Sunday, October 7, a group of three divers entered Devil's Den in Levy County, Florida. Some of the divers were apparently rescue certified for open water but had no cave or cavern training. One had dived at the site two weeks prior.
At around noon, the three did a dive. Only one diver brought a second set of tanks and went down a second time at about 2: 15 p. m. He proceeded through the cavern area and about 200 feet into the cave area, at about 70 feet depth, he apparently stirred up some silt and ended up in a low, bedding plane passage about 2 feet high, where he ran out of air and drowned."
REFERENCES:
I) Kelly Brady, "Recovery Report", October 8. 1990, unpublished. 2 pages.
2) Karen Voyles, "Man Drowns in Cave After Ignoring Diving Conditions", The Gainesville Sun,. October 9, 1990.
3) Ed., "Deaths in Mexico and Florida", Underwater Speleology, 17 (5), September/October 1990, p. 4
Another incident in 1995 led to the tragic death of a scuba diver. The diver and his dive buddy were both firefighters visiting from out of state, and died after allegedly pulling the gate down to access the underground cave network.
This excerpt has been edited to remove names. Source
"Diver Drowns in Williston Spring
Friday, July 14, 1995
WILLISTON – A Mobile Ala., firefighter drowned while diving in Levy County on Thursday afternoon with another Mobile firefighter.
The drowning victim … was pronounced dead after his body was recovered from Devil's Den at 8:30 pm Thursday. Devil's Den is a privately owned spring outside Williston on Levy County Road 505, a mile north of Alt. U.S. 27.
The <dive buddy> told investigators that he noticed <the victim> was missing at about 3:30 pm. <The dive buddy> went back to the surface to pick up a fresh tank of air, but was unable to find <the victim> when he returned to the opening of the cavern where the two had been diving, according to sheriff's spokesman…
Cave divers from the National Speleological Society… found <the victim> in about 35 feet of water Thursday evening.
A preliminary investigation showed that both <divers> were certified as open-water divers, but it did not appear that either diver was certified for cave diving.
Additional Information: Apparently the divers decided to pull down the fence which blocks off the cave section at Devil's Den. They did not have the proper training or equipment to cave dive. On top of that, the cave system at Devil's Den is supposed to be very low flow and high silt, as well as a tight squeeze. The type of system that trained cave divers would probably say, "There's no way you're getting me into that hole".
SCUBA Diving in Devil's Den
Is Devil's Den a good SCUBA diving experience?
Disclaimer: I haven't dove at Devil's Den. But, I'm an experienced, advanced scuba diver and experienced freediver. I've dove in amazing locations all around the world, so I'll give my opinion through that lens.
I think that if you have the chance to dive Devil's Den, and you're OK with the cost, you should definitely do it.
But, you should be aware that the novelty might wear off quickly. To me, Devil's Den itself is incredibly cool. And, I'd love to freedive it, if it were allowed.
But, diving in Devil's Den would probably feel like a natural swimming pool to me. I wouldn't build Devil's Den up in my mind to be an incredible, bucket-list type diving destination.
But, that's just my opinion! Many people love it, and it might be way more exciting than I imagine it would be. Especially if it's one of your first diving experiences, or if you just find it really cool, it might be amazing!
Note: Devil's Den doesn't offer Nitrox, but you can fill your tanks with Nitrox at another nearby dive site, Blue Grotto, which is only 2 miles away.
Only open-water certification is required for diving inside Devil's Den. This makes it one of the easiest and most accessible ways to cave dive in Florida.
Devil's Den isn't technically considered a cave dive. The difference is that, unlike a cave, there's always open, direct access to the surface.
Because there's no overhead obstruction it doesn't require cave-dive training or certification.
There's an extensive cave system connected to Devil's Den, which is where the spring water comes from.
But, there are obstructions blocking the entrances, and entrance is strictly forbidden. Some people have died in the past after tearing down the cave obstacle and going inside.
Cave diving reports describe the caves inside Devil's Den to be tight, low-flow and high in sediment, which make for exceptionally dangerous cave diving conditions.
Getting SCUBA certified at Devil's Den
Devil's Den is a popular place to get SCUBA certified, and is unique because it offers a cavern diving experience.
I think that Devil's Den would be a fantastic place to become certified and learn to SCUBA dive.
The controlled, crystal-clear conditions would be perfect for anyone who's nervous about diving in the ocean for their first time.
I learned to dive while backpacking in Thailand many years ago, and think I may have preferred Devil's Den if I could do it again.
It might be an especially good choice for people who are nervous about swimming in the ocean. It's much easier to slip into crystal-clear, calm water, instead of rolling backwards off a rocking boat, into a murky, wavy ocean. Plus there are no sharks or alligators to worry about.
Several factors make Devil's Den an ideal learning spot:
Easy water access
No wind or wave action
Great facilities
Affordable
No boat fees, waves or seasickness
No fear of sharks, alligators, etc.
One interesting thing about Devil's Den is that it does not offer, or endorse, any specific dive shop, instructor or operator. All dive instructors who operate out of Devil's Den are independent providers.
Downsides to getting SCUBA certified at Devil's Den
The only downsides I can think of for getting SCUBA certified at Devil's Den are the flip-sides of its benefits.
If you get certified at Devil's Den, you wouldn't get exposure to a traditional boat dive environment.
That means your next dive experience— which might be off of a boat—would have new elements and variables introduced, which you won't have practiced, like the giant stride entry.
But, that's not necessarily a problem. And, it might even be better for you to learn and practice routines and safety protocols in the most controlled environment. You might retain the information better.
The same logic goes for diving in the ocean. If you felt comfortable in the welcoming, clear water of the cavern, you might not feel prepared for the anxiety of a murky boat dive with strong currents, or thoughts about sharks, etc.
I think that the nearby Blue Grotto dive site would also be a great place to learn and become certified.
Lodging, Hotels and Camping near Devil's Den
If you're visiting from out of town, Devil's Den has quite a few lodging options, including:
Tent Camping
RV Camping
Cabins
Nearby hotels
Nearby camping
Nearby AirBnBs, VRBOs and Vacation Rentals
I found great-looking AirBnB and VRBO options nearby, which are conveniently spaced between Devil's Den and Blue Grotto.
The best hotel options near Devil's Den are found in nearby cities, especially Ocala and Gainesville.
Camping, or staying in a cabin at Devil's Den might be an excellent option. Especially if photography is important to you, being at the facility before opening time might give you the best chance of getting a great shot.
It might also be a good place to use as a home-base for exploring other springs in the area. I have not camped at Devil's Den, but I researched camping reviews and campers seem to like it. Most say that the camping area is not crowded, grassy and very peaceful. Apparently there are reduced rates for weekly and monthly rates.
Camping at Devil's Den Spring
Devil's Den has camping for tents, and there is also RV camping. More information can be found on their website.
Things to do near Devil's Den
You should know something about Devil's Den: It's beautiful, but you might not want to spend all day there.
After an hour or two of snorkeling and some great photos, you might get cold and be ready for something else.
Besides diving, snorkeling grilling and yard games, there aren't a ton of other things to do at Devil's Den. It's a good idea to have other things to do to fill out your day, if necessary.
Besides Devil's Den, there are many other things to do in this part of Florida, and around Williston.
Actually, are so many adventures that you should think ahead about what you want to see, and how you want to budget your time.
All have one thing in common— they center around the beautiful natural environment, and amazing water adventures.
Devil's Den Weather
Before going to Devil's Den, consider the weather. Check the local conditions for Williston, Florida, which is the closest town to the site.
The weather in Williston varies dramatically with the season. Summers are hot and humid, with high temperatures in the low to mid 90's. The cool spring water feels great on a hot, humid summer day.
Winters are mild, with cool mornings and an occasional freeze. Winter morning lows are often in the 40's. Winter daytime temperatures are usually in the 70's and low to mid 80's. The spring water feels surprisingly warm when the air temperature is cold.
The busy season for Devil's Den is from January to May, as snowbirds come to Florida for warm winter weather.
Snowbird tourists tend to head back north in May, when summer heat and humidity begin to become oppressive.
The History of Devil's Den
Like many other Florida springs, Devil's Den's story stretches back in time for millions of years.
Inside Devil's Den, archeologists have found fossils and other artifacts from the Pleistocene era, which lasted from approximately 2.5 million years ago until about 12,000 years ago.
Scientists even found several human skeletons, which have been carbon-dated back to approximately 13,000 years.
These skeletons provide evidence of Florida's earliest humans. This is incredibly exciting because it helps us know how early humans may have first populated North America.
Long ago, in the Pleistocene era, Florida, was very different than it is today. During that time, the Earth was experiencing an ice-age.
Much of Earth's ocean water was frozen into massive sheets of ice. Sea levels were much lower. Florida's climate was much drier and cooler, and fresh water sources were not easy to find. Source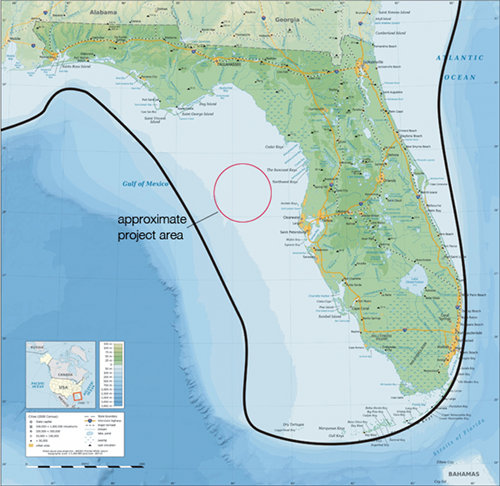 Pre-historic animals came to springs like Devil's Den because they were good sources of drinking water, and humans came to hunt the animals. It was sort of like an African watering hole you might see in National Geographic.
Devil's Den Historical Timeline
33 million years ago: Sea levels were high. Florida was a giant coral reef, submerged under warm, coral-filled shallow seas.
12,000 years ago: During the last ice age, sea levels dropped. The oceans pulled back, and coral reefs were left on dry land. Reef and the skeletons of marine life were compressed into a layer of limestone.
Plants grew, and animals lived on the dry land. Plants and animals died, leaving organic soil. When rain fell, it mixed with the organic soil. The water became acidic, and ate away at soft limestone layers. Caves, springs, underground rivers formed.
8-10,000 years ago: During the ice age, prehistoric animals (Pleistocene megafauna) migrated to Florida. Early humans followed after them. They came to springs like Devil's Den for water. They often fell in and died.
1800's: Devil's Den was first "discovered" by early Florida settlers. The water table, and water level inside the spring, were much higher. It was used as a local swimming hole.
1900's: The Devil's Den property was cleared and used for farming and livestock. Like many Florida springs, Devil's Den was used as a garbage dump.
1960's: Archeologists found the skeletons from several early humans and many extinct, prehistoric animals, including:

Prehistoric bear
Sabre tooth tiger
Mastodon
Several human skeletons

1970's: SCUBA diving became popular, and people began trespassing to dive the springs. No stairs existed, so divers used ropes to lower their gear from the small hole in the ceiling. At this time, the hole in the ceiling was much smaller— just big enough for a body to squeeze through— because it hadn't been enlarged yet. To avoid the liability of trespassers, the farmer land-owner decided to sell the land.
1990's: Devil's Den was bought by Mike and Anna Lovas, to convert into a SCUBA diving facility. Access was dug, and stairs were constructed. The "solution hole" in the ceiling was enlarged to provide better access.
1993: Property was bought by current owners
How Devil's Den has changed over time
It's easy to imagine why the Devil's Den might have seemed so mysterious. When it was "discovered" in the early 1800's, early settlers experienced a very different site than what exists today.
First, the area around the spring would have been very lush, and covered in native forest. It probably would have seemed much more exotic and eery than today, when everything is cleared and manicured.
Second, the hole at the top of the spring was much smaller.
Contrary to most information on the internet, the ceiling at Devil's Den did not cave in. Although that's a common occurrence with underground karst windows, sink holes and cenotes, the hole in Devil's Den was man-made.
The large ceiling hole you see today was enlarged in the early 1990's, when the dive site was built. The old, small "solution hole" was described as "tight" for a human body to fit through.
It would have taken a brave person to explore the Devil's Den under those circumstances! Can you imagine plunging down through a tight hole, into a pitch-dark, unknown watery cave?
Another difference at that time is that the water level was much higher than it is today; it rose almost to the outside ground surface.
Protecting Florida Springs
Like many other Florida springs, Devil's Den was once used as a garbage dump.
Unfortunately this was very common in the past. It's hard to imagine, but it's still a problem today; both in developing countries, and in Florida.
While exploring cenotes around Mexico I've been saddened to see the effects of pollution and abuse of the natural environment. Unfortunately, it's still happening here in Florida, too, and all over the world.
In many ways, threats to Florida's Springs more endangered now than they ever were in the past. Florida's springs are at risk from a number of threats:
Over-pumping of the Florida Aquifer lowers spring levels, and threatens our drinking supply
Sewage pollution from septic tanks and sewage treatment facilities enter springs and our aquifer
Contamination from the ground surface leeches into springs, our aquifer, and our drinking water
The water level in Devil's Den rises and falls along with the water table and the Florida Aquifer. Those levels all change, based on rainfall amounts and how much water is pumped from the aquifer.
Due to over pumping and bad water management, springs all over Florida suffer from lowered levels. If they're not taken care of, springs easily reverse their flow and run dry.
Please be aware of the many threats to Florida's natural environment. We all love the natural beauty of Florida. Let's all be aware of our impact, and vote like we care. Let's elect leaders who actually care about our nature for future generations.
Featured Image Photo Credit: CC2.0 FWC photo by Shanna Chatraw