Florida is home to thousands of beautiful, natural springs. Few know this, but some of those are natural hot springs.
Due to the depth of their spring water sources, the spring water is heated by the earth's core. However, these hot springs are not like others you may be familiar with.
Florida's hot springs are not as hot, or as intense, as those found near active volcanic regions. Scientists don't fully understand the geothermal heat source of Florida's hot springs, but they know it's not volcanic.
Instead, the water is geothermally warmed from the Earth's core, as groundwater interacts with the hot rocks deep inside the Earth's crust.
Florida's hot springs are very unusual. Among thousands of springs, only a few are hot springs. Almost all other springs in Florida remain a constant, chilly 72 degrees year 'round.
Floria's springs are warm enough to swim on warm winter days, and are refreshingly cool during Florida's hot, humid summers.
If you want an overview of all of the springs in Florida, this guide is a great place to start: Touring the Springs in Florida
Map of Hot Springs in Florida
This map shows all of the known hot springs in Florida, including:
Only Warm Mineral Springs is accessible to the public.
Warm Mineral Spring
Warm Mineral Spring is the only hot spring in Florida that's open to the public. In the past it has had different names:
Warm Salt Spring
Salt Spring
Big Salt Spring
Although it is designated as a hot spring, that name is a bit generous.
Its waters are approximately 85-87 degrees at the surface. The exact temperature varies depending on rain conditions and water flow rates. Really, it's more like a warm spring than a hot spring as most people expect.
But, deep below the surface, at a depth of approx. 200 feet, Warm Mineral Spring is a real, true hot spring in Florida.
Hot, geothermally heated water gushes from deep within the Earth at a genuinely hot 97 degrees F.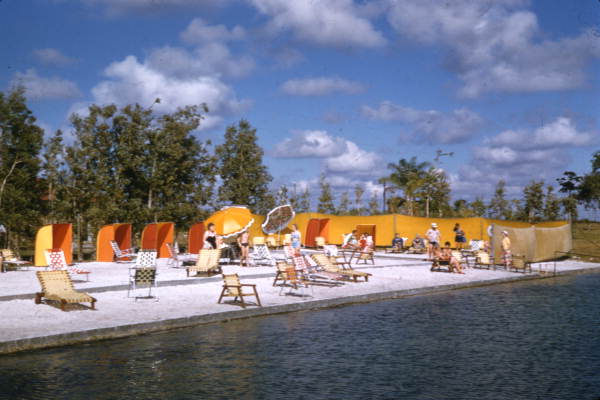 Warm Mineral Springs is an incredible place. People visit from all over the world to bathe in its mineral-rich waters.
Warm Mineral Spring also has important historical significance.
It's been used for thousands of years by Native Americans. Amazing archaeological finds, like prehistoric animals, and even human remains, have been found deep inside the spring.
There is speculation that Spanish conquistador Juan Ponce de León may have been fatally wounded while searching for the Warm Mineral Spring site. He died from his injuries after being shot by a Native American's poison-tipped arrow.
For more information, check out our guide to Warm Mineral Springs.
Little Salt Spring
Little Salt Spring is one of only three known hot springs in Florida, and one of only two located on land. It's an important archeological site.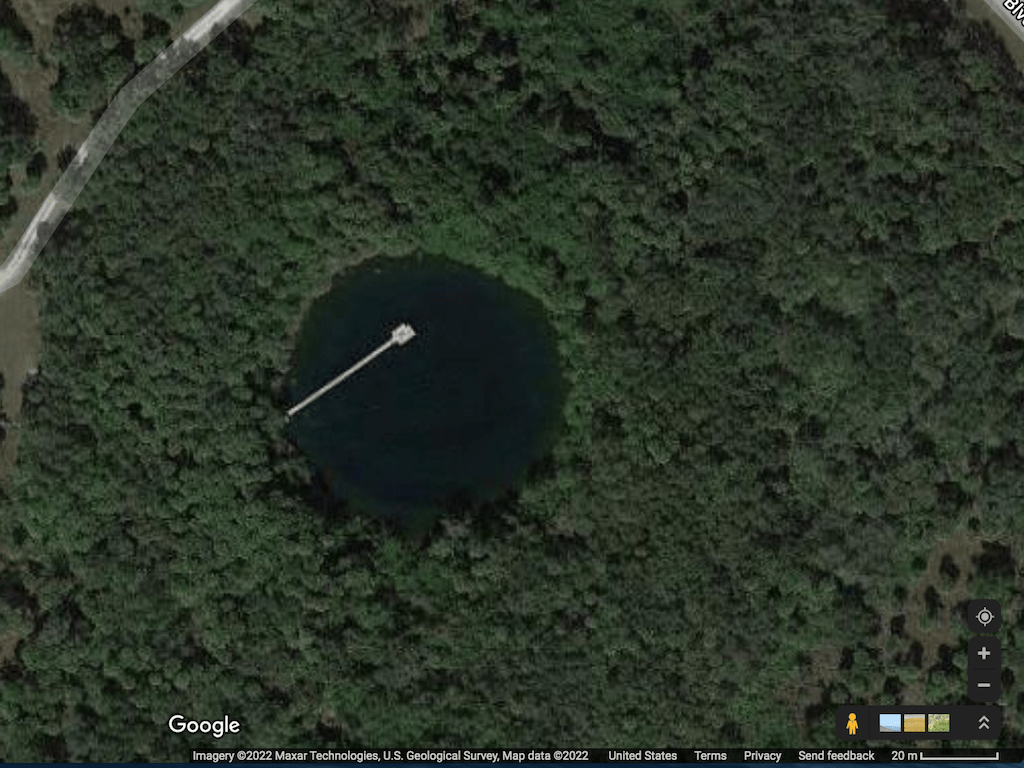 There has been controversy over ownership in recent years. At the moment it is owned and managed by the University of Miami.
Little Salt Spring a fascinating spring, and has been the site of amazing historical treasure finds, including rare human remains from the last ice age.
Incredibly, some of the remains contained brain matter, scalp and hair. This preservation is possible because of the extremely low levels of oxygen in the water. The lack of oxygen makes it impossible for bacteria to grow, which helps prevent deterioration.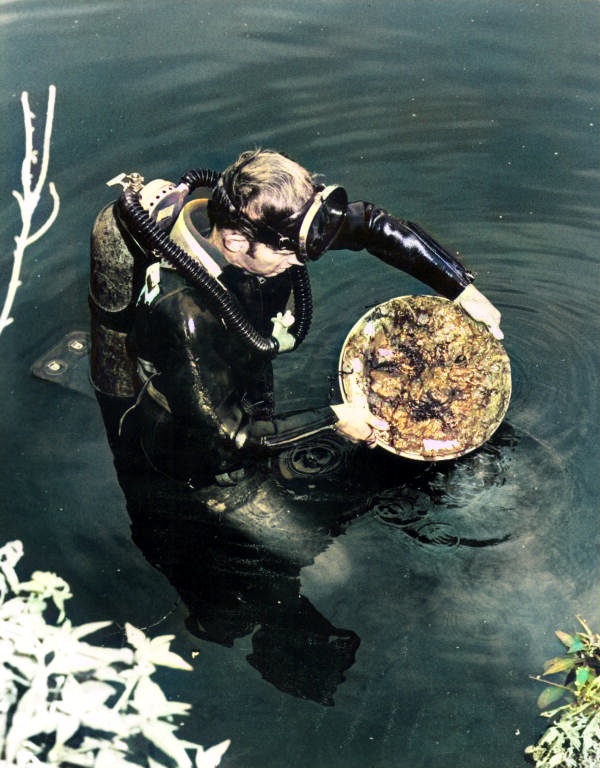 Because of its historical, archeological and geological significance Little Salt Spring is managed as a private research site. It is not open to the public.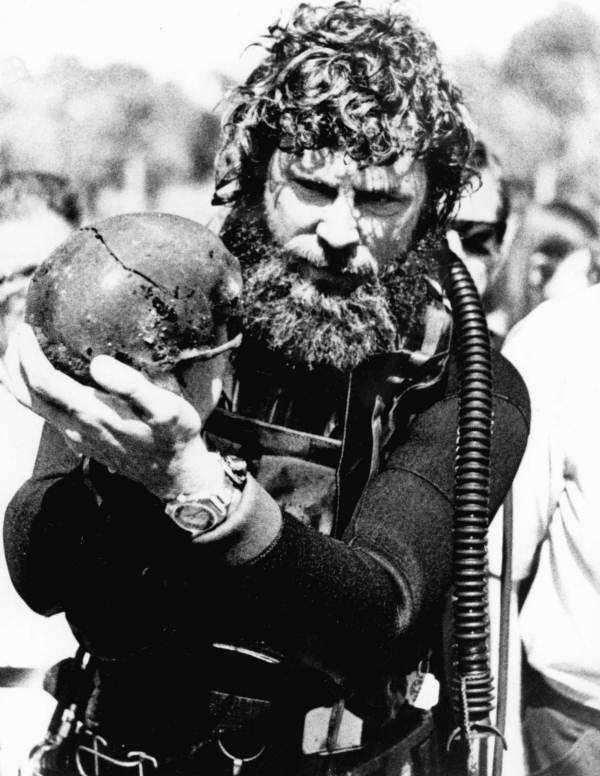 Hot Mud Hole Spring
Hot Mud Spring is an amazing Florida hot spring. But, unless you're a scientist, fisherman or a scuba diver, it's not accessible.
Like Warm Mineral Spring, this hot spring is deep under the ocean. It's miles offshore on the bottom of the Gulf of Mexico.
Mud Hole Spring is one of approximately six known geothermal springs in Florida's coastal waters.
Like Warm Mineral Spring, Hot Mud Spring is hot because the spring system runs deep enough to be warmed by the Earth's geothermal core. And like Warm Mineral Spring, the underwater vent discharges hot spring water (97F) that's unusually rich with nutrients and minerals.
Mud Hole Spring may receive research attention in coming years because scientists have begun studying other blue holes in Florida.
Fishing and Scuba Diving
Mud Hole Spring is home to large fish, sharks, turtles and other sea life.
The warm temperature and rich concentration of nutrients, minerals and microscopic life supports a thriving submarine ecosystem. It's an important grazing and foraging area for loggerhead sea turtles.
Mud Hole Spring's abundance of sea life makes it a popular destination for scientists, scuba divers and surface fishermen.
Mud Hole Location
Latitude 2615'48″N longitude 8201'06″W
The submarine hot spring vent is approximately 18.5 KM south of Sanibel Island Lighthouse.
What causes spring water temperature?
Florida Spring temperatures depend on a few factors:
Latitude
Ground Temperature
Depth underground
Geothermal hydrogeology
Recent rain conditions
Latitude
Spring water temperature is a few degrees warmer in south Florida, and a few degrees cooler in north Florida.
The sun's power is greatest at the equator. Land close to the equator absorbs more of the sun's heat and energy, which makes the ground warmer. Spring water is stored underground, so it takes on the temperature of the ground.
The temperature of most Florida Springs is between 66 F and 97 F. That's a big range, but most are on the cooler side. North Florida spring temperatures stay around 70 degrees. Central Florida spring water is about 75 degrees.
Temperature and Depth
If a spring system is deep enough it can be warmed by heat from the Earth's inner core, creating a geothermal hot spring.
Spring-water temperatures range from 66 to 97 °F. The temperature of spring water in north Florida averages about 70 °F and about 75 °F in central Florida. Higher water temperatures in some Florida springs indicate that the water originates from deeper parts of the Floridan aquifer system. For example, the temperature of water discharging from Mud Hole Spring, a submarine spring located off the southwest coast of Florida, is about 97 °F.
Source: "Underground Florida: A Field trip Guidebook of the West Central Florida karst" published by the University of South Florida Scholar Commons
Additional Sources
American Association of Petroleum Geologists
American Water Resources Association
Master's Research Thesis: Geomorphology of Submarine Spring West of Fort Myers, Florida Shihadah M. Saleem, University of South Florida
Gulf Coast Association of Geological Societies
"Springs of Florida" publication by the University of Florida
U.S. O.S.T.I. List of Hot Springs in the United States
Geothermal Springs in Florida's Coastal Waters